Free Agents Who Can Help the 49ers Clear the Championship Hurdle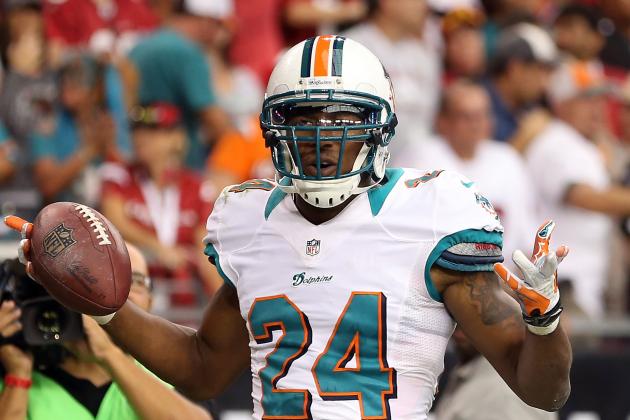 Christian Petersen/Getty Images

The San Francisco 49ers have yet to sign a high-priced free agent since Trent Baalke took over as general manager. Instead, they have started to follow the blueprint of the Pittsburgh Steelers and Green Bay Packers. Build through the draft and complement with a couple decent, under-the-radar signings.
Since San Francisco's heartbreaking loss to the Baltimore Ravens in Super Bowl XLVII early last month, there has been a ton of speculation that the 49ers will go hard after a wide receiver or cornerback. A lot of this conjecture has been focused on the trade market, with Darrelle Revis and Percy Harvin coming up quite a lot.
It might be time for San Francisco to go against from the grain and acquire a top-tier free agent or two. It has holes on both sides of the ball, and there seems to be a decent number of targets at those positions of need. In addition, by trading Alex Smith and releasing David Akers, the 49ers have freed up $12 million in salary-cap space. They are also not expected to retain two-time Pro Bowler Dashon Goldson.
Let's take a look at 10 free agents, in order of importance, who would help put the 49ers over the top.
Begin Slideshow

»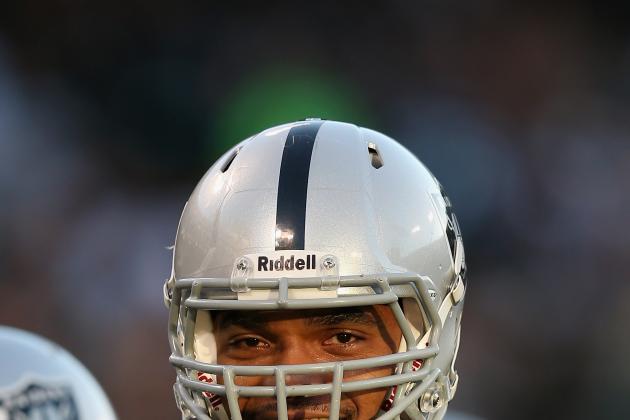 Ezra Shaw/Getty Images

Richard Seymour may be well past his prime, but he can still be a darn good rotational player in the right defense. The former first-round pick, who is just one season removed from a Pro Bowl campaign for the Oakland Raiders, should be able to help a San Francisco defensive line that didn't have a a lot of depth last season.
In addition, both Ricky Jean-Francois and Isaac Sopoaga, who are set to become free agents next week, may not be returning to the 49ers.
Seymour would come relatively cheap, likely want to play for a contender and wouldn't have to change his mailing address.
He'd be a perfect veteran addition; one that contending teams tend to make on a consistent basis.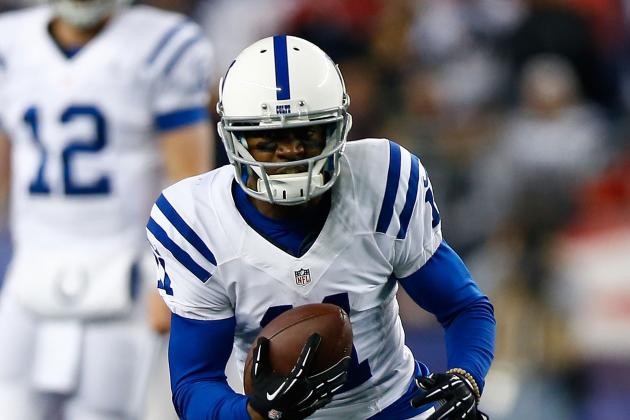 Jared Wickerham/Getty Images

Some expect the 49ers to spend top money on a starting wide receiver to play opposite Michael Crabtree. Sorry to tell you, that is not going to happen.
First, it runs completely against San Francisco's M.O. under general manager Trent Baalke. Second, the market just got a major bump after Brian Hartline signed a ridiculous five-year, $30.7 million contract with the Miami Dolphins (via Pro Football Talk).
Instead, San Francisco will look to add a cheaper veteran to help Crabtree while Kyle Williams and Mario Manningham recover from serious injuries.
Donnie Avery had 60 receptions for 781 yards and three touchdowns for Andrew Luck and the Colts last season. He was a consistent threat when the young quarterback needed to progress to a second or third read; something that Colin Kaepernick desperately needs in San Francisco.
The New York Post is reporting that the New York Jets, who are strapped for cash, might be an option for Avery. If that is the case, he is definitely in San Francisco's price range.
This is one of those free-agent signings that just seems to make too much sense for a multitude of reasons.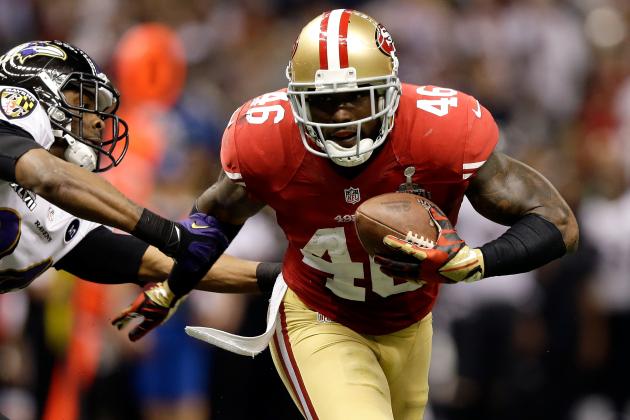 Ezra Shaw/Getty Images

The human Swiss-Army Knife, as we in the Bay Area call him, Delanie Walker is a huge cog in San Francisco's offensive attack.
He can line up at fullback, tight end and wide receiver. He causes a tremendous number of mismatches on the outside against smaller defensive backs and is too athletic for safeties and linebackers between the hashes.
The primary issues that may keep Walker from returning to the 49ers are that he will not be considered the "starter" with Vernon Davis on the team and probably can get a better contract elsewhere. With that in mind, Jim Harbaugh runs more two tight-end sets than any head coach in the NFL, which means that Walker is utilized just as much as he would be if he were starting for another team.
If the 49ers can somehow find a way to retain Walker, they won't be forced to draft a young tight end or go with an unproven Garrett Celek as their backup at the position.
I am intrigued to see how Colin Kaepernick performs in a full season with Vernon Davis, Delanie Walker and Michael Crabtree all in the mix. That's a scary thought for defenses in the NFC West.
Will it happen?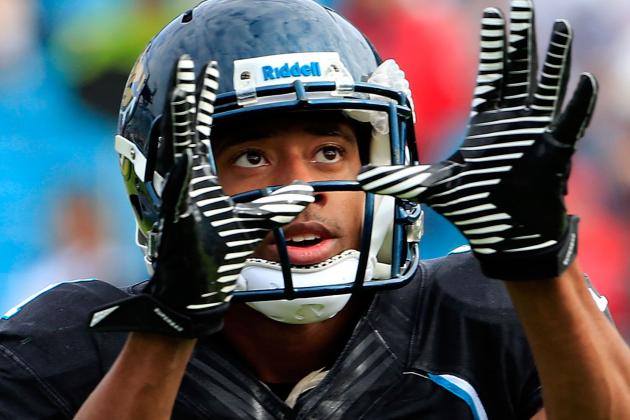 Sam Greenwood/Getty Images

Derek Cox is likely a foreign name to most of you simply because he plays for the lowly Jacksonville Jaguars. Make no mistake about it, however, the young cornerback can play. He has recorded four interceptions in three of his first four NFL seasons. In addition, he had 60 tackles and 11 passes defended this past season.
According to The Florida Times-Union, Jacksonville wants to bring Cox back, but "at the right price." This despite Jacksonville having more than $30 million available under the cap.
Don't get me started on what is going on there.
What I will say is that Cox would be a great addition to San Francisco's defensive backfield. He can play the slot as the No. 3 corner behind a combination of two of the following: Carlos Rogers, Chris Culliver and Tarell Brown.
At just 26 year old, Cox would also fill a void in what has quickly become a older secondary. In addition, he would enable the 49ers to draft the best available player and not worry about trading up with either of their first two picks (31st and 34th overall) in April's draft.
As pointed out by other experts, Cox could find himself surprised by the lack of interest in him due to what has to be considered a watered-down market for cornerbacks.
Andy Lyons/Getty Images

Josina Anderson of ESPN reported on Thursday that four teams are interested in the recently released Charles Woodson. Surprisingly, at least in my mind, San Francisco is not one of those teams.
It goes without saying that Woodson would immediately upgrade what has to be considered lackluster safety play in San Francisco, at least in terms of coverage.
With Dashon Goldson set to hit free agency and likely to bolt for more money, San Francisco has a need at free safety. In addition, Donte Whitner leaves a whole heck of a lot to be desired in coverage. Adding Woodson would help offset that.
Also, the 49ers figure to target a safety early in April's draft. As a Super Bowl contender, they might want a veteran stopgap to help fill the void left by Goldson. Woodson, who only has a year or two of decent play ahead of him, is also likely looking to catch on with a contender.
I could easily envision a scenario where Woodson agrees to a team-friendly deal to join a contending club.
That's what San Francisco would likely be banking on if it starts to show interest in the future Hall of Famer.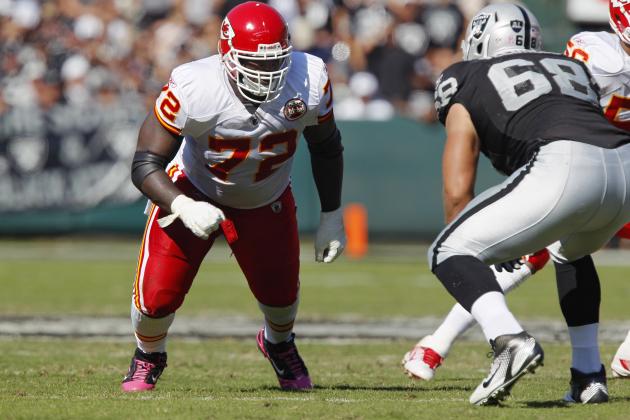 Brian Bahr/Getty Images

Glenn Dorsey has never lived up to the expectations that come with being a top-five pick. The former LSU standout played in only four games last season and is unlikely to return to Kansas City next season.
He fits San Francisco's 3-4 defensive scheme as a rotational defensive end behind Justin Smith and Ray McDonald.
Despite not living up to expectations, Dorsey has been a decent defensive lineman and is stout against the run.
It is likely that some team might see more upside in Dorsey because of his relatively young age. But if that market doesn't pan out, I expect San Francisco to make a play for him.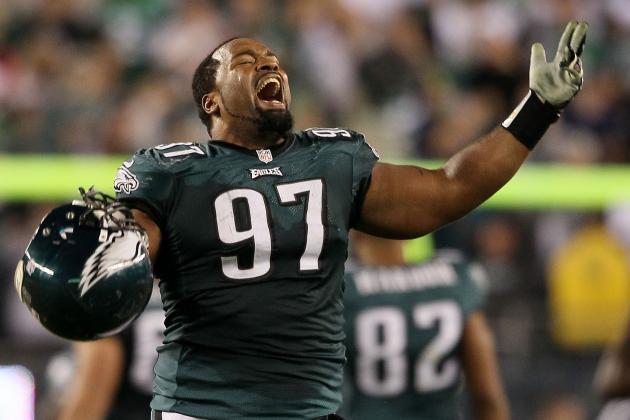 Alex Trautwig/Getty Images

Cullen Jenkins met with the San Francisco 49ers on Tuesday and is definitely on their radar. As I mentioned earlier, Trent Baalke and company will be looking to acquire more depth along a defensive line that might be without impending free agents Ricky Jean-Franoise and Isaac Sopoaga.
Jenkins is not a scheme-specific player. This means that he would fit well into what the 49ers have built on defense. This also means that the market will not be limited to teams that run a 3-4 defensive scheme.
If teams get into a bidding war for the veteran defensive linemen, San Francisco will likely tap out relatively quickly. If not, he is a reasonable option here.
As history has proven over the last couple seasons, free agents who meet with Trent Baalke in Santa Clara usually end up signing with San Francisco. Let's see if this will be the case with Jenkins.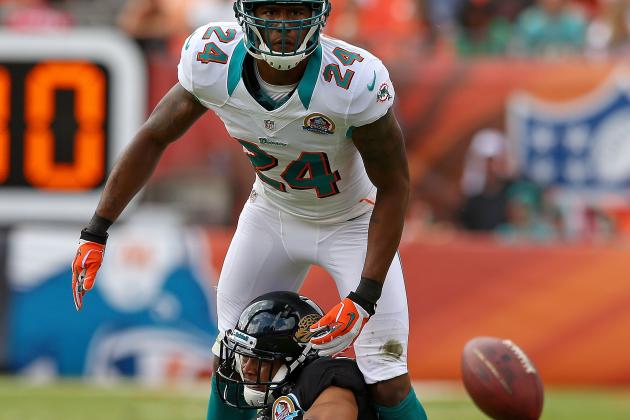 Mike Ehrmann/Getty Images

As I mentioned in an article on Thursday, Sean Smith's most likely destination on the free-agent market might be the San Francisco 49ers.
This isn't pure conjecture on my part.
Ian Rapoport at NFL.com indicated during the NFL Scouting Combine that San Francisco will value Smith on the open market as it looks to upgrade what has suddenly become a poor pass defense.
While there are indications that Smith will demand as much as $7.5 million, I see him getting more like $6 million per on the open market. If that is the case, San Francisco should swoop in immediately after free agency starts and get him. (h/t Rotoworld).
The former second-round pick out of Utah might not be an elite cornerback in the NFL, but he is definitely an above-average starter and would represent an upgrade over the Carlos Rogers we saw last season.
A cornerback rotation that consists of Chris Culliver, Tarrell Brown and Smith doesn't seem too shabby at this point.
If San Francisco is able to fortify its pass defense, it immediately becomes the overwhelming favorites to win the Super Bowl.
Jim Rogash/Getty Images

This is a pretty much a pipe dream. San Francisco will not dole out the $50 million that I personally believe Aqib Talib is worth on the open market.
We have to look at logistics here for a second. NaVorro Bowman and Patrick Willis will be among the highest-paid linebackers in the coming years, while San Francisco has to start thinking about signing Aldon Smith to a contract extension. This doesn't even take into account the six-year, $44 million contract extension that Ahmad Brooks signed last February (via Spotrac).
It goes without saying that spending top-tier money on an elite cornerback just isn't sustainable for the 49ers moving forward.
There are, however, indications that Talib may not do as well on the open market as initially anticipated. A series of off-field issues, according to boston.com, coupled with a ton of talent on the free-agent market may lead to a smaller contract for the elite defensive back.
If that is the case, San Francisco could easily make a play here.
Acquiring someone of this caliber will have an amazing impact on San Francisco's defense as a whole. Talib can nearly take away one half of the field with shutdown ability, leaving the 49ers' safeties to roam free and allowing double coverage on the other side of the field.
This has to be a scary proposition for opposing offenses.
Joe Sargent/Getty Images

It is all about how the market plays out here. If Mike Wallace gets the $12 million a year that he is reportedly demanding, San Francisco is completely out of the equation (via CNNSI.com).
After all, the 49ers have to start thinking about signing Michael Crabtree to a long-term extension at some point in the near future. Having two wide receivers earning more than $10 million just isn't sustainable in today's NFL.
With that said, Wallace on the 49ers would make opposing defenses cringe. Just imagine him lining up with Vernon Davis, Frank Gore, LaMichael James and Crabtree in the same offensive formation. I don't care if there are 15 defenders on the field, that is still nearly unstoppable.
You also have to take into account what Wallace would bring to the 49ers' offensive scheme. Colin Kaepernick has one of the best deep balls in the NFL, and Wallace is one of the most consistent deep threats in the league.
It really is a marriage made in heaven.
If San Francisco does decide to break the bank this offseason, an unlikely scenario, Wallace has to be a primary target. It is also important to note that Trent Baalke and Co. flirted with the former Pittsburgh Steelers wide receiver when he was a restricted free agent last spring (via Pro Football Talk).
Follow me on Twitter @VincentFrankNFL