Oakland Raiders Breakdown: Quarterback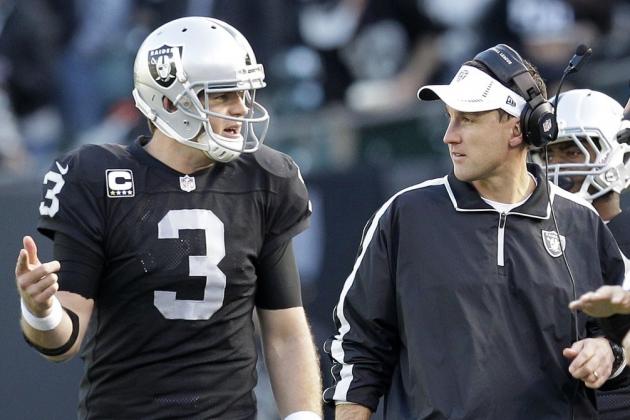 Photo Credit: Daily Republic
The off-season is kind of a weird time for me. It's the worst part of the NFL year because, well, there is absolutely no football going on right now. But at the same time, I also love it because of all the events that can go on.
Free agency, the NFL Draft, trades. I love how much one team can completely change from one season to the next. Last year, the Raiders went through huge changes. The team hired their first general manager not named Al Davis. The team brought in new coaches, players and everything else.
Now, the Raiders are keeping up with their changes. They have ditched Greg Knapp's offense and hired Greg Olson, a respected coach in the NFL.
Obviously, a change of offense is going to lead to some evaluations. Let's start breaking down this team's positions, starting at the "most important position" of quarterback.
Begin Slideshow

»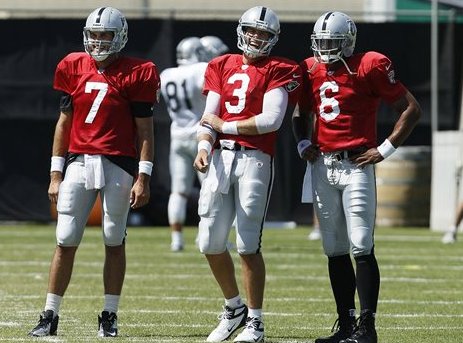 Photo Credit: The Big Story (AP)
The Raiders' current quarterback situation is day and night.
One side, we have the savvy veteran who is entering his 11th season in the National Football League after being the number one pick in the 2003 draft.
Carson Palmer is strictly a pocket passer who has one of the best arms in the league, regardless of what anyone says. It's his decision-making that frustrates people, but that's another story.
The other is Terrelle Pryor, a highly decorated college football star who was drafted in the Supplemental Draft.
In his college days, Pryor was well-known for being an extremely versatile athlete who could beat you with his arm or his legs. The only problem is that his mechanics are way off and that often leads to bad passes.
As of right now, no one really knows who will be playing the starting position at quarterback for the Raiders. While Carson Palmer is the the better quarterback, he comes at a very hefty price. According to Rotoworld, Palmer is expected to make at least $13 million.
In comparison, Terrelle Pryor is going to make a little less than $600,000.
I don't want to say I'm leaning towards one side or anything, but the Raiders could make a lot of moves if they were to free up $13 million. Bringing in a player like Greg Jennings would do wonders for whoever is at quarterback next season.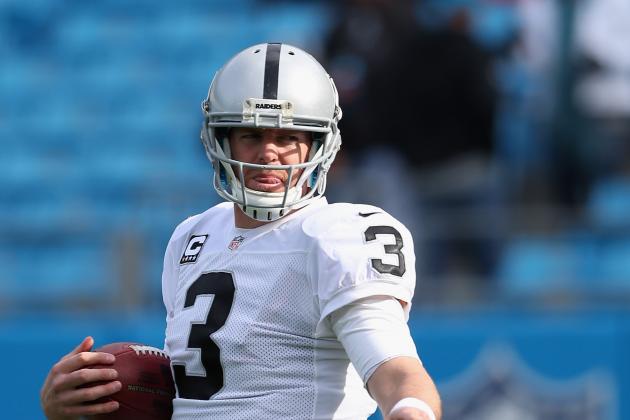 Streeter Lecka/Getty Images

Carson Palmer has been one of the only bright spots on the Raiders team all year. At least, that's what the stats say.
Let's get the obvious out of the way. Yes, most of Carson Palmer's statistics came in garbage time. But we still have to tip our hats to the guy. Over 14 full games and some of a 15th, Palmer threw 565 passes. Late in the game and down by multiple scores, it was Palmer who gave the Raiders a chance at winning, even if that chance was minuscule.
Take this into consideration. Once Darren McFadden and Mike Goodson both went down to injury, the Raiders altogether stopped trying to run the ball and aired it out.
In the five games that McFadden was out, Palmer threw the ball 40 or more times in four of five games. That's including the Tampa Bay game which McFadden started, but was injured in early on.
In those five games, Palmer threw for an unbelievable 234 passes, averaging 46.8 passes a game. He also threw eight interceptions in those games. The reason why I point this out is that Palmer had 14 interceptions all season. 57% of those interceptions came when defenses knew the Raiders were going to pass.
However, there were other times where Palmer flat out looked bad. In his homecoming to Cincinatti, Palmer looked pitiful. When the Raiders needed him in a shootout against Peyton Manning, Joe Flacco and Josh Freeman, Palmer came up short time and time again.
In the end, the Raiders have an extremely tough choice to make. Palmer is one of the most fundamentally sound quarterbacks with a great arm, but his massive contract, age and inability to step up when needed most are heavily against him.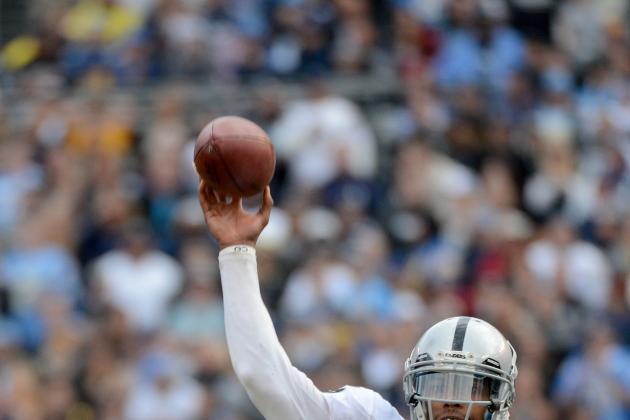 Donald Miralle/Getty Images

Terrelle Pryor is a tremendous athlete, but does that mean that he can be a tremendous quarterback? That question is going to be asked time and time again come training camp.
The likes of Robert Griffin and Colin Kaepernick have opened up doors for Terrelle Pryor. In the past, mobile quarterbacks who specialized in in the spread offense in college were asked to adapt to the drop-back and pass offense of the NFL. Today, the two are being combined and have had some remarkable success, for now that is.
While these new tricky offenses have helped that brand of quarterbacks adapt, the jury is still out whether or not mobile quarterbacks can survive in the NFL with their style of play.
As of right now, fans are more in love with the idea of having a speedy quarterback who can run past defenders more than they're in love with Terrelle Pryor.
Before Pryor can be that guy, he still needs to work on his game. In one game against the Chargers, I took down plenty of notes on the guy.
For one, he has great natural talent. He has great arm strength, decent accuracy and blazing speed. He also showed a lot of signs of leadership when he pulled Mike Goodson away from Takeo Spikes.
For every good, there's a bad unfortunately. His footwork is sloppy and decision making could lead to trouble some times. For example, his touchdown to Denarius Moore. He was rolling out to the right and floats a ball across the body.
Sure, the result was a touchdown, but we saw both Peyton Manning and Brett Favre end their Super Bowl hopes the same exact way.
Just some food for thought.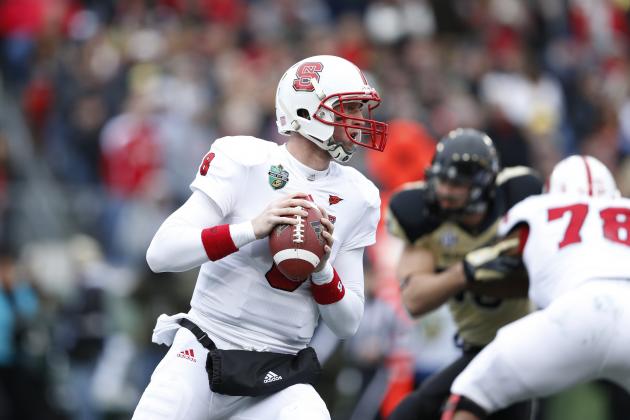 Joe Robbins/Getty Images

The quarterbacks currently on the roster are not the only quarterbacks who could be starting come September for the Raiders. If Reggie McKenzie and Dennis Allen feel that one of the quarterbacks in this draft fit the mold of the Raiders' future, don't be surprised if one is taken.
In a relatively weak draft class for quarterbacks, only a few stand out to me. Geno Smith, I believe, is the best quarterback because of his mix of mobility, arm strength and overall talent. Mike Glennon boasts a very strong arm, but is wildly inaccurate at times.
The Golden Boy Matt Barkley has fallen on tough times lately, but was once seen as an equal to Andrew Luck. Ryan Nassib wasn't well-known in college, but has skyrocketed into day one draft talks lately.
And lastly, EJ Manuel has the most potential out of all quarterbacks, but his game film at Florida State failed to show that he has fully grasped the quarterback position.
Keep on reading to see if these quarterbacks fit with the Raiders or not.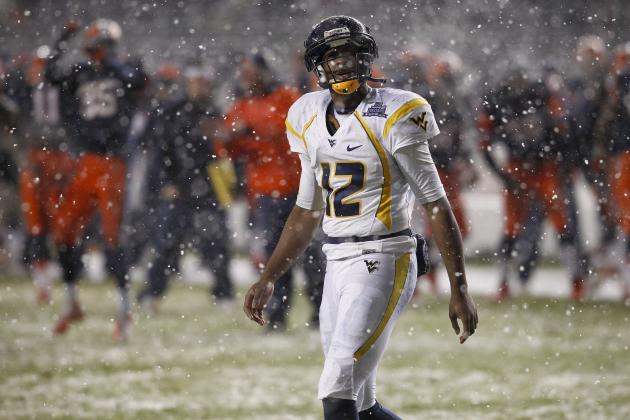 Jeff Zelevansky/Getty Images

Geno Smith is an interesting prospect. He is an accurate passer who can make all the throws you want him to make. However, that isn't to say he isn't one of the athletic quarterbacks either.
Smith isn't going to turn anyone's head with his speed, but his in-pocket mobility and ability to get outside on roll out plays are very useful. If Darren McFadden can get on track, a play action bootleg with Smith could be very effective.
The question come April will be whether or not Smith is an elite quarterback worth of a top three draft pick. At this point, I'm hesitant to say yes. At this point, I'm hesitant to name any player in this draft outside maybe one or two a lock to go top three.
I do see Smith at the top of the quarterback class though. I would compare Geno Smith to Joe Flacco. A guy with a rocket arm and very underrated mobility. If Smith could lead the Raiders to where Flacco led the Ravens, I'll be happy.
One thing I need more to see from Smith is his footwork coming out of a traditional offense under center. At West Virginia, Smith would line up in a shotgun all the time and take a three-step drop and usually nothing else.
With the Raiders, Geno Smith could be excellent. The current group of Raider receivers don't do an excellent job creating separation and Smith's accuracy would help out a lot. With so much speed on the offense already, defenses will be pulling hairs if Smith decides to tuck and run.
Overall, Smith would be a good draft pick. Sitting at number three, I don't know if it would the best draft pick.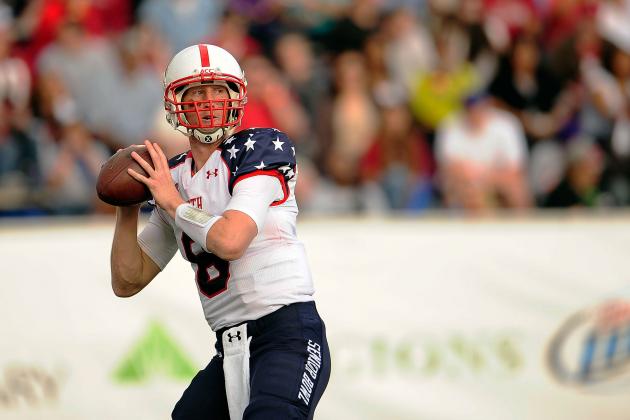 Stacy Revere/Getty Images

All week during the Senior Bowl, Glennon was talked up and up by everyone. He was loved by many people, from writers on this very site to well-respected Mike Mayock. If you look at his body of work, you might just fall in love with him too.
Glennon is a tall quarterback, standing at 6'6", so height issues won't be a problem, as if it is in the first place. Secondly, Glennon has a rocket of an arm. There are certain throws he makes that makes me cringe because I think, "that receiver's hands must be hurting!"
Come game time, I was not overly impressed by Glennon. He has great arm talent, but he needs to work on a lot of his mechanics. He got sloppy and times and when there was pressure, Glennon kind of folded.
I remember one play where he got out of trouble, set his feet and the ball ended up a few yards short. Both Mr. Mayock and I were baffled at what happened.
The Raiders already have a quarterback with arm talent and sloppy mechanics. His name is Terrelle Pryor. Glennon is closer to being ready to play than Pryor, but Pryor, in my opinion, offers much more upside if utilized correctly.
Assuming either the Raiders trade into the second round for Glennon or he falls to the Raiders in the third, I can't say that the marriage won't end happily. Greg Olson is expected to employ a more vertical passing game and like I've said before, Glennon can sling it.
At this point, I see some similarities to Carson Palmer, only without the great mechanics. Both have good arms and have a gunslinger mentality, but Palmer is miles ahead of Glennon in terms of footwork and overall mechanics.
Jeff Zelevansky/Getty Images

Ryan Nassib of Syracuse has had the biggest rise of all the quarterbacks this year. He's also the most polarizing player at the position, in my opinion.
I've only watched two of Nassib's games this year, three if you include the Senior Bowl. In all three games, I've noticed the same thing. His mechanics are great. His accuracy is very suspect.
When Nassib drops back to pass, it just looks pretty. He throws the ball the way you want a quarterback to throw a ball. However, he just doesn't have very good accuracy.
There were a couple times against Louisville where he missed some very easy throws. Granted, he can make some tough throws too, but he has to be able to make the easy ones.
Another thing is that Nassib doesn't really have great arm strength. In a vertical passing offense, I want to know that our quarterback can sling it down field if he has to, while throwing the out route with ease. I'm not sure if Nassib can do that.
There are two quarterbacks that I think of when I see this type of quarterback; a weak-armed quarterback with good mechanics. Those two are Andy Dalton and Mark Sanchez. Unfortunately, I think Nassib will end up being more like Sanchez and that the Raiders should avoid him at all costs.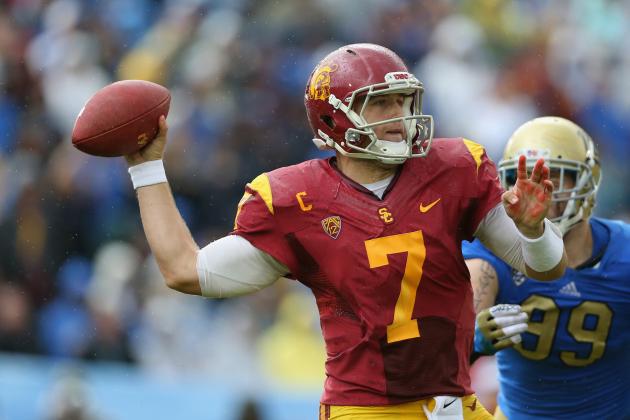 Jeff Gross/Getty Images

Speaking of weak-armed quarterbacks with good mechanics...Matt Barkley, ladies and gentlemen.
Before you criticize me for even having Barkley in this article, pause for a second. There's a reason why Barkley was considered to be such a good prospect.
In the short to intermediate game, Barkley is probably the most accurate quarterback in this draft class. He looks the part of a professional quarterback. He has great intangibles and his fundamentals are top notch.
We all know about Barkley's fall. He fell especially hard after a devastating loss handed to him by my very own Bruins. In that game, he looked awful at times. He made bad throws and was late recognizing pressure.
However, I believe Barkley can succeed, that is, if he is in the right system. The Oakland Raiders' offense last season is one that I could see Barkley playing in. I do not feel the same way about Olson's offense.
The only scenario in which I would be fine with the Raiders taking Barkley is if he fell to at least the fifth round. I do not want the Raiders taking Barkley any earlier than that and I'm sure the rest of you Raider fans feel the same.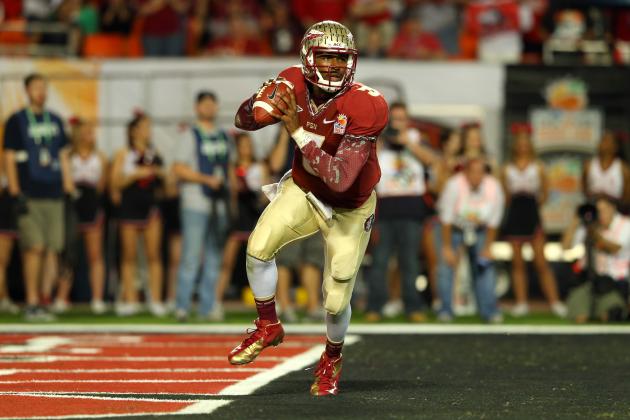 Mike Ehrmann/Getty Images

EJ Manuel has been regarded as one of the most talented quarterbacks in all of college football over the past two seasons. At the same time, he was also considered one of the most disappointing.
The reason being is that Manuel has the potential to light it up in the college football scene. He can make plays with his arm, but has enough speed to be an effective quarterback in a read-option offense. Coming from a pro-style offense, Manuel disappointed many, but is better prepared for the NFL.
Please remember that come draft day. Manuel played in a pro-style offense, which will really help his development as a rookie. Whether he can put it all together to start or not remains to be answered.
In the Senior Bowl, Manuel was impressive. His first touchdown pass was a thing of beauty as he placed it exactly where it needed to be. It's true that the safety was lost throughout the entire play, but the ball placement and touch were beautiful.
Manuel is definitely versatile and could find success in Olson's offense, though he isn't exactly a quarterback who pushes it down-field constantly. He definitely has the ability to do so, but it's not exactly his style.
The only problem with Manuel is that he is too similar to Terrelle Pryor. Both are great athletes who have yet to reach their potential as a quarterback. At this point, Manuel is much more prepared as a passer than Pryor, though the latter is a much better runner.
Ultimately, if Manuel was still available in the middle rounds, I say the Raiders should take him. He has too much talent to pass up and could be a valuable back-up.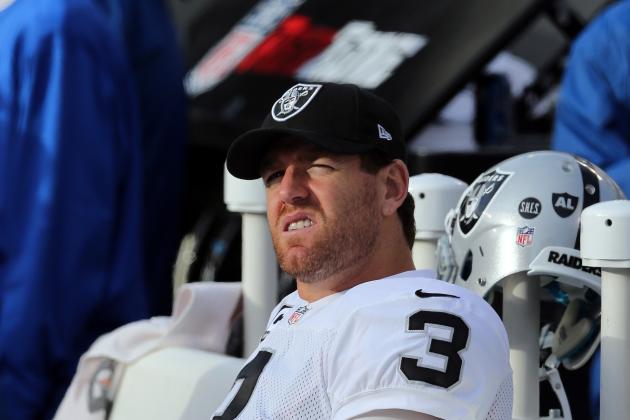 Streeter Lecka/Getty Images

If it were up to me, I would either cut ties with Carson Palmer unless he restructures. I'll be the first guy to say that I am a fan of Palmer, but $13 million is a lot of money for a quarterback who hasn't shown the ability to lead in crucial times.
At that point, I still don't know if Pryor is the answer or not. I will be looking at the quarterbacks in this draft religiously to find Pryor some competition. Because of the other holes on the team, I will absolutely not consider any quarterback with the third overall pick.
As for Geno Smith, I'll consider trading back into the second round as long as the price isn't too high.
Outside of Smith, Manuel is the one quarterback I have my eyes on. Like Glennon and Nassib, Manuel's accuracy is a little shaky at times, but he rises up in the big games. He stood tall and picked the defense apart in the Senior Bowl. He has never lost a bowl game.
The Raiders need someone who can step up. Pryor can be that guy, but he's going to need someone to push him. If Pryor beats out Manuel, then it's always a good idea to have a good backup. The Raiders, more than anyone else, should know how important it is to have a competent backup quarterback. Try not to think too much about Kyle Boller's three interception first half.
But sadly, I am not Reggie McKenzie and what goes on in my mind is not what goes on in the real world. Will the Raiders consider a quarterback? I don't know, but I do know that Reggie McKenzie has some decisions to make regarding the quarterback position.
Please tell me what you think, Raider Nation! What should Reggie McKenzie do with Carson Palmer? If CP3 is gone, should the Raiders draft another quarterback or stick solely with Terrelle Pryor?
I'll be back next time with my next edition of Oakland Raiders Break Down where I'll focus on the running backs position.