Super Bowl 2013 Predictions: 10 Over/Under Projections for Ravens vs. 49ers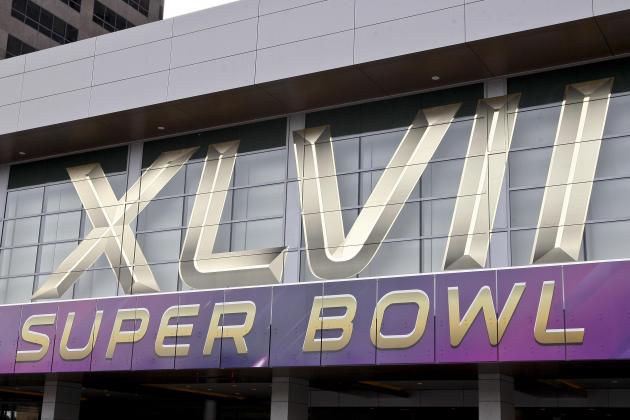 Derick E. Hingle-USA TODAY Sports

Folks, we're finally reached Super Bowl week and the magnitude has intensified between the Baltimore Ravens and San Francisco 49ers.
Will Ray Lewis go out in championship fashion with a second Vince Lombardi Trophy or will second-year quarterback Colin Kaepernick steal the show and bring the Bay Area a sixth title?
Along with brothers John and Jim Harbaugh coaching against one another, the two have instilled similar football philosophies in their respective teams. Each offense presents a run-first attack and the defenses love to get physical.
Due to the nature of this game on both sides, the victor of Super Bowl XLVII will win the battle at the line of scrimmage and execute only one or two big plays. Whether it's a turnover, clutch catch or key first down, this will be a fun matchup to watch.
In preparation for kickoff, let's dive into some over/under predictions for Sunday's action.
Begin Slideshow

»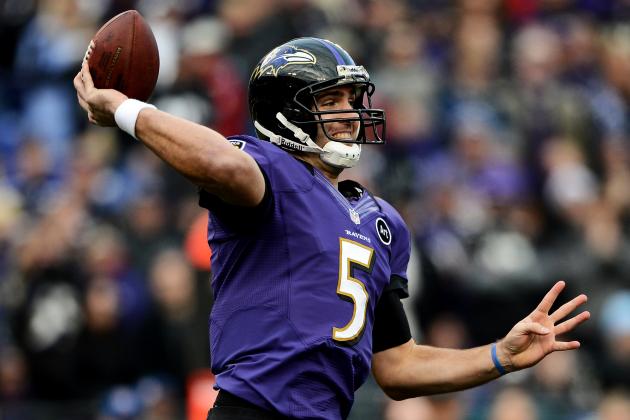 Patrick Smith/Getty Images

Joe Flacco has been quite efficient this postseason.
That efficiency, though, is strictly limited to the realm of ball control because his postseason completion percentage is just 54.8.
Compared to his 2012 regular season numbers, Flacco has dipped in this regard from 59.7 percent. On the flip side, San Francisco's defense has been on an eerily similar decline.
The 49ers only allowed a 59.4 completion percentage during the regular season and ranked No. 4 in pass defense. After facing the high-powered pass-first attacks of Aaron Rodgers and Matt Ryan, however, San Francisco gave up an average 69.1 completion percentage between its two NFC postseason foes.
Even worse for the 49ers is their failure to generate turnovers in January, only two picks and two fumble recoveries.
Flacco's decision-making has been undeniably impressive, but the accuracy must still reach another level in Super Bowl XLVII. It's also imperative that San Francisco's defense steps up.
Given Flacco's reliable receiving corps, though, which are comparable to that of the Atlanta Falcons, the 'Niners will get exposed early once again.
Joe Flacco: Over a 62 completion percentage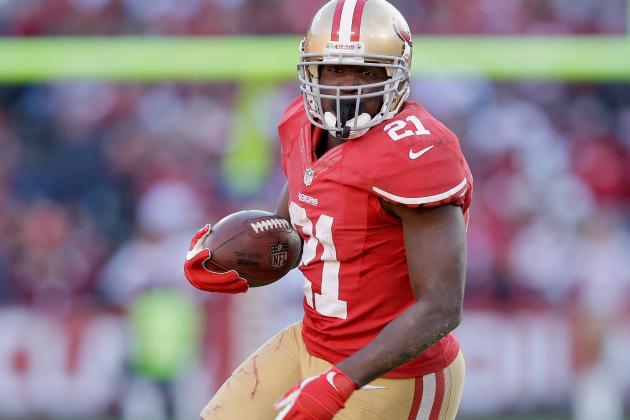 Ezra Shaw/Getty Images

Frank Gore, not Colin Kaepernick, is the key to San Francisco's offense.
It's because of Gore's ability to slam inside, as well as accumulate yards after contact.
In games throughout 2012 where Gore rushed for fewer than 65 yards, San Francisco went a mere 3-4. During the two postseason matchups, Gore hit at least 90 each time and accounted for 209 total rushing yards, not to mention three rushing scores.
Also, if there's one deficiency on Baltimore's defense, it's consistently stuffing the run. The Ravens allowed an average of four yards per rush in the regular season and have given up 385 rushing yards in three playoff games.
So we can easily anticipate San Francisco constantly feeding Gore's craving as the Super Bowl progresses. His impact, however, will be better served on manipulation that actual production.
Gore needs to get established early because his ability to push the pile inside sets up Kaepernick on read-options. It's a dimension that provides the 49ers with a competitive advantage up front.
Therefore, utilizing Gore to keep Baltimore honest allows Kaepernick to capitalize elsewhere.
Frank Gore: Under 120 rushing yards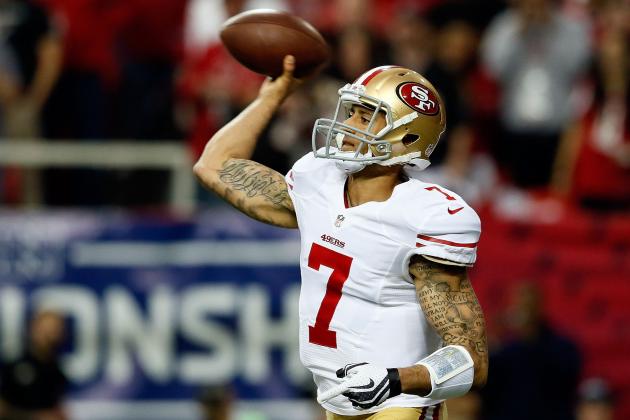 Kevin C. Cox/Getty Images

Colin Kaepernick may have racked up 181 rushing yards against the Green Bay Packers, but the Ravens are a much more disciplined defense.
Here Kaepernick cannot get into a funk early, as Baltimore's veteran defense will smell any lack of confidence.
It's easier to make a comeback over the Atlanta Falcons because their defense pales in comparison to the experience of Baltimore. One key is for Kaepernick to constantly attack the Ravens out of the pocket.
This will negate Baltimore's pass rush because the Ravens must keep contain and prevent Kaepernick from making plays out of the pocket. That's where he is most dangerous.
The more impact San Francisco's quarterback makes from under center and on quick passes, though, simply complements the run. Kaepernick and Gore's combo on the ground will let the rest of Jim Harbaugh's playbook open up.
Thereafter, Kaepernick can target Vernon Davis, Michael Crabtree and Randy Moss. Courtesy of such reliable playmakers, Kaepernick will enjoy a stronger passing day. Also, with the brunt of the carries going to Gore, Kaepernick's rushing impact threatens more inside the red zone.
In addition, Baltimore won't double cover anyone, as that would increase other coverage vulnerabilities.
Colin Kaepernick: Under 280 total yards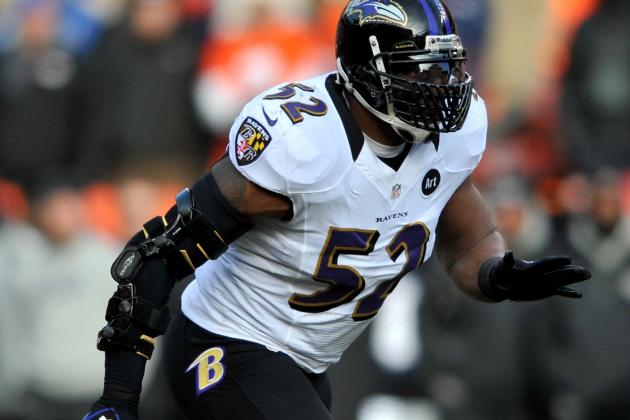 Dustin Bradford/Getty Images

Ray Lewis is in the midst of one of his best postseasons, which is saying a lot.
With 44 tackles through three playoff games, Lewis has already broken his personal best in tackles: He collected 31 following the 2000 NFL season, when Baltimore won it all over the New York Giants.
Even more impressive is Lewis having recorded just 57 tackles through six regular season games. So, all the legendary linebacker needs are 14 tackles to surpass his 2012 production in one postseason.
Given that two of Baltimore's playoff wins have come over Peyton Manning and Tom Brady on the road, Lewis' impact gets significantly amplified. Quickly checking out the 49ers offense and they're a favorable matchup for Lewis and Co. as well.
San Francisco fields effective balance, but at its core presents a run-first approach. In other words, Lewis will have plenty of opportunities to make plays up the gut and off tackle.
There's no secret to the 49ers offense or the Ravens defense. Get physical and win the battle up front to control the tempo. Plus, Lewis needs to make play after play for Baltimore to have any shot at winning.
Otherwise, San Francisco will take the possession battle and minimize the Ravens' offensive series.
Ray Lewis: Over 13.5 tackles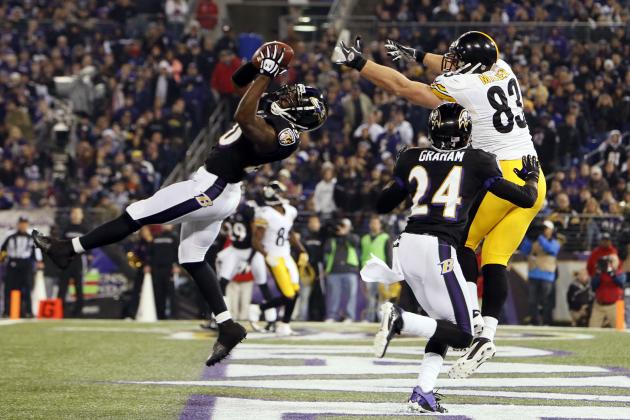 Mitch Stringer-USA TODAY Sports

Ed Reed against the San Francisco passing game will be a key matchup in Super Bowl XLVII's outcome.
Considering how much the 49ers like to hit on the ground, Reed cannot get sucked into any play-action or get antsy when sitting back deep.
Playmaking opportunities will occur, the toughest part is recognizing and capitalizing when it appears. The 49ers aren't going to give Reed many either because Colin Kaepernick's strong arm and accuracy will spread the field.
No matter how many (or few) passes Kaepernick attempts, the guy darts the rock downfield and possesses the awareness to use his entire arsenal. San Francisco simply presents too many offensive weapons for Kaepernick, as each are capable of defeating man coverage and finding the zone's soft spot.
As for Reed, he'll be challenged more than once but not to an extensive amount because San Francisco must stretch the Ravens out and keep them off balance. The 49ers can't have Reed sneaking up into the box or easily reacting to predictable play-calling when in coverage.
Ray Lewis will make his share of plays, as he is much more well-positioned pre-snap than Reed. The veteran safety's biggest test will be patience, as turnover opportunities will be few and far between Sunday.
Ed Reed: Under 2.5 defended passes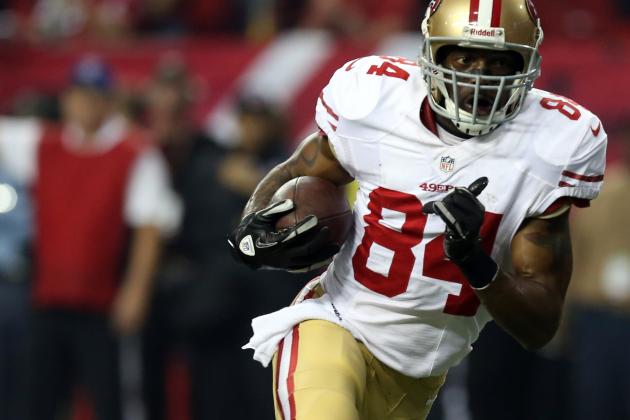 Matthew Emmons-USA TODAY Sports

Since Week 13, Randy Moss has caught 17 passes including the postseason.
It's the most consistently he has contributed on a weekly basis all season.
On a different threatening scale to Baltimore's defense, though, Moss averaged 15.5 yards per reception in the regular season and enters Super Bowl XLVII at 14.2 per catch in two playoff games, meaning Moss will be responsible for pushing the Ravens' secondary on its heels. Ed Reed is the main defensive back to garner attention from.
Moss' contributions to San Francisco won't be immense in terms of numbers. But his deep-threat ability must make itself present whenever facing man coverage. As a result, Colin Kaepernick will target Moss against any mismatch.
Regardless of the play's result, the potential of Moss hauling in a few big catches throughout will force the Ravens to honor San Francisco's aerial assault. In turn, everything opens up underneath and Baltimore doesn't consistently stack the box to shut down Frank Gore or isolate Kaepernick's mobility.
And, as the contest unwinds, it's Moss' duty to keep Reed occupied and force a bracketed zone in his direction. In short, consider Moss the unsung hero of the 49ers offense, as his natural big-play talent is a competitive advantage.
Randy Moss: Under 2.5 receptions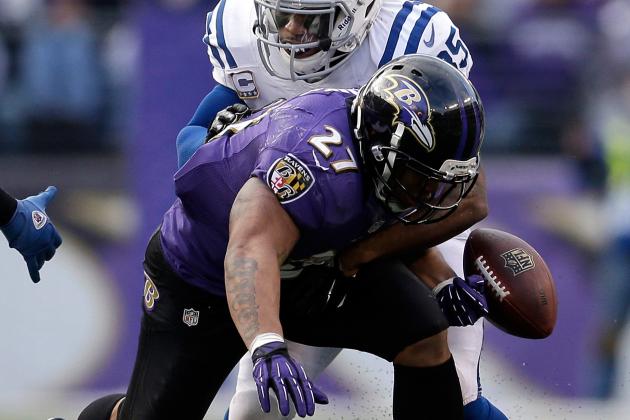 Rob Carr/Getty Images

The turnover battle will be an intriguing factor of Super Bowl XLVII.
When 2012's regular season finished, the Ravens and 49ers each saw a plus-nine turnover ratio, with each team accumulating 25 takeaways, while surrendering 16 turnovers. Coincidence? Perhaps.
Regardless, it's no secret each offense took care of the ball and the defenses generated turnovers when needed. As for the postseason, Baltimore enters the big game at plus-five and San Francisco at plus-two.
So, we can reasonably expect this colossal matchup to largely be clean of miscues and free of ugly broken plays that result in costly field position. Joe Flacco hasn't tossed an interception all postseason, Kaepernick went turnover-free against Atlanta last week and Frank Gore has yet to fumble in the playoffs this year.
No, these aren't jinxes. It's just a testament to how dependable these guys have played through the biggest of games and they will be counted on in crunch time.
Ravens running back Ray Rice lost two fumbles in the Wild Card round, although he hasn't coughed it up since. Colin Kaepernick tossed a pick six to Green Bay on San Francisco's first playoff possession, but thereafter he has been virtually flawless.
Factor in other reliable playmakers such as Torrey Smith, Anquan Boldin, Randy Moss and Vernon Davis, and the defenses have their hands full.
Under 1.5 turnovers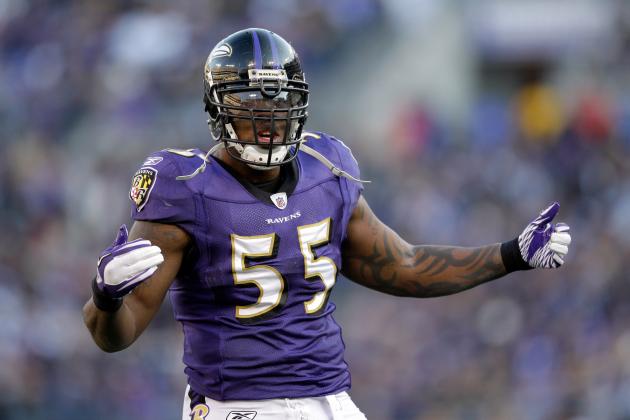 Rob Carr/Getty Images

Oh, how the tides have turned between Baltimore and San Francisco's pass rush.
Interestingly enough, despite Aldon Smith's dominance with 19.5 sacks in the regular season, the man has been almost non-existent in the playoffs, with only one forced fumble and no sacks.
Additionally, Baltimore was banged up defensively for much of the regular season and still finished with 37 sacks, one fewer than the 49ers. Rush linebacker Paul Kruger stepped up big time in 2012 and logged 2.5 sacks against the Indianapolis Colts to kickoff the postseason.
Altogether the 49ers have just two sacks in the playoffs.
Prior to Super Bowl XLVII kicking off, it's obvious the Ravens' defensive front is peaking. On the other hand, San Francisco struggled to slow down Atlanta and Baltimore's offense is just as capable of encoring the Falcons' early performance.
Joe Flacco has been provided solid pass protection all year and it's only improved through January. Colin Kaepernick, however, survives on mobility, play-action and a quick release when surveying the field.
Combine all the elements and there won't be much quarterback pressure on Sunday. The offensive lines are too good at selling the run and the quarterback's distinctive attributes will take advantage.
Under 4.5 total sacks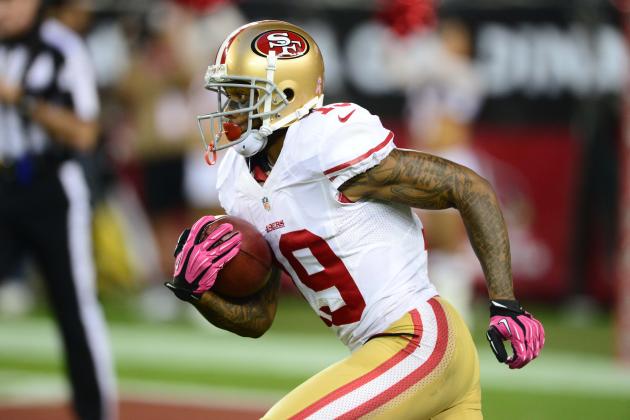 Mark J. Rebilas-USA TODAY Sports

Zero punt returns for a score or at least one for a touchdown?
Well, each team fields an explosive return specialist capable of taking one back at any time.
Ted Ginn for San Francisco averaged 10.2 per attempt on 32 returns during the regular season, but has seen limited opportunities in January.
Baltimore's Jacoby Jones averaged 9.2 yards on 37 returns throughout 2012, including one touchdown. Even better, Jones has averaged 13.7 on six attempts this postseason.
To the 49ers' advantage, though, Baltimore allowed two return scores—one was a kickoff—of the Denver Broncos' Trindon Holliday. Factor in Ginn's experience and established returning skill set and the Ravens are suspect to blanketing him on punts.
San Francisco also possesses a more consistent punt coverage unit. The 49ers fared better in the regular season than Baltimore and emphatically better through January.
Under the dome and on the faster surface in New Orleans, if a punt return touchdown doesn't happen, someone will come mighty close.
Over 0.5 punt returns for a touchdown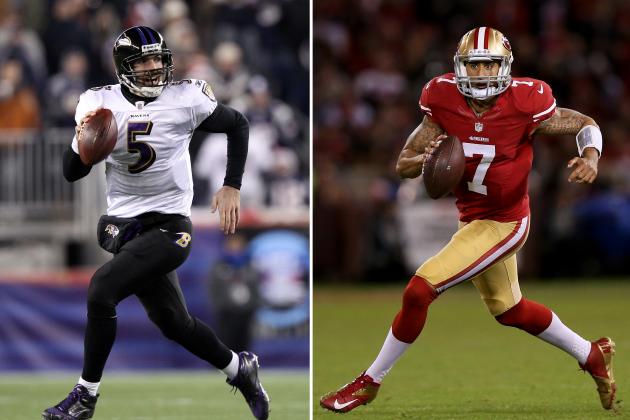 Elsa/Getty Images

For as explosive as these offenses have proven to be, the defenses are equally capable of locking down in key game-changing situations.
That said, Aldon Smith's lack of a postseason pass rush must make an impact for San Francisco's front seven.
At the same time, Baltimore's defensive front needs to dominate the line of scrimmage and stop the run. Running the rock is one thing each offense knows how to establish.
The impact of Ray Rice and Frank Gore will be responsible for keeping the opposing defense off balance. A byproduct of that is winning the possession battle and getting into scoring position.
As the game progresses, expect each defense to play physical press coverage with either a Cover 1 or 2 look. This immediately reroutes the receivers and keeps the cornerbacks at the line to help with edge run support.
The end result will be a lower scoring affair than what each offense produced this postseason. It's two teams with eerily similar philosophies and overall personnel to create and limit the big play. Red zone opportunities will be scarce and turnovers a non-factor early on.
Expect plenty of punts, changes of possession and attempts for a big play. Points, however, will be held below what's considered a scoring festival.
Under 53 total points scored