Ranking the Most Watchable NFL Games of Week 16
New York Giants vs. Baltimore Ravens is a huge Week 16 tilt.
Larry French/Getty Images
To rank the most watchable games of Week 16 in the 2012 NFL season, you need to study the updated standings and the playoff implications of every contest. A few NFL teams are contemplating starting backup quarterbacks for their first start of the 2012 season in Week 16, so that raises the curiosity factor of some games.
Week 15 was blessed with a number of great games. During a show last week on NBC's Pro Football Talk, they revealed that the Week 15 lineup was only the fourth time in NFL history that featured five games this late in the season where both teams were at least three games over .500.
Week 16 isn't so fortunate with classic battles. However, Week 16 will go a long way towards determining which teams clinch a playoff berth, who is eliminated from the playoffs and further cements the 2013 NFL draft order.
By the way, now that we have reached Week 16 on the schedule, all of the Thursday Night Football and Monday Night Football games are done. We do have one Saturday night game this weekend on ESPN, as that will be the final non-Sunday game of the 2012 NFL regular season schedule.
Highlights for Week 16 include a whopping seven home underdogs, no even or pick 'em games and four games with at least double-digit point spreads.
Coming down the stretch, some teams that are out of contention will throw in the towel early. We have already witnessed four shutouts over the past two weeks. But some teams that are in contention can suddenly turn flat, as evidenced by the New York Giants and Tampa Bay Buccaneers being shut out in Week 15.
All point spreads were accurate and current when this was submitted for publication. Point spreads are courtesy of ESPN.com.
16) Oakland Raiders (4-10) +10 at Carolina Panthers (5-9)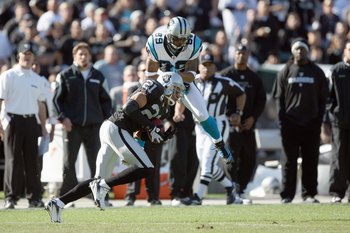 The Panthers and Raiders game will have an impact on 2013 draft order.
Jed Jacobsohn/Getty Images
The Oakland Raiders at Carolina Panthers game is ranked as our least-desirable game to watch in Week 16. Their combined records of 9-19 is the worst of any two opponents in a Week 16 game, so that is why they command the lowest slot for Week 16 rankings.
Both teams will be looking ahead to 2013 and to the NFL draft for some major improvement.
The good news is that both teams come into the game with a winning streak, as Carolina has won its last two and Oakland won in Week 15. The bad news is that the winner of this game loses some valuable ground in the first round of the draft.
At 4-10, Oakland would jump into a cluster of six other teams that have five wins currently. Carolina is one of those 5-9 teams, and a win for the Panthers would probably drop them out of drafting in the top-10 picks in 2013.
A player to watch in this game is Carolina LB Luke Kuechly. He is only two tackles out of first place in the NFL for tackles on the year. If he winds up leading the NFL in tackles, that could put him in prime position for the NFL Defensive Rookie of the Year award.
In the event you were wondering that the Raiders were turning over their first pick to the Cincinnati Bengals in the Carson Palmer trade, that isn't going to happen. The deal was that the Raiders would surrender a second-round pick in 2013, which would revert to a first-round pick if Palmer led Oakland to the AFC Championship Game in either 2011 or 2012. Safe to say it will be a second-round pick.
15) Chicago Bears (8-6) at Arizona Cardinals (5-9) +6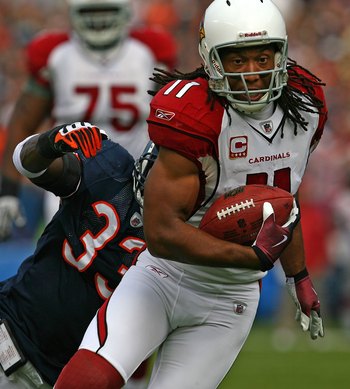 Larry Fitzgerald draws talented Bears secondary in Week 16.
Jonathan Daniel/Getty Images
We have the Chicago Bears at Arizona Cardinals as our No. 15 game due to the play of the Arizona Cardinals. The Cardinals have finally snapped their nine-game losing streak, but are still a pretty tough team to watch.
The team with the losing streak is now the Bears, who have dropped three straight games, and are now in danger of falling out of the postseason in the crowded NFC.
After Arizona, the Bears play at Detroit, so they need both of these games to finish up at 10-6, which still might not be good enough to qualify for the playoffs.
One interesting pairing will be how the Bears secondary wants to play Arizona WR Larry Fitzgerald. The Bears have a pair of excellent corners in Tim Jennings and Charles Tillman.
The Bears are trying to get healthy in time for the postseason. If Jay Cutler continues to improve from his injuries, the Bears shouldn't have too much trouble with the Cardinals.
Arizona excels at turning the ball over, while the Bears defense excels at creating turnovers. This one shouldn't be very close, which is why the Cardinals are the home underdog.
14) New England Patriots (10-4) at Jacksonville Jaguars (2-12) +14
Tom Brady has another NFL MVP award in his sights.
Jim Rogash/Getty Images
The Jacksonville Jaguars are a whopping 14-point home underdog in this Week 16 game against the New England Patriots. The Patriots are smarting after their second-half rally against the San Francisco 49ers came up short. New England may wind up losing out on a second home game in the postseason as a result of the loss.
Jacksonville was only able to come up with three points against Miami in Week 15. The Patriots defense should be fired up after allowing 41 points to San Francisco, so expect it to play with plenty of motivation.
Tom Brady is in the running for another MVP award, so these last two weeks will be viewed closely by the voters. The Jacksonville defense that has an overall rank of No. 31 in the NFL, and the pass defense is ranked No. 24, so Brady should have a field day in this game.
This game has a very good chance of becoming a blowout early on.
13) San Diego Chargers (5-9) +1 at New York Jets (6-8)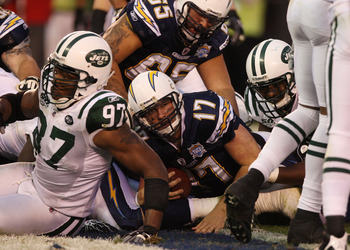 Can New York Jets Get Enough Pressure on Philip Rivers?
Donald Miralle/Getty Images
The San Diego Chargers travel to face the New York Jets in Week 16 action. The Jets were mercifully eliminated from the 2012 postseason picture due to their dreadful performance on Monday Night Football.
Mark Sanchez committed five turnovers in the game, and that seems to be the final straw for head coach Rex Ryan's patience level with Sanchez. Manish Mehta of the Daily News tweeted that a change is about to happen:
Expect the Jets to make a starting QB change this week vs the Chargers
As of now, the decision between starting either Tim Tebow or Greg McElroy hasn't been made, but will be decided later this week.
The Chargers probably were hoping that they could be the team to knock the Jets out of the playoffs, since the Jets had defeated San Diego at home in the 2009 postseason. Since Tennessee was able to accomplish the feat, one has to wonder how much motivation San Diego still has left. It was clear that the Chargers didn't play with much heart in Week 15, losing to Carolina 31-7.
If the Jets do wind up starting Tebow, the curiosity factor of watching him perform will pull in more viewers than this game probably deserves.
Finally, we do recall that there has been some history between Norv Turner and Rex Ryan in the past. But with Turner apparently headed out the door after the season, this would be bad timing on Ryan's part to kick Turner while he is down.
12) Buffalo Bills (5-9) +4 at Miami Dolphins (6-8)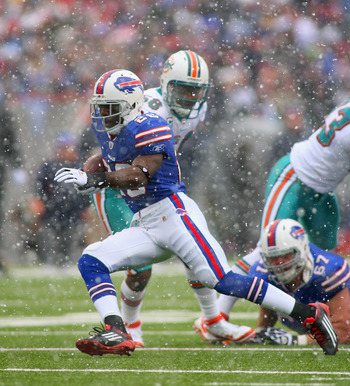 C. J. Spiller will get plenty of touches against Miami Dolphins.
Rick Stewart/Getty Images
The Week 16 contest between the Buffalo Bills and Miami Dolphins on the surface doesn't seem to carry much significance. Both AFC East teams are out of the playoffs and both teams are at least two games below .500.
The Dolphins took care of Jacksonville 24-3 in Week 15, while the Bills were becoming mesmerized by Russell Wilson and the Seahawks 50-17. The Bills turned off the switch in the second half, despite trailing by only 10 points at halftime.
Miami RB Reggie Bush needs 105 yards to secure a 1,000-yard rushing season, so the Dolphins would probably like to accomplish that goal in this contest. The Bills run defense was just gashed by Seattle in allowing 270 yards on just 32 carries, which amounts to an average of 8.4 yards per rush.
Buffalo RB C.J. Spiller topped the 1,000-yard mark against Seattle, so the Bills might want to focus on getting the ball to WR Steve Johnson. Johnson needs just 109 yards for his third straight 1,000-yard season in receiving yards.
Besides playing for some individual goals, this is a AFC East division battle, so there will be some pride at stake. Buffalo defeated Miami back in Week 11 on Thursday Night Football, 19-14. A win would give the Bills a season sweep, which is payback for Miami sweeping them last year. Under Chan Gailey, the Bills have never swept an AFC East rival.
The last time the Bills swept a AFC East rival in a season was back in 2007, when the Bills swept both Miami and the New York Jets that year.
11) St. Louis Rams (6-7-1) + 3 at Tampa Bay Buccaneers (6-8)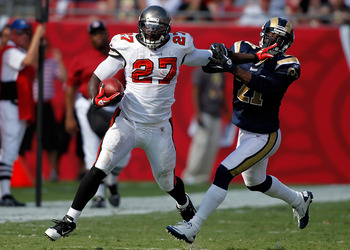 Bucs vs. Rams is a battle of two of most improved teams in 2012.
J. Meric/Getty Images
This was looking like an attractive game for Week 16, but when both teams lost in Week 15, the importance of this game dropped in our rankings.
The St. Louis Rams and Tampa Bay Buccaneers are two teams that have taken a major step forward in 2012. Both teams were reeling in 2011, and major changes were required to turn around their fortunes.
Head coach Jeff Fisher has led the Rams turnaround, while Greg Schiano has made a big difference in the fortunes of the Bucs.
You have to wonder if the highly intense Schiano turned the screws too hard on his team to stay disciplined and physical. The Bucs were looking good at 6-4, but they have since lost their last four games. Being shut out by the New Orleans Saints 41-0, especially with as bad as the Saints defense has been at times this year, shows that Schiano might have sucked all the life out of the Bucs after Week 11.
It will be interesting to see if the Buccaneers bounce back. Or have they thrown in the towel for good like they did under Raheem Morris in 2011?
10) Indianapolis Colts (9-5) at Kansas City Chiefs (2-12) + 6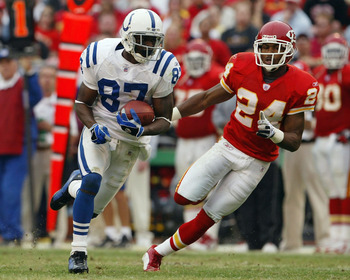 Reggie Wayne looks to extend his great 2012 season against the Chiefs.
Jeff Gross/Getty Images
The Indianapolis Colts came up short in their battle with the Houston Texans in Week 15. As a result, the Colts are now focusing on beating Kansas City to secure a Wild Card berth in the AFC.
When this went to publication, the starting quarterback for Kansas City is up in the air. Brady Quinn was hurt in the game against Oakland in Week 15 with a rib injury. The Kansas City Star is reporting that Romeo Crennel is considering going with Ricky Stanzi for the start, if Quinn isn't ready to play.
That would be welcome news for the Colts, as their defense would be allowed to tee off on an inexperienced quarterback. Not only that, but it is clear that the Chiefs have thrown in the towel. They were shut out in Week 15 by a Oakland Raiders defense that isn't that good. To illustrate how bad the Chiefs played, RB Jamaal Charles gained 10 yards on nine rushing attempts.
As it stands now, Kansas City is tied with Jacksonville for the worst record in the NFL. With a loss on Sunday, the Chiefs are guaranteed to be drafting no worse than No. 1 or No. 2 in the 2013 draft.
Indianapolis has the chance to try some things out this week and have some things down on tape for their first-round opponent in the playoffs to worry about.
9) Atlanta Falcons (12-2) at Detroit Lions (4-10) +4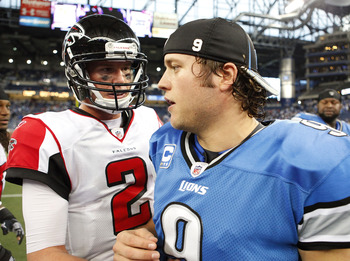 Two gunslingers in Matt Ryan and Matthew Stafford square off in Week 16.
Leon Halip/Getty Images
The Week 16 contest between the Atlanta Falcons and Detroit Lions is scheduled for Saturday night. The ESPN game would have been played on Christmas Eve if it were played on Monday night, so the game was moved to Saturday night.That should make all of the last-second Christmas shoppers happy at least.
Playing in front of a national audience, the Falcons will have a chance to put on a show as they prepare for their playoff run. Atlanta still owns the best record in the NFC, and a win on Saturday night takes it one step closer to securing home-field advantage throughout the playoffs. The Falcons are coming off a big 34-0 shutout of the New York Giants in Week 15 and want to continue building momentum for the postseason.
Detroit, meanwhile, has lost six straight games and its level of play seems to be getting worse by the week. How bad have the Lions become? In Week 15, they were blown out by the Arizona Cardinals, 38-10, who came in with a nine-game losing streak of their own. That is pretty bad.
Since this game will be inside the dome, the weather won't be a factor. With Matt Ryan and Matthew Stafford at the helm, expect the football to be flying around early and often. For Julio Jones, Roddy White and Calvin Johnson, they should all be viable players for those fantasy owners lucky enough to be in the playoffs.
8) Cleveland Browns (5-9) +13 at Denver Broncos (11-3)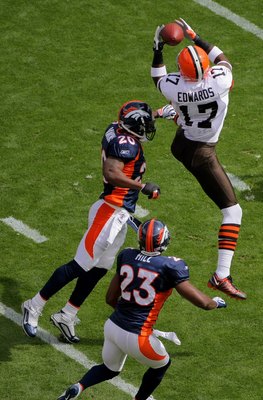 Many of the names and faces have changed since these teams last met three years ago.
Doug Pensinger/Getty Images
The Cleveland Browns and the Denver Broncos. When you put those teams together, the memories pop up of John Elway leading the Broncos on "The Drive" in the cold and mud in 1987 at Cleveland.
The last time these teams met was in 2009 and many of the key players from that game are no longer with either team.
As for the 2012 version of these franchises, the Denver Broncos are looking to clinch home-field advantage in the AFC for the 2012 postseason. The Cleveland Browns had a three-game winning streak snapped in Week 15 by the Washington Redskins.
Peyton Manning has led Denver to nine straight wins, and closing out the season with a win against the Browns in Week 16 and Kansas City in Week 17 would give the Broncos a 13-3 record. That would guarantee them at least the No. 2 seed in the AFC.
Manning is up for a host of various awards this year, ranging from Comeback Player of the Year, Offensive Player of the Year and Most Valuable Player. Denver probably wants him to just survive these final two regular-season games and get ready for postseason play.
7) Tennessee Titans (5-9) +13 at Green Bay Packers (10-4)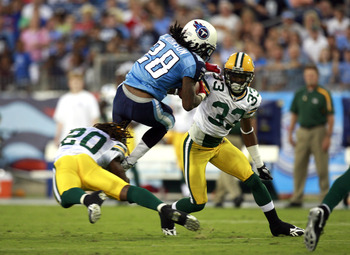 Green Bay will need to shut down Chris Johnson in Week 16.
Joe Murphy/Getty Images
The Tennessee Titans are not in playoff contention, so they can play the role of spoiler. The Green Bay Packers have quite a bit riding on this game, as they look to not only clinch the NFC North title, but to host a playoff game as well.
The last time these teams met was in 2008 and Titans RB Chris Johnson was held to 89 yards. That would be considered a moral victory, but the fact was that the Titans won the game in overtime, 19-16.
In the Monday Night Football game against the New York Jets, Johnson proved that he is as dangerous as ever. The Jets bottled him up for the vast majority of the game, but the one time they let him dart past the front seven untouched, he wound up streaking down the field for a 94-yard touchdown run.
Green Bay's Week 15 win over the Chicago Bears clinched the NFC North division title. The Pack can now focus on getting healthy for the postseason, while they play out the string. The Packers are still dealing with some injuries to key players like Jordy Nelson, but Clay Matthews finally returned in Week 15 looking solid.
With Greg Jennings active in the offense again, the Packers can start working on their chemistry as they prepare for their playoff run.
6) New Orleans Saints (6-8) +3 at Dallas Cowboys (8-6)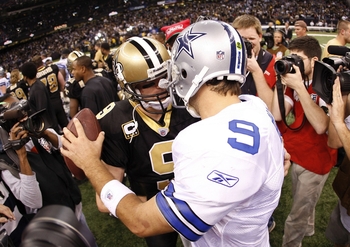 Will both No. 9's be out of the 2012 postseason?
Chris Graythen/Getty Images
The Dallas Cowboys are in a three-way tie in the NFC East with the Washington Redskins and New York Giants. All three teams are 8-6 and whoever can win their final two games could be in the driver's seat to win the NFC East division title.
After playing New Orleans, Dallas closes out the regular season at Washington, in a game that could very well determine who wins the division. But Dallas can't afford to look past New Orleans, who is far from a pushover. The Saints proved that in Week 15 when they shut out Tampa Bay 41-0.
New Orleans QB Drew Brees holds a slim 59-yard lead over Tom Brady in 2012 to have the distinction of passing for the most yards in the NFL. The Dallas secondary should provide a good challenge to Brees, so that should be one of the main points of interest in this game.
Another player to watch is Dallas TE Jason Witten. The Dallas Morning News reports that Witten needs just six receptions to establish a new single-season record for receptions by a tight end. Witten has 97 catches already, and if comes up with the six catches, he breaks the old mark of 102 which Tony Gonzalez established in 2004.
New Orleans is in a position to play the role of spoiler. That is something that Drew Brees and company will be up for, so the Cowboys can't afford to look past the Saints.
5) Washington Redskins (8-6) at Philadelphia Eagles (4-10) +5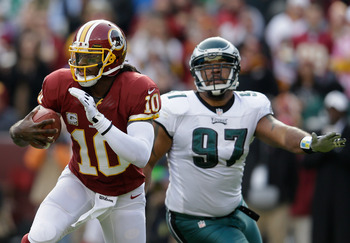 Will RG3 be ready to start against Philadelphia in Week 16?
Rob Carr/Getty Images
With three teams in the NFC East tied with a record of 8-6, the Philadelphia Eagles are in a position to play the role of spoiler. This Week 16 battle between two NFC East rivals headed in opposite directions will feature two rookie starting quarterbacks when the Washington Redskins travel to face the Philadelphia Eagles.
We know that one starting rookie QB will be Nick Foles. For Washington, it could be either Kirk Cousins or Robert Griffin III. Redskins fans will need to keep checking in for updates throughout the week to see what announcements the team will make regarding Griffin's status for this game. When we went to publication, there was still no further word on Griffin's availability.
But as Cousins has been demonstrating, he is up for the challenge. As long as Cousins continues to lead the Redskins to wins, why mess with a good thing? If Cousins struggles early, then you weigh the odds of pulling him for Griffin, considering what kind of damage you might be doing to RG3 down the road if he isn't close to 100 percent ready.
Philadelphia has been suffering key injuries across the board to their stars on offense, so you have to wonder which Eagles team will show up for this game. Jeff McLane tweeted this latest update:
Andy Reid said there's a chance LeSean McCoy will play Sunday. Said the #Eagles RB has been cleared by doctors.
Depending on McCoy's ability to be effective, the Eagles could be in a position to pull an upset. The Redskins are in a trap-game scenario, as they can't let themselves look ahead to their Week 17 regular season finale against the Dallas Cowboys. They need to take care of business first.
4) Minnesota Vikings (8-6) + 8 at Houston Texans (12-2)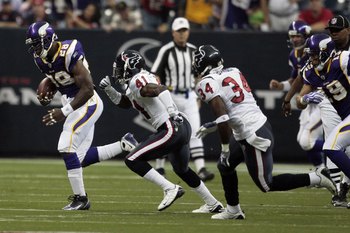 Can Adrian Peterson run wild against the Houston Texans defense?
Bob Levey/Getty Images
The Minnesota Vikings at the Houston Texans is another game of interest due to several major reasons.
Adrian Peterson is on his quest to beat the all-time NFL rushing mark of 2,105 yards, which Eric Dickerson of the Los Angeles Rams set in 1984. After his big game in Week 15, Peterson now stands at 1,812 yards, just 294 yards shy of breaking the all-time record.
The Texans have been known for their strong defense, but that defense was picked apart by Tom Brady on national television. The Texans may want to take a stand and look to shut down Peterson as a way of taking out their frustration on him. Houston did recover in Week 15 to prove to Andrew Luck and the Indianapolis Colts that it has a formidable defense.
For Minnesota, the concerns grow by the week about the performance of QB Christian Ponder. In a story from ESPN Twin Cities, they break down tape of Ponder's latest game. He tried only one pass play that traveled longer than 12 yards. This is the NFL of 2012, correct? Ponder is regressing in his second year, which makes the accomplishments of Adrian Peterson all the more remarkable.
J.J. Watt will be looking to make a major impact on this game as he attempts to sew up the NFL Defensive Player of the Year award. Speaking of awards, Peterson is in line for at least one, if not more. Look for both Peterson and Watt to clash in this test of wills.
Finally, we look at the playoff implications. At 8-6. the Vikings are in a position to sew up a Wild Card slot if they can win their final two games. The Texans, however, need this game to protect their slim one-game lead over the Denver Broncos for home-field advantage in the AFC. Should be a great game to watch.
3) San Francisco 49ers (10-3-1) at Seattle Seahawks (9-5) +1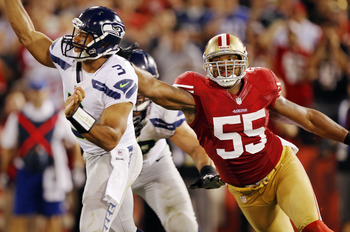 Can Russell Wilson lead the Seahawks into the playoffs?
Brian Bahr/Getty Images
The Week 16 Sunday Night Football game features the top-two NFC West teams in a game that matters to both.
With their Week 15 win over New England, the San Francisco 49ers clinched a playoff spot, but the NFC West division title is still up for grabs. Coach Harbaugh needs to secure the division title first, and then he can work on fine-tuning Colin Kaepernick and get him ready for the playoffs.
A concern for San Francisco was that Kaepernick had four fumbles in the game against New England. The 49ers didn't lose any of them, but the ball can bounce in funny ways in the playoffs. In addition, Harbaugh has to be concerned that the defense allowed Tom Brady to reel off 28 straight points in the second half. Consider that a wake up call.
As for Seattle, it is coming off two straight games of scoring at least 50 points per game. The Seahawks shut out Arizona 58-0 and then pummelled Buffalo 50-17.
Rookie QB Russell Wilson continues to impress, and he will have to be at his mobile best to elude the 49ers strong pass rush led by LB Aldon Smith. Wilson has firmly entered the NFL Offensive Rookie of the Year award race, so a big game against the talented 49ers defense would help his cause greatly.
The 49ers lost DL Justin Smith for the second half of the New England game, but they are hopeful he can return for the Seattle game. Smith missed one game in his rookie season. Since his 2001 rookie year ended, Smith has made 176 consecutive starts coming into Week 16.
If Seattle wins its final two games, it can clinch the No. 5 seed in the NFC playoffs. If the Seahawks close out at 11-5, and San Francisco loses in Week 17 to Arizona, Seattle would win the NFC West.
2) Cincinnati Bengals (8-6) +4 at Pittsburgh Steelers (7-7)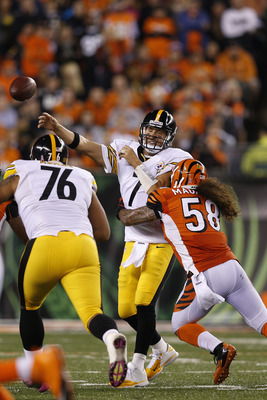 The Bengals pass rush will be a key element of this game.
Joe Robbins/Getty Images
Two AFC North rivals battling for their playoff lives. Sounds like a great game in the making, so that is why the Cincinnati Bengals at Pittsburgh Steelers match is our No. 2 game to watch in Week 16.
Hard to imagine that the Pittsburgh Steelers would be coming into a Week 16 game with a two-game losing streak, but that is the reality of the situation. Injuries have reduced Pittsburgh's ability to play at their normal level of production.
For the Cincinnati Bengals, the final two weeks will be stressful. They could wind up winning the AFC North division title, they could secure the No. 6 playoff slot in the AFC or they could be eliminated from the postseason. That puts tremendous pressure on Cincinnati to perform, as it has to play its other rival, the Baltimore Ravens, to close out the regular season.
Pittsburgh's injuries have left the team looking like a shell of its old self. When the Steelers lost at home to the San Diego Chargers, you knew that something was very wrong with this team. Troy Polamalu isn't close to being healthy, Ike Taylor will miss the game and Emmanuel Sanders is iffy for Week 16. The team had to suspend RB Rashard Mendenhall, and QB Ben Roethlisberger was forced to miss two games.
Cincinnati has to defeat Pittsburgh and then it can take its chances with Baltimore. If the Bengals lose to Pittsburgh, they could find themselves on the outside looking in at the end of the year.
1) New York Giants (8-6) at Baltimore Ravens (9-5) (+1)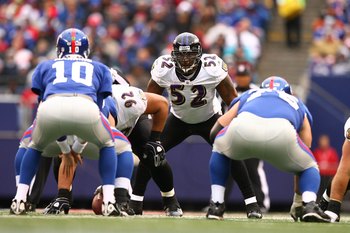 Will Ray Lewis be able to dress for this big game against New York Giants?
Al Bello/Getty Images
If Baltimore Ravens WR Lee Evans held on to the pass from Joe Flacco in the waning moments of the 2011 AFC Championship Game, the Ravens would have met the New York Giants in Super Bowl XLVI.
Instead, they meet in Week 16 of the 2012 NFL regular season in a must-win game for both teams. The Giants are tied in the NFC East at 8-6 with Washington and Dallas, while the Ravens are fighting for the AFC North title as well as home-field advantage.
What is interesting is that these two annual powerhouses come limping into Week 16. The Ravens have now lost three straight games, while the Giants were embarrassed in their shutout loss to the Atlanta Falcons in Week 15. Despite being shut out last weekend, the Giants are a one-point favorite, which tells you how badly things are going for Baltimore right now.
Each team has a number of key injured players, but with so much on the line, anybody that can walk will try to do whatever they have to do to play this week. As a result, you can expect a physical, emotional and passionate game from both teams.
With so much riding on the line, this game comes in as our No. 1 game to watch for the week.
Keep Reading