Tom Brady, Peyton Manning Reviving Old Debate with Classic Seasons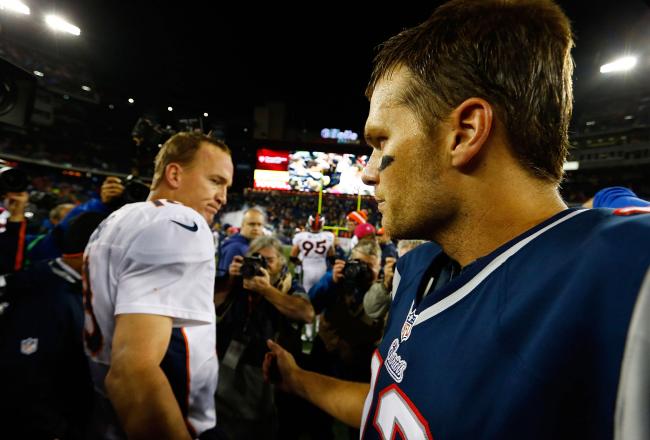 Jared Wickerham/Getty Images
Once upon a time, Tom Brady and Peyton Manning ruled the National Football League and, by corollary, the world.
Those two names started every conversation about the league's best quarterback, and they usually ended it.
It was Tom Terrific versus That Guy from All the Commercials.
The golden boy from New England with his almost unblemished postseason record and swoon-inducing smile versus the walking, talking Norman Rockwell cutout from Indianapolis with a Super Bowl title and every damn regular-season passing record in the book. There was no third option.
It was shaping up to be one of the purest rivalries of all time.
Each man would blister through the rest of the league while keeping one eye on his counterpart until they met in a postseason clash that produced the eventual Super Bowl champion. Then, the cycle would start again in the new year.
At least that's what if felt like.
They were two historic talents waging a private war while all the other quarterbacks scrambled just to keep them in sight.
Alas, all good things come to an end, and the football gods authored a particularly cruel one for this developing fairytale.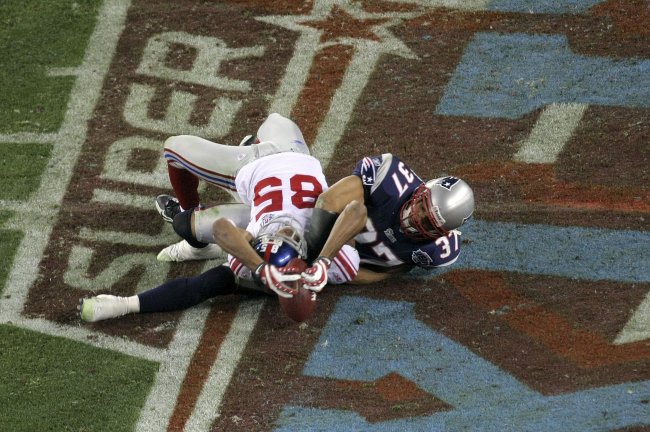 Doug Pensinger/Getty Images
Following the 2007 season, David Tyree used his helmet to catch a football in Super Bowl XLII as the New York Giants and a different Manning helped spoil the Patriots' perfection at the last moment. In Brady's next game, Bernard Pollard obliterated the QB's knee and wiped out his entire 2008 campaign. Ray Rice and the Baltimore Ravens did the honors of knocking the Pats out in the 2009 AFC Wild Card Round, but neither exit was as painful as 2010 when Rex Ryan and the insufferable New York Jets came into Foxborough to eliminate New England in the AFC Divisional Round.
Not that 2011 was a picnic—another championship quest ended by another Super Bowl loss to the Giants.
On the Manning side, the story was unraveling as well.
Brady was fondly recalling what it was like to run in '08, but had to pity Peyton a bit as the Colts bowed out of the playoffs without winning a game for the second consecutive season. Though he led Indy all the way to Super Bowl XLIV in '09, Manning tossed a brutal pick six and directly contributed to the New Orleans Saints' upset. In '10, Ryan and his yappy Jets dispatched the Colts in the AFC Wild Card Round a week before bouncing the Pats.
And we all know Manning's '11 campaign was a total loss in the wake of neck surgeries that ushered the Andrew Luck Era into Indianapolis, landing No. 18 in a Denver Bronco uniform.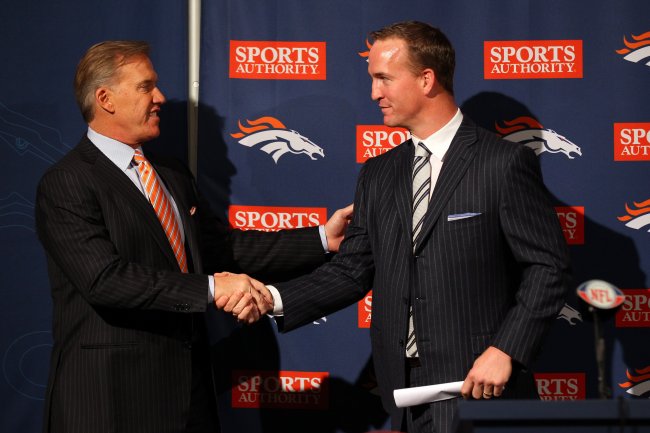 Justin Edmonds/Getty Images
While the two standard-bearers at the position were dealing with some adversity, other quarterbacks inserted themselves into the discussion, further diluting it.
Ben Roethlisberger grabbed a second ring, Drew Brees began his own assault on history, Aaron Rodgers burst out of Brett Favre's shadow and Eli Manning proved to be the anti-Peyton by making a habit of beating Brady's Patriots in the biggest game.
More recently, you've got young guns like Matt Ryan, Matthew Stafford, Cam Newton, Andrew Luck, Robert Griffin III and Russell Wilson impertinently crashing the party.
What was once a race between two horses and a bunch of mules has become an all-thoroughbred affair.
Or has it?
As the NFL weeks pass in 2012, quarterbacks are dropping like flies.
Big Ben was rusty in his return from injury and the Pittsburgh Steelers are struggling a bit. Brees' passes are finding the other team with disturbing regularity and the Saints are on life support. Rodgers hasn't been as surgical as in recent years and Eli has been inconsistent. Consequently, neither the Green Bay Packers nor the G-Men is the juggernaut NFL fans expected.
Ryan and his Atlanta Falcons can't seem to beat the best teams. Stafford and his Detroit Lions can't seem to beat anyone.
You can't complain too much about Newton, Luck, RGIII or Wilson, but they're all rookies (or a sophomore in Cam's case) and it's silly to make too much out of such a small sample size, no matter how brilliant.
Bringing us back to monsignors Brady and Manning.
They seem to be getting stronger as the season wears on, just like the good ol' days.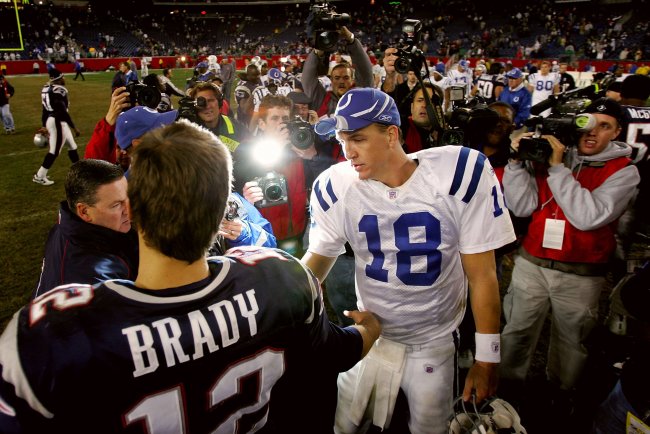 Travis Lindquist/Getty Images
Brady and the Pats are riding a seven-game winning streak and just treated the nation to a trouncing of the previously once-defeated Houston Texans on Monday Night Football. With less than a quarter of the season remaining, the team has already clinched its division and sits a game behind the aforementioned Texans for the best record in the AFC.
As usual, New England's signal-caller is no small reason for all that success.
Brady has a ridiculous 29 touchdowns against four interceptions and only a single fumble. He's thrown for 3833 yards and is averaging 7.7 yards per pass attempt while completing 64.4 percent of his passes.
Even by Tom Terrific standards, those are crazy numbers.
In a role reversal of sorts, Manning's numbers lag ever so slightly behind Brady's, but the overall body of work is more impressive. Granted, his stats are still pretty stellar—30 touchdowns against 10 interceptions and two fumbles, 3812 yards through the air, 7.9 yards per pass attempt and a 68.3 completion percentage.
But it's the context that makes the Bronco QB's season so remarkable.
Manning missed the entire 2011-12 season and changed teams, yet he has Denver in basically the same position as Brady and the Pats.
The Broncos are riding an eight-game winning streak, they've locked up their division and trail the Texans by one game in the race for the AFC's best record. Peyton and company have already lost to both Houston and New England this year, but the potential for a three-way tie between the clubs throws everything into disarray.
Given the way the two teams and the two all-time greats are playing, though, there's another matchup looming. If the pieces fall just right—and they have a way of doing so when Brady and Manning are involved—they'll see each other again in the AFC Conference Championship where the winner will be a good bet to win the Super Bowl.
If that happens, we're right back where we started.
It'll be Brady vs. Manning for all the marbles and everyone else scrambling to keep pace.
This article is
What is the duplicate article?
Why is this article offensive?
Where is this article plagiarized from?
Why is this article poorly edited?