Much like the playoff picture, the NFL's power rankings only become clearer as the season progresses. And after the scintillating slate of games we had in Week 14, it's becoming obvious which teams are contenders and which are frauds.
The New England Patriots abjectly destroyed the Houston Texans, 42-14, to ascend to the top of the power rankings while the Atlanta Falcons continued their slow descent out of the Super Bowl conversation.
How else did Week 14's action shuffle the standings? Here is a look at the latest batch of rankings before we head into Week 15 action.
1. New England Patriots (10-3)
The Patriots walked into Gillette Stadium on Monday night, eviscerated a fellow elite team and emerged as favorites to win the Super Bowl.
When have we seen this before?
2. Houston Texans (11-2)
Save the overreaction theater. Yes, this is the second time this season a top-tier team lowered the boom on the Texans before a nationally televised audience. And sure, Houston hasn't looked like the most complete team in football since Week 7's drubbing of the Ravens.
They're still 11-2 and likely the No. 1 seed in the AFC. It's fun to pound desks and pontificate after Monday's loss, but it won't matter in the least come January.
3. San Francisco 49ers (9-3-1)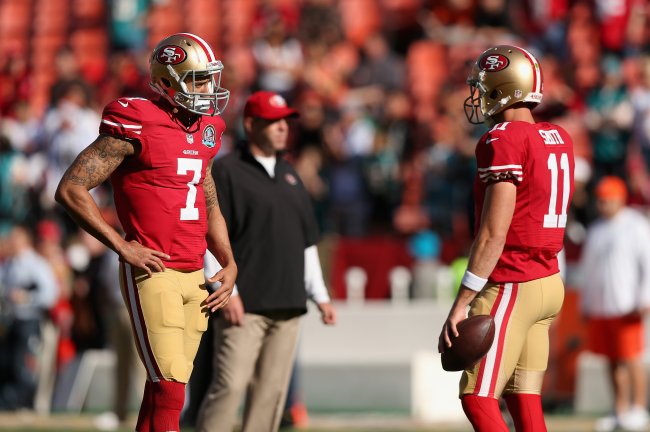 Ezra Shaw/Getty Images
Colin Kaepernick's running ability and penchant for the big play are obviously the reasons he overtook Alex Smith for the starting quarterback role.
Still, I cannot help but be impressed by his accuracy. Kaepernick has completed 67.4 percent of his passes this season and thrown just one interception in 129 attempts. Considering accuracy was his big knock coming out of college, Jim Harbaugh just continues to cement his place as the NFL's best coach with every big Kaepernick throw.
4. Atlanta Falcons (11-2)
Atlanta's case among the league's elite gets weaker every Sunday, but its loss to Carolina last week was something many expected. With a huge home test against the Giants coming up in Week 15, we'll get a definitive answer on where the Falcons stand by the time we revisit the power rankings again.
5. Denver Broncos (10-3)
Peyton Manning is the league's MVP through 14 weeks, but Denver's sleepy schedule could hurt his case. The only playoff team remaining on the Broncos slate is against a reeling Ravens team on Sunday, meaning it's necessary that Manning performs well.
If Manning is able to pulverize Baltimore's weakened secondary, we might as well just begin engraving the trophy next Monday.
6. Green Bay Packers (9-4)
It hasn't been against the most sterling competition, but the Packers have still won seven of their last eight contests. Continuing that streak against the Bears on Sunday would lock up the division and leave Green Bay to focus on nabbing the NFC's No. 2 seed.
Not bad for a team that started 2-3.
7. Baltimore Ravens (9-4)
At least it's good to know that Charlie Batch isn't the only backup quarterback who can beat the Ravens.
To put it another way, there's a pretty clear chasm between No. 6 and No. 7 in these rankings.
8. New York Giants (8-5)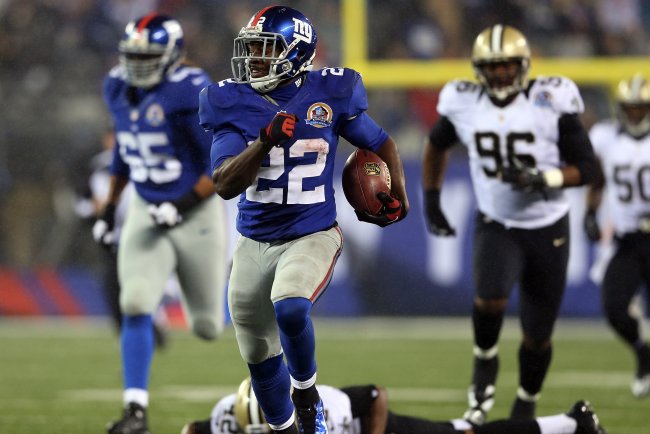 Elsa/Getty Images
The only consistent part of the 2012 Giants is that they are wildly inconsistent. After putting up just 16 points against the Redskins' paltry defense in Week 13, New York followed that up by dropping a 52 spot on the Saints last Sunday.
Based on sheer respect alone, the Giants are favorites to win the NFC East. But would anyone be shocked to see them lose to Atlanta and Baltimore the next two weeks? Didn't think so.
9. Indianapolis Colts (9-4)
At some point (possibly with a win over Houston this week) we're all going to begin believing in this rag-tag group of kids from Indianapolis. Then the Colts are going to get blown out in the first round of the playoffs as we all let out a collective "I knew it!"
10. Seattle Seahawks (8-5)
For all of the hoopla surrounding Andrew Luck and Robert Griffin III, Russell Wilson has quietly lifted the Seahawks into playoff contention. He didn't have to do much in last week's 58-0 win over the Cardinals, but with a nice matchup against the Bills defense in store for Sunday, look for Wilson to get back into the offensive fold.
11. Chicago Bears (8-5)
Last week, I advised against hand-wringing for Bears fans. However, with a matchup against the Packers coming on Sunday, Chicago may have its back suction-cupped to the wall in the season's final two weeks.
The offense looks destitute at times, and the defense hasn't picked up the slack in recent weeks the way it did early on. If the Bears aren't careful, they could go from 7-1 to all the way out of the playoffs when the season concludes.
12. Washington Redskins (7-6)
Don't let Kirk Cousins' performance down the stretch last week fool you. The Redskins cannot make the playoffs without Robert Griffin III in the lineup and performing like the dynamic star he's been all season.
Remember, Washington's secondary is the same unit that gave up three touchdown passes to Joe Flacco in the first half last Sunday. Not exactly a ringing endorsement going forward.
13. Cincinnati Bengals (7-6)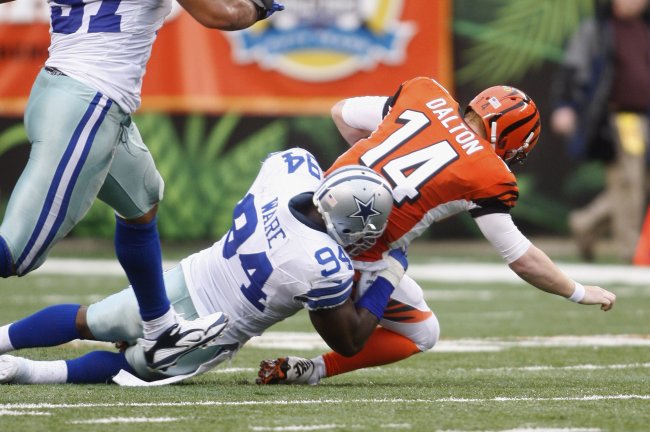 John Grieshop/Getty Images
The Bengals pulled a classic Cowboys move last week... against the Cowboys. With a firm grasp at a playoff berth hanging in the balance, Cincinnati allowed Dallas to score 10 points in the final 6:35 of Sunday's game to lose 20-19.
They are still alive due to the Steelers' loss to the Chargers, but Thursday night's tussle with the Eagles will be absolutely critical. A loss in that contest and Cincinnati will probably have to win out against Pittsburgh and Baltimore in Weeks 16 and 17.
14. Pittsburgh Steelers (7-6)
After getting embarrassed by San Diego, are we finally allowed to stop calling the Steelers Super Bowl contenders? Boy, I hope so. All of these false platitudes were getting tiring.
15. Dallas Cowboys (7-6)
The transitive property says the Cowboys should rank ahead of the Bengals because they won on Sunday. Almost every single objective measure says Cincinnati is the better team statistically and metrically.
It's a razor-thin margin in the middle, but I'll keep the Cowboys here for now. A win against Pittsburgh on Sunday could lead to some vaulting, though.
16. St. Louis Rams (6-6-1)
Three playoff-caliber matchups remain on the Rams' schedule, so it's difficult to see them coming out with enough wins to make the playoffs. Still, this is a hard-nosed squad that very few want to see down the stretch.
Sam Bradford has developed into a relatively reliable quarterback, and the team's defense ranks inside the top half against the pass and run.
17. Minnesota Vikings (7-6)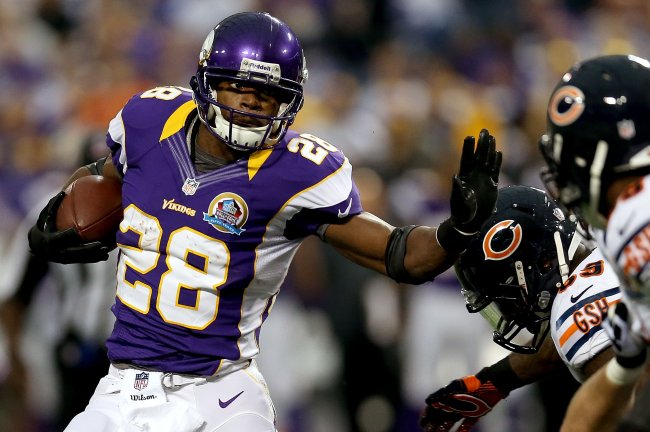 Matthew Stockman/Getty Images
If the Vikings somehow make the playoffs, it would be pretty easy to make an Adrian Peterson for MVP argument. The Vikings star has 1,600 rushing yards already with three games remaining and has done so despite the spiraling play of Christian Ponder at quarterback.
If Minnesota even had a league-average signal-caller behind center, it would probably be 8-5 at worst. Instead, it seems highly unlikely that the Vikings will play in January.
18. Tampa Bay Buccaneers (6-7)
To put this in the simplest way possible, Tampa doesn't deserve to make the playoffs after losing to the Eagles last Sunday. At home, against a spiraling team with a rookie quarterback, the Buccaneers got legitimately beaten.
The midseason run was nice while it lasted, but perhaps Tampa was always just a middling team and we didn't know it.
19. New Orleans Saints (5-8)
Good to see that the NFL finally figured out those pesky Boutygate suspensions over three-quarters of the way through the season.
Not an unnecessarily drawn out process that marred the team's 2012 campaign at all.
20. New York Jets (6-7)
Rex Ryan obviously went to the Nick Saban school of refusing to pass the ball unless absolutely necessary last week against the Jaguars—and it worked. Expect a similar tactic this week when the Jets take on the Titans in a game that can only be deemed a besmirching to the Monday Night Football brand.
21. San Diego Chargers (5-8)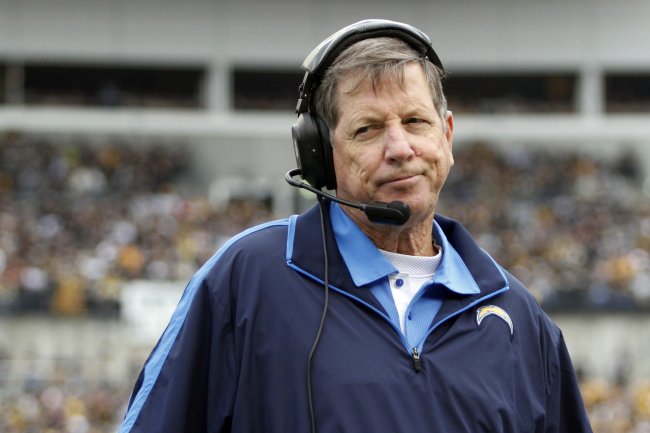 Justin K. Aller/Getty Images
The entire coaching staff and front office will be thrown in the trash heap regardless of how these final three weeks play out. Nevertheless, it was nice to see that the Chargers still had some fight left for good ol' Norv Turner.
I'm sure he'll remember that next season when he's the Ravens' offensive coordinator.
22. Cleveland Browns (5-8)
Speaking of teams playing to keep their coach's job, the Browns have likely saved Pat Shurmur over the past three weeks. Unfortunately, they end the season against Washington, Denver and Pittsburgh, so the good times are probably over in Cleveland.
23. Detroit Lions (4-9)
The Lions have lost five straight games, none of which have come by more than 10 points. That's indicative of two things: bad luck and the coaching staff.
Only one of those can change by virtue of human action.
24. Miami Dolphins (5-8)
Ryan Tannehill has thrown multiple touchdowns in a game just once all season. If you're looking for a reason the Dolphins score just 18.5 points per contest, there should be a gigantic red arrow pointing at the young quarterback next time Miami plays.
25. Buffalo Bills (5-8)
Fred Jackson will miss the rest of the season, meaning C.J. Spiller will finally get a chance to carry the running back load full-time.
However, in the immortal words of JoJo, it will be too little, too late for Chan Gailey's squad this season.
26. Carolina Panthers (4-9)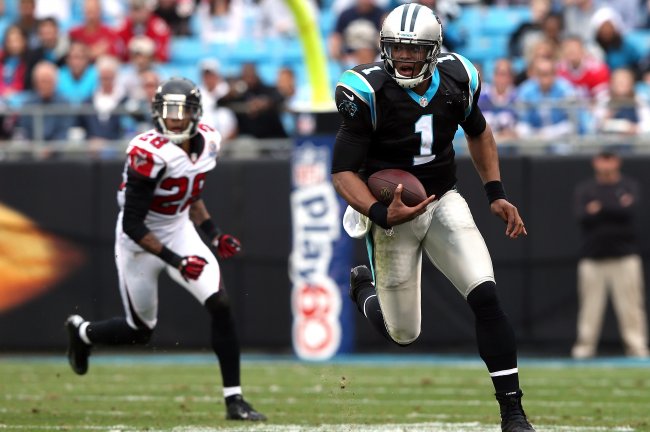 Streeter Lecka/Getty Images
The Panthers' road to a 7-9 finish heads to San Diego this week, where the Panthers will look to get a win in Ron Rivera's old stomping grounds.
While going 7-9 isn't ideal for a draft pick, Carolina can take solace in the reemergence of Cam Newton. The Panthers' dual threat has looked like a completely different player over the past three weeks, throwing for 275 yards and rushing for 82 yards per game and 10 total touchdowns without an interception.
27. Philadelphia Eagles (4-9)
Everyone and their great-grandmother writes off the Eagles and they come roaring back with a victory over the playoff-contending Bucs. That sounds exactly like an Andy Reid team to me.
28. Tennessee Titans (4-9)
Call me crazy, but I've actually enjoyed watching Jake Locker the past few weeks. He's obviously still got more accuracy and decision-making flaws than you can count, but the second-year quarterback springs life into the offense that Matt Hasselbeck could not.
That last sentence was brought to you Backhanded Compliments, LLC.
29. Arizona Cardinals (4-9)
Kevin Kolb's injury has shown that there is a very fine line between worst starting quarterback in the league and worst quarterback period in the league.
30. Oakland Raiders (3-10)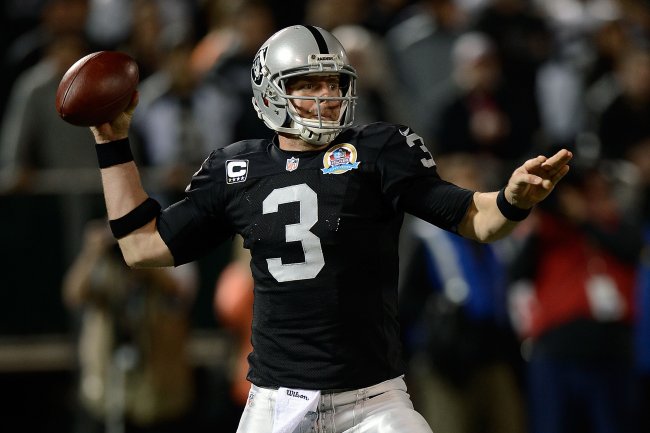 Thearon W. Henderson/Getty Images
It's going to be fun when the Raiders cut Carson Palmer and then watch the Bengals take their second-round pick in April. On the bright side, at least Oakland didn't make the AFC Championship Game last season and have to give up its first-rounder.
Wait...that's another bad thing. Never mind.
31. Kansas City Chiefs (2-11)
Only the Chiefs can get 165 yards from their star running back and still get absolutely destroyed. For more than one reason, Kansas City is just counting down the minutes until this season ends.
32. Jacksonville Jaguars (2-11)
Despite starting their second-string quarterback and fourth-string running back, the Jaguars stayed in the game last week against the Jets. I don't know whether that says more about Jacksonville's depth or the team's lack of talent at the top of the depth chart.
My money is on the latter.