Updated NFL Playoff Picture Heading into Week 15 with Playoff Projections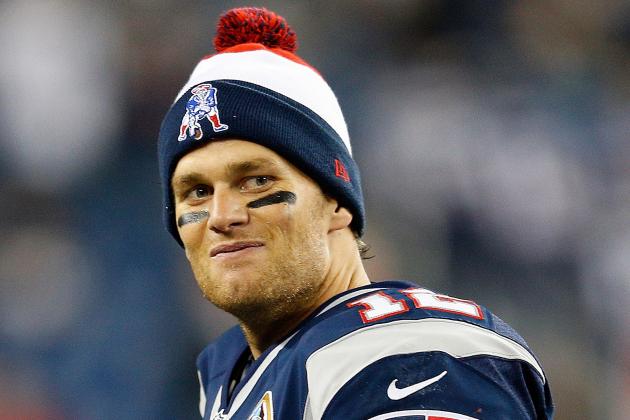 Jim Rogash/Getty Images
Tom Brady's looking for another Super Bowl ring.
Tom Brady and the New England Patriots are on their way to another Super Bowl championship after demoralizing the Houston Texans on Monday Night Football.
This is not an exaggeration or a knee-jerk reaction.
They thumped the team with the best record in the conference, 42-14, and could conceivably win the rest of their remaining games. Never mind their 24.0 PPG average margin of victory since a one-point road loss to the Seattle Seahawks in Week 6.
New England will welcome the San Francisco 49ers—who have proved themselves to be mortal with a loss and a tie to the St. Louis Rams, whom New England throttled in London—in Week 15. Then it visits the 2-11 Jacksonville Jaguars and hosts the 5-8 Miami Dolphins.
If the Texans lose to the Minnesota Vikings at home or drop one of their two remaining games against the Indianapolis Colts, and New England wins out, the Patriots will be the first seed in the AFC. On the other side of things, the Atlanta Falcons—with all of their recent woes—have all but locked up the No. 1 seed. The Green Bay Packers can win out against the Chicago Bears (road), Tennessee Titans (home) and Minnesota Vikings (road), which would afford them the No. 2 seed.
Two teams that could stumble in the crowded NFC playoff picture are the Bears and 49ers. Both are projected to lose in Week 15, and San Francisco has to go to Seattle after that. That tie with the Rams will come back to bite the 49ers.
As a result of Seattle's expected 11-5 record with upcoming matchups against the Buffalo Bills on the road and 49ers and Rams at home, the Seahawks would take the NFC West and secure the No. 4 seed.
Your Super Bowl champion New York Giants would hold things down at No. 3.
Before getting into predicting playoff matchups, here are the expected conference standings and records heading into Week 15.
AFC
1. New England Patriots (13-3)
2. Houston Texans (13-3)
3. Denver Broncos (12-4)
4. Baltimore Ravens (11-5)
5. Indianapolis Colts (11-5)
6. Pittsburgh Steelers (10-6)
NFC
1. Atlanta Falcons (13-3)
2. Green Bay Packers (12-4)
3. New York Giants (11-5)
4. Seattle Seahawks (11-5)
5. San Francisco 49ers (10-5-1)
6. Washington Redskins (10-6)
Begin Slideshow

»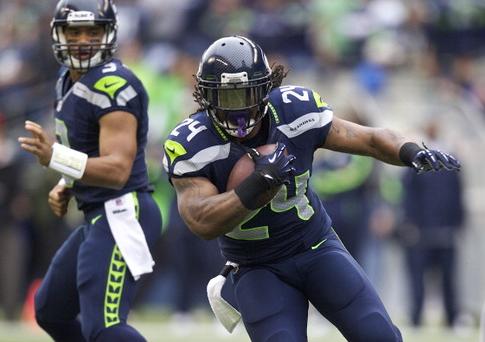 Stephen Brashear/Getty Images
Nobody wants to play in Seattle this postseason.
We've seen a few of these movies before. The only matchup projected in the Wild Card Round that has not taken place—in the same venue, no less—already this season is an AFC tilt between the Baltimore Ravens and Indianapolis Colts. Joe Flacco and company play very well at home, and have the playoff experience to put them over the edge.
The Pittsburgh Steelers will have to face the Denver Broncos in the mountains, where they just can't overcome the Broncos. If Tim Tebow was a problem last season, imagine what Peyton Manning could do in his first playoff run with his second professional squad.
Assuming Robert Griffin III can get healthy prior to the playoffs, the New York Giants are in for another long afternoon. Dan Graziano of ESPN.com reports that RGIII has a mild knee sprain. He has not been ruled out for the team's Week 15 game. The Giants and Washington Redskins split their first two meetings this season by a combined point differential of five.
Washington can shock the Giants in the postseason.
The final wild-card matchup would be a rematch of a late-season clash between the Seattle Seahawks and San Francisco 49ers—in Seattle.
Advantage: Seahawks.
Projected Wild Card Round Results (home team in caps):
BRONCOS def. Steelers
RAVENS def. Colts
Redskins def. GIANTS
SEAHAWKS def. 49ers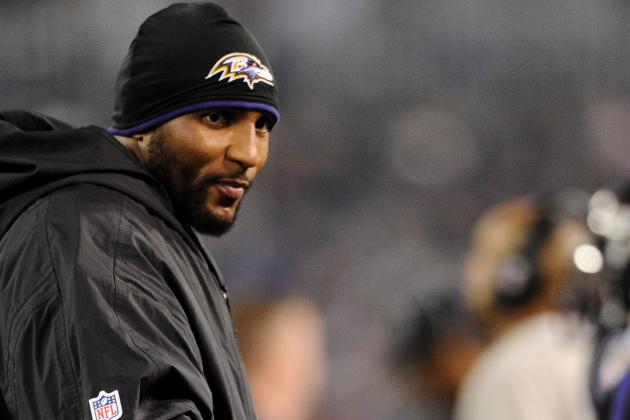 Patrick Smith/Getty Images
The return of Ray Lewis should propel the Baltimore Ravens into the playoffs.
Tight end Rob Gronkowski should be back in uniform for the New England Patriots by the time that the playoffs come around. Not that they've needed him to put up points, but Gronkowski presents yet another matchup problem for the Baltimore Ravens to deal with on the road.
Coming off a bye week, the Patriots take that game.
The Houston Texans, conversely, seem to have been figured out. First it was Aaron Rodgers, then it was Tom Brady—but before it was Brady, it was Chad Henne. All three of those guys did damage on the Texans defense in Houston.
Peyton Manning can be the next.
Like the Texans, the Atlanta Falcons are showing signs of weakness at this stage of the season. Namely, Atlanta is having real struggles stopping the run. You know what the Washington Redskins do well?
They run the football.
Everyone remembers the early-season victory which was credited to the Seattle Seahawks that should have been credited to the Green Bay Packers. A divisional round matchup between the two in Green Bay presents the Packers an opportunity to exact revenge on Seattle and knock them out of the hunt for the Lombardi Trophy.
Too bad they can't take revenge on the replacement refs, too.
Projected Divisional Round Results (home teams in caps):
PATRIOTS def. Ravens
Broncos def. TEXANS
Redskins def. FALCONS
PACKERS def. Seahawks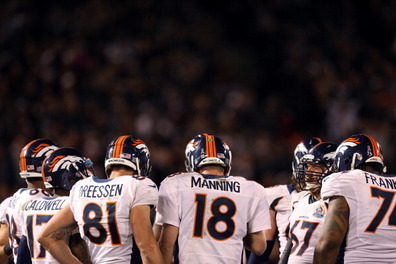 Ezra Shaw/Getty Images
The Denver Broncos offense will have to keep up with a well-oiled machine in Foxboro.
Peyton Manning's incredible season may come to a halt with a Massachusetts matchup with the New England Patriots. New England is playing out of its mind lately, winning four of its last six games by four or more touchdowns.
It's still awaiting the return of its biggest matchup problem, tight end Rob Gronkowski, and it has knocked off the Broncos at home already in a highly-anticipated game. Clearly, a playoff atmosphere is similar to what took place in the Week 5 Brady/Manning matchup.
Manning is better now than he was then, but New England is, too.
Projected AFC Conference Champion: New England Patriots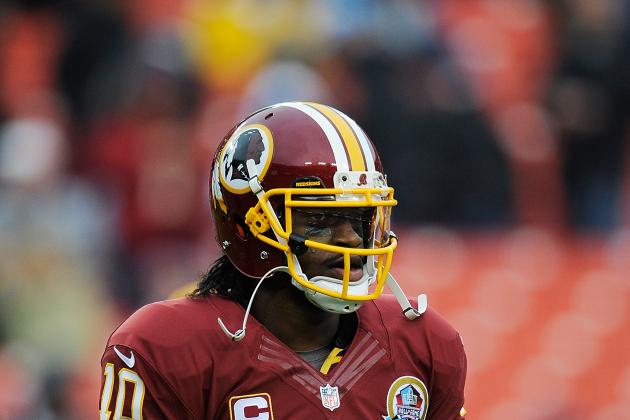 Patrick McDermott/Getty Images
RGIII's ROY case would get a lot stronger with a couple of playoff wins.
Robert Griffin III may cement his Offensive Rookie of the Year candidacy with a run into the NFC Conference Championship game. His Washington Redskins would run into the Green Bay Packers at Lambeau, where they would have some major problems.
Charles Woodson should be back from his broken collarbone to take care of business on the defensive end. In addition, Green Bay may finally have Jordy Nelson and Greg Jennings healthy together to form a nasty outside WR tandem in addition to slot-maven Randall Cobb in the middle of the field.
That's especially troublesome for the Redskins because of their difficulties stopping the pass. Aaron Rodgers should be able to do whatever he wants against the Washington pass defense—especially at home.
Projected NFC Conference Champion: Green Bay Packers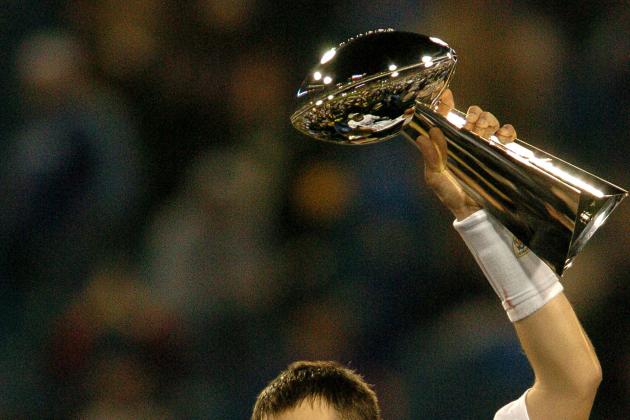 Steve Grayson/Getty Images
Tom Brady would love to strike this pose again.
It's been a while, hasn't it?
Despite two Super Bowl appearances, Tom Brady's New England Patriots have not won a ring since Super Bowl XXXIX following the 2004 season. Eli Manning's New York Giants have snatched opportunities for Brady to put one on the pinky and the thumb, but they won't be around this time.
Aaron Rodgers isn't new to this, either. He's the QB with the more recent iteration of the Lombardi Trophy on his resume, but Brady is playing more consistently than Rodgers is.
The Pats are also a top-10 unit in terms of stopping the run, which will force the Packers into a one-dimensional offensive situation. Green Bay isn't very good at running the ball anyway. New England is bottom-five at stopping the pass, but since acquiring cornerback Aqib Talib, it is allowing an average passer rating of 73.3 to opposing starters in four games.
Mark Sanchez of the New York Jets had the highest passer rating of the four with 94.8 on Thanksgiving. But Sanchez threw for 79 (of his 301) yards and a touchdown in a single fourth-quarter drive—after New England was up 49-12.
Projected Super Bowl Champion: New England Patriots
For more NFL analysis, follow Jamal on Twitter: Follow @StatManJ