NFL Playoff Picture: An Updated Look at Every Team in the Hunt
Rob Carr/Getty Images
There are only three weeks left in the NFL season, but the NFL playoff picture is far from defined. A handful of upsets during Sunday's action have left us with more questions than answers compared to a week ago.
Most of the top seeds have been determined in the AFC, but the NFC remains wide open, with each contending team closing the gap on one another.
Here is a look at the remaining teams in the playoff hunt in Week 14.
NFC No. 1 Seed: Atlanta Falcons (11-2)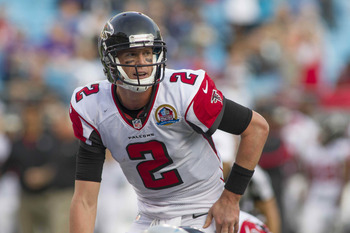 USA TODAY Sports
The kinks in Atlanta's armor are starting to show. The Falcons will get at least the second seed in the NFC because of their fast start to the season, but they have won plenty of close games against inferior opponents and their luck appears to be running out after getting beat soundly by Carolina.
The Falcons are still a talented team with a very good quarterback, but you have to wonder if they'll get it done in the playoffs the way they are playing.
The good news is that their defense has actually played very well against top quarterbacks, fooling both Peyton Manning and Drew Brees into multiple-interception games.
Still, they have issues on the offensive line that are starting to have a rippling effect on the team, and Michael Turner is clearly not the same back he was a few years ago. If Atlanta is going to win in the playoffs, it will be on the arm of Matt Ryan.
Remaining Schedule: New York Giants, at Detroit, Tampa Bay

NFC No. 2 Seed: San Francisco 49ers (9-3-1)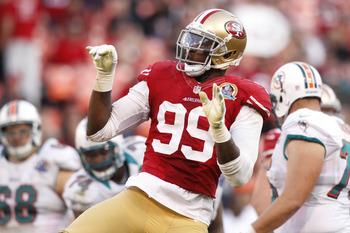 Cary Edmondson-USA TODAY Sports
The 49ers do not have the best record in the NFC (the Atlanta Falcons are 11-2), but they are the most complete team in the conference and have more potential to go on a deep playoff run, especially if they can hold on to their first-round bye.
Colin Kaepernick has cooled off since his hot start, but he is making a lot of plays that Alex Smith was simply unable to and figures to keep improving from here on. Frank Gore is still running like a top-five back and they are starting to use LaMichael James with some effectiveness.
Also remarkable is how healthy the 49ers have been over the past two seasons. Their health has contributed to their success as much as anything else.
If the 49ers want to get over the hump and reach the Super Bowl, they must improve their play in the secondary. Aldon Smith and the 49ers' pass rush have masked their issues on the back end for far too long.
Still, the 49ers have the coaching and personnel to beat any team in the NFL under almost any conditions.
Remaining Schedule: at New England, at Seattle, Arizona
NFC No. 3 Seed: New York Giants (8-5)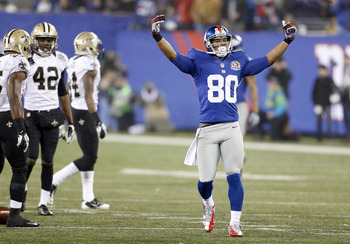 The Star-Ledger-USA TODAY Sports
The Giants enjoyed a very convincing win over the Saints, but it is hard to determine which Giants team will show up on any given week.
When at their best, the Giants are the best team in the NFL. But their pass rush has not lived up to expectations and Eli Manning has had a handful of "off" games this season.
The good news is that they are starting to get great production from David Wilson in both the return game and as a running back. He broke the franchise record for all-purpose yards in a game on Sunday.
What is also not working in the Giants' favor is that their remaining games are anything but easy. They travel to both Atlanta and Baltimore before taking on the Eagles in the season finale. The Giants will likely need to win at least one of those first two games to even make the playoffs, let alone win the division.
Remaining Schedule: at Atlanta, at Baltimore, Philadelphia
NFC No. 4 Seed: Green Bay Packers (9-4)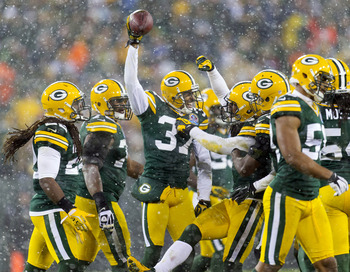 Jeff Hanisch-USA TODAY Sports
This was a big weekend for the Pack, who have finally gained enough separation from the rest of their division to have a full-game lead over the Bears.
The biggest takeaway from their victory over the Lions is how they were able to win the game with a steady rushing attack and solid defense. When arguably the league's best passing offense can win games like the that, they are going to be tough to beat.
The Packers still have some holes on defense and their pass protection is far from perfect, but Aaron Rodgers is always going to give this team a chance to go on a run.
After all, they are just one referee-union-NFL dispute away from being a 10-win team.
Remaining Schedule: at Chicago, Tennessee, Minnesota
NFC No. 5 Seed: Seattle Seahawks (8-5)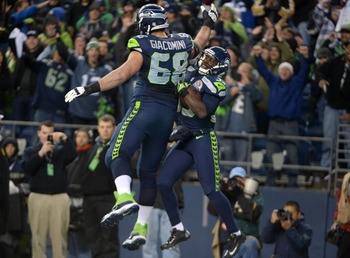 USA TODAY Sports
If the Seahawks did not have to share a division with the 49ers, they would be much higher in their seeding. Seattle is playing as well as any of the remaining contenders and has the easiest schedule ahead.
Seattle has two very winnable games against the Rams and Bills. Their home matchup against the 49ers could potentially decide the division and propel the Seahawks to an even higher seed. The last time Seattle played the 49ers, it was a very close game away from home.
Even if they are without their two starting cornerbacks for the rest of the season, they will get a boost from playing in front of their home crowd.
After mopping the floor with the Cardinals, Seattle has shown that it has enough firepower on both sides of the ball to win out.
Remaining Schedule: at Buffalo, San Francisco, St. Louis
NFC No. 6 Seed: Chicago Bears (8-5)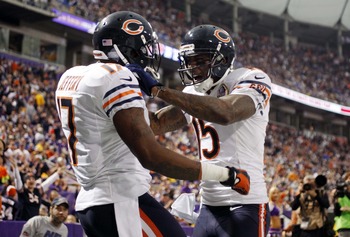 Bruce Kluckhohn-USA TODAY Sports
Injuries on defense are starting to wear on the Bears, but they are still in good position to snag the last wild-card spot.
They have one more win than the other teams in the hunt, and they have the hapless Arizona Cardinals to play yet. If they can get just one win between their two games against the Packers and Lions, they will have secured their playoff spot.
However, they need to find a way to score points on offense, as their defense is not scoring at the record pace it was earlier in the season. Jay Cutler needs to be more consistent as well, because they rely on him to mask their issues on the offensive line.
Remaining Schedule: Green Bay, at Arizona, at Detroit
NFC Teams in the Hunt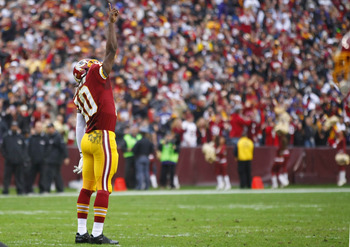 Geoff Burke-USA TODAY Sports
Washington Redskins (7-6)
The Redskins had a great win over the Ravens to keep pace in the NFC East, but they still need the Giants to lose before they can win the division.
The Redskins are a team that can easily make a huge leap in their playoff seeding in just one week, with the Giants facing such a tough remaining schedule. It is important to note that the Redskins own the tiebreaker over the Giants because of their superior division record.
However, with just seven wins, the Redskins are not going to be able to secure a wild-card spot. Their best chance to get to the postseason is to win the division, but they will need help.
Remaining Schedule: at Cleveland, at Philadelphia, Dallas
Dallas Cowboys (7-6)
The Cowboys have the same record as the Redskins, but are 3-2 in the division, as opposed to the Redskins' 3-1 record.
They also have a very difficult schedule down the stretch, which features a season finale against the Redskins that could potentially be a "win-and-in" game.
The Cowboys' offensive-line issues hold them back from reaching their potential, but they have an added weapon now that DeMarco Murray has recovered from a foot injury, and Tony Romo always gives his team a chance to win.
Remaining Schedule: Pittsburgh, New Orleans, at Washington
Minnesota Vikings (7-6)
They got a much-needed win over the Bears on Sunday, but the Vikes are simply not playing consistently enough to get to 10 wins, especially when you consider that they still have the Texans and Packers remaining on their schedule.
Christian Ponder has looked dreadful at times, and the Vikings may be in the market for a new quarterback during the offseason. For that reason alone, there is no way the Vikings are going to win more games than the other teams in the hunt to get into the postseason.
Remaining Schedule: at St. Louis, at Houston, Green Bay
AFC No. 1 Seed: Houston Texans (11-1)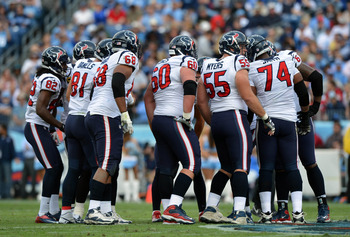 Don McPeak-USA TODAY Sports
Even if the Texans fall to the Patriots on Monday night, they should be able to still secure the top seed in the AFC with the league's best record.
However, there are still a few areas of concern that come with this team. Their defense is not nearly as stout as it was earlier in the year, with injuries piling up. They are not getting consistent edge pressure from Connor Barwin and their run defense is starting to show some warts.
Still, they are the most balanced team in the league and can win in a multitude of ways, especially since Andre Johnson has started to play like his usual dominant self.
The Texans should have little trouble getting a first-round bye, but they need to make a few defensive improvements before they make a playoff run.
Remaining Opponents: at New England, Indianapolis, Minnesota, at Indianapolis
AFC No. 2 Seed: Denver Broncos (10-3)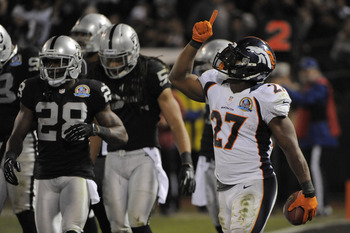 USA TODAY Sports
There is no team in the NFL that is playing as well as the Broncos right now.
After working out some kinks in the first few games, Peyton Manning's offense is operating like a well-oiled machine, even without their starting running back. Von Miller, a legitimate DPOY candidate, is wreaking havoc on opposing offenses and they are getting improved play from their secondary.
Denver is playing complementary football, with its defense feasting on the big leads their offense provides it, just like the Colts of the 2000s did.
One can certainly make a case to put New England in this spot, but Denver has the edge in its fourth-ranked defense to get the second seed. The Broncos' schedule is favorable enough so that if Houston stumbles down the stretch, they could win out steal the first seed.
Remaining Opponents: at Baltimore, Cleveland, Kansas City
AFC No. 3 Seed: New England Patriots (9-3)
Steve Mitchell-USA TODAY Sports
The Patriots are certainly Super Bowl contenders as long as No. 12 is taking snaps, but there are a few areas of concern with this team that will prevent them from getting the first-round bye.
They may have put up an absurd amount of points over the past three weeks, but they have benefited from a handful of fluky returns for touchdowns (like the infamous "butt fumble") that make their offense look much more dominant than it really is.
When they didn't get those touchdown returns, Brady and company struggled to get a win over the Dolphins. When you look at a lot of their games from earlier in the season, they hardly resembled the dominant offense they are used to being.
However, they have made improvements on defense with the addition of Aqib Talib, which allows them to play more man coverage. New England will need its defense to continue improving to make up for injuries that have slowed down the offense.
Remaining Schedule: Houston, San Francisco, at Jacksonville, Miami
AFC No. 4 Seed: Baltimore Ravens (9-4)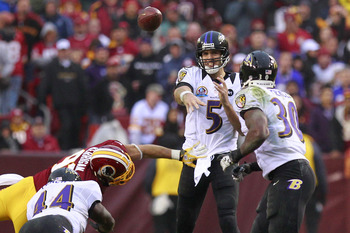 Geoff Burke-USA TODAY Sports
Baltimore was once seen as the clear favorite to win its division after racing to a 9-2 start, but injuries on the defensive side of the ball are starting to wear this team down.
Players like Corey Graham have played well in place of Lardarius Webb, but not having Terrell Suggs for an extended stretch could have a huge impact on this defense if he cannot return from a torn biceps.
Offensively, the Ravens' game plan is always very stale and forces Joe Flacco to make extremely difficult throws over and over.
The Ravens will make the playoffs with nine wins already under their belt, but a difficult schedule ahead could push them off the top of the division over the course of the next month.
Remaining Schedule: Denver, New York Giants, at Cincinnati
AFC No. 5 Seed: Indianapolis Colts (9-4)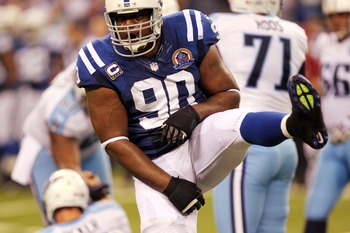 Brian Spurlock-USA TODAY Sports
By far, the most surprising team of the 2012 season has been the Indianapolis Colts, who have found a way to get to nine wins with a rookie quarterback.
However, if you have watched Andrew Luck at all this season, it is clear that he is not a "normal" rookie passer. He makes his share of mistakes and turnovers, but he never lets it affect him mentally. He responds with veteran-like drives that win games.
First-year GM Ryan Grigson deserves a ton of credit for giving Luck enough tools to work with while building for the future. Once-overlooked moves like re-signing Reggie Wayne have paid dividends.
Believe it or not, the Colts still have a chance to win the division, with two games against the Texans remaining on their schedule, but beating Houston twice in three weeks is quite a daunting task. Still, the Colts should be able to find a way into the playoffs with their current record.
Remaining Schedule: at Houston, at Kansas City, Houston
AFC No. 6 Seed: Pittsburgh Steelers (7-6)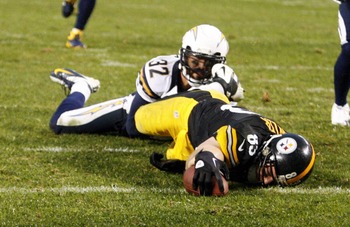 USA TODAY Sports
The Steelers missed a huge opportunity on Sunday to virtually lock up the final seed in the AFC with a win over the Chargers, and now, the gap is very narrow with teams like Cincinnati and even the Jets breathing down their neck.
Before Sunday, their defense was playing as good as it has in years, and Ben Roethlisberger's return was supposed to give them the offensive boost to go on a run and possibly win the division. But Philip Rivers and the Chargers carved them up, and Big Ben's offense was hardly better than the Charlie Batch version.
Their biggest matchup over the next three weeks comes against the Bengals, who have the same record but an inferior division record. If they lose that game, it would be catastrophic for their playoff chances, no matter what happens in the other games.
Remaining Schedule: at Dallas, Cincinnati, Cleveland
AFC Teams in the Hunt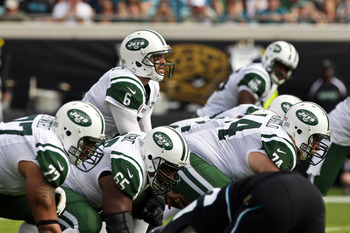 Rob Foldy-USA TODAY Sports
Cincinnati Bengals (7-6)
Just like the Steelers, the Bengals blew an opportunity to finally gain some separation with a loss to the Cowboys.
However, all will be forgiven if they can just beat the Steelers in two weeks to give them the edge in the division record. They also get a chance to further improve that record with a season finale against the Ravens.
The Bengals are getting great production from their defensive line, as Geno Atkins is a legitimate DPOY candidate. But they need to be more consistent on offense and finish games if they are going to beat the Steelers and Ravens in succession.
Remaining Schedule: at Philadelphia, at Pittsburgh, Baltimore
New York Jets (6-7)
The demise of the Jets has been greatly exaggerated.
They find themselves on the back pages far too often because of their quarterback controversy, but they have found ways to get to six wins on the backs of their running game and defense, despite their mounting injuries. Players like Muhammad Wilkerson are playing at a very high level, but the media circus clouds all of the good that is happening in Florham Park.
With seven losses, the Jets will need help getting into the playoffs, but they have a very winnable schedule coming up, starting with the Titans on Monday Night Football. If they can get to 9-7, they have a very realistic chance to make the postseason if the Bengals and Steelers keep losing.
Remaining Schedule: at Tennessee, San Diego, at Buffalo
Keep Reading