49ers Draft Board: 10 Players San Francisco Must Have Their Eyes on in Bowl Game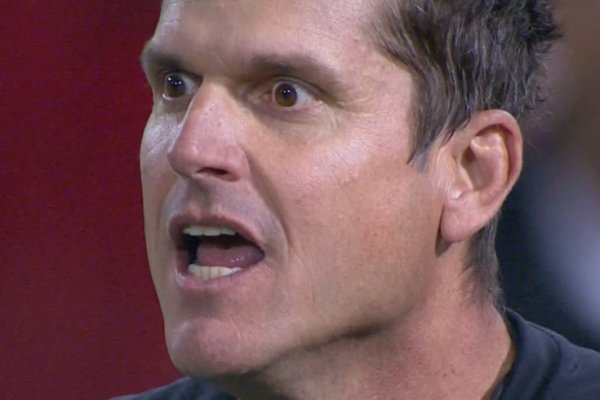 Prior to this season I had spent little time perusing possible draft picks for the San Francisco 49ers leading up to their drafts. I don't know why I never have before and quite frankly, I regret not paying more attention to it. I have a personality that trends toward outbursts of obsessive-compulsive behavior and burying oneself in NFL draft minutiae has proven to be a surprisingly gratifying outlet for me.
Collecting theoretical draft picks in one's head is kind of like playing Monopoly with $50 million cash and a single die. Once you get ahead a little--like the 49ers are with so many picks right now--there's a tendency to conjure up some fantastically hideous fantasies about your enemies while hording your collection of the red and orange and blue properties plus all four Railroads to yourself, with a Get Out of Jail Free card you stole out of the box when no one was looking. With that much cash on the line all of the hundreds of different possibilities as you go around the board can turn you into a frenzied psychotic by the time your fateful turn to roll comes up.
Which isn't to say that NFL prospects are like well-developed pieces of property along St. Charles Avenue or Marvin Gardens.
But once someone gets trapped into a serious predilection for fantasizing about millions of different possibilities, it becomes hard to differentiate between one kind of obsession or another. To a certain kind of mind, it's just a collection of something that person happens to like. I like football, so I like immersing myself in a fetishistic saturation of possible dream picks for the 49ers and the upcoming 2013 NFL Draft. I'm collecting possibilities, and I don't even know where they're picking at yet or if they'll keep all 23 of their picks this year (just kidding, they only have eleven, plus two possible compensatory picks). I only know they'll be used to crush their opponents over the coming seasons, much like crushing your opponents each time they pass Go.
So let's go over some of the players that the 49ers should be looking at in the upcoming college bowl season. This is a look at potential players for the 49ers to pick up based on just a few identified position needs, not simply the best available players in each round. But to make things a little interesting, this list will be confined to potential athletic freaks or monstrously-sized men the 49ers could get to fill each position need and who could be big draft steals if their uncommon size or athleticism translates well to the NFL.
Begin Slideshow

»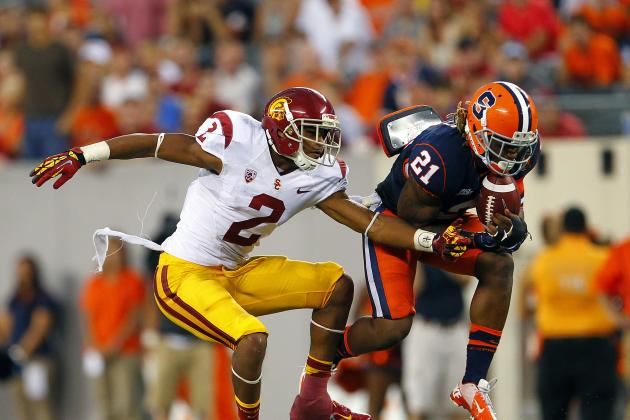 Rich Schultz/Getty Images

The first position we'll look at is the safety position. Depending on what the 49ers do about FS Dashon Goldson's expiring contract this offseason, they could be in the market for a player at both safety spots. If they resign Goldson to a long-term contract they will still look for a quality strong safety to pair him up with after a year or less as Donte Whitner's understudy. And they might look for someone at both positions regardless simply to add some depth to a decidedly thin position on the current roster.
A player who has the athletic talent and mental makeup to turn into a solid starter should he improve certain areas of his game is SS Shamarko Thomas out of Syracuse.
Thomas is weak in coverage, not because he has poor speed or coverage skills but because he doesn't play with much technique or discipline. He runs a reported 4.39 40 time at the strong safety position, which is elite speed.
At 5'10" and 210 lbs (and likely to add a few more in the weight room by next season) he plays like the sharp end of the stick. He is an aggressive player who loves to put big hits on players, much like Goldson and Whitner. If Vic Fangio can coach him up in the pass coverage game he could be a huge steal in the sixth or seventh round. He has all the physical tools to succeed, with elite speed and the size and physicality to fit in perfectly with the current defense.
The New Era Pinstripe Bowl will feature Thomas' Syracuse Orangemen squaring off against Gino Smith and West Virginia on December 29th.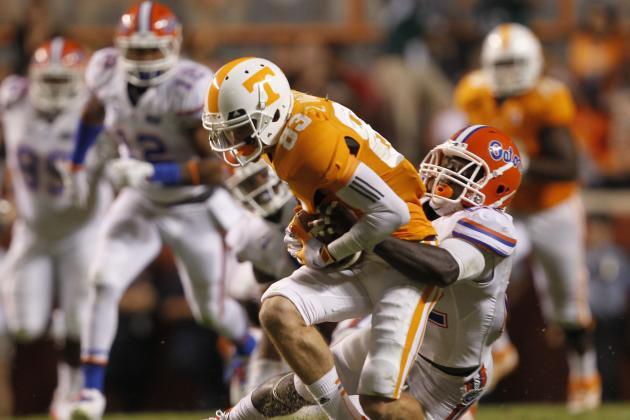 John Sommers II/Getty Images

Matt Elam is another player I really like in terms of how he fits in with the team's mindset. He plays physical at the point of attack and at the line of scrimmage at the strong safety position. But he has also shown excellent coverage skills in the back end of the secondary as well. What makes him a great potential player for the 49ers is his versatility due to superior run-stopping ability and above-average coverage skills. He has quality NFL starter and potential Pro Bowler written all over him.
Unfortunately, he's also proven his value in the highly-visibly SEC playing for the Florida Gators. So he isn't exactly an unknown commodity and he might not be around by the time 49ers pick toward the end of the second round. If the 49ers use their first-round pick on a safety, I would expect it to be a player at the free safety position with the assumption that they are not going to resign Goldson. But if Elam falls to them in the 2nd round, grabbing him will prove to be an excellent value even that high in the draft.
Keep in mind also that the 49ers have a plethora of picks with which to trade if they wanted to acquire another pick somewhere in the top 40 spots. If they do so, Elam suddenly becomes much more attainable while still being able to address other needs early in the draft.
Matt Elam will be looking to make a splash in the Sugar Bowl against questionable BCS entry Louisville.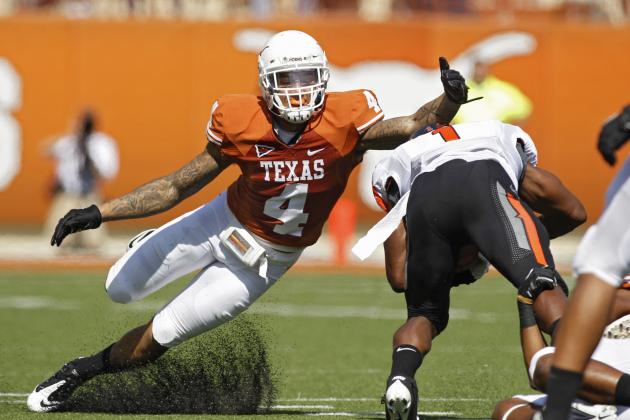 Erich Schlegel/Getty Images

Free safety Kenny Vaccaro out of Texas might be the best player available at either safety position. He's projected to go anywhere between the first and third round, and I think much of that will hinge on whether he improves on his current 40 time of 4.57. He has the size and he uses it well, but speed may be a bit of an issue.
That being said, he has all the other physical tools to succeed at the next level. At 6'1" and 218 lbs he represents a physically-imposing presence at the free safety position who could step into the starting role next season for the Niners. With as much physicality and athleticism as he possesses for his position, plus his ability to play extremely well in both coverage and at the line of scrimmage, he is a tantalizing pick for a lot of teams. I don't expect him to drop into the third round, certainly not by the end of it, but this is a guy the Niners very well may take a look at if he is sitting there in the second round and they have decided by then to part ways with Goldson.
The 49ers will be watching the Alamo Bowl on December 29th to see if Vaccaro flashes good game speed against Oregon State.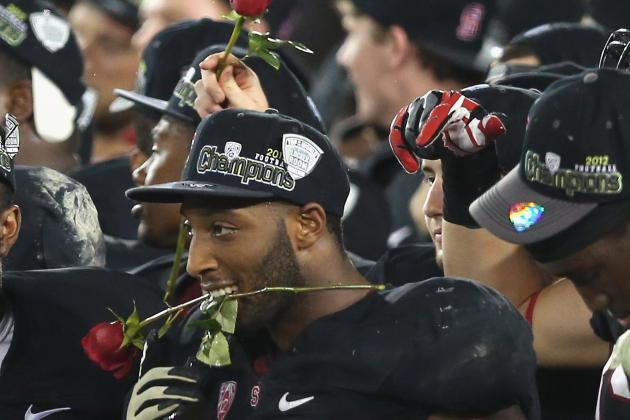 Ezra Shaw/Getty Images

Okay, Stepfan Taylor from Stanford isn't exactly a freakish athlete in the sense that I mentioned earlier. But I've watched him play a lot and I'm convinced that this guy has what it takes to be a very good running back in the NFL within a year or two. One thing I love about him is that he always falls forward when he gets hit. He keeps his legs driving through contact well and he even shows some flashes of the old Roger Craig, piston-like high-knees style that running backs coach Tom Rathman would love to work with.
Although his body type isn't anything like Frank Gore's, he has a similar running style that will translate well to the NFL. He runs with patience, he has good vision and good finish to his runs. What he lacks in speed he makes up for with the ability to break tackles.
Taylor is a guy the Niners could easily take with the earlier of their two third-round picks and no one will be questioning it a year later. People will question the pick at the time, sure. But I see running back as a pretty important position of need for the 49ers this offseason.
I'm not sold on LaMichael James yet and don't see him doing anything in the future in a feature role. The injury to Kendall Hunter also worries me just a little bit and I don't think the 49ers would be smart to assume he will be healthy by the beginning of next season. Brandon Jacobs will be gone and Anthony Dixon isn't a viable option in the backfield.
Stepfan Taylor can step right into the same offense he's currently playing in at Stanford with relative ease and he plays smart, tough football like Jim Harbaugh loves. He can do a lot to solidify the position in the short term and potentially in the long term as well once Gore hangs the cleats up.
While Harbaugh and offensive coordinator Greg Roman recruited and coached Taylor in his early years at Stanford and are thus well-aware of his skill set, expect them to keep an eye nonetheless on the Rose Bowl this New Year's Day as he takes on a rugged Wisconsin defense looking to stuff the vaunted Stanford rushing attack.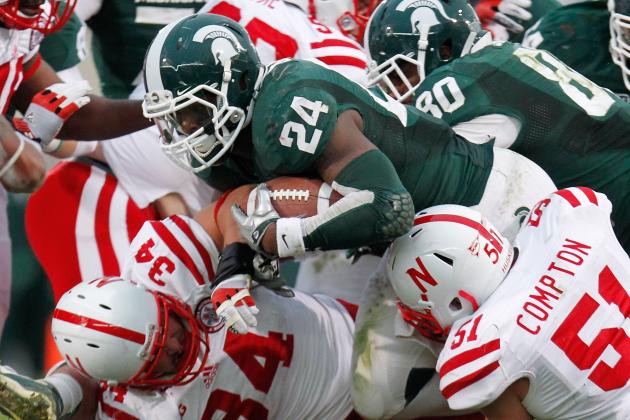 Gregory Shamus/Getty Images

Note the angles of the two players trying to tackle Michigan State running back Le'Veon Bell in the accompanying photo. Notice how they are leaning away from Bell, while he's leaning forward and toward them?
That's because this behemoth runs with the intent of a crazed Spanish Brahman bull, with a body to match. At 6'2" and a whopping 242 lbs, Bell has the requisite size to be a top-flight short yardage back in the NFL. At Michigan State, he's also shown that he can carry the ball the whole game. A couple weeks ago against Minnesota he carried the ball 35 times for 266 yards on the ground. He's just a junior, so he might fill out even further by next season. He has good speed for his size with a 40 time of 4.62.
But speed isn't his game. Running with the power of a Western silverback gorilla and the regard for human safety of a serial-killer is his game, and it's a style that Jim Harbaugh loves. It's also a style the 49ers will be lacking with the departure of Brandon Jacobs next year. Frank Gore doesn't have the size of a prototypical short yardage back, although he is currently the one getting most of those carries for the 49ers. If they don't look to grab Stepfan Taylor, it may very well be because they think Bell will be available in the 4th round, where San Francisco will have at least two picks.
If the 49ers think they can get two or three more good years out of Frank Gore and they are confident in both James and Hunter for next season, then a guy like Bell would be a better, more frugal choice for the 49ers. His running style might be the best bet to fit well with the current stable of backs. He'll also be able to fill in occasionally at fullback and can certainly contribute something on special teams.
Michigan State travels south to Tempe, Arizona to play in one of the most obscure-sounding bowl games I've ever heard of, the Buffalo Wild Wings Bowl. This game might not be on anyone's radar who's not scouting players, but it certainly will be for the Niners, as they watch to see if Bell can run over and through the Texas Christian University defense.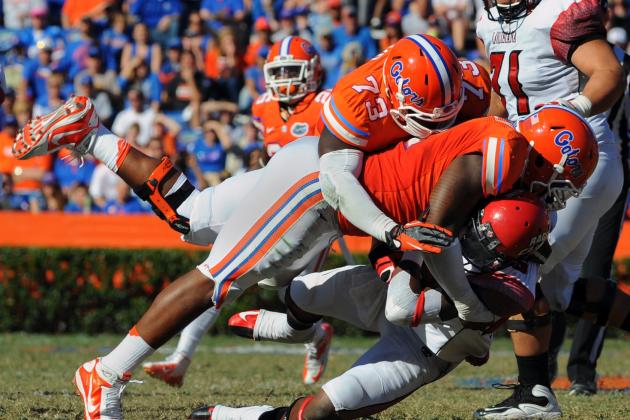 Al Messerschmidt/Getty Images

Defensive line is the position that will have the most potential holes in it by next year. Nose tackles Isaac Sopoaga and Ricky Jean-Francois are both free agents this spring. Sopoaga has looked better the last two weeks, but run defense up the middle has been a weakness for this line most of the season. Jean-Francois is undersized at the position and isn't much of an answer there if he returns either.
This draft has a high number of quality linemen that might fit well into the Niners' defensive scheme. Justin Smith is a prototypical 3-4 defensive end for their system. He's strong enough to play well inside against the run and he can bullrush any offensive lineman into a quarterback's lap. The Niners don't ask him to rush the passer in space on the edge much; he rushes primarily from the end position moving inward looking to collapse the center of the pocket or occupy two blockers at once.
Sharrif Floyd shows many of the same abilities. He doesn't have the speed to get around good tackles, but he has the size, agility and strength at 6'3" 305 lbs to play the 3-4 end position well, similar to Justin Smith but about 20 lbs heavier. He can also slide inside adequately and what makes him intriguing is the unique athleticism and versatility he's displayed against elite competition.
Floyd isn't the best 3-4 tackle/end available, but he's the best of the ones most likely to be sitting where the Niners will be picking from, which is probably anywhere from about 27th to 32nd. The 49ers will no doubt be watching Floyd at the same time they watch his teammate, Matt Elam, in the Sugar Bowl.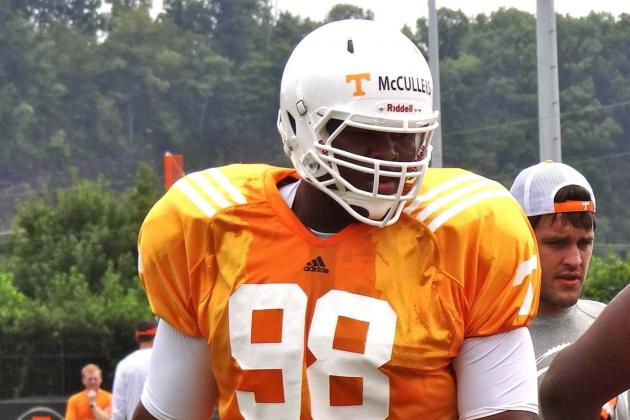 Daniel McCullers out of Tennessee is the biggest leviathan in the draft this year at 6'6", 377 lbs and truth be told, he looks like he carries that much weight fairly well, although his weight is still an issue. He's a giant sequoia of a man and he might be available when the Niners' turn comes up in the third round.
For purely selfish reasons, I want to see the 49ers draft this guy. I really want to see what defensive line coach Jim Tomsula, one of the best in the business, can do with a guy this physically talented and potentially unmovable.
McCullers is raw and needs to get into better shape, but if he can harness his appetite and the Niners can perhaps get some sort of "mentor" to follow him around and keep him away from the local all-you-can-eat buffets, he might turn into an unstoppable brick wall at the nosetackle position. It wouldn't be surprising if questions about his weight cause him to drop into the fourth round, where the Niners would be fools to pass on this kind of size at a position they may be losing two guys at this offseason.
Unfortunately for McCullers, Tennessee isn't playing in a bowl game this winter so the Niners will have to find other ways to watch him. It may not even come down to what they see on film anyways, as his size speaks for itself. It may have more to do with what sort of shape he comes into the NFL combine in. Bowl game or not, this is one freakishly large player on a lot of people's radars.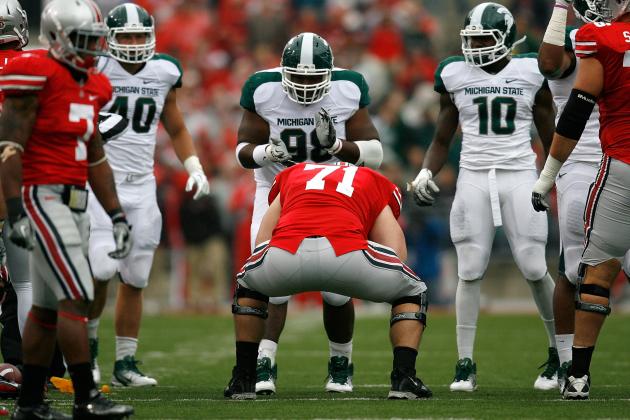 Kirk Irwin/Getty Images

Anthony White out of Michigan State is not the same sort of prospect that Daniel McCullers or Sharrif Floyd is. But he is a huge player. At 6'2", 330 lbs and plenty of experience in a defensive line rotation that has played well the last two years against some beefy Big-10 offensive lines, White might be a very good fit for the Niners as part of a rotation that could feature Ray McDonald, Justin Smith and perhaps two or three new additions.
Look for the Niners to magnify the talents of Justin Smith and Aldon Smith on one side of the line with a deep rotation of quality down linemen with the size to play the nose tackle position or the versatility to move to the end position as well. White is strictly a nose tackle but he has the abnormal size to potentially fit in as part of a rotation in the middle of the line and he could be had as late as the end of the 6th round.
The 49ers' coaching staff will surely be keeping one eye on him while training another on his large-bodied teammate, Le'Veon Bell, in the Buffalo Wild Wings Bowl against TCU.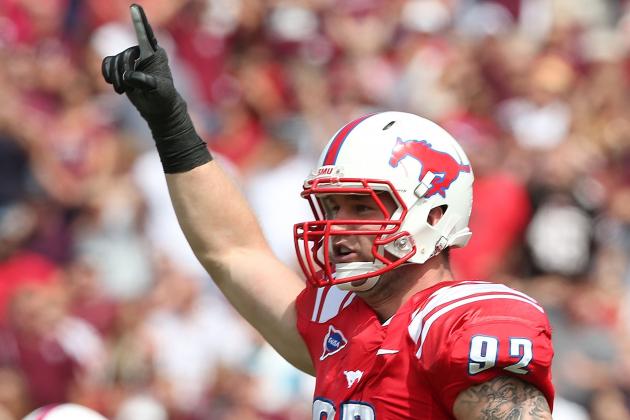 Ronald Martinez/Getty Images

Now that I just got done talking about how the Niners need to stockpile stout, 300-plus pound defensive linemen, here is a lineman that is anything but stout. Margus Hunt stands at 6'7" and weighs in at a lanky 280 lbs. Yes, I just used "lanky" and "280 lbs" in the same sentence.
Hunt has absolutely off-the-charts athletic talent and he's an interesting story as well, one that might play nicely in a cosmopolitan city like San Francisco.
Hunt came to the U.S. from Estonia to throw the discus for the SMU track team, but when he arrived he found that SMU had just dropped its track and field program. So he tried out for the football team and now he's one of the most intriguing picks available on the defensive side of the ball.
He's raw and he's also a little old for a draft prospect at 25, but the physical ceiling is non-existent with this guy; it's simply a matter of whether he has the instinct to play the game at the highest level. He certainly has the speed and explosive power to do so. While the 49ers have Aldon Smith and Ahmad Brooks locked up at the outside linebacker position (in the 3-4 Hunt will most likely move from his current DE spot to OL), Hunt is a rare specimen that might be worth a fourth or fifth round pick to develop for a couple of years and play in pure pass rushing situations where his natural ability can be best used. He might also be strong enough to play in certain passing downs as a typical 3-4 defensive end, but that remains to be seen, as does as any potential special teams value he may have.
Hunt and the Southern Methodist Mustangs will be traveling out to Honolulu to play in the Hawaii Bowl against the Fresno State Bulldogs. I'm sure there are plenty of 49ers scouts and representatives who would love a chance to fly out and watch a very interesting defensive line/outside linebacker prospect.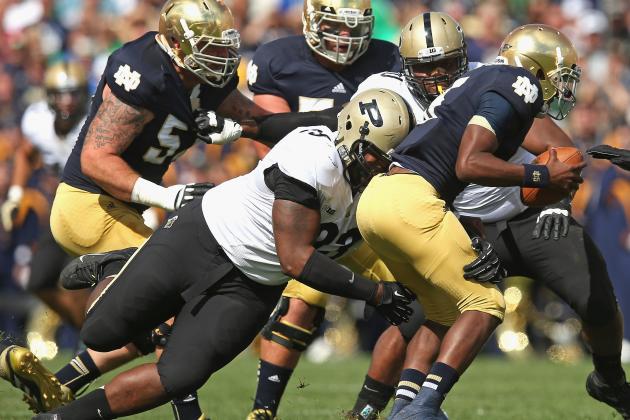 Jonathan Daniel/Getty Images

Kawann Short from Purdue is another monster of a nose tackle who the Niners should keep an eye on. Like Sharrif Floyd, Short can play the end or the nose tackle in the 3-4, although he's more suited for the middle. He has good size (6'3" 315 lbs) and he's shown an uncanny knack for getting penetration into the backfield in both running and passing situations. He's an excellent tackler and also set a school record with six blocked kicks.
If the Niners want to employ a rotation of big, physical, versatile linemen he would be worth a late first round pick, given his unique penchant for disruptive play from a position noted more for players who can simply clog things up. Short doesn't just occupy bodies, he is adept at getting past defenders and to the ball carrier in his own right in a way uncommon for most players with his size and frame. Short is a bit like Warren Sapp in that respect. With a rotation of linemen, the coaching staff can maximize his ability to generate a pass rush from the middle on certain downs without being vulnerable to the run.
Short may be better-suited to a 4-3 defense rather than the end position or nose tackle position in a 3-4 system. He's strong and solid-bodied in the run game, but he might lack the size to play strictly in the middle and he lacks the speed to play consistently at the end position. But his rarefied burst off the line in the pass rush might pique the 49ers' curiosity just enough to warrant taking him at the end of the first round to see if he can find a natural spot somewhere along the defensive line, knowing that they can still get away with moving him around situationally if he proves to be a 'tweener in the 3-4 scheme.
The 49ers will definitely be keeping a close eye on the Heart of Dallas Bowl in, you guessed it, Dallas featuring Purdue and Oklahoma State. OSU will undoubtedly be well-represented at that game, so the 49ers will get a good chance to see how Short responds in a big game, in a hostile environment, and against an offense sure to key in specifically on him.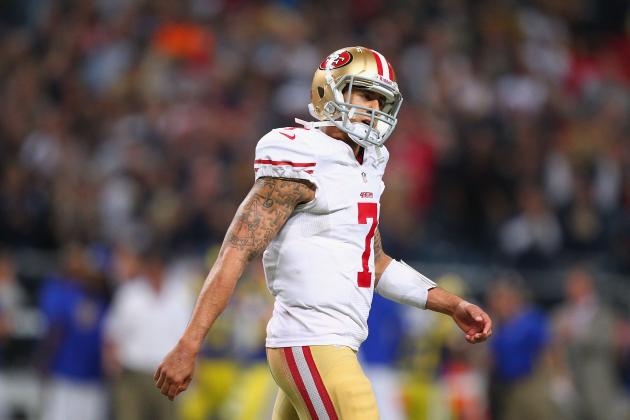 Dilip Vishwanat/Getty Images

The 49ers are not restricted to the three areas covered in terms of offseason needs. They could also use depth at the cornerback and wide receiver position. There is some legitimate talent at cornerback in the draft, but not much this year at wide receiver. Tight end is another thin but needy spot. The team could use a quality center who could develop into a starter within a year or two at the most.
But the players in this list represent some of the freakish size or physical talent available in the draft who are feasible picks for San Francisco. There is a definite trend toward size on both sides of the ball with the big running back in Le'Veon Bell and a physical runner in Stepfan Taylor, along with an assortment of wide-bodied, heavy defensive linemen. I expect the 49ers to take some bigger bodies this year to help fortify themselves against the grinding, deteriorative effect that the trench battles can have on their defensive line depth and their running game.
Another possibility is trading several of their lower picks for more picks in the first four rounds. They have two seventh, sixth, fifth and third-round picks. One of each might get a higher third-round pick and a high second-round pick, or perhaps a first-rounder plus a seventh-rounder this year or maybe a fifth-rounder next year.
Regardless, I expect the 49ers to end up with a few less picks, but at least one more pick within the first three rounds than they have now. If they somehow retained all picks between and including their first-rounder and their second third-round pick in a trade, they could easily end up with a first-rounder, two second-rounders and three third-rounders.
It is confusing, I know. Combine that with all the infinite ways the entire draft board can change for the 49ers based on each trade possibility and the resulting wilderness of mirrors is exhilarating. You can see where this could go in the wrong hands.
There is a lot of talent at different positions of need for the San Francisco 49ers within those picks though. No matter how obsessively one reworks the infinite possibilities in one's head, the only sure thing is that there will be a lot of physical talent in this draft that suits their needs sprinkled throughout all seven rounds.