The Top 5 Fantasy Football Waiver-Wire Adds at Every Position for NFL Week 14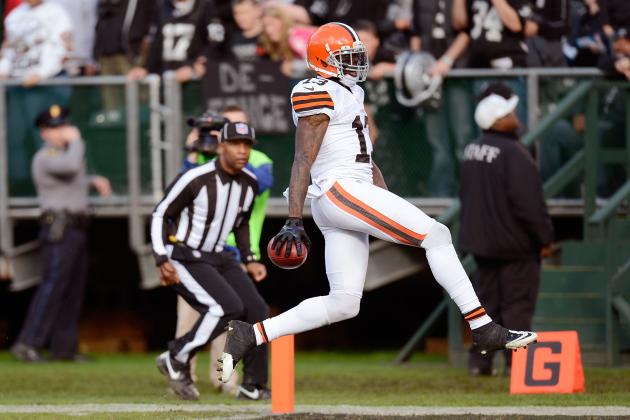 Thearon W. Henderson/Getty Images
Josh Gordon posted a season-high 116 receiving yards and added a touchdown in Week 13.
With many fantasy football leagues starting their playoffs in Weeks 14 or 15, getting quality additions off the waiver wire is as important as ever.
Luckily for you, there are plenty of quality options on the waiver wire for Week 14. While a few positions are weaker than the others, there are players worth starting at every position on your roster.
Here are the top waiver-wire adds at every position for NFL Week 14.
Begin Slideshow

»
Thearon W. Henderson/Getty Images

1. Russell Wilson, Seattle Seahawks
Only a handful of quarterbacks have been as good as Wilson has been over the past month. He's thrown nine touchdowns in the past four games without throwing an interception.
While his total yards haven't been extremely high (219.5 yards per game average), Wilson's 42.5 rushing yards per game have certainly helped put points on the board. With the Arizona Cardinals and Buffalo Bills as Wilson's next two opponents, his best weeks are still ahead of him.
2. Brandon Weeden, Cleveland Browns
The Browns are on a two-game winning streak, and Weeden has been playing extremely well in those games.
In Week 13, Weeden threw for 364 passing yards, which was the second most of all quarterbacks. He still needs to cut down on his turnovers to be a consistent starter, but for Week 14, he should able to put up some huge numbers.
He plays the Kansas City Chiefs, who have been one of the worst defenses this year. If Weeden can continue to throw for a ton of yards while adding a few more touchdowns, he could end up being the top-scoring quarterback this week.
3. Nick Foles, Philadelphia Eagles
With Foles becoming the starter for Philadelphia for the remainder of the season, he instantly became a quality pickup off the waiver wire.
Of course, it helps that Foles had his best game as a starter in Week 13, with 251 passing yards and a touchdown. While his matchup with the Tampa Bay Buccaneers isn't ideal, if Foles can improve off last week's performance, he could end up with a nice week.
4. Greg McElroy, New York Jets
Despite the fact that Rex Ryan hasn't named his starting quarterback for Week 14, it is hard to imagine him not going with McElroy. For starters, McElroy led the game-winning drive last week against the Arizona Cardinals.
On top of that, Mark Sanchez has been absolutely terrible this season. Keep an eye on the quarterback situation in New York, and if McElroy is named the starter, a game against the Jacksonville Jaguars could produce a decent amount of points.
5. Chad Henne, Jacksonville Jaguars
While Henne has cooled down considerably after his four-touchdown performance against the Houston Texans, he still has plenty of value for the remainder of the season in fantasy football.
As long as he can get the ball into the hands of guys like Justin Blackmon and Cecil Shorts, he should be able to put some points on the board in Week 14.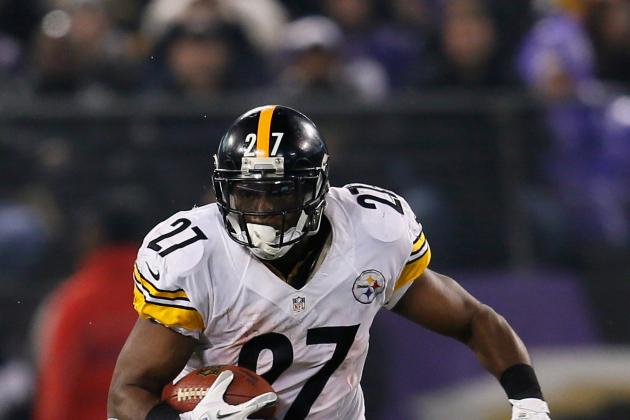 Rob Carr/Getty Images

1. Jonathan Dwyer, Pittsburgh Steelers
Dwyer has gotten the nod for the remainder of the season as the Steelers' No. 1 running back.
While Ben Roethlisberger is expected to return in Week 14, Pittsburgh will likely be hesitant to put too large of a load on his shoulders. This means that Dwyer should be the focal point of the offense.
Anytime you can get a legitimate starting running back this late in the season, you need to jump at the opportunity. Grab Dwyer now and don't think twice about plugging him into your starting lineup.
2. Knowshon Moreno, Denver Broncos
Moreno has received 24 total touches in each of his last two games, and while he hasn't put up huge points, those types of touches are golden for a running back.
All it takes is one or two long runs for Moreno to change a 10-point game into a 20-point game. With the Oakland Raiders on the schedule this week, Moreno should have his best game since Willis McGahee was injured three weeks ago.
Look for him to get another 20-plus touches and have another solid week in fantasy football.
3. Alex Green, Green Bay Packers
With news breaking late on Tuesday night from Jason Wilde over at ESPNMilwaukee.com about James Starks potentially missing the rest of the season with a knee injury, Green will once again be the No. 1 running back for the Packers.
UPDATE: Green's fantasy value may have taken a hit Wednesday morning, as the Packers reportedly agreed to a deal with former Packer Ryan Grant in the wake of Starks' injury.
-- End of Update --
While that has never been a good thing because of how much Green Bay throws the ball, last week was the first time the Packers seemed committed to running the ball. Starks and Green combined for 124 rushing yards and a touchdown on 27 carries.
As long as Green Bay continues to put some emphasis on the run, Green could end up being quite the start at the flex position this week.
4. Montell Owens, Jacksonville Jaguars
No running back in Jacksonville can stay healthy, which means that Owens will only be worth keeping on your roster for a week.
With both Maurice Jones-Drew and Rashad Jennings injured, Owens will get the majority of the touches for the Jaguars on Sunday. Without much production to work with, Owens is truly a wild-card play his week.
However, anytime you can have a No. 1 running back in your lineup, he has the potential of putting up a solid amount of points for your team.
5. Vick Ballard, Indianapolis Colts
Despite only receiving nine carries in Sunday's win over the Detroit Lions, Ballard still managed to gain 41 rushing yards and a touchdown. While Ballard should continue to receive the most carries for the Colts, the big problem is that Indianapolis loves to throw the ball so often.
The only position to plug Ballard in this week is at the flex position. The possibility of another game with less than 10 carries is just too risky to start Ballard at running back.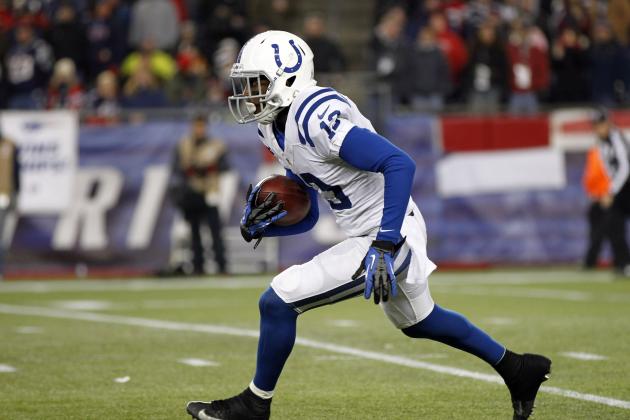 Greg M. Cooper-USA TODAY Sports

1. Josh Gordon, Cleveland Browns
I'm not sure anyone expected Gordon to have this type of impact in his rookie season. Since his bye week in Week 9, Gordon hasn't recorded less than 50 receiving yards in a game.
His 116 receiving yards last week made for his highest total of the season, and he also added a touchdown to have a fantastic Week 13. He's quickly becoming Brandon Weeden's top target and could finish the season with more performances like he had on Sunday.
Gordon is definitely worth starting at the flex position for the remainder of the season.
2. T.Y. Hilton, Indianapolis Colts
Hilton has had quite the up-and-down season for the Colts as a rookie, but he still needs to be considered an extremely dangerous threat with the ball in his hands.
He's reached 100 receiving yards in two of his last three games and has three touchdowns in that same time span. With the Tennessee Titans on the schedule for Week 14, Hilton should have another big week.
3. Mike Thomas, Detroit Lions
With Ryan Broyles and Titus Young on injured reserve, Thomas has become the No. 2 receiver for the Lions.
It's hard to know just how big of an impact Thomas will have this week, but without many other options for Matthew Stafford, he should get plenty of looks. The Lions also play the Green Bay Packers this week, which could turn into a high-scoring game.
Watch for Thomas to get some opportunities to put points on the board this week.
4. Chris Givens, St. Louis Rams
Givens has been quite the player the past two weeks for St. Louis. He recorded 115 yards and a touchdown in Week 12 and another 92 yards and 11 receptions in Week 13.
Look for Givens to continue to see plenty of looks from Sam Bradford, especially this week against the Buffalo Bills.
5. Golden Tate, Seattle Seahawks
With the increased play of Russell Wilson in past weeks, Tate has seen his fantasy status rise. He had one of his best games of the year last week, with 96 receiving yards and a touchdown.
Tate also has four receiving touchdowns in his last four games and is really becoming a red-zone weapon for the Seahawks. With games against the Arizona Cardinals and Buffalo in the next two weeks, we should see Tate continue to get plenty of looks near the end zone to put up points.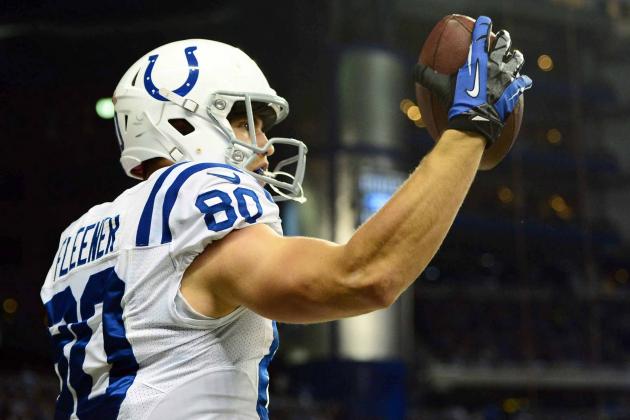 Andrew Weber-USA TODAY Sports

1. Brandon Myers, Oakland Raiders
Let me start by saying that it is completely ridiculous for Myers to only be owned in 54 percent of leagues (according to Yahoo! Sports).
Myers has been one of the best tight ends in all of fantasy football this season. While he may not have the big games like Jimmy Graham or Rob Gronkowski, he has been as consistent as can be in 2012.
There are only a handful of tight ends I would even consider starting over Myers for the remainder of the season. If he is available in your league, grab him now.
2. Coby Fleener, Indianapolis Colts
Fleener finally returned from a shoulder injury in Week 13 and looked good after missing so much time.
He only had one reception, but it went for 26 yards and a touchdown. Look for him to see plenty more passes thrown his way in Week 14 and to be a much bigger part of the offense in Indianapolis.
3. Dallas Clark, Tampa Bay Buccaneers
Clark is quietly becoming a consistent option at tight end in fantasy football. He's scored a touchdown in three of his last four games.
While he isn't amassing a huge amount of yards (28.3 yards per game), his ability to find the end zone makes him worth a look for your team.
4. Benjamin Watson, Cleveland Browns
If you're looking this deep to find a tight end for your roster, you're going to need to realize there is some major risk with Watson.
For starters, Watson is averaging just under 28 receiving yards a game and only has three touchdowns on the season. However, in Week 11, Watson recorded two touchdown catches and 47 receiving yards.
With the Browns playing much better in recent weeks, Watson is a boom-or-bust start that could either pay off huge or completely backfire.
5. Marcedes Lewis, Jacksonville Jaguars
Lewis has increased his receiving yards in his last four games, and he had a season-high 68 receiving yards in Week 13. The biggest issue with Lewis is still in the Jaguars' ability to get the ball into the end zone.
While he looks like he should be able to get you an average amount of points, only pick up Lewis if you're really hurting at the tight end position.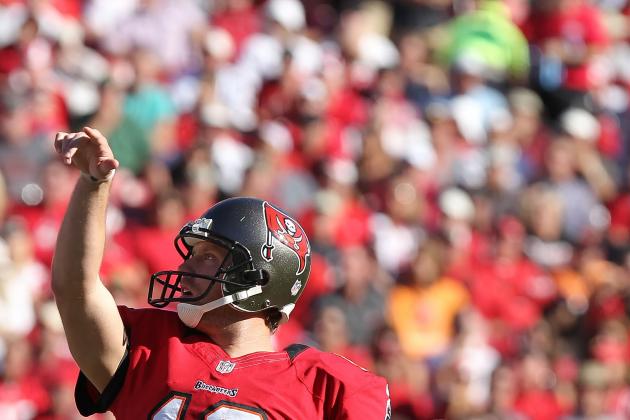 Kim Klement-USA TODAY Sports

1. Matt Prater, Denver Broncos
The Broncos have looked like one of the best offensive teams in the league for the past two months, and that shouldn't stop in Week 14.
Peyton Manning and company take on the Oakland Raiders on Thursday night, and this game has the makings of being an absolute blowout. Look for Denver to threaten to put 40 points on the board and for Prater to get plenty of opportunities to score points for your team.
2. Connor Barth, Tampa Bay Buccaneers
With the Philadelphia Eagles coming to town this week, Tampa Bay should have little difficulty scoring on Sunday. While the Bucs offense hasn't been quite as dynamic in the past two weeks, this should be a nice bounce-back game.
Don't be surprised if Barth ends up being one of the top-scoring kickers for Week 14 with such an easy matchup.
3. Phil Dawson, Cleveland Browns
There are plenty of Browns players on our additions this week, and that is because of just how bad the Kansas City Chiefs are.
I'm expecting for Cleveland to have one of their best offensive games of its year in Week 14, which means Dawson has some definite value in most leagues.
4. Mike Nugent, Cincinnati Bengals
Considering that the Dallas Cowboys gave up 33 points to the Philadelphia Eagles in Week 13, I'd say that the Bengals have a good chance at scoring quite a few points this week.
While Nugent has struggled some with consistency this season (82.6 field-goal percentage), he should have numerous chances to get your team points in Week 14.
5. Rob Bironas, Tennessee Titans
The Titans have certainly had their struggles on the offensive side of the ball, but that can often turn into a good thing for kickers in fantasy football.
While Tennessee has the players to move the ball down the field, it has had difficulty punching the ball into the end zone. If that happens again on Sunday against the Indianapolis Colts, Bironas could be in line for a big week.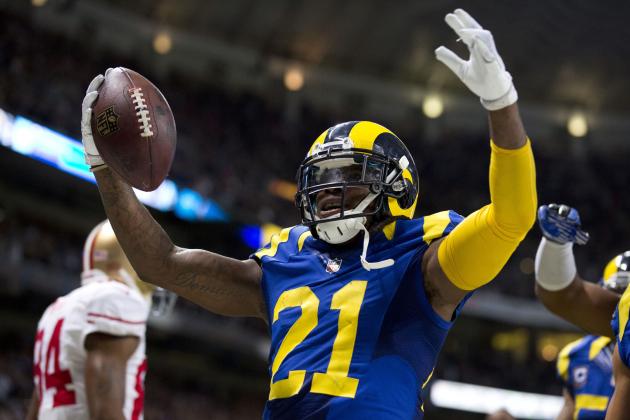 David Welker/Getty Images

1. St. Louis Rams
For the second straight week, the Rams need to be picked up off the waiver wire.
They didn't let you down last week by only allowing 13 points while scoring a defensive touchdown, and they won't let you down this week. In Week 14, they play the Buffalo Bills, who have certainly had their difficulties on the offensive side of the ball.
If St. Louis can contain the one-two punch of C.J. Spiller and Fred Jackson, they'll have a great chance at producing another high-scoring game in fantasy football.
2. Tampa Bay Buccaneers
While rookies Nick Foles and Bryce Brown looked good for the Philadelphia Eagles last week, they'll likely have their difficulties this week against Tampa Bay.
The Buccaneers have been very stout against the run, and if they can focus on slowing down Brown, they should be able to force Foles into making mistakes. Look for the Buccaneers defense to have a great outing in Week 14.
3. San Diego Chargers
I know the Chargers have been extremely inconsistent this season, but they have a great matchup in Week 14 that makes them worth an addition off the waiver wire.
San Diego travels to play the Pittsburgh Steelers, who will likely be welcoming Ben Roethlisberger back to the starting lineup. Look for there to be some rust in the Steelers offense and for the Chargers to take advantage and turn out a solid performance on defense.
4. Cleveland Browns
Once again, we're talking about playing the Kansas City Chiefs this week, so everyone on the Browns roster is worth taking a look at.
With Brady Quinn at quarterback, Kansas City always has the potential of putting a big goose egg on the scoreboard. The Browns should win their third game in a row thanks to a stellar performance from their defense.
5. Minnesota Vikings
I'm not a big fan of the Vikings' matchup against the Chicago Bears, but they do have the potential to score some points for you in Week 14.
It'll all start with the play of Jared Allen and the Vikings pass rush. If they can put constant pressure on Jay Cutler, it could be a huge game for this defense.