NFL Power Rankings: Grades and Analysis Going into Week 14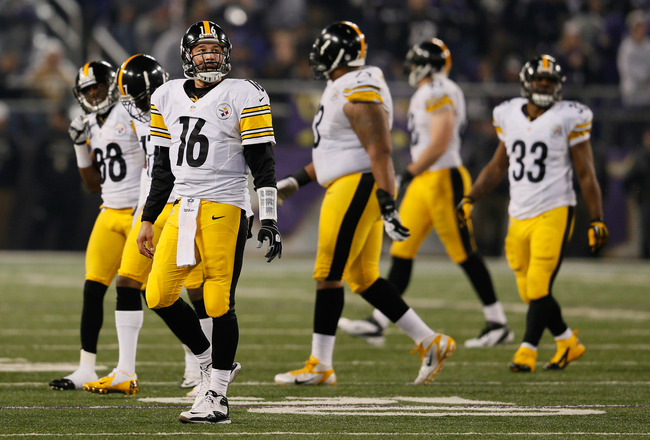 Rob Carr/Getty Images
Right now, 29 teams are in playoff contention in the NFL.
Yeah, 29.
The top of the AFC is pretty clear cut, with the Denver Broncos and New England Patriots clinching their division crowns, and the Houston Texans securing a playoff berth in Week 13.
After that, it's a muddled mess with plenty of football left to play.
In the NFC, only the Atlanta Falcons have clinched a spot in the postseason.
Here are power rankings heading into what should be a captivating Week 14.
32. Jacksonville Jaguars (2-10)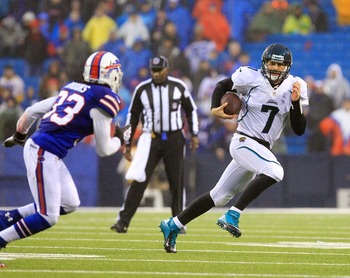 Kevin Hoffman-USA TODAY Sports
The Jaguars were outclassed by the Bills in Buffalo in Week 13. Chad Henne makes the team much better, but now, after he has started a few games, we're reminded that the lack of talent on Jacksonville's roster is the franchise's biggest deterrent.
Grade: D-
31. Oakland Raiders (3-8)
Thearon W. Henderson/Getty Images
The Raiders were allowing more than 42 points in their last four games heading into Week 13's contest with the Cleveland Browns.
Brandon Weeden and Co. won 20-17, sending Oakland further into its tailspin.
Dennis Allen has plenty of work to do this offseason.
Grade: D-
30. Arizona Cardinals (4-8)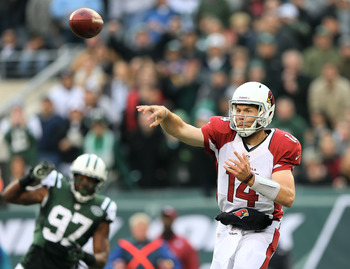 Elsa/Getty Images
The Cardinals have lost eight straight games, and their quarterback situation may actually be worse than the team they lost to in Week 13, the New York Jets.
With the Seattle Seahawks, Chicago Bears, Detroit Lions and San Francisco 49ers left on the schedule, 4-12 is a distinct possibility.
Grade: F
29. Carolina Panthers (3-9)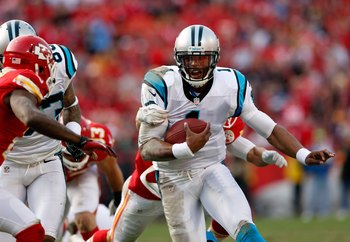 Jamie Squire/Getty Images
Cam Newton has transcendent talent. He burst onto the scene last year, but as is typically the case, defenses caught on to what the Panthers attempt to do on offense, and he has regressed to a certain degree.
The soft defense has been more troubling.
A team that clearly is still at the ground stages of the usually arduous rebuilding process.
Grade: D-
28. Kansas City Chiefs (2-10)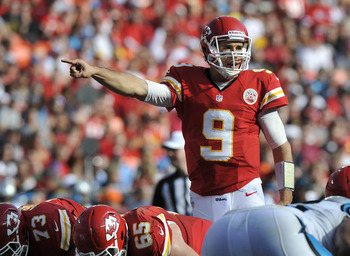 Peter Aiken/Getty Images
It's really amazing how the Chiefs played on Sunday given the grave circumstances.
The 27-21 win was undoubtedly the best game they've played all year in all three phases.
Good for them.
Grade: D-
27. Philadelphia Eagles (3-9)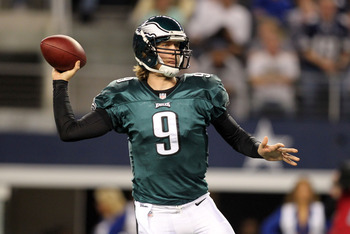 Tim Heitman-USA TODAY Sports
The Eagles' nightmare has extended to nine agonizing weeks.
They haven't won a game since September.
Craziness.
Nick Foles has settled into the starting role, a role he deserves, but the defense still isn't making nearly enough plays.
Grade: F
26. San Diego Chargers (4-8)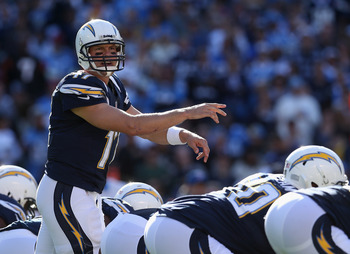 Jeff Gross/Getty Images
The Chargers are in absolute shambles.
Philip Rivers is a shell of his former self and isn't being protected. Ryan Mathews is on pace for the worst statistical season of his career, and the defense is average.
Oh, and Norv Turner and A.J. Smith could be gone at season's end.
Grade: F
25. Tennessee Titans (4-8)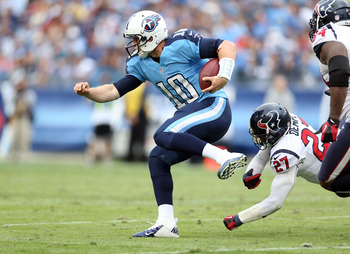 Andy Lyons/Getty Images
The Titans don't have an abundance of talent, but they have enough to be better than 4-8.
Jake Locker needs a full offseason as the unquestioned starter to formulate rapports with his pass-catchers, and the defense needs an identity.
Grade: D
24. Detroit Lions (4-8)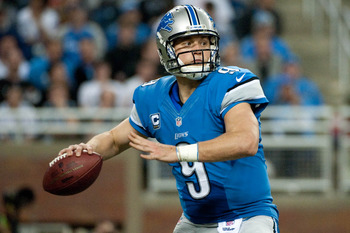 Tim Fuller-USA TODAY Sports
Calvin Johnson, as an individual, has dusted off the "Madden Curse." But his team can't catch a break and its defense has actually regressed from a season ago.
The collapse against the Indianapolis Colts exemplified its 2012 campaign.
Grade: D
23. New York Jets (5-7)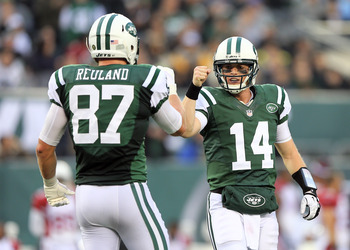 Elsa/Getty Images
The Jets are actually still alive in the playoff race, which seems absurd.
Greg McElroy certainly wasn't Joe Namath in Week 13 filling in for the benched Mark Sanchez, but he should be the starter over the season's final month.
Grade: D
22. Cleveland Browns (4-8)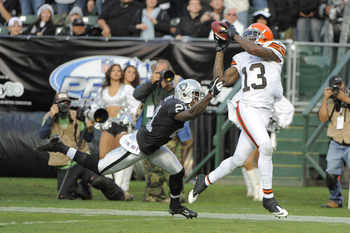 Kyle Terada-USA TODAY Sports
Look at the Browns, winners of two straight games.
Brandon Weeden is more comfortable in the pocket, and Josh Gordon is emerging as an intimidating No. 1 receiver.
With games against the Washington Redskins, Denver Broncos and Pittsburgh Steelers remaining, this not flashy yet underrated Browns club has a chance to play spoiler and head into 2013 with some momentum.
Grade: C
21. New Orleans Saints (5-7)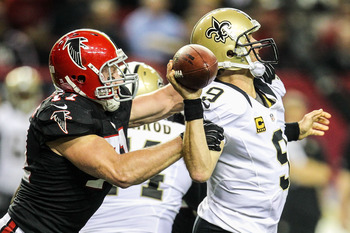 Daniel Shirey-USA TODAY Sports
The Saints really do miss Sean Payton. Drew Brees has accumulated an exceptional amount of passing yards and touchdown passes, but he's on pace for 21 interceptions, which would be the second-most of his career.
The defense has improved since Jonathan Vilma's return, but there is still a variety of easily exploitable holes.
Grade: D+
20. Miami Dolphins (5-7)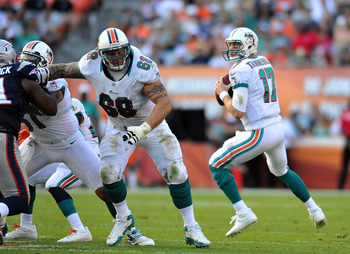 Steve Mitchell-USA TODAY Sports
Ryan Tannehill has promise, and if the Dolphins organization provides him with weapons on the outside, he will become a viable quarterback over the next five years.
Miami is simply a year or two away from really competing.
Grade: C-
19. Buffalo Bills (5-7)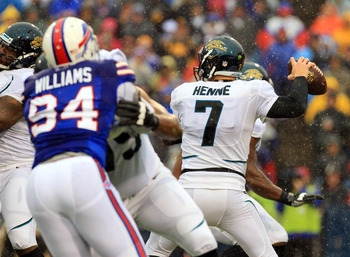 Kevin Hoffman-USA TODAY Sports
The Bills finally instituted a run-heavy offensive attack, and they dominated the Jaguars in Week 13. Playing in the rain with a lead certainly helped Buffalo run it 46 times.
The run defense has allowed 314 yards on the last 100 carries it has faced—a stark contrast from what it surrendered before the Week 8 bye week.
Grade: C-
18. St. Louis Rams (5-6-1)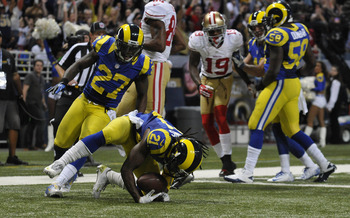 Jeff Curry-USA TODAY Sports
Jeff Fisher has the San Francisco 49ers figured out, doesn't he?
The Rams defense has scary potential, but the offense is stagnant due to offensive line deficiencies, inadequate wide receiver talent and Sam Bradford's inconsistency.
Grade: C
17. Minnesota Vikings (6-6)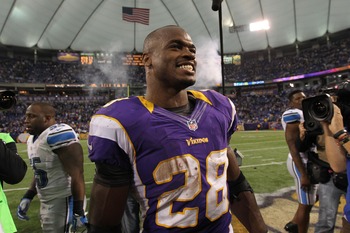 Brace Hemmelgarn-USA TODAY Sports
The Vikings have lost consecutive games, but still find themselves in the thick of the NFC wild-card race.
Adrian Peterson should win the Comeback Player of the Year, and if Christian Ponder could take the next step as a starting quarterback, Minnesota could make what would be a surprising run at the postseason.
Grade: B-
16. Tampa Bay Buccaneers (6-6)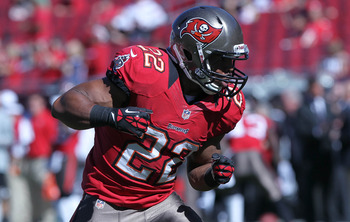 Kim Klement-USA TODAY Sports
The Buccaneers are one of the most fun teams to watch in the NFL.
However, their secondary has let them down against the likes of Drew Brees, Matt Ryan and Peyton Manning this season.
Doug Martin looks to be Ray Rice 2.0.
Grade: B
15. Dallas Cowboys (6-6)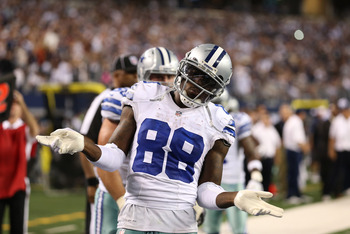 Matthew Emmons-USA TODAY Sports
Tony Romo and Dez Bryant are unequivocally on fire.
The two have combined for 29 completions, 475 yards and six touchdowns over the last four games.
The defense is still susceptible, however, and may ultimately be the reason Dallas misses out on the postseason.
14. Cincinnati Bengals (7-5)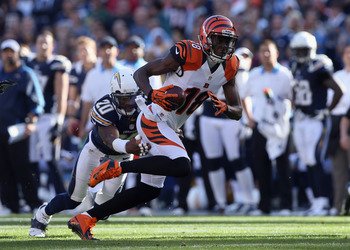 Jeff Gross/Getty Images
The Bengals started the year 3-1. Then, they lost four straight. Currently, they're on a four-game winning streak.
Andy Dalton has missed an open A.J. Green too often this season, but the defense is playing stingy, and BenJarvus Green-Ellis has run with new life over the last month.
That Week 16 game in Pittsburgh could determine which team gets the last wild-card spot.
Grade: B-
13. Pittsburgh Steelers (7-5)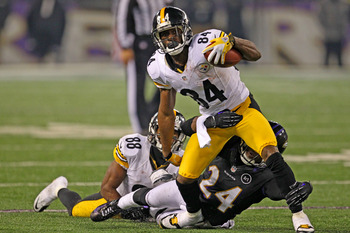 Mitch Stringer-USA TODAY Sports
Charlie Batch was one of the many fantastic stories of Week 13.
After throwing an interception in the end zone early in the fourth quarter, the wily veteran went to work against the Ravens defense and led the game-tying and game-winning drives with relative ease.
A season-defining victory.
Grade: B-
13. Washington Redskins (6-6)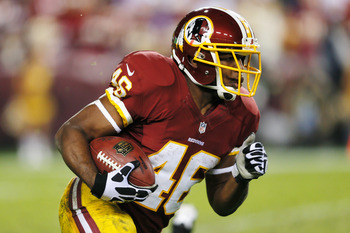 Rob Carr/Getty Images
Robert Griffin III stole the show from Eli Manning on Monday Night Football. Washington's read-option is a thing of beauty and puts a ton of strain on the opposition's defensive line.
The defense needs work, but if the offense is clicking, the Redskins are tough to beat.
Grade: B
11. Indianapolis Colts (8-4)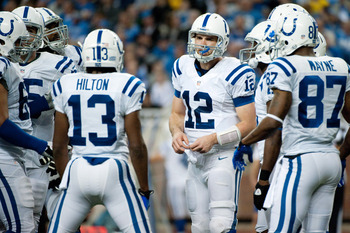 Tim Fuller-USA TODAY Sports
Andrew Luck's heroics shouldn't be overlooked, but remember, as a team, the Colts weren't spectacular against the Lions in Week 13.
However, as we know, stellar quarterback play can take a team to previously unimaginable heights.
Going from 2-14 to 8-4 with a slew of roster turnover, a new GM, two new head coaches and a rookie quarterback is quite unimaginable, isn't it?
Two games down the stretch against the Houston Texans will determine Indianapolis' playoff fate.
Grade: A-
10. Seattle Seahawks (7-5)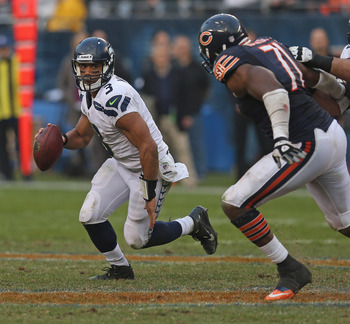 Jonathan Daniel/Getty Images
The last time Russell Wilson threw an interception, you were thinking about what you were going to wear to your friend's Halloween party.
Since then, the Seahawks are 3-1 and on the year, they have victories over the Green Bay Packers, Dallas Cowboys, Minnesota Vikings and now Chicago Bears.
Seattle is in a great spot to secure the final wild-card spot.
The pending suspensions of Brandon Browner and Richard Sherman are huge.
Grade: B+
9. New York Giants (8-4)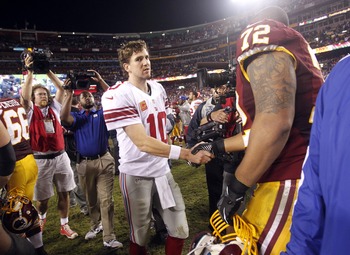 The Star-Ledger-USA TODAY Sports
Eli Manning made some tremendous throws against the Washington Redskins, but penalties, red-zone mishaps and the inability to slow down Robert Griffin III and Alfred Morris led to defeat.
Still, we can't count out the G-Men just yet.
History tells us that.
Grade: B-
8. Chicago Bears (8-4)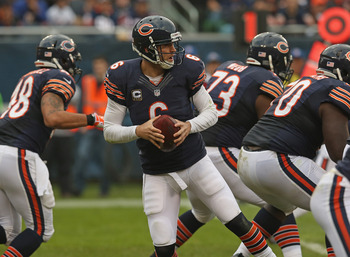 Jonathan Daniel/Getty Images
The Bears are still a very good team without tons of holes.
Their defense may be slightly overrated, but Jay Cutler and Brandon Marshall are locked in.
Week 15's clash with the Green Bay Packers will likely determine the division.
Grade: B-
7. Baltimore Ravens (9-3)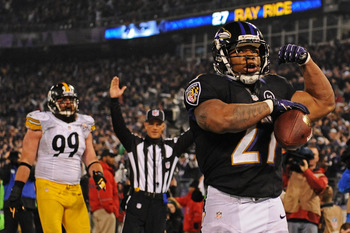 Patrick Smith/Getty Images
The Ravens didn't look like the Ravens against the Steelers in Week 13.
The defense left gaping holes of which Pittsburgh took advantage, and Joe Flacco sputtered down the stretch.
Cam Cameron didn't give Ray Rice a touch in the fourth quarter, an unwarranted disregard of epic proportions.
Grade: B
6. Green Bay Packers (8-4)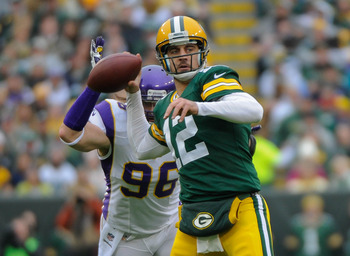 Benny Sieu-USA TODAY Sports
As long as Aaron Rodgers gets protection, the Packers are extremely difficult to beat.
That's really all there is to it.
Grade: B+
5. San Francisco 49ers (8-3-1)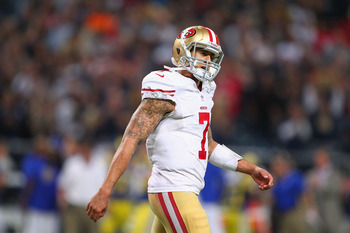 Dilip Vishwanat/Getty Images
The 49ers didn't play their best game against the Rams in Week 13, and a few turnovers ultimately cost them the win in overtime.
Colin Kaepernick still gives San Fran the best chance to reach its full offensive potential, and the defense remains an elite unit.
Grade: A-
4. Denver Broncos (9-3)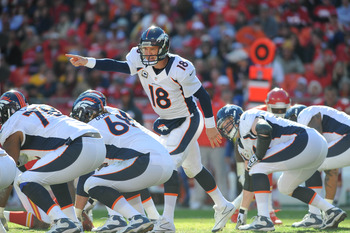 Denny Medley-USA TODAY Sports
The Broncos are the hottest team in the NFL, winners of seven straight.
Peyton Manning has cooled off a bit, but there's no reason to question him whatsoever after the year he's pieced together.
They'll battle for postseason positioning in December, and could really help themselves by beating the Ravens in Week 15.
Grade: A-
3. New England Patriots (9-3)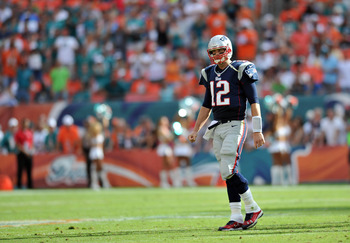 Steve Mitchell-USA TODAY Sports
Tom Brady and the Patriots appear to be more balanced than everyone initially believed.
Their defense has tightened up of late, and as a team, they have the best turnover ratio (+24) by a wide margin.
Grade: A
2. Atlanta Falcons (11-1)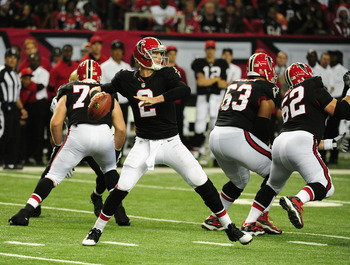 Scott Cunningham/Getty Images
Recently, the Falcons haven't won pretty, but with as much parity as there's been in the NFL this year, a win cannot be undervalued.
They have elite receivers, an underrated defense and an above-average quarterback with elite tendencies.
If the run defense improves and Jacquizz Rodgers helps the running game, Atlanta could get its first playoff win in the Matt Ryan era.
Grade: A-
1. Houston Texans (11-1)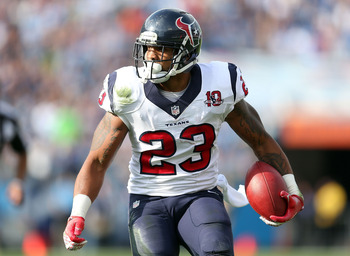 Andy Lyons/Getty Images
By and large, the Texans have been the NFL's steadiest team in 2012.
Arian Foster leads a devastating running game, and Matt Schaub is at ease in the play-action heavy passing offense.
The defense has regressed a tad, but the front is supremely talented and J.J. Watt is a front-runner for Defensive Player of the Year honors.
Grade: A
Keep Reading