6 Stats & Qualities That Separate the NFL's Contenders & Pretenders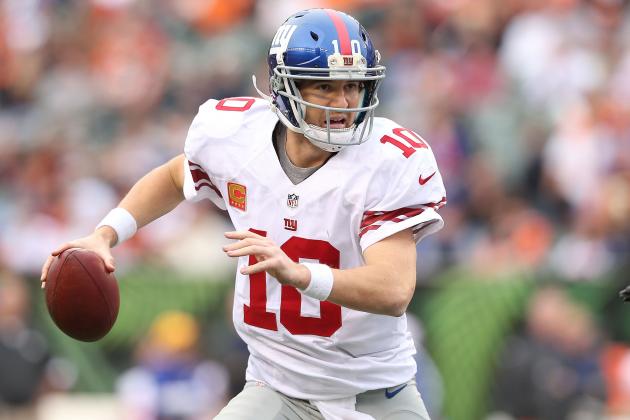 We are entering the home stretch in the 2012-13 NFL season, and the playoffs are starting to take shape. There is still plenty of jockeying to be done, but we all know at least some of the teams that will be playing well into January.
Out of all the teams currently in playoff position—plus the first one currently outside-looking-in from each conference—who are the pretenders and the contenders? What makes them special or mirages?
Here is a list of six components of a contender and the teams that fit the bill in each one.
Begin Slideshow

»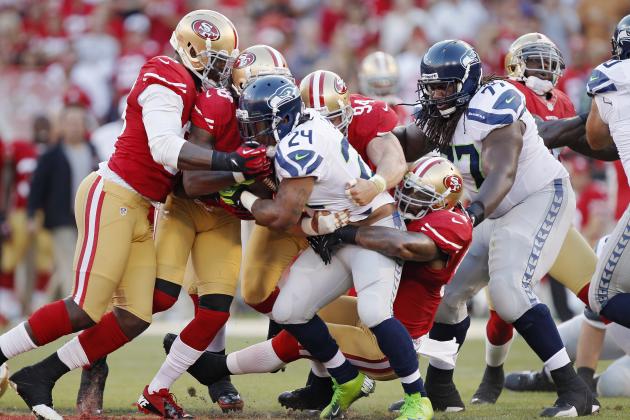 Defense wins championships, or so the old adage says.
The adage has been tested in recent years, when it has seemed like great defensive champions have given way to high-octane offenses.
The truth of the matter is that a good defense is still necessary. The Packers are known for their offensive fireworks, but their Super Bowl-winning squad had a top-flight defense capable of creating turnovers, something they have missed ever since.
Incidentally, Green Bay has been dealing with injuries this season, but its defensive unit has not rounded back into form yet.
The same cannot be said about the 49ers, who are about as good as they were a year ago; they lead the league in scoring defense and are second in total defense. The Steelers have been excellent as well, topping the 49ers in total defense on the season despite injuries to key players.
It should be no surprise that the playoff-hopeful Bears, Broncos, Seahawks, Texans and Bengals are all in the top 10 in total defense, while nine of the teams below are in the top 10 in scoring defense.
Perhaps the most surprising team in that list is Denver, which has quietly put together a nice season defensively.
Contenders: 49ers, Steelers, Broncos, Seahawks, Bears
Pretenders: Colts, Packers, Patriots, Buccaneers
On the Edge: Texans, Falcons, Bengals, Giants, Ravens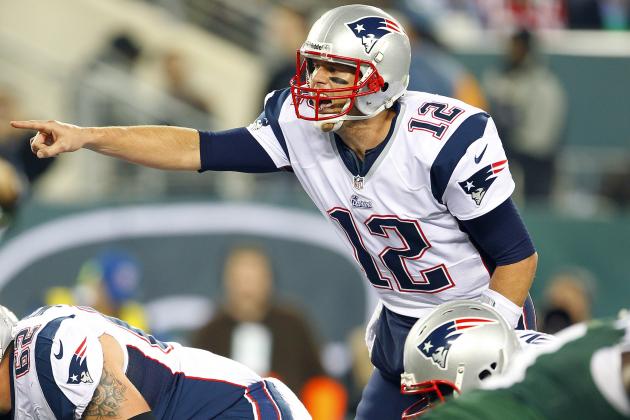 This is the position.
The one that gets far too much credit for victories and defeats. The one that wins all the MVP awards. The one that pilots the offense.
It's possible to win without a great quarterback at the helm, sure. Just ask Tampa Bay and Baltimore, who managed to win Super Bowls with Brad Johnson and Trent Dilfer, respectively, trying to avoid mistakes under center.
Teams with elite quarterbacks are far more likely to succeed in their quest for conquest, and there are plenty of contenders whose quarterbacks fit that bill.
Tom Brady, Aaron Rodgers and Peyton Manning headline the playoff hopefuls this season—the same as it ever was, it seems—and Eli Manning is just revving up New York's engine, which seems to stall every midseason before getting into gear come playoff time.
Then there is Ben Roethlisberger, the ever-injured, perennially under-appreciated quarterback of the Steelers, who is attempting coming back from another injury to save Pittsburgh's season.
Matt Ryan and Joe Flacco are both trying to get to that next level, while Matt Schaub is still trying to get to the playoffs without being hurt.
Of course, perhaps the biggest quarterback story in recent weeks resides in San Francisco, where Alex Smith—the man who efficiently led the 49ers to the brink of a Super Bowl appearance last season—has been supplanted by second-year man Colin Kaepernick.
The 49ers offense certainly seems more dangerous with Kaepernick under center, but is his inexperience going to blow up in their face?
Then there are the rookies, who will be at a disadvantage for so many reasons if they get to the postseason.
Contenders: Patriots, Steelers, Packers, Broncos, Giants
Pretenders: 49ers, Seahawks, Colts
On the Edge: Texans, Falcons, Bengals, Buccaneers, Bears, Ravens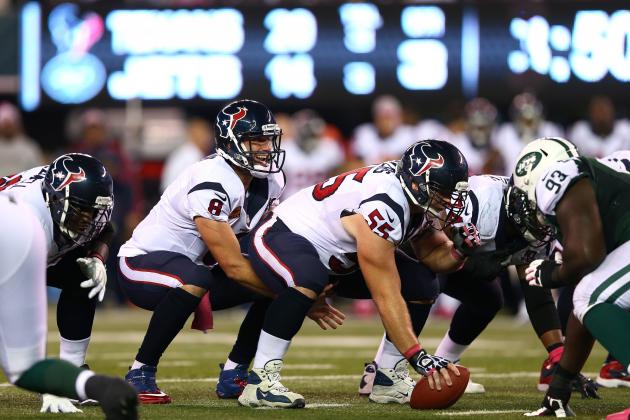 Of course, a quarterback can only go so far with a suspect offensive line. Part of the reason the Packers have fallen off a bit this season is that Aaron Rodgers has been sacked a league-high 37 times, though he bears some of the blame for that statistic.
The better the offensive line, the better an offense is equipped to handle playoff defenses. (We can file that sentence under "duh.")
One of the best lines in recent years has resided in Houston, creating running lanes for Arian Foster and protecting Matt Schaub. The offensive line has been an issue for many playoff-contending teams, though.
Chicago's issues along that offensive line are well documented; they are the second-worst-rated pass-blocking offensive line in the NFL, according to Pro Football Focus. Pittsburgh sports a patchwork offensive line that has been abysmal in pass protection for Ben Roethlisberger over the years, but they have been a bit better this year.
Other poor offensive line units, according to PFF and our eyeballs, belong to some serious contenders like the Falcons and Packers.
Contenders: Texans, 49ers, Bengals, Giants, Broncos
Pretenders: Bears, Falcons, Colts, Packers
On the Edge: Ravens, Steelers, Buccaneers, Patriots, Seahawks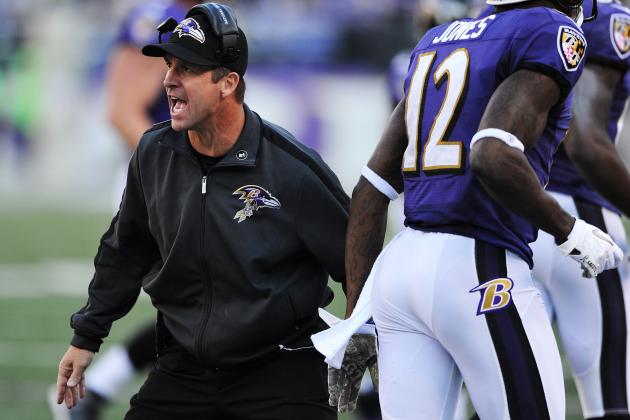 Bill Belichick is an evil genius. Jim Harbaugh is a coaching prodigy.
Gary Kubiak is coming into his own. Mike Smith is, too.
How much does coaching affect a playoff run? Just ask Norv Turner. Fortunately for most of these teams, coaching is good-to-great across the board. Greg Schiano is the odd man out here as a rookie head coach, but he has the Buccaneers playing at a high level just a year after they were terrible.
The only potentially difficult situation is in Indianapolis as Chuck Pagano continues to make his way back from Leukemia, but Bruce Arians has done a fine job in his absence.
Contenders: Ravens, 49ers, Giants, Patriots, Steelers, Packers
Pretenders: Buccaneers, Colts, Seahawks
On the Edge: Bears, Falcons, Texans, Bengals, Broncos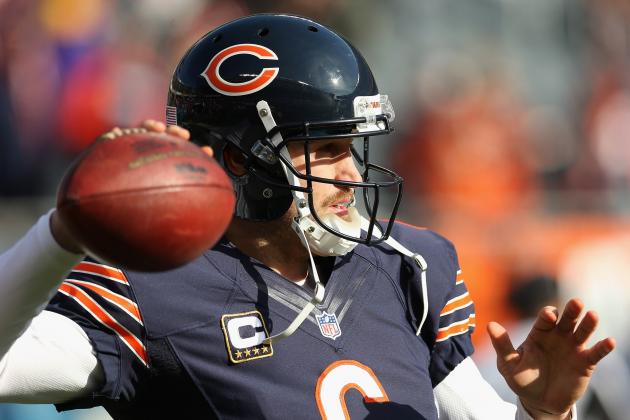 No, not the Andrew Luck—rather, the good fortune.
Championship teams tend to have a measure of good luck. They say you make your own luck, but this is sports; we know better.
While there is no tangible way to measure this, there are some teams that just seem destined for greatness.
Perhaps the best way to measure fortune is by looking at injury reports. Right away you would notice the Ravens lost one of the best cornerbacks in the league in Lardarius Webb in the same game they lost their defensive leader, Ray Lewis.
(Then again, it could be considered good luck that Ray Rice takes a dump-off pass on 4th-and-29 and converts it into a first down that eventually leads to an overtime victory.)
Green Bay has been snake-bitten when it comes to injuries, but perhaps no team has had it worse than the Steelers, who are hanging in the playoff race despite injuries to key players all over the place. They need Big Ben back soon, or their Super Bowl aspirations might die in the regular season.
On the flip side, the Falcons and aforementioned Ravens have benefited from some good in-game luck, and the Broncos have largely had good luck when it comes to injuries.
Contenders: Texans, Seahawks, Broncos, Falcons, Ravens
Pretenders: Bears, Packers, Steelers
On the Edge: Buccaneers, Bengals, 49ers, Giants, Colts, Patriots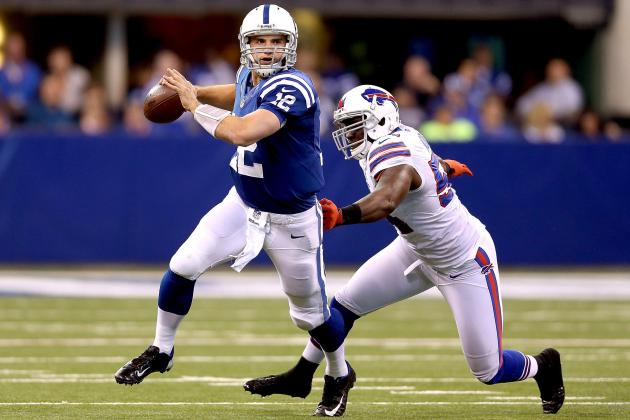 Much is made about veteran experience when it comes to making deep playoff runs. But how much of it is true?
This iteration of the Packers—with Aaron Rodgers at quarterback—had seen just one playoff game before winning it all the next season. Contrast that with Matt Ryan, whose Falcons have not won in three tries with Ryan leading the way.
In truth, experience is important but overrated. Teams like the Patriots and Steelers would certainly benefit from the "been there" mentality, but the naive innocence of a team without playoff experience could be just as helpful.
Okay, that is like a bunch of announcer bologna repressed from years of watching football.
Contenders: Packers, Patriots, Ravens, Steelers, Broncos, Giants
Pretenders: Colts, Buccaneers
On the Edge: Texans, 49ers, Seahawks, Bengals, Falcons, Bears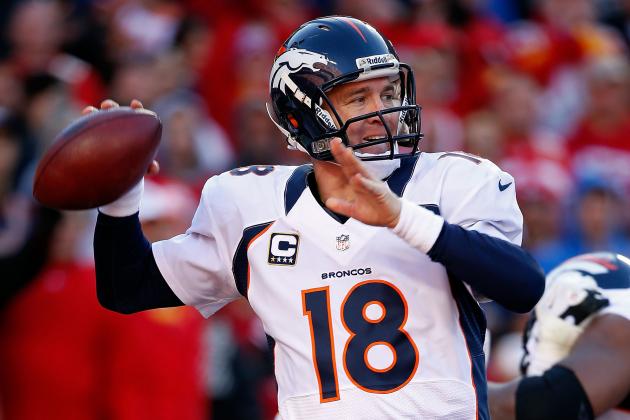 Assigning a value to each of these teams per element—contender being three points, edge two and pretender one—yields this quirky result: Broncos vs. Giants in the Super Bowl.
The brothers face off for ultimate bragging rights in the city where they were born and their father made a name for himself? Roger Goodell might be salivating at the thought.
In reality, the Broncos are quietly one of the league's best all-around teams when you dig into the numbers and look at the intangibles. The Giants might not be there right now, but by now we should all know what they can do when they get to the playoffs. The NFC looks vulnerable lately to boot.
Anything can happen, of course, but do not be surprised if you see the Manning brothers lighting up New Orleans come February.