NFL Power Rankings: Grades and Analysis Going into Week 13
The Star-Ledger-US PRESSWIRE

With only a month to go in the regular season, you'd think NFL power rankings would be easy to formulate.
They're not.
Parity and mediocrity have reigned supreme in 2012, with the line between contender and pretender thinner than ever.
Here are the power rankings with grades as we head into Week 13.
Begin Slideshow

»
Peter Aiken/Getty Images

The Chiefs have a minus-21 turnover differential. Matt Cassel and Brady Quinn combine for an average QB rating of 59.3. The team's lone victory came on September 23. Need I say more?
Grade: F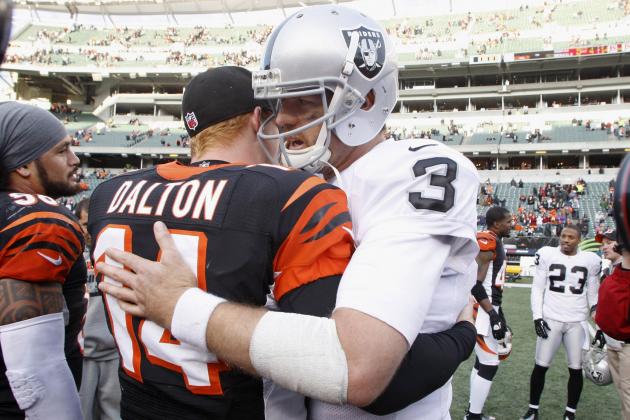 John Grieshop/Getty Images

The Raiders defense has allowed an average of 42.25 points over the last four games—all losses. Their 34-31 win over the Pittsburgh Steelers earlier in the year doesn't look as good as it once did, and the other victories came against the Chiefs in regulation and Jacksonville Jaguars in overtime.
Even when Darren McFadden was healthy, he was rendered utterly ineffective in the new zone-blocking scheme.
Another forgetful season in Oakland.
Grade: D-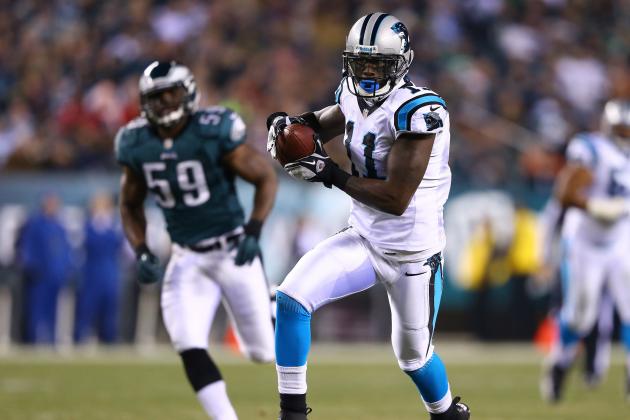 Al Bello/Getty Images

Is there a team that cares less than the Eagles?
Doubt it.
The loss on Monday Night Football to the Carolina Panthers epitomized their season—turnovers, blown coverages and widespread uninspired play.
Grade: F-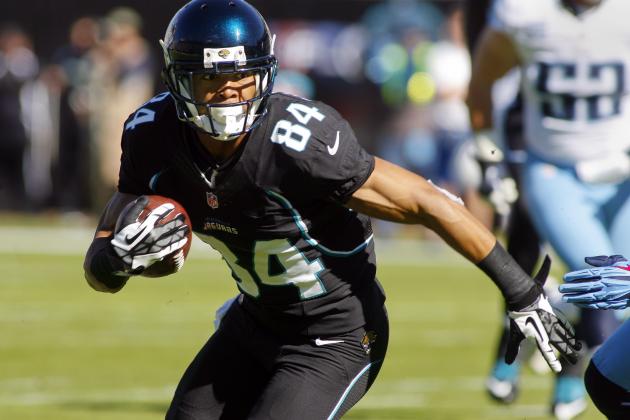 Phil Sears-US PRESSWIRE

With Chad Henne under center, the Jaguars are a different team. His ability to stretch the field makes the Jaguars competitive—for a 2-9 club.
Maurice Jones-Drew could return soon, and Jacksonville has just enough talent to potentially play spoiler in December.
By the way, is Cecil Shorts is having a Victor Cruz-esque 2012.
Grade: D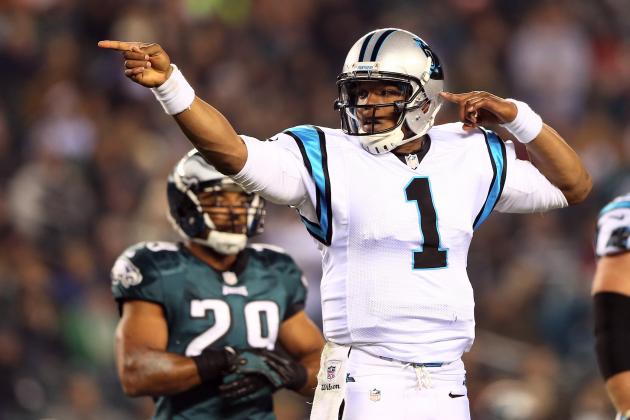 Elsa/Getty Images

The Panthers played adequately enough to beat the Eagles on the national stage and, for once, held on to a fourth-quarter lead.
Cam Newton demonstrated what he's capable of as a multi-faceted quarterback, and for the moment, there's some momentum in Charlotte.
Grade: D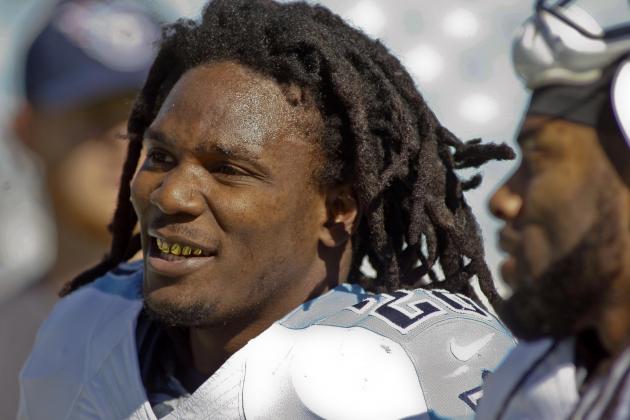 Phil Sears-US PRESSWIRE

The Titans were beaten by the Jaguars in Week 12, and Jake Locker has yet to progress into the quarterback Tennessee thought they were getting at No. 8 overall in the 2011 draft. Maybe with offensive coordinator Chris Palmer fired, new play-caller Dowell Loggains can spark the Titans attack.
Though the expectations weren't super high in Nashville, 2012 has been disappointing.
Grade: D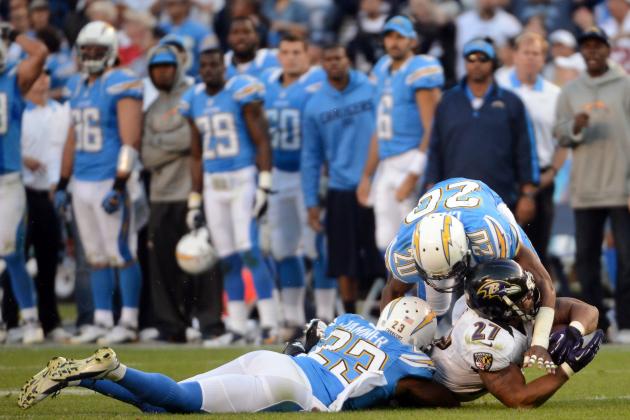 Harry How/Getty Images

The Chargers can't get out of their own way. If the overtime loss to the Baltimore Ravens and Ray Rice's 4th-and-29 conversion doesn't exemplify the Norv Turner era in San Diego, I don't know what does.
He'll be gone at season's end, but really, he should be let go immediately.
Another underwhelming campaign for the talented 'Bolts.
Grade: D-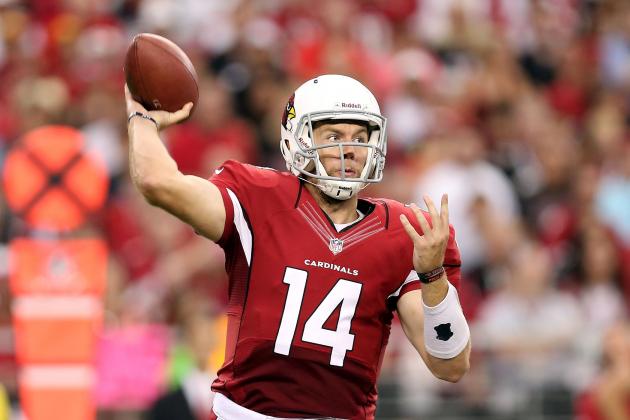 Christian Petersen/Getty Images

Remember when the Cardinals were 4-0?
Yeah, it's a vague memory for me, too.
Ryan Lindley is the third quarterback to play this season, and he threw four interceptions against the St. Louis Rams in Week 12.
Is the end near for Ken Whisenhunt?
Probably.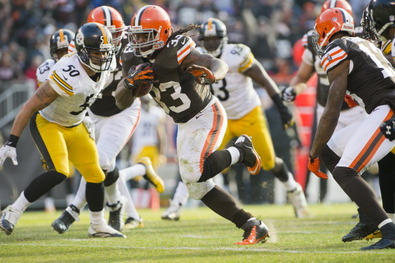 Jason Miller/Getty Images

The Browns are fighters. They aren't flashy and won't make a ton of dynamic plays on offense. But Trent Richardson has ushered in an old-school style of play in Cleveland.
They held on against a bruised and battered Steelers team in Week 12, and they should have beaten the Dallas Cowboys their last time out.
December spoilers.
Grade: C-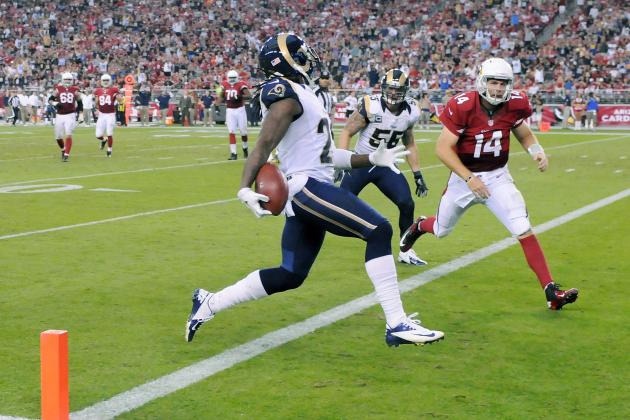 Norm Hall/Getty Images

The Rams are a few years away from contending, but their defense flexed its impressive muscles against the hapless Cardinals in Week 12.
Janoris Jenkins and Cortland Finnegan formulate one of the more underrated cornerback duos in the league, and Steven Jackson and Daryl Richardson complement each other well.
If only Sam Bradford could play more consistently, get better protection and have someone to throw to besides Danny Amendola, who can't stay healthy.
Grade: D+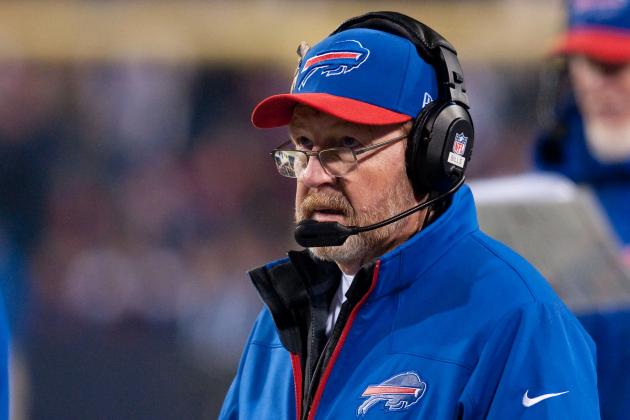 Mark Konezny-US PRESSWIRE

Now that the Bills defense is playing better, the offense is sputtering.
Go figure.
Ryan Fitzpatrick is a major liability under center, and Chan Gailey maddeningly refuses to feature C.J. Spiller prominently.
Grade: D+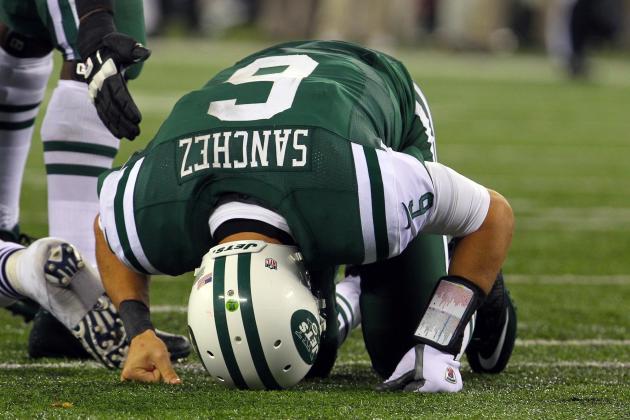 Ed Mulholland-US PRESSWIRE

The Jets were so bad against the New England Patriots, Fireman Ed "retired" (via ESPN).
Sad, right?
Actually, the fact that his retirement was so publicized tells us everything about 2012's edition of Gang Green.
Grade: D+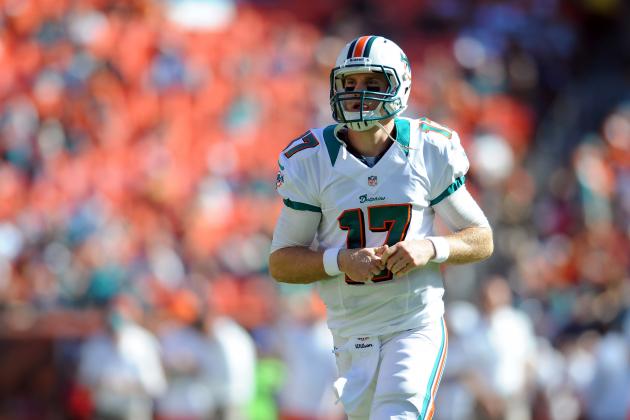 Steve Mitchell-US PRESSWIRE

The Dolphins mustered a gritty win against the Seattle Seahawks in Week 12. Ryan Tannehill still has a long way to go, but the potential is definitely there.
With more receiving talent, who knows how good this upstart Miami team could have been this season.
Grade: C-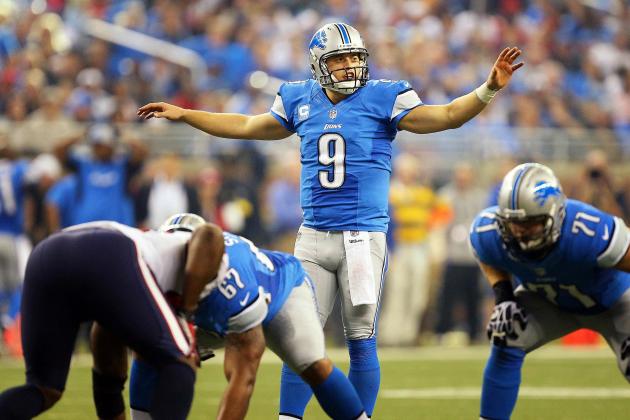 Mike Carter-US PRESSWIRE

The Lions have the offensive talent to contend, but their defense and general undisciplined nature dooms them.
They were jobbed on Thanksgiving; however, bad teams find a way to lose.
That simple.
Grade: D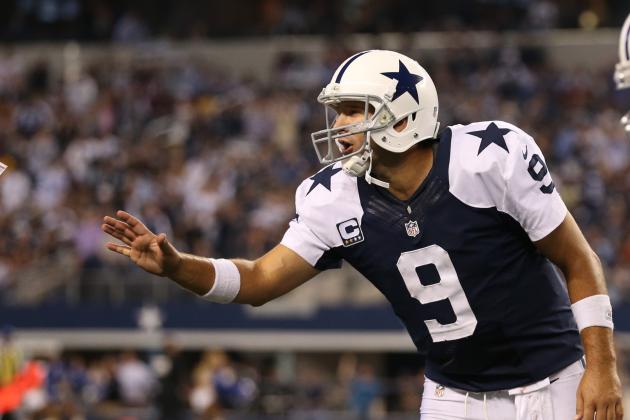 Matthew Emmons-US PRESSWIRE

If it weren't for the Eagles secondary woes, the Cowboys would be receiving the most criticism in the NFC East.
Every week, they leave receivers wide open, and Tony Romo hasn't been able to overcome all the defensive deficiencies.
Has Jerry Jones reached his wit's end?
Grade: C-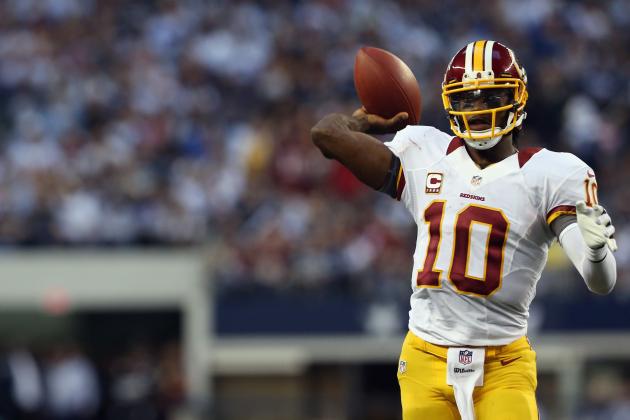 Ronald Martinez/Getty Images

Robert Griffin III is proof that a rebuilding team with lackluster talent can win with a tremendous quarterback.
Some shook their heads when Washington dealt a load of picks to the St. Louis Rams to get RG3, but those critics have been silenced.
Probably forever.
The playoffs aren't out of the question for Mike Shanahan's group.
Not yet, anyway.
Grade: C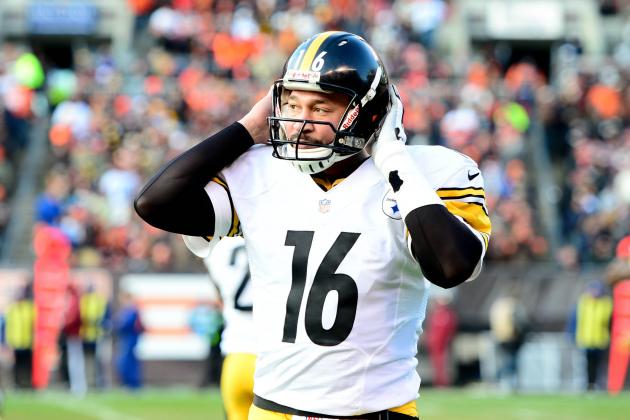 Andrew Weber-US PRESSWIRE

The Steelers are so ravaged with injury, it's hard to assess them right now. If Ben Roethlisberger isn't on the field, they're not a playoff team.
With a postseason berth on the line, we have to think Big Ben will play down the stretch, but how far will he be from 100 percent?
Grade: C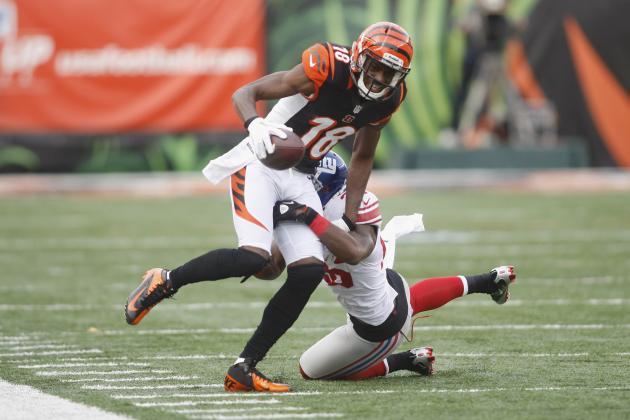 John Grieshop/Getty Images

The Bengals have experienced quite the roller-coaster season, but are sizzling right now. They get their third AFC West team in a row in Week 13 and are a real player in the AFC postseason race.
If Andy Dalton continues to show improvement and the defense doesn't regress into their porous ways of the beginning of the year, Cincinnati is a true sleeper team.
Grade: C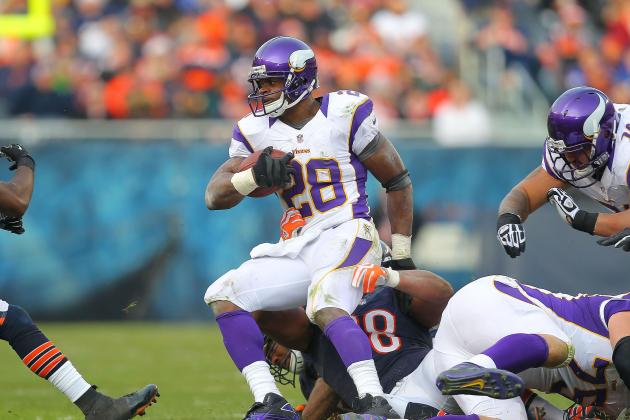 Dennis Wierzbicki-US PRESSWIRE

The Vikings have drastically exceeded expectations in 2012, but they've lost three of their last four, and Christian Ponder's play has been on the decline over the last month.
Adrian Peterson should win the Comeback Player of the Year, and the defense is vastly improved without a ton of stars on that side of the football.
Grade: B-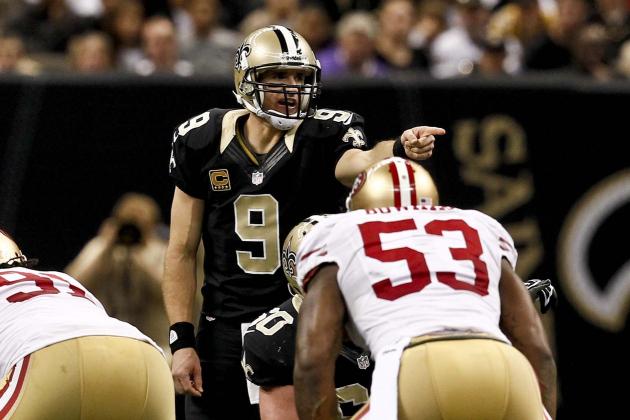 Derick E. Hingle-US PRESSWIRE

The Saints had a golden opportunity to send a message to the rest of the NFC, but they couldn't hold off the hot hand of Colin Kaepernick and an opportunistic 49ers defense.
Having said that, their playoff hopes aren't dashed.
With games against the Atlanta Falcons, New York Giants and Tampa Bay Buccaneers still on the schedule, they'll have more opportunities.
Grade: C+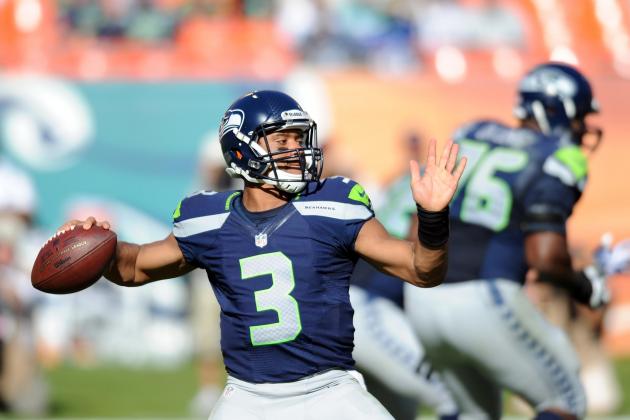 Steve Mitchell-US PRESSWIRE

The Seahawks are unbeatable at home, but are shells of themselves on the road. Guess that 12th man really is important.
They're a fringe playoff team right now, but if Brandon Browner and Richard Sherman are suspended four games for violating the league's substance abuse policy, they will be on the outside looking in come January.
Grade: C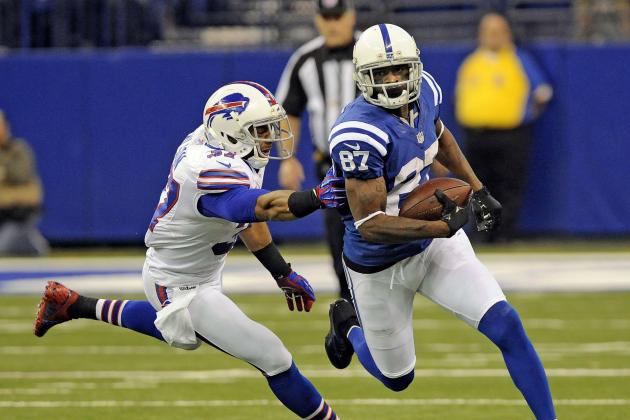 Thomas J. Russo-US PRESSWIRE

The Colts, much like Redskins, have their rookie quarterback to thank every week.
Andrew Luck has leaned on Reggie Wayne and made everyone around him better.
Although the secondary is a major question mark, Robert Mathis and Dwight Freeney are still impactful on the defensive side.
Two games in December against the Texans loom large, but believe it or not, Indianapolis is in the driver seat to earn a Wild-Card spot.
Grade: B-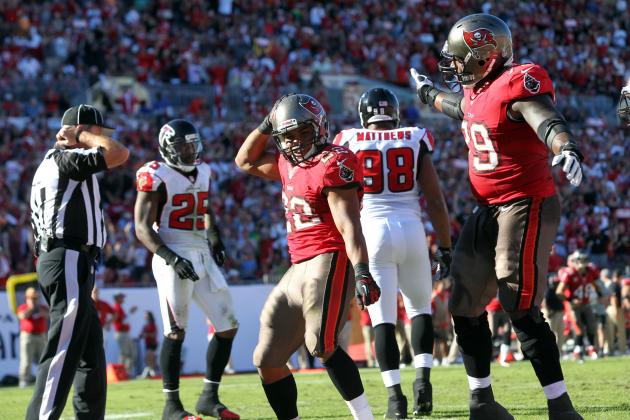 Kim Klement-US PRESSWIRE

The Buccaneers nearly beat the NFC South leading Atlanta Falcons, and Greg Schiano's club has an immensely bright future with Josh Freeman under center and Doug Martin toting the rock.
If the secondary can make some plays in the regular season's final month, Tampa Bay could sneak into the playoffs after starting the year 1-3.
Grade: B
Al Bello/Getty Images

The Packers were stunned by the New York Giants on Sunday night, but that doesn't mean they're finished.
A Week 15 contest with the Chicago Bears will decide the NFC North, and when you have Aaron Rodgers on your side, anything is possible.
Need not worry, Packers fans.
Grade: B-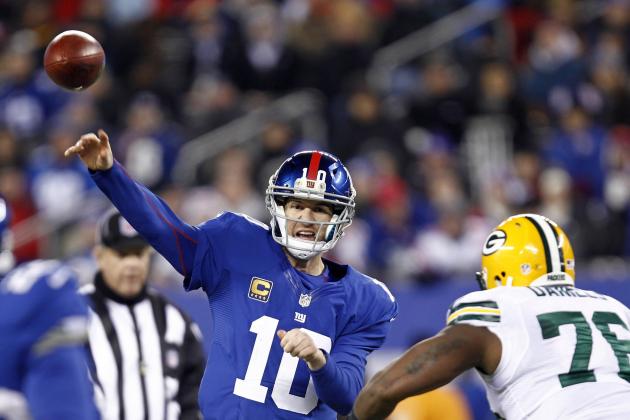 Mark L. Baer-US PRESSWIRE

Eli Manning woke up.
So did the rest of the Giants.
Apparently, bye week did them well.
But as we've come to know with New York, the drama is never-ending.
After a testy game in Washington against RG3, meetings with Drew Brees, Matt Ryan, Joe Flacco and a hapless Eagles team end the year.
Do the G-Men have another magical run in them?
Grade: B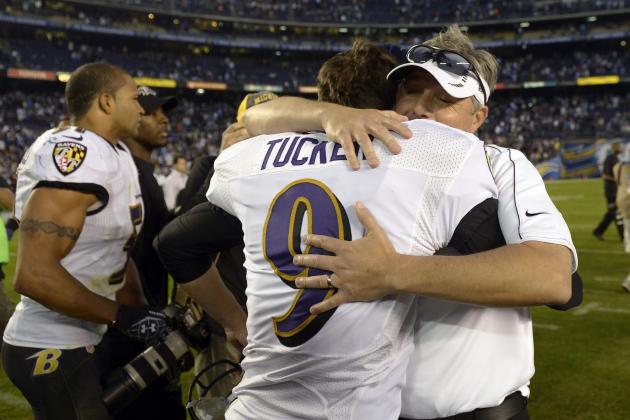 Donald Miralle/Getty Images

The Ravens were outplayed by the Chargers until the final minutes of a thrilling overtime win. Ray Rice's 4th-and-29 conversion was the play of the year—and you know what they say—good teams find a way to win.
If Ray Lewis returns, it'll be a boost to their already improving defense, but consistency on both sides of the football will be of the utmost importance in January.
Grade: B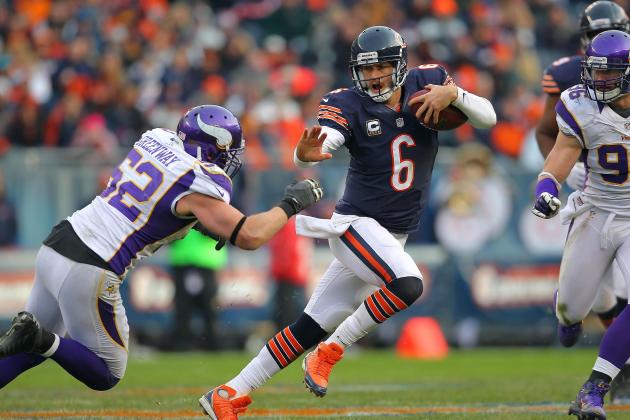 Dennis Wierzbicki-US PRESSWIRE

When fully healthy, the Bears are an elite team.
Jay Cutler's back, and he sparkled against the Vikings en route to a convincing divisional victory.
Chicago lost guard Lance Louis to a torn ACL, but Matt Forte's ankle injury "does not appear to be severe" according to CBS Sports' Jason LaCanfora.
Good news for a team that has Super Bowl potential.
Grade: B+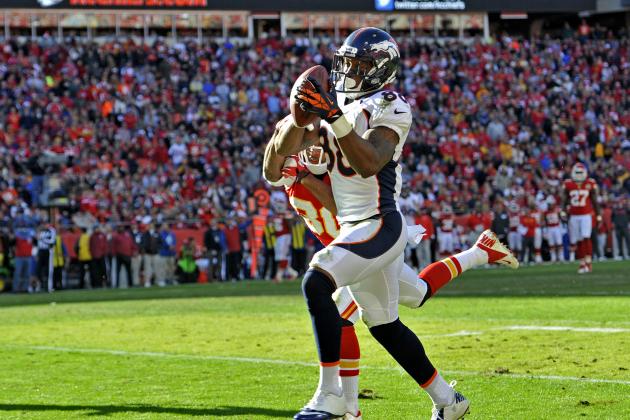 Peter Aiken/Getty Images

Peyton Manning for MVP in 2012?
It could happen.
He's on pace for over 4,700 yards through the air with 38 touchdowns and only 12 interceptions.
Oh yeah, and the Broncos are 8-3 and haven't lost a game since early October.
With Von Miller coming off the edge—a Defensive Player of the Year candidate—and explosive ability on offense, Denver is a legit Super Bowl contender.
Grade: B+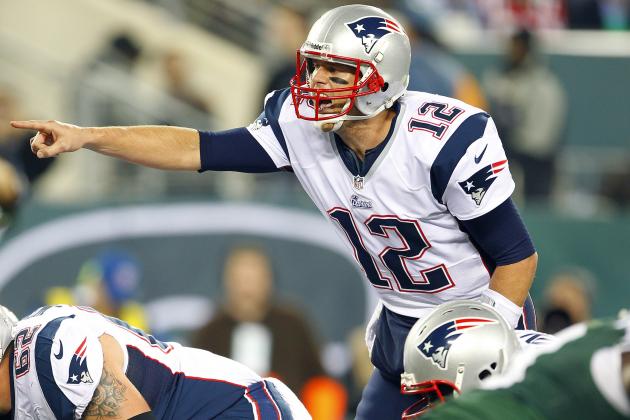 Rich Schultz/Getty Images

Tom Brady shrugged off the injury to Rob Gronkowski and shredded the Jets on Thanksgiving. Actually, the Jets' turnovers did them in, but the Patriots leader finished the evening with 323 yards on only 18 completions.
If the turnover barrage continues, New England will be extremely difficult to beat.
Grade B+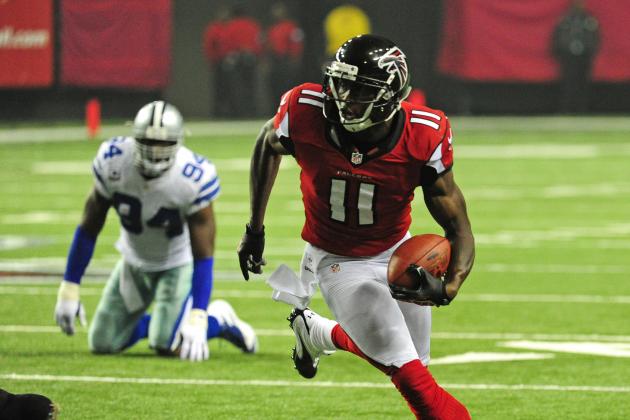 Scott Cunningham/Getty Images

The Falcons have some flaws—most namely a weak run defense—but an abundance of offensive talent.
They're especially difficult to beat inside the Georgia Dome, a place that Matt Ryan has accumulated a 31-4 record with 55 touchdowns and 26 touchdowns during his career.
Will they be ready to play in January like they have all season?
Grade: A-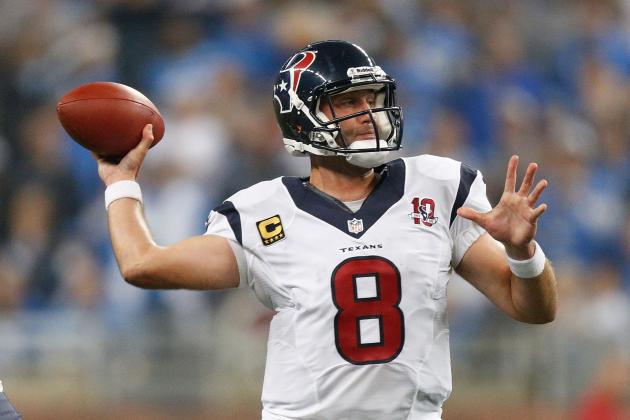 Gregory Shamus/Getty Images

The Texans have been tremendously resilient in 2012, hanging on for victories after the loss of middle linebacker Brian Cushing.
The secondary is a bit worrisome, but the balanced running game and solid defensive line are top-notch.
They're built for the postseason.
Grade: A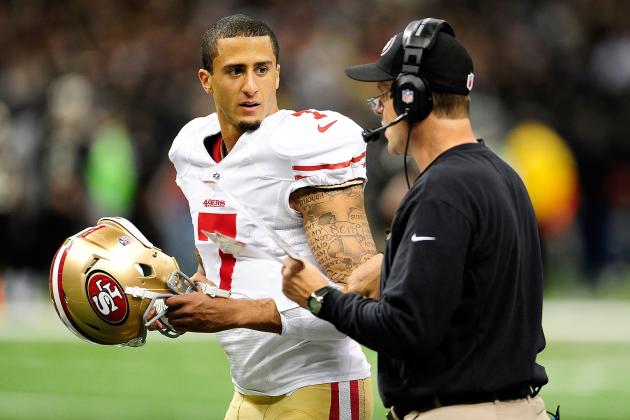 Stacy Revere/Getty Images

With Colin Kaepernick under center, the 49ers offensive can actually be considered dynamic.
The San Fran defense is, well, the San Fran defense, and the offensive line is the preeminent unit in the league.
Grade: A