2013 NFL Draft : Analyzing 5 Players NY Jets Should Consider in the 1st Round
Justin K. Aller/Getty Images

The New York Jets have continually struggled this season, both on offense and defense, and are now an organization of disaster. Unless some major moves are made quickly, Gang Green will be a miserable mess for years to come.
From QB Mark Sanchez to head coach Rex Ryan, this New York team is now poisoned, and one or the other must go. If Rex Ryan cannot bare to drop Sanchez, which is now a lost cause after four seasons, then the head coach is the one who has to go. Which eventually means both Ryan and Sanchez would not be members of the Jets organization for much longer.
Rex has promised nothing but the best for this team year in and year out and has not produced. Sure the Jets have reached two AFC conference championships but one was earned primarily by their dominant defense. While the other AFC conference championship berth, they barely made the playoffs that year when Rex gave up on the season with about four games remaining and postseason hopes still alive.
Ryan has an outstanding football mind, however the love he has for his quarterback may lead to his eventual demise. Rex has proven to be a defensive genius and that may be the side of the football he needs to stay on. A lot of players tend to like playing for him, however, that does not mean that he must be a head coach.
It is unlikely that the Jets will make any major moves before the offseason, so the organization will have to thoroughly begin to research and decide which players they want to target in the upcoming 2013 NFL draft. From Utah DT Star Lotulelei to WVU QB Geno Smith, and USC QB Matt Barkley, the Jets have quite a few proven football studs to choose from. In a NFL draft class that is a solid three rounds deep, the New York Jets could capitalize on quite a few positional needs in 2013.
A few trades to gain extra picks in the draft should also not be out of the question for the Jets. There is a bevy of talent, especially in the first round, and Gang Green cannot afford to miss out. With only a few weeks left in the 2012-13 NFL season, take a look at five possibilities the New York Jets should consider selecting in the upcoming NFL draft.
Begin Slideshow

»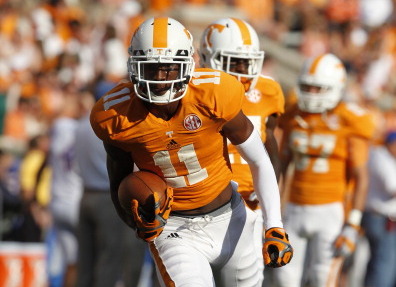 John Sommers II/Getty Images

After suffering a season ending ACL tear in his left knee in 2011, Justin Hunter came back better than ever with an outstanding year in 2012.
Hunter finished the season with a total of 1,083 receiving yards which ranks him third overall in Tennessee Volunteers' history on the single-season yards list. To prove just how consistent and dominant he can be, Hunter tied the UT record for receiving touchdowns in a single game twice in 2012. Scoring three TDs versus both Georgia State and Troy.
At 6'4", Justin Hunter would be the consistent and reliable deep threat that the New York Jets desperately need. Having Hunter alongside the veteran wideout Santonio Holmes, and the continually improving tight end Dustin Keller, could form an extremely potent offense with the proper play-calling and quarterback play.
Height: 6'4"
Weight: 200 pounds
2012 College Season Stats: 73 receptions for 1,083 yards and nine touchdowns
Current Draft Projection: Mid to late first round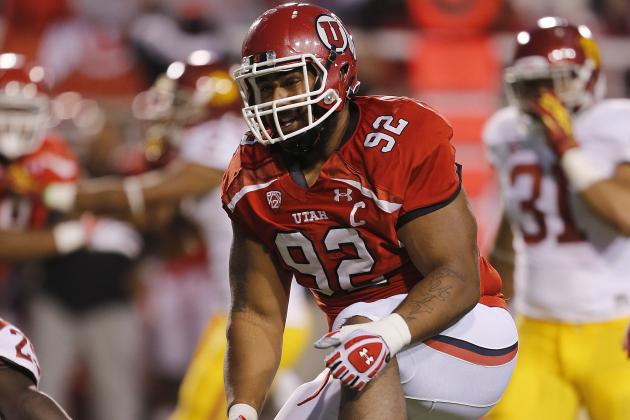 George Frey/Getty Images

Star Lotulelei will be such a valuable asset to whichever team drafts him because of the physical domination that he possesses and the double teams, and sometimes triple, that he requires.
The New York Jets have always had a defense that prides themselves on stopping the running game. With the immense power and play-making ability that this 320-pound monster contains, Rex Ryan would get incredibly creative creating defensive schemes revolving around Star Lotulelei.
For the Jets to be able to select Lotulelei, then they will have to trade up. But why not? As a matter of fact, I believe the Jets should begin to shop a variety of players on their squad and attempt to stack up on a bunch of picks in the first two or three rounds. All five candidates in this slideshow are players that the Jets should seriously consider selecting in the 2013 NFL draft, with Star Lotulelei being the most valuable.
Of course there are other positional needs to fill, but if you trade players that have struggled to produce this season then the organization may be able to get a hold of two or three first-round picks.
A few years ago it may have seemed crazy to trade proven players in the league for the risk of star collegiate players entering the NFL to contribute immediately. But nowadays, first year players have high expectations and there have been a cluster of rookies that have immediately succeeded. Especially the past few seasons, with players like DT Ndamukong Suh, QB Andrew Luck, CB Janoris Jenkins, and QB Robert Griffin III.
Height: 6'4"
Weight: 320 pounds
2012 College Stats: 42 total tackles, 11 tackles for a loss, three forced fumbles, four fumble recoveries, and five sacks
Current Draft Projection: Top five selection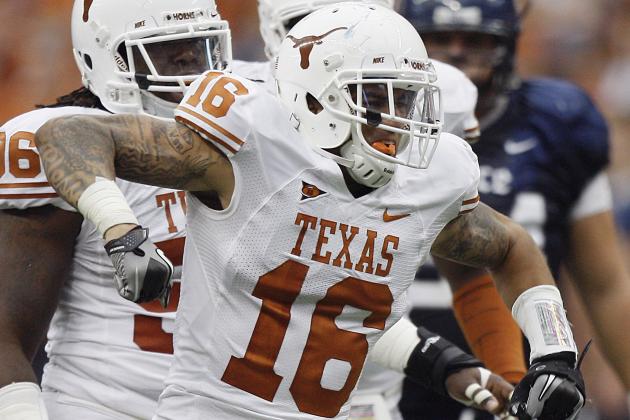 Bob Levey/Getty Images

Kenny Vaccaro is a high-energy player who plays football with intensity and passion. Vaccaro is one of those rare safeties that can really do it all on defense. He not only has the speed to keep up with some of the quickest receivers in collegiate football, but he also has the physical ability to keep opposing tight ends honest.
Vaccaro has the tendency to be an electrifying defensive player who has the presence of a linebacker when lining up close to the line of scrimmage. Over time, Vaccaro and current Jets safety LaRon Landry would form one of the most dynamic safety duos the NFL has ever seen.
Height: 6'1"
Weight: 218 pounds
2012 College Stats: 88 tackles, two forced fumbles and two interceptions
Current Draft Projection: Mid to late first round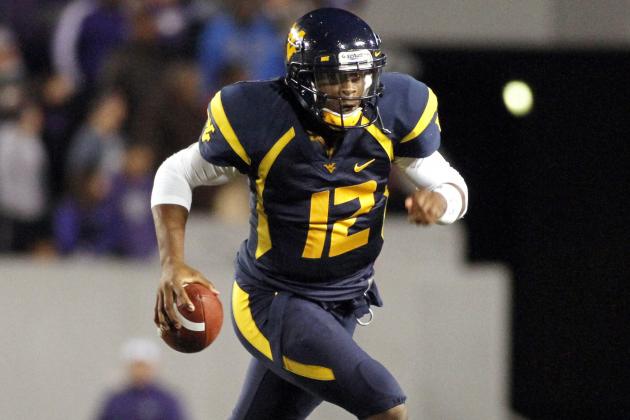 Justin K. Aller/Getty Images

The New York Jets have been on a hideous decline this season and a severe change is needed. Quarterback is where the concentration should really be because, let's face it, Mark Sanchez has had a whole exhausted four years and has proven nothing except that he is a mediocre, underachieving player.
There are a few quarterbacks in the 2013 draft class that are projected in the first two rounds, which the Jets should really consider drafting.
Geno Smith seems like a great fit for the Jets because it would lead the franchise in a brand new direction. Something that is severely needed within the franchise. With Smith's throwing power, precision, and patience, he would be a speedy and dynamic force that the Jets have just simply not seen from their quarterback.
After scoring 38 total touchdowns, earning over 3,500 yards through the air, and only throwing five interceptions the entire season, Geno Smith had a statement senior season. Making a case that he could be a solid NFL quarterback his first few seasons if given the starting opportunity.
If somehow the Jets could draft Geno Smith and WR Justin Hunter from Tennessee, the New York offense would dramatically change and become the type of threatening/potent offense much like Robert Griffin III of the Washington Redskins. Smith may not have the excelled, top-notch playmaking abilities and speed of RG III, however, over time he can be a successful NFL quarterback.
Height: 6'3"
Weight: 220 pounds
2012 College Stats: Completed 327 of 466 attempted passes for 3,597 yards, 37 TDs, five INTs, a 159.1 QB rating, and 70.2 CMP percent
Current Draft Projection: Late first round / early second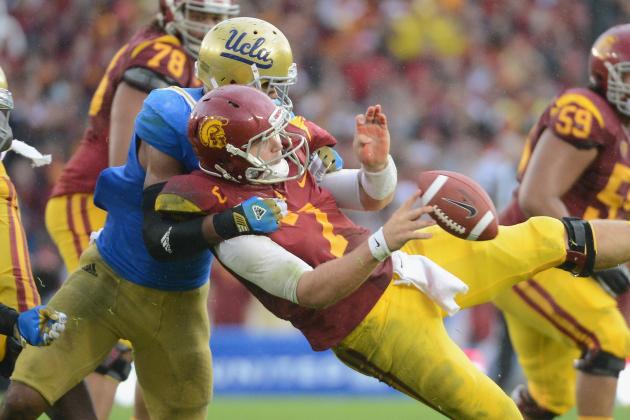 Harry How/Getty Images

Anthony Barr is a player that Rex Ryan would dream to have on his football team. A linebacker that has such a diverse game, the original positions he was recruited for was running back and fullback.
Barr's athleticism, intensity and pure skill is through the roof. Once he sets free from his opposing offender, Barr is a nightmare for quarterbacks sitting in the pocket or scrambling aimlessly to create an extended play.
Recording at least one sack in every game but three this 2012 FBS season, Anthony Barr is an excessive force on any quarterback and offensive line he may go up against. At a solid 6'4", Barr is a large powerful body that is also very elusive.
Anthony Barr is only a junior, however, I have a good feeling he will declare for the draft and his current projection for selection falls under the range of picks that the Jets would most likely fall under.
Height: 6'4"
Weight: 235 pounds
2012 College Stats: 66 tackles, five pass deflections and 12 sacks
Current Draft Projection: Mid to late first round