Who Are the Favorites for Every Major NFL Award After Week 12?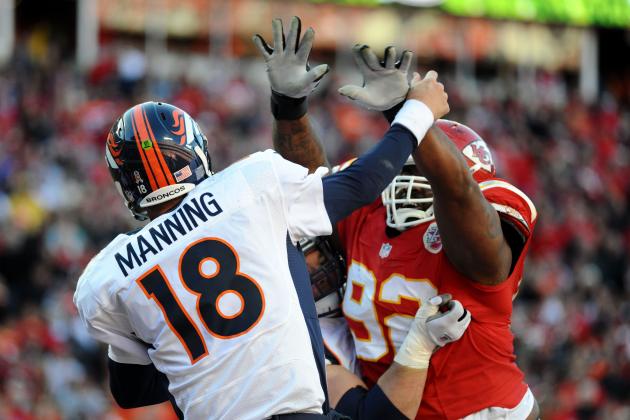 John Rieger-US PRESSWIRE
Peyton Manning survived a concussion scare in Week 12.
The favorite players for every major NFL award at the end of the 2012 season still have five games left to leave a favorable impression on the voters. But now that Week 12 has concluded, time is running out as we approach the start of December games.
We were all thankful for some entertaining games on Thanksgiving that set the stage for the rest of Week 12 action. Some highlights of the day were turned in by Matthew Stafford, Calvin Johnson and Andre Johnson. Robert Griffin III and Tony Romo put on a good show in the afternoon, and then Tom Brady finished off the evening.
The numbers for Sunday's games seemed to pale in comparison to the Thanksgiving games. It was interesting to see the Pittsburgh Steelers commit eight turnovers against Cleveland, and for the Chicago Bears to have so many players injured in one game.
We also had the Houston Texans and Baltimore Ravens winning in overtime to maintain the best records in the AFC.
So, let's turn our attention to each of the major awards and see how things are shaping up in the battle to receive some major hardware.
Begin Slideshow

»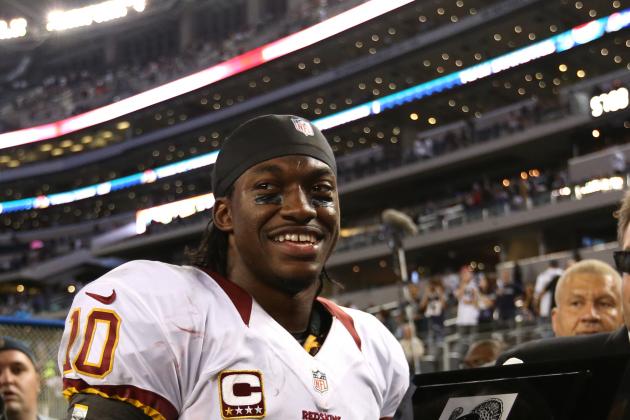 Matthew Emmons-US PRESSWIRE
RG3 is already winning hardware in his rookie campaign.
For the past month, the NFL Offensive Rookie of the Year Award seems to have boiled down to four major contenders: Robert Griffin III, Andrew Luck, Alfred Morris and Doug Martin.
As the gap between Griffin and Luck had seemingly narrowed in the past month, RG3 came up with a huge statement game on Thanksgiving, completing 20 passes for 311 yards and four touchdowns. His QB passer rating was 132.6, which followed up his perfect rating of 158.3 from Week 11.
The only downside for Griffin was four sacks and one interception, but that was a big performance on a nationally televised game. In addition, he was playing in front of family and friends, so that made the game a little more challenging as well.
Griffin is now the No. 4-ranked quarterback in the NFL with a passer rating of 104.6, just trailing Peyton Manning with a 104.8. With the year that Manning has going, that tells you how great Griffin has been. It is safe to say that he once again is in the lead for the rookie award.
Luck led the Colts to another win, and at 7-4, Indianapolis has a realistic shot at the playoffs. If Luck can pull that off, it will no doubt steer some OROY votes his way.
Even though the Colts won, it wasn't Luck's greatest performance. He completed just 20-of-37 passes and had one interception to go with his one touchdown pass. He also was sacked four times.
Luck has now passed for over 3,000 yards as a rookie. The only other Colts quarterback that accomplished the feat was Peyton Manning.
Morris rushed for 113 yards on 24 carries and is now just 18 yards shy of reaching 1,000 yards in his rookie season. Morris' ability to move the pile and gain positive yards has taken a degree of pressure off of Griffin.
Martin didn't have a very good day for average (21 rushes for 50 yards), but he did score two rushing touchdowns. Martin now has 1,050 yards for the year and is the No. 4 running back in the NFL. Morris is right behind him at No. 5.
Other noteworthy rookie performances from Week 12 included two touchdowns from T.Y. Hilton. Hilton scored on a key punt return and on a touchdown reception. He becomes the first player in the history of the franchise to have scored on a punt return and a touchdown reception in the same game.
Another rookie making his mark in Week 12 was Bryce Brown. Brown was starting for LeSean McCoy, who was out with a concussion. In the Monday Night Football game, Brown ripped off a big 75-yard touchdown run.
Brown wound up gaining 178 yards on 19 rushes for an average of 9.4 yards per rush. The good news was he scored two touchdowns. The bad news was that he lost two fumbles. And so it goes for the Eagles this year.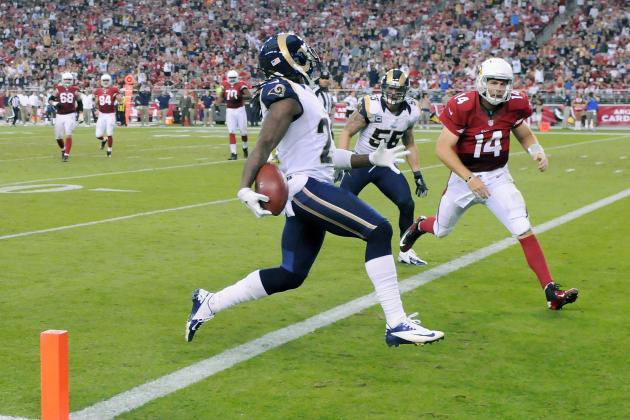 Norm Hall/Getty Images
Janoris Jenkins returned two interceptions for touchdowns on Sunday.
For the NFL Defensive Rookie of the Year Award, Week 12 was all about Janoris Jenkins. Jenkins was able to intercept two passes against the Arizona Cardinals and return both of them for touchdowns.
How special was Jenkins' performance? It has been 52 years since the last time a rookie was able to accomplish that. The last player who did it was Bobby Franklin of the Cleveland Browns in 1960.
Chandler Jones sat out the Thanksgiving game against the Jets due to his ankle injury. No matter, rookie cornerback Alfonso Dennard stepped up and made a big play in his absence, as he also returned an interception for a touchdown.
There are four NFL rookie defensive players that are making an impact with their ability to be a sure tackler.
Coming into the Monday Night Football game, the top four rookies in tackles were Jerrell Freeman (101), Lavonte David (98), Luke Kuechly (97) and Bobby Wagner (90). Freeman is ranked No. 4 in the NFL, followed by David (No. 6) Kuechly (No. 7) and Wagner (No. 15).
As for sacks, the top two in the category are Bruce Irvin (seven) and Chandler Jones (six). Irvin is ranked No. 18 in the NFL in sacks, while Jones is tied for No. 28.
For interceptions, there are five rookies from the 2012 class that are in the top 14: Casey Hayward (five), Tavon Wilson (four), Jenkins (three), Dennard (three) and Leonard Johnson (three). Hayward is tied for No. 2 in the NFL, followed by Wilson (No. 4) and the final three are tied for No. 14.
Coming down to the final five games, the clubhouse leaders right now appear to be Chandler Jones, Casey Hayward, Tavon Wilson, Jerrell Freeman, Lavonte David, Luke Kuechly, Bobby Wagner, Bruce Irvin and Janoris Jenkins. If Jones misses any more games, it will hurt his chances for the award.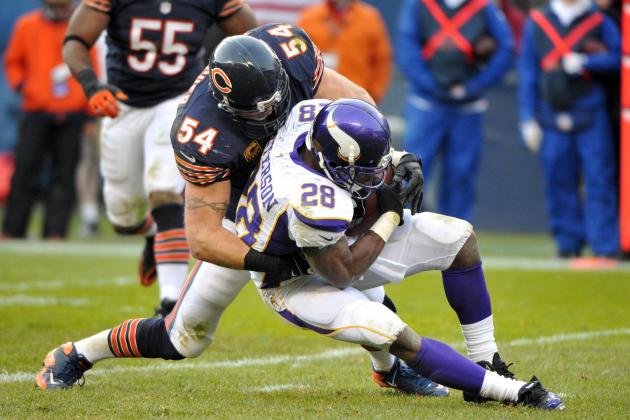 Rob Grabowski-US PRESSWIRE
Adrian Peterson had a mixed review from Week 12.
As we have been proclaiming for the past month, the NFL Comeback Player of the Year Award boils down to a two-horse race. Peyton Manning and Adrian Peterson will dominate the voting for the award. Nobody else is even close to either of these top two candidates for consideration.
For Peterson, Week 12 could have gone better. First off, he missed the team bus ride to the game and was forced to take a taxi to the stadium. At the game, he suffered a strained shoulder and lost the ball on a fumble that Chicago recovered. The Bears won the key NFC North game.
At least Peterson did manage to gain 108 yards on 18 carries, and he is still the leading rusher in the NFL. Peterson has now picked up 1,236 yards off of 213 rushing attempts. He is averaging 5.8 yards per rush, and he has 14 carries of at least 20-plus yards, the most in the NFL this year.
As for Manning, he continues to lead the Broncos to one win after another.
Sitting atop the AFC West and all but assured of a playoff spot, Manning has delivered on his promise to work as hard as he possibly could to return to his previous form. Manning has now thrown for 3,260 yards on the year. He has 26 touchdowns to go along with eight interceptions.
While it will be hard for voters to decide which of these two athletes will win this award, we can only hope that both of them are able to walk away with at least one major award at the end of the year.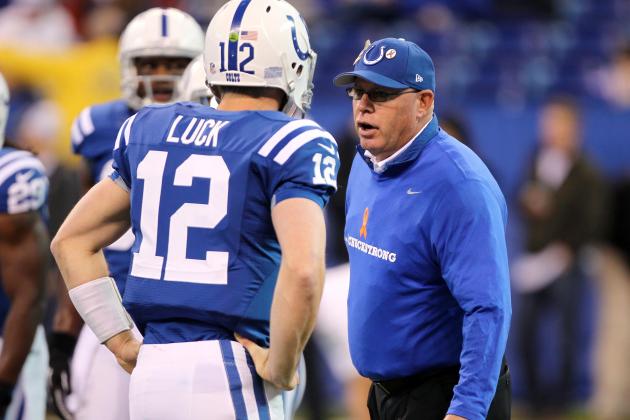 Brian Spurlock-US PRESSWIRE
Bruce Arians has done a great job as the Colts interim coach.
In the AFC, all four division leaders have at least a three-game lead over the next closest team. So for Gary Kubiak, Bill Belichick, John Fox and John Harbaugh, life is good. They continue to find ways to win games, as Kubiak and Harbaugh were each forced to guide their team to overtime wins in Week 12.
All four AFC coaches have to be considered for the NFL Coach of the Year Award.
Over in the NFC, there is at least a two-game lead in three of the four divisions. Jim Harbaugh, Tom Coughlin and Mike Smith are all able to enjoy their current division lead.
The NFC North is where things are a bit trickier, as the Chicago Bears, Green Bay Packers and Minnesota Vikings are all bunched within two games of each other.
We still need to give consideration to the coaches of the surprise teams of 2012. That list is now condensed to Bruce Arians, Pete Carroll, Greg Schiano, Leslie Frazier and Joe Vitt.
It will be interesting to see how the voters opt to go for the coaches award this year. Will they vote for a division winner that managed to overcome a number of key injuries or unexpected obstacles to rise above their circumstances, or will they prefer to vote for an underdog team that wound up surprising the majority of the league?
This award is still wide open due to so many weeks left and so many teams still in contention for the playoffs.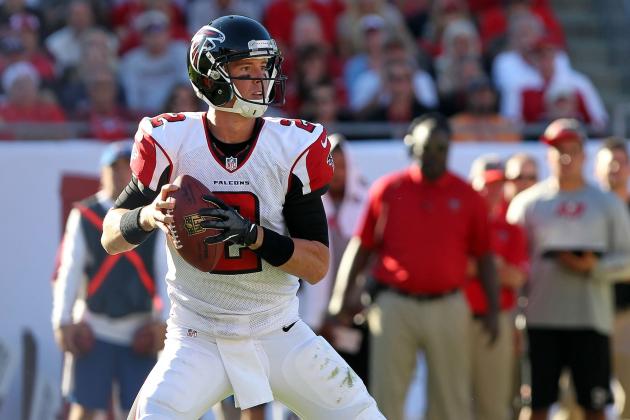 Kim Klement-US PRESSWIRE
Matt Ryan bounced back with a solid Week 12 performance.
To demonstrate how crazy the NFL Offensive Player of the Year Award race is, let's take a minute to look at the key categories for quarterbacks. We will highlight the top two quarterbacks for each category.
Percentage Completion: Alex Smith and Matt Ryan.
Passing Yards: Matthew Stafford and Matt Ryan.
Yards Per Attempt: Robert Griffin III and Matt Ryan.
Touchdowns: Drew Brees and Aaron Rodgers.
QB Passer Rating: Aaron Rodgers and Tom Brady
QBR Ranking: Tom Brady and Peyton Manning.
As you can see from the above group, the name that pops up the most is Matt Ryan. He does lead all of the NFC quarterbacks in wins as well, which is an important category we didn't include.
It is more than reasonable to consider that if all of these quarterbacks are deemed to be so equal across the board, perhaps another position player can rise up to capture the NFL OPOY trophy.
From the other players that are potentially still in the race, we have the following running backs: Adrian Peterson, Arian Foster and Marshawn Lynch.
The wide receivers that are in the running include Calvin Johnson, Reggie Wayne, Andre Johnson, A.J. Green and Brandon Marshall.
With five weeks left to go, the voters look like they will have their hands full in sorting through all of the great performers in 2012 to find one majority winner.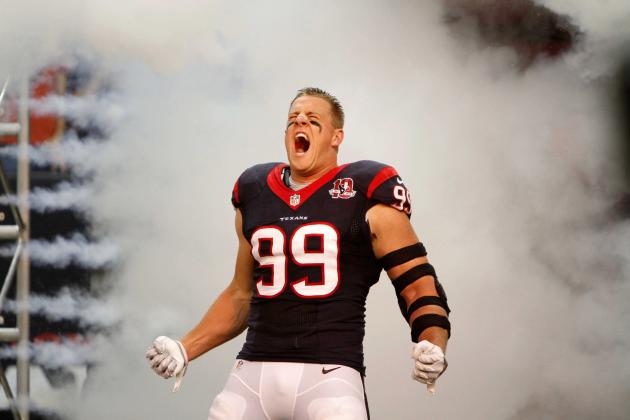 Brett Davis-US PRESSWIRE
J.J. Watt had a big game on Thanksgiving.
The NFL Defensive Player of the Year Award has a more condensed field than the Offensive Player of the Year. Coming into Week 13, there are a nucleus of seven strong players that are vying for the award.
The group of seven include: J.J. Watt, Von Miller, Tim Jennings, Charles Tillman, Aldon Smith, NaVorro Bowman and Patrick Willis.
These seven players are all members of a defensive unit that is in the top 10 of overall defenses in the league, and all are playing on a team that should be there playing in the postseason. That is why we have reduced the field to these seven after Week 12 action.
What is interesting about this group is that there are two Bears cornerbacks and three 49ers linebackers. Voters might have a difficult time in singling out a single member from these teams with multiple star defensive players.
The votes could easily get spread out evenly between the teammates. That would then bode well for a player like Watt or Miller, who stand out as the best defensive player on their team.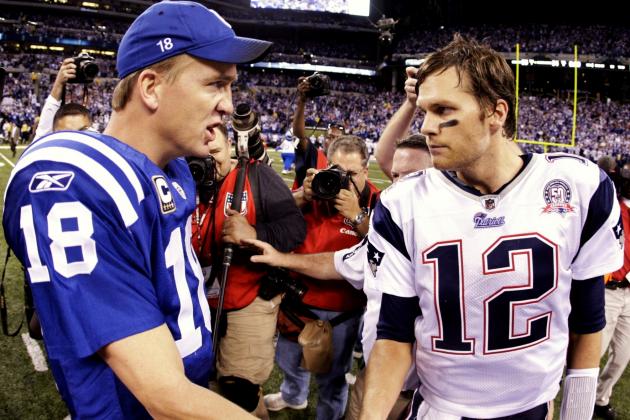 Jamie Squire/Getty Images
Will the MVP come down to Tom Brady or Peyton Manning again?
Since this is a quarterback-driven league, the consensus is that once again a quarterback will walk away with the award. That is a shame for some positional players who have had exceptional years, but it is hard to buck the system.
If a quarterback will win the award again, who should we be focusing on? For the purposes of the presentation, we will narrow it down to five top quarterbacks as the major leaders after Week 12.
Our top five quarterbacks are Tom Brady, Peyton Manning, Matt Ryan, Drew Brees and Aaron Rodgers.
Fans of Eli Manning or Ben Roethlisberger may be upset by their guy not being included, but consistency and injuries, respectively, have knocked them below the top five.
To reduce the field even further, the two quarterbacks that are playing better than the rest are Tom Brady and Peyton Manning. They are leading their team to a divisional title, putting up stellar numbers and playing so well despite being at least 35.
The educated guess is that the voters will probably side with these two veterans when it is all said and done. Having multiple MVP awards in their background (four for Manning, two for Brady) means that the voters already identify with them, and that is another strong consideration.