Patriots vs. Jets: 5 Matchups That Will Decide Thanksgiving Night Clash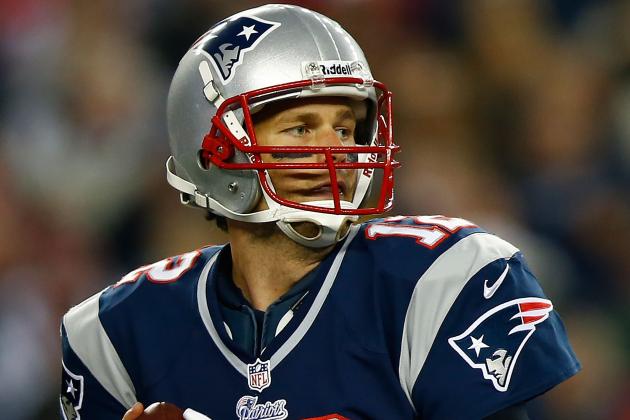 Jared Wickerham/Getty Images

Thanksgiving Day vs. Tom Brady and the New England Patriots is basically a playoff game for Rex Ryan and the New York Jets.
Currently sitting at 4-6 and tied for second place is the AFC East, Gang Green can't afford to drop a seventh game and sit further back in the conference.
Although the AFC remains rather wide open with the Indianapolis Colts and Pittsburgh Steelers holding the Wild Card spots at 6-4, New York's inconsistency is capable of costing the team in December. As for the Pats, it's simply about winning to extend their divisional lead and fight for a playoff bye.
With that, let's break down the key matchups in this vital AFC holiday showdown.
Begin Slideshow

»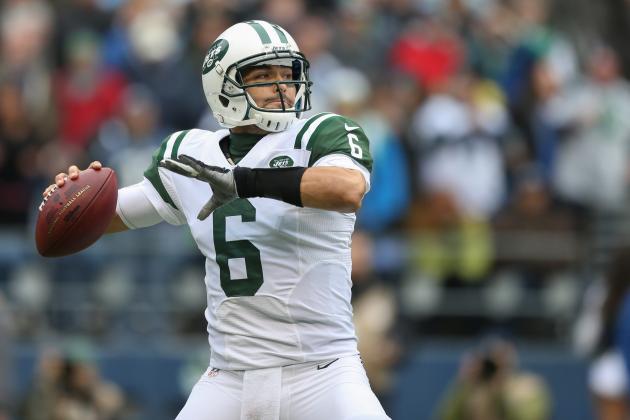 Otto Greule Jr/Getty Images

In the first meeting of 2012, Mark Sanchez torched Bill Belichick's coverage for 328 yards and a 68.3 completion percentage.
New England has been suspect against the pass all year as well, as evidenced by giving up 289.7 passing yards per game. Additionally, the Patriots allow a 64.4 completion percentage to opposing quarterbacks this season.
Even worse, a league-high 21 touchdown passes scored on New England.
That said, Sanchez will need to attack downfield early to get the Pats off balance. New England is better against the run, and failing to keep the front seven honest will simply result in extra unwanted quarterback pressure.
The Pats don't have to double cover anyone either. Despite the vulnerability, New York doesn't present a receiving target worthy of being doubled-up. Only tight end Dustin Keller in a bracketed Cover 2 or 3, but nothing else.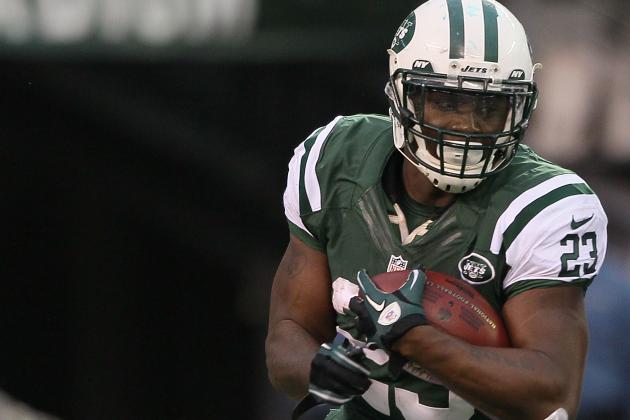 Alex Trautwig/Getty Images

In short, the Jets must control the game tempo on the ground and keep Tom Brady off the field.
Sanchez in the passing game simply can't make mistakes, because additional possessions for Brady will doom Gang Green. Much like the first meeting, New York's ability to win the time of possession battle will keep it in the contest.
The Jets compiled 106 rushing yards on 33 carries and won the possession battle by just over four minutes. New England's offense, on the flip side, can score at will, and it doesn't matter who lines up at receiver.
Now, the Pats are without Rob Gronkowski which does alter the situation. Per Tom Curran of CSN New England:
Surgery on Rob Gronkowski's broken left forearm was performed Monday morning and the tight end is expected to need four to eight weeks to recover.
Still, don't expect the Pats to slow down. As long as Brady has time, New England will be on the attack.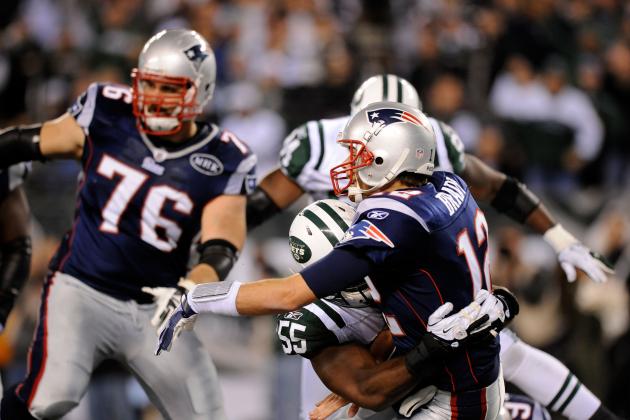 Patrick McDermott/Getty Images

One thing the Jets failed at was applying constant pressure to Tom Brady in the previous meeting.
There, Brady was sacked just once, and New York managed only two total quarterback hits. Any quarterback with that kind of pass protection is going to thwart a defense, and Brady did just that.
Looking at this week's meeting, the Jets need to mix it up quite a bit.
For starters, let Brady know early that the blitzes are coming often. At the very least, that forces a quicker release on any pass; thereafter New York must simply rally to make the tackle.
As for pre-snap, show everyone, and then instead of dropping all the 'backers, delay a few blitzes. The end result will keep running backs from immediately releasing, and sinking a few linebackers in coverage will provide New York with numbers.
Meaning: at least one fewer target for Brady when surveying and one extra defender for Gang Green in coverage. Also, occasionally allowing the defensive ends to drop back is an advantage for briefly shielding the intermediate level, which is where the Pats do their most damage.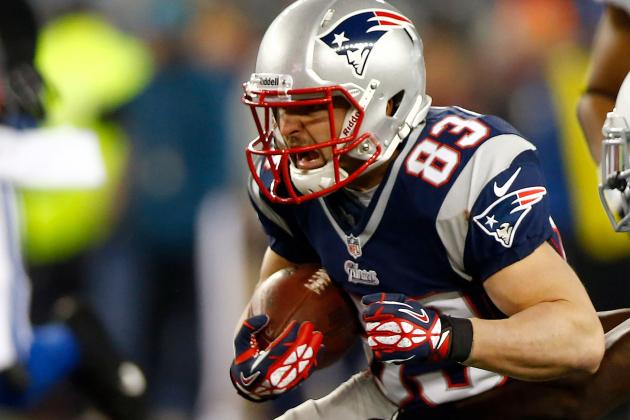 Jared Wickerham/Getty Images

Leading into this Week 12 matchup, Wes Welker is Tom Brady's favorite target by a wide margin.
The consistently reliable slot receiver leads New England in yards (890), targets (105), receptions (73), yards after the catch (438) and first downs (44). In the Week 7 overtime bout, Welker caught six passes for 66 yards but didn't score a touchdown.
He only has two on the year.
Well, he is the receiver New York must try to isolate the most. A Cover 2 nickel scheme works best at the intermediate level, because the extra defensive back can apply inside leverage to wall off Welker from the box.
Then, the outside corner can pick up him up if Welker breaks toward the sideline. This is where New York's blitz package enters the equation, because having the defensive ends quickly sink back creates a stronger wall to prevent anything over the middle and always forces Welker outside.
Doing so is a longer pass for Brady and it's not a downfield read. Everywhere else, Gang Green has to lockdown in man coverage. Because no matter how much pressure is attempted on Brady, New York cannot consistently vacate the middle without keeping Welker in check.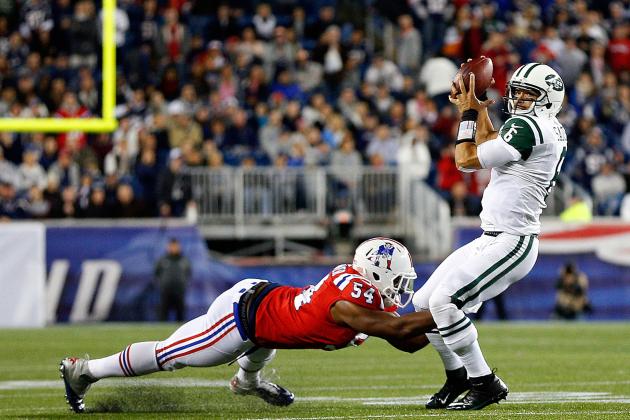 Jim Rogash/Getty Images

Back in the October contest, the Jets scored a touchdown in two of four red zone appearances.
New England on the contrary, hit the zone twice in two appearances.
Had Gang Green instead traded one field goal for a touchdown, New England would have fallen at home. This disparity between the Patriots and Jets is one of crucial distinction; otherwise, New York wouldn't be three games back.
Entering Week 12, the Patriots score a touchdown 65 percent of the time, compared to just 46 for New York. Then again, it also helps that New England averages 432 total yards and nearly 36 points per game.
The Jets average a mere 301 total yards and only 20.2 points each week. So, the winner fields the most consistently explosive offense and more opportunistic defense.
Patriots 28, Jets 23
Follow John Rozum on Twitter.