NFL Picks Week 11: Shocking Upsets You'll Never See Coming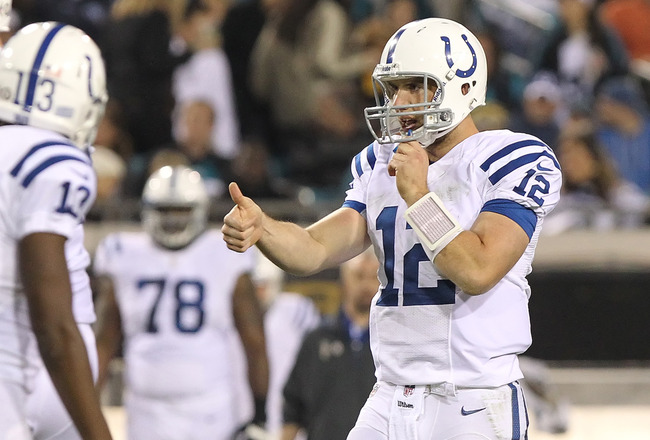 Kim Klement-US PRESSWIRE
There are going to be plenty of upsets in Week 11. And with seven divisional games, it should have plenty of implications on the playoff picture moving forward.
With big opportunities for rookies and amazing defensive matchups in prime time, this should be one of the NFL's most exciting weeks.
So let's dive right in and check out these picks!
Miami at Buffalo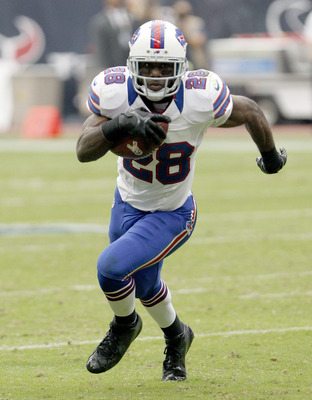 Thomas B. Shea/Getty Images
After their 37-3 shellacking at the hands of the Tennessee Titans, the Miami Dolphins showed that they can be beat on the ground. They made Chris Johnson (126 yards, 1 TD) look like the CJ2K of old.
The Dolphins committed four turnovers in that game, including three interceptions by QB Ryan Tannehill. Buffalo isn't great at forcing turnovers in the secondary, but with Mario Williams heating up, its front four are as dangerous as ever.
The Bills also feature a very balanced running game, ranking sixth in the NFL in rushing yards per game (143.1) with C.J. Spiller averaging 7.1 yards per carry.
Even without Fred Jackson, expect the Bills to finally get that elusive AFC East win at home.
Prediction: Buffalo 28, Miami 20

Tampa Bay at Carolina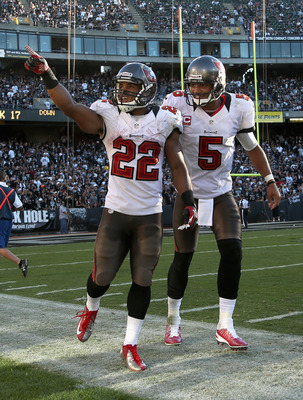 Ezra Shaw/Getty Images
Coming off a big win against the San Diego Chargers and at 5-4 on the season, this is a must win for the Tampa Bay Buccaneers. The same can be said of the 2-7 Carolina Panthers, who will try and right the ship on a disappointing season.
But while the Panthers are skidding, the Buccaneers are rolling. They've won three straight on the back of a red-hot Josh Freeman (averaging 285 yards a game since Week 7 with no interceptions).
Inversely, there's Cam Newton, who has more interceptions (five) than touchdowns (four) since Week 7.
The Bucs should have no issues continuing their winning ways.
Prediction: Tampa Bay 24, Carolina 10
Cleveland at Dallas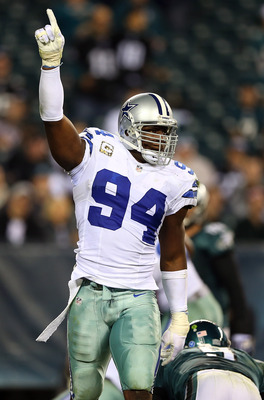 Elsa/Getty Images
Another must-win situation for Week 11, the 4-5 Dallas Cowboys have to get something going if they hope to make the playoffs.
They square off with a 2-7 Cleveland Browns squad that has had plenty of ups and downs on the season. Most have been a result of rookie QB Brandon Weeden (averaging 232 yards per game but with 12 INTs on the season).
Weeden will be squaring off against a Dallas secondary whose 213.6 yards allowed per game ranks seventh in the NFL.
Let's just say DeMarcus Ware should have no troubles padding his stats in this one.
Prediction: Dallas 21, Cleveland 7

Green Bay at Detroit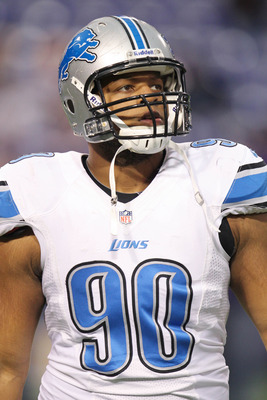 Brace Hemmelgarn-US PRESSWIRE
At 4-5 on the season, this is not how the Detroit Lions wanted to follow up their breakout 2011 season.
At 6-3, good for second place in the NFC North, this is not the position the Green Bay Packers wanted to be in for the second half of the season.
With all that said, these team's are pretty evenly matched. Both featured big offensive attacks, and both are flawed defensively (for Green Bay, it's the pass; for Detroit, it's the run).
With pretty even offenses, this game will come down to defense. Technically, that should give Detroit the advantage since its strength against the pass gives them an edge.
As long as that secondary gets healthy for Week 11, I think the Lions pull up the upset in this shootout.
Prediction: Detroit 35, Green Bay 31

Jacksonville at Houston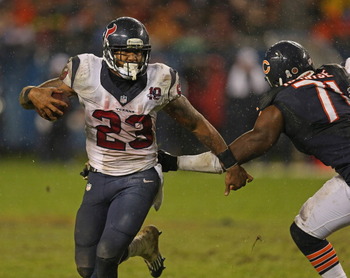 Jonathan Daniel/Getty Images
There should be no surprises in this one.
The Jacksonville Jaguars feature the worst offense in football—barely averaging 223 yards per game—and they face one of the NFL's best defenses in Houston.
Not to mention the Jaguars are horrid against the run. They have no chance of slowing down Arian Foster, who not only leads the NFL in touchdowns (12) but has at least one in each of his games.
Prediction: Houston 30, Jacksonville 3

Arizona at Atlanta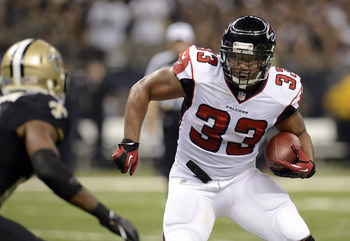 John David Mercer-US PRESSWIRE
After starting the season 4-0, the Arizona Cardinals have been on a horrid skid, losing five straight. They come into this game off the bye week, looking for any signs of hope in the NFC West.
Technically, the same can be said of the Atlanta Falcons. They started their season undefeated and are on a losing streak. Only difference is the Falcons were 8-0 and lost just their first game of the season in Week 10.
But this could be a closer game than expected. Matt Ryan has been elite this season (308 yards per game), but he faces Patrick Peterson and a very tough Cardinals secondary.
But unlike 'Zona, if the passing attack fails, Atlanta can fall back on its run game. While he struggled against New Orleans (15 yards on 13 carries), Michael Turner should be able to run against this defense.
Prediction: Atlanta 24, Arizona 17

Cincinnati at Kansas City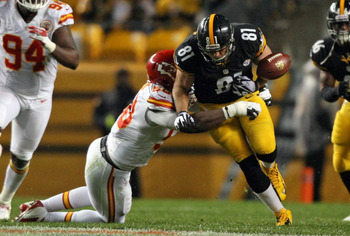 Jason Bridge-US PRESSWIRE
Can you believe there's a team in the AFC with a worse record than the Browns? It's true. And that team would be the Kansas City Chiefs, who enter Week 11 at 1-8.
Nothing's gone right for KC this season. Matt Cassel has 12 interceptions to six touchdowns, and that defense has struggled against the run.
But that doesn't mean they can be counted out. They're actually pretty tough against the pass (eighth in the NFL).
And the Cincinnati Bengals are not running the ball well lately, with BenJarvus Green-Ellis failing to hit 70 yards since Week 4. He only has one rushing touchdown in that time.
Anchored by rookie Justin Houston, the Chiefs ride their pass rush to their second win of the season.
Prediction: Kansas City 17, Cincinnati 13

Philadelphia at Washington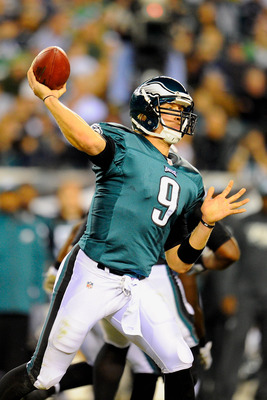 Dale Zanine-US PRESSWIRE
Like most pundits, I've fallen in love with Robert Griffin III this season. But despite how dynamic RG3 has been, it's still not enough to make up for that struggling Washington Redskins defense.
Even if Michael Vick (concussion) doesn't play, the Eagles offense will be the deciding factor.
Nick Foles looked pretty good against Dallas (22-for-32, 219 yards, 1 TD, 1 INT), and this is a favorable matchup—Washington allows more than 300 yards passing per game. If all else fails, the Eagles always have LeSean McCoy to fall back on (705 yards rushing, five total TDs).
Neither one should have issues against the NFL's 28th-ranked defense.
Prediction: Philadelphia 27, Washington 21
New York at St. Louis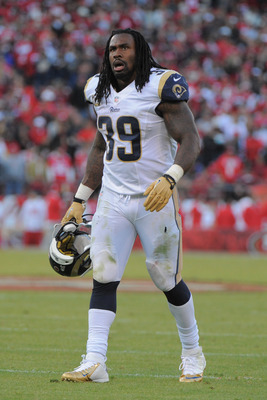 Kyle Terada-US PRESSWIRE
Looking to end a three-game skid and get back in contention, the 3-6 New York Jets have to win this Sunday. Can their offense get going against a Rams defense that ranks 15th in the NFL?
This game will come down to both teams' offenses. The Jets struggle against the run—good for Steven Jackson—but St. Louis is inconsistent against the pass—good for Mark Sanchez.
But the Jets are a ticking time bomb, and they are 1-3 on the road this season.
With some confidence after their bizarre 24-24 tie in Week 10, the Rams will do just enough on offense to win this one.
Prediction: St. Louis 20, New York 10

Indianapolis at New England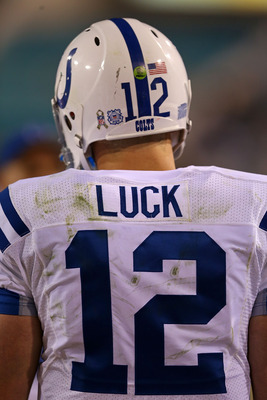 Mike Ehrmann/Getty Images
This game used to be one of the biggest in the NFL, but without Peyton Manning, it's lost some of its luster. If anyone can get that back, it'll be Andrew Luck.
Both teams are coming off big Week 10 wins and are evenly matched at 6-3.
And while the Colts' defense is pretty familiar with Tom Brady, this is a different—more balanced—New England offense. The Patriots actually rank higher with their rushing attack (fifth) than their passing attack (seventh).
But that secondary is as thin as ever, and giving up 285.3 yards per game. Indianapolis is averaging just under that on offense at 277.9 passing yards per game.
Looking for the biggest win of his career, I think Luck shocks us all.
Prediction: Indianapolis 35, New England 27
New Orleans at Oakland
Derick E. Hingle-US PRESSWIRE
Would you believe me if I told you the Oakland Raiders have one of the better passing games in the AFC? It's absurd but true.
Oakland is averaging 288.9 passing yards per game, good for fifth in the NFL. Denarius Moore has come into his own with Carson Palmer under center, averaging 16.9 yards per catch with five TDs.
They face a Saints defense that ranks last in the NFL, allowing 307.3 passing yards per game.
But with Jimmy Graham finally waking up last week against Atlanta (146 yards receiving, his first 100-plus-yard game of the season), that Saints passing attack is as dangerous as ever.
It'll be closer than people would expect, but it's hard to doubt Drew Brees.
Prediction: New Orleans 28, Oakland 23
San Diego at Denver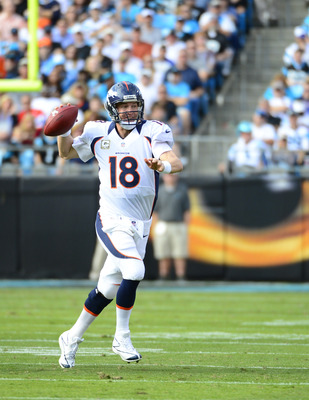 US PRESSWIRE
Another big divisional showdown for Week 11.
The Denver Broncos sit nicely atop the AFC West at 6-3, but the 4-5 Chargers are always a dangerous second-half team.
But Peyton Manning has already topped the Bolts once this season—a 35-24 win in Week 6—and that was in San Diego.
Now Manning returns home on a four-game win streak in which the Broncos scored 31 points or more in each of their games. No reason to think he slows down now!
Prediction: Denver 34, San Diego 20

Baltimore at Pittsburgh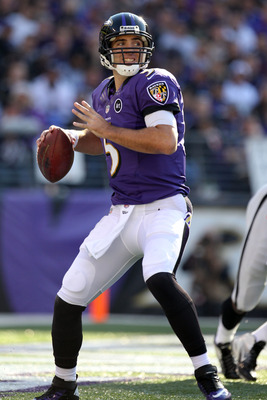 Mitch Stringer-US PRESSWIRE
This should be the biggest game of Week 11.
With the Baltimore Ravens at 7-2 and the Pittsburgh Steelers at 6-3, this game has huge implications in the AFC North. Both teams come in red hot, with Pittsburgh enjoying a four-game win streak and Baltimore coming off a 55-point game.
Usually this game would come down to defense, which would make the banged-up Ravens lose their edge.
But in reality, I think it comes down to quarterbacks. And right now, Ben Roethlisberger's status seems up in the air after suffering a sprained shoulder in Week 10.
For that, I give Joe Flacco the edge.
Prediction: Baltimore 14, Pittsburgh 13
Chicago at San Francisco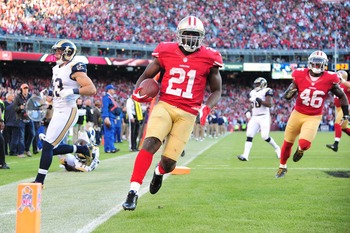 Kyle Terada-US PRESSWIRE
How do you follow up Sunday's prime time game with two of the best AFC defenses? How about Monday Night Football with two of the NFC's best defenses?
That's what we get this week as the surprisingly 7-2 Bears (fifth-ranked defense in NFL, 308 yards allowed per game) take on the 6-2-1 San Francisco 49ers (third-ranked defense, 292 yards.
So whose offense can get things going? While neither is particularly frightening, I have to take Frank Gore and that NFL's best rushing attack at home, over a turnover-happy Jay Cutler on the road.
Prediction: San Francisco 21, Chicago 16
Keep Reading