NFL Power Rankings: Where Everyone Stands After Wild Week 10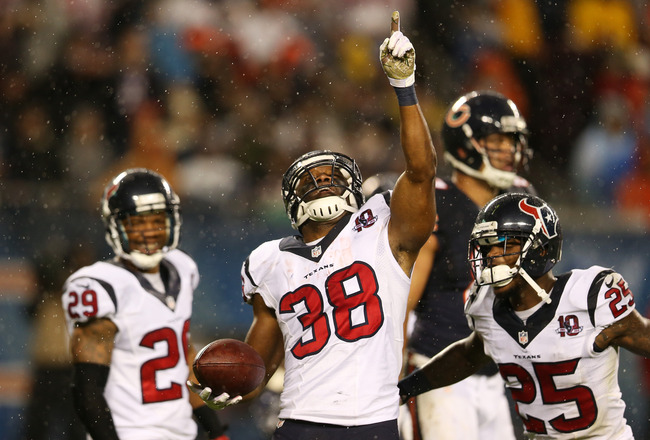 Jonathan Daniel/Getty Images
Week 10 in pro football was insane.
The underdog Cincinnati Bengals and Tennessee Titans totally bulldozed their opponents and the St. Louis Rams nearly upset the San Francisco 49ers: Candlestick Park gave us a tie on Sunday.
It was the first tie since 2008 and only the third this century.
Elsewhere, the Tampa Bay Buccaneers and New Orleans Saints keep getting stronger; whereas the Philadelphia Eagles and New York Jets continue to stumble. The game of the week, though, provided a Houston Texans victory in Soldier Field where their defense outplayed the Chicago Bears.
And everything mentioned here was only a glimpse of what transpired, because complete league rankings are up next.
32. Jacksonville Jaguars (1-8)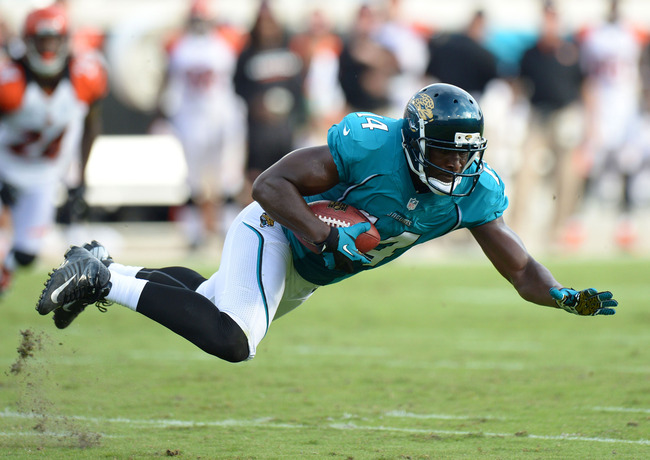 Jake Roth-US PRESSWIRE
The Jacksonville Jaguars have scored over 20-plus points just one time during their six-game losing streak (at Oakland). Even worse, the Jags have not put up more than 23 points in any game this season.
With no offense capable of scoring and a defense incapable of slowing anyone down, this is easily the worst team in pro football.
31. Kansas City Chiefs (1-8)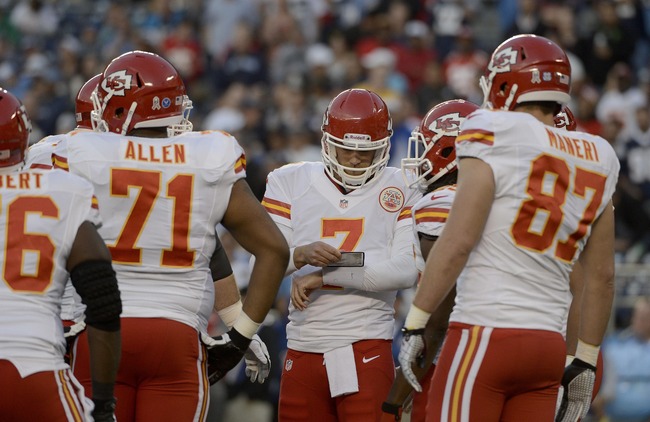 Donald Miralle/Getty Images
The Kansas City Chiefs did everything possible to win against the Steelers...until overtime.
Matt Cassel's interception to begin the sudden death period was K.C.'s lone turnover of the contest, and it came directly after a key fourth-down conversion to extend the game. Jamaal Charles proved why he's one of the best backs around with 100 yards and a touchdown, so it's obvious what the Chiefs need to do.
Run the football.
Now at 1-8, we saw the defense's potential but turnovers remain costly. That said, frustration and disappointment continues to plague the Chiefs offense: And it's not helping the defense.
30. Cleveland Browns (2-7)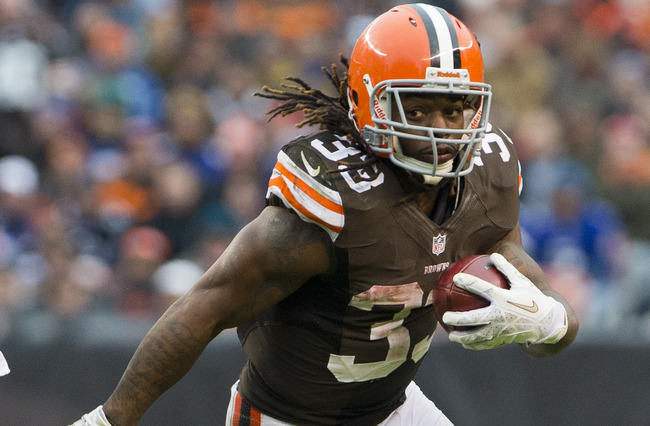 Jason Miller/Getty Images
Coming off a bye in Week 10 the Cleveland Browns, if anything, needed to fix red-zone offense. We've seen Brandon Weeden move the ball, so it's simply a matter of reaching the end zone.
Defensively, Cleveland must find a way to stuff the run and get additional quarterback pressure. Otherwise, the divisional losses will remain on repeat.
29. Oakland Raiders (3-6)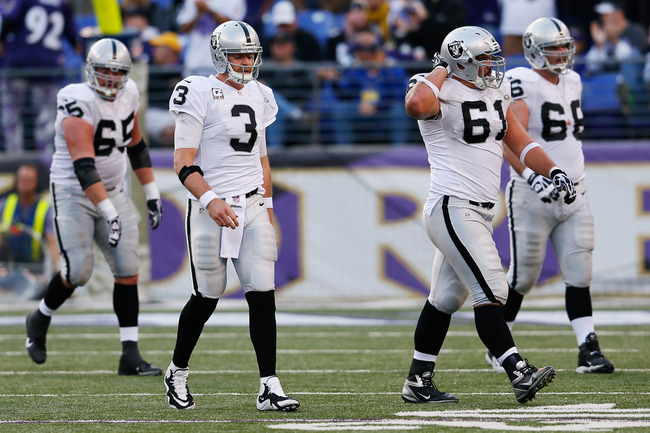 Rob Carr/Getty Images
Since beating the Steelers at home, the Oakland Raiders are 2-4 with both wins coming against the Jaguars and Chiefs. On the bright side, at least the Raiders have lost to some tough teams such as Denver, Atlanta and Baltimore.
Without much of a defense, however, Carson Palmer and the offense have to win games. And the Raiders aren't consistently explosive enough to keep pace as we've seen the previous two weeks.
28. Buffalo Bills (3-6)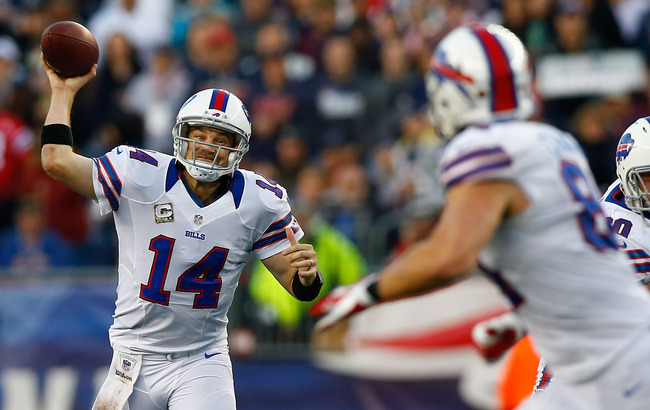 Jared Wickerham/Getty Images
It was a valiant effort by the Buffalo Bills on the road against New England this week. Unfortunately, the Bills dropped again and are 1-5 over the past six games.
And had it not been for Arizona kicker Jay Feely's whiff, the Bills are likely 2-7. This team has no trouble scoring, but the defense allows 410 total yards per game.
27. New York Jets (3-6)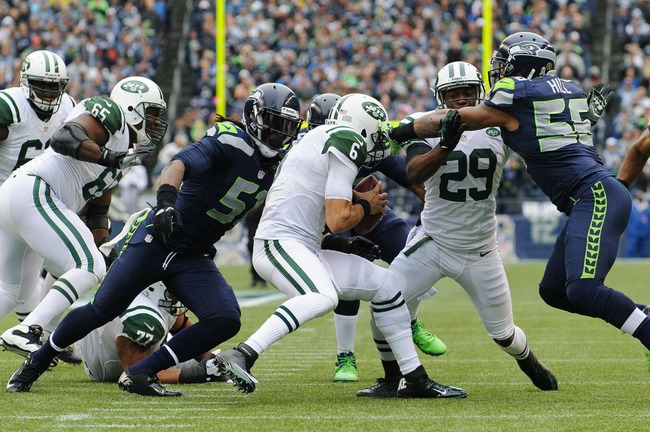 Steven Bisig-US PRESSWIRE
Over the past six games the New York Jets have scored a total of 94 points. The downside is that 61 came against the Colts and Patriots, while three times Gang Green was held under double digits.
Rex Ryan's defense is doing everything possible, but New York's not good enough to win only one side of the line. As a result, opponents wear the Jets down and pull away late: Just as we saw on Sunday in Seattle.
26. Carolina Panthers (2-7)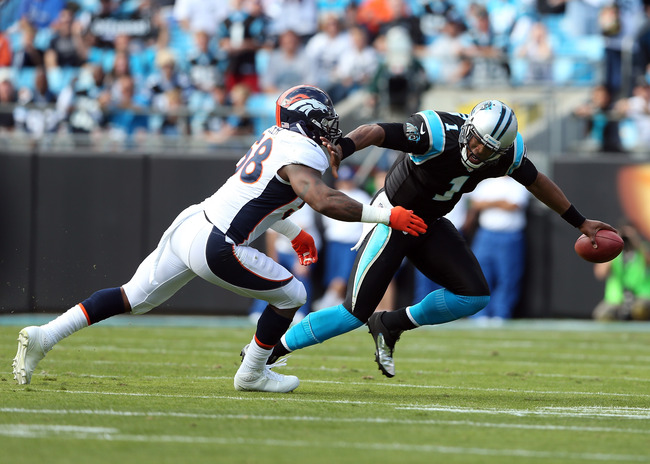 Streeter Lecka/Getty Images
The one optimistic perspective regarding the Carolina Panthers is their schedule. Looking back, it's been tough as nails.
Six of Carolina's seven losses are to teams currently sporting a winning record. Considering that the Panthers have five losses coming within six points or less, at least Cam Newton and Co. are keeping it close.
With a defense continuing to give up yards and points, Carolina has still been more competitive than given credit.
25. San Diego Chargers (4-5)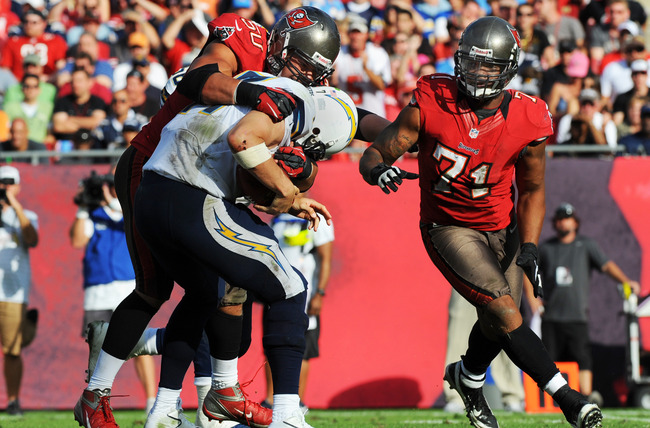 Al Messerschmidt/Getty Images
After kicking off the 2012 campaign at 2-0, the San Diego Chargers are 2-5 over the past seven games: And both of those victories came courtesy of Kansas City.
Each side of the ball for Norv Turner's team has been inconsistent all season as well. Either the offense can't score or the defense can't slow anyone down. If anything, the rushing offense has performed well enough to at least set up the pass.
24. Washington Redskins (3-6)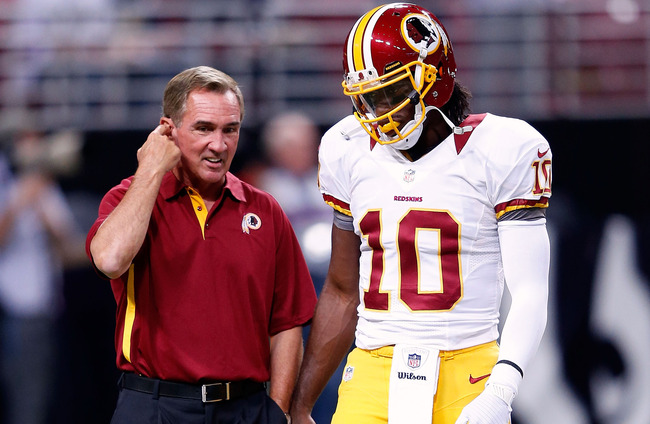 Jamie Squire/Getty Images
Provided the Washington Redskins improved at defending the pass, Mike Shanahan's team can make a quick turnaround.
Allowing over 300 passing yards per game, the defense has cost Washington quite a bit in 2012. That said, Robert Griffin III and the offense have proven the ability to score often.
So, running the ball more and controlling the game tempo is needed to keep its defense off the field: Which then prevents opponents from racking up points.
23. St. Louis Rams (3-5-1)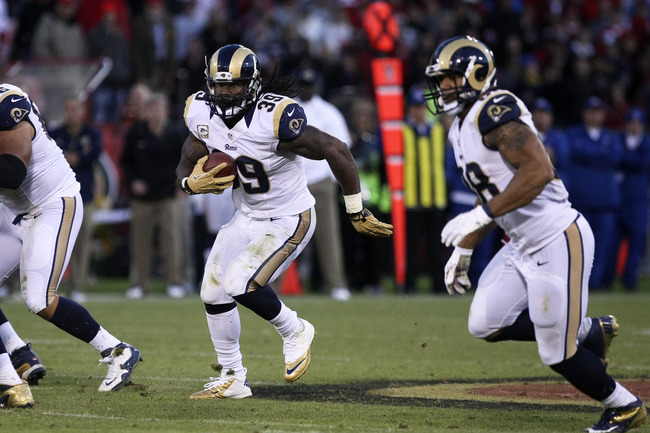 Kelley L Cox-US PRESSWIRE
So close, yet so far for the St. Louis Rams on Sunday in the Bay Area. The good news is that St. Louis didn't even play its best game.
The Rams hurt themselves with 13 penalties which basically cost the game in overtime. But with five NFC games remaining, three of which are in the division, not all hope is lost for St. Louis. The offense is improving each week and the defense possesses the capabilities to shut teams down.
Come December, Jeff Fisher's team will make some noise.
22. Cincinnati Bengals (4-5)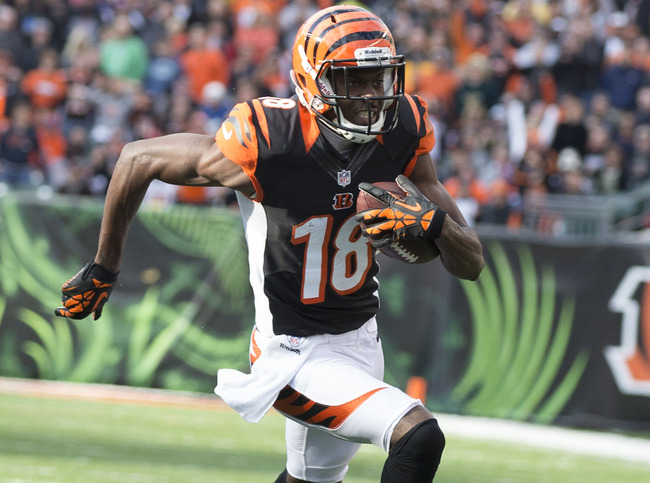 Greg Bartram-US PRESSWIRE
What a way for the Cincinnati Bengals to end their four-game losing streak by smacking the Giants, 31-13.
Improving to 4-5, Cincinnati displayed its full potential in that 60-minute window where the passing offense took control early. In turn, the Bengals found another level with their stellar pass rush and assisted the coverage in dominating Eli Manning's pocket protection.
With games against the Chiefs, Raiders, Chargers, Cowboys and Eagles all next in line, Cincy proved versus New York that nine wins before Week 16 (at Pittsburgh) is possible.
21. Miami Dolphins (4-5)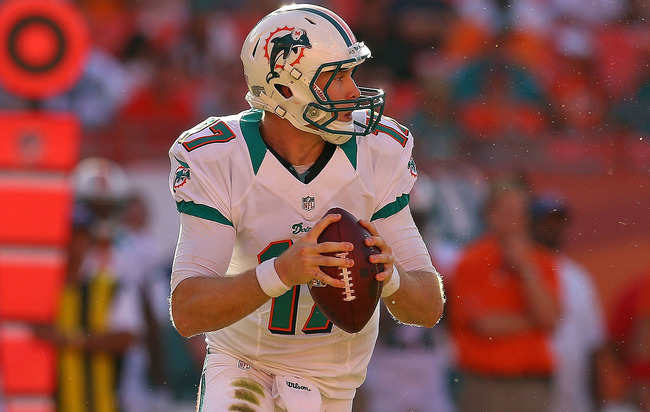 Mike Ehrmann/Getty Images
Sunday against the Titans was just plain awful for the Miami Dolphins. Consider it one of those games where nothing goes one way, because we've seen Miami play much better this season.
And we'll find out the true identity of the 2012 Dolphins this week, as Miami plays at Buffalo on a short week. It's a must-win game for the 'Fins to remain in the postseason hunt and Ryan Tannehill needs to make a fast turnaround.
With a three-game stretch against the Seahawks, Patriots and 49ers thereafter, Miami can't afford to flop in Buffalo.
20. Philadelphia Eagles (3-6)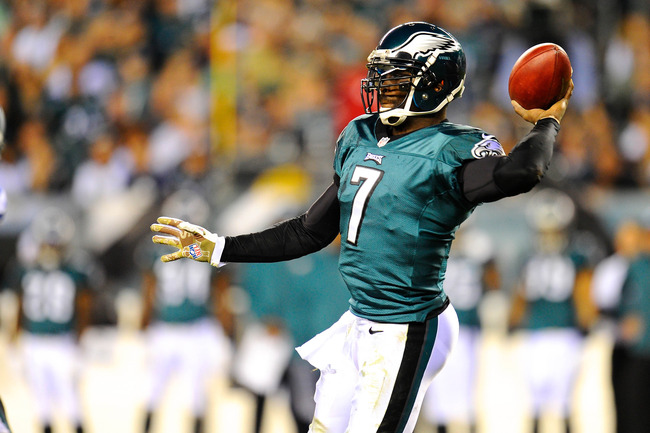 Dale Zanine-US PRESSWIRE
Turnovers once again cost the Philadelphia Eagles dearly. Leading the Cowboys 17-10, Philly's unreliable defense gave up a late third-quarter touchdown and the flood gates opened.
The play-calling panicked, LeSean McCoy was once again given less than 20 carries and the Eagles once again, lost. Philadelphia couldn't force any turnovers of Dallas, the tackling was poor and the offense was 1-of-10 on third down.
Ouch.
19. Detroit Lions (4-5)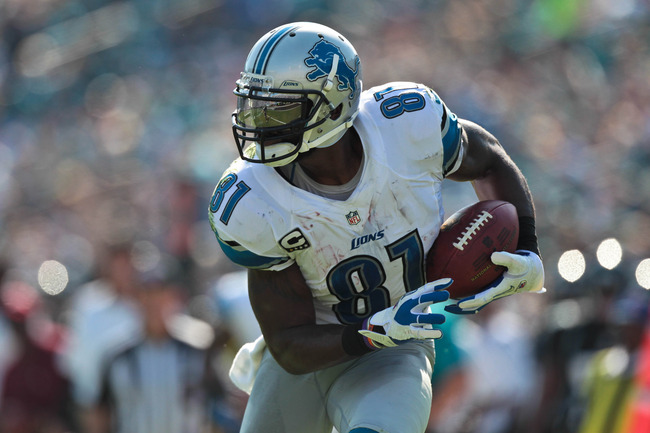 Rob Foldy-US PRESSWIRE
The line of scrimmage continues to act as the Detroit Lions' Achilles' heel. Allowing 171 rushing yards to Adrian Peterson, Detroit only collected 60 on the ground against Minnesota.
The Lions also only sacked Christian Ponder one time, so the pass rush continues to lack consistency as well. Looking ahead with games against the Packers (twice), Texans and Colts over the next four weeks and Detroit is in dire straits.
18. Tennessee Titans (4-6)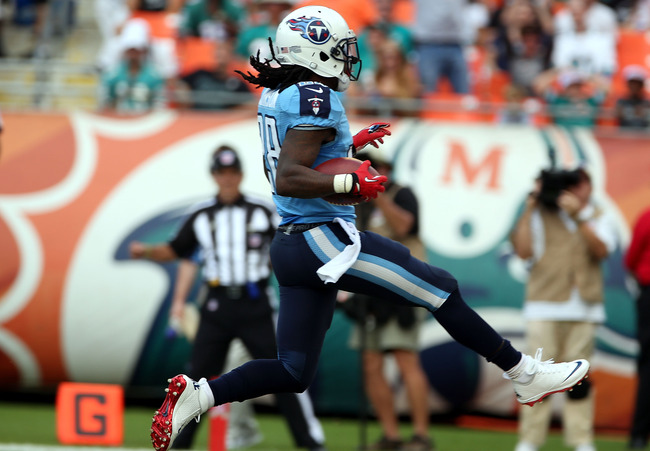 Marc Serota/Getty Images
Just when anyone thought the Tennessee Titans were slumping, Jake Locker gets under center and saves the day. Well, more so from the defense that scored and totally blanked Miami's offense.
Along with the defense improving, though, running back Chris Johnson is straight up rolling. The guy has compiled 652 rushing yards over the past five games and has scored four times in that span.
Although the remaining schedule pits Tennessee in three tough games against Houston, Indianapolis and Green Bay, Johnson's ground attack gives the Titans legit upset odds.
17. Dallas Cowboys (4-5)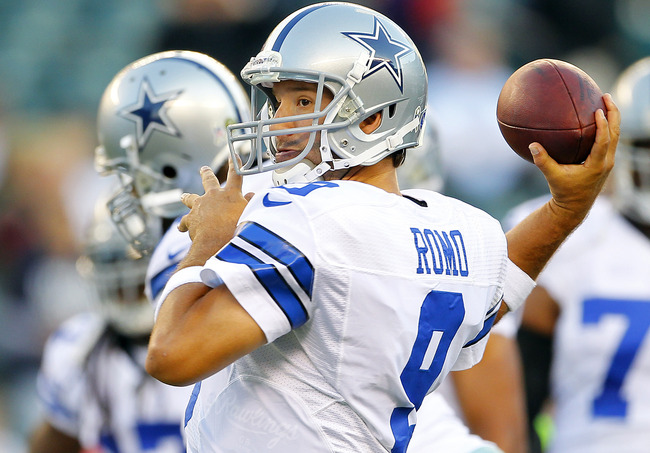 Rich Schultz/Getty Images
So the story begins again with the Dallas Cowboys. Sunday displayed how much talent Dallas possesses, because it was a complete and total team effort victory against the Eagles.
Now; however, we have to see this kind of performance on a weekly basis. Tony Romo was dicing quite well and the ground game got working. DeMarcus Ware and the defense certainly improved versus the run and special teams also contributed.
Dallas has only two tough games—Pittsburgh and New Orleans—remaining. So, the closing stretch will be quite telling of whether this victory is Dallas turning a corner. Or, just the same old story from recent seasons.
16. Arizona Cardinals (4-5)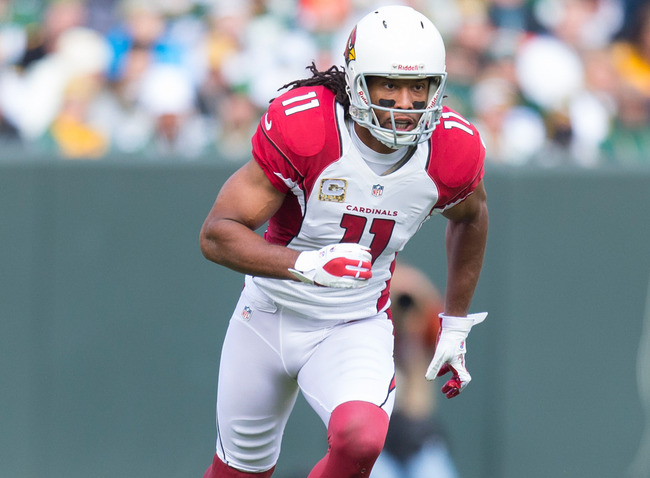 Jeff Hanisch-US PRESSWIRE
We won't know if the Arizona Cardinals stopped the bleeding until they face the Falcons this week. After starting an impressive 4-0, Arizona has since dropped five straight and on the brink of total collapse.
The obvious concern is the pass protection, because the Cardinals can't run the ball or stop the run. And if that continues with some tough matchups after Atlanta, Arizona will be fortunate to finish .500.
15. New Orleans Saints (4-5)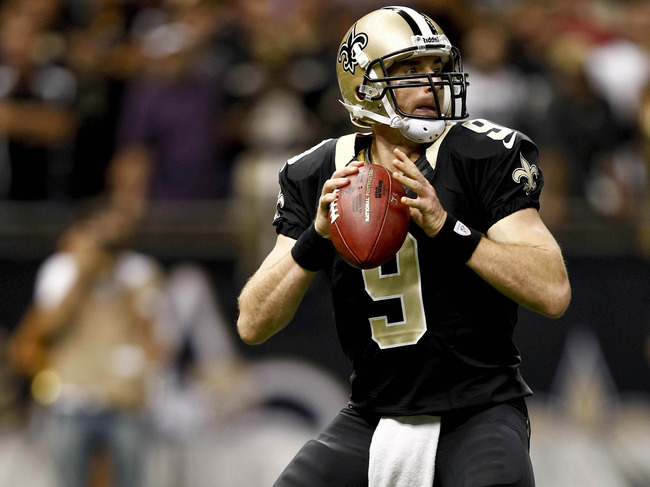 Derick E. Hingle-US PRESSWIRE
Regardless of how the 2012 New Orleans Saints finish, improving to 4-5 after beginning 0-4 is impressive.
Drew Brees and the offense was expected to play well all year, but now the defense is finding confidence and certainly one of the best when backed up inside its own red zone. In addition, the Saints' ground game picked up well versus the Falcons and New Orleans is in the postseason mix.
With winnable games left against the Raiders, Giants, Buccaneers, Cowboys and Panthers, New Orleans is incredibly dangerous right now.
14. Tampa Bay Buccaneers (5-4)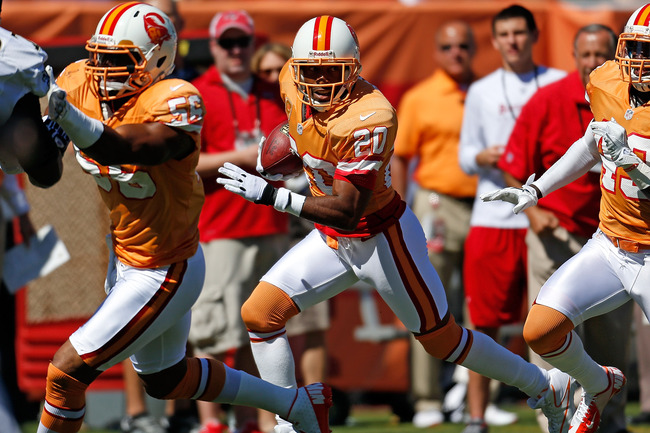 J. Meric/Getty Images
Just like New Orleans, the Tampa Bay Buccaneers have significantly increased confidence over the past month. Beginning 1-3, Greg Schiano's team is 4-1 since and one of which came on the road in Minnesota.
Fielding a strong offensive balance, the Bucs defense is well-versed at forcing turnovers and slowing down the run. Despite being suspect in coverage, playmakers such as veteran Ronde Barber still reside to give the offense additional possessions.
13. New York Giants (6-4)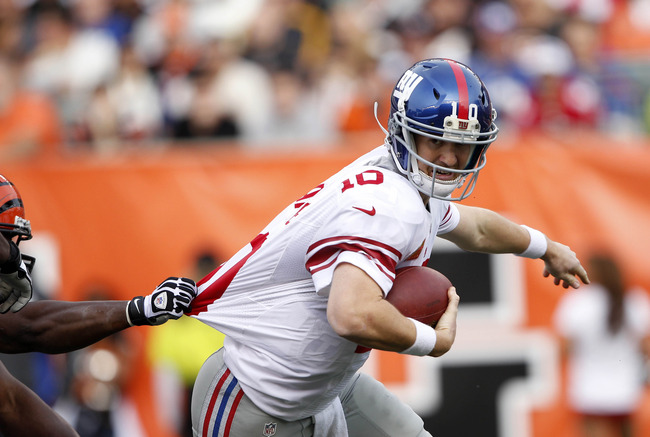 Frank Victores-US PRESSWIRE
The New York Giants are in the midst of their annual mid season slump. It's literally deja vu from 2011, because Big Blue was 6-2 after eight games and had lost the season-opener to a division rival (Washington last season, Dallas this season).
Rewinding back and the Giants lost four straight and were 6-6 in mid December. Well currently riding a two-game losing streak, New York hits a bye week then welcomes Green Bay thereafter. Regardless of this team's regular season record, all that matters is qualifying for January.
Because as we know, that is where Eli Manning and Co. do some serious work.
12. Minnesota Vikings (6-4)
Bruce Kluckhohn-US PRESSWIRE
As long as the Minnesota Vikings continue to control the line of scrimmage, this is one dangerous team down the stretch.
Minnesota dominates the trenches offensively, because Adrian Peterson simply slams well on the ground. Defensively, Jared Allen and the Purple People Eaters are sound against the run and can apply consistent quarterback pressure.
In turn, the passing offense and coverage follow suit by improving with each new week.
11. Pittsburgh Steelers (6-3)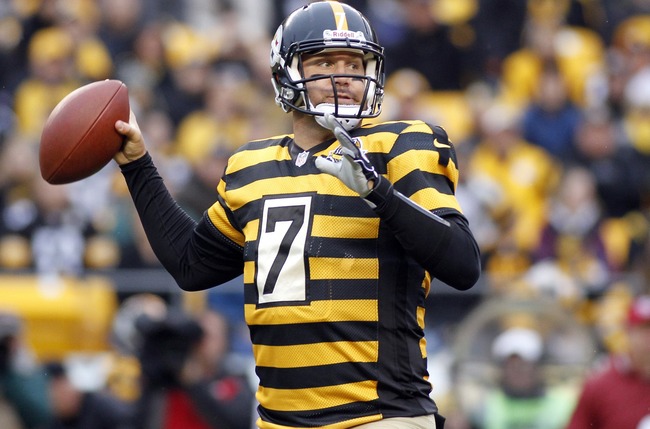 Justin K. Aller/Getty Images
The Pittsburgh Steelers narrowly escaped the Chiefs at home; however, the victory came at a premium.
According to Jason Cole of Yahoo! Sports:
Word is that roethlisberger has a separated shoulder. It's "unusual," but it's unknown if that's good or bad. Heading to hospital for MRI.

— Jason Cole (@JasonColeYahoo) November 13, 2012
Fortunately for Pittsburgh, Byron Leftwich came in and saved the game. Also, though, K.C. exposed the Steelers defense. Jamaal Charles averaged 4.3 yards per carry and the Chiefs racked up 142 rushing yards altogether.
When facing the Ravens (twice) and potentially the Texans and/or Broncos in the postseason, Pittsburgh won't last long without improving up front.
10. Indianapolis Colts (6-3)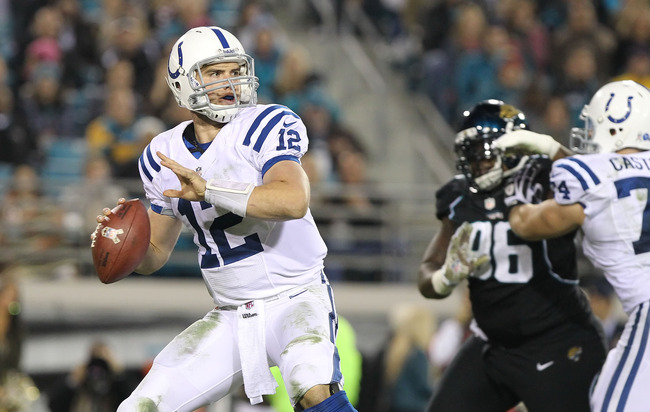 Kim Klement-US PRESSWIRE
For as great as Andrew Luck and the Indianapolis Colts have been, Week 11 is the tell all sign.
Playing Tom Brady and the Patriots in New England, the Colts need a win for enhanced odds at making the postseason: Not to mention Indy still has two games remaining against Houston.
Nonetheless, the Colts present better offensive balance than given credit and the defense presents a solid front seven. Still looking to improve against the run, Indy's remaining schedule other than the Pats and Texans is quite favorable.
9. Seattle Seahawks (6-4)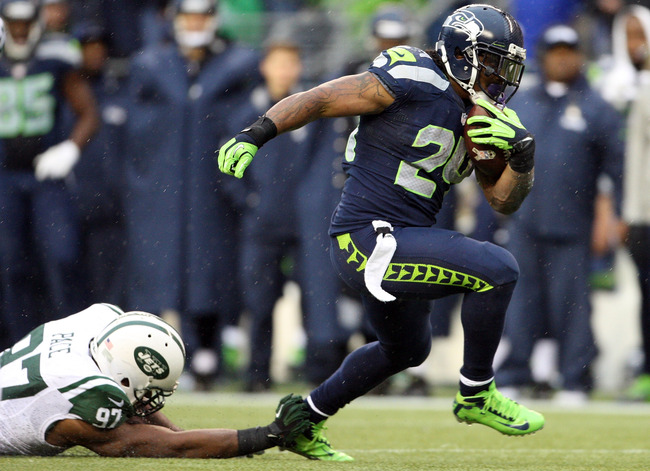 Kevin Casey/Getty Images
Russell Wilson is a rookie quarterback with a strong arm, solid accuracy and is presented with a nice array of receiving targets. That said, the winning formula with a rookie signal-caller in a tough defensive division is by running the rock.
Marshawn Lynch is stampeding over defenses with 1,005 rushing yards so far in 2012, and that's of immense assistance to Wilson's development. Factor in a defense capable of shutting anyone down and it's no wonder the Seattle Seahawks are 6-4.
8. Baltimore Ravens (7-2)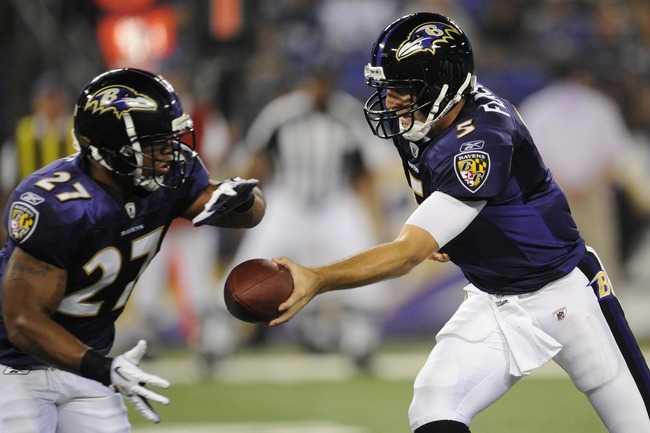 Rafael Suanes-US PRESSWIRE
Yes, the Baltimore Ravens are 7-2 and atop the AFC North. We still can't get too overly hyped about the Ravens, though, because two games still remain against the Steelers.
Also, Baltimore still has to face the Broncos and Giants. Despite the consistency, the Patriots remain Baltimore's lone victory over a team with a winning record: And that was when the Ravens defense wasn't as banged up.
In short, the identity of Baltimore remains to be seen in 2012: Although we'll get a clearer perspective after Week 11 in Pittsburgh.
7. Denver Broncos (6-3)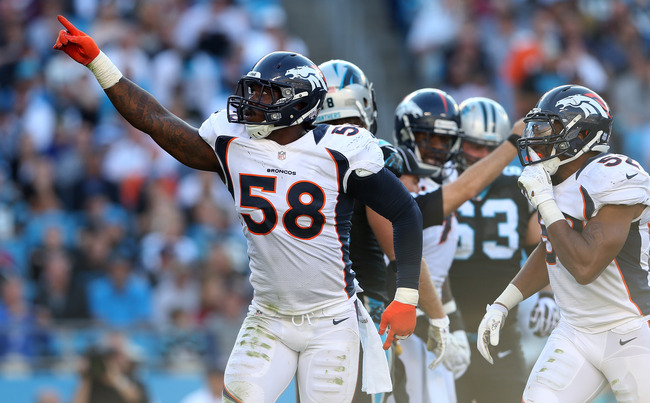 Streeter Lecka/Getty Images
The Denver Broncos' three losses are to the Falcons (8-1), Texans (8-1) and Patriots (6-3).
So, Denver has won every game it was expected to win as well as beating the Steelers in Week 1. After facing arguably the NFL's toughest schedule through the first five games, the Broncos are ripping teams a part.
Now on a four-game winning streak, Denver's offense continues to be efficient and the defense is only getting better. Include a weak remaining schedule outside of Baltimore and Tampa Bay and 10-plus wins are expected.
6. New England Patriots (6-3)
David Butler II-US PRESSWIRE
All three of the New England Patriots' losses are by a combined four points. That's just how close Tom Brady and Bill Belichick are to perfection in 2012.
Nevertheless, a 6-3 record and current control of the AFC East is the most important for mid November. The sole weakness; however, is the pass defense. Ryan Fitzpatrick torched Belichick for 337 yards and the Pats narrowly escaped Buffalo.
Even with another postseason berth looking good, games against the Texans and 49ers will be quite telling of this year's Pats.
5. Green Bay Packers (6-3)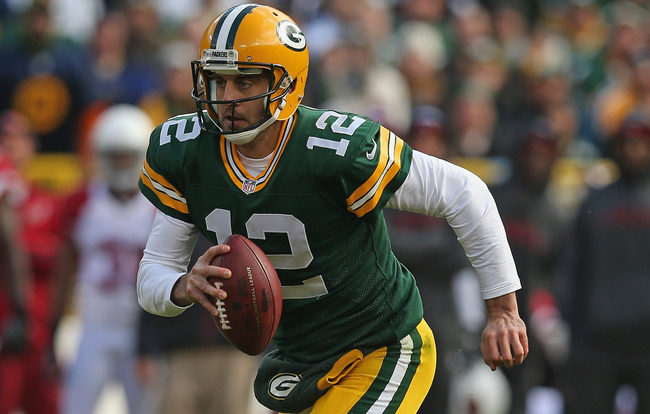 Jonathan Daniel/Getty Images
The Green Bay Packers have the unique distinction of having defeated the Texans and Bears earlier this season.
Still, the Packers have yet to play at Soldier Field this season. Therefore, we'll learn a great deal about Green Bay in mid December. Regardless this team is still a legit Super Bowl contender.
Aaron Rodgers' innate ability to move the ball is a competitive advantage, and the defense is certainly better than 2011. With five divisional games left along with the Giants, though, Green Bay will get tested and the ground game does need to increase impact.
4. San Francisco 49ers (6-2-1)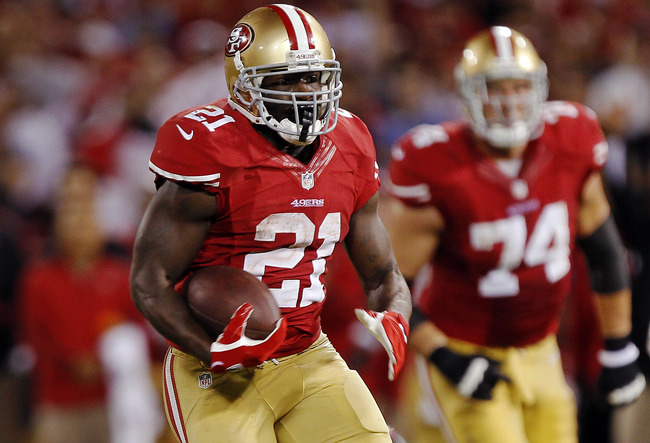 Brian Bahr/Getty Images
The Rams gave everything they had to the San Francisco 49ers, and Jim Harbaugh's team was certainly quite fortunate.
Obviously the 'Niners didn't play their best game, which is a good thing. Peaking too soon typically results in disappointing finishes—see Green Bay in 2011—and San Francisco still holds a solid division lead.
What's concerning is the tough road ahead: Bears, at Saints and at Rams which without a passing game could result in three losses.
3. Atlanta Falcons (8-1)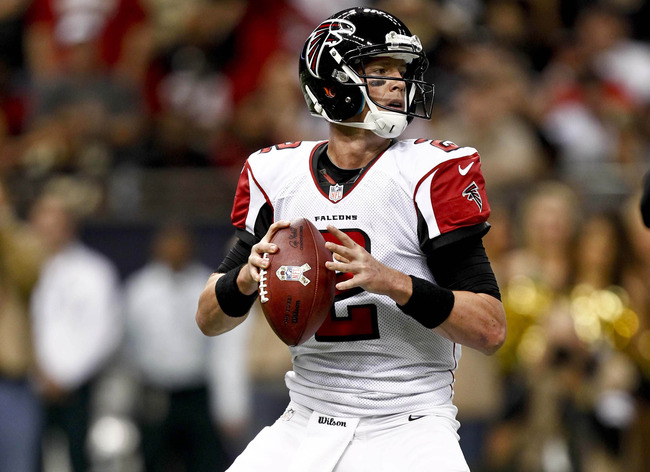 Derick E. Hingle-US PRESSWIRE
Of the eight wins by the Atlanta Falcons only one has come against a team currently holding a winning record: Denver in Week 2.
And that win over the Broncos came courtesy of four Denver turnovers. Not to mention the Falcons only won by six points. New Orleans just exposed Atlanta, as the Saints amassed 148 rushing yards and averaged 5.1 per carry.
On the other hand the Falcons failed to find success on the ground with just 46 yards and a 2.6 per carry average. Unless the Dirty Birds find a way to control both sides of the line of scrimmage, this season will end just like Atlanta's recent postseason flops.
2. Chicago Bears (7-2)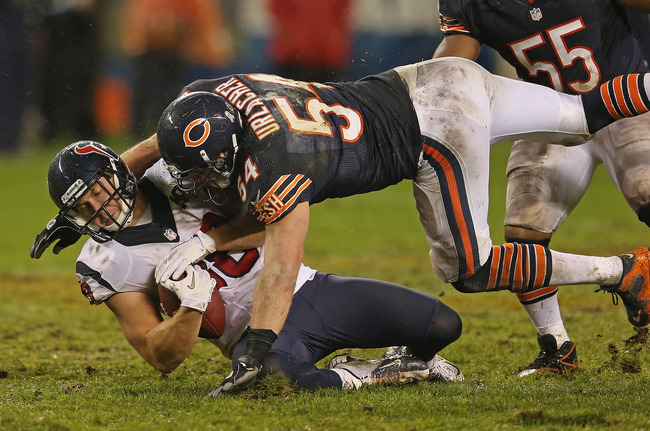 Jonathan Daniel/Getty Images
If the Chicago Bears have any concerns it still has to be the offensive line. Although the Texans didn't record a sack on Sunday night, quarterback pressure was evident throughout.
Additionally, Matt Forte and Michael Bush only combined for 73 yards rushing. Now yes, part of that is due to the weather and field conditions. At the same token; however, Arian Foster racked up 102 rushing yards against Lovie Smith's defense.
Moving forward with the next five games against the 49ers, Vikings (twice), Seahawks and Packers, the Bears need to find an attitude up front. Otherwise the 2012 regular season will end with supreme frustration.
1. Houston Texans (8-1)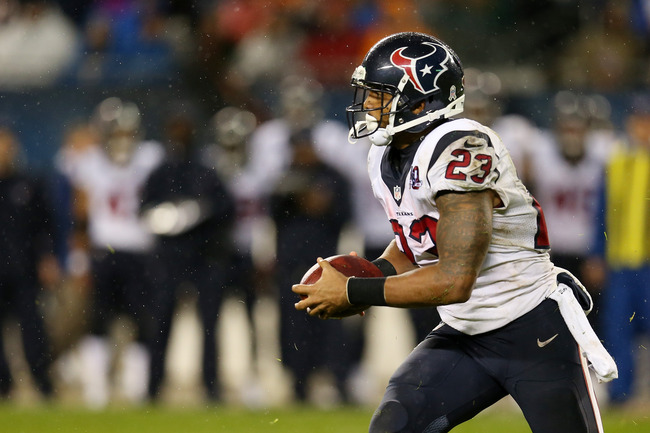 Jonathan Daniel/Getty Images
Winning on the road in a hostile environment is what championship caliber teams do. And the Houston Texans did just that on Sunday.
After the Falcons' loss, pro football's No. 1 spot was on the line Sunday night in Chicago. IL. The Texans won a defensive slug-fest against the Bears and avenged the prime-time loss to Green Bay. Gary Kubiak fields the most complete football team right now, because Houston can run the ball to set up play-action.
Defensively, J.J. Watt and Co. stuff the run, lockdown in coverage, get quarterback pressure and force turnovers. Houston can win ugly, defensively, explosively, convincingly or any combination of the former. As a result, this is now the team to beat.
Follow John Rozum on Twitter.
Keep Reading