Fantasy Football: The 100 Most Valuable Assets from This Point Forward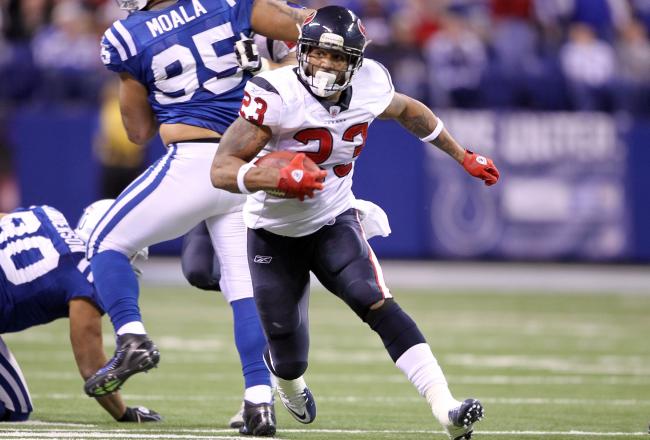 Houston's Arian Foster, easily the No. 1 tailback in fantasy circles, is on pace for 1,682 total yards and 23 touchdowns this season.
Andy Lyons/Getty Images
The following countdown touts my view of the 100 most valuable fantasy assets from this point forward (Weeks 9-16) from a standard-scoring standpoint.

My definition of "most valuable" is simple: Obviously, I'd rather have Larry Fitzgerald over the Bears D/ST in a 1-for-1 trade. But when comparing the two assets, relative to their intra-positional standing, the Chicago D/ST grades out higher. (Interestingly, the Bears and Cardinals meet Week 16.)

There's a similar rationale with kickers: I project San Fran's David Akers, the NFL record-holder for most field goals in a season (44), to average the most points per game among kickers for Weeks 10-16. But that doesn't mean I'd necessarily want him over Titus Young in a straight-up swap.

With delicate matters like fantasy rankings—especially ones that can be mocked by the general public, before and after the fact—it's all about perspective.


The Big Board

Group A: 1-25
1. RB Arian Foster, Texans
2. QB Aaron Rodgers, Packers
3. RB Ray Rice, Ravens
4. QB Drew Brees, Saints
5. QB Tom Brady, Patriots
6. QB Peyton Manning, Broncos
7. WR A.J. Green, Bengals
8. WR Calvin Johnson, Lions
9. QB Robert Griffin III, Redskins
10. RB Adrian Peterson, Vikings
11. RB LeSean McCoy, Eagles
12. TE Rob Gronkowski, Patriots
13. RB Matt Forte, Bears
14. WR Victor Cruz, Giants
15. QB Matt Ryan, Falcons
16. WR Roddy White, Falcons
17. RB Frank Gore, 49ers
18. RB Jamaal Charles, Chiefs
19. WR Demaryius Thomas, Broncos
20. RB Marshawn Lynch, Seahawks
21. RB Chris Johnson, Titans
22. RB Darren McFadden, Raiders
23. QB Eli Manning, Giants
24. WR Brandon Marshall, Bears
25. QB Matthew Stafford, Lions


Quick Hitters

**Arian Foster is on pace for 1,682 total yards and 23 touchdowns this season. He also has the Patriots, Colts and Vikings for the fantasy playoff period of Weeks 14-16. That makes him the very definition of an "untouchable" trade commodity...short of a three-for-one blockbuster that involves a top-seven quarterback, top-10 rusher and top-12 receiver.

**As the rankings might attest, I have zero concerns about Calvin Johnson (41 catches, 638 yards, one TD) or LeSean McCoy (638 total yards, five TD) moving forward. In fact, McCoy might have been a spot or two higher if the Eagles' quarterbacking situation had more November/December clarity.



Group B: 26-50
26. RB Ryan Mathews, Chargers
27. WR Reggie Wayne, Colts
28. WR Percy Harvin, Vikings
29. WR Wes Welker, Patriots
30. RB Trent Richardson, Browns
31. WR Marques Colston, Saints
32. D/ST Chicago Bears
33. TE Jason Witten, Cowboys
34. QB Tony Romo, Cowboys
35. RB Alfred Morris, Redskins
36. RB Fred Jackson, Bills
37. WR Larry Fitzgerald, Cardinals
38. WR Mike Wallace, Steelers
39. WR Jordy Nelson, Packers
40. WR Vincent Jackson, Buccaneers
41. WR Julio Jones, Falcons
42. RB Stevan Ridley, Patriots
43. RB Willis McGahee, Broncos
44. QB Ben Roethlisberger, Steelers
45. QB Cam Newton, Panthers
46. WR Andre Johnson, Texans
47. RB Ahmad Bradshaw, Giants
48. TE Tony Gonzalez, Falcons
49. WR Miles Austin, Cowboys
50. TE Jimmy Graham, Saints
50a. RB Reggie Bush, Dolphins


Quick Hitters

**The Bears' No. 32 ranking may seem a tad high, but consider this: In standard-scoring leagues, Chicago (11.7 PPG) is crushing its closest competitor (Houston) by more than four full fantasy points. And from a five-week sample, the differential is essentially the same.

**Top-10 quarterback Ben Roethlisberger (1,987 yards passing, 14 TD) has had only one clunker this season (Week 5 against Philly)—an impressive feat considering that neither Mike Wallace nor Antonio Brown have approached their fantasy ceilings. Of equal importance, Big Ben has an attractive schedule for Weeks 14 (San Diego), 15 (Dallas) and 16 (Cincinnati).



Group C: 51-75
51. RB Doug Martin, Buccaneers
52. QB Andy Dalton, Bengals
53. QB Andrew Luck, Colts
54. WR Dez Bryant, Cowboys
55. WR Jeremy Maclin, Eagles
56. RB Michael Turner, Falcons
57. RB C.J. Spiller, Bills
58. RB Shonn Greene, Jets
59. WR Dwayne Bowe, Chiefs
60. RB Rashad Jennings, Jaguars
61. WR Steve Johnson, Bills
62. WR Denarius Moore, Raiders
63. WR James Jones, Packers (rock-solid replacement for Greg Jennings)
64. TE Owen Daniels, Texans
65. RB DeMarco Murray, Cowboys (injury woes dilute ranking)
66. RB Darren Sproles, Saints
67. TE Vernon Davis, 49ers
68. WR Steve Smith, Panthers
69. D/ST San Francisco 49ers
70. WR Antonio Brown, Steelers
71. QB Josh Freeman, Buccaneers
72. D/ST Houston Texans
73. WR Malcom Floyd, Chargers
74. WR Eric Decker, Broncos
75. RB Mikel Leshoure, Lions


Quick Hitters

**I must be crazy to attach such a lofty ranking to Rashad Jennings, but I've been sold on this kid ever since his college days at Liberty (thanks to YouTube). Bottom line: Without Maurice Jones-Drew in the lineup, the Jaguars will bank on Jennings for 100-plus total yards every week. And for the most part, he will deliver.

**For standard-scoring and points-per-reception leagues, I would pay any reasonable price to acquire Jeremy Maclin and/or Malcom Floyd in the next two weeks. Looking ahead, Maclin (vs. Cincy) and Floyd (vs. Carolina) could be top-seven picks, among receivers, for Week 15.



Group D: 76-100
76. WR Brandon Lloyd, Patriots
77. WR Randall Cobb, Packers
78. QB Philip Rivers, Chargers
79. WR DeSean Jackson, Eagles
80. RB Steven Jackson, Rams
81. K David Akers, 49ers
82. WR Torrey Smith, Ravens
83. K Stephen Gostkowski, Patriots
84. QB Carson Palmer, Raiders
85. RB BenJarvus Green-Ellis, Bengals
86. TE Heath Miller, Steelers
87. WR Danny Amendola, Rams
88. WR Titus Young, Lions
89. QB Matt Schaub, Texans
90. K Lawrence Tynes, Giants
91. D/ST New York Giants
92. QB Joe Flacco, Ravens
93. K Sebastian Janikowski, Raiders
94. QB Jay Cutler, Bears
95. D/ST Denver Broncos
96. QB Michael Vick, Eagles (job uncertainty kills ranking)
97. TE Antonio Gates, Chargers
98. TE Brandon Pettigrew, Lions
99. K Greg Zuerlein, Rams
100. RB Maurice Jones-Drew, Jaguars (just in case MJD returns in December...for which I'm not expecting)


Jay Clemons can be reached on Twitter, day or night, at @ATL_JayClemons.
This article is
What is the duplicate article?
Why is this article offensive?
Where is this article plagiarized from?
Why is this article poorly edited?