Chicago Bears: Game-by-Game Prediction for Their Last 9 Games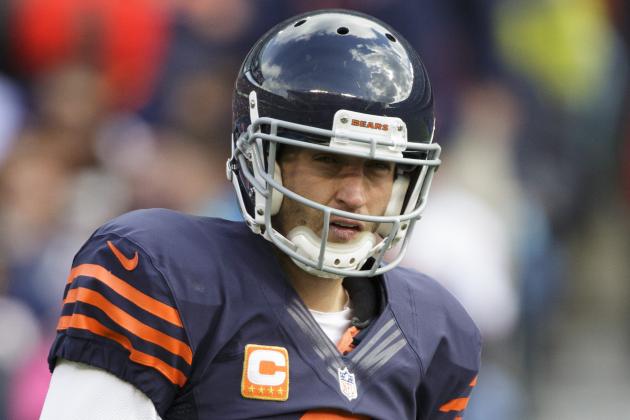 John Gress/Getty Images

The Chicago Bears have had a very nice season so far.
Their record is sterling. The defense has been stellar, tops in the NFL. The offense, however, has been the schizophrenic enigma many of us saw coming—or at least feared—at the beginning of the year.
With a 6-1 start, we control our own destiny. With the Vikings and Packers at 5-3, we can win the division. The second seed in the playoffs is within our grasp.
Just like many of you, I go into each game wondering whether or not the offense will show up. Can the defense keep up their current torrid turnover and touchdown rate?
With absolutely no ability to see the future, but an uncanny skill at sharing my opinion—solicited or not—read on to find out how the Bears' season plays out.
Spoiler Alert - I am really good at predicting stuff i.e. some of you will disagree with me. Seriously, I'm that good.
Begin Slideshow

»
Rick Stewart/Getty Images

Week 9 - November 4 - Sunday Afternoon
The Titans have had serious ups and downs this year. This past week was rough for them. They should have beaten the Indianapolis Colts if not for a late Indy touchdown to the game...which they ultimately lost in overtime.
Despite "good enough" stats, Chris Johnson was back to his mortal self carrying 21 times for 99 yards. If they are going to turn their season around, he needs to be superman. Matt Hasselbeck has performed admirably, but he's still a game controller, not a game changer.
The Bears defense should have a field day with this offense.They can stack the box to keep Johnson from breaking free.
They should be able to get to the immobile Hasselbeck with ease. They just need to get there quickly enough. He's a savvy veteran who knows when to get rid of the ball.
On offense, Jay Cutler should get more time than he had against the Carolina Panthers. Tennessee has only 11 sacks on the season.
With time and Brandon Marshall lined up out wide, the Bears will be able to move the ball. In addition, the Titans have given up the fifth most rushing yards per game this season.
Forte should top the 100-yard mark playing against the Titans weak defense. The added incentive of playing against another premier back should put a little spring in his step, too.
Final Score: Bears 27 - Titans 10
The Bears stifle Johnson and harass Hasselbeck.
Bears Record: 7-1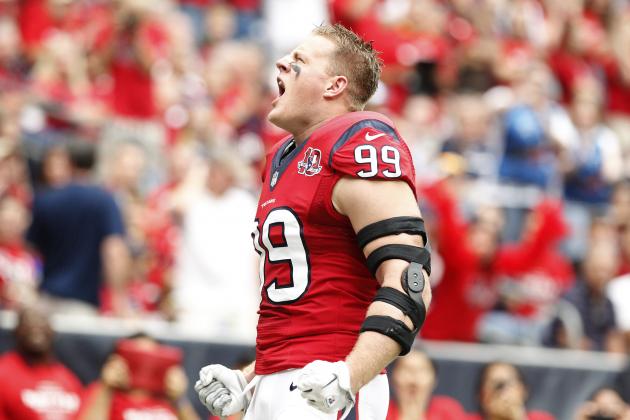 Thomas B. Shea/Getty Images

Week 10 - November 11 - Sunday Night
Make no mistake, the Houston Texans are for real. The blowout loss to the Green Bay Packers was an aberration. They are a much better team than they showed that week.
When Aaron Rogers is "kill" mode, there is very little any team can do to stop him.
The Texans boast a great running game and a superior passing game. The Bears will not be able hedge on either side. Tillman and Jennings, Urlacher and Briggs, Peppers, Melton and Idonije all need to bring their A-game for us to take this game.
Arian Foster will run all over a soft front, and Matt Schaub and Andre Johnson will typically shred a defense of one-on-one coverage. I do believe they'll have a far tougher time against Peanut Tillman and Tim Jennings, but it's predicated on, as I said, these guys bringing their A-game.
The key to this game is—shockingly—the offensive line. If we don't silence JJ Watt we are dead in the water. The guy sacks the quarterback and bats down passes at an alarming rate. He affects so many different parts of the passing game that if not contained, he will dictate the outcome.
The saving grace here, to a degree, is that Watt prefers to come off the left side meaning that Gabe Carimi will have his hands full trying to contain his former teammate. Both are first round draft picks out of Wisconsin in the 2011 draft, and they'll get to go head to head.
I would much rather see this match up than Watt vs. Webb. I think this would be one-sided and not in a good way. I think Webb has made strides, but not enough to match up with a player of Watt's caliber.
I firmly believe Carimi will have added incentive to play well against Watt.
Houston does have holes in its' secondary—ones that the Bears can exploit. Having Jeffrey back would help tremendously, but I don't see that happening. Marshall will again have to do the heavy lifting. Hester needs to step up and make a few catches, make the Houston defense play a little more honestly, i.e. with screens and short slants.
Forte is not going to have an easy time against the Texans' D. It would have been tougher had Cushing not been injured, but holes will still be few and far between.
Final Score: Texans 24 - Bears 16
Carimi plays a nice game, but Watt wins the battle and decides the game.
Bears Record: 7-2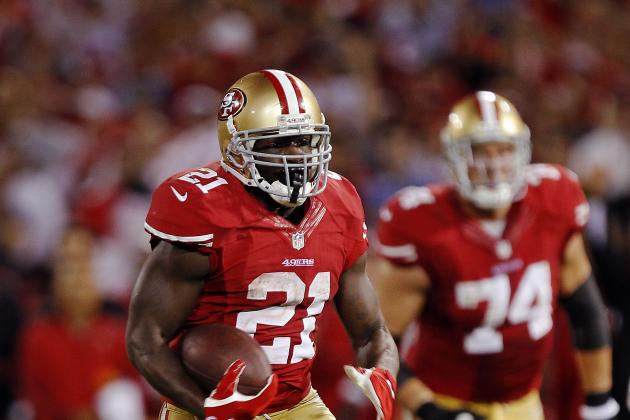 Brian Bahr/Getty Images

Week 11 - November 19 - Monday Night
The second of back-to-back prime time games (the NFL is loving their scheduling right now), pits Da Bears against a very good 49ers team despite their quarterback.
Reminds me of the Bears circa... always.
It'll be interesting to see where the 49ers record sits after their Monday game with the Arizona Cardinals and the following week's affair with the St. Louis Cardinals...I mean Rams.
The 49ers defense will cause problems for the Bears. Donte Whitner is a nice safety who plays big despite being a tad undersized at 5'10.
And he's a big hitter.
Their linebacking crew definitely rivals the Bears with Patrick Willis leading the way. Forte will have a rough time finding any room to run if our o-line doesn't open holes.
On defense, I think the Bears can rattle Alex Smith. Like Hasselbeck, he is a game manager, not a game changer—the game against the Cardinals was certainly not the norm.
His wide receiving corp doesn't help much. An aging Randy Moss doesn't inspire the same fear he once did. Michael Crabtree has shown flashes, but has lacked consistency (again, the Cardinal game was certainly not the norm). Manningham has never been more than a third option.
Vernon Davis on the other hand is a guy who could give the Bears fits. Despite his talent, I think our linebacking group will make his life hard.
This game is going to come down to which defense cracks. Special teams will be big, as will the competition between Akers and Gould. Both can kick from distance, Akers sharing the record for longest field goal in NFL history.
Final Score: Bears 20 - 49ers 10
The Bears win the turnover battle and ride the D to another win.
Bears Record: 8-2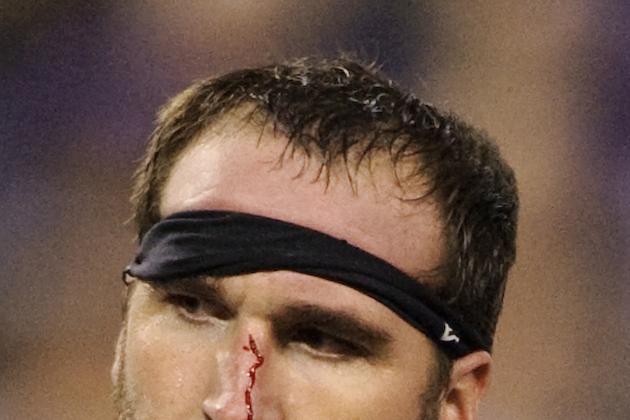 Hannah Foslien/Getty Images

Week 12 - November 25 - Sunday Afternoon
Finally a reprieve from the NFL's upper echelon... or is it?
Who are the Minnesota Vikings? Are they the team that took down the 49ers? Or are they the team that was crushed by the Tampa Bay Buccaneers (Jared Allen not withstanding... his sack after the bloody incident was truly a great moment)?
The Vikings are another team with a "game managing QB" rather than a "game changing" one—note the recurring theme. Christian Ponder is still a work in progress. Personally, I'm still "pondering" why they drafted him... bad I know, but stay with me. I won't do that again.
Adrian Petersen is always dangerous and looks to be close if not all the way back from knee surgery. Percy Harvin is establishing himself as a game changer—sort of like a roided Hester—but outside of those two, the Vikings offense is very pedestrian.
The defense is a nice group, led by Allen. He is simply a bad man who gets real red eyed, unlike the wannabe Kyle Vanden Bosch who relies on contacts when playing the Bears. With our o-line, Allen's tenacity is that much scarier. It is a real possibility that he goes for 3-4 sacks.
We must find lanes for Forte to run through and Cutler has to have time to throw. The Vikings CBs are average at best and can be exploited. If we don't give Cutler time, I could be a Monday night cornerback and it wouldn't matter.
We must control the line of scrimmage and contain Petersen, while pressuring Ponder.
Final Score: Bears 24 - Vikings 13
The Bears control Allen, and Forte/Hester out-duel Petersen/Harvin
Bears Record: 9-2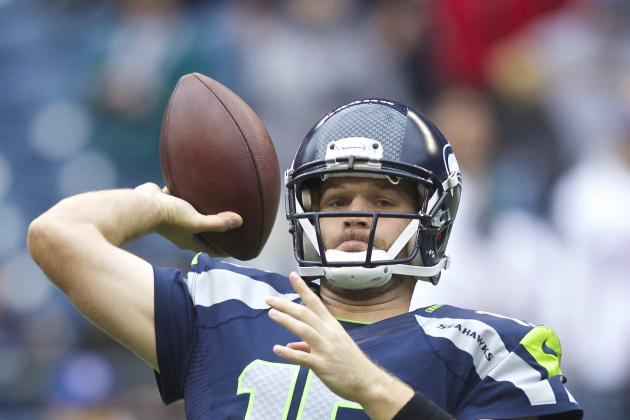 Stephen Brashear/Getty Images

Week 13 - December 2 - Sunday Afternoon
Seriously, I had to throw in the picture of Matt Flynn. How pissed is this guy? He leaves Green Bay for what he thought was a guaranteed starting role, only to lose it to a rookie. Well, at least now he has millions to dry his eyes with.
Russell Wilson's story is on of my favorites. Seemingly out of nowhere, the kid wins the starting job. WalterFootball.com had him ranked as the ninth best quarterback prospect in the draft. Footballsfuture.com had him eighth...but also noted that he went to NC State.
Someone came forward, put their name on the line and said this guy would be the sleeper of the draft—that he would be the starter for the Seahawks. I cannot remember who it was. I have scoured the internet trying to find this person. So frustrating.
In my travels from website to website I did come across CJ Clayburn. CJ wrote a piece for 6magazineonline.com. I like to give credit where credit is due. In predicting his sleepers, first on his list was Russell Wilson.
He had this to say: "I mean with a name like that who else would you want with his hands on the ball? Wilson may be short, but has all the intangibles you need in a starting QB in the NFL."
With eight touchdowns and 10 interceptions, we are seeing growing pains with Wilson, but he has played way above grade. Not easily rattled and incredibly mobile, I don't see Peppers and company getting to him for big sack numbers, but they will force him into bad throws.

The Seahawks are another year away from being a solid contender, though they are close. Marshawn Lynch is running like a beast, but Sidney Rice, Golden Tate and Doug Baldwin certainly don't put fear in the eyes of defensive backs or keep them up at night. They are average on a good day.
We should be able to stack the box to take Lynch out of the game and let Jennings and Tillman go one on one with this group.
On the defensive side of the ball we have to watch out for Chris Clemons, who has seven sacks, and Bruce Irvin, who sports 4.5. These two can disrupt an o-line, and as we've discussed, ours is easily disreputable.
Forte should find some holes, though I think his value will come on screens. Cutler should be able to find Marshall and Bennett with regularity.
Final Score: Bears 31 - Seahawks 17
Marshall gets into the end zone a couple of times, and the Bears clamp down on the Seahawks' run game.
Bears Record: 10-2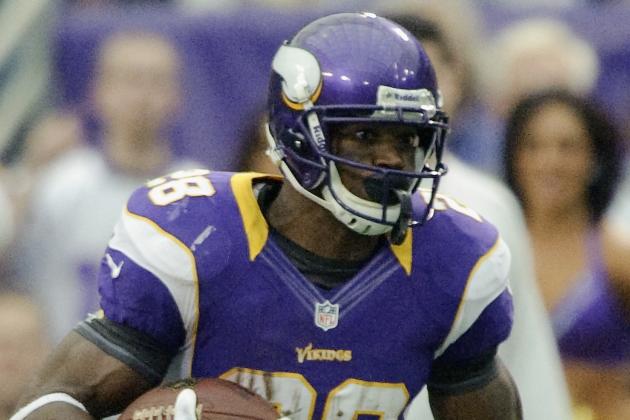 Hannah Foslien/Getty Images

Week 14 - December 9 - Sunday Afternoon
Since I have already gone over the Vikings, there's no need to rehash. The one difference is going to be the turf in Minnesota. Petersen runs better on it, his cuts are crisper. This will pose a problem for the Bears.
Including the loss to the Bears in Week 12, they will have lost to the Packers in Week 13, bringing their record down to a very pedestrian 5-7. Yes, I am predicting losses to the Seahawks and Lions.
The Vikings will be out of the playoff hunt and playing for pride. It's always nasty when the Vikings and Bears play, but this will add a bit to that. They can screw up the Bears' playoff hopes and this will be an intensely motivating factor.
Final Score: Vikings 20 - Bears 17
Cutler turns the ball over a couple of times, giving the Vikings a short field too often.
Bears Record: 10-3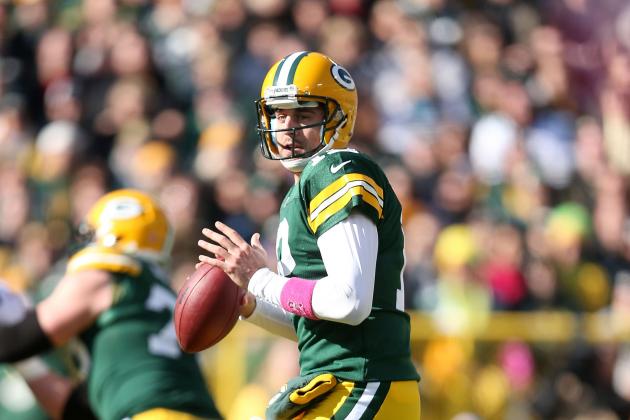 Andy Lyons/Getty Images

Week 15 - December 16 - Sunday Afternoon
I hate playing the Packers these days. I go in with such high hopes. Tempered high hopes, but high hopes nonetheless.
The Packers are 7-1 in the last eight meetings. Four of these games we lost by a TD or less—so frustrating.
The Bears have to find a way to get to Rogers. When he has time, he's an assassin. Tillman and Jennings are the key to this game. If we can contain Jordy Nelson, James Jones and Randall Cobb, we win. If not, we'll lose.
The Packers don't run the ball with consistency. Personally, I hate the loss of Cedric Benson. Add him to my list of ex-Bears I love beating. He's such a whiny, sulky little punk in his time with the Bears. He took Chicago's money, cashed every paycheck and played like a chump.
Alex Green has stepped up as of late, but he's no threat. Rogers mobility is a far bigger threat in the run game.
Our o-line has got to have a great game. Clay Matthews will terrorize Cutler if we don't contain him. Having Charles Woodson watch from the sideline is a godsend.
Forte needs to run the ball well to keep the Packers d-line from blitzing every down and making Cutler's life hell.
Final Score: Packers 31 - Bears 24
The o-line doesn't play well. Consequently, Cutler turns the ball over and Forte has very little room to run. A Pick Six keeps us in this one, but too little too late.
Bears Record: 10-4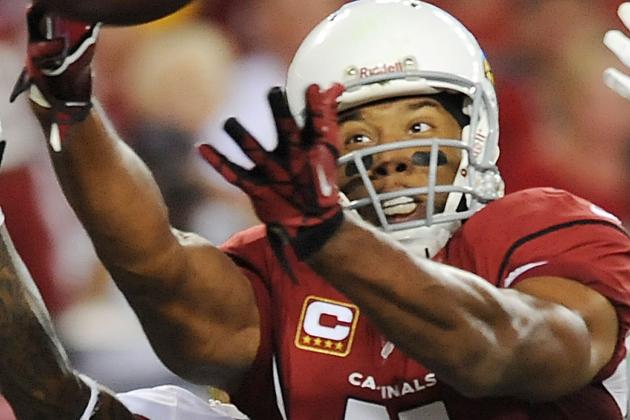 Norm Hall/Getty Images

Week 16 - December 23 - Sunday Afternoon
Dennis Green will be the Bears' honorary guest.
The Cardinals started off the year undefeated at 4-0. Everyone is starting to wonder if perhaps this is a good team. Truth is, they did it with smoke and mirrors. This is not a good team. This is a team without a quarterback.
john Skelton and Kevin Kolb are not good players. Arizona has to draft a quarterback or trade for a young, inexpensive kid with good upside—I'm looking at you, Kirk Cousins.
They have an All-World WR in Larry Fitzgerald, but without a QB to get him the ball? Well, he's available in most fantasy leagues. That's saying something.
The running game is average on a good day. Larod Stephens-Howling has potential for a nice game like he had against Minnesota, but that's not the norm. Normally, he's a bit below average for a back who is easily contained, and the Bears will contain him.
The Bears' secondary and d-line have a field day in this one. I'm taking the over on five sacks and three turnovers. Throw in a defensive TD for good measure.
Final Score: Bears 31 - Cardinals 10
Offense and defense both click. In the interview after the game, Urlacher dead pans, "They are who we thought they were."
Bears Record: 11-4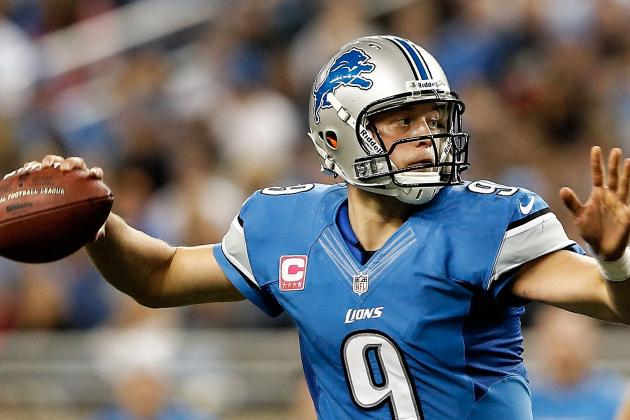 Leon Halip/Getty Images

Week 17 - December 30 - Sunday Afternoon
It's the last game of the year, and in the dead of winter. Is it a good thing that this game will be played inside in Detroit? I don't think so. I think this plays against the Bears.
The cold weather is good for teams that can run and pass and play stifling defense. Being indoors, away from the weather will aid the passing game of the Lions.
The Lions started off the year horrendously. Matthew Stafford has taken a huge step back from last year when he threw for 41 TDs. At this time, his projected stats are 18 TDs and 16 INTs. Not good.
Calvin "Megatron" Johnson is a still a great receiver, a very dangerous one—as long as Tillman isn't covering him. Tillman earned Defensive Player of the Week for his blanket coverage on Johnson in Week 7.
The Bears used a suffocating defense to crush this team the last time they played. Only a late touchdown prevented the Bears from shutting them out. The final score of 13-7 did not accurately show just how much of a one-sided affair this was.
I know the Lions turned the ball over twice in the red zone, but that's what bad teams do and creating those turnovers is what good teams do.
The Lions running game is simply not good. Mikel Leshoure is not going to get by Briggs and Urlacher. Stafford will not have time to throw with Peppers, Melton, Wooten, McLellin and Idonije bearing down on him.
Cutler has to play ball control and keep his turnovers to a minimum. Webb needs to contain Vanden Bosch, and Forte needs to find lanes and go for 100.
Final Score: Bears 27 - Lions 24
Cutler to Marshall and the Bears D plays well again. A Pick Six after a Cutler INT and a late TD make this game unnecessarily close.
Bears Record: 12-4
Look for my regular season final standings and playoff prediction next week!