Who Are the Favorites for Every Major NFL Award After Week 7?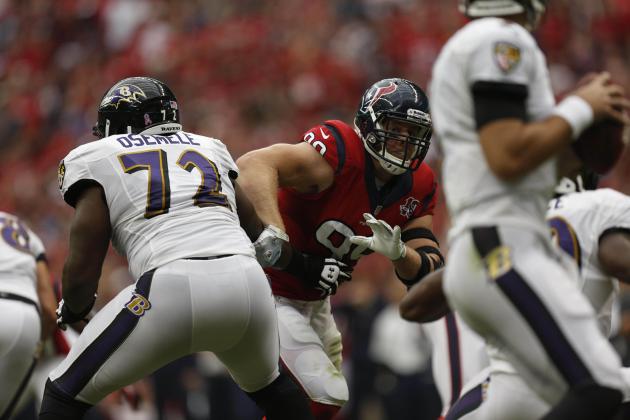 Thomas Campbell-US PRESSWIRE
J.J. Watt continues to excel in 2012 season.
The favorites for each of 2012's major NFL awards continue to make their mark with solid play week after week. The performances we witnessed in Week 7 were no exception, but in some cases, we have pulled some names that appeared in the Week 6 edition due to poor play and injuries.
Before we get into the individual award races, we did want to acknowledge some outstanding performances in Week 7.
Kudos go out to Tampa Bay Bucs WR Vincent Jackson (216 receiving yards), Tennessee Titans RB Chris Johnson (195 rushing yards), Tampa Bay Bucs QB Josh Freeman (420 passing yards), San Francisco 49ers RB Frank Gore (182 yards from scrimmage), New Orleans Saints QB Drew Brees (377 passing yards) and Green Bay Packers QB Aaron Rodgers (342 passing yards).
We will shortly be hitting the second half of the 2012 season, so players that want to be considered for any major award need to make their mark—the sooner the better.
One factor that is fair to ponder is how many of the major awards will go to players from the AFC, as clearly the vast majority of better records belong to NFC teams. It will be interesting to see how big of a factor winning will be in deciding who takes home each of the major awards.
Our weekly presentation continues with a recap of Week 7 action and how the various performances impact each of the major NFL awards.
Begin Slideshow

»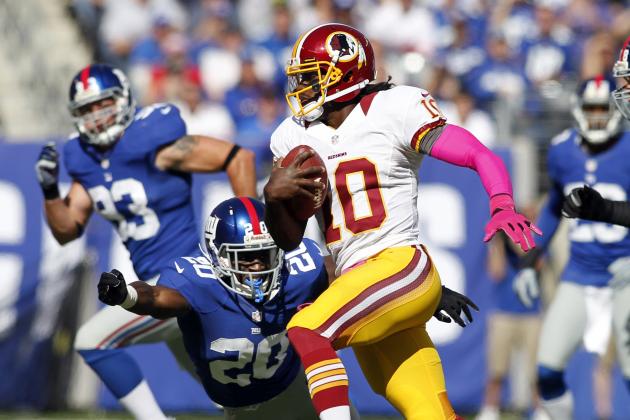 The Star-Ledger-US PRESSWIRE
Robert Griffin III is off to the races versus Giants.
Washington Redskins QB Robert Griffin III finally got his first taste of playing in the NFC East division. Griffin and the Redskins ended up losing a tight one to the New York Giants. Griffin emerged with very respectable numbers, completing 20-of-28 passes for 258 yards and two touchdowns.
Griffin threw one interception, lost one of his two fumbles and was sacked three times. Consider all of the negatives as valuable lessons learned on the job.
Griffin is currently ranked as the No. 3 QB with a passer rating of 101.8, trailing only Aaron Rodgers and Peyton Manning. The next closest rookie from the 2012 class is Russell Wilson at No. 22. Despite the loss, Griffin is still the leading candidate for the Offensive Rookie of the Year.
Seattle Seahawks QB Russell Wilson raised some eyebrows with his Week 6 upset of Tom Brady and the New England Patriots. But, the tough San Francisco defense proved to be too much for Wilson to figure out in Week 7. As a result, Wilson's chances for Offensive Rookie of the Year took a bit of a hit.
In any other year, Washington Redskins RB Alfred Morris might very well be viewed as the leader in rookie voting. Morris continued his impressive season in Week 7 by gaining 120 yards on 22 rushes, averaging 5.5 yards per carry.
Morris has cracked the rankings of the top NFL leading rushers and is only one yard behind the NFL's current leader, Arian Foster. It is tightly bunched at the top, as Foster has 659 yards, followed by Morris (658), Adrian Peterson (652) and Marshawn Lynch (652).
While Morris has rushed for 190 more yards than Griffin, he also has 74 more rushing attempts as well. Morris averages 4.8 yards per carry, while Griffin checks in with a 7.3 yards-per-rush average. Griffin is the No. 12 rusher in the NFL.
Indianapolis Colts QB Andrew Luck now has led his team to a .500 record, as the Colts are 3-3 after their Week 7 win over Cleveland. Luck came up with two rushing touchdowns in the first half but fumbled the ball once. He didn't have any touchdown passes on the day.
There are three rookie wide receivers who deserve mention. They are Tennessee Titans WR Kendall Wright, St. Louis Rams WR Chris Givens and Cleveland Browns WR Josh Gordon.
Wright leads all rookies with 36 receptions and is tied for 13th in the NFL in that category. For rookie receivers with at least 10 receptions, Givens leads all rookies with an average of 27 yards per catch. Finally, Gordon leads all rookies with 333 receiving yards after Week 7.
Cleveland Browns RB Trent Richardson had a game to forget on Sunday. Against the Indianapolis Colts defense, Richardson ran the ball eight times for eight yards. His chances for Rookie of the Year took a major blow.
Tampa Bay Buccaneers RB Doug Martin had a 36-yard touchdown run against the New Orleans Saints. Martin ran the ball 16 times for 85 yards, averaging 5.3 yards per rush. He also caught all three passes thrown his way for 37 yards. On the year, Martin has attempted 100 rushes for 408 yards and two touchdowns.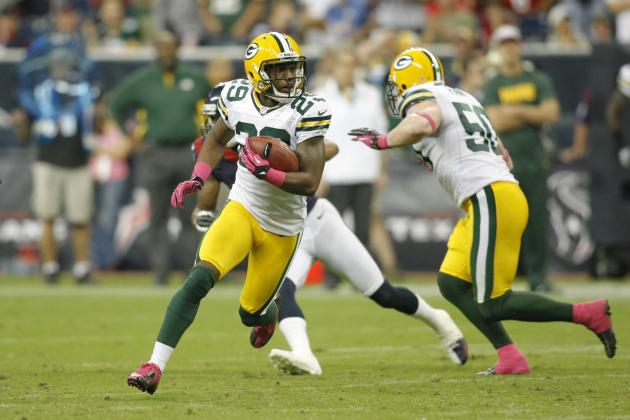 Brett Davis-US PRESSWIRE
Casey Hayward is tied for NFL lead in interceptions with four.
Week 7 featured several NFL rookies step up with big games.
Carolina Panthers LB Luke Kuechly was flying all over the field on Sunday, as he made 15 tackles against the Dallas Cowboys. The rest of his stat line was empty, but if you are making 15 tackles, that is a noteworthy game. Kuechly now has 51 tackles on the year to go along with one interception and three pass deflections.
Tampa Bay Buccaneers LB Lavonte David also had a big game. David came up with eight tackles, two tackles for loss and one pass deflection. David leads the Bucs in tackles this year and is tied for the team lead in tackles for loss with nine (with Mason Foster).
David's teammate is safety Mark Barron, who also has played well in Tampa Bay. Barron is third in tackles with 42. He has seven pass deflections, just one off the team lead.
Seattle Seahawks LB Bobby Wagner has been one of the keys to the Seahawks strong defense this year. Wagner had eight tackles versus the 49ers in Week 7.
St. Louis Rams DT Michael Brockers had a big game on Sunday. He had four tackles, three tackles for a loss, one sack and one quarterback hit. This was the kind of peformance the Rams were envisioning on a weekly basis when they invested a high draft pick in him.
St. Louis Rams CB Janoris Jenkins had eight tackles in Week 7, but the rest of his stat line was empty. Jenkins has one interception and seven pass deflections on the year.
Minnesota Vikings S Harrison Smith made five tackles and also returned an interception for a 31-yard touchdown on Sunday against the Arizona Cardinals. Smith's touchdown proved to be the winning margin of victory for the 5-2 Vikings.
New England Patriots LB Dont'a Hightower outplayed his rookie teammate DE Chandler Jones in Week 7. While Jones is still considered the leading candidate for Defensive Rookie of the Year, it was Hightower who looked like the better player against the Jets.
Hightower came up with seven tackles, one sack, one tackle for loss and also was credited with one QB hit.
For the 2012 season, Kuechly leads all rookies with 51 tackles, followed by Wagner with 50 and David with 49. That is how close they are all bunched together.
Jones leads NFL rookies with five sacks, closely followed by Bruce Irvin of Seattle with 4.5 sacks.
CB Stephon Gilmore of the Buffalo Bills leads all NFL rookies with 10 passes that he has broken up, followed by the Vikings S Smith with eight.
CB Casey Hayward of the Green Bay Packers leads all NFL rookies with four interceptions. No other rookie has more than two. Hayward is also tied for the NFL lead in that category.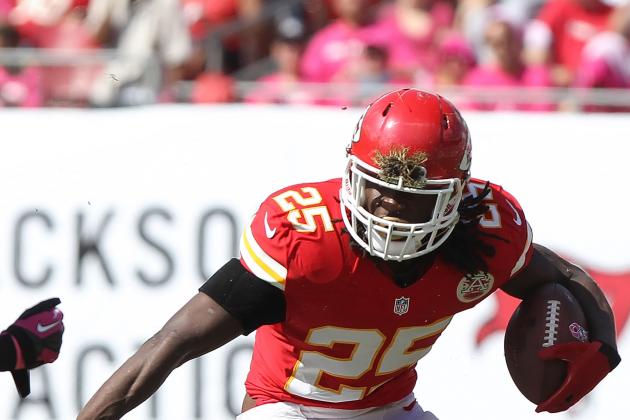 Kim Klement-US PRESSWIRE
Jamaal Charles is in the running for CPOY.
In the Week 6 column, we have finally come to terms with a working definition for which players we should consider for the Comeback of the Year award. It is (via NFL.com):
The CPOY award is given to a player who "shows perseverance in overcoming adversity, in the form of not being in the NFL the previous year, a severe injury, or simply poor performance."
We also acknowledge that when it comes to simply poor performance, the player in question already needs to have a great season under their belt, or else, there is nothing for them to come back to. Therefore, all sophomore players are out from the improvement side of consideration.
The leading candidates for the Comeback Player of the Year award after seven weeks are: Denver Broncos QB Peyton Manning, Minnesota Vikings RB Adrian Peterson and Kansas City Chiefs RB Jamaal Charles.
Of the three players, Charles appears to have his work cut out for him the most, since the Chiefs are in need of a quality quarterback. Every defense should be keying on Charles indefinitely.
All three have come back from serious injuries, and all three are ranked in the top 10 this year for their position. While one of them will more than likely pull ahead of the other two, these three players should be in the thick of the discussions from now to the end of the year.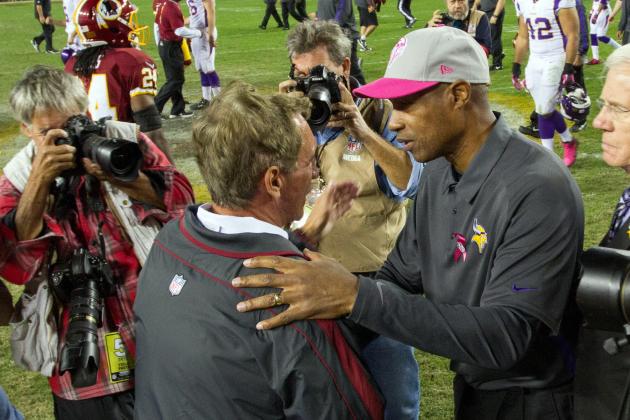 Paul Frederiksen-US PRESSWIRE
Leslie Frazier is doing a great job with Vikings in 2012.
After seven weeks of the 2012 season, five head coaches have emerged as favorites for NFL Head Coach of the Year. They are New York Giants' Tom Coughlin, Atlanta Falcons' Mike Smith, Minnesota Vikings' Leslie Frazier, Seattle Seahawks' Pete Carroll and Houston Texans Gary Kubiak.
It is possible that some of these five names will drop off the list in the upcoming weeks and other names will take their place. But for now, these are the five coaches that have done the best job year to date.
Tom Coughlin knew that the Giants would have a huge target on their back coming into the 2012 season.
They were defending Super Bowl champions and lost some key free agents. On top of that, the Giants were hit with key injuries on offense and in the secondary. In spite of it all, Coughlin's team is atop the NFC East division, and it is playing excellent football.
Mike Smith of course is the only undefeated coach in the NFL to date. The Atlanta Falcons are sitting at 6-0 and have a huge lead in the NFC South. Smith's team could challenge for NFC home-field advantage throughout the playoffs. Of course, they will actually have to win a playoff game to take advantage of their potential home-field advantage in the NFC Championship Game.
Pete Carroll and Leslie Frazier are both generating the most they can out of their teams, and they would have to be considered as two of the most surprising teams in 2012. The Vikings just continue to win, while the Seahawks took their lumps against San Francisco, so we will see how they bounce back.
Finally, we have the only AFC coach who is worthy of consideration, Gary Kubiak of the Houston Texans. Kubiak is guiding the Texans to a 6-1 record, and they showed that the Ravens weren't on a par with them in a convincing Week 7 win. The Texans are in the driver's seat in the AFC now, and they just need to stay healthy and keep winning.
Ken Whisenhunt and Jeff Fisher are currently bumped off our list due to their losing streaks. This is an award that is very much keyed into winning games, so what have you done for me lately?
Brace Hemmelgarn-US PRESSWIRE
Percy Harvin leads the NFL in YAC.
If you were asked which position was decorated with the most NFL Offensive Player of the Year awards in the last 20 years, what would be your answer?
The breakdown is as follows: quarterbacks (seven), wide receiver (one) and running backs (12). Even with the heavy lean toward running backs, the recent trend is that a quarterback has won the award four of the past five years. The only non-quarterback to win was Tennessee Titans RB Chris Johnson.
Right now, the 12 leading candidates for the Offensive Player of the Year are:
Washington Redskins QB Robert Griffin III, Minnesota Vikings WR Percy Harvin, Atlanta Falcons QB Matt Ryan, Cincinnati Bengals WR A.J. Green, New York Giants WR Victor Cruz, Green Bay Packers QB Aaron Rodgers, Denver Broncos QB Peyton Manning, Houston Texans RB Arian Foster, New England Patriots QB Tom Brady, Seattle Seahawks RB Marshawn Lynch, Minnesota Vikings RB Adrian Peterson and San Francisco 49ers RB Frank Gore.
That is a rather lengthy list, but at this point in the season, all 12 players have distinguished themselves with strong play and are serving as a very important producer for their offense.
From the QB position, Griffin, Ryan, Rodgers, Brady and Manning have combined to throw 66 touchdown passes compared to only 20 interceptions. All five are ranked in the top 6 of QB passer rating, and the only one with a record below .500 is Griffin, but he makes up for that with his running ability.
As for the wide receivers, Cruz and Green have been huge all year with seven touchdown receptions apiece. Harvin is here because his 409 yards gained after the catch is, by far, the best mark in the NFL, and it's not even close.
The running backs on the list are all the main ball-carriers for their team and will be asked to carry the majority of the load for the rest of the year, barring injury. We left off Maurice Jones-Drew based on the new foot injury that he suffered on Sunday.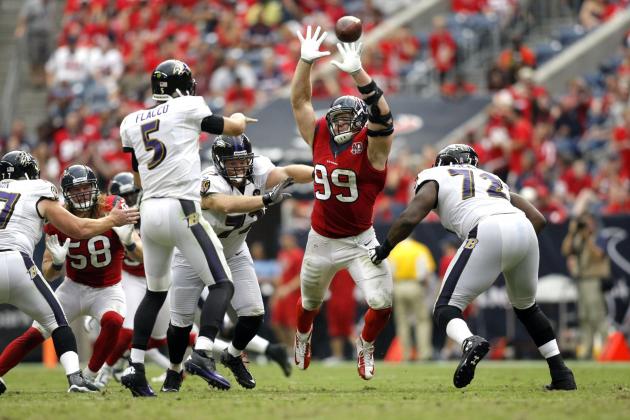 Brett Davis-US PRESSWIRE
J.J. Watt deflects pass by Joe Flacco, leads to a pick six.
We just detailed the past 20 winners in the Offensive Player of the Year, so what would be your guess for the most popular position in the last 20 years for the Defensive Player of the Year award? The breakdown is as follows: defensive linemen (seven), linebackers (seven) and secondary (six). Pretty close race.
For 2012, the leader of the pack is Houston Texans DE J.J. Watt. Watt continues to distance himself from everybody else, and if Houston keeps winning and Watt keeps making plays, he will be in the driver's seat.
Reigning NFL Defensive Player of the Year Terrell Suggs was activated by the Baltimore Ravens, as he faced Watt and the Texans in Week 7. Wonder if Suggs passed on any advice or praise to Watt for his performance yesterday?
In Week 7 against the Baltimore Ravens, and with the best record in the AFC on the line, Watt made another one of his patented pass deflections at the line of scrimmage.
The ball deflected off his big paws and into the awaiting hands of CB Johnathan Joseph, who promptly returned it 52 yards for a touchdown. That put the Texans up 16-3 early in the second quarter, and the rout was on.
Watt is one of six NFL players with at least 10 pass deflections on the year. Not only that but he leads the NFL in sacks with 9.5. Not only is Watt in line for the Defensive Player of the Year award, but if Houston goes all the way this year, Watt could get some MVP votes.
Other players worthy of consideration are Chicago Bears CB Tim Jennings, San Francisco 49ers LB NaVorro Bowman, Green Bay Packers LB Clay Matthews, Minnesota Vikings CB Antoine Winfield and Atlanta Falcons CB Thomas DeCoud.
Jennings and DeCoud are tied for the NFL lead in interceptions along with Green Bay Packers rookie CB Casey Hayward.
Winfield is having an exceptional year. He has 55 tackles, which is very high for a cornerback. He also is tied for the Vikings team lead with five tackles for a loss, has one sack, two interceptions and has deflected six passes. Winfield is playing at an All-Pro level this year.
Linebackers Bowman and Matthews continue to play at a high level. Von Miller of the Denver Broncos is having a solid sophomore campaign and Jerod Mayo of the New England Patriots leads the NFL in tackles.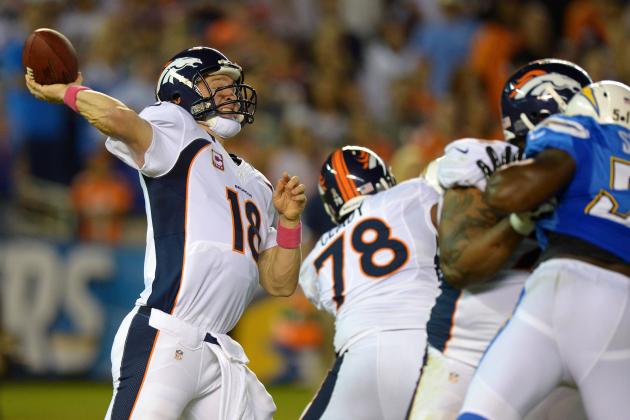 Jake Roth-US PRESSWIRE
Peyton Manning is having another solid MVP-type season.
The MVP race is still very much up in the air after seven weeks.
There is still time for new entries to join the race, as well as time for our current favorites to fall out of contention based on a poor second half of the season.
Right now, we like the MVP chances for these six players: Atlanta Falcons QB Matt Ryan, Green Bay Packers QB Aaron Rodgers, Denver Broncos QB Peyton Manning, New England Patriots QB Tom Brady, New York Giants QB Eli Manning and Washington Redskins QB Robert Griffin III.
Outside of the top six quarterback candidates, there is another wave of five players that deserves some recognition. They are New Orleans Saints QB Drew Brees, Minnesota Vikings RB Adrian Peterson and WR Percy Harvin, Pittsburgh Steelers QB Ben Roethlisberger and Houston Texas RB Arian Foster.
These 11 players have gained strong momentum by playing at a high level during the first half of the season. Sure, they will have an off-week on occasion, but the common theme is that they have been consistently strong in 2012.
Other names that may garner some votes are J.J. Watt, Victor Cruz and A.J. Green.
As wide open as the MVP race is, you will see some players turn it up a notch after they have recharged from their bye weeks. We are just entering the midseason mark, so there is enough of a sample size to formulate your own opinion. Who do you think is the leading MVP contender right now?
Thanks for checking out the presentation. We will be back with the next installment after Week 8.