NFL Power Rankings: Team-by-Team Breakdown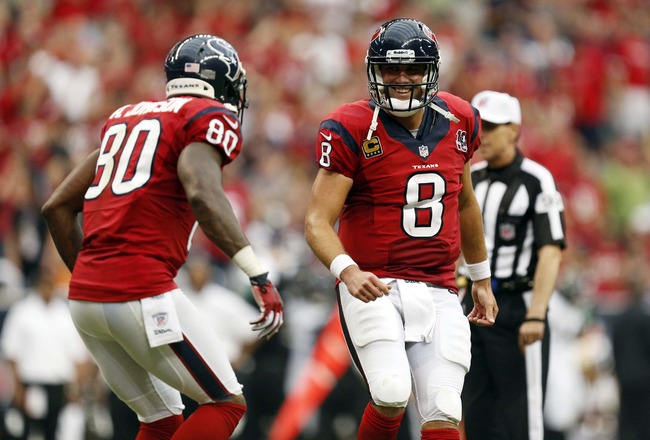 Thomas Campbell-US PRESSWIRE
The Houston Texans rebounded in impressive fashion, the New York Giants again proved their clutch gene and the unbeaten Atlanta Falcons had zero chance to lose a game or ground in our Week 8 NFL Power Rankings.
The Texans, embarrassed in the national spotlight by the Green Bay Packers in Week 7, returned the favor to the banged-up Baltimore Ravens. After a slight fall, Houston is back into the top 2.
New York again won a game late, continuing a trend under Eli Manning that has become a more commonplace than unexpected happening with him under center the last two seasons.
And with a bye in Week 7, the Falcons remained undefeated and in the top spot of our power rankings.
In the following slides, we'll rank the 32 NFL teams based on record, opponents and how they fared this past week.
32. Kansas City Chiefs (1-5)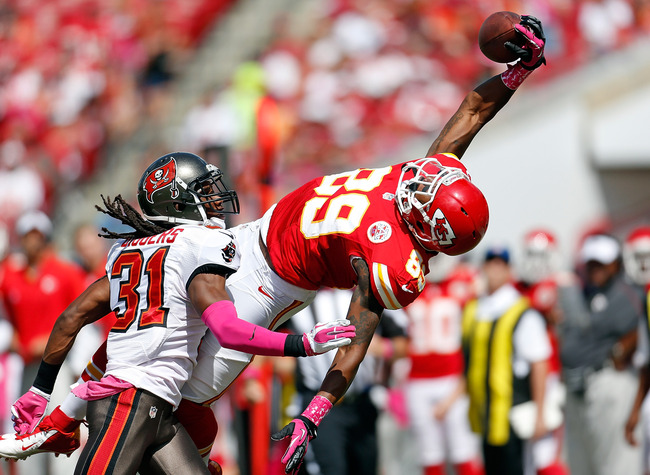 J. Meric/Getty Images
The Chiefs were off in Week 7. Kansas City returns to play in Week 8 when it hosts the Oakland Raiders.
Key stat for the Chiefs: Only the Tennessee Titans (-89) have a worse scoring differential this season than Kansas City's -79.
31. Jacksonville Jaguars (1-5)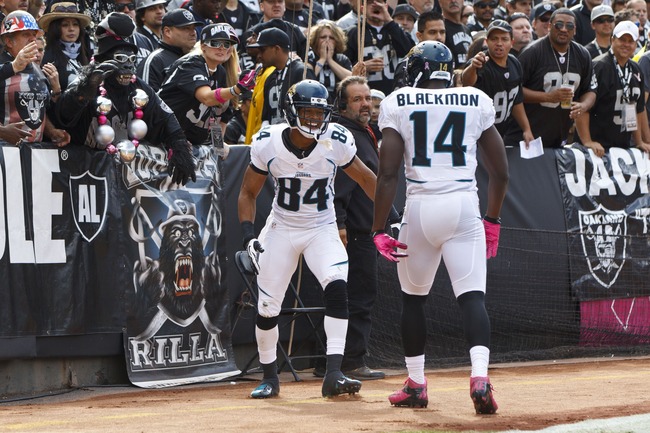 Jason O. Watson/Getty Images
Considering the Jaguars were without running back Maurice Jones-Drew (foot) and quarterback Blaine Gabbert (shoulder) for most of Sunday, losing in overtime on the road doesn't seem like the worst possible outcome.
But after playing well in the first half and securing leads of 17-3 and 20-6, this one has to feel like another punch to the gut.
Chad Henne was awful in Gabbert's absence, Rashad Jennings rushed for just 44 yards on 21 carries once MJD left in the first quarter and a fumble from Cecil Shorts in overtime sealed the deal for Jacksonville.
The schedule does the Jaguars no favors in Week 8, as a trip to Green Bay awaits Sunday. The Packers opened as 12.5-point favorites.
30. Cleveland Browns (1-6)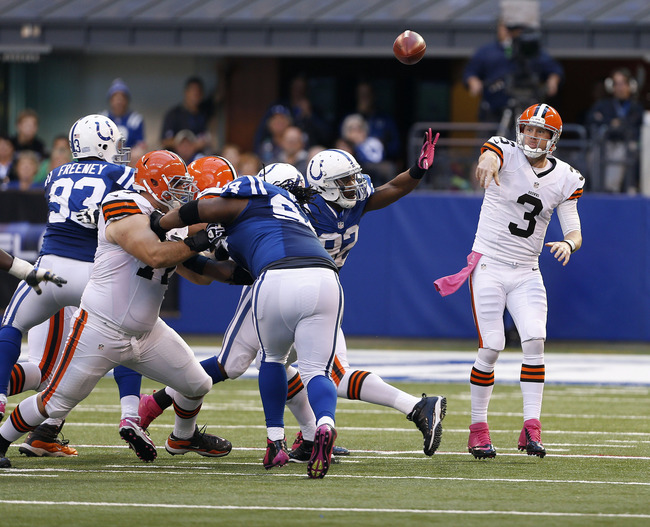 Brian Spurlock-US PRESSWIRE
Despite getting just eight yards from first-round pick Trent Richardson (ribs), the Browns probably should be looking at a 2-5 record and a two-game winning streak heading into Week 8.
A perfectly-thrown pass from Brandon Weeden clanked off the hands of Josh Gordon in the fourth quarter, taking a sure touchdown off the board with Cleveland down just one point. The Browns couldn't mount another comeback attempt on the road.
Gordon (touchdown catch in three straight games) has all the talent in the world, and the Browns are giving him every chance to be a star early in his NFL career. Weeden threw his way 10 times Sunday.
New owner Jimmy Haslam won't like the final result of Sunday's game, but the pieces in place are taking baby steps forward.
29. Carolina Panthers (1-5)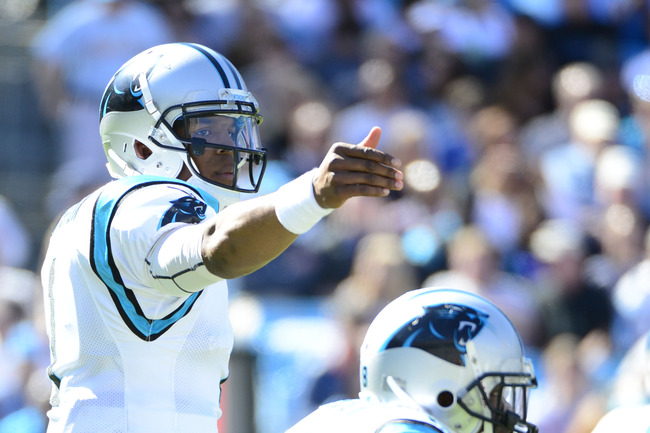 US PRESSWIRE
After a 1-5 start, Panthers owner Jerry Richardson started cleaning house Monday morning with the firing of GM Marty Hurney.
The Panthers announced the decision (via ESPN) less than 24 hours after Carolina lost to the Dallas Cowboys at home Sunday. Carolina's 1-5 record almost certainly eliminates the Panthers from postseason contention, unless a 9-1 or 8-2 stretch is coming over the final 11 weeks.
A more realistic goal for the rest of this season is getting the personnel and play-calling back in sync. Carolina has a lot of money tied up in the running game, but this is a team that gave DeAngleo Williams, Jonathan Stewart and Mike Tolbert just 15 combined carries in Week 7.
28. Oakland Raiders (2-4)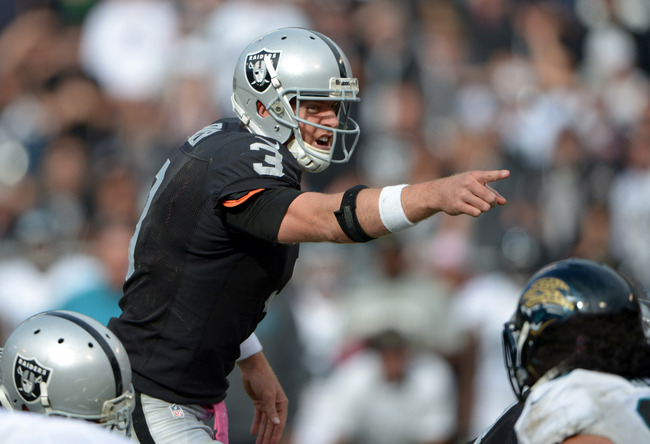 Kirby Lee-US PRESSWIRE
Remember, an ugly win still counts as a win in the standings. Sunday's 26-23 win over the Jaguars was just that for the Raiders in Week 7.
A week prior, the Raiders got no such credit for a much-better played 23-20 loss to the Atlanta Falcons.
Sunday at home, Oakland turned over the football three times, committed nine penalties and twice faced deficits of 14 points. Yet the Raiders tied the game in regulation, then forced the Jaguars' only turnover of the contest in overtime to set up the game-winning field goal.
2-4 may not mean much more than 1-5 in the grand scheme of this season, but no team should ever have to apologize for winning football games.
27. Tampa Bay Buccaneers (2-4)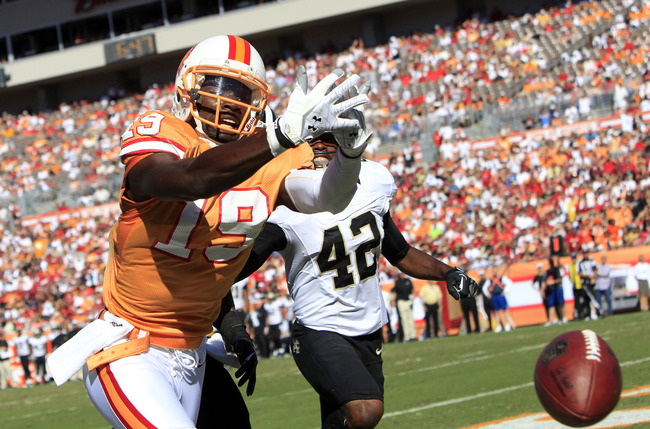 Matt Stamey-US PRESSWIRE
The Buccaneers caught two awful breaks from their receivers Sunday afternoon against the Saints.
Vincent Jackson, who set a franchise record for receiving yards with 216, should have scored on a 95-yard completion early in the fourth quarter. He was caught at the one-yard line by Malcolm Jenkins, and the Bucs couldn't punch in the touchdown on the ensuing four plays. Seven points, gone.
The Bucs also lost a touchdown that could have tied the game on the final play.
Mike Williams' score was waved off after he went out of bounds and was the first to touch the football. With no time left, the game ended on the illegal touching penalty.
If either score happens, the Bucs and Saints likely go to overtime, at the very least. As it stands now, the Bucs are a long shot at 2-4.
26. Buffalo Bills (3-4)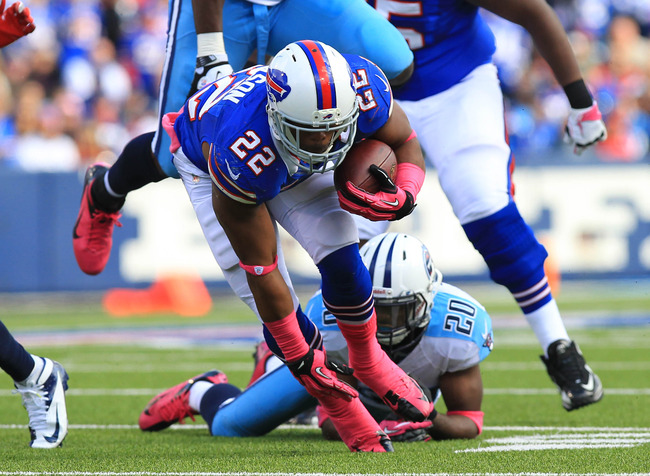 Kevin Hoffman-US PRESSWIRE
The Bills have serious problems to fix as they head into the bye week.
The run defense is an obvious place to start, as Buffalo has allowed at least 180 yards rushing in each of its last four games. Chris Johnson and the Tennessee Titans went for 197 Sunday in Buffalo.
Another has to be quarterback Ryan Fitzpatrick and his decision-making, which bit the Bills again in Week 7. Two Fitzpatrick turnovers turned into touchdowns for the Titans, including Tennessee's game-winning touchdown. Fitzpatrick threw an ill-advised interception to set up the Titans with a chance to win the game on the final drive.
At 3-4, the Bills aren't out of the AFC East picture yet. But this simply isn't a very good football team through seven games in 2012.
25. New Orleans Saints (2-4)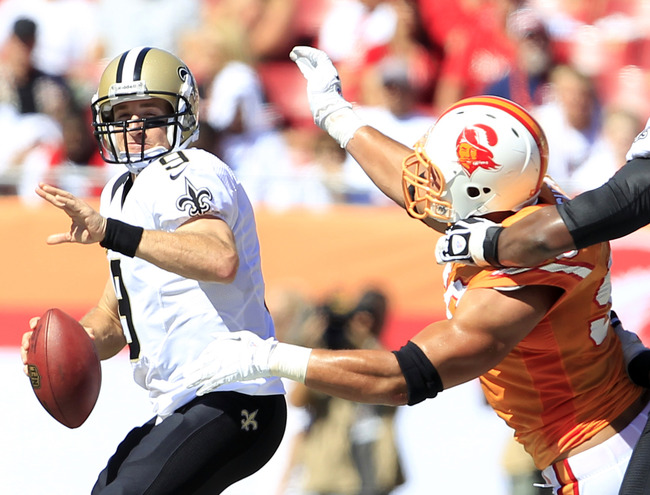 Matt Stamey-US PRESSWIRE
Gut-check win Sunday for the Saints, who now get some stability coming back in the form of Joe Vitt at head coach. And with wins in back-to-back weeks, this is a team still fighting to hold onto its season.
What about Drew Brees? 313 yards and four touchdowns in the first half has to rank as one of the better 30-minute quarterback stretches this season. The Saints turned a 14-point deficit into a seven-point halftime lead in a blink of an eye (or four straight possessions, to be accurate).
24. Detroit Lions (2-3)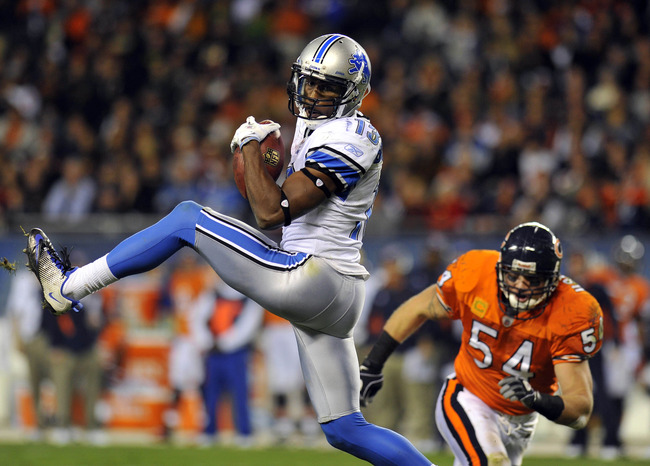 Mike DiNovo-US PRESSWIRE
The Lions play in Chicago Monday night. Detroit has lost seven of its last eight games to the Bears.
23. Cincinnati Bengals (3-4)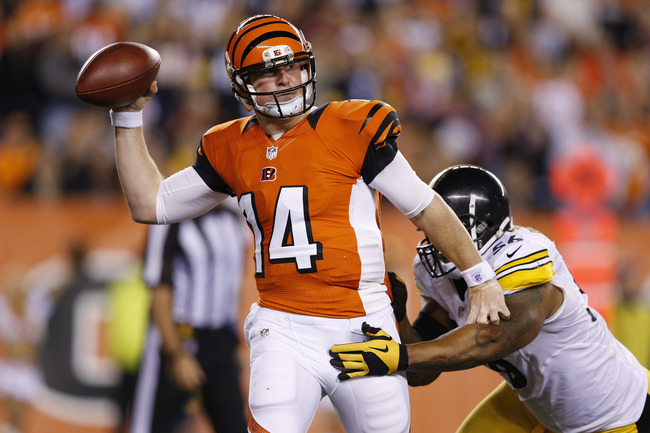 Joe Robbins/Getty Images
It now seems like ages ago that the Bengals were 3-1 and ascending in these rankings. After three-straight losses, including a home loss to the Steelers Sunday night, what are we to make of this team?
Keep in mind, the Steelers were a beaten and battered bunch coming into Cincinnati this week. Both top running backs, two offensive lineman and Troy Polamalu didn't play. If there was ever a time for the Bengals to get back on track against a division rival, it was Sunday night.
22. Indianapolis Colts (3-3)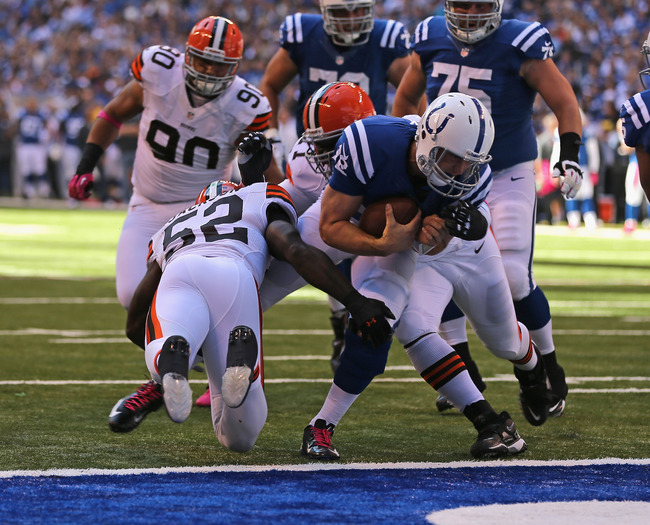 Jonathan Daniel/Getty Images
In securing a third win Sunday at home, the Colts now have more wins this season than all of 2011. The obvious reason for that drastic turnaround has been Andrew Luck, who ran for two touchdowns against the Browns in Week 7.
The Colts may not compete for a playoff spot this season, but 3-3 must feel pretty good in Indianapolis, especially after everything that has happened in the last month.
21. Tennessee Titans (3-4)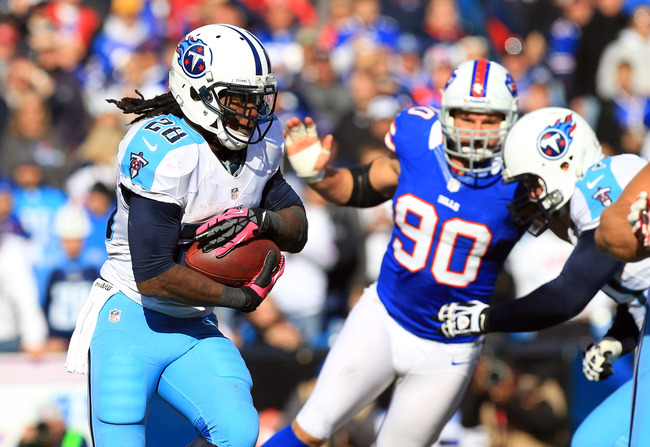 Kevin Hoffman-US PRESSWIRE
Thanks to the old Chris Johnson and another clutch performance late from Matt Hasselbeck, the Titans continued their saving of the 2012 season Sunday in Buffalo.
Johnson ran for 195 yards and two scores, and Hasselbeck hit Nate Washington on fourth down with less than 90 ticks left to lift the Titans to a win on the road.
Believe it or not, Tennessee now has a chance to get back to .500 in Week 8 when the Colts visit Nashville.
20. St. Louis Rams (3-4)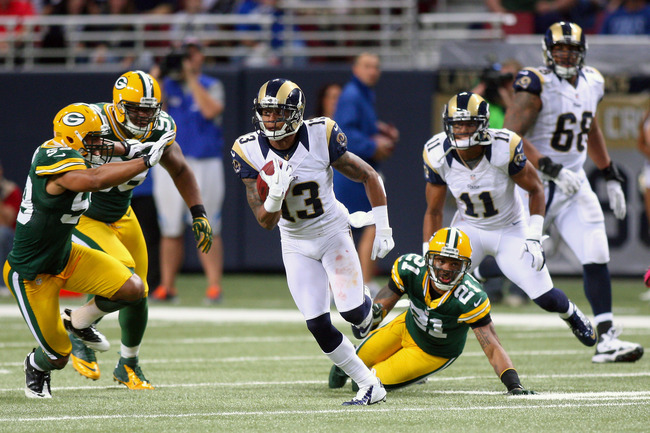 Scott Kane-US PRESSWIRE
There were upsides for the Rams in a 30-20 defeat at home to the Packers Sunday.
Rookie receiver Chris Givens continues to be a big-play threat (fourth straight game with a catch of 50 or more yards), first-round pick Michael Brockers dominated the left side of the Packers offensive line and Steven Jackson scored his first rushing touchdown of the season.
Middle linebacker James Laurinaitis also collected 14 tackles (13 solo).
A loss is a loss, but the Rams are clearly on the rise.
19. Miami Dolphins (3-3)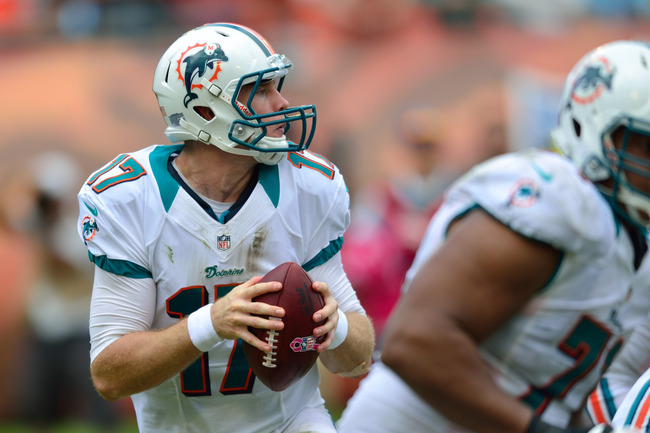 Steve Mitchell-US PRESSWIRE
The Dolphins were off in Week 7. Miami returns to action next week with a trip to New York to face the 3-4 Jets.
18. San Diego Chargers (3-3)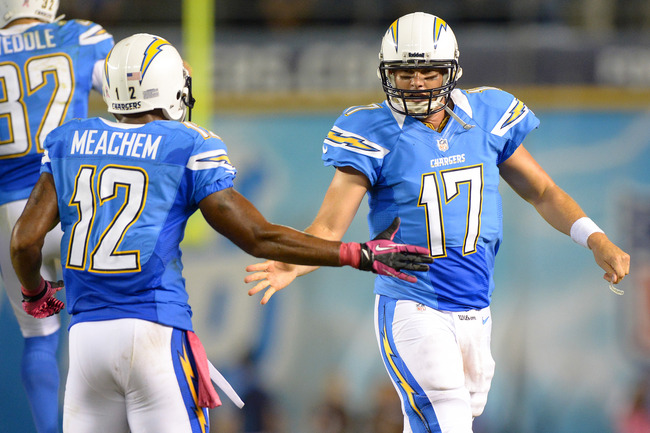 Jake Roth-US PRESSWIRE
The Chargers got a much-needed bye week this past Sunday. Take a chill pill, Chargers fans—the 1-6 Browns are next on the schedule in Week 8.
17. New York Jets (3-4)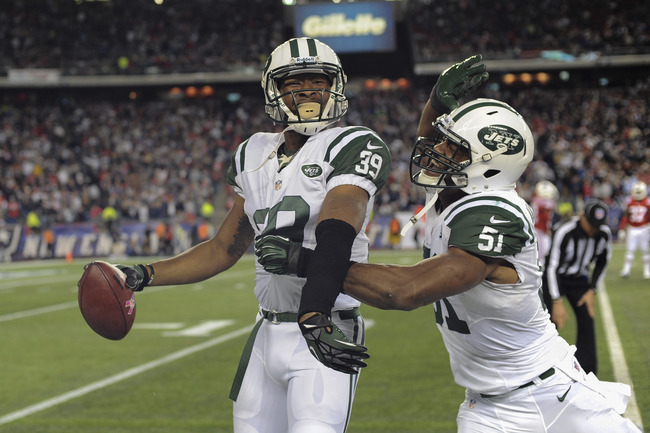 Bob DeChiara-US PRESSWIRE
The Jets will be kicking themselves after letting so many opportunities to beat the rival Patriots evaporate into thin air Sunday.
Stephen Hill's crucial drop on third down late in the fourth quarter with the Jets driving. Antonio Cromartie's interception chance with the Jets down three. A pass interference call on Kyle Wilson that extended the Patriots' drive in overtime.
That's only three of the plays that could have turned Sunday's outcome in New York's favor. 3-4 stings a lot more when 4-3 and the division lead were so close.
16. Washington Redskins (3-4)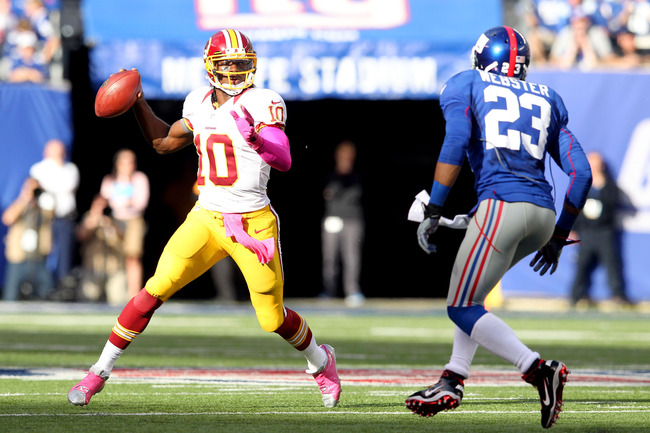 Brad Penner-US PRESSWIRE
Week-in and week-out, it's difficult to talk about anything but Robert Griffin III when the Redskins come up. The guy is just incredible, especially in the clutch situations.
The box-score numbers were very good (258 yards passing, two touchdowns, 89 yards rushing), but you have to watch 60 minutes of this kid to truly appreciate what he brings to the Redskins offense on every play.
15. Dallas Cowboys (3-3)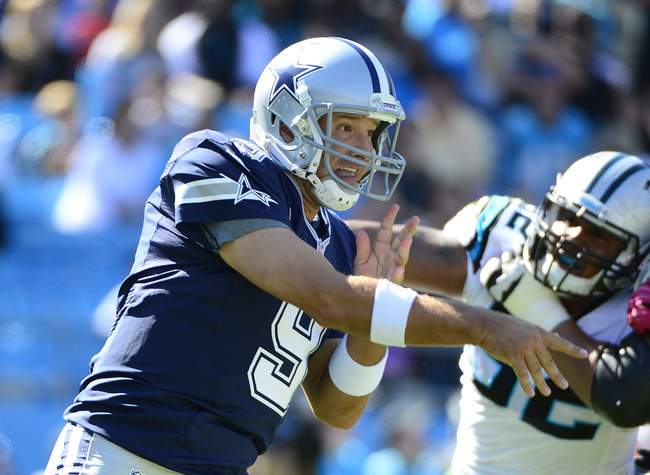 US PRESSWIRE
Tony Romo's touchdown to Miles Austin in the third quarter was about as perfect a pass as one could throw in that situation. But the fact that Romo and the Cowboys were able to win a close game on the road is millions of times more important.
At 3-3, Dallas is still alive in the postseason hunt. A loss and falling to 2-4 would have been a catastrophic blow to the Cowboys' playoff chances in 2012.
14. Philadelphia Eagles (3-3)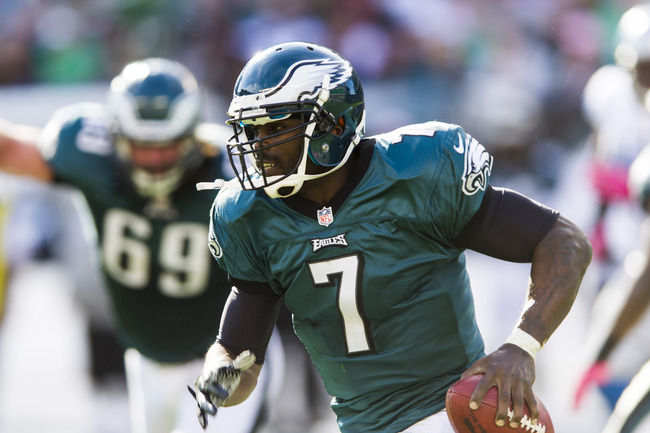 Howard Smith-US PRESSWIRE
The Eagles, fresh off an overtime loss to the Lions and the canning of their defensive coordinator, had a bye in Week 7. Philadelphia returns to take on the undefeated Atlanta Falcons this week.
13. Arizona Cardinals (4-3)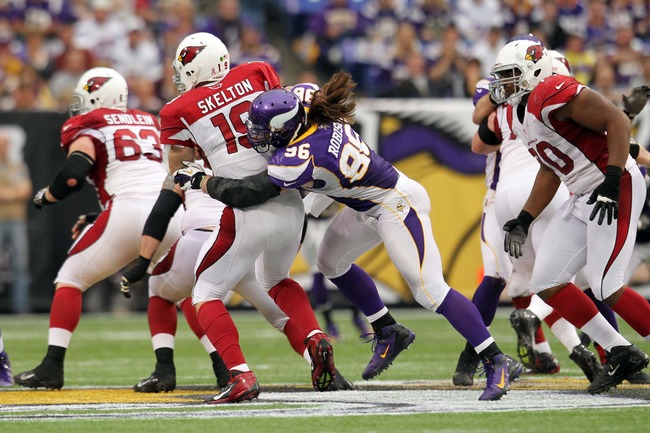 Brace Hemmelgarn-US PRESSWIRE
How the Cardinals allowed just one completion for four yards in the second half and still lost a football game would be shocking if you didn't know anything else about this team.
Quarterback John Skelton threw a pick-six and was sacked seven times, bringing the Cardinals total this season to a mind-boggling 35.
At 4-3, Arizona is sinking fast. The defense is still very good, but maintaining the 4-0 start was going to be impossible the way this offense is constructed.
12. Pittsburgh Steelers (3-3)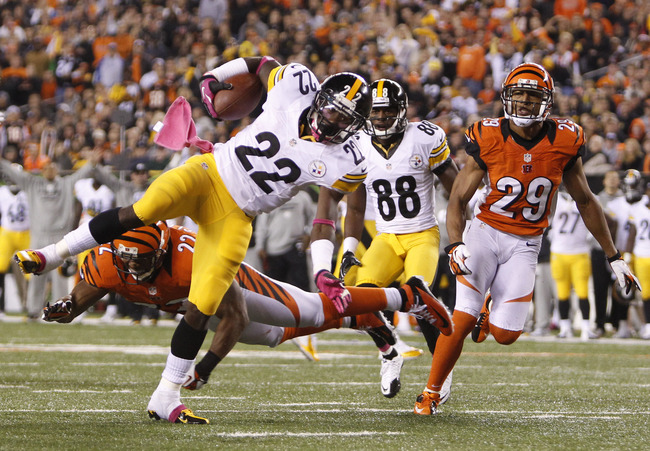 Frank Victores-US PRESSWIRE
No team had a gutsier win in Week 7 than the Steelers, who overcame key injuries across the board to win an important road game inside the division.
Most wouldn't have faulted the Steelers for losing in Cincinnati without two offensive linemen, two top running backs and arguably their best defensive player. But Pittsburgh mostly dominated for 60 minutes and got its season back on track in the national spotlight.
11. Denver Broncos (3-3)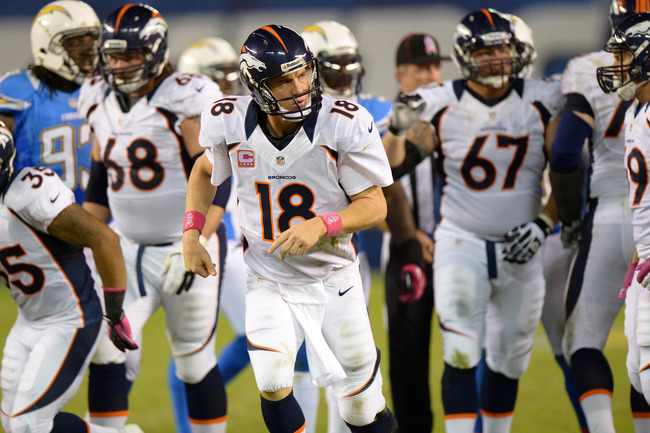 Jake Roth-US PRESSWIRE
After a thrilling comeback in San Diego in Week 6, the Broncos got a much-deserved week off. Denver returns to action when the New Orleans Saints visit in Week 8.
10. Seattle Seahawks (4-3)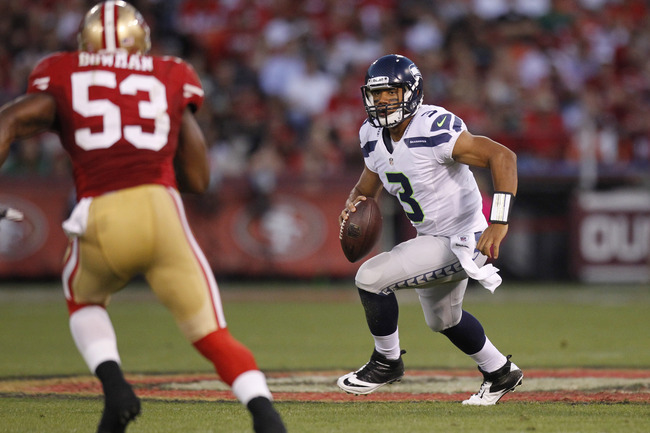 Cary Edmondson-US PRESSWIRE
If rookie quarterback Russell Wilson could have received any help in the passing game over the first 50 or so minutes, Thursday night's scoreline might have ended up a lot differently. Crucial drops killed the offense in San Francisco.
That said, the Seahawks are still in good shape at 4-3. They remain just one of 11 teams this season with four or more wins. Seattle will need to rebound in Week 8 when it travels to Detroit.
9. Minnesota Vikings (5-2)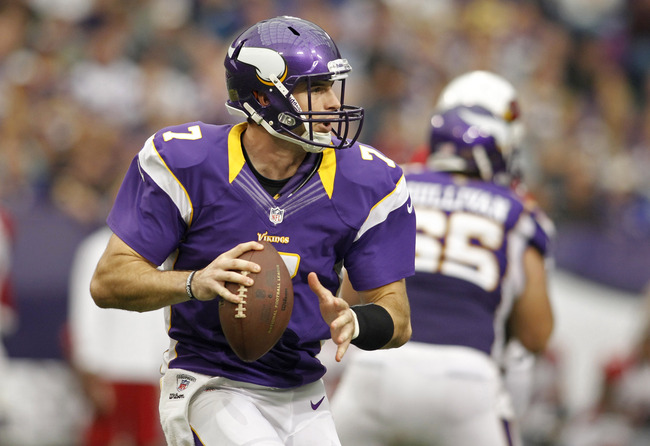 Bruce Kluckhohn-US PRESSWIRE
The Minnesota Vikings are going to need a lot more out of its passing game if this playoff push is going to stay afloat.
Christian Ponder, who struggled in a Week 6 loss to the Redskins, completed just 8-of-17 passes for 58 yards and two interceptions against the Cardinals Sunday. Arizona is a good defense against the pass this season, but unless the 1985 Chicago Bears are on the opposite sidelines, that's unacceptable production.
8. New England Patriots (4-3)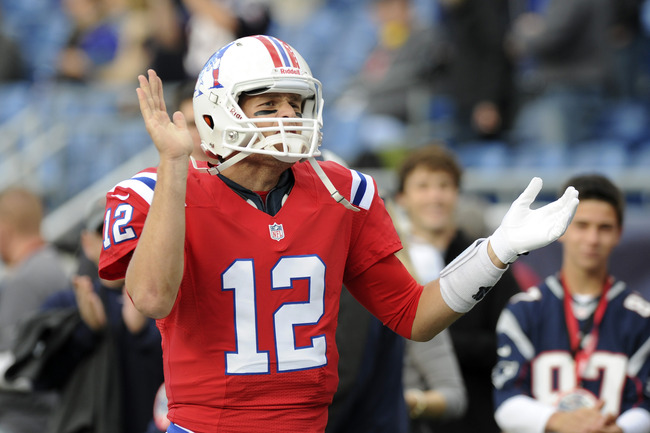 Bob DeChiara-US PRESSWIRE
The Patriots will feel fortunate to be 4-3 after nearly letting another late lead slip away. It was the first time this season that New England came out on the right side of a close game decided in the final moments.
The defense took its lumps too.
Mark Sanchez's 28 completions and 328 yards was another letdown for a pass defense that is still trying to find its footing in 2012.
But the only thing that really matters? New England came away a winner in a tough divisional game and is now back atop the AFC East.
7. Green Bay Packers (4-3)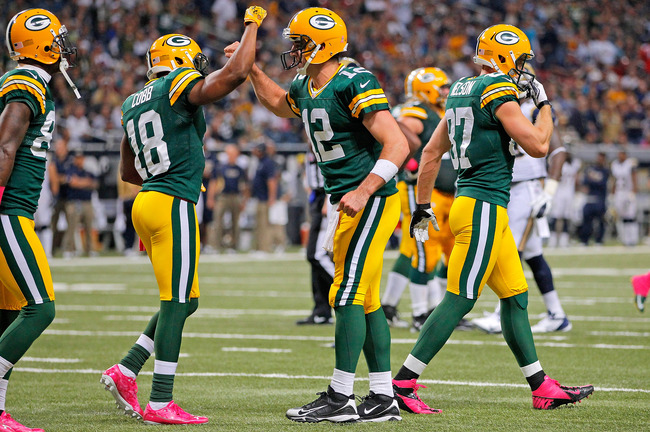 Doug Pensinger/Getty Images
Thanks to the MVP right arm of Aaron Rodgers, the Pack is officially back.
After a rocky start that brought on waves of criticism, Rodgers has now torched two very good defenses in back-to-back weeks. He's thrown nine touchdown passes in the last 120 minutes of football, rightfully putting himself back near the top of the MVP discussion.
The Packers will go as Rodgers goes, and he has this team flying high the last two weeks.
6. Baltimore Ravens (5-2)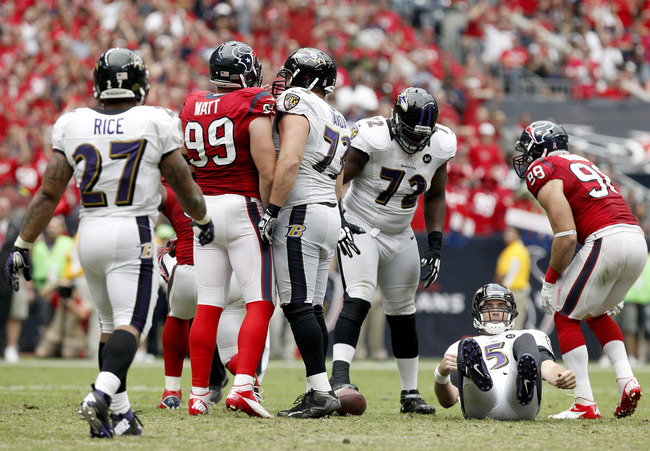 Thomas B. Shea/Getty Images
There was no Ray Lewis speech or Lardarius Webb interception that could have saved the Ravens from the beatdown they endured Sunday in Houston without each player.
The Texans beat up the Ravens in a battle of the conference's two best teams record-wise, mostly on the backs of a defense that kept Joe Flacco out of rhythm all afternoon. Baltimore won't win many games over the next nine when Flacco throws 43 times for just 147 yards.
5. San Francisco 49ers (5-2)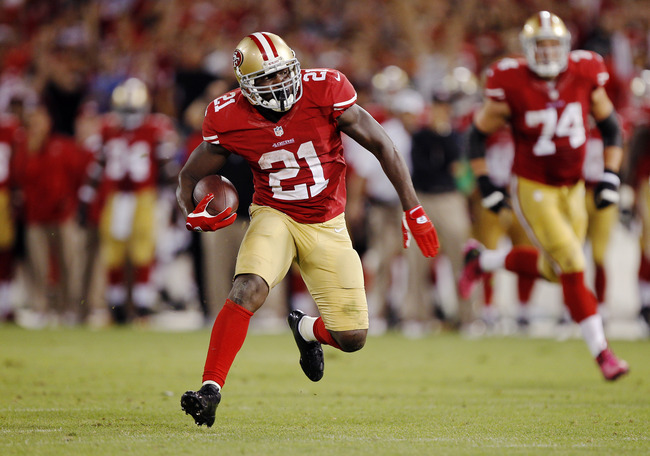 Brian Bahr/Getty Images
Thursday night's 13-6 win over the Seahawks was everything most expected: a tough, defensive battle that was won on the ground.
The 49ers (175) ran for 39 more yards than Seattle (136), extending this series' streak of games won by the team with the most rushing yards to six. San Francisco, sitting atop the NFC West, also made a strong statement that the division will still have to be won through the Bay Area in 2012.
4. Chicago Bears (4-1)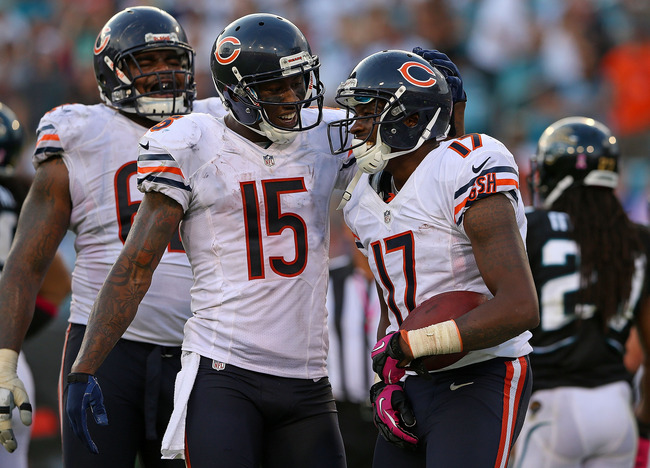 Mike Ehrmann/Getty Images
The Bears host the Lions on Monday Night Football. Chicago needs a win to stay in first place in the NFC North.
3. New York Giants (5-2)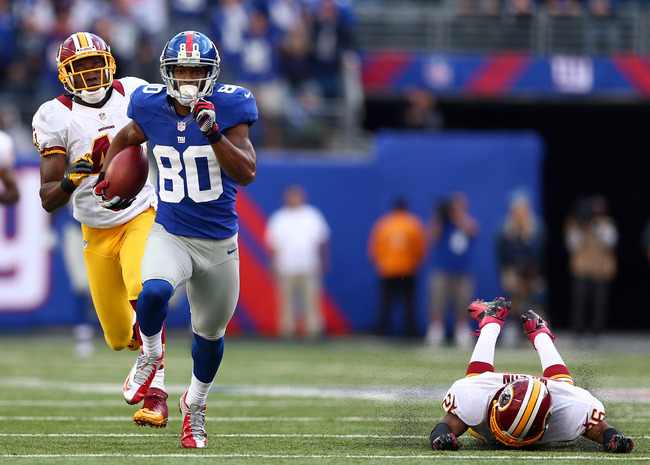 Elsa/Getty Images
While it may not have been the most impressive play of the week, no hookup was as important as Eli Manning's 77-yard touchdown pass to Victor Cruz late Sunday against Washington.
The score ensured the Giants would avoid another upset loss to the Redskins and pushed their lead in the division to two games in the win column over each of the three teams in the NFC East.
2. Houston Texans (6-1)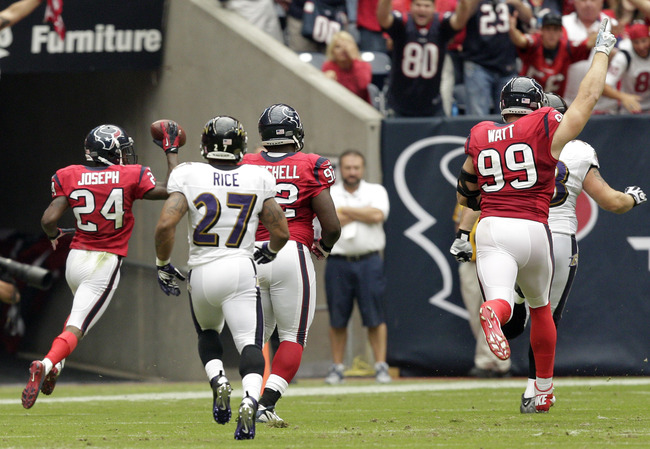 Bob Levey/Getty Images
What a bounce-back performance for the Texans, regardless of how beaten up or broken the Ravens were coming into Week 7.
Baltimore is still a good football team, especially on the offensive side, and the Texans thoroughly dominated for 60 minutes. The front seven in particular appeared motivated to get the taste of the Green Bay game out of their mouths.
1. Atlanta Falcons (6-0)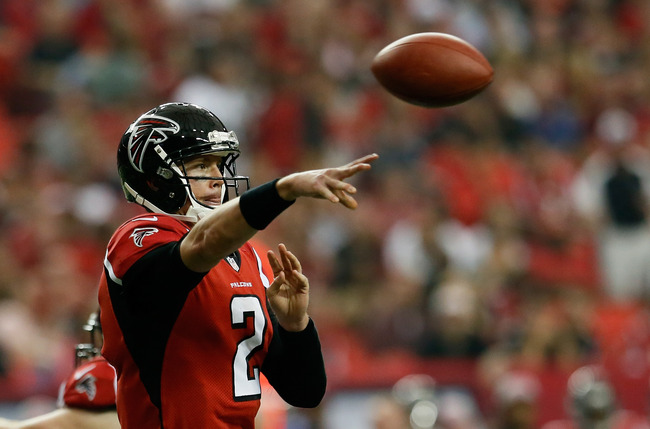 Kevin C. Cox/Getty Images
The Falcons were off this week after extending their win streak to six games in Week 6. Atlanta travels to Philadelphia in Week 8 for possibly its biggest test of this young season.
Keep Reading