5 Things I Learned After NFL Week 6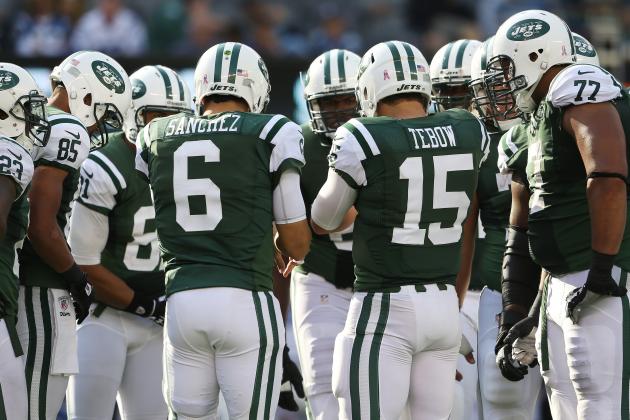 Nick Laham/Getty Images

With Week 6 of the NFL season in the books, there are already plenty of storylines to read into—the perceived New York Jets quarterback competition between Mark Sanchez and Tim Tebow; the perfect 6-0 Atlanta Falcons; the struggling New Orleans Saints; and that's only scratching the surface.
With a good sample of games to draw from, here is what I know about the NFL after Week 6.
You can follow me on Twitter @mcfarlands412.
Begin Slideshow

»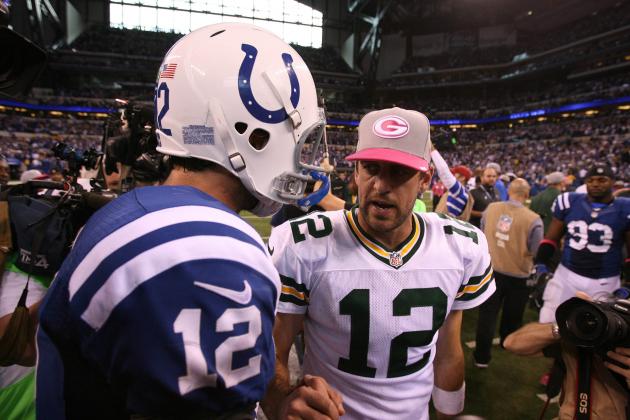 Brian Spurlock-US PRESSWIRE
Andrew Luck greets Aaron Rodgers at midfield after beating the Green Bay Packers Week 5, 30-27.
Following two prime time thrashings by the New York Giants (Win at San Francisco 26-3) and the Green Bay Packers (Win at Houston 42-24) in Week 6, all I can tell you about this NFL season is that I know nothing.
Two of the most complete, top-to-bottom, sound football teams in the 49ers and the Texans were man-handled by their opponents.
More than anything, this signals to me that there is great parody in the NFL, and that's a good thing. A high level of competition among the conferences and in the divisions only drives the league forward.
There are so many explosive playmakers now that no lead is safe. The momentum of a game can turn at the drop of a hat. It's exciting to be a fan of football right now.
Save the 5-1 Baltimore Ravens, 5-1 Houston Texans, and the 6-0 Atlanta Falcons, every conference in football is very close in record. Most notably perhaps is the AFC East. In a division that the New England Patriots almost perennially run away with, six games into the season and they're all knotted up at 3-3.
And though no one expected the Arizona Cardinals to run the table, their surprising 4-0 start has been dashed the last two weeks with two tough losses to St. Louis on a Thursday night and a home game against the Buffalo Bills. Two heavy hitters, right?
Also, in a conference that has not been charged to be a powerhouse in years past, the NFC West could possibly be the strongest conference team-for-team in football; with the emergence of a good Seattle Seahawks team who has found a quarterback in Russel Wilson, a tough San Francisco team that hopes to get back to the NFC title game they played in a year ago, and a Jeff Fisher lead Rams team that still has first-round pick Sam Bradford at the helm.
What this makes for is a long, drama-filled end to the season.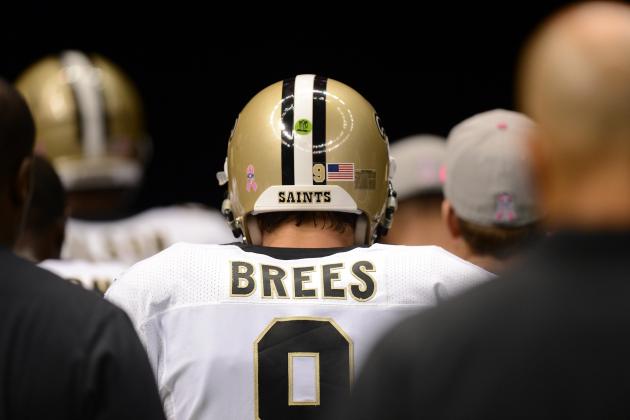 Harry How/Getty Images

Piggybacking off the previous note, this young NFL season has yielded some very unexpected results when it comes to the league's most elite teams.
Would anyone have expected the Patriots to be 3-3 at this point in time? I certainly would have not. With all the weapons in the world on offense and a revamped defense, the Patriots have underwhelmed and underperformed.
What about the Pittsburgh Steelers? Where has all the defense gone? With star position players injured like Troy Polamalu and James Harrison, the defense has taken a step back and has given up some monster games to opposing offenses. The offense has struggled, too, still going through the growing pains of learning a new system.
Though, the most alarming instance might be the 1-4 New Orleans Saints. We should have not expected them to come out like gangbusters in years past, but a sub .500 record never seemed to be in the cards. The suspensions of head coach Sean Payton and middle linebacker Jonathan Vilma have dug the Saints a large hole in the NFC South, but if anyone is liable to turn the season around, it's Drew Brees.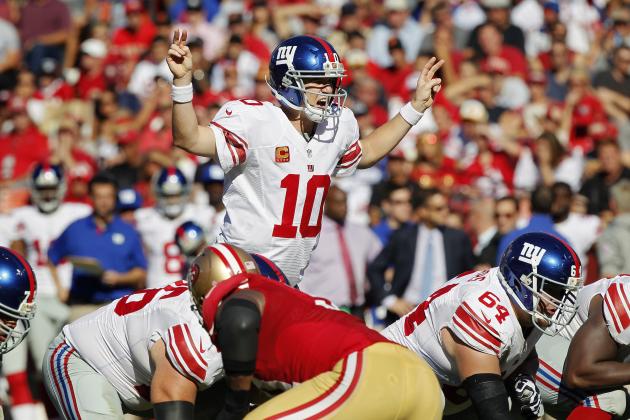 Brian Bahr/Getty Images

Remember when everyone was saying we would have more 5,000 yard passers this year than we did last year (three)? I don't foresee that happening.
Legitimately, there are probably half a dozen or less "elite" quarterbacks in the NFL. The term is thrown around far too often to describe a passer that has just thrown for 300-plus yards and a few scores.
I throw quarterbacks like the Lions' Matthew Stafford, the Ravens' Joe Flacco, and the Falcons' Matt Ryan into this group.
This is not to say that they aren't excellent quarterbacks, but in order for that term to be applied to a quarterback they should have to put up excellent numbers and win games. Although Matt Ryan has been equal to that task this year, let's wait until the man has playoff wins under his belt to confirm.
The elite play-callers of the league like Tom Brady, Brees, Aaron Rodgers, Peyton and Eli Manning, have done both and have done them year in, year out. Too quickly and too often are we as fans and critics to dub someone the next coming of Joe Montana or Dan Marino.
Watching the New York Giants and Eli Manning play at the San Francisco 49ers this past weekend, I was reminded of another quarterback who used to always show up to play and play well: Brett Favre.
In Favre's prime years of the 1990s, there were very few games that his team was not in from start to finish. Many a quarterback would have probably faltered in such a hostile environment, but Eli has an air about him that defines him as an an elite quarterback.
More players need to prove that they are elite through their play than they do through their words.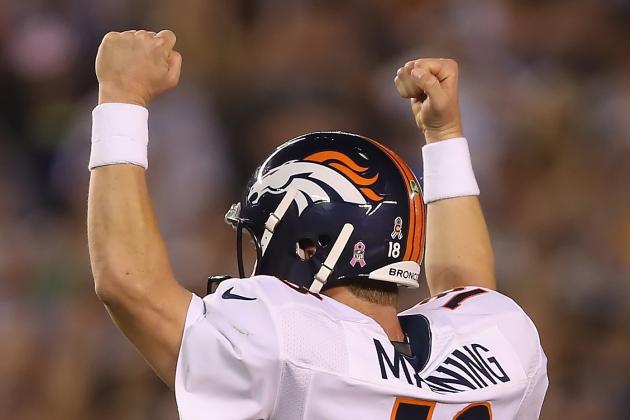 Jeff Gross/Getty Images

After trailing 24-0 at half Monday night at San Diego, Peyton Manning lead the Denver Broncos to a memorable comeback, winning the game 35-24. Manning passed for 309 yards and three touchdowns and looks like he hasn't missed a beat coming off a few neck surgeries.
It's not only Monday night that has shown this. It has been his entire season to date.
Manning ranks second in the NFL in passer rating (105.0), yards (1,808) and touchdowns (14) and arguably has as good a nucleus of young players in Denver as he ever had in Indianapolis.
For one thing, his offensive line has done a brilliant job giving Manning the time to read the defense in a clean pocket, and another, Denver has been able to successfully run the ball to keep pass-rushers from getting to him regularly. Great balance in the Denver offense is what has propelled them to the top of the AFC West.
Sure, there was doubt about Manning's physical attributes coming into this season, but what you can never doubt or totally account for is all that goes on above the neck, and that, ultimately, is what makes him one of the greatest quarterbacks to ever play the game.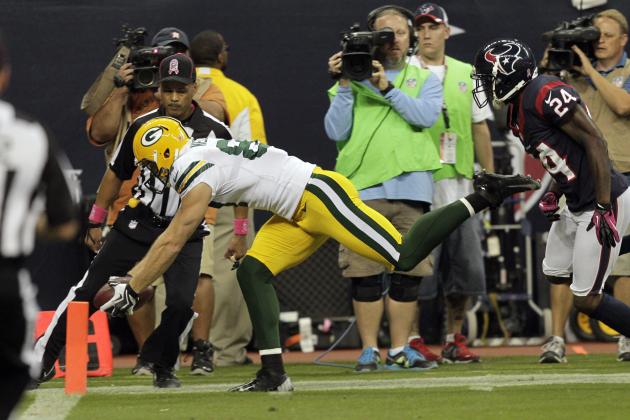 Bob Levey/Getty Images

Have you seen all the great defensive performances so far this year? Yeah, me neither.
This shouldn't be surprising though. With all the video game like numbers being generated by offenses over the last couple years, one would think there would be a greater emphasis on team defense, but that has yet to come to fruition. But is it that the defensive schemes aren't sophisticated enough to combat these explosive offenses?
I would answer that question with a simple no. With teams only able to practice in pads once a week, I think defensive units have suffered greatly. Generally, the tackling this year, in my opinion, has been awful. Players have not been able to wrap up on defense and make a play when it matters most.
How about getting off the field on a 3rd-and-long? Defenses seem not to be able to do it. Whether its spreading the field with five wide receivers or a handful of tight ends, offenses are beating defenses to the punch, literally.
What ever happened to straight man-to-man, bump-and-run defenses? I know Deion Sanders' don't grow on trees, but come on!
Shut-down defenses are all but a dying breed in the NFL. The few teams that are able to play man defense, and play it well, like the 49ers and the Steelers, have a lot of success, which begs the question if the league will see a shift in its value on defenders the rest of the season and in the upcoming years.