Who Are the Favorites for Every Major NFL Award After Week 5?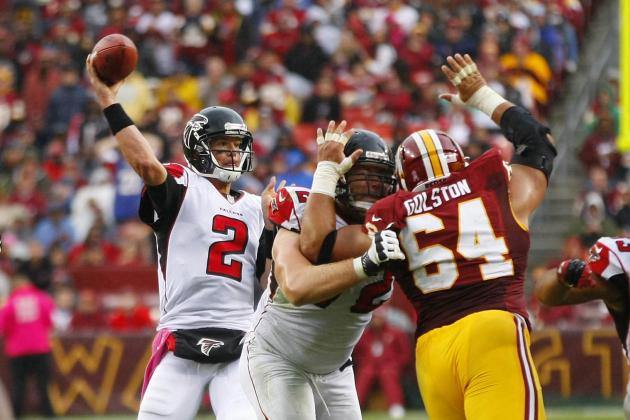 Geoff Burke-US PRESSWIRE
Matt Ryan was the NFC Offensive Player for month of September
After five weeks of NFL games, we continue our series on trying to determine who will win every major NFL award for the 2012 NFL season.
Some of the players we have featured in previous weeks continue to play at a high level, while other players enter the picture with some monster games.
Week 5 was no exception, as we saw huge games from Indianapolis Colts WR Reggie Wayne and QB Andrew Luck, Kansas City Chiefs RB Jamaal Charles, New York Giants RB Ahmad Bradshaw, Chicago Bears WR Brandon Marshall, Atlanta Falcons QB Matt Ryan, Houston Texans RB Arian Foster and Denver Broncos QB Peyton Manning and WR Demaryius Thomas.
In this week's presentation, we will also include the winners for the NFL awards that were recently announced for the month of September. Each of those winners will be perceived to have a leg up on the competition for the early running of each award.
Begin Slideshow

»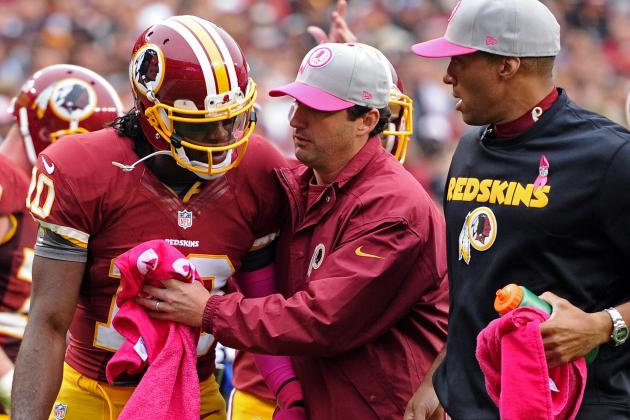 Patrick Smith/Getty Images
Robert Griffin III suffers mild concussion in Week 5 action.
It shouldn't have been a major shock to anybody when the NFL announced that Washington Redskins QB Robert Griffin III was voted as the NFL Offensive Rookie of the Month for September.
Griffin turned in a very strong month of play in September by throwing for 1,070 yards, four touchdowns and only one interception. In addition, Griffin rushed for 234 yards and scored four rushing touchdowns.
Griffin raised the Redskins' offensive unit to become one of the more productive offenses in the NFL, as they were scoring at an average of just under 31 points per game in September.
In Week 5 action, Griffin took a big shot from Atlanta Falcons LB Sean Witherspoon in the third quarter, when he tried to score on a scramble around the right end. The hit was big enough that Griffin suffered a mild concussion and went to the locker room, not to return to the game.
Due to limited production in the game, Griffin fell out of the top five in the QB passer ratings, as his 101.0 has him ranked at No. 6. He is also ranked as the No. 22 leading rusher in the NFL with 241 yards on just 42 rushes.
Due to the NFL rules for concussions, Griffin will have to pass various tests this week before he can be cleared to play in the Week 6 contest against the Minnesota Vikings.
Griffin's teammate, RB Alfred Morris, continued with his strong play, as he rushed the ball 18 times for 115 yards. On the year, Morris is the No. 3 rusher in the NFL with 491 yards over 100 rushes. He has an outstanding average of 4.9 yards per rush to go with four touchdowns. You also have to admire the fact that he has not yet fumbled.
Cleveland Browns RB Trent Richardson comes in at No. 16 with 303 rushing yards on the year, but he is only averaging 3.7 yards per carry.
Tampa Bay Buccaneers RB Doug Martin is ranked at No. 21 with 247 rushing yards, averaging 3.5 yards per rush.
Indianapolis Colts QB Andrew Luck led his team to a motivational win over the Green Bay Packers in Week 5, as the team was playing hard for coach Chuck Pagano, who is hospitalized with leukemia. Luck comes in at No. 25 in the QB passer ratings with a rating of 77.1.
There are no other rookie quarterbacks, wide receivers or running backs in the top 25 in the NFL rankings after five weeks.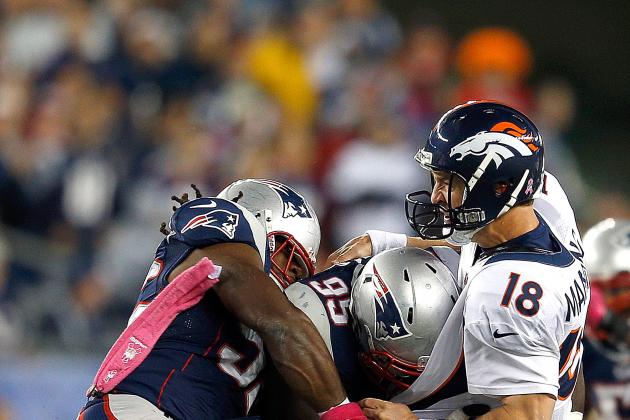 Jim Rogash/Getty Images
Chandler Jones puts a lick on Peyton Manning
New England Patriots DE Chandler Jones was voted as the NFL Defensive Rookie of the Month for September. After five weeks, Jones has recorded 18 tackles and three sacks, deflected one pass and forced two fumbles. He has proven to be a difficult matchup for any offensive tackle due to his size, strength, quickness and long arms.
Carolina Panthers LB Luke Kuechly is tied for No. 22 in the NFL with 37 tackles on the year. In addition, Kuechly has deflected three passes and has one interception on the year.
Seattle Seahawks LB Bruce Irvin leads all NFL rookies with 4.5 sacks on the year. He is tied for No. 12 in the NFL in that category and is well on his way to recording double digits in sacks for the 2012 season.
New England Patriots S Tavon Wilson is tied for No. 7 in the NFL with two interceptions on the year.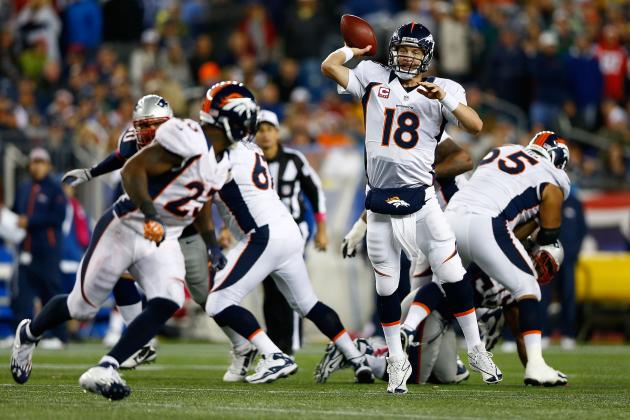 Jared Wickerham/Getty Images
Peyton Manning is No. 5 QB in latest rankings.
Denver Broncos QB Peyton Manning had a showdown with New England Patriots QB Tom Brady in Week 5 action. In a losing effort, Manning performed very well in front of the national spotlight, completing 31 of his 44 passes for 345 yards and three touchdowns.
Manning has been coming on and has now bypassed Robert Griffin III to rank No. 5 in the latest NFL QB passer-rating ranking. If Manning performs at this level for the rest of the year, it would be a huge upset for somebody else to nab the Comeback Player of the Year award.
That somebody could be Kansas City Chiefs RB Jamaal Charles. Charles had another solid day on Sunday, as he went up against the Baltimore Ravens defense and churned out 140 yards on 30 rushes. Charles is now the NFL's leading rusher after five weeks.
We should also give some consideration to players who have drastically improved their game from 2011, such as Miami Dolphins WR Brian Hartline and Minnesota Vikings QB Christian Ponder.
Hartline leads all NFL receivers with 514 receiving yards on the year. He has scored just one touchdown, snagged 29 passes and is averaging 17.7 yards per catch, almost equaling his cumulative output from 2011 (35 catches, 549 yards, one touchdown). To lead the league in receiving is quite an accomplishment, so hats off to Hartline.
Ponder has led his team to a 4-1 record and a share of first place in the NFC North division with the Chicago Bears. Ponder finished 2011 with a QB passer rating of 70.1, which ranked him No. 31 overall. This year, his rating is up to 95.5, which is good for No. 10 in the league.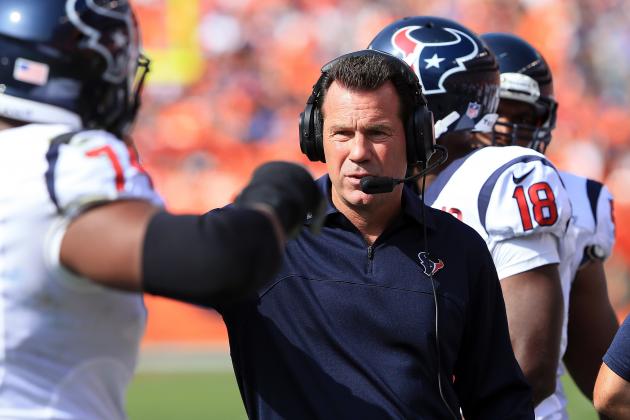 Doug Pensinger/Getty Images
Gary Kubiak has done a great job with the Houston Texans.
Four NFL coaches have done a masterful job thus far.
The first two in question are the two remaining undefeated head coaches. Gary Kubiak of the Houston Texans and Mike Smith of the Atlanta Falcons have guided their teams to a perfect start through Week 5.
Houston and Atlanta are playing well in all three aspects of the game—offense, defense and special teams. They have built up a comfortable lead already in their divisions and shouldn't have too many problems in realizing a division title in 2012.
The other two coaches who have yielded surprising results are Jeff Fisher of the St. Louis Rams and Leslie Frazier of the Minnesota Vikings.
Both Minnesota and St. Louis have a winning record, and they are a combined 7-3 after five weeks. Not sure that very many people would have been predicting that record.
Fisher has brought a cultural change to St. Louis and has the team believing that they can compete every week. He is playing a huge cast of rookies, but they are performing and giving the team a chance to win.
As for Frazier, the Vikings have seemingly come out of nowhere in 2012 to land in a first-place tie atop the NFC North with the Bears. Even more notably, they have a two-game lead on Green Bay and a three-game lead on Detroit.
Would like to make mention of the motivational play of the Indianapolis Colts on Sunday, as they were obviously playing "all-out" for head coach Chuck Pagano, who is battling with leukemia.
We were talking up Arizona Cardinals Ken Whisenhunt last week, but the lackluster effort on Thursday Night Football in Week 5 took some of the shine off his candidacy.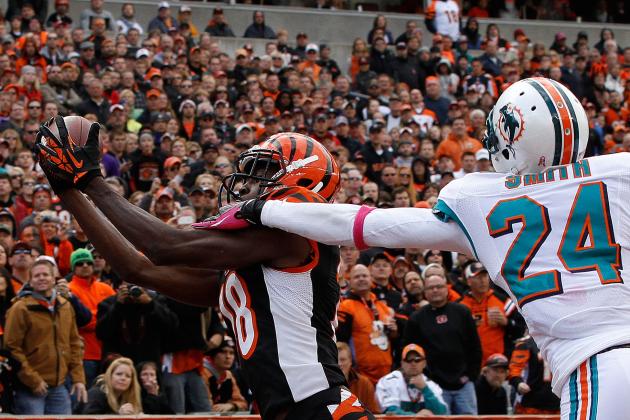 Tyler Barrick/Getty Images
A.J. Green won AFC Offensive Player for month of September.
The cream of the crop in the NFL is rising to the top. In the recent voting for NFL Offensive Player of the Month for September, the NFL announced Atlanta Falcons QB Matt Ryan (NFC) and Cincinnati Bengals WR A.J. Green (AFC).

Right now, my favorites for Offensive Player of the Year are Ryan, Houston Texans QB Matt Schaub, New England Patriots QB Tom Brady and Washington Redskins QB Robert Griffin III.
With their combined 32 touchdowns, these four quarterbacks have a cumulative 6-to-1 touchdown-to-interception ratio thus far. They are all ranked in the top six of the NFL in passer rating index, and each of them have led their teams to the top of their division (with the exception of RG3).
I also have to applaud San Francisco 49ers QB Alex Smith for his superb game in Week 5, but it was shocking to see how much time he had to throw on the vast majority of throws. Smith only had to endure three QB hits in the game, and his ground game chipped in with over 300 yards of rushing offense.
As for other offensive players who warrant some consideration, let's look at the top receivers and running backs.
The top wide receivers are Miami Dolphins' Brian Hartline, Denver Broncos' Demaryius Thomas, Indianapolis Colts' Reggie Wayne, Chicago Bears' Brandon Marshall and A.J. Green.
They represent the top five wide receivers in the NFL right now, and they are averaging anywhere from 98-103 yards per game every week. Reggie Wayne has played in one less game, and he is averaging 126.5 yards per contest.
At running back, we have impressive starts to the year from Kansas City Chiefs' Jamaal Charles, Seattle Seahawks' Marshawn Lynch, Houston Texans' Arian Foster, Washington Redskins rookie Alfred Morris and New England Patriots' Stevan Ridley.
This quartet of running backs are averaging 98 to 110 yards per game and are an important component of their offensive game plans.
The trend of this award has been driven by quarterbacks, so it is highly likely that another quarterback will capture the award in 2012. It will take an extremely strong season by a running back, wide receiver or tight end to have any chance at winning the Offensive Player of the Year award.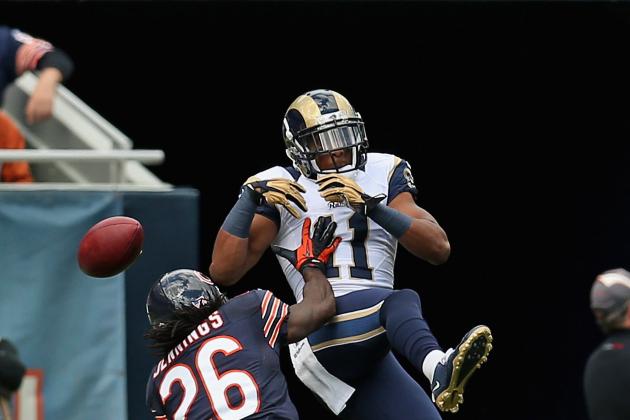 Jonathan Daniel/Getty Images
Tim Jennings is having a solid start in 2012
The NFL Defensive Player of the Month for September was awarded to Chicago Bears CB Tim Jennings (NFC) and Houston Texans DE J.J. Watt (AFC).
As for the NFL Defensive Player of the Year award, there are seven players that I think are playing a superior brand of football.
The seven players in question are Watt, Jennings, Green Bay Packers LB Clay Matthews, Atlanta Falcons S Thomas DeCoud, Dallas Cowboys LB DeMarcus Ware, San Francisco 49ers LB NaVorro Bowman and Minnesota Vikings LB Chad Greenway.
Matthews and Watt are No. 1 and 2 in the NFL in sacks after five weeks. Matthews leads the league with eight sacks, while Watt is breathing down his neck with 7.5 (pre-MNF). Both players are playing inspirational football this year and are reigning terror on quarterbacks every week.
Jennings and DeCoud are tied for the NFL lead in interceptions with four. Jennings leads the NFL in deflected passes with 10, and he is playing at a very high level at corner. DeCoud is playing a solid safety role for the undefeated Falcons team.
Ware is tied for the NFL lead with three forced fumbles. He is also in the top 10 with five sacks on the season so far.
Bowman continues to lead the 49ers defense, and they held a Buffalo Bills offense that had been averaging 28 points per game to just three points in Week 5.
Greenway leads the Vikings in tackles and trails Curtis Lofton of the New Orleans Saints by just one tackle for the lead in the NFL. The Vikings are No. 10 in overall team defense, and they rank No. 6 in scoring defense, allowing just 15.8 points per game. Greenway is spearheading their improved play.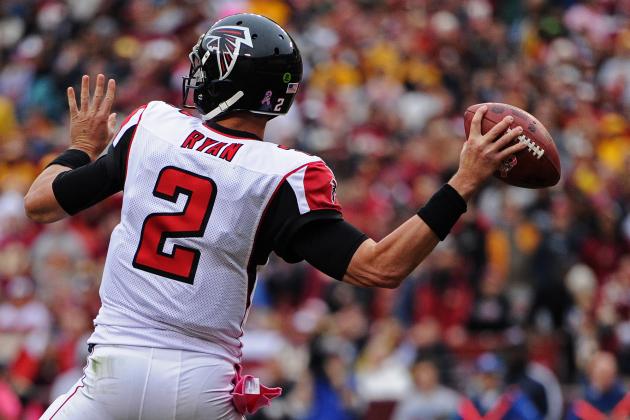 Patrick Smith/Getty Images
Matt Ryan is playing at a high level in 2012.
The two teams that are commanding the most attention through five weeks are the only two teams that are still undefeated, the Houston Texans and the Atlanta Falcons.
Until somebody gives them a loss, their leaders will definitely be in consideration for the Most Valuable Player award. So, I would say the clubhouse leaders after five weeks are Atlanta Falcons QB Matt Ryan, Houston Texans QB Matt Schaub and RB Arian Foster.
You also have to consider four other quarterbacks: New York Giants QB Eli Manning, New England Patriots QB Tom Brady, Pittsburgh Steelers QB Ben Roethlisberger and San Francisco 49ers QB Alex Smith.
This group of players has been playing at a high level all year, and all of them have a winning record with the exception of Roethlisberger (2-2).
Thanks for checking out this Week 5 presentation. We will be back next week with our review of Week 6 action.