Fantasy Football 2012: Position Rankings for Week 5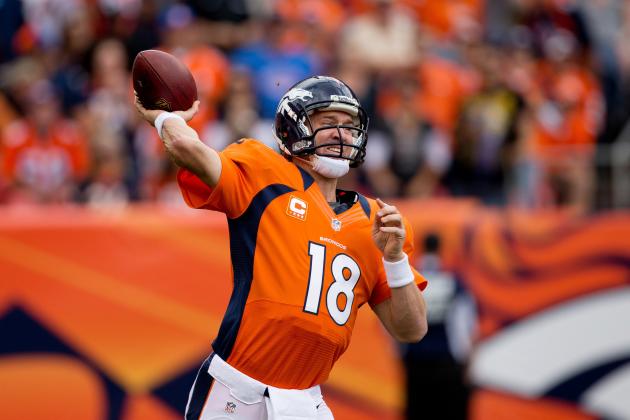 Justin Edmonds/Getty Images

It's Wednesday already, boys and girls, which means that it is time to start planning what you are going to do with your fantasy lineup in Week 5.
The whole deal of having a game every Thursday on the NFL Network actually makes it so there is more planning involved, because instead of just sitting around scouring the waiver wire for impact parts, you need to pay attention to that early-week game in order to determine what you need on Sunday.
The positional rankings are, for the most part, going to be roughly in line with what they have been all season, though there is some notable fluctuation at a few spots. This is fantasy football, and you have to be able to roll with the punches.
Just when you think you have the game figured out, seven new things pop up that alter your plans for that week. It's just another day in the life of a fantasy football owner.
Fortunately, we are here to make your life that much easier by providing you with a handy guide to all things fantasy.
Here are the position rankings for Week 5.
Begin Slideshow

»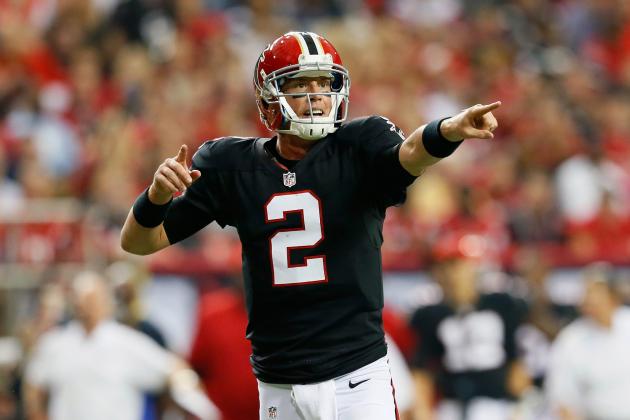 Kevin C. Cox/Getty Images

1. Aaron Rodgers, Green Bay Packers
2. Matt Ryan, Atlanta Falcons
After years of looking like he was ready to take the next step, Ryan is looking like the potential Super Bowl-winning quarterback he was preordained to be. He is completing 69.4 percent of his passes and has an 11-2 TD-INT ratio.
This week, Ryan has the luxury of playing against a Washington defense that has allowed the second-most pass yards per game (326.3). Everything is lining up for him to have another monster week under center.
3. Tom Brady, New England Patriots
4. Drew Brees, New Orleans Saints
5. Peyton Manning, Denver Broncos
6. Philip Rivers, San Diego Chargers
7. Robert Griffin III, Washington Redskins
8. Andy Dalton, Cincinnati Bengals
9. Eli Manning, New York Giants
10. Joe Flacco, Baltimore Ravens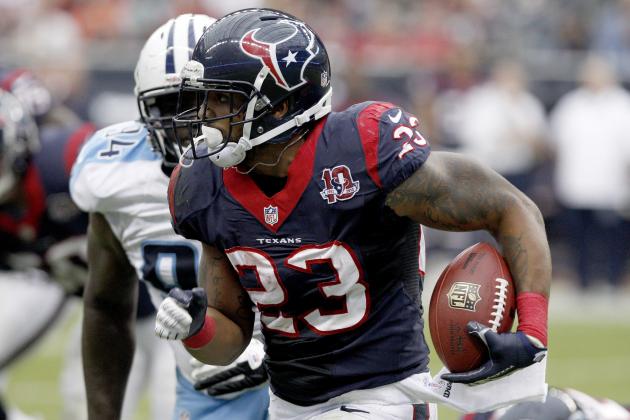 Thomas B. Shea/Getty Images

1. Arian Foster, Houston Texans
Foster is having an interesting season thus far. He is fourth in the NFL with 380 rush yards and has four rushing touchdowns. He also has nine receptions and one touchdown catch.
Yet his average yards per carry is just 3.7, and he has been trending down in that category since a high-water mark of 4.9 in 2010. The good news is that the Texans run such a balanced offense there is no danger of him losing carries.
Plus, the Texans have the luxury of taking on the New York Jets, who just gave up 245 yards on the ground to San Francisco last week and are the 31st-ranked run defense in the league.
2. Adrian Peterson, Minnesota Vikings
3. Frank Gore, San Francisco 49ers
4. Ray Rice, Baltimore Ravens
5. Reggie Bush, Miami Dolphins
6. Trent Richardson, Cleveland Browns
7. Jamaal Charles, Kansas City Chiefs
8. Matt Forte, Chicago Bears
9. LeSean McCoy, Philadelphia Eagles
10. Cedric Benson, Green Bay Packers
11. Michael Turner, Atlanta Falcons
12. Ahmad Bradshaw, New York Giants
13. Alfred Morris, Washington Redskins
14. Ryan Mathews, San Diego Chargers
15. Marshawn Lynch, Seattle Seahawks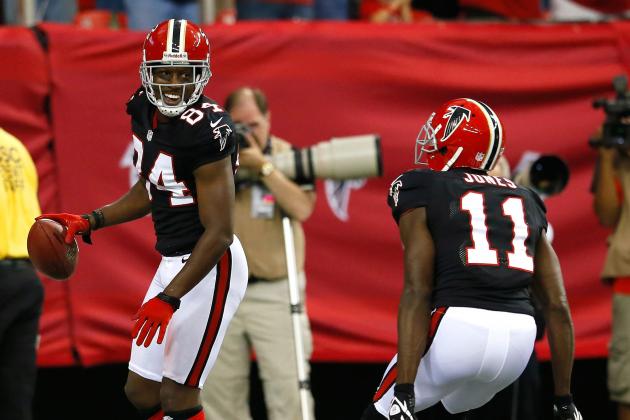 Kevin C. Cox/Getty Images

1. Roddy White, Atlanta Falcons
2. A.J. Green, Cincinnati Bengals
3. Brandon Marshall, Chicago Bears
4. Victor Cruz, New York Giants
5. Larry Fitzgerald, Arizona Cardinals
6. Reggie Wayne, Indianapolis Colts
Wayne tends to get lost in the wide receiver shuffle now because he doesn't have Peyton Manning throwing him the ball. However, he is still having a very productive season with 294 yards on 23 receptions.
The Packers have shown that they are better against the pass this season than they were last year, though some of that can be attributed to games against San Francisco, Chicago and Seattle, which aren't exactly dynamic passing teams.
Andrew Luck has a strong understanding of how to read opposing defenses, as he has shown in his first three games, so don't worry about Wayne being forgotten in this matchup.
7. Danny Amendola, St. Louis Rams
8. Julio Jones, Atlanta Falcons
9. Marques Colston, New Orleans Saints
10. Brandon Lloyd, New England Patriots
11. Jordy Nelson, Green Bay Packers
12. Andre Johnson, Houston Texans
13. Demaryius Thomas, Denver Broncos
14. Torrey Smith, Baltimore Ravens
15. Percy Harvin, Minnesota Vikings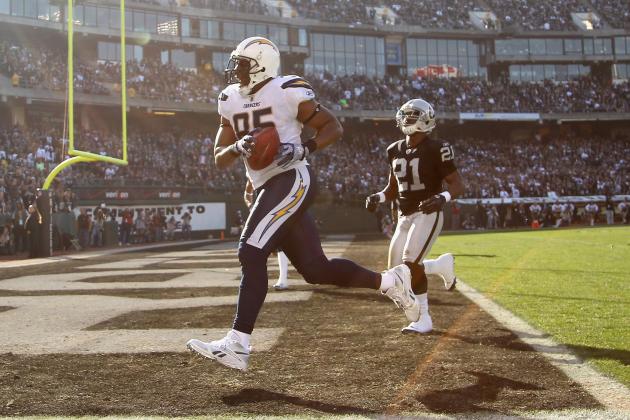 Ezra Shaw/Getty Images

1. Antonio Gates, San Diego Chargers
For a player who has 10 catches, 124 yards and no touchdowns, we are showing a lot of love to Gates this weekend. Some of it is based on his natural ability and our desire to think he can get back to elite status.
A lot of the optimism has to do with who Gates and the Chargers will be going up against. The Saints are, for lack of a family-appropriate word, a mess. They can't stop anyone from moving the ball on them.
There won't be a lot of weeks where Gates is one of the two or three best tight ends in fantasy football, but this is certainly the right weekend to bet big on him.
2. Rob Gronkowski, New England Patriots
3. Jimmy Graham, New Orleans Saints
4. Dennis Pitta, Baltimore Ravens
5. Tony Gonzalez, Atlanta Falcons
6. Martellus Bennett, New York Giants
7. Jermaine Gresham, Cincinnati Bengals
8. Vernon Davis, San Francisco 49ers
9. Jacob Tamme, Denver Broncos
10. Greg Olsen, Carolina Panthers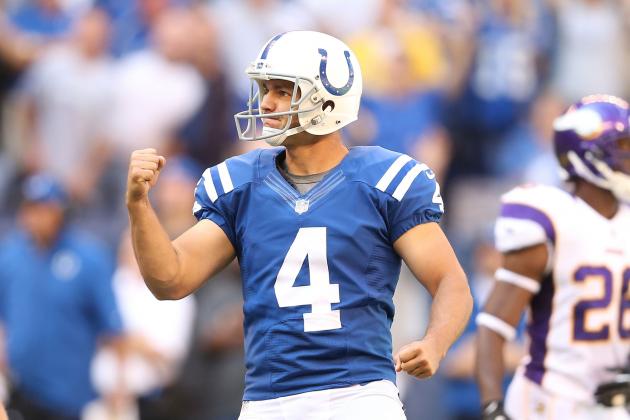 Andy Lyons/Getty Images

1. David Akers, San Francisco 49ers
There are not a lot of things to say about kickers, unless you want to make fun of them. Fantasy kickers are an interesting lot, as so much of their production depends on what their offense is and isn't capable of doing.
Akers is always the safest bet to score a lot of points because the 49ers feature a strong enough offense that is capable of scoring touchdowns, but is guaranteed to stall out at least two times in the red zone.
You need guaranteed points from this position, and Akers is the biggest lock in the bunch, particularly with the 49ers taking on a rather suspect Buffalo defense.
2. Blair Walsh, Minnesota Vikings
3. Adam Vinatieri, Indianapolis Colts
4. Lawrence Tynes, New York Giants
5. Greg Zuerlein, St. Louis Rams
6. Josh Scobee, Jacksonville Jaguars
7. Robbie Gould, Chicago Bears
8. Billy Cundiff, Washington Redskins
9. Stephen Gostkowski, New England Patriots
10. Nate Kaeding, San Diego Chargers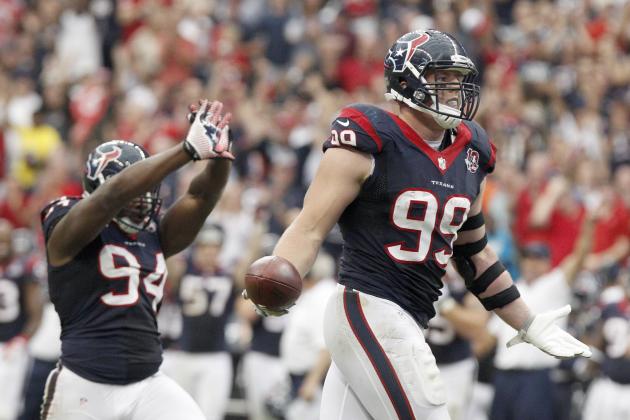 Thomas B. Shea/Getty Images

1. Houston Texans
2. Baltimore Ravens
3. Chicago Bears
4. Cincinnati Bengals
Like kickers, defenses are all about matchups. The Bengals had one of the best matchups last week against Jacksonville, and they get the benefit of the doubt again in Week 5 against Miami.
The Bengals have given up a lot of yards and points overall, but on a singular, one-time basis, this is the perfect situation for them to shine.
Dolphins quarterback Ryan Tannehill has thrown just two touchdown passes and six interceptions. He has also been sacked eight times so far this season, and the Bengals are sixth in the league with 13 sacks.
5. New York Giants
6. San Francisco 49ers
7. Atlanta Falcons
8. Minnesota Vikings
9. Arizona Cardinals
10. Pittsburgh Steelers