It took a while, but the NFL and its fans were more than happy to dismiss the replacement referees and welcome back the likes of Ed Hochuli and Co. That is, unless you live in Seattle. After three weeks of constant controversial calls, it finally feels like the 2012 NFL season has started. Let's play football.
In this week's power rankings, the Texans and Falcons retain the top two spots after respective wins over the Titans and Panthers. The Cardinals continued their improbable run as they remained unbeaten in an overtime win over the Dolphins.
Meanwhile, the Saints continued an improbable run of their own, falling to 0-4 in a 28-27 loss at Lambeau Field. Think they miss Sean Payton?
After Monday Night's 34-18 thrashing, the Cowboys had the biggest fall, dropping 8 spots. Tony Romo has some soul searching to do in the bye week after throwing five interceptions.
1. Houston Texans (1): 4-0. Everything is flowing smoothly right now in Houston. It's safe to say the Texans will run away with the AFC South. (Next game: at NYJ on MNF)
2. Atlanta Falcons (2): 4-0. The Falcons faced their biggest challenge yet, and Matt Ryan came through in a big way. He has been the best quarterback in the NFL this season. (Next game: at Washington)
3. San Francisco 49ers (3): 3-1. The 49ers bounced back from their loss in Minnesota to the tune of 34-0 over the Jets. Good luck playing against that defense. (Next game: vs. Buffalo)
4. Arizona Cardinals (6): 4-0. Losing the job to John Skelton seemed to be all Kevin Kolb needed. He's playing like the $63 million contract he was signed to. Well, for now. (Next game: at St. Louis)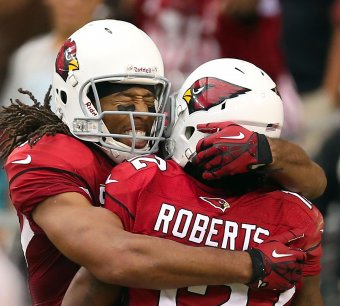 Christian Petersen/Getty Images
5. Baltimore Ravens (5): 3-1. It wasn't pretty, but the Ravens held on against the Browns. The defense needs to be better though. They gave up 320 passing yards to Brandon Weeden. (Next game: at Kansas City)
6. New England Patriots (8): 2-2. Trailing 21-7, the Patriots erupted for 35 unanswered points en route to a 52-28 victory over the Bills. Just wait until this team gets into a rhythm. (Next game: vs. Denver)
7. Green Bay Packers (4): 2-2. That was the best the Packers offense looked all season long in Sunday's win against New Orleans. Can they maintain that the rest of the season? (Next game: at Indianapolis)
8. Chicago Bears (12): 3-1. That's the Bears team we've been expecting since Week 1. They dominated the Cowboys. Jay Cutler can look oh so good sometimes. (Next game: at Jacksonville)
9. Philadelphia Eagles (13): 3-1. Michael Vick had zero turnovers in Sunday night's win over the Giants and managed the game nicely. This needs to become a common trend for the Eagles. (Next game: at Pittsburgh)
10. New York Giants (7): 2-2. Had Ramses Barden not been called for offensive pass interference, it's likely the Giants would have won that game. They'll bounce back this week against the Browns. (Next game: vs. Cleveland)
11. Cincinnati Bengals (14): 3-1. The Bengals offense has exploded the past three weeks, scoring 38, 34 and 27 points. Andy Dalton has been sharp. (Next game: vs. Miami)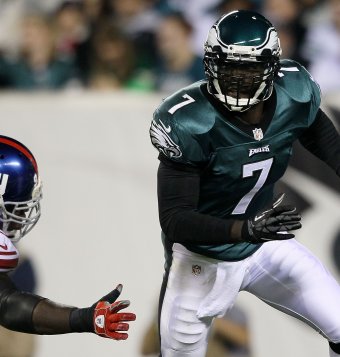 Alex Trautwig/Getty Images
12. Denver Broncos (15): 2-2. Peyton Manning played his best game as a Denver Broncos in Sunday's 37-6 thrashing of the Raiders. Next up, he gets his good friend Tom Brady. That should be fun. (Next game: at New England)
13. Pittsburgh Steelers (11): 1-2. The Steelers come out of the bye week with Rashard Mendenhall coming back from injury. That will help. (Next game: vs. Philadelphia)
14. San Diego Chargers (16): 3-1. It's so hard to figure out the Chargers. They were rock solid in Kansas City. Can they keep it going against the struggling Saints? (Next game: at New Orleans on SNF)
15. Minnesota Vikings (19): 3-1. The Vikings have been the biggest surprise of the season thus far, and sit atop of the NFC North after Week 4. Who saw that coming? (Next game: vs. Tennessee)
16. Seattle Seahawks (9): 2-2. Russell Wilson struggled big time in St. Louis, throwing three interceptions in a 19-13 loss. It won't all be like last Monday night's debacle against the Packers for this team. (Next game: at Carolina)
17. Dallas Cowboys (10): 2-2. The Cowboys have the bye week to think about Monday night's 34-18 loss at the hands of the Bears. The pressure is mounting on Tony Romo. (Next game: Bye, at Baltimore)
18. St. Louis Rams (29): 2-2. With a tough defense, the Rams will be a tough team all season long. Credit Jeff Fisher for this turn around. (Next game: vs. Arizona on TNF)
Are the Vikings for real?
19. Washington Redskins (28): 2-2. Robert Griffin III led that game-winning drive with ease against the Buccaneers. That will be the first of many times he does that for the Redskins. (Next game: vs. Atlanta)
20. New York Jets (17): 2-2. That 34-0 thrashing to the 49ers doesn't help the quarterback saga in New York. Screw it. Put Tebow in already. (Next game: vs. Houston on MNF)
21. Carolina Panthers (25): 1-3. The Panthers defense is reeling after allowing the Falcons to march down from their own one-yard line on Sunday. That hurts. (Next game: vs. Seattle)
22. Miami Dolphins (22): 1-3. Ryan Tannehill has been a pleasant surprise for the Dolphins through four games. He threw for 431 yards in Sunday's overtime loss. Move over Dan Marino. Okay, too soon. (Next game: at Cincinnati)
23. Detroit Lions (20): 1-3. If the Lions aren't careful, this season may spin out of control for them. Jim Schwartz' seat is getting warmer by the week. (Next game: Bye, at Philadelphia)
24. Tennessee Titans (24): 1-3. Chris Johnson let the world know that he's still in the NFL, rushing for 141 yards against the Texans. It didn't matter as the Titans lost 38-14. (Next game: at Minnesota)
25. Buffalo Bills (18): 2-2. After giving up 100 yards to both Stevan Ridley and Brandon Bolden, it's clear the Bills need help on defense. They could use Mario Williams to show up. (Next game: at San Francisco)
26. Tampa Bay Buccaneers (21): 1-3. The Buccaneers' comeback victory was spoiled by Robert Griffin III on Sunday. The bye week comes, followed by back to back home games. (Next game: Bye, vs. Kansas City)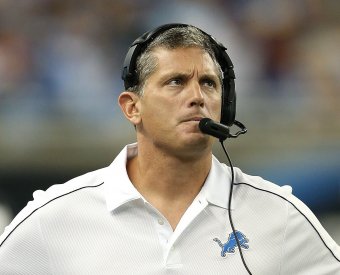 Leon Halip/Getty Images
27. Indianapolis Colts (26): 1-2. Andrew Luck comes out of the bye week with a visit from Aaron Rodgers. That will be a test for the rookie. (Next game: vs. Green Bay)
28. Oakland Raiders (23): 1-3. The Raiders built on their comeback win over the Steelers only to lose 37-6 to the Broncos. That makes them 0-2 in AFC West play. (Next game: Bye, at Atlanta)
29. Kansas City Chiefs (30): 1-3. The Chiefs have created a habit of getting themselves down early. Needless to say, that needs to change. (Next game: vs. Baltimore)
30. New Orleans Saints (31): 0-4. At 0-4, the Saints are desperate, and their loss in Green Bay was a must win. It's hard to believe they'll overcome this. (Next game: vs. San Diego on SNF)
31. Jacksonville Jaguars (27): 1-3. The Jaguars need to see some consistency out of Blaine Gabbert this season if they are to move forward with him. That hasn't been the case thus far. (Next game: vs. Chicago)
32. Cleveland Browns (32): 0-4. They competed in Baltimore, which was an encouraging sign. At least they aren't getting blown out. (Next game: at NYG)