Week 3 NFL Picks: Last-Minute Predictions for Every Game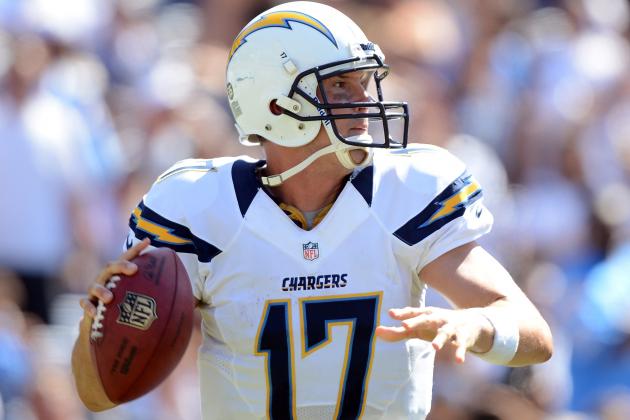 Harry How/Getty Images

Week 3 of the NFL season will be a proving ground for a number of teams.
Are the 2-0 Arizona Cardinals real playoff contenders? Which early MVP candidate—Matt Ryan or Philip Rivers—will take his team to 3-0?
Can the New England Patriots recover after losing their worst home game of the Tom Brady era? Will the Seattle Seahawks win their biggest home game since the 2010 playoffs?
We'll predict each of those games and the rest of the remaining Week 3 NFL games in the following slides.
Begin Slideshow

»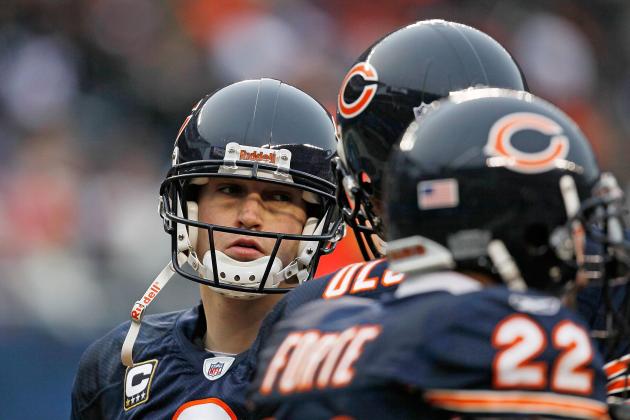 Jonathan Daniel/Getty Images

These aren't the Rams of the recent past, where teams could get up early and coast to a win while St. Louis rolled over.
Jeff Fisher has brought a different attitude to this team, and we've seen that no-quit mentality in a close loss to the Detroit Lions in Week 1 and a win over the Washington Redskins last Sunday.
That said, the Bears have had a bad taste in their mouth throughout this extended work week after being embarrassed by Green Bay last Thursday. They are also playing at home.
They'll give J'Marcus Webb help on the edge and win a close one with defense.
Prediction: Bears 24, Rams 20
Final: Bears 23, Rams 6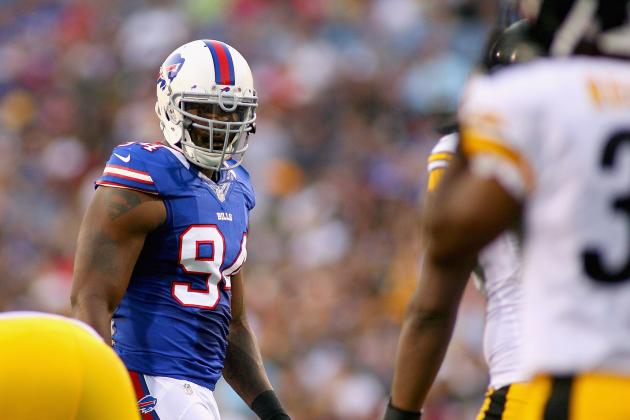 Rick Stewart/Getty Images

The talent level isn't too far off for these two inconsistent teams so far in 2012.
There's an itch to take the Browns at home, especially if Ryan Fitzpatrick turns the football over. Cleveland's defense can keep the Bills well under 20 points if Fitzpatrick is making bad decisions.
But let's keep in mind that Cleveland has allowed over 300 yards passing in two games, so Fitzpatrick could have a big day.
A little bit of C.J. Spiller (the NFL's rushing leader) and a breakout party for defensive end Mario Williams equals a close win for the Bills.
Prediction: Bills 24, Browns 20
Final: Bills 24, Browns 14
Al Messerschmidt/Getty Images

The Buccaneers will arrive in Dallas thinking they should be 2-0. A fourth-quarter meltdown defensively cost them a win in New York.
On the opposite sideline, Tampa Bay will see a Cowboys team that is more talented overall and hungry to get back into the win column after an embarrassing defeat in Seattle.
Dallas simply can't afford to fall to 1-2, especially in its home opener. The Cowboys get back to running the football, and the receivers will make a play or two for Tony Romo after flopping in Seattle.
Prediction: Cowboys 34, Buccaneers 24
Final: Cowboys 16, Buccaneers 10
Leon Halip/Getty Images

The Titans aren't as bad as their 0-2 record suggests, and playing at home gives the possibility of a performance we expected from this team to start 2012.
For that to happen, running back Chris Johnson has to provide more production in the running game than he's given in two forgettable games this season.
While Johnson has been poor, his line has been worse. The Lions defensive line can win that matchup up front and keep Johnson in check for a third straight week.
With little from Johnson, Matthew Stafford is able to outgun Jake Locker, and Detroit runs away with the road win late.
Prediction: Lions 30, Titans 17
Final: Titans 44, Lions 41 (OT)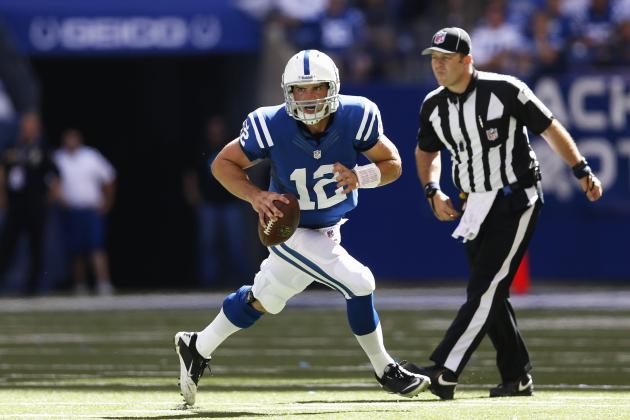 Joe Robbins/Getty Images

This AFC South clash may be won or lost on the Jaguars' ability to stop the run. While gashed for over 200 yards last week against Houston, Jacksonville now faces a below-average running team in Indianapolis on the road.
To win, the Jaguars need to be able to take away the running game and put everything on Andrew Luck.
But even if Bruce Arians' Colts offense can't replicate some of the things Houston did to Jacksonville last week, Luck makes all the difference.
He can already win a football game on his own in his young career, but we're not sure Blaine Gabbert can.
Prediction: Colts 27, Jaguars 16
Final: Jaguars 22, Colts 17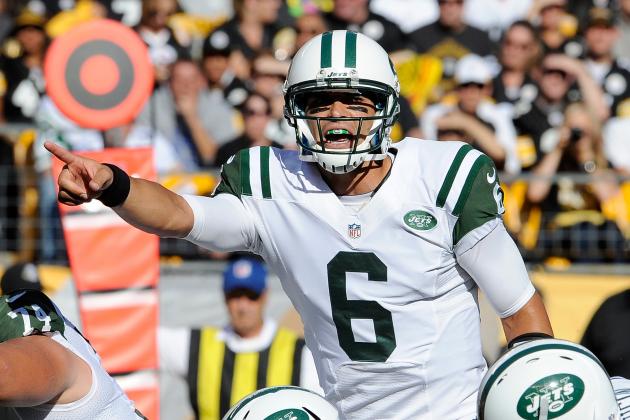 Joe Sargent/Getty Images

The Dolphins may have the best offensive player on the field Sunday in Reggie Bush, but it's still hard to trust rookie quarterback Ryan Tannehill against a Rex Ryan defense.
Ryan will almost certainly throw a mix of man and zone coverages at the young Tanenhill to force him into mistakes.
And while Mark Sanchez struggled mightily in Week 2, expect him to bounce back in Miami. The Dolphins defense doesn't compare to the looks he saw in Pittsburgh last week. Throwing the football should be an easier task in Week 3.
This won't be a pretty game to watch, but the Jets win with defense and an offense that makes one or two less game-changing mistakes.
Prediction: Jets 27, Dolphins 10
Final: Jets 23, Dolphins 20
Cary Edmondson-US PRESSWIRE

Patriots-Cardinals gives me a little hesitation, but there's no doubt this matchup has the opportunity to be the blowout of the week.
The Vikings, for all the positive things they have showed through two weeks, are just 1-1 after playing the Jaguars and Colts to start the season. Facing the 49ers, especially from a physicality standpoint, is going to be a big step up.
Minnesota should struggle to establish anything on the ground against the best run defense we've seen in some time.
The 49ers offense, meanwhile, will cram the ball down the heart of the Vikings defense most of the afternoon. Easy win for the 49ers as they get to 3-0.
Prediction: 49ers 34, Vikings 10
Final: Vikings 24, 49ers 13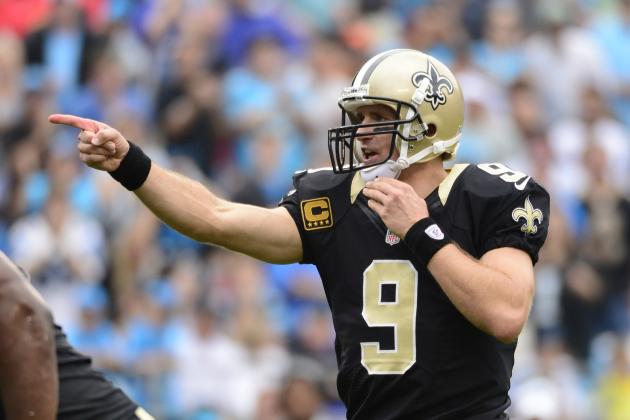 Bob Donnan-US PRESSWIRE

At 0-2, desperation is starting to set in for both teams. A third straight loss, even this early in the season, would probably end any playoff chances for either club.
That kind of desperation certainly looks to favor the Saints, who are playing at home and have the offensive firepower to continue exploiting what has been a really bad Chiefs defense through two weeks.
Unless Kansas City finds a pass rush and brings it to New Orleans, the Saints cruise to their first win of the 2012 season.
Prediction: Saints 38, Chiefs 21
Final: Chiefs 27, Saints 24 (OT)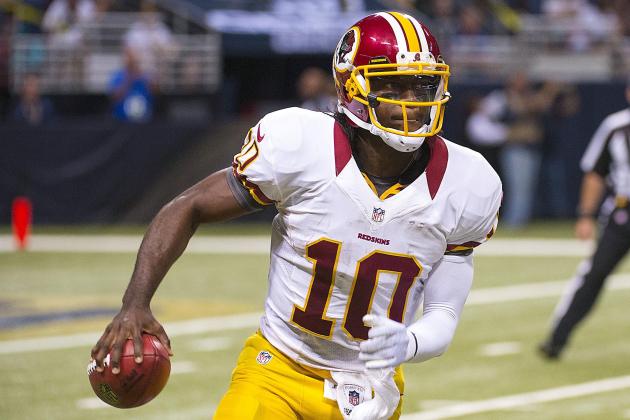 Scott Rovak-US PRESSWIRE

The Bengals escaped at home in Week 2, but this is a flawed football team, especially defensively. Defensive coordinator Mike Zimmer now has his most difficult task of the season in containing electric rookie Robert Griffin III.
Add in the fact that Andy Dalton has already been sacked 10 times, and you get a bad matchup on the road for the Bengals.
Redskins rattle Dalton (even without Brian Orakpo), and Griffin III makes just enough plays to get Washington to 2-1.
Prediction: Redskins 26, Bengals 21
Final: Bengals 38, Redskins 31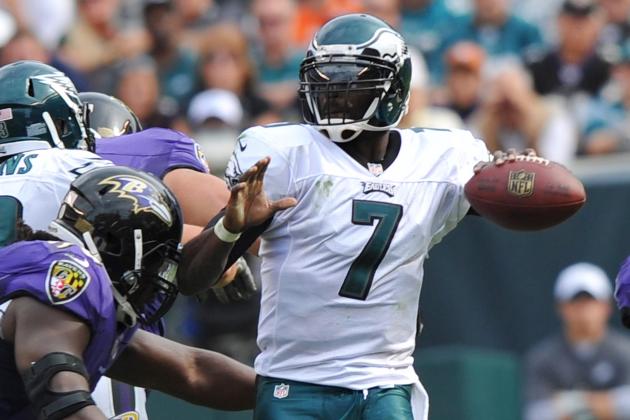 Jeffrey G. Pittenger-US PRESSWIRE

It's hard to be completely sold on the Cardinals as a playoff team this early, but the Arizona defense looks like the real deal. Both Russell Wilson and Tom Brady struggled against a unit that hasn't got much attention yet in 2012.
Expect this to be a low-scoring game, especially considering what the Eagles can do along the defensive line.
In a close game, Michael Vick makes one or two more plays than the Cardinals can muster offensively. Ugly win on the road, but the 3-0 Eagles won't mind.
Prediction: Eagles 20, Cardinals 17
FInal: Cardinals 27, Eagles 6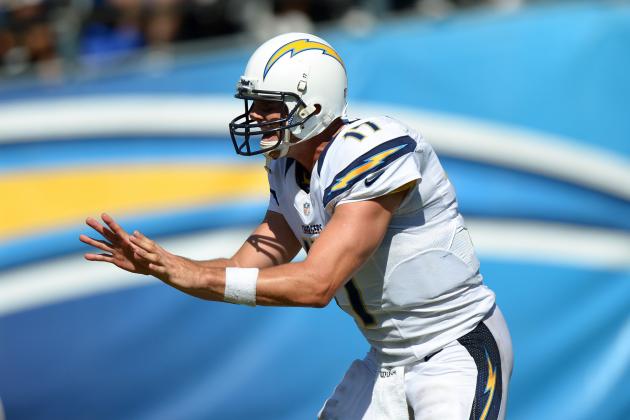 Jake Roth-US PRESSWIRE

The Chargers may be the best team in football no one is talking about.
Quarterback Philip Rivers looks back to his pre-2011 form, the defense is stopping the run and pressuring offenses, and there hasn't been game-altering mistakes from the special teams.
It's all added up to Norv Turner's first 2-0 start as an NFL head coach.
Expect the Bolts to get to 3-0 Sunday as San Diego stuffs the Falcons running game, and Rivers outduels early MVP candidate Matt Ryan at home.
Prediction: Chargers 31, Falcons 30
Final: Falcons 27, Chargers 3
Dale Zanine-US PRESSWIRE

This is a tough matchup for the Broncos, especially coming off a short week. Houston should be able to attack Denver's weak spots on both sides of the ball.
Defensively, the Texans are going to pressure Peyton Manning and force him into making quick decisions.
Few teams are better at manufacturing pressure on opposing quarterbacks, and Manning struggled with his decision-making at times Monday night.
Houston can also run the football on offense, shortening the game and keeping the Broncos edge-rushers at bay in the play-action passing game.
Tough picking against Manning at home, but the Texans might be the class of the AFC.
Prediction: Texans 27, Broncos 17
Final: Texans 31, Broncos 25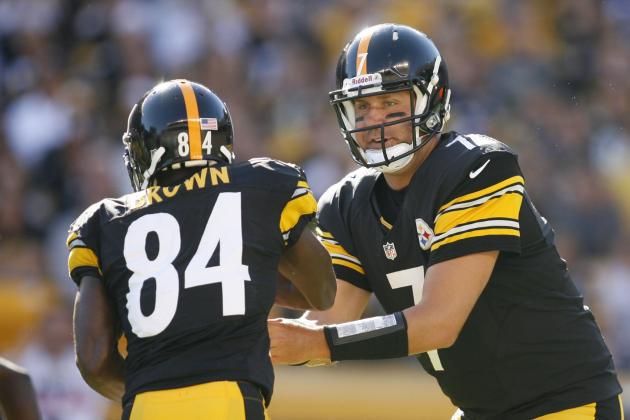 Charles LeClaire-US PRESSWIRE

The Raiders are going to need a sloppy game from Pittsburgh to compete at home Sunday. The Steelers are simply better on both sides of the ball, and Oakland looks like it could be in line for a top-five pick next April.
Expect to see the Steelers spread out the Raiders secondary, which is lacking the depth necessary to contain Ben Roethlisberger and Co. for 60 minutes.
The passing game for the Steelers could put up big numbers Sunday, and unless Pittsburgh doesn't show up, the Raiders lose by 10 or more.
Prediction: Steelers 28, Raiders 17
Final: Raiders 34, Steelers 31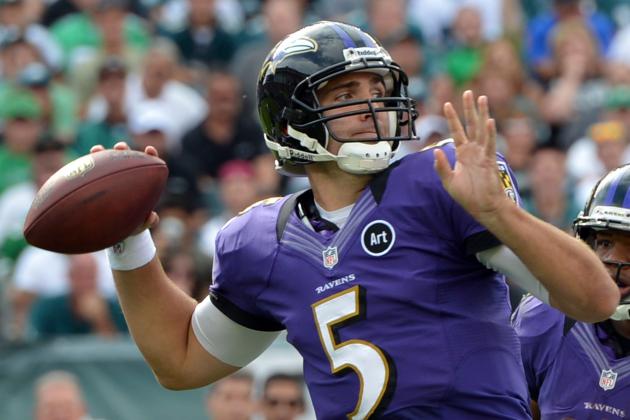 Jeffrey G. Pittenger-US PRESSWIRE

The focus Sunday night will be on the Patriots offense, and rightfully so.
When Aaron Hernandez went down against Arizona, everything changed in terms of the way New England wants to attack defenses.
The Patriots never seemed to recover, and they now get a tough test in the Ravens defense in Week 3.
Joe Flacco needs to bounce back after a second half in Philadelphia that saw him struggle. Even without a big game from Flacco, however, the Ravens are well-positioned to knock off the Patriots at home.
Prediction: Ravens 34, Patriots 30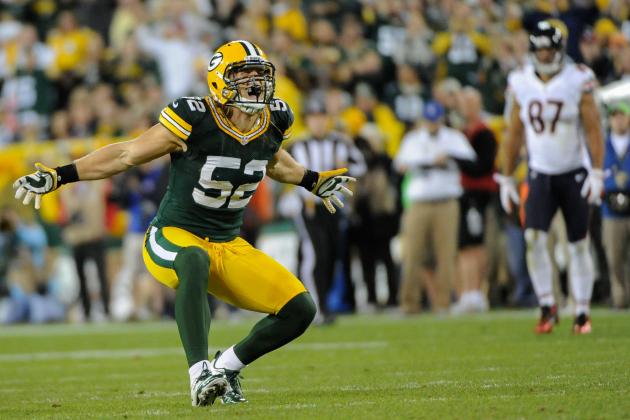 Benny Sieu-US PRESSWIRE

I have went back and forth on this game all week.
The blueprint for a Seahawks win is rather simple: run the football well on first and second down, create a play or two on defense or special teams and make the Packers one-dimensional offensively.
If there's three check marks Monday night, Seattle gets its biggest win since knocking off the Saints in the 2010 playoffs.
That said, I think the Packers stack the box to stop Marshawn Lynch and then pressure Russell Wilson into bad decisions. Aaron Rodgers will eventually snap the Packers offense out of their current funk.
Prediction: Packers 27, Seahawks 20