NFL Week 2 Contenders & Pretenders
Jonathan Daniel/Getty Images
The NFL received a makeover this week. The second slate of games turned conventional thinking on its head and requires a serious look at 18 different teams to sort out the contenders from the pretenders.
So that's exactly what we did.
You won't find any 0-2 teams in this slideshow since only three teams in history have gone on to a Super Bowl title after such a poor start.
Does anybody believe that this year's New Orleans Saints or Kansas City Chiefs are going to turn it around? One doesn't have a coach and the other is led by Romeo Crennel. I'll leave it at that.
There's plenty of games left to sort out the champs from the chumps, but click through to get a preview of things to come.
Contender: San Francisco 49ers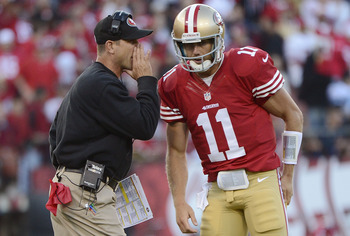 Thearon W. Henderson/Getty Images
Let's dispense with the most obvious choice. The San Francisco 49ers are the most complete team in the league.
I should also issue a personal apology to Alex Smith. I refused to acknowledge that he could grow into a good quarterback, but that's exactly what he did.
Last year, he struggled to generate positive plays. Against the Detroit Lions, he continuously hooked up with another first-round reclamation project (Michael Crabtree) for key third-down conversions.
He is in complete command of his offense as demonstrated by intelligent audibles and well-placed throws. Basically, I was wrong.
It's incredible that it took until the fifth paragraph to mention their dominating defense, the one that has held the Green Bay Packers and Lions to a grand total of 41 points. Offensive coordinators haven't figured out how to attack the unit, and I'm unsure that there is a solution.
In case you were worried I'd forget, the Niners are also third in the league with an average of 167 rushing yards a game. That's a complete team.
Pretender: Detroit Lions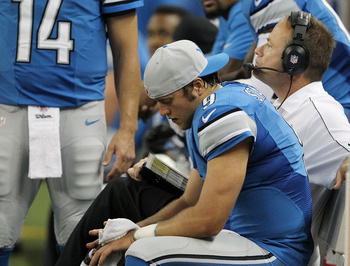 Leon Halip/Getty Images
Fans should have some growing concerns about the Detroit Lions. Aside from their Monday Night Football win over the Chicago Bears last season, they haven't beaten anyone of note.
Unfortunately, the NFL doesn't allow too many weak teams to reach the playoffs. It's not good for the brand.
Matthew Stafford has struggled this year with his accuracy and decision making, but not all of that should be placed at his feet. He did rally when needed in the season opener and continued fighting against the San Francisco 49ers.
The offensive line has struggled to clear holes for the rushing game, and the pressure they have allowed have contributed to Stafford's difficulties.
However, the biggest concern was the lack of coaching adjustments made in both games. One clear example was the Niners' repeated use of the inside trap against the Lions defense for two straight games.
If you watched the game, it was brought up by the announcers roughly 47 times. So why didn't Gunther Cunningham make an adjustment to corral the play?
Injuries continue to decimate an already-shaky secondary, and the defensive line has been underwhelming. In the ridiculously difficult NFC, Detroit won't be a factor in January.
Contender: San Diego Chargers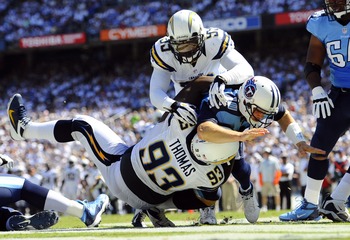 US PRESSWIRE
The lazy argument against the San Diego Chargers is that they've played two of the worst teams in the NFL.
Regardless of the veracity of that statement, don't sleep on the Chargers. They're good.
The defense is extremely stout. They shut down Darren McFadden in Week 1 and then allowed just 38 yards rushing to the Tennessee Titans. Even better, they are only allowing 12 points per game through their first two contests.
The offense gives cause for concern until you remember that Philip Rivers is in the early stages of developing chemistry with his receivers and only had Antonio Gates for the opener. Additionally, he has only thrown one interception while completing 48 of 65 passing attempts.
The return of Ryan Mathews, assuming he can stay on the field for more than a few plays, coupled with Rivers' resurgence will lead the offense back to the defense's level. With a more complete team than previously thought, San Diego can make some noise this year.
Pretender: Washington Redskins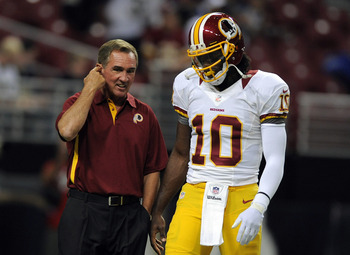 Jeff Curry-US PRESSWIRE
Not this year, Skins fans.
The Washington Redskins have found themselves what appears to be a franchise cornerstone in Robert Griffin III. Rumors of his immediate ascension to greatness, however, should be tempered with the reality of the play-calling.
Mike Shanahan kept the passes extremely short against the New Orleans Saints, giving enough information to the rest of the league of how to frustrate the rookie. His first-year limitations will be too much for the fourth-ranked rushing attack to overcome.
The passing defense ranks near the bottom of the league, as demonstrated by allowing Sam Bradford to throw for over 300 yards. He hadn't done that since Week 6 of 2011.
The losses of Brian Orakpo and Adam Carriker for the season only confirm that the District of Columbia will be waiting another year for meaningful January games.
Contender: Houston Texans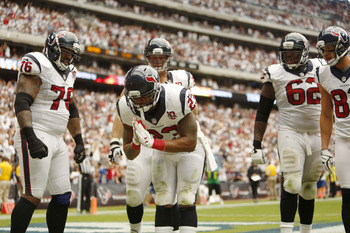 Thomas Campbell-US PRESSWIRE
The Houston Texans are making a run at the Niners' most-complete-team title.
The defense seems to be getting along just fine without a certain pricey outside linebacker. J.J. Watt has become a problem for opposing offensive linemen, racking up three sacks and a fumble recovery.
He's not the only stud on the defense either. Brian Cushing and Johnathan Joseph are the top two tacklers and have also recorded an interception each.
Then there is the offense, which is thrilled to have Matt Schaub back.
The competition might not have been against two stellar teams, but both have solid defenses. Schaub has completed nearly 70 percent of his passes, giving Arian Foster and Ben Tate the room they need to run roughshod.
A Texans and 49ers Super Bowl? Sign me up.
Pretender: Arizona Cardinals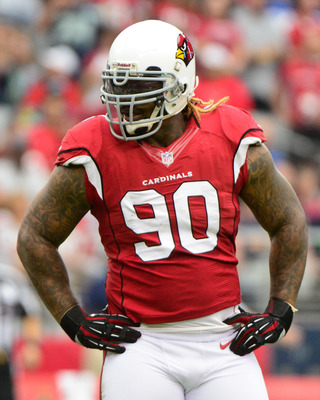 Matt Kartozian-US PRESSWIRE
How many people had the Arizona Cardinals covering in the first two games, let alone winning outright?
I highly doubt the most ardent of Cards fans could have seen this coming. Since they've stormed to a 2-0 mark, however, they deserve to be discussed.
Unfortunately, reality will set in at some point.
The defense is outstanding. There is some talent there, but defensive coordinator Ray Horton should garner serious head-coaching-gig buzz if general managers are paying attention. Shutting down the New England Patriots is an eye-opening feat.
There is only one small detail that may hold them back. Arizona is going to have to find a way to score points consistently.
The Cards blocked a punt leading to a touchdown against the Pats. Otherwise, they don't win that game considering they're averaging around 250 total yards a game. They must begin to create points besides special teams rarities. There is nothing to point to that says they can.
Contender: Baltimore Ravens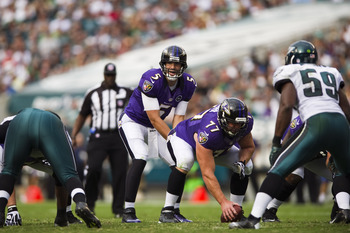 Howard Smith-US PRESSWIRE
The Baltimore Ravens are a perfect example of the more things change, the more they stay the same.
The offense is now the focal point of a team that didn't just center around the defense—the entire team was the defense. That offensive productivity, combined with what is still a good defense, makes the Ravens the third team in the top tier with the Niners and Texans.
The praise that is being heaped on Joe Flacco is warranted. His confidence and skill was on full display when he floated a perfect touchdown pass to Jacoby Jones that 2007 Tom Brady would have been jealous of.
Ray Rice continues to do anything and everything to keep the chains moving, and tight end Dennis Pitta will be a household name by the end of the season.
The defense might not be the dominating unit of the early 2000s, but they're still opportunistic. Michael Vick's 371 passing yards were offset by his three turnovers, and they held LeSean McCoy to a pedestrian 3.2 yards per carry.
Pretender: Philadelphia Eagles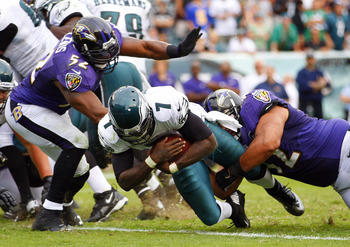 Rich Schultz/Getty Images
The most telling statistic for the Philadelphia Eagles is not their turnover or win total. It's their point differential.
Two wins by a grand total of two points. Such "efficiency" is impossible to maintain, much less expect.
The Eagles were able to overcome an incredible nine turnovers through a bit of luck and timely quarterback play from Michael Vick. With Vick running the ball with reckless abandon, however, will he be able to stand up much longer?
The defense is coming around from a disastrous 2011, but they won't be able to continue to overcome their generous offense.
Contender: Atlanta Falcons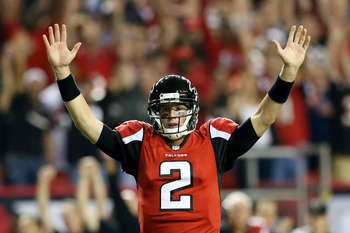 Kevin C. Cox/Getty Images
Prior to the 2012 season, Matt Ryan looked like his ceiling was an above-average to good quarterback. He wasn't cool with that.
Ryan has come out swinging this year, leading the Atlanta Falcons to 40 points in their opener with three touchdowns of his own and has yet to throw an interception. Julio Jones' level-jumping act against the Kansas City Chiefs made any expectation reasonable for this offense.
The defense has suffered a difficult injury in the secondary, but the backups have proven themselves worthy. Asante Samuel has brought a physical presence to match his coverage skills and appears ready to set the tone for the entire unit.
The big question for the Falcons will be if they can generate enough of a pass rush. Defensive coordinator Mike Nolan has proven adept at creating havoc and confusion leading befuddled quarterbacks to throw three picks in a quarter (See Manning, Peyton).
Pretender: Chicago Bears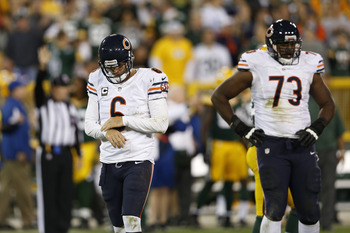 Joe Robbins/Getty Images
They seemed so close. The pieces they added this offseason in Brandon Marshall, Alshon Jeffery and possibly Shea McClellin could have been enough to push them over the hump.
However, the Chicago Bears are being undone by the one area general manager Phil Emery failed to address: the offensive line.
The Bears' prime-time matchup with the Green Bay Packers drove the point home with emphasis. Clay Matthews found little resistance on his way to 3.5. sacks, which led a team-wide effort of seven total. The constant pressure they provided harassed Jay Cutler into four interceptions.
The offensive line, or more specifically J'Marcus Webb, didn't seem to care as he laughed when being chewed out by the frustrated Cutler.
As much work as has been done on the offense, there is still more to go before the Bears can take the leap.
Contender: New York Giants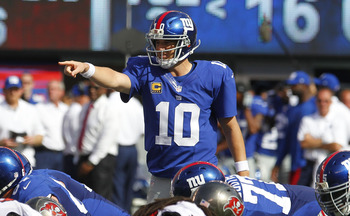 Jim O'Connor-US PRESSWIRE
Consider this an until-further-notice pick. Pundits have attempted to write off the New York Giants numerous times in the past five years, yet they still have two Super Bowl rings.
Eli Manning must enjoy seeing how difficult he can make things before turning it on. Nothing phases him. To throw three interceptions in the first half against the Tampa Bay Buccaneers and then drop 510 yards is borderline insane.
Their secondary issues are scary, but, unlike the Detroit Lions, they actually get the type of performance needed from the defensive line to mask the issue. If they can get a few guys to recover enough to play (Prince Amukamara hasn't played a down this season) in January, it will be a luxury they have yet to enjoy.
Therefore, I'm not playing around with Manning and company. So long as they have him and that pass rush, they're a contender.
Pretender: Seattle Seahawks
Jennifer Hilderbrand-US PRESSWIRE
Russell Wilson has inspired more than a few man-crushes among the Seattle Seahawks faithful. He's even inspired some sportswriters to predict a Super Bowl title for the Emerald City this season.
The kid has moxie and leadership in spades; he just doesn't have anybody around him to catch the ball.
Marshawn Lynch is capable, but he can't be counted on to be available throughout the season considering he has never completed a full 16-game slate.
Then there are the players whose main job is to catch the ball. Sidney Rice inspires buyer's remorse, Braylon Edwards lacks consistency, and Doug Baldwin is not going to strike fear into anyone. These three have a combined 15 catches, 125 yards and one touchdown through the first two games.
The defense is as fearsome as any unit in the league. However, until the Seahawks add a few more playmakers on offense, they won't be contending for anything other than a Wild Card.
Contender: Dallas Cowboys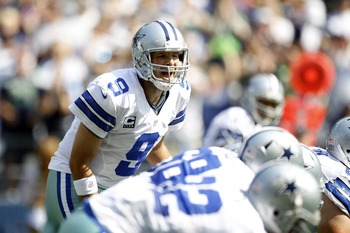 Joe Nicholson-US PRESSWIRE
The Dallas Cowboys are similar to the Chicago Bears in many ways, except they have a slightly better offensive line and a cooler quarterback.
The Boys are capable of putting up points with anybody considering their offensive talent. They just need to be sure that they are running DeMarco Murray enough instead of constantly throwing the ball.
Austin Miles, Jason Witten and Dez Bryant are three good reasons to turn to the passing game. When Murray is fed the rock, however, he sets up the rest of the offense. That was their problem against the Seattle Seahawks when they were forced to abandon the run after being put in a 10-point hole.
The defense has playmakers on each level in DeMarcus Ware, Sean Lee and Brandon Carr. They can create pressure and turnovers with this trio, giving them plenty of reason for optimism this season.
Pretender: Denver Broncos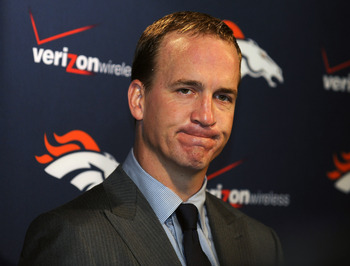 Kirby Lee-US PRESSWIRE
I'm not willing to put this team into the mix for the Super Bowl yet. I haven't seen enough to justify it.
Peyton Manning is still a good quarterback, but he hasn't been great. The Atlanta Falcons made him look amateur-ish, and forced him to chuck deep passes over the middle, which may as well have been punts.
Even against the Pittsburgh Steelers, he wasn't playing like the Peyton of old. If you remove Demaryius Thomas' 71-yard screen pass, he had 182 yards against a defense playing without three of its top players.
Additionally, the running game is relying on a 30-year-old running back. Can Willis McGahee be expected to continue the pace he displayed against Atlanta (22 carries, 119 yards, two touchdowns)?
I doubt it.
That leaves us staring at the defense to make up the difference, and they don't seem up to it. They're a solid unit; they just lack the consistency to become a carry-you-to-the-Super-Bowl defense.
Contender: New England Patriots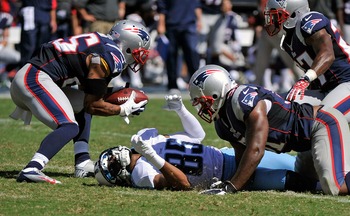 Frederick Breedon/Getty Images
The New England Patriots lost to the Arizona Cardinals. At home.
Yet, somehow they still have what it takes to contend this year.
The offensive line is suffering through a learning curve as the Pats attempt to replace long-time starters Dan Koppen and Matt Light. However, the Pats still have talent in the front five and solid coaching to scheme around them properly.
The offense is still being led by Tom Brady, and features Rob Gronkowski and Brandon Lloyd. Once Aaron Hernandez returns, the matchup advantages will tilt back in their favor and will be exploited early and often.
The difference between this Patriots team and prior versions is this one can rely on their defense to carry them through the next few Hernandez-less weeks. Chandler Jones and Dont'a Hightower give them the pass-rush they needed to couple with their stellar run-defending unit.
The Pats are like mosquitoes, no matter how many you kill, they keep coming.
Pretender: Pittsburgh Steelers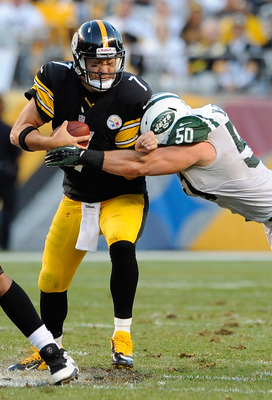 Joe Sargent/Getty Images
The Pittsburgh Steelers are always there as well, but that streak won't be extending to 2013.
The offensive line situation is becoming downright scary. The New England Patriots are dealing with a transition period; the Steelers are attempting to block pass-rushers with matadors. A few of their guys don't look as if they should be protecting a Primanti Bros. sandwich, much less Ben Roethlisberger.
Roethlisberger has valiantly fought off his pursuers and flung the ball downfield for the better part of a decade. His run of being able to stay healthy is getting more difficult to sustain, and I'll take the odds going against him this year.
The defense is still an above-average unit, but they are having more and more difficulty getting everybody onto the field.
If they're going to make a run, they will need a healthy Troy Polamalu. When's the last time that happened? It's been two years since he was ready to go in January.
Could the Steelers still find a way to get it done? It's possible. Just not likely.
Contender: Green Bay Packers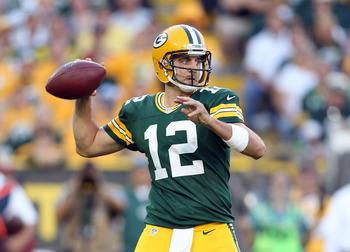 Andy Lyons/Getty Images
The Green Bay Packers offered the most head-scratching decision on this list.
Would I write them off after losing to the San Francisco 49ers? Could I do that considering their dismantling of the Chicago Bears?
Ultimately, it proved difficult to go against a team who won a Super Bowl two years ago and won 15 games last year. The Niners have proven to be the cream of the league , so that loss can be explained away for the time being.
However, the offense has developed a troubling trend. They have not put up the points necessary to cover up for a defense that is built to play with the lead.
Still, I'm not betting against Aaron Rodgers until I see more.
Pretender: Tampa Bay Buccaneers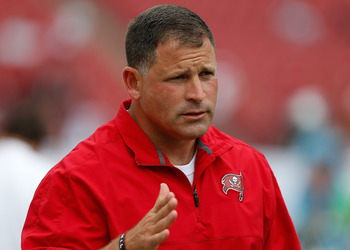 J. Meric/Getty Images
They're close. The Tampa Bay Buccaneers are a team on the rise and that's indisputable.
The collapse against the New York Giants, however, allowing the Giants to score 25 points in the fourth quarter, proves they're not there yet.
Ask last year's Dallas Cowboys. You won't make the playoffs if you can't protect a lead.
The building blocks are there, though. Josh Freeman is playing with an intelligence we haven't seen from him in a couple years, and Doug Martin is a bona fide professional tailback.
The loss of Da'Quan Bowers will be too much to handle this year. The Bucs are still one defensive lineman away from legitimate contention.
Keep Reading