Fantasy Football 2012: Top 10 Rookies to Target in Your Draft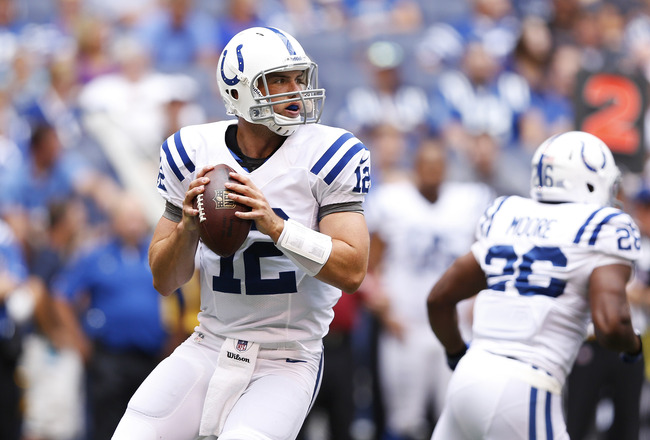 Joe Robbins/Getty Images
It's the most wonderful time of the year—football is back, and with it comes the return of your fantasy league.
While some of us have already had our drafts, others see them on the horizon and are scrambling to figure out whom to take—and when to take them.
When it comes to players making their NFL debuts in 2012, the question is more difficult to answer. These are players who will largely be learning as they go along, and while they may have been studs in college, there's no guarantee they can replicate that success at the next level.
So, whom from the 2012 draft class should you be considering as your draft moves into the middle and later rounds?
Let's take a look.
Coby Fleener, TE, Indianapolis Colts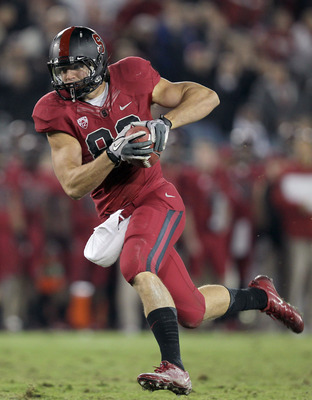 Ezra Shaw/Getty Images
There isn't a player on the Colts roster to whom Andrew Luck is more comfortable throwing the ball than Coby Fleener, his tight end at Stanford.
Fleener is a big, talented player who has the ability to remind Colts fans of Dallas Clark in his heyday. When the Colts get into the red zone, Fleener will undoubtedly be one of Luck's primary targets.
He's going in the 11th round or later in most 12-team leagues on ESPN, the 16th tight end off of the board. While fellow rookie Dwayne Allen could steal some of his thunder, Fleener's relationship with Luck cannot be undervalued—and it could push him further up the tight-end rankings as the season wears on.
Stephen Hill, WR, New York Jets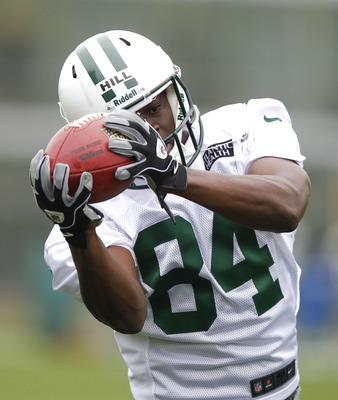 Jeff Zelevansky/Getty Images
After Santonio Holmes and Dustin Keller, someone has to catch the ball for Mark Sanchez and the Jets.
Stephen Hill is as good an option as they have in camp and is already slotted to start the season as the second receiver on the team—much to Antonio Cromartie's dismay.
While the Jets don't exactly have a high-powered passing attack, Hill is going to get his touches—and he has the ability to make plays after the catch.
He's gone undrafted in many ESPN leagues, but as a late-round selection, he's worth taking a flier on.
Alshon Jeffery, WR, Chicago Bears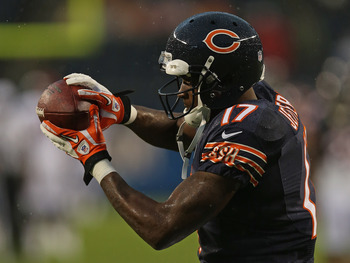 Jonathan Daniel/Getty Images
Sure, the Bears are going to be more of a running team than anything else, and who could blame them with Matt Forte lining up in the backfield?
But Jay Cutler has a powerful arm, and aside from Brandon Marshall, he doesn't have a clear-cut second option. Devin Hester will get his touches, but it's fair to say he's pretty irrelevant when it comes to being a viable starter for your fantasy team at receiver.
While Jeffery might not put up big yardage numbers, at 6'3" he could emerge as a go-to guy in the red zone for Cutler.
He's going in the 12th or 13th round in most 12-team leagues on ESPN, the 59th receiver taken. He has the potential to provide excellent value that late in your draft.
Andrew Luck, QB, Indianapolis Colts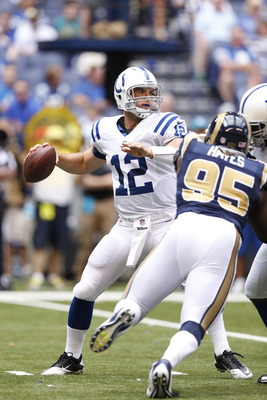 Joe Robbins/Getty Images
There's no question that Andrew Luck will be the starting quarterback for the Colts in 2012, and while some have called him the best quarterback prospect they have ever seen, expectations need to be tempered.
For as talented a player as Luck is, he's still a rookie—and he's playing on a team that is a far cry from the Peyton Manning-led Colts of years past.
That being said, Luck is going to put up some solid numbers in 2012, if for no other reason than that the Colts are likely to be playing from behind more often than not.
With some intriguing weapons at his disposal—namely veteran wide receivers Austin Collie and Reggie Wayne and tight end Coby Fleener—Luck has a chance to be a relevant fantasy quarterback in his rookie season.
On average Luck is being selected in the ninth round in ESPN leagues, the 110th overall pick in 12-team leagues. He's going 16th among quarterbacks—after Jay Cutler but before Alex Smith.
There's always risk associated with rookie QBs, so you may prefer to have Luck as your backup.
But as a starter, Luck will provide good value for where he's being taken.
Robert Griffin III, QB, Washington Redskins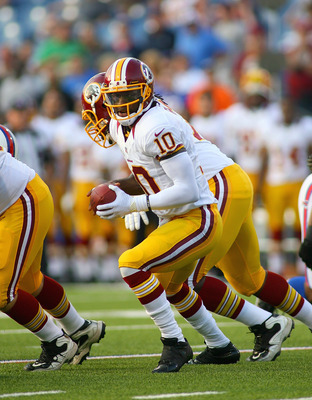 Rick Stewart/Getty Images
RG3 is actually going higher than Luck in many drafts—the 80th overall pick (sixth round) in 12-team leagues on ESPN, behind Matt Ryan but ahead of Ben Roethlisberger.
Many expect Griffin to put up Michael Vick- or Cam Newton-like numbers, and while he has weapons at his disposal, if you draft him expecting that kind of production, you are sure to be disappointed.
That's not to say that he won't put up numbers, because he will—and the fact that he's a mobile QB who can use his legs to generate positive yardage is a big plus when it comes to fantasy—but he faces a brutal schedule.
Consider the defenses that he'll be facing twice in the NFC East: The Cowboys, Eagles and Giants all pose formidable challenges for any quarterback, especially a rookie.
Griffin is worthy of your selection in your draft, but not before Luck. If RG3 is sitting on the board in the 10th round, grab him. But to take him ahead of more established arms like Jay Cutler and Roethlisberger could be a decision that comes back to haunt you.
Doug Martin, RB, Tampa Bay Buccaneers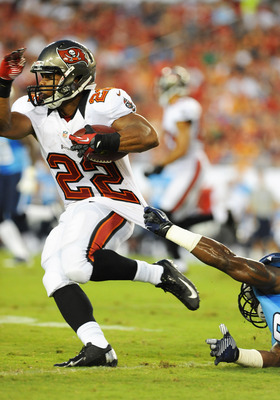 Al Messerschmidt/Getty Images
While LeGarrette Blount may be ahead of him on Greg Schiano's depth chart, Martin does one thing that Blount struggles to do, and that's hold on to the ball.
Blount's tendency to fumble will certainly wear thin with Schiano, and that will open up more opportunities for the rookie Martin to shine. Martin is actually being selected well ahead of Blount in ESPN drafts, the 30th overall running back selected, while Blount comes in at No. 41.
Martin is also an excellent pass-catcher out of the backfield, and that only adds to his value—especially if you play in a points-per-reception (PPR) league.
As we have seen for the past number of years, running back is the first position to be raided in drafts. So while the sixth or seventh round might seem early to take a rookie back, the fact that Martin could be the starter in Tampa before long makes him a worthy selection.
Isaiah Pead, RB, St. Louis Rams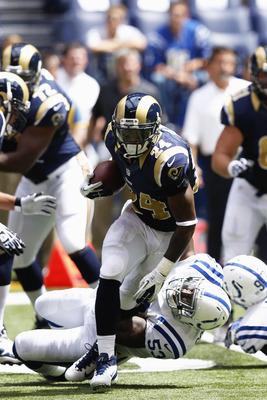 Joe Robbins/Getty Images
"Who?" is probably what you just said when you saw his name, but hear me out.
Stephen Jackson isn't getting any younger, and his total number of carries has been trending downward. It's not as if the Rams have viable alternatives behind Jackson, and Jeff Fisher is sure to do what he needs to in order to keep Jackson healthy all season long—that means give him less of a workload.
Pead is a speedy, shifty back out of Cincinnati and could see enough touches to become a relevant fantasy option. He's going 64th among running backs on ESPN and undrafted in many leagues.
Late in your draft, Pead is worth taking a flier on.
Rueben Randle, WR, New York Giants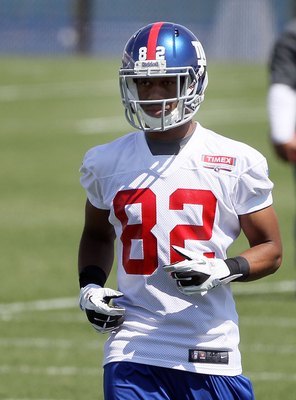 Jim McIsaac/Getty Images
We know the Giants love to air it out, and Eli Manning is a pro when it comes to throwing the deep ball. With Mario Manningham in San Francisco, the third receiver spot on the Giants roster is wide open—and there's no reason Randle can't claim it.
Neither Dominik Hixon nor Jerrel Jernigan has outplayed the rookie thus far in camp, and the enigma that is Ramses Barden is probably on his way out of New York.
Randle has the size to be a problem for defensive backs and the speed to get by linebackers and safeties. With Hakeem Nicks and Victor Cruz both commanding double coverage, Randle will find himself in a ton of one-on-one situations that he can exploit.
He's been going anywhere between the 10th and 12th rounds in 12-team leagues on ESPN, the 46th wide receiver to come off the board. He's a worthy selection in those spots and could prove to be one of the steals of your draft as Manning becomes more comfortable with him.
David Wilson, RB, New York Giants
Jim McIsaac/Getty Images
Ahmad Bradshaw is the unquestioned starter at running back for the defending Super Bowl champions, but two things are for sure—Tom Coughlin loves using multiple backs, and Bradshaw will be hard pressed to stay healthy all season.
Wilson is an explosive runner who shouldn't have much of an issue passing Andre Brown and D.J. Ware in the race to become Bradshaw's primary backup—the Giants certainly didn't use their first-round pick on him with the idea of burying him on the depth chart.
He's been the 40th overall running back taken in ESPN drafts, going in the ninth or 10th round on average in 12-team leagues. While New York's passing game will account for much of the Giants' scoring, Wilson is going to play an integral role in the offense as the season wears on and the weather in the Northeast deteriorates.
Kendall Wright, WR, Tennessee Titans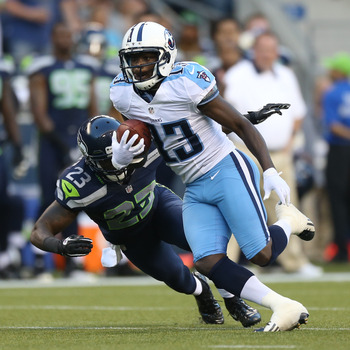 Otto Greule Jr/Getty Images
It's safe to say that Kenny Britt is no lock to be on the field for the Titans when the season opens, given his off-field issues this offseason, which include a banged-up knee, a DUI arrest and venting against a team-imposed fine on social media—two of which are things that NFL commissioner Roger Goodell certainly doesn't take kindly.
If Britt is forced to the sidelines, Wright could swoop in and become a primary target of either Matt Hasselback or Jake Locker, whoever winds up winning the quarterback competition.
Wright is likely to start the season as Tennessee's slot receiver but has the talent to move outside as the season progresses.
The 53rd wide receiver off the board in ESPN drafts, Wright is going in the 11th or 12th round in 12-team leagues. He's most definitely worth a selection there, and a case could be made for him to go even earlier than that.
Keep Reading