Projecting the NFL's Highest-Scoring Offenses of 2012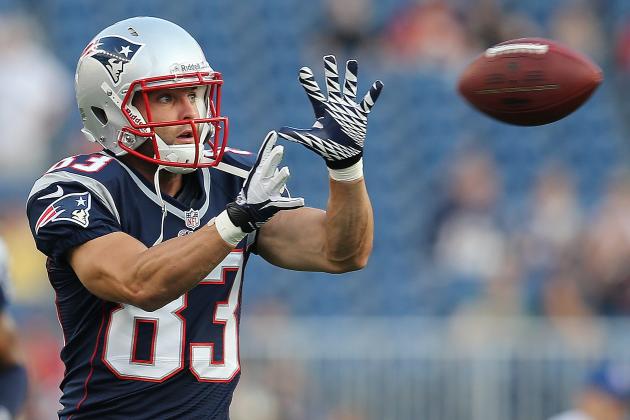 Jim Rogash/Getty Images

Do you remember the old cliché that defense wins championships?
That does not hold much weight in today's National Football League.
Stephen J. Dubner of Freakonomics.com suggests that we should consider a revised statement that offenses actually win championships. The most recent Super Bowl-winning teams have relied on a high-powered offense.
The top offenses are consistent year to year, although a few teams are ready to make a significant jump into the top 10 this year.
Here are the teams that project to be the NFL's highest-scoring offenses in 2012.
Just missed the cut: Dallas Cowboys, San Diego Chargers, Houston Texans, Chicago Bears and San Francisco 49ers
Begin Slideshow

»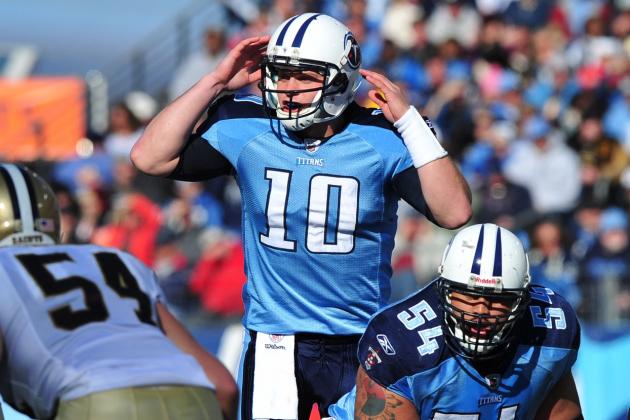 Don McPeak-US PRESSWIRE

2011 Offensive Rank: 21st
Key Players: QB Jake Locker, HB Chris Johnson, WR Kendall Wright, WR Nate Washington, WR Kenny Britt, TE Jared Cook
The Titans are primed to be an elite offense this year. Offensive coordinator Chris Palmer is expanding the playbook in his second season; he lacked preparation time with his new players last year because of the lockout.
Whether the quarterback is Jake Locker or Matt Hasselbeck, the Titans will use more run-and-shoot concepts this year. As the Giants showed last year, Victor Cruz had a breakout season from the slot receiver position in a similar offense to Palmer's. That could equal a fantastic rookie season from Kendall Wright if he wins that role.
Chris Johnson is back to his old self this offseason after a disappointing season last year.
The Titans would benefit greatly if they received any contributions from Kenny Britt this season.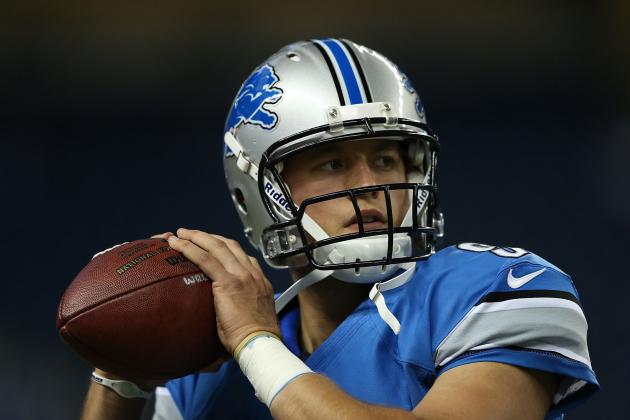 Leon Halip/Getty Images

2011 Offensive Rank: 4th
Key Players: QB Matthew Stafford, HB Kevin Smith, WR Calvin Johnson, WR Titus Young, WR Nate Burleson, TE Brandon Pettigrew
The Lions improved their offensive rank by 11 spots from their 2010 ranking last season.
Matthew Stafford was finally healthy for a full season and joined the NFL's elite quarterbacks in his third season. He connected with wide receiver Calvin Johnson for 16 touchdowns and became only the fourth quarterback in league history to throw for more than 5,000 yards in a single season.
Despite the injuries and suspensions plaguing their running back depth chart, the offense is going to be pass-heavy again this season.
The same cast of receiving options returns, and the Lions added rookie Ryan Broyles to help from the slot once he is healthy.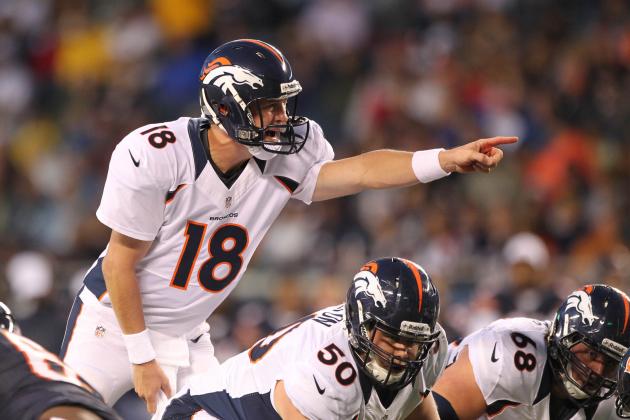 Matthew Emmons-US PRESSWIRE

2011 Offensive Rank: 25th
Key Players: QB Peyton Manning, HB Willis McGahee, HB Ronnie Hillman, WR Demaryius Thomas, WR Eric Decker, TE Jacob Tamme
Exit Tim Tebow; enter Peyton Manning.
That has been the story of the Broncos' offseason with their new signal-caller under center. The future first-ballot Hall of Famer takes over the offense that will be more balanced after leaning significantly on the run last season.
Manning will not be the player he was before his injury. However, he will be a significant upgrade over Tebow in getting all his receivers involved in the passing game.
Manning has a set of excellent holdover receivers in Demaryius Thomas and Eric Decker, and the Broncos imported Jacob Tamme in free agency and Ronnie Hillman in the NFL draft.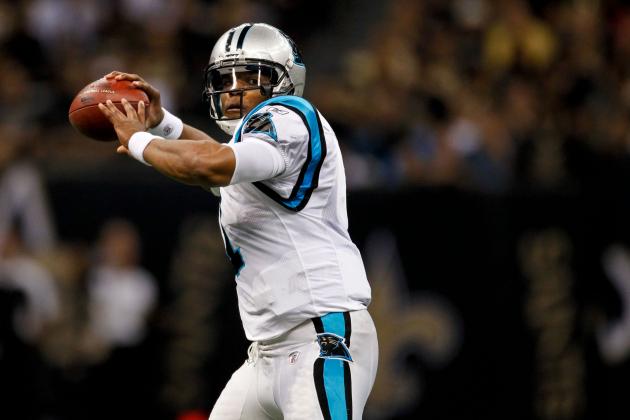 Derick E. Hingle-US PRESSWIRE

2011 Offensive Rank: 5th
Key Players: QB Cam Newton, HB Jonathan Stewart, HB DeAngelo Williams, WR Steve Smith, WR Brandon LaFell, TE Greg Olsen
Cam Newton led the Panthers to a dramatic turnaround on offense last year. The Panthers went from having the worst scoring offense in 2010 (196 points) to one of the league's best in 2011 (406 points), an improvement of 210 points.
Newton proved to be a double threat with 14 rushing touchdowns in addition to his 21 touchdown passes.
Offensive coordinator Rob Chudzinski had the entire offseason to install the rest of his playbook in his second season with Newton and the Panthers. The running game will be strong, led by Jonathan Stewart and DeAngelo Williams, and breakout candidate Brandon LaFell will complement the ageless Steve Smith at receiver.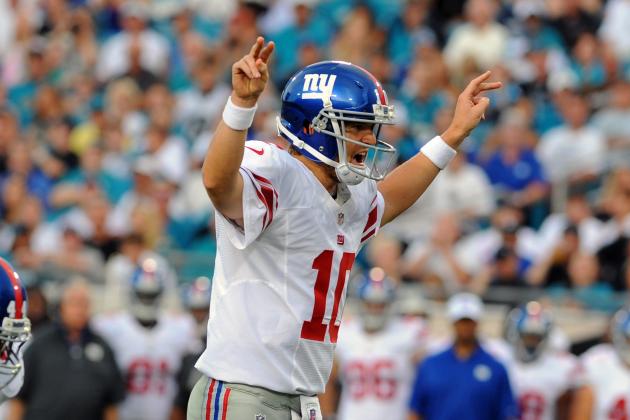 Al Messerschmidt/Getty Images

2011 Offensive Rank: 9th
Key Players: QB Eli Manning, HB Ahmad Bradshaw, HB David Wilson, WR Hakeem Nicks, WR Victor Cruz, TE Martellus Bennett
The Giants rode their offense—not their defense—all the way to their Super Bowl title in 2011.
Eli Manning proved that he was elite after he was criticized for saying so before the season began.
The Giants lost Brandon Jacobs and Mario Manningham to the 49ers this offseason. They replaced them with David Wilson and Rueben Randle, respectively—which is an even swap in talent over the long run.
Hakeem Nicks and breakout slot receiver Victor Cruz form arguably one of the best young duos in the league.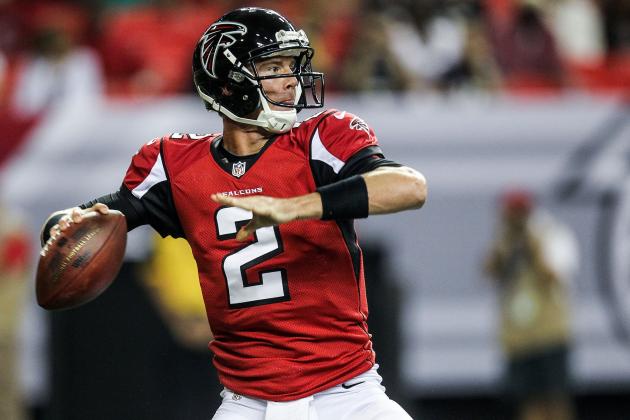 Daniel Shirey-US PRESSWIRE

2011 Offensive Rank: 7th
Key Players: QB Matt Ryan, HB Michael Turner, HB Jacquizz Rodgers, WR Julio Jones, WR Roddy White, TE Tony Gonzalez
There is plenty of hype surrounding the Falcons offense this season.
Offensive coordinator Mike Mularkey left to become the head coach of the Jaguars, and the Falcons brought in Dirk Koetter to replace him. Koetter favors the vertical passing game and the no-huddle offense.
Breakout candidate Julio Jones will be the new featured wide receiver with Roddy White seeing a reduced role. Jones has the upside of Calvin Johnson in this offense.
Matt Ryan hit the weight room this offseason, and his arm strength is reportedly much improved.
If Michael Turner's workload is cut back, Jacquizz Rodgers is there to pick up the slack. Rodgers will be more involved in screen passes—a staple of Koetter's offense in Jacksonville.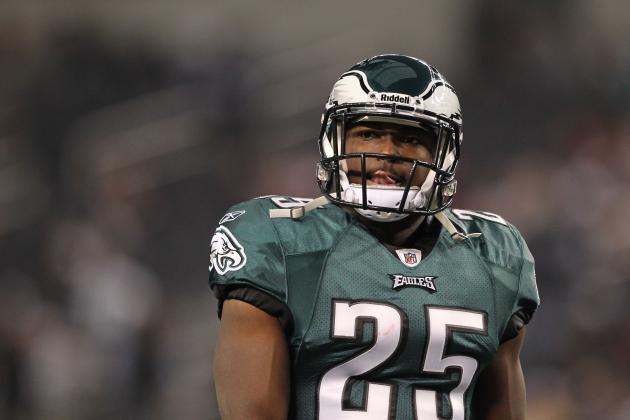 Matthew Emmons-US PRESSWIRE

2011 Offensive Rank: 8th
Key Players: QB Michael Vick, HB LeSean McCoy, WR Jeremy Maclin, WR DeSean Jackson, WR Jason Avant, TE Brent Celek
The Eagles dropped from the third- to the eighth-ranked scoring offense last year. A big part of that was Michael Vick's three-game absence.
Vick's comfort in the offense will dramatically improve their prospects in 2012. LeSean McCoy led the NFL with 20 touchdowns last season—17 on the ground, as Vick was utilized less as a running option.
Jeremy Maclin is primed for a breakout campaign. Vick has compared the young wide receiver to Michael Irvin.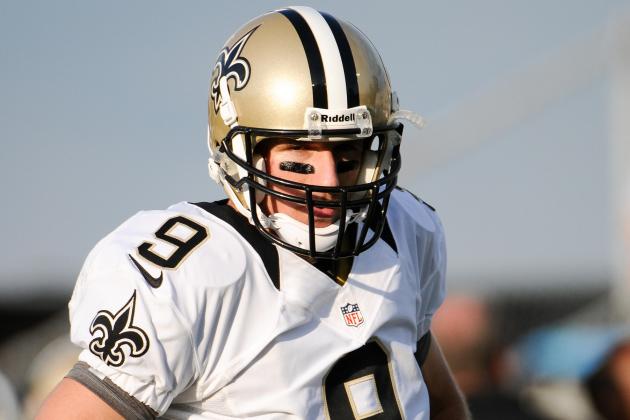 Tim Fuller-US PRESSWIRE

2011 Offensive Rank: 2nd
Key Players: QB Drew Brees, HB Darren Sproles, HB Pierre Thomas, HB Mark Ingram, WR Marques Colston, WR Lance Moore, WR Devery Henderson, TE Jimmy Graham
The Saints have had a tough offseason with the bounty scandal and the suspension of head coach Sean Payton.
All indications are that Drew Brees and company will not miss a beat.
Fresh off his record-breaking season, Brees has continuity on offense. The only departure was Robert Meachem leaving for the Chargers. There are plenty of in-house options to replace him.
Jimmy Graham, Marques Colston and Darren Sproles will be the key skill-position players again. Even if the Saints involve Mark Ingram and Pierre Thomas more in the running game, they will still score points in droves.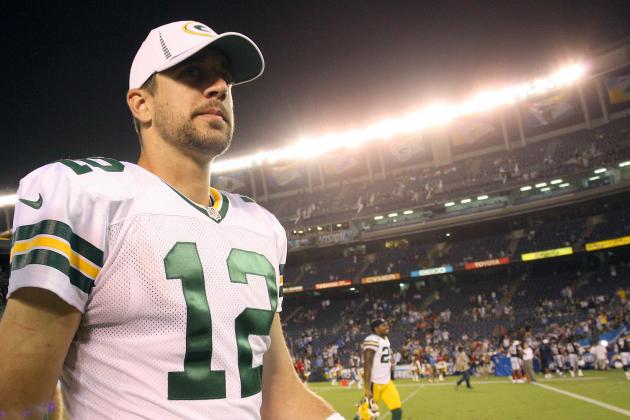 Jake Roth-US PRESSWIRE

Offensive Rank: 1st
Key Players: QB Aaron Rodgers, HB James Starks, WR Greg Jennings, WR Jordy Nelson, WR Randall Cobb, WR James Jones, TE Jermichael Finley
So how are the Packers knocked off their perch as the top offense last season? The next team on the list has the potential to be even more explosive in 2012.
This does not take anything away from the Packers offense, because they are still an elite unit.
Quarterback Aaron Rodgers will be in contention for a second straight MVP award with his supporting cast. Greg Jennings and Jordy Nelson form one of the best starting duos in the league. Randall Cobb is an electrifying second-year player turning heads this preseason. Not to be forgotten, tight end Jermichael Finley is a matchup nightmare for defenses.
The only Achilles heel for the Packers is their lack of a physical running game. Their passing game is so dominant that they can compensate for it, though.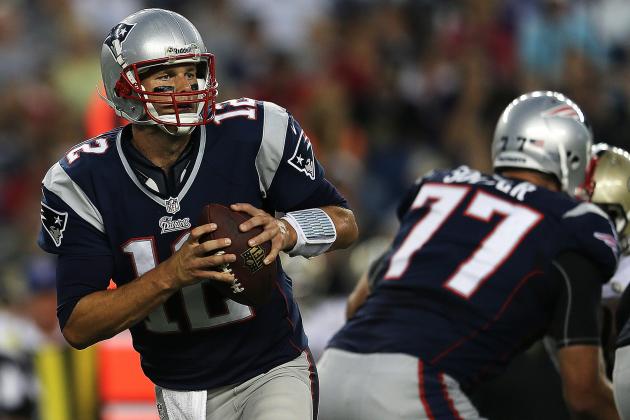 Jim Rogash/Getty Images

2011 Offensive Rank: 3rd
Key Players: QB Tom Brady, HB Stevan Ridley, HB Shane Vereen, WR Wes Welker, WR Brandon Lloyd, TE Rob Gronkowski, TE Aaron Hernandez
Tom Brady has been one of the most consistent quarterbacks the last three years, and for the first time since his magical 2007 season, he will be working with offensive coordinator Josh McDaniels.
Gone is BenJarvus Green-Ellis. His replacements will be a collection of Stevan Ridley and Shane Vereen. Both running backs have flashed major ability in the preseason.
Make no doubt about it; this is going to be a passing team. The Patriots are a two-tight end offense in name only. Aaron Hernandez is more of a miscast wide receiver, but all the more dangerous. Rob Gronkowski set the record for touchdown receptions by a tight end last year with 17, after scoring 10 touchdowns as a rookie the year before.
Wes Welker is the most dangerous slot receiver in the NFL, and he will return to the fold after signing his franchise tag tender.
The Patriots finished third in scoring last year without a true downfield threat. That was ultimately their downfall in the Super Bowl loss to the Giants.
That makes Brandon Lloyd their biggest addition. Lloyd will be the downfield threat they have lacked since Randy Moss was traded in 2010.
Defenses will have to pick their poison from the Patriots' base offense. They cannot double any one player without someone else beating them, whether it's Gronkowski, Hernandez, Welker or Lloyd.