Which Quarterbacks Can Guarantee You a Fantasy Football Title in 2012?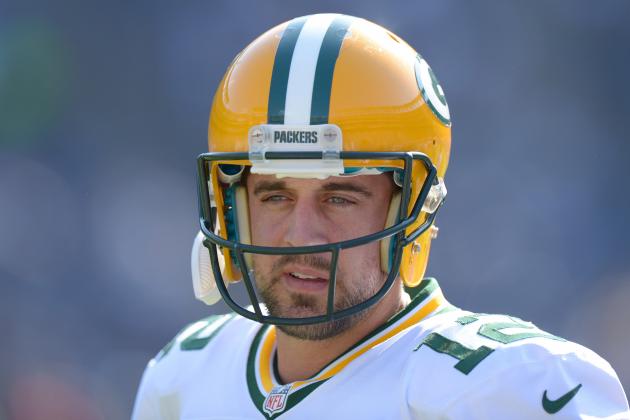 Jake Roth-US PRESSWIRE

Well, no one player can "guarantee" you a fantasy football title. After all, not every fantasy team that had Aaron Rodgers won their league's championship last year.
However, it is clear that the fantasy landscape has changed in 2011. If you still think of fantasy quarterbacks as an afterthought, you are likely to find yourself struggling to compete against the teams that do have a stud quarterback.
In reviewing mock draft and real draft data so far, I'm amazed at what players are being taken in just the first round alone.
If you want to dominate your draft, you cannot make the same mistakes that I am continually seeing in early drafts so far.
I'm going to break down the best quarterbacks to target this year and where they are worth drafting.
Begin Slideshow

»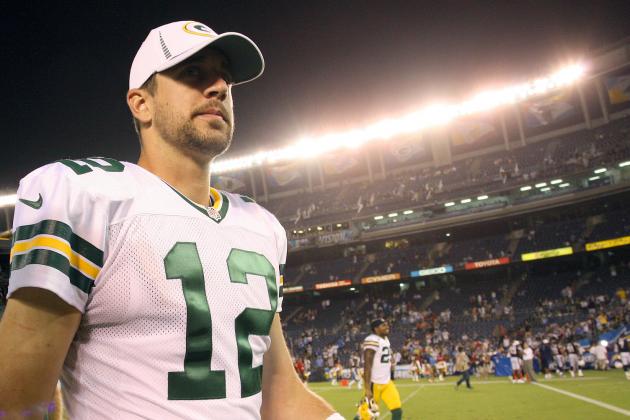 Jake Roth-US PRESSWIRE

If you have one of the first three picks in the draft, you have to take one of the following:
RB Arian Foster
RB LeSean McCoy
RB Ray Rice
Period. End of story.
Those RBs are sure things. Young, durable, no running-back-by-committee or vulture situation, and solid in PPR and non-PPR leagues alike.
As we've seen with Ryan Mathews' broken clavicle in the first preseason game, the truly elite RBs are rare, so if you can grab one, you have zero excuse not to take one.
However, if you are drafting anywhere else in the first round, you must take one of the elite quarterbacks.
One is Aaron Rodgers.
Consider this.
Rodgers finished with a 32.5 FPPG average. This despite being exactly middle of the pack (No. 16) in pass attempts.
If he threw more passes, his average could be even higher.
His receiving corps is still young and Rodgers declared that the team running more "is not our identity."
All signs point to another truly elite performance from Rodgers, despite his poor first preseason game.
Some might suggest taking Calvin Johnson instead of Rodgers. If that's you, consider this:
Johnson averaged 15.5 FPPG last year, tops among fantasy wideouts.
The sixth-best fantasy receiver last year? Larry Fitzgerald, at 11.6 FPPG.
That's only a difference of 3.9 FPPG from Johnson to Fitzgerald.
But you can get Fitzgerald in the second round of your draft.
In contrast, who was the sixth-best fantasy quarterback last year?
That's Tony Romo, at 21.2 FPPG.
That's a difference of 11.3 FPPG from Rodgers to Romo.
And these numbers are likely to be similar again this year.
You tell me whether you'd want Rodgers or Johnson in the first round this year.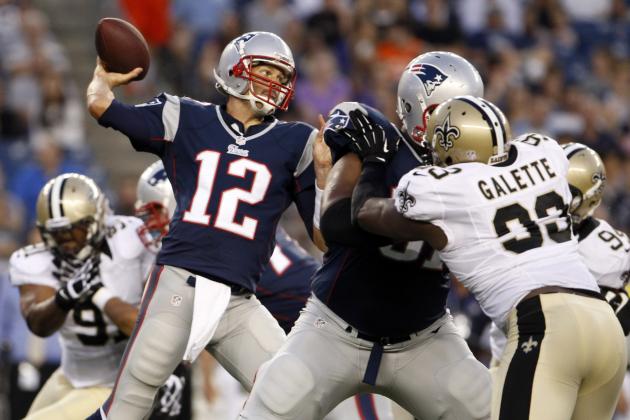 David Butler II-US PRESSWIRE

If Rodgers is already taken, the sneaky play is to take Tom Brady in the first round.
In fact, I give pretty good odds that Brady finishes higher than Rodgers in fantasy this year.
Brady had the third-best fantasy average (27.7 FPPG) last year among quarterbacks.
He returns having added receiver Brandon Lloyd to an already stacked offense.
The run game is still suspect (bonus tip: if you must take a Patriots RB in the draft, make it Shane Vereen, not Stevan Ridley).
And the offensive line is pretty solid.
Brady had the NFL's third-most pass attempts last year at 611, so it wouldn't be a surprise to see the number drop a bit given his age.
But given the explosive nature of the passing weapons and the effectiveness of Aaron Rodgers with "just" 502 attempts, Brady can certainly make the most of whatever attempts he is given this year.
Many of you just can't bear to take Brady in the first round over, say, RB Chris Johnson.
Brady compared to the 10th-best fantasy QB last year gives Brady a 7.6 FPPG advantage.
Let's be really generous and forget that Johnson averaged 10.5 PPG last year. So let's pretend he generated the fifth-best fantasy RB numbers last year (which would be 16.3 FPPG).
If we compared that to the 10th-best fantasy RB last year, Johnson would give you a 2.5 FPPG advantage.
Just as with Rodgers, the truly elite quarterbacks give you a bigger return on investment (to borrow a financial term) than equivalent players at other positions, especially running backs.
So take Brady in the first round and sleep like a baby.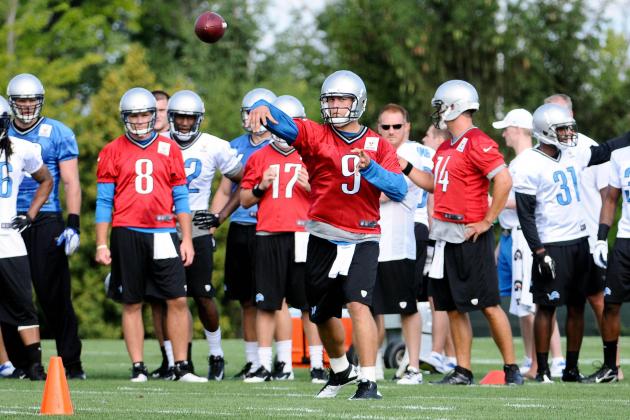 Tim Fuller-US PRESSWIRE

Yes, I have Stafford listed higher than Drew Brees.
Stafford, in just his first full season, threw for more than 5,000 yards and more than 40 touchdowns. Those are elite quarterback numbers.
And that was with just one stud receiver at his disposal.
This year, the legend of Titus Young is primed to hit the small screen.
That would give Stafford two viable targets.
The offensive line was beefed up in the draft, and the running game still looks iffy with Jahvid Best one big hit away from another season-ending concussion and Mikel Leshoure recovering from a hamstring injury and off-season, uh, adventures.
Stafford actually was No. 1 in pass attempts in the NFL last year, at a staggering 663 chucks. Expect that to come down some.
However, his full-season playing experience last year should help to improve his 63.5 percent completion rate.
He projects at No. 18 in drafts currently (fifth QB taken). Wherever you can get him, he will be a big boost to your fantasy team and help you keep up against teams with Rodgers or Brady.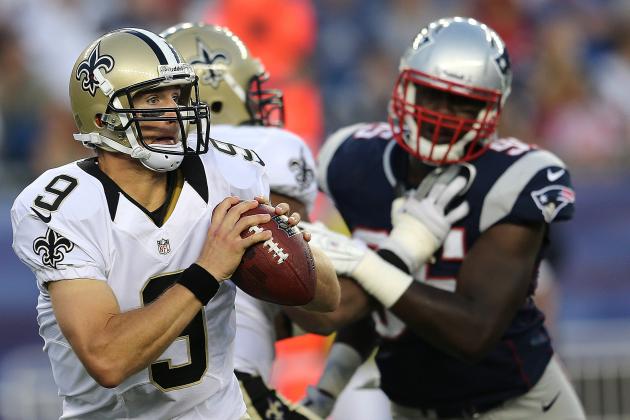 Jim Rogash/Getty Images

Brees, as everyone knows, is one of fantasy's truly elite quarterbacks.
If you get Brees in your draft, you'll be set at the quarterback position.
However, tempering expectations might be a good idea. A drop-off is a strong possibility for Brees this year, much like Peyton Manning did in 2005 after having a career year in 2004.
Having set the record for passing yardage last year, it is all but certain that Brees will have a slightly lesser season this year.
Despite his record yardage and tossing a league-high 46 touchdowns, he was only the second-best fantasy QB at 29.3 FPPG, not the best. Imagine if Brees does not throw for as many yards or as many touchdowns.
What's more, Brees had the second-highest number of pass attempts. That number may drop slightly due to what I perceive to be an increased reliance on the run game this year—particularly with Mark Ingram.
The absence of Sean Payton shouldn't be a big deal. But with all the other potential factors, I see Brees as the fourth-best fantasy QB this year.
Don't get me wrong—fourth-best will still be substantially better than most other fantasy quarterbacks. And with Maurice Jones-Drew still holding out and Ryan Mathews' broken clavicle, Brees' value as one of the safest picks in the early going will bump him up into the end of the first round or early second round.
So if you can nab Brees, it's still a good investment.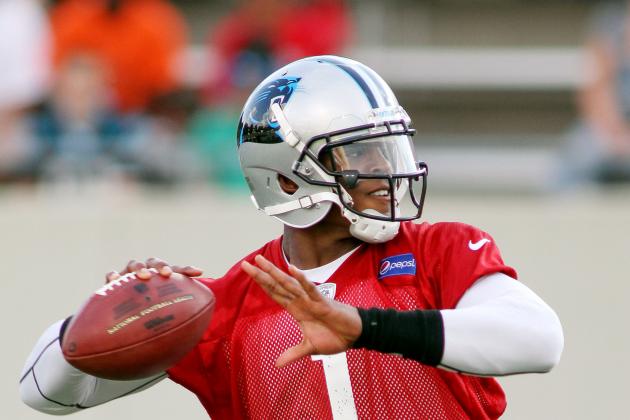 Jeremy Brevard-US PRESSWIRE

Cam Newton is the last of the elite fantasy quarterbacks.
Finishing with a fourth-best 26.5 FPPG last year, Newton is expected to lose some goal-line carries to Mike Tolbert.
But Newton is also expected to make up for that by throwing for a few more scores, something which Newton is very capable of despite being known more as a running quarterback.
It's too early to tell if receiver Brandon LaFell will step up and relieve some of the pressure off Steve Smith and give Newton an extra target.
But either way, Newton is one of the last safe plays at quarterback. He certainly should be in play if he's available to you in the second round—even early in the second round—due to the uncertainty over both Maurice Jones-Drew's holdout and Ryan Mathews' injury.
Scott Cunningham/Getty Images

I love Matt Ryan this year.
I've had him in past years and he's been a very middling fantasy quarterback.
But this year, Julio Jones is expected to help Ryan become a very desirable fantasy quarterback.
Ryan is currently the No. 63 pick in drafts—the 10th quarterback taken.
Quarterbacks taken ahead of Ryan include: Tony Romo, who lost invaluable third receiver Laurent Robinson this offseason; Philip Rivers, who lost top receiver Vincent Jackson this offseason; and Eli Manning, who lost invaluable third receiver Mario Manningham and gained a shiny new running back this offseason.
Couple that with Atlanta's declaration that Michael Turner would get fewer touches this year makes everything set up for Ryan to rise to fantasy stardom as the team converts into a pass-first team.
Last year, Ryan quietly posted a 21.0 FPPG average—seventh-best among fantasy quarterbacks—despite not playing for a pass-happy team.
This year, if you miss out on the truly elite quarterbacks early in the draft, Ryan is a fantastic option later in the draft who should (finally) produce like an elite fantasy quarterback.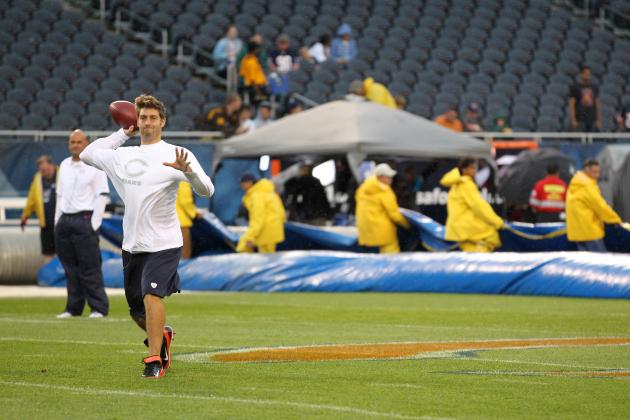 Matthew Emmons-US PRESSWIRE

Vick is an enigma in that he can produce like an elite fantasy quarterback (see 2010), but his running style makes him more prone to injuries, which can hurt his fantasy value (see 2011).
If healthy, Vick is an absolute, penny-pinching bargain as a No. 44 ADP. The concern is whether he'll hold up over an entire season.
Much has been made of Cutler reuniting with Brandon Marshall. But Cutler has more weapons than just Marshall. Between Matt Forte out of the backfield, slot standout Earl Bennett, rookies Alshon Jeffery and Evan Rodriguez, and red-zone target Kellen Davis, Cutler has a lot of options to choose from.
The question is the offensive line, and left tackle J'Marcus Webb in particular.
If offensive coordinator Mike Tice can minimize Webb's weaknesses (e.g., rollouts, etc.), Cutler has the potential to produce elite numbers at a highway-robbery ADP of No. 100.
Robert Griffin III
RG3 has shown poise in his first preseason game. Despite lesser weapons to work with than Vick and Cutler, he is just as talented and can make all the throws necessary.
His frame is much closer to Vick than to Newton, so I would be surprised if Mike Shanahan exposed RG3 to injury by running him as often as Newton did in his rookie campaign. Plus, RG3 is a more talented pure passer than Vick, which may also reduce the Redskins leaning on RG3 to run a ton.
This being RG3's rookie year, there will be the inevitable ups and downs as he adjusts to NFL speed and NFL defenses, which tempers my enthusiasm for him as my QB1.
But with his immense talent, he can be a dynamic QB2 for your team, backing up one of the aforementioned QBs. Unfortunately, you'll have to pay for it, as RG3 is currently a No. 78 ADP.