Fantasy Football 2012: Updated Player Rankings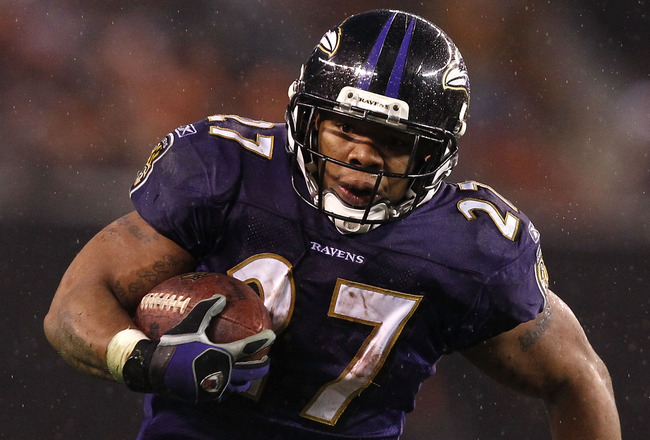 Matt Sullivan/Getty Images
NFL training camps are underway, fantasy football draft season is in full swing and this Sunday, the first preseason contest of the 2012 season will take place when the Arizona Cardinals and New Orleans Saints meet in the Hall of Fame game in Canton, Ohio.
That game may not have much impact on fantasy player values for the upcoming season, but there have been a number of events that have.
Taking those into account, here's an updated position-by-position look at my fantasy football rankings for the 2012 season.
Please note that these rankings are for point-per-reception (PPR) fantasy football leagues.
Aaron Rodgers and the Top 20 Quarterbacks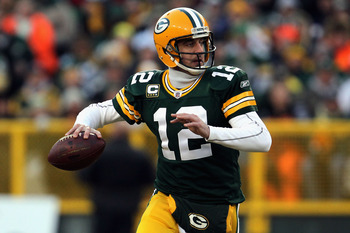 Jonathan Daniel/Getty Images
Green Bay Packers quarterback Aaron Rodgers was ruthlessly efficient en route to guiding the Packers to a 15-1 record in the regular season in 2011, throwing 45 touchdown passes against only six interceptions while posting a quarterback rating of over 120.
The 28-year-old will once again be at the helm of one of the NFL's most dangerous offenses in 2012, making him the top fantasy signal-caller in the land for the upcoming season.
1. Aaron Rodgers, Green Bay Packers
2. Tom Brady, New England Patriots
3. Drew Brees, New Orleans Saints
4. Matthew Stafford, Detroit Lions
5. Cam Newton, Carolina Panthers
6. Michael Vick, Philadelphia Eagles
7. Tony Romo, Dallas Cowboys
8. Eli Manning, New York Giants
9. Philip Rivers, San Diego Chargers
10. Peyton Manning, Denver Broncos
11. Jay Cutler, Chicago Bears
12. Ben Roethlisberger, Pittsburgh Steelers
13. Matt Ryan, Atlanta Falcons
14. Matt Schaub, Houston Texans
15. Robert Griffin III, Washington Redskins (R)
16. Andy Dalton, Cincinnati Bengals

17. Ryan Fitzpatrick, Buffalo Bills
18. Carson Palmer, Oakland Raiders
19. Josh Freeman, Tampa Bay Buccaneers
20. Joe Flacco, Baltimore Ravens

Ray Rice and the Top 20 Running Backs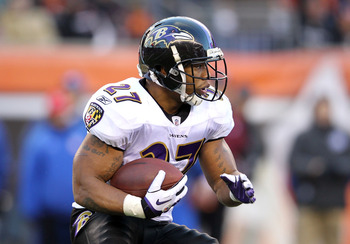 Andy Lyons/Getty Images
Ray Rice of the Baltimore Ravens was fantasy football's top running back in 2011 by a sizable margin, gaining more than 2,000 total yards and scoring 15 touchdowns.
Rice was rewarded by the team with a five-year, $40 million contract extension recently.
In the prime of his career as the unquestioned lead back on a run-first team, Rice is not only fantasy's top running back in 2012 but will likely be the first overall pick in many drafts this summer.
1. Ray Rice, Baltimore Ravens
2. LeSean McCoy, Philadelphia Eagles
3. Arian Foster, Houston Texans
4. Ryan Mathews, San Diego Chargers
5. Chris Johnson, Tennessee Titans
6. Matt Forte, Chicago Bears
7. Jamaal Charles, Kansas City Chiefs
8. Adrian Peterson, Minnesota Vikings

9. Darren McFadden, Oakland Raiders
10. Darren Sproles, New Orleans Saints
11. DeMarco Murray, Dallas Cowboys

12. Trent Richardson, Cleveland Browns (R)
13. Steven Jackson, St. Louis Rams

14. Maurice Jones-Drew, Jacksonville Jaguars
15. Doug Martin, Tampa Bay Buccaneers (R)

16. Ahmad Bradshaw, New York Giants

17. Frank Gore, San Francisco 49ers
18. Fred Jackson, Buffalo Bills
19. Marshawn Lynch, Seattle Seahawks
20. Michael Turner, Atlanta Falcons

Calvin Johnson and the Top 20 Wide Receivers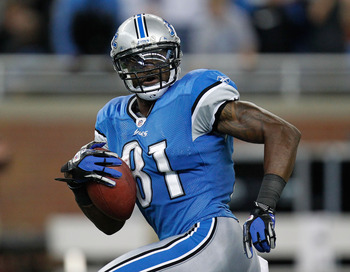 Gregory Shamus/Getty Images
Wide receiver Calvin Johnson of the Detroit Lions was an absolute monster in 2011.
The sixth-year pro led all NFL wideouts in both receiving yards and touchdowns, hauling in 96 passes for 1,681 yards and 16 scores.
"Megatron" was also fantasy football's top performer at his position a season ago, and as the top target on a prolific Lions offense, there's little reason to believe that Johnson can't duplicate that feat this year.
1. Calvin Johnson, Detroit Lions
2. Larry Fitzgerald, Arizona Cardinals
3. Wes Welker, New England Patriots
4. Andre Johnson, Houston Texans
5. Roddy White, Atlanta Falcons
6. Brandon Marshall, Chicago Bears
7. Greg Jennings, Green Bay Packers
8. A.J. Green, Cincinnati Bengals
9. Victor Cruz, New York Giants
10. Marques Colston, New Orleans Saints
11. Hakeem Nicks, New York Giants
12. Percy Harvin, Minnesota Vikings
13. Julio Jones, Atlanta Falcons
14. Steve Smith, Carolina Panthers
15. Jordy Nelson, Green Bay Packers
16. Miles Austin, Dallas Cowboys
17. Steve Johnson, Buffalo Bills
18. Demaryius Thomas, Denver Broncos
19. Dwayne Bowe, Kansas City Chiefs
20. Jeremy Maclin, Philadelphia Eagles

Jimmy Graham and the Top 20 Tight Ends
Thearon W. Henderson/Getty Images
Rob Gronkowski of the New England Patriots had a season for the ages in 2011, setting an NFL record for touchdown catches by a tight end with 17 while finishing as the top fantasy performer at his position by a wide margin.
However, New Orleans Saints tight end Jimmy Graham had quite the year himself, and with Robert Meachem no longer with the Saints, it's more likely that Graham will repeat his 90-plus catches and 1,300 yards than Gronkowski will repeat his ridiculous touchdown total.
It's incredibly close, but Graham gets the slightest of nods as fantasy football's top tight end in 2012.
1. Jimmy Graham, New Orleans Saints
2. Rob Gronkowski, New England Patriots
3. Aaron Hernandez, New England Patriots
4. Antonio Gates, San Diego Chargers
5. Jason Witten, Dallas Cowboys
6. Vernon Davis, San Francisco 49ers
7. Brandon Pettigrew, Detroit Lions
8. Tony Gonzalez, Atlanta Falcons

9. Jermichael Finley, Green Bay Packers
10. Fred Davis, Washington Redskins
11. Owen Daniels, Houston Texans
12. Jacob Tamme, Denver Broncos
13. Brent Celek, Philadelphia Eagles
14. Jermaine Gresham, Cincinnati Bengals
15. Greg Olsen, Carolina Panthers
16. Dustin Keller, New York Jets
17. Jared Cook, Tennessee Titans
18. Coby Fleener, Indianapolis Colts (R)
19. Kyle Rudolph, Minnesota Vikings
20. Ed Dickson, Baltimore Ravens

David Akers and the Top 20 Kickers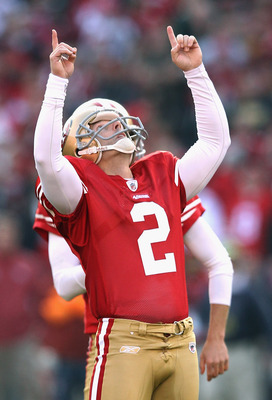 Ezra Shaw/Getty Images
San Francisco 49ers kicker David Akers was fantasy football's first foot in 2011, connecting on 11 more field goals than any other kicker in the National Football League.
The 49ers should turn more drives into touchdowns this season, thanks to an improved wide receiver corps, but the 14th-year veteran is as good a choice as any as the first kicker off fantasy draft boards this season.
1. David Akers, San Francisco 49ers
2. Stephen Gostkowski, New England Patriots
3. Mason Crosby, Green Bay Packers
4. Jason Hanson, Detroit Lions
5. Nate Kaeding, San Diego Chargers
6. Garrett Hartley, New Orleans Saints
7. Sebastian Janikowski, Oakland Raiders

8. Alex Henery, Philadelphia Eagles
9. Dan Bailey, Dallas Cowboys
10. Robbie Gould, Chicago Bears
11. Randy Bullock, Houston Texans
12. Neil Rackers, Washington Redskins
13. Matt Prater, Denver Broncos
14. Matt Bryant, Atlanta Falcons
15. Lawrence Tynes, New York Giants
16. Billy Cundiff, Baltimore Ravens
17. Mike Nugent, Cincinnati Bengals
18. Rob Bironas, Tennessee Titans
19. Rain Lindell, Buffalo Bills
20. Shaun Suisham, Pittsburgh Steelers

San Francisco 49ers and the Top 20 Team Defenses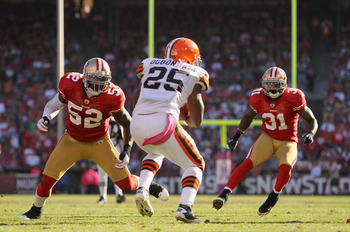 Ezra Shaw/Getty Images
Team defenses can be notoriously inconsistent from season to season, as personnel and scheme changes or injuries can have a huge impact on a defensive unit from one year to the next.
However, the San Francisco 49ers ranked near the top of the National Football League in a number of statistical categories a year ago, including fantasy points scored.
The 49ers defense, led by linebackers Patrick Willis and Navarro Bowman, returns virtually intact this season, and it's our top pick among team defenses in 2012.
1. San Francisco 49ers
2. Philadelphia Eagles
3. Pittsburgh Steelers
4. Baltimore Ravens
5. Green Bay Packers
6. Chicago Bears
7. Houston Texans
8. Detroit Lions

9. New York Giants
10. Buffalo Bills
11. New York Jets
12. New England Patriots
13. Seattle Seahawks
14. Denver Broncos

15. Dallas Cowboys
16. San Diego Chargers
17. Cincinnati Bengals

18. Atlanta Falcons
19. Minnesota Vikings
20. New Orleans Saints

Keep Reading