Preseason NFL 2013 Mock Draft
Ezra Shaw/Getty Images

All across the country, NFL teams are preparing for the 2012 season with training camps and workouts. For those of us who cover the NFL draft, the work is beginning too.
The 2013 class of draft prospects looks very strong, with a solid crop of quarterbacks, offensive tackles and pass-rushers waiting to enter the NFL next season. Who rounds out the top of the prospect big board? We're taking an early look at where each NFL team could be slotted in the draft order and which players it would target based on preseason predictions.
An interesting note is that most of the teams projected to be near the beginning of the first round (based on win-loss records) have all drafted young quarterbacks in recent seasons. This could seriously affect the notion that quarterbacks will be drafted early in every draft. The results of that are shown in this first look at the 2013 draft.
In an effort to shake things up, the draft order is based on my recent Power Rankings and adjusted for playoff slotting.
Begin Slideshow

»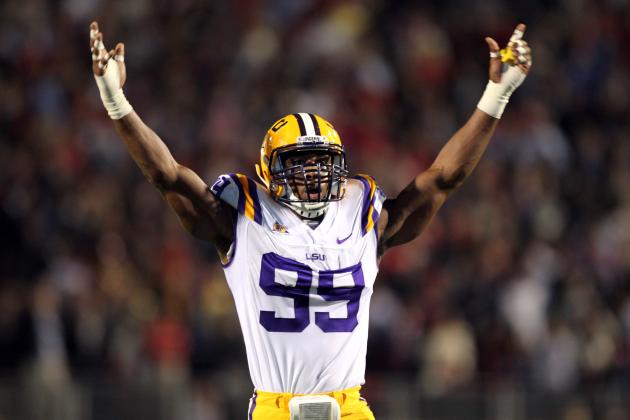 Joe Murphy/Getty Images

Defensive end Sam Montgomery, LSU
The Cleveland Browns start off the preseason rankings with the first overall pick and a chance to continue adding fresh young talent to a roster that's on the right path to a turnaround.
The Browns have done a good job drafting to round out the talent on the roster, but they lack a defender who can consistently get to the quarterback and strike fear in offenses. Jabaal Sheard may very well develop into a stud defensive end after a strong first season, but he's not a true pass-rusher. Sam Montgomery is.
The LSU defensive end has the speed to make offensive tackles look like they're stuck in mud. He turns it on in a hurry and has the agility and flexibility to bend the edge and make plays in the backfield. His athleticism, his impact on the field and the need for his position make Montgomery our preseason No. 1 overall pick.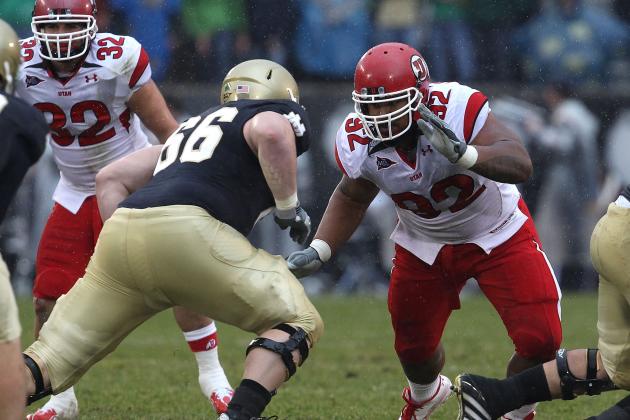 Jonathan Daniel/Getty Images

Defensive tackle Star Lotulelei, Utah
The Minnesota Vikings could look at few positions here if they are indeed drafting second overall. Depending on how Christian Ponder looks in a full season starting, there are quarterbacks who could be an option here.
The smart money is on the Vikings going defense. The middle of the line has a solid veteran in Kevin Williams and two athletic pass-rushers on the edge in Jared Allen and Brian Robison, but they are missing one piece in the middle of the line.
That's where Star Lotulelei comes into play. The Utah defensive tackle is a quick-step penetrator who can cause the kind of problems from the middle of the Vikings' line that Kevin Williams used to when lined up next to Pat Williams.
Add Lotulelei and the Vikings have one of the NFL's most promising defensive lines.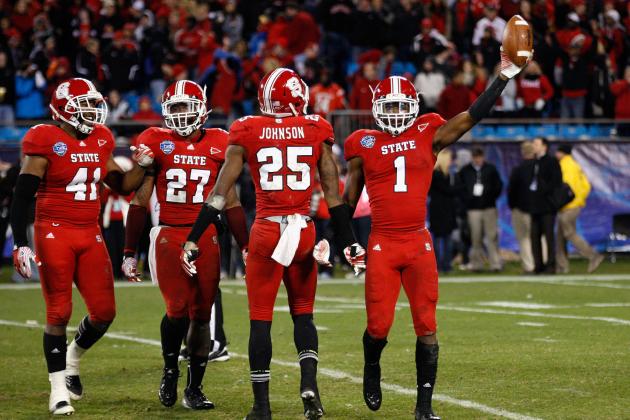 Streeter Lecka/Getty Images

Cornerback David Amerson, North Carolina State
There is reason to be optimistic in Indianapolis after a strong offseason has the Colts headed in the right direction. Now they need to add playmakers on both sides of the football.
North Carolina State's David Amerson is one of the best defenders in all of college football. His height (6'3") allows him to match up against bigger receivers on the outside, but he moves like a smaller cornerback when asked to flip his hips and play the ball in flight. His 13 career interceptions show that he can attack the ball and create turnovers.
The Colts could look at wide receivers here, or even outside linebackers, but Amerson has the most potential to make a long-term impact.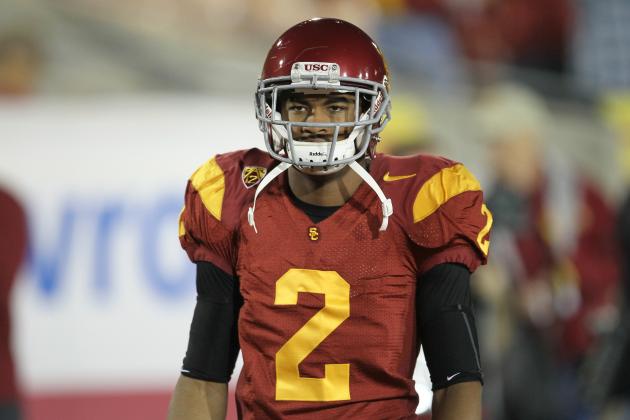 Stephen Dunn/Getty Images

Wide receiver Robert Woods, USC
The St. Louis Rams have two picks in the 2013 first round thanks to their trade with the Washington Redskins before the 2012 draft. With the first pick, they'll address the weakest position on the roster.
When your training camp starters at wide receiver are Danny Amendola and Brandon Gibson, well, there is work to be done. Even if 2012 rookies Brian Quick and Chris Givens make big steps in development this season, adding an outside receiver who can be the intermediate threat for Sam Bradford is missing in this offense.
Robert Woods would leave USC as an accomplished receiver and a very sound technician at the position. He does all the little things well, which is exactly the type of impact the Rams need from the wide receiver position.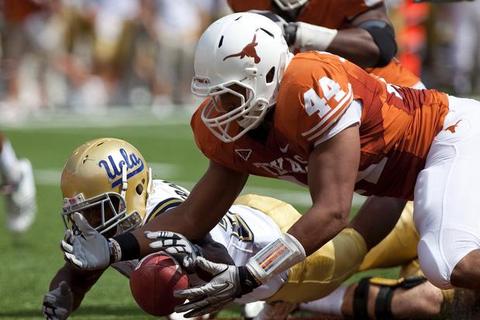 statesman.com
Defensive end/outside linebacker Jackson Jeffcoat, Texas
The New York Jets are rumored to be experimenting with a 4-3 or 46 style defense this fall. No matter what alignment they use, pass-rushers are needed.
The team has beefed up the defensive line with the selections of Muhammad Wilkerson and Quinton Coples in the past two drafts, but now they need a speed rusher who can work off the edge to pressure the high-octane New England Patriots offense.
There are some very good pieces in the Jets locker room, but until they can get to the quarterback consistently, they'll fall short in the AFC East.
Jackson Jeffcoat comes from an NFL lineage, has jaw-dropping quickness and is a relentless pursuit player. It helps that Jeffcoat can line up at defensive end or outside linebacker without sacrificing his abilities.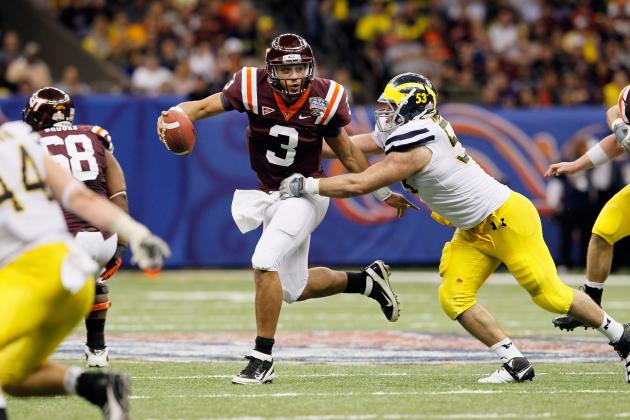 Kevin C. Cox/Getty Images

Quarterback Logan Thomas, Virginia Tech
With his first Round 1 selection for the Oakland Raiders, Reggie McKenzie knows he needs to hit a home run. That's why he'll go with the Cam Newton clone of Logan Thomas.
Thomas is built like Ben Roethlisberger, but he's lighter on his feet and more elusive in the pocket. While Thomas may not be as nimble in the open field as Newton, they are very similar in raw abilities. That will be enough for NFL general managers to line up around the block for a chance to see what Thomas can do for them.
Carson Palmer wasn't McKenzie's decision; that was the doing of the Hue Jackson regime. If Palmer struggles in 2012, it's very likely the Raiders will start looking for a replacement.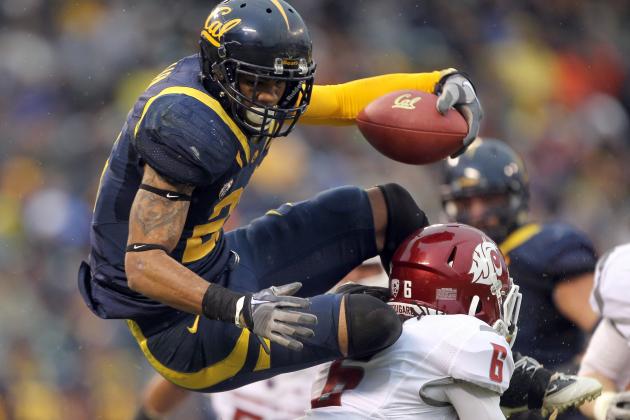 Ezra Shaw/Getty Images

Wide receiver Keenan Allen, California
The Miami Dolphins have made many changes over the course of the last season, but one area that they haven't addressed is wide receiver. In fact, they got worse here.
The trade that sent Brandon Marshall to the Chicago Bears may have been good for the locker room, but it hurt the on-field product. When no replacement was brought in through free agency or the 2012 NFL draft, fans and media alike were concerned.
If the Dolphins can get by with what they have now and wait for Keenan Allen, they'll be happy. Allen is a threat from anywhere on the field. He's an athletic rarity, and the Cal offense smartly utilizes his ability when the ball is in his hands. Allen has a real shot to be the first offensive player selected in 2013.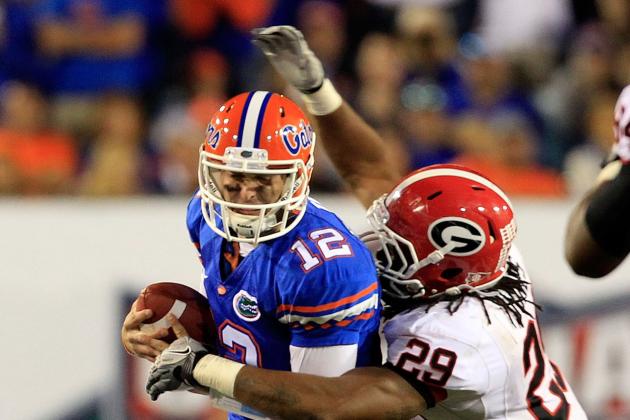 Sam Greenwood/Getty Images

Outside linebacker Jarvis Jones, Georgia
After going offense with their first selection, the St. Louis Rams will double back and look to go defense with the pick they acquired as part of the Robert Griffin III trade package from the Washington Redskins.
As good as the defensive line is in St. Louis, the linebacker play hasn't followed. James Laurinaitis is solid in the middle, but on the edge, the Rams need a spark. Jarvis Jones can be that and more.
Built in the mold of Von Miller, Jones may be best in a 3-4 defense, but there is enough talent here that a team running a 4-3 will find a spot for him in its base defense before shifting him to the line on passing downs. The Rams would love to have Jones patrolling the flats, making plays against the run and pass.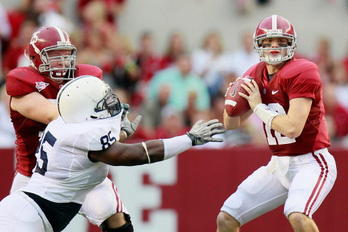 Kevin C. Cox/Getty Images

Offensive guard Barrett Jones, Alabama
While the Jacksonville Jaguars aren't likely to make a playoff run, there is a lot more talent here than most would realize at face value.
Unless second-year quarterback Blaine Gabbert has a terrible season and general manager Gene Smith is fired (both possible), the Jaguars may be faced with an opportunity to trade back in 2013. If the young players on this roster develop, Jacksonville will be very good in a few seasons.
In the interim, the interior offensive line can still use some work. Add an All-American like Barrett Jones to the roster, and Jacksonville just got better in the middle. Jones can play tackle, guard and center without missing a beat, but at least early on he can be an impact player from guard—and by proxy, he helps the entire offense improve.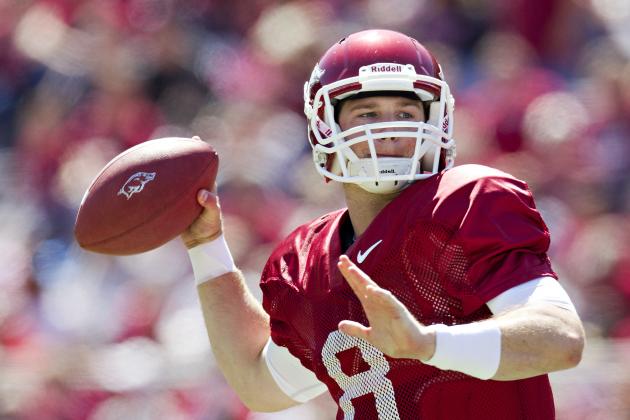 Wesley Hitt/Getty Images

Quarterback Tyler Wilson, Arkansas
If the Arizona Cardinals are selecting at No. 10, the Kevin Kolb and John Skelton experiments have failed.
What may be needed in Arizona is an infusion of new blood. Kolb and Skelton have had their chances, and by the end of 2012, we'll know what type of quarterbacks they can be in the NFL. If neither has been able to get it done by then, the franchise will be pressed to move on.
Should quarterback become an area of need in the next offseason, Tyler Wilson would look pretty good in the Cardinals offense. Wilson's high-accuracy game would open up the field for Larry Fitzgerald and Michael Floyd on the edges, giving Fitzgerald a chance to show off his Hall of Fame-level talent.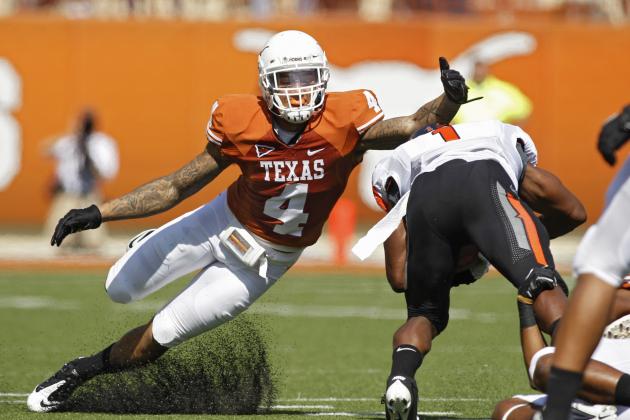 Erich Schlegel/Getty Images

Free safety Kenny Vaccaro, Texas
The Tampa Bay Buccaneers drafted a safety with their first-rounder in 2012, but they'll do it again in 2013 to replace veteran Ronde Barber.
In Kenny Vaccaro, the Buccaneers would get a playmaking free safety to play next to hard-hitting 2012 first-rounder Mark Barron. Adding the two together with current cornerbacks Eric Wright and Aqib Taib would instantly give Greg Schiano one of the game's best secondaries.
Greg McWilliams/Getty Images

Offensive tackle D.J. Fluker, Alabama
The Carolina Panthers' right tackle situation took a hit when they traded former first-rounder Jeff Otah to the New York Jets. Talented, but rarely on the field because of injuries, Otah is being replaced by undrafted free agent Byron Bell.
Right tackle is officially a need. Alabama's D.J. Fluker has the talent to step in on the right side for the Panthers in 2013, and he's also talented enough to eventually make a move to the left side should Jordan Gross regress to a point where he's better on the right side.
Fluker is young and raw, but he's immensely talented at his position. With another big season in 2012, Fluker could be a top-five prospect.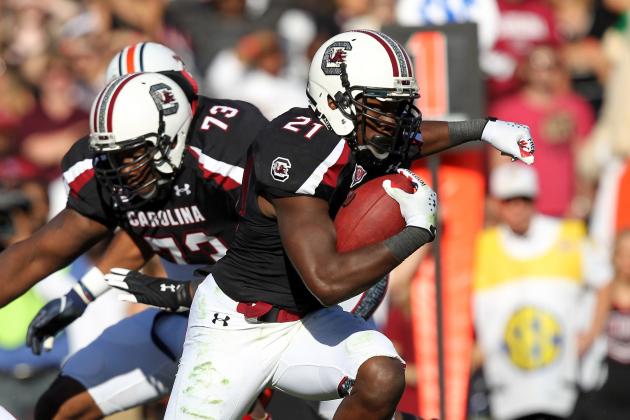 Streeter Lecka/Getty Images

Running back Marcus Lattimore, South Carolina
The off-field troubles for running back Marshawn Lynch followed him from Buffalo to Seattle, and even after his big-money signing in the offseason, replacing Lynch has to be a focus for the Seahawks moving forward.
Seahawks fans may not agree here, but with repeat-offender status, Lynch has the potential to miss time this season. Another slip-up and he will miss considerable time. Lynch is talented, but he's someone the team cannot rely on consistently. Even if Lynch is kept around, finding someone to spell him now and replace him later is a must.
Marcus Lattimore is the best running back in college, if he can return from a knee injury that sat him out for the second half of the 2011 season. Lattimore is every bit the back Trent Richardson is, but the knee is worth watching, as it will change his draft stock this fall if he struggles to bounce back.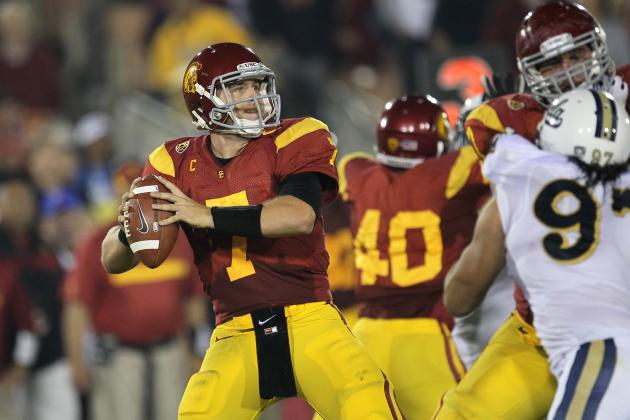 Stephen Dunn/Getty Images

Quarterback Matt Barkley, USC
The Buffalo Bills are rolling with Ryan Fitzpatrick at quarterback, but in his time as a starter, he hasn't led the Bills to enough success to warrant letting him walk into the 2013 season without challenge. Unless Fitzpatrick turns it around this year, Buffalo should be looking for a challenger.
Matt Barkley could be that guy and more.
The USC product is poised, tough, smart and has a very good handle on where to go with the football from under center. What's keeping Barkley from being a top pick is his lack of size—he's under 6'2"—and the fact that he plays in a system that is loaded with NFL-level talent. Barkley will have to shake the knock of being a system player, but at pick No. 14, he's a safe bet.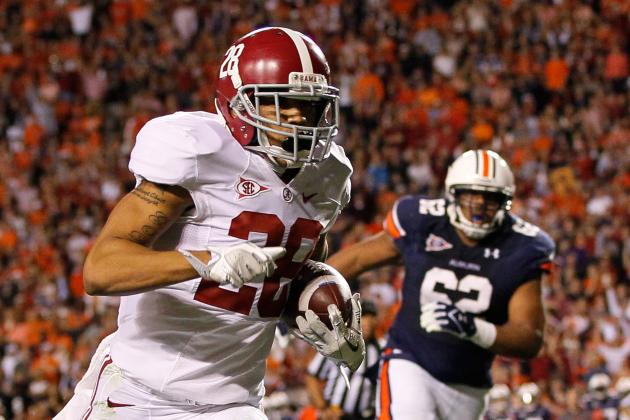 Kevin C. Cox/Getty Images

Cornerback Dee Milliner, Alabama
The drafts from San Diego have been good at times (Philip Rivers, Ryan Mathews) and so-so at others (Corey Liuget), but there is enough talent here to make a playoff run. The challenge will be keeping a defense on the field that can stop the high-throttle offenses from Kansas City and Denver.
At one cornerback spot, you have to like Antoine Cason, but Quentin Jammer is starting to slow down. There is youth with Marcus Gilchrist and Shareece Wright, but none of the incumbents have the potential of Dee Milliner.
Milliner is a tough man-coverage guy who can step in at the edge and go toe-to-toe with the opposition's No. 1 wide receiver. His presence and his style of play will be a great fit in San Diego's defense.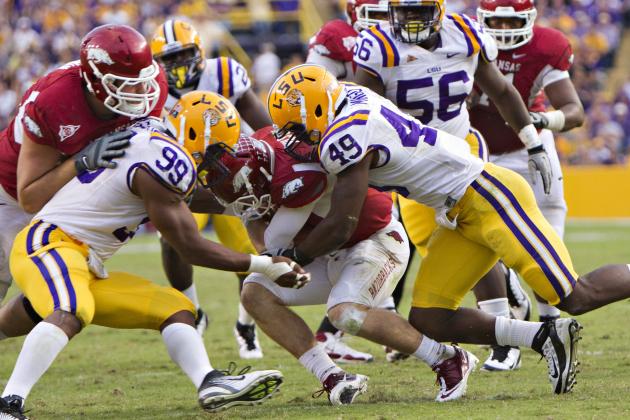 Wesley Hitt/Getty Images

Outside linebacker Barkevious Mingo, LSU
If you haven't heard of LSU pass-rusher Barkevious Mingo, well, then you're probably not a big college football fan. Mingo has more than a cool name; he's also one of the best pass-rushers in the college game.
Mingo will make the move to being a three-down player in 2012, and it will be interesting to see how he performs as a full-time player and not a situational pass-rusher. Regardless, there is serious talent here.
The Dallas Cowboys would love to have Mingo lining up opposite pass-rushing superstar DeMarcus Ware. With Ware and Mingo crashing the edge, Dallas would once again be at the top of the NFC East.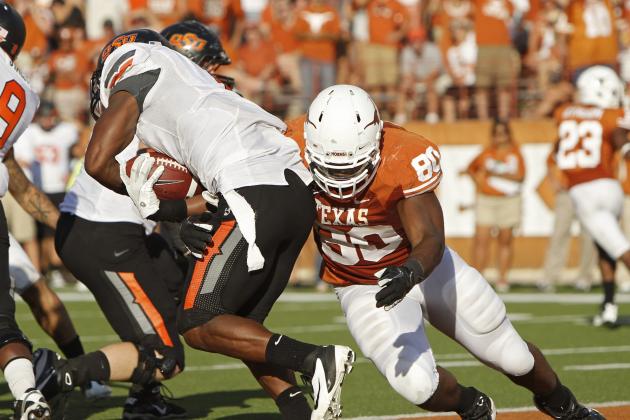 Erich Schlegel/Getty Images

Defensive end Alex Okafor, Texas
The Tennessee Titans are a young team on the move, but before they can topple the Houston Texans in the AFC South, they need to find a better pure defensive end who can stay on the field three downs and stop the run and pass.
Adding Kamerion Wimbley helps, especially on third down, but they need someone at left defensive end. We're moments away from Derrick Morgan being a complete draft bust, and if he doesn't turn things around in 2012, the need for a starter will be the first priority for the Titans defense.
Alex Okafor fills that role at the University of Texas, and he does it very well. Okafor is a three-down player who can attack the edge as a pass-rusher, but he's also shown a very stout ability against the run. Okafor runs down ball-carriers from behind; he just needs some work setting the edge.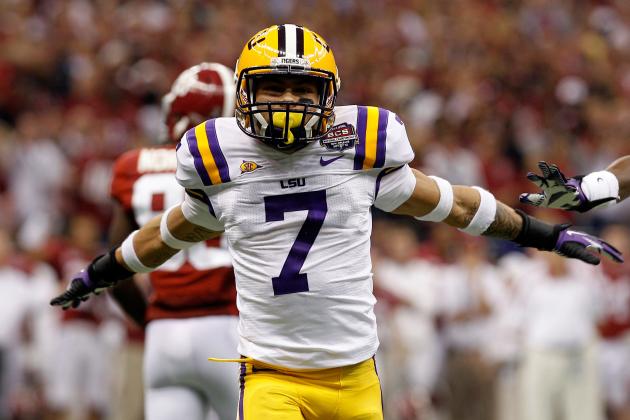 Chris Graythen/Getty Images

Cornerback Tyrann Mathieu, LSU
The Detroit Lions recently released cornerback Aaron Berry after two arrests, opening up a job in their depth chart. Instead of purely replacing Berry, the Lions need to upgrade over him.
Instead of rolling with "get by" guys at cornerback, the Lions have a chance to add a pure playmaker who can change things up for Detroit. Add in someone who can make plays in the Lions secondary, and this defense will compete with a high-flying offense.
Heisman contender Tyrann Mathieu may not be the best man coverage player, but what he does in zone coverage, as a special teams player and as a natural playmaker, is remarkable. Mathieu isn't conventional, and he has limitations in size and discipline, but Jim Schwartz is a smart coach who will find ways to use the Honey Badger.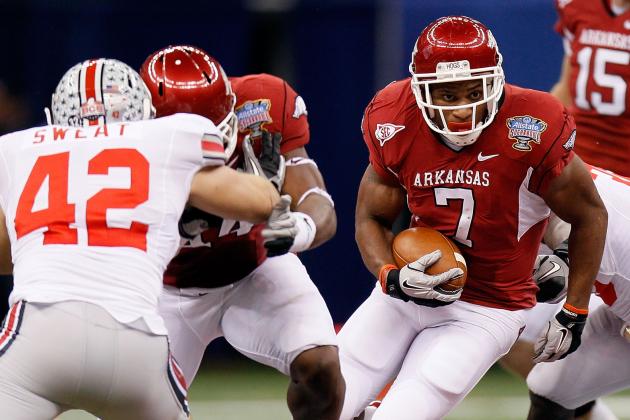 Kevin C. Cox/Getty Images

Running back Knile Davis, Arkansas
Fans of the Pittsburgh Steelers believe Isaac Redman can take over for Rashard Mendenhall and not miss a beat. Redman may be able to fill in for Mendenhall, but he's not better than him. The Steelers need someone better.
Knile Davis is a quick, powerful back who would immediately add a new wrinkle to the Steelers offense. Give Ben Roethlisberger and this newly renovated offensive line a back with Davis' ability to take it to the house, and the offense will fly.
The Steelers have a good mix of veterans and youth, but before they can make another Super Bowl run, they need a dynamic running back who they can rely on in crunch time.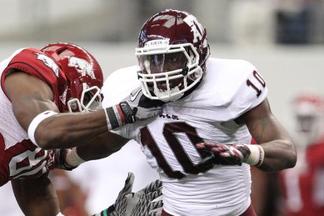 espn.go.com
Outside linebacker Sean Porter, Texas A&M
Sean Porter has the talent to be drafted much higher by the time the 2013 NFL draft rolls around. His ability to fire off the edge makes him one of the more dangerous linebackers in the SEC. With a dynamic pass-rushing skill and improved play in space during the 2011 season, Porter's stock is soaring.
The Giants like outside linebackers who can move around and get after the quarterback, and lining up Porter across from Mathias Kiwanuka would give NFL offenses a nightmare each week.
The Giants are a very solidly built team. Between the skill players on offense and speed on defense, there is a lot to love here about the future for the G-Men.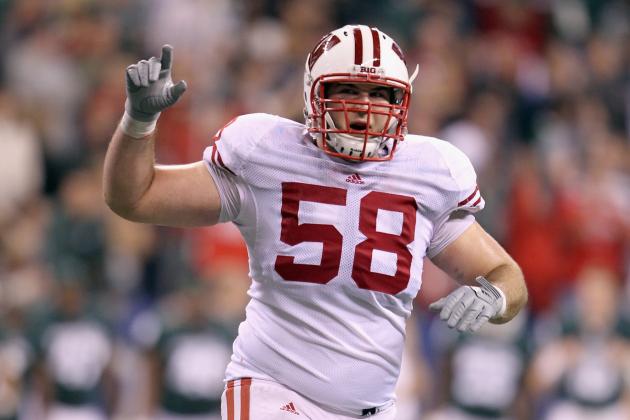 Andy Lyons/Getty Images

Offensive tackle Ricky Wagner, Wisconsin
With Peyton Manning on the roster, the Denver Broncos have a legitimate shot at a Super Bowl within the next few years. To get there, they must improve the talent around him.
Keeping Manning on his feet is the first priority for Denver's front office. Ryan Clady is solid at left tackle, but right tackle Orlando Franklin—barring a big change in 2012—needs to go. If Franklin doesn't turn it around this year, Ricky Wagner would be a nice upgrade at right tackle for Denver.
Wagner comes from the NFL-style Wisconsin offense, which means he's ready as a run-blocker and pass-protector. Wagner could play left or right tackle, but much like Gabe Carimi before him, he'll at least start out on the right side.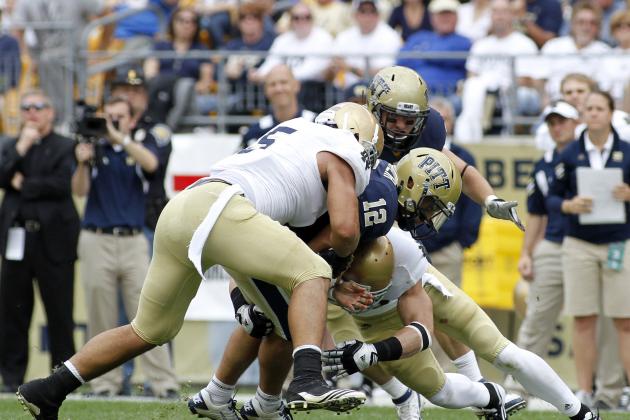 Justin K. Aller/Getty Images

Inside linebacker Manti Te'o, Notre Dame
The Atlanta Falcons lost Curtis Lofton to free agency when he went to New Orleans. Their attempts to replace him by signing Lofa Tatupu ended with a torn pectoral muscle. Now it's Akeem Dent's job, but he's not the first choice of the front office.
Once the Falcons brass sees Manti Te'o on the scouting trail, the team will have found its first choice at the MIKE position.
Te'o is an athlete first and foremost. He's able to move between the hashes and make plays and quick enough to pull the chain and chase ball-carriers to the edge. Te'o is a three-down linebacker who will bring the same level of athleticism that the Falcons have tried to build the rest of their defense around.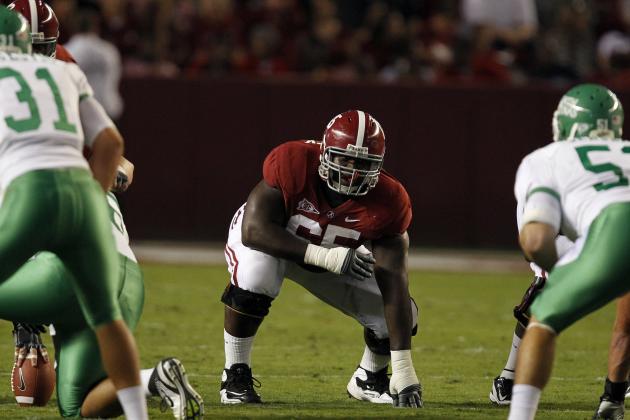 Butch Dill/Getty Images

Offensive guard Chance Warmack, Alabama
If you can't appreciate what the Cincinnati Bengals are doing in the draft these past few seasons, you're probably a fan of one of the other three AFC North teams.
In the 2012 NFL draft, the Bengals fixed one offensive guard spot by drafting Kevin Zeitler in the first round. They can solve their guard problem for the next 12 seasons by selecting Alabama's Chance Warmack in the 2013 class.
Warmack has the potential to be a top-10 pick before the season ends. He's incredible in space and is one of the best pulling guards scouted over the last several seasons. If Warmack makes similar improvements this year as he did during 2011, the Crimson Tide will have three offensive linemen drafted very high in 2013.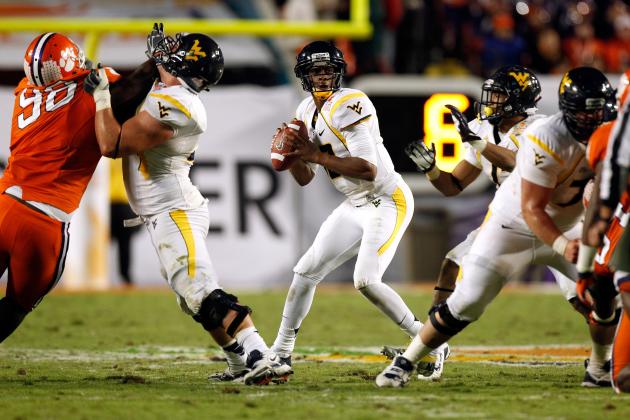 J. Meric/Getty Images

Quarterback Geno Smith, West Virginia
Wondering why the Philadelphia Eagles would draft a quarterback in the first round? Let's look at Michael Vick's run as a starting quarterback. He hasn't started all 16 games in a season since before he went to prison. A healthy Vick is a rarity.
The team did draft Nick Foles in the third round of the 2012 draft, which makes him a potential replacement down the road, but not a hand-picked successor for Vick. Foles is a solid prospect, but he's not Geno Smith.
The West Virginia quarterback is a dual-threat stud with footwork that most quarterbacks would kill for. His 2011 season put Smith on the map, and chances are he pushes himself higher on draft boards. Smith has top quarterback potential.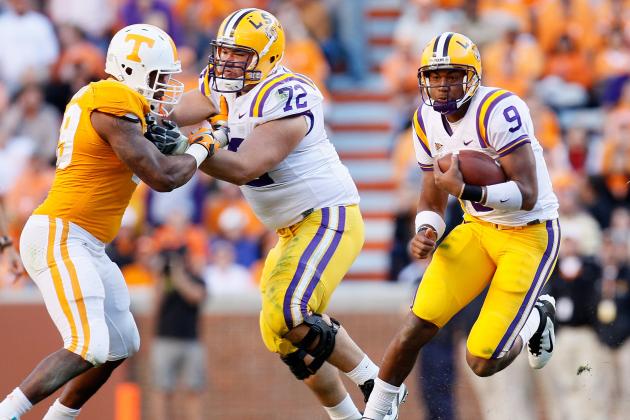 Kevin C. Cox/Getty Images

Offensive tackle Alex Hurst, LSU
The Chicago Bears are hoping a new scheme under Mike Tice will make the job of the left tackle easier than it was under Mike Martz, but scheme can only cover up for a lack of talent for so long. The Bears need an infusion of talent on the blind side.
Alex Hurst is the ideal man to step in, as he can play either left or right tackle early on. This would allow Gabe Carimi to move to his college position of left tackle if the Bears like him better there long-term.
No matter where Hurst lines up, he would be an upgrade on an offensive line that has held back the Bears' output offensively.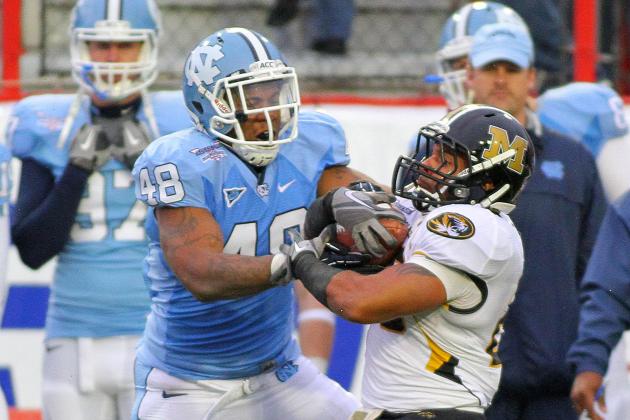 Spruce Derden-US PRESSWIRE

Inside linebacker Kevin Reddick, North Carolina
Scott Pioli has done a brilliant job staffing the depth chart in Kansas City, and now the Chiefs are ready for a run at the AFC West and a Super Bowl.
The task now will be to make sure the talent level constantly goes up. By adding a better inside linebacker to play next to Derrick Johnson, the rest of the defense will be able to roll and make plays without trying to overcompensate.
There is a prospect at North Carolina worth checking out in Kevin Reddick. The athletic inside linebacker will remind scouts and fans of NaVorro Bowman with his all-out play and range. Playing next to the ultra-athletic Johnson will give Kansas City an inside linebacker duo worth high accolades.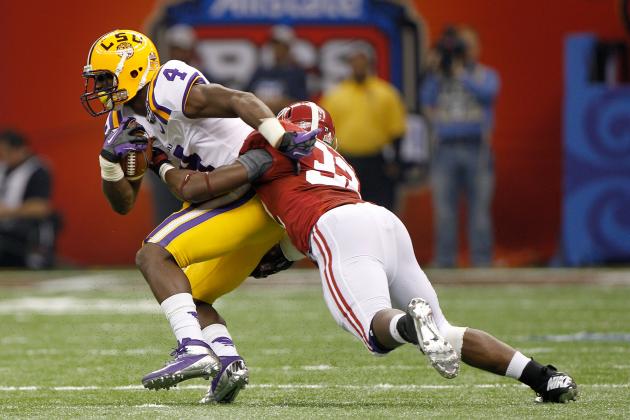 Chris Graythen/Getty Images

Linebacker C.J. Mosley, Alabama
General manager Ozzie Newsome has been the best in the NFL at consistently finding and developing all-stars for the Baltimore Ravens. One key to his success is to not over-think his evaluations. Players who dominate for big college programs tend to do the same in the NFL—especially on defense.
When Newsome looks at his roster at the end of the 2012 season, he will see that replacing Ray Lewis and Ed Reed must be part of his planning for the spring and summer. Trying to fill their shoes immediately won't happen, but adding talented players to ease their eventual losses is a smart move.
C.J. Mosley will step into a leadership role at Alabama this year, which just so happens to be Newsome's alma mater. Mosley is a thick, tough inside linebacker who plays very well between the tackles and has the vision and intelligence to make plays in the NFL at a high level.
He may never be Ray Lewis, but few inside linebackers will be.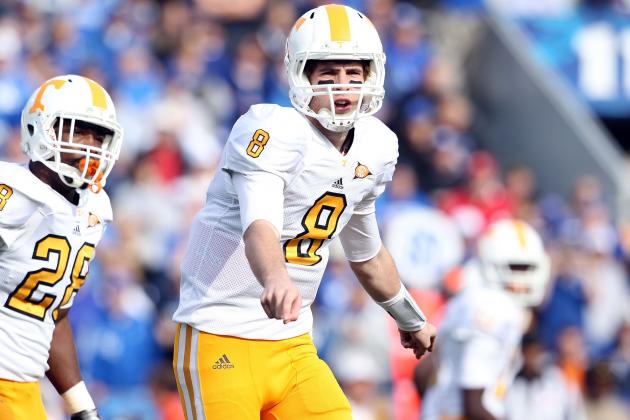 Andy Lyons/Getty Images

Quarterback Tyler Bray, Tennessee
Before anyone freaks out, consider that Drew Brees will be 34 years old when the 2012 season ends. At that age, he's likely to start a natural regression of skills. Even if Brees plays until he's 37 years old, the New Orleans Saints need to look for a future replacement through the draft.
Tennessee's Tyler Bray is a very exciting prospect who could have a monster year thanks to his added bulk and the return of injured wide receiver Justin Hunter. Bray isn't the natural athlete Logan Thomas or Geno Smith is, but he's a big-armed thrower who can make every throw in an NFL playbook.
The Saints are otherwise loaded on offense and defense. Maintaining consistency at the most important position in sports will determine their future after Brees.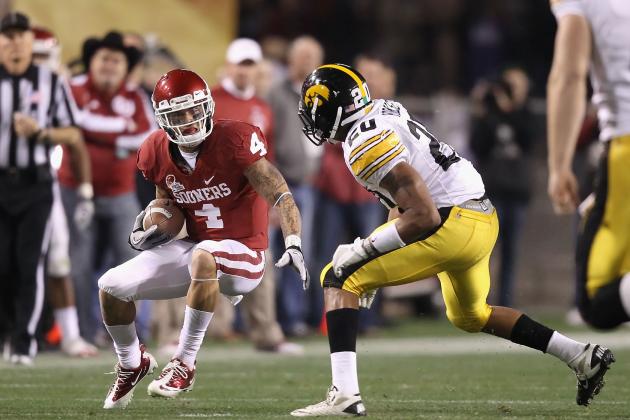 Christian Petersen/Getty Images

Wide receiver Kenny Stills, Oklahoma
The one obvious hole on the otherwise stacked roster for the Houston Texans is at wide receiver. The team hopes it addressed that by drafting DeVier Posey in the second round, but even if Posey becomes a star, the team needs to add more talent here.
Not only is more talent needed, but there's concern about Andre Johnson after a hamstring injury knocked out most of his 2011 season and he suffered an early training camp groin injury in 2012. Johnson will turn 32 years old after the season, so his age is a worry as he starts to get injured more often.
Kenny Stills had a breakout season in 2011 and should enjoy an even bigger year in 2012 as the No. 1 target for Landry Jones' Oklahoma offense. Stills is a viable deep threat who can push defenses vertically and open up the run game, as well as the underneath passing attack.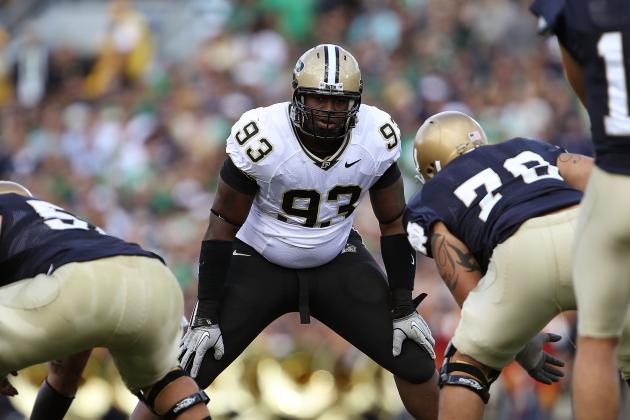 Jonathan Daniel/Getty Images

Defensive lineman Kawann Short, Purdue
There are not many areas of need on the Green Bay Packers roster, but one place where they can get better is up front on defense.
The team has high hopes for Jarius Wynn and Jerel Worthy at defensive end, and both have promising futures ahead of them if they maximize their potential. As with most positions, though, you can never have too much talent. If Green Bay can add one more defensive end to work in a rotation with Worthy and Wynn, its chances of winning multiple Super Bowls will improve.
Kawann Short is a defensive tackle at Purdue, but he has the size to kick out to defensive end in the 3-4 scheme the Packers like. In this scheme, Short could use his pass-rushing skills to get upfield, but he's also disciplined enough to be a run-stopper once he's past the first line of blockers.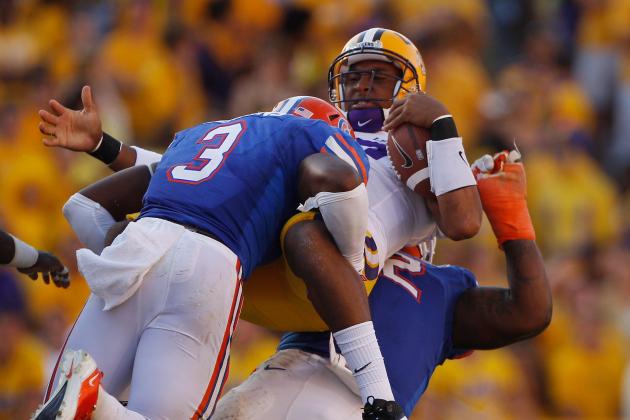 Chris Graythen/Getty Images

Outside linebacker Jelani Jenkins, Florida
If the New England Patriots can stay healthy, they have a chance to win a few more Super Bowls before Tom Brady hangs up his cleats for good. To up their odds, Bill Belichick needs to add more athletes on defense through the draft.
This seemed to be the motto of the team's 2012 draft, as Belichick drafted two defenders in the first round (Chandler Jones and Dont'a Hightower) and didn't select an offensive player until pick No. 235. Defense was the word in New England's war room this year, and it needs to be again.
Adding speed off the edge will only help this defense. Jelani Jenkins is making a name for himself in the SEC and will quickly turn heads once NFL scouts head to the University of Florida. Jenkins has speed and energy off the edge that the Patriots will love.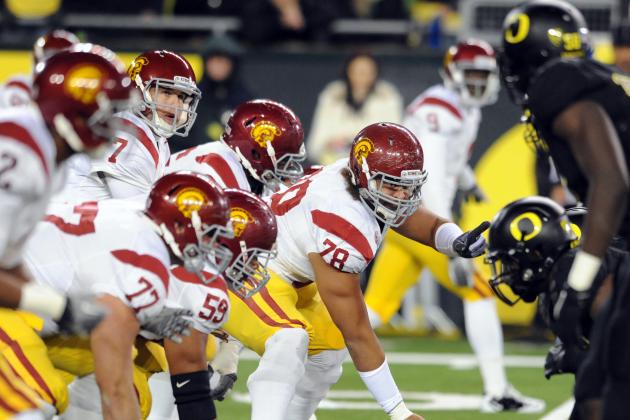 Steve Dykes/Getty Images

Center Khaled Holmes, USC
Jim Harbaugh has led a turnaround in San Francisco, and now the 49ers are a legitimate Super Bowl contender. Where can they get better?
The middle of the offensive line is a place where improvement could be found. Jonathan Goodwin turns 34 years old this season, and while he's a very good center, the team needs to find a replacement with a longer career outlook.
Khaled Holmes runs an NFL-style offense from the center position at USC. He's making line calls and adjusting to defenses on the fly in a scheme that many professional teams run. Lane Kiffin knows how to develop talent, and Holmes has first-round ability.