The Best Buys of NFL Free Agency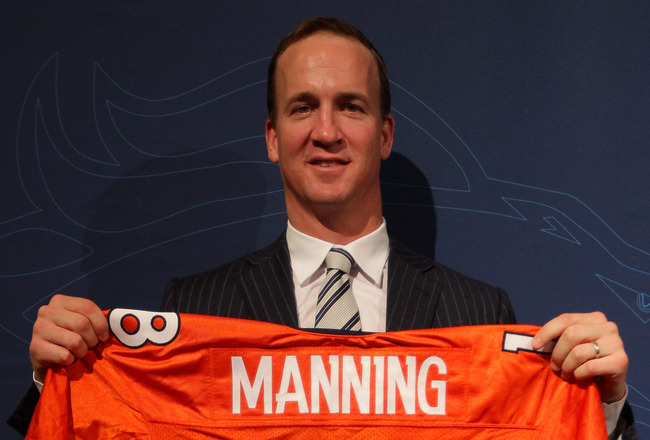 Doug Pensinger/Getty Images
The addition of a top-end free agent has the chance to change the direction of a franchise. Go back a few years and look at how the New Orleans Saints' decision to add Drew Brees changed the entire team's culture. There are several players that changed teams this year that have the potential to have the same type of impact.
Players changing teams isn't the only type of move made during free agency. Organizations also allocate funds to retain their current players. The ability to hang on to an important player can also help a team have a successful season.
The following list consists of players who are not only excellent additions/re-signings, but also make sense for their team.
Please keep in mind that this list is in no particular order.
Curtis Lofton, New Orleans Saints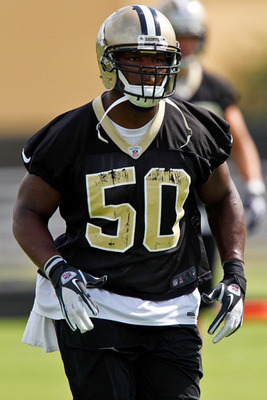 espn.com
Contract Details: Five-year, $27.5 million deal
The New Orleans Saints' offseason was filled with negativity, but they still found a way to add talent to their roster. Most of the big additions came on the defensive side of the ball, where the team needed an upgrade in talent. Arguably, the most important move was bringing in Curtis Lofton.
Lofton's addition gives the Saints a replacement for Jonathan Vilma, who is suspended for the entire season. It can be argued that Lofton is an upgrade over Vilma. Over the past four seasons, Lofton has recorded over 100 more tackles than Vilma.
There's a high possibility that Vilma is a cap causality next season. He'll be 30-years-old, make $4.8 million and has a $1.1 million roster bonus. Lofton is basically the long-term replacement for Vilma.
Reggie Wayne, Indianapolis Colts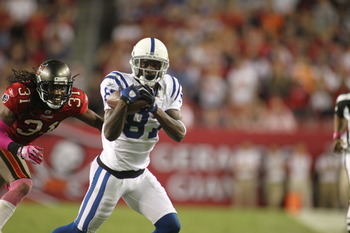 Marc Serota/Getty Images
Contract Details: Three-year, $17.5 million deal
Reggie Wayne isn't the iconic figure Peyton Manning was with the Indianapolis Colts. However, he has been extremely productive and an important part of the franchise's success. Indianapolis' ability to re-sign Wayne will make the transition from Manning to Andrew Luck much smoother.
Wayne is going to give Luck a veteran presence and reliable target. He's someone Luck can count on being in the right place at the right time. Wayne is also able to help Luck deal with the off-field transition that comes with entering the NFL.
The above topics don't mention Wayne's talent as a pass-catcher. Despite showing signs of slowing down, Wayne is still a very effective wide receiver. I expect him to have an excellent season.
Carl Nicks, Tampa Bay Buccaneers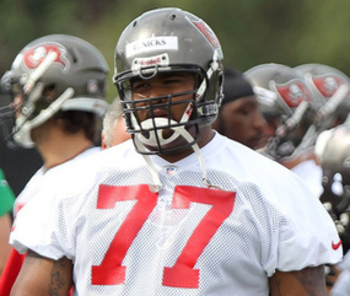 bucsnation.com
Contract Details: Five-year, $47.5 million deal
The guard position doesn't get as much media attention as the other positions on the football field. However, organizations realize the importance of the position, and that's why we're seeing deals like the $47.5 million contract signed by Carl Nicks. To see the impact he has on a team, look no further than the success of the Tampa Bay Buccaneers running attack.
Nicks' addition will provide running backs Doug Martin and LeGarrette Blount with a lot of running room. Tampa Bay may have also added Vincent Jackson this offseason, but that doesn't mean Greg Schiano will push for a pass-heavy offense.
The success of the offensive line is directly connected to the success of the team. For example, the New York Giants' 2007 Super Bowl run was possible because of the strength of their offensive line. Tampa Bay has a strong enough offensive line to make it a strong candidate for a playoff push.
Peyton Manning, Denver Broncos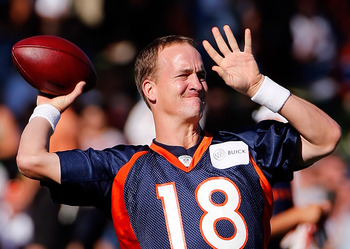 Doug Pensinger/Getty Images
Contract Details: Five-year, $96 million deal
The Denver Broncos' ability to land Peyton Manning did a lot to change the course of this franchise. First, it gives the team an elite quarterback who's capable of making all the throws. Manning is a major upgrade from the quarterbacks in Denver over the past several seasons.
Second, the Broncos are now a team that can beat you through the air rather than an offense centered around the ground game. Last season, opposing defenses would stack the box because they didn't respect the passing ability of Tim Tebow.
One of the biggest positives of adding Manning to the mix is the fact the Broncos were able to make a clean break from Tebow. Denver's fanbase loved Tebow, and only a quarterback of Manning's stature could replace Tebow in their eyes.
Because of the addition of Manning, the Broncos are being considered a legitimate Super Bowl contender. The same can't be said if they came into this season with Tebow under center.
Mario Williams, Buffalo Bills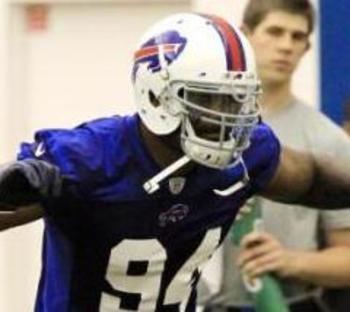 vegassharps.com
Contract Details: Six-year, $96 million deal
The Buffalo Bills' aggressive push to land Mario Williams showed the NFL that this franchise is serious about winning. Buffalo's struggles over the years haven't made this team a very attractive location for big-time free agents. The Williams' signing changes the culture of the team, showing that this franchise can land elite free agents.
Changing culture and perception is an important factor in a team's ability to find sustained success. For example, the New England Patriots often find a way to land talent because players feel they have a great chance to win in New England.
Signing Williams doesn't guarantee the Bills will have a winning season. However, the talent on this team puts the Bills among those in playoff contention. Their defense looks a whole lot better with Williams at defensive end.
In fact, the defensive line is arguably one of the better units in the league. The group of Williams, Kyle Williams, Marcell Dareus and Mark Anderson has a chance to be real special.
Peyton Hillis, Kansas City Chiefs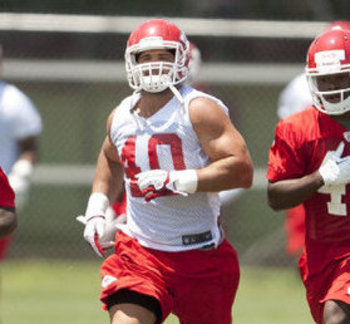 kansas.com
Contract Details: One-year, $2.8 million deal
The Kansas City Chiefs have done a great job collecting talent on both sides of the ball. Offensively, this is a team that has great balance. The balance was enhanced by the addition of Peyton Hillis, who gives the Chiefs a powerful runner.
Jamaal Charles is an excellent playmaker, but he doesn't have the size to consistently succeed between the tackles. It also isn't a good idea to overwork Charles, especially coming off his knee injury. Hillis' addition gives the Chiefs a great complement to Charles.
Even if Hillis doesn't return to his 2010 form, he still represents great value. This is a one-year deal for a minimal monetary commitment. This deal has high reward and very little downside.
Jason Campbell, Chicago Bears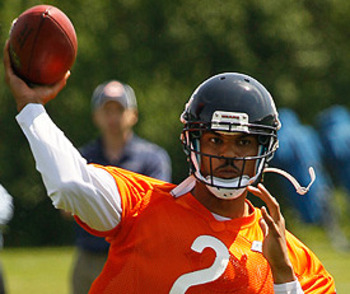 chicagobears.com
Contract Details: One-year, $3.5 million deal
The Chicago Bears started the 2011 season with a 7-3 record and looked primed to make a playoff appearance. However, an injury to Jay Cutler derailed those hopes, as they lost their next five games. This is why the signing of Jason Campbell is an important addition.
Campbell has had a very underrated NFL career. He's someone that has proven he can win football games. Last season, the Oakland Raiders were in good position to win their division until Campbell suffered an injury.
This is a quarterback that should be a starter in the NFL. He's arguably more talented than the likes of Matt Moore, Blaine Gabbert and Kevin Kolb/John Skelton, who all are slated to open the season as starters.
Adding Campbell to the mix doesn't help the starting unit, but it provides the Bears with the depth needed to have a successful season.
Evan Mathis, Philadelphia Eagles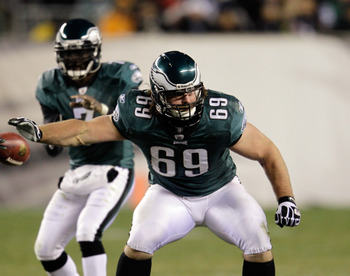 Rob Carr/Getty Images
Contract Details: Five-year, $25 million deal
The Philadelphia Eagles got a real bargain when they re-signed Evan Mathis to a deal nearly half that of Carl Nicks. Mathis is a really underrated player who is rated as the No. 18 player in the NFL by Pro-Football Focus. The guys at Pro-Football Focus said the following about Mathis:
In 2011, on a play-by-play basis, there wasn't a better guard in the entire league. You want to know how good he was? His run blocking grade was almost three times better than the next left guard, while his pass protection netted him a Top 10 spot among all guards. He didn't have one negatively-graded game and was easily our top OG on the year.
Keeping Mathis in place was important for the stability of the Eagles' offensive line. However, just as important is the amount of money they saved by inking Mathis. He's arguably as talented as the likes of Nicks, but came at a fraction of the cost.
Scott Wells, St. Louis Rams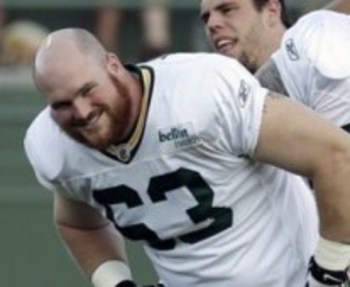 profootballtalk.com
Contract Details: Four-year, $24 million deal
The St. Louis Rams solidified the interior of their offensive line by signing Scott Wells. This addition was one of the more underrated moves of the offseason. According to Pro Football Focus, Wells ranked in the top 10 at the position in the past two seasons.
The combination of Wells and Harvey Dahl gives the Rams a potentially dominant run-blocking duo. Both players do a great job exploding off the line and generating a push. Look for Steven Jackson to have more running room this season.
A more productive Jackson should help Sam Bradford find some consistency. Having a consistent rushing attack could be a young quarterback's best friend.
Rany Moss, San Francisco 49ers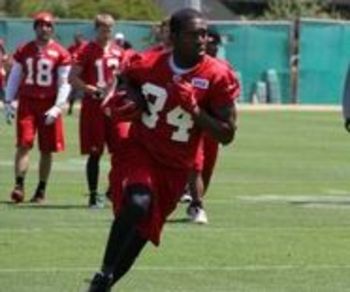 ninersnation.com
Contract Details: One-year, $2.5 million deal
All the reports out of the San Francisco 49ers' training camp are that Randy Moss looks great. He's been both explosive and focused, which is giving everyone an optimistic outlook on his season. Ability has never been an issue for Moss, as his biggest problem has been his effort and focus.
Fortunately for the 49ers, Moss appears motivated to erase the memory of the terrible way things ended during his last season in the league. It's also a positive thing that San Francisco has options outside of Moss. This means it isn't counting on him as players like Mario Manningham, Michael Crabtree and A.J. Jenkins are capable of producing.
However, I'm expecting big things from Moss this season. If he's able to contribute anywhere near 500 receiving yards and a few touchdowns, this deal would be a great bargain.
Brandon Lloyd, New England Patriots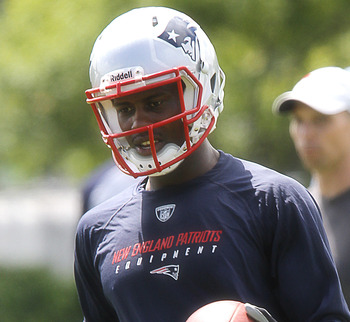 boston.com
Contract Details: Three-year, $12 million deal
Brandon Lloyd's career has been a bit of a mystery. However, it seems that he's found his stride in the past two seasons. In that time frame, he's averaged over 73 receptions and 1,207 receiving yards per year. Those numbers were produced catching balls from the likes of Kyle Orton, Tim Tebow and Sam Bradford.
Lloyd made a push this offseason to join the New England Patriots. Obviously, he was sick of dealing with average quarterbacks and wanted to catch balls from Tom Brady. Because of Brady's exceptional talent, I expect Lloyd to set career highs.
It also helps that opposing defenses must worry about Rob Gronkowski, Wes Welker and Aaron Hernandez before they turn their attention to Lloyd. Joining the Patriots doesn't only help Lloyd, as his addition gives New England another reliable target.
Brandon Carr, Dallas Cowboys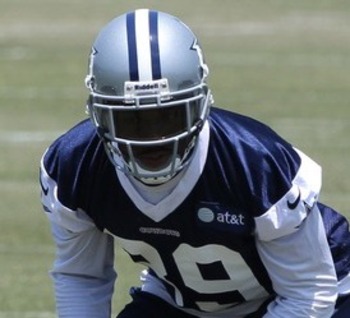 bloggingtheboys.com
Contract Details: Five-year, $50.1 million deal
Sometimes, teams appear to overpay for a player based on a specific need. However, there's a difference between overpaying a player with limited talent and paying a little extra to make sure you get the player you target. The Dallas Cowboys may have paid a premium price to add Brandon Carr, but he'll prove to be a worthwhile addition.
Last season, the Cowboys secondary was one of the main reasons the team failed to reach the playoffs. The combination of Mike Jenkins and Terrence Newman just wasn't getting the job done. Carr is a major upgrade and someone that immediately improves the Cowboys' pass defense.
His presence also means that Rob Ryan can continue to run his aggressive style of defense. Carr is the type of cornerback that can survive on an island.
Another positive is that he's still only 26-years-old and in the prime of his career.
Jarret Johnson, San Diego Chargers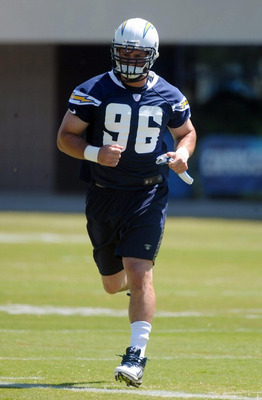 boltsfromtheblue.com
Contract Details: Four-year, $19 million deal
The San Diego Chargers made some really nice additions this offseason. Adding Jarret Johnson at linebacker didn't get a ton of media attention, but it's a significant upgrade. Johnson brings both excellent on-field play and leadership. He's bringing the Baltimore Ravens' defensive mentality with him.
Johnson's biggest contribution will be in his ability to stop the run. He does a great job stacking the edge and shedding blocks. This is an area the Chargers need to improve upon, as last year they allowed over 120 rushing yard per game.
The Chargers have some nice depth and options at the outside linebacker position. Johnson, Shaun Phillips and Melvin Ingram form a really talented group.
Having Johnson in place to mentor Ingram is something that will help the Chargers down the road.
Cory Redding, Indianapolis Colts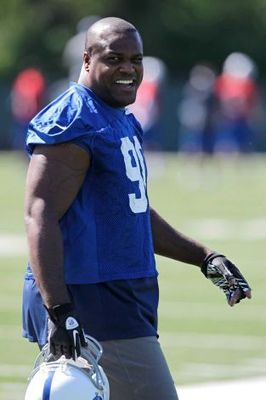 sfgate.com
Contract Details: Three-year, $10.5 million deal
When the Indianapolis Colts decided to make Chuck Pagano their new head coach, it meant the team would go through a major defensive change. Pagano is coming over from the Baltimore Ravens and is bringing with him the 3-4 system. In order to make this change, he needed to add players like Cory Redding.
Redding had a few very good seasons in Baltimore, but now is being asked to help speed up the Colts' transition. He plays the five-technique position, where he does a good job stopping the run and generating pressure. He's not an elite pass-rusher, but in this system, he isn't counted on as the main pass-rusher.
His presence along the defensive line will make things easier on Dwight Freeney and Robert Mathis as they transition to the linebacker position.
Red Bryant, Seattle Seahawks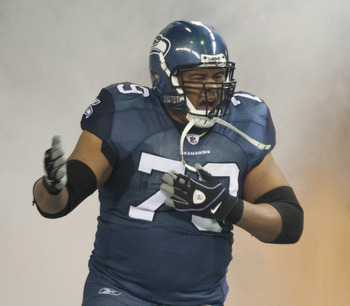 Jay Drowns/Getty Images
Contract Details: Five-year, $35 million deal
Red Bryant isn't a prototypical defensive end, but he fits what the Seattle Seahawks look for in the position. Pete Carroll runs a unique defensive alignment that requires one of the defensive ends to be a run-stuffer. Bryant's size and strength gives the anchor needed to hold up against the run.
Having someone with Bryant's ability at one defensive end spot allows Seattle to feature a speed-rusher on the other side. The Seahawks have rushers like Chris Clemons and Bruce Irvin that fit that mold, but they wouldn't be nearly as effective if Bryant wasn't lined up on the other side.
Seattle was willing to give Bryant a decent salary because there just aren't many players like him in the league. Basically, he's like a nose tackle in a 3-4 system, and it's very hard to find top-notch players with that skill set.
Ben Grubbs, New Orleans Saints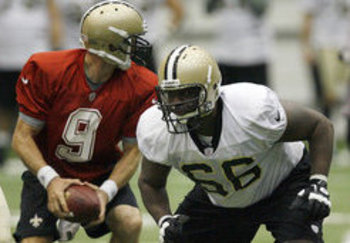 nola.com
Contract Details: Five-year, $36 million deal
The New Orleans Saints acted quickly to sign Ben Grubbs after Carl Nicks landed with the Tampa Bay Buccaneers. Grubbs is a very talented player and, one could argue, is on par with Nicks. However, the Saints were able to land Grubbs for nearly $10 million less than what Nicks signed for in Tampa Bay.
With the massive contracts signed by Drew Brees and Marques Colston, it's important for the Saints to save money wherever possible. The difference between Grubbs and Nicks is small enough to justify this signing.
Bringing Grubbs into the mix also makes sure New Orleans has a solid interior offensive line. The combination of Grubbs and Jahri Evans gives the Saints one of the better guard tandems in the league.
Due to some height concerns surrounding Drew Brees, it's important to limit the amount of pressure coming from the middle of the field. Brees needs clear throwing lanes in order to consistently find the open target.
Mike Brisiel, Oakland Raiders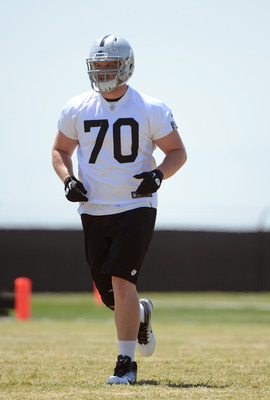 Thearon W. Henderson/Getty Images
Contract Details: Five-year $20 million deal
Due to salary cap issues, the Oakland Raiders did more subtracting than adding this offseason. However, they were able to solidify the interior of their offensive line with the addition of Mike Brisiel. This move isn't a major upgrade for the Raiders, but it helps provide some stability.
In a perfect world, Darren McFadden will be able to remain healthy with Brisiel and company opening running lanes. McFadden's health is the key to the Raiders' entire season. When healthy, he's one of the most dynamic playmakers in the NFL. His game-breaking ability helps put points on the board and open things up for the passing game.
It's also important to point out that an upgraded offensive line will give the Raiders rushing attack a chance to succeed even if McFadden is out of the lineup.
Eddie Royal, San Diego Chargers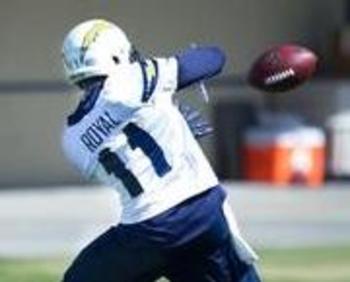 chargers.com
Contract Details: Three-year, $13.5 million deal
Eddie Royal's career has been on a bit of a downward spiral, but a lot of that had to do with the guys throwing him the ball. He'll be much more productive catching passes from Philip Rivers than he was from Kyle Orton and Tim Tebow.
The San Diego Chargers made a push to add Royal, which means they have an idea how they want to use him. Over the years, the Chargers featured bigger wide receivers who loved to stretch the field. Vincent Jackson has moved on, and it seems San Diego is changing its approach.
With Royal in the mix, Rivers will finally have a good slot receiver in the lineup. Expect to see Royal working the underneath routes and across the middle. This will decrease the need for Rivers to focus attacking down the field and help move the chains.
Antonio Gates has been the primary receiver in those type of routes, but his injury problems limited his time on the field. Royal is someone that could fill in for Gates when he's out of the lineup.
Drew Brees, New Orleans Saints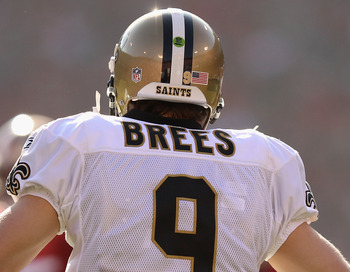 Ezra Shaw/Getty Images
Contract Details: Five-year, $100 million deal
Drew Brees stood his ground and in the end, landed the massive long-term deal he wanted. The New Orleans Saints had no choice but to meet Brees' demands, as he's the team's best player and the face of the franchise. The issues surrounding the organization and coaching staff only increased the need to complete this deal.
This team and fanbase need the stability Brees brings to the lineup. Having an unhappy Brees would only increase the likelihood of a major drop-off in the Saints' win total.
Again, this deal is going to cause some issues with the salary cap, but the fact is that Brees is one of the best players in the NFL. It's tough to argue that he isn't worth this type of deal.
Tracy Porter, Denver Broncos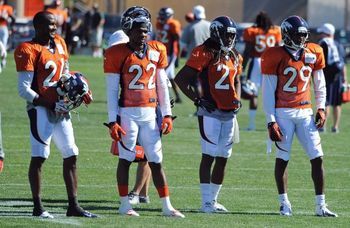 greenwichtime.com
Contract Details: One-year, $4 million deal
We hear it all the time, but you can't ignore the fact that the NFL is increasingly becoming a pass-oriented league. This makes having depth and talent in the secondary an important factor in a team finding success. Tracy Porter isn't an elite NFL cornerback, but he's more than a serviceable starter.
The fact that the Denver Broncos were able to sign him to a one-year, $4 million deal is surprising. This type of contract brings a ton of reward and very little downside. Denver now can feature a cornerback group of Porter, Champ Bailey and Drayton Florence.
This deal works well for Porter, too. He had a down year last season, and now, he has a chance to rebuild some value. A one-year deal gives the 25-year-old a chance to earn a multi-year deal next offseason.
Fred Davis, Washington Redskins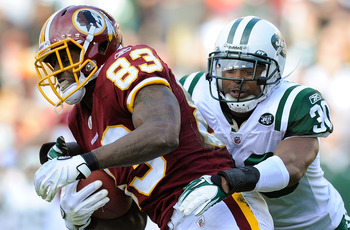 Patrick McDermott/Getty Images
Contract Details: One-year, $5.4 million deal
Fred Davis was able to tally 796 receiving yards last season despite having to deal with poor quarterback play. I expect him to have a career year with Robert Griffin III in the mix. Griffin III might be a rookie, but he's still an instant upgrade over Rex Grossman and John Beck.
Davis is going to have a lot of room to operate this season. The additions of Pierre Garcon, Josh Morgan and presence of Santana Moss will force opposing defenses to respect the deep ball. This will open things up in the middle of the field for Davis.
It's important to note that Davis' strong 2011 season only consisted of 13 games. This is a player that's extremely talented and could easily top the 1,000-yard mark.
Aaron Maybin, New York Jets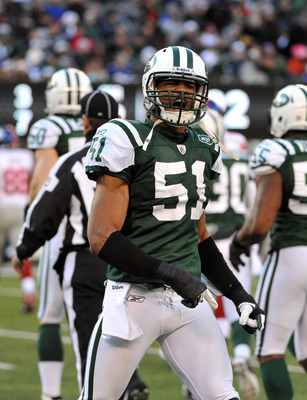 Christopher Pasatieri/Getty Images
Contract Details: One-year, $1 million deal
Until this point in his career, Aaron Maybin has been a major disappointment. However, he showed some signs of life late last season with the New York Jets. Maybin was able to provide the Jets with some pressure off the edge, recording a total of six sacks.
As it stands, the only real pass-rushing threats on the Jets defense are Maybin, Quinton Coples and maybe Calvin Pace. The lack of a true speed-rusher is one of the reasons the re-signing of Maybin is such a noteworthy move. It becomes an even better deal when you see that he signed for one year and only $1 million.
Don't rule out the possibility that Maybin tops the 10-sack mark. He has the speed and is a good fit in Rex Ryan's defensive system. This combined with the Jets' lack of other options give him a chance to produce.
Keep Reading