Washington Redskins 2012: How Redskins' Defense Compares to NFC East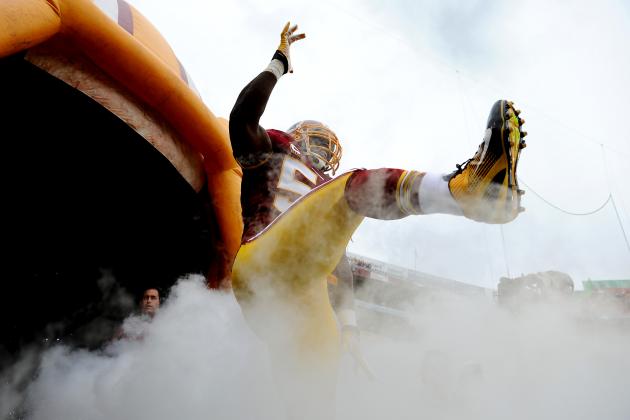 Patrick Smith/Getty Images
London Fletcher will be the anchor of the defense once again
Yesterday, we took a look at how the Redskins offense compared to that of its NFC East brethren. Today we examine the defense.
It's important to preface this by stating that the Redskins employ a 3-4 base defense, as do the Cowboys. That means that certain positions—particularly the linebackers and defensive line—play a role different than the one they would on the Giants or Eagles.
Last year, the Redskins were a middle-of-the-pack defense but showed flashes of brilliance in a season when they were forced onto the field more often than most other teams because of the turnover machine at quarterback.
Washington only allowed two 300-plus-yard passers in the entire season—the first coming at Week 12 to Tom Brady and then the last week of the season to Michael Vick. That means that both Tony Romo and Eli Manning were unable to torch the Redskins defense through the air in two attempts each. In a pass-happy NFL, that has become quite the feat.
While that statistic is nice, it doesn't change the fact that the Redskins still ranked in the bottom half of the league in points allowed and forced turnovers. There is still much work to be done to take the defense in Washington to elite status. Fortunately, there is enough talent for this group to be in the conversation when ranking defenses in the NFC East.
Let's take a look and see how the Redskins starters stack up to their colleagues.
Begin Slideshow

»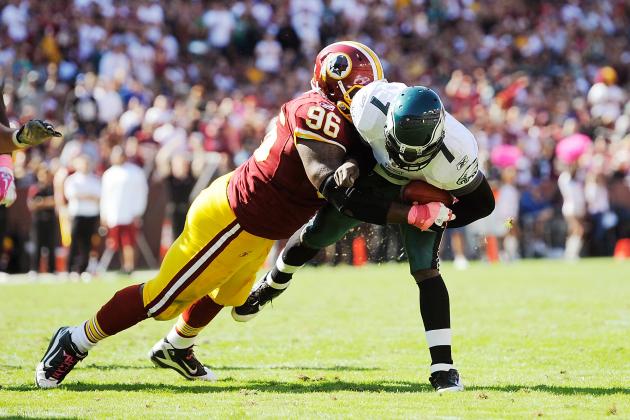 Patrick McDermott/Getty Images
Barry Cofield has been successful in his transition to nose tackle.
Cowboys: Kenyon Coleman, Jay Ratliff, Jason Hatcher

Eagles: Jason Babin, Cullen Jenkins, Fletcher Cox, Trent Cole

Giants: Justin Tuck, Linval Joseph, Chris Canty, Jason Pierre-Paul

Redskins: Jarvis Jenkins, Barry Cofield, Stephen Bowen
The Eagles are absolutely stacked up front on defense. The addition of Cox only makes a strong group stronger. Jason Pierre-Paul is obviously the best player out of that group and arguably the best defensive player in the division. The Cowboys have Jay Ratliff, but that's about it.
If Jenkins is still hurting from last year his spot could be taken by Adam Carriker, who played very well last season. Cofield has done well at the nose tackle position, and Bowen has been solid outside. While this group may not necessarily strike fear into opposing defenses, they are talented and effective at opening lanes for pass-rushing linebackers.
The biggest problem for this group was stopping the run.
Successful 3-4 defenses have dominant lines that can plug holes with nose tackles like Haloti Ngata and B.J. Raji. Cofield needs to be better about stopping runs up the middle. As of now this group probably ranks beneath the Eagles and Giants, but could overtake the latter if Jenkins plays like the star the coaches claim he is and the group as a whole improves in stopping the run.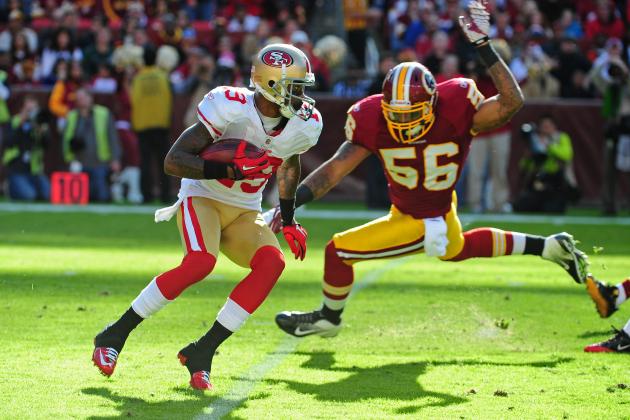 Scott Cunningham/Getty Images
Perry Riley did well replacing Rocky McIntosh last year but can he keep improving?
Cowboys: Sean Lee, Dan Connor

Eagles: DeMeco Ryans

Giants: Chase Blackburn

Redskins: Perry Riley, London Fletcher

While inner and middle linebackers do have slightly different roles in the 3-4 versus 4-3, we'll lump them together here just for this purpose of this piece.
Ryans should fill the biggest hole in the Philadelphia defense this year; his Houston teammates were extremely upset when he was traded. Blackburn is a solid option in New York.
The Cowboys have an interesting duo in Lee and Connor. Lee played very well last year, and is fantastic in coverage. Connor was previously of Carolina where he was never really more than a role player.
Fletcher is the best of this group, and one of the best in the league. It can be argued that his numbers are actually very similar to those of Ray Lewis, but he doesn't quite get the same recognition for some reason.
Next to him is youngster Riley, who replaced Rocky McIntosh as the starter last year and held his position for the remainder of the season. Fletcher led the league in tackles last year, but at 37 years of age, it's hard to tell how much he has left in the tank.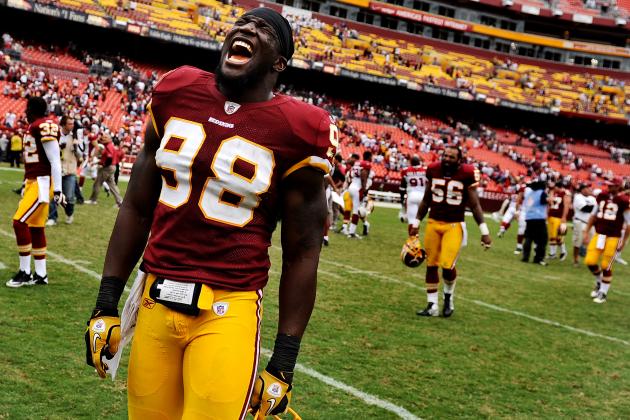 Patrick Smith/Getty Images
Brian Orakpo needs to make the jump from good to elite this year.
Cowboys: Anthony Spencer, DeMarcus Ware

Eagles: Mychal Kendricks, Brian Rolle

Giants: Mathias Kiwanuka, Michael Boley

Redskins: Brian Orakpo, Ryan Kerrigan
Ware makes the Cowboys the leaders at this position on his own, but Spencer isn't anything special. As one of—if not—the best outside linebackers in the league, Ware is a complete game-changer with a good chance to break the record for most sacks in a season.
The Eagles are weakest at the outside linebacker position while the Giants' duo are about league average or slightly better; Kiwanuka is the better of the two.
Orakpo has shown that he has elite ability, but his numbers don't reflect that. Whether it be that he's held more than other players (as Redskins fans would argue) or not, he needs to develop more pass-rushing moves and put his talent to use.
Kerrigan played every single defensive snap last year, and played each snap well. The two are one of the better pass-rushing duos in the league and should reach elite status if they continue to grow in Jim Haslett's system.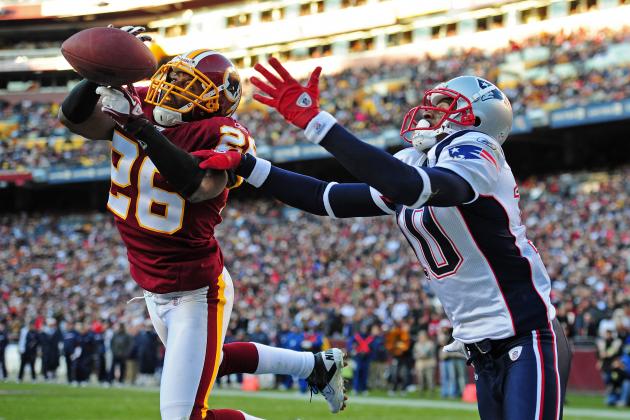 Scott Cunningham/Getty Images
Josh Wilson was arguably the best pure cover corner on the team last year
Cowboys: Brandon Carr, Morris Claiborne
Eagles: Dominique Rodgers-Cromartie, Nnamdi Asomugha

Giants: Corey Webster, Terrell Thomas

Redskins: DeAngelo Hall, Josh Wilson
The Cowboys by far did the most to upgrade this group last year, but they may still rank behind the Eagles. Asomugha had a disappointing year, but he still is one of the most talented corners in the league along with Rodgers-Cromartie. Asomugha's specialty is bump-and-run coverage, but he doesn't seem to do as well in zone coverage.
The whole ordeal with Claiborne's low Wonderlic score shouldn't be a red flag as he has the talent to be a dominant corner in the NFL. Carr was good in Kansas City, but left in free agency when Dwayne Bowe got paid instead of him. The Giants have a solid duo, but neither are shutdown corners or game-changers.
Hall is an enigma of a player. He has great ball skills and plays like a ball hawk, but gets burnt deep far too often for how much he gets paid. His tackling has improved significantly (Rob Gronkowski and Dez Bryant aside) and the coaches still believe in him. DB coach Raheem Morris plans to play him more in the slot to allow him to take chances more often.
Wilson has been solid during his tenure in Washington and better in coverage than Hall by many standards. While he's not as good at generating turnovers, he is good at making plays on the ball to break up a pass.
Behind Hall and Wilson, the Redskins have an open competition for the slot cornerback. Cedric Griffin is in the lead now, but Morgan Trent, Richard Crawford, Kevin Barnes and Chase Minnifield all have a legitimate shot. If Hall can avoid getting burned by receivers and someone can step up and play well as the nickel corner, this group will be fine.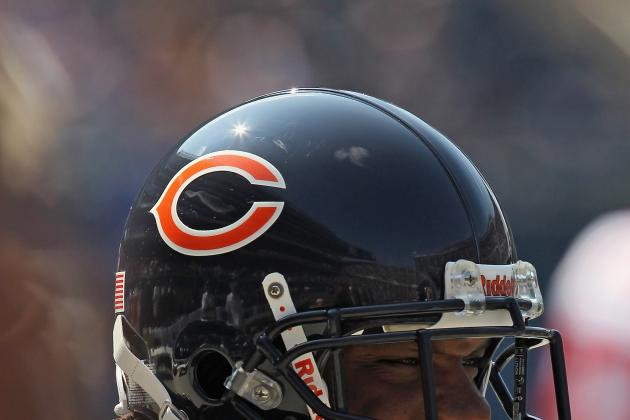 Jonathan Daniel/Getty Images
Merriweather was a Pro Bowl safety in New England, but faltered in Chicago.
Cowboys: SS Brodney Pool, FS Gerald Sensabaugh
Eagles: SS Kurt Coleman, FS Nate Allen

Giants: SS Kenny Phillips, FS Antrell Rolle

Redskins: SS Brandon Merriweather, FS Madieu Williams

Safety is not a very strong position in the NFC East. The Cowboys appear to be the weakest of the division, but no one really stands out in the group.
Phillips and Rolle are probably the most talented, but they come with their own set of problems. Coleman had a huge game against the Redskins last year, but that was largely because Rex Grossman forgot what team he was on that day.
With LaRon Landry and Oshiomogho Atogwe gone, the Redskins turned to a group of veteran free agents in Williams, Merriweather and Tanard Jackson to compete with incumbents Dejon Gomes and Reed Doughty.
Gomes and Doughty ended up playing significant minutes because of injuries to Landry and Atogwe, so even with the loss of those two this position has upgraded.
Jackson can challenge for the starting spot at free safety, but as of now he's still coming back from injury and Williams has a better grasp of the defense. New defensive back coach Raheem Morris had Jackson in Tampa Bay, so there's probably a better chance for him to start once if he's healthy.
Merriweather dropped off in Chicago, but that may have been due to the system. In Washington he will be allowed to play closer to the line of scrimmage, which better suits his playing style. Like LaRon Landry, Merriweather is better in run support than in coverage.
Jackson and Merriweather each have character concerns, while Williams doesn't quite have the talent to be anything better than serviceable. If Merriweather returns to his Pro Bowl days in New England and Jackson buys into the system, the Redskins should be fine this season.
Safety and cornerback depth are the two weaknesses of the Washington defense. If those can be overcome, it could very well develop into the best defense in the NFC East.