Fantasy Football 2012: A Detailed Look at Rounds 1-4 of Tuesday's Mock Draft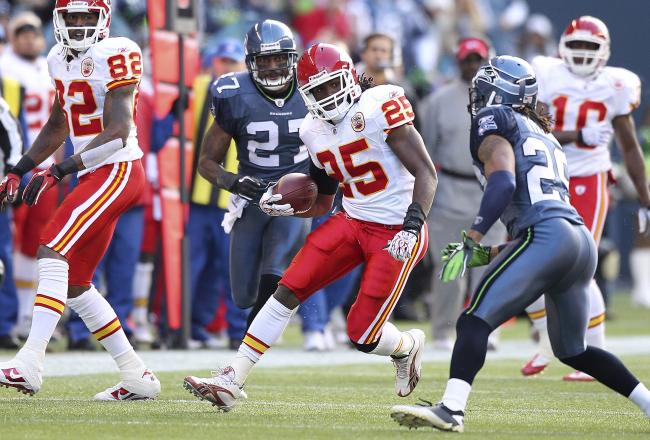 Chiefs running back Jamaal Charles tallied 1,935 total yards (1,467 rushing) and eight touchdowns in 2010—his last full NFL campaign.
Otto Greule Jr/Getty Images
On Tuesday afternoon, I participated in an ESPN.com mock draft (12 teams/standard scoring), drawing the No. 9 slot.

Here are the first 48 picks from Tuesday's simulation (with 60 seconds between picks):

(For a complete breakdown of my squad, click here.)


Round 1
1. QB Aaron Rodgers, Packers
2. RB Arian Foster, Texans
3. RB Ray Rice, Ravens
4. QB Tom Brady, Patriots
5. RB LeSean McCoy, Eagles
6. RB Maurice Jones-Drew, Jaguars
7. WR Calvin Johnson, Lions
8. RB Ryan Mathews, Chargers
9. RB Chris Johnson, Titans (my pick)
10. RB Matt Forte, Bears
11. RB Jamaal Charles, Chiefs
12. QB Drew Brees, Saints


Breakdown


My only early qualm: Jamaal Charles, my favorite NFL tailback to watch, doesn't have a Round 1 value heading into the season. If he didn't suffer a torn ACL last year, by all means, he'd be a top-five pick. But savvy fantasy owners can wait a bit longer for injury-connected assets. That said, if you believe Charles (1,935 total yards, eight TDs in 2010) can quickly recapture his old speed, quickness and explosion, happily grab him in Round 2 or 3.



With a new contract in hand, fantasy owners can now feel empowered to draft Matt Forte low in Round 1 or high in Round 2. Here's something to remember, though: Of my top eight tailbacks, Forte is the only one who endured a four-game stretch without 100 total yards last year. Normally, that wouldn't be such a deal-breaker, but we're talking about Forte—and only 7.1 TDs per season. Targets: 1,624 total yards and seven TDs.


Round 2
13. WR Larry Fitzgerald, Cardinals
14. RB Adrian Peterson, Vikings
15. WR Andre Johnson, Texans
16. QB Matthew Stafford, Lions (my pick)
17. RB DeMarco Murray, Cowboys
18. WR Roddy White, Falcons
19. TE Rob Gronkowski, Patriots
20. RB Marshawn Lynch, Seahawks
21. WR Wes Welker, Patriots
22. WR Greg Jennings, Packers
23. WR Mike Wallace, Steelers
24. TE Jimmy Graham, Saints


Breakdown


The 14th pick is a tad early for Adrian Peterson. Similar to Jamaal Charles, Peterson would be a Round 1 choice if he hadn't suffered a serious knee injury last December, but no one can speak about his fate in the next three months. Not even Vikings coaches can swear, with hand on bible, that Peterson will be or won't be on the PUP list come August and September.



There is nothing to dislike about Matthew Stafford's fantasy profile. He crossed the magical threshold of 5,000 passing yards and 40 touchdowns before his 24th birthday. He threw at least one touchdown in all 16 games. He amassed 350-plus passing yards seven times last season—including four straight to finish the year. (Props to Calvin Johnson and his 96 catches, 1,681 yards and 16 TDs last season.)


Round 3
25. WR Hakeem Nicks, Giants
26. QB Cam Newton, Panthers
27. QB Eli Manning, Giants
28. RB Darren McFadden, Raiders
29. WR A.J. Green, Bengals
30. RB Trent Richardson, Browns
31. RB Michael Turner, Falcons
32. QB Michael Vick, Eagles
33. RB Fred Jackson, Bills (my pick)
34. RB Steven Jackson, Rams
35. WR Marques Colston, Saints
36. WR Victor Cruz, Giants


Breakdown


Cam Newton (4,757 total yards, 35 TDs last season) is a true-blue steal at No. 26. The individual highlights are staggering: two 400-yard passing outings in Weeks 1 and 2 (an NFL rookie record), 10 games of 30 or more passes, 12 games of 275 total yards and/or three touchdowns, seven rushing TDs from two yards or less and a rock-solid completion mark (60 percent). And Newton accomplished all this without a full offseason of film prep/practice reps (due to the lockout) or a viable No. 2 receiver during the season (after Steve Smith, of course).



In 2011, Victor Cruz registered 12 games of eight targets or more—including 10 straight from Weeks 8-17. If Giants teammate Hakeem Nicks should miss two, four or six games to start the season (via the PUP list), I will buy Cruz's capacity for 82 catches and 131 targets in 2012—no strings attached. Eli Manning had per-game averages of 36.8 pass attempts last season, a figure that hovered above 40 after Week 4.


Round 4
37. WR Julio Jones, Falcons
38. RB Frank Gore, 49ers
39. WR Brandon Marshall, Bears
40. RB Ahmad Bradshaw, Giants (my pick)
41. WR Jordy Nelson, Packers
42. QB Tony Romo, Cowboys
43. WR Steve Smith, Panthers
44. WR Dez Bryant, Cowboys
45. WR Brandon Lloyd, Patriots
46. RB Roy Helu, Redskins
47. QB Peyton Manning, Broncos
48. WR Miles Austin, Cowboys


Breakdown


Julio Jones drew seven or more targets seven times last year. He even reached double figures three times, including a 17-target explosion against Seattle (11 catches/127 yards). In his final six games, Jones racked up 31 catches, 525 yards, six TDs and 51 targets for per-outing averages of five catches, 87 yards, one TD and 8.5 targets. All told, Jones accomplished more as a 13-game rookie wideout than Jerry Rice (1985), Larry Fitzgerald (2004) and Calvin Johnson (2007).



Jordy Nelson crossed the PPR-elite threshold of six catches, 100 yards and/or one touchdown 10 times last season. He also recorded 10 games of six or more receiving targets. With multiple-touchdown games last year, Nelson has a proven track record of carrying fantasy teams to victory in head-to- head matchups. If Jordy can rack up double-digit touchdowns for back-to-back campaigns, he'll have no problem achieving top-10 status by season's end.



New Pats wideout Brandon Lloyd may be a targets machine (150 with Denver/St. Louis last season)...but he's not a Round 4 pick in non-PPR drafts. It's that simple.



Miles Austin averaged 75 catches, 1,181 yards, nine touchdowns and 122 targets during the healthy seasons of 2009 and '10. Before his hamstring injuries kicked in last season, Austin pulled down 14 catches for 233 yards and four touchdowns for Weeks 1 and 2. He also tallied 12 targets per game during that stretch.
Jay Clemons can be reached on Twitter, day or night, at @ATL_JayClemons.
This article is
What is the duplicate article?
Why is this article offensive?
Where is this article plagiarized from?
Why is this article poorly edited?