Fantasy Football: Increasing Your Flex Appeal in 2012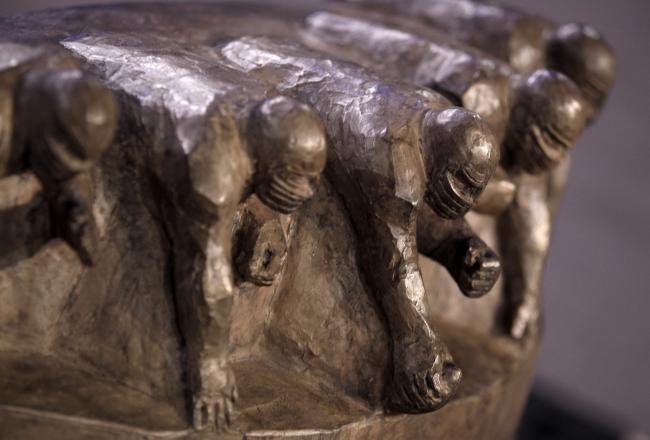 Madden Most Valuable Protectors Award
Scott Halleran/Getty Images
It is often said that NFL games are won and lost in the trenches. Even in the modern era, where passing is king and boom or boost plays tell the story on the highlight reels, it's the battle in the neutral zone that ultimately crowns champions.
The same can be said for fantasy football. Except we don't have trenches, we have benches, and that's where the true grind is. That's where weeks are won or lost. While it's easy to prove the cliché of "never sit your studs", it's much more difficult to know who to plug into that flex role. There isn't a player out there that hasn't left a win on his or her bench. There is no worse feeling than watching the clock expire on Monday night, knowing that had you only started "this guy" instead of "that guy", you'd be filing that week under the win category.
The good news is that 2012 brings new beginnings and a new column that can help steer your team into a championship. "Flex Appeal" is your weekly guide to solving that Rubik's Cube of RB/WR.
It's important to note that we've barely entered July and this list is premature. So it is subject to change as NFL rosters are subject to change and as injuries (hopefully very few) creep up during training camps.
Top-Five Flexibility
Gregory Shamus/Getty Images
The term "flex" indicates a player that is not drafted as a No. 1 or No. 2 at his respective position. For that reason, flex players will vary by league and league size. This list is built on the standard 12-team league format.
1. Jahvid Best (ADP 69)
The pickings are slim when it comes to running backs suitable for a flex spot. Jahvid Best represents great mid-round value as a feature back for a team that was ranked fourth in points scored last year. With Mikel Leshoure suspended for the first two games and coming off of an Achilles' tear, and Kevin Smith representing the spell-back, Best is a must-draft dual threat with breakout potential. He is currently being drafted in the sixth round. Once preseason starts, I wouldn't be surprised to see him climb up the ranks.
2. Titus Young (ADP 90)
It should come as no surprise that the first two players listed are both Detroit Lions. That's what happens when you play on a top-five offense whose defense is sure to make a lot of mistakes, resulting in close matchups and high-scoring games, not to mention playing in a very competitive NFC North. Titus Young wasn't drafted to be a third wide receiver and will become a key part of the Lions offense.
With Calvin Johnson drawing most of the attention (not that he can be stopped), it leaves me to believe that Young will improve upon his rookie effort of 605 yards and six touchdowns. He is the prime example of low-risk, high-reward and more than worth consideration when you're filling up your bench in later rounds.
Young and Best celebrate being great flex options.
Leon Halip/Getty Images
3. Denarius Moore (ADP 83)
Q: Who has a 4.3 40-time, a veteran quarterback that's playing with a chip on his shoulder and a team that will be playing from behind most of the season?
A: Denarius Moore.
Not only did Moore make some spectacular plays last season on his way to 618 yards and five touchdowns, he's also put himself in position to take over the No. 1 receiver spot for the Oakland Raiders. Couple that with the fact that he's being drafted in the eighth round, and you have a guy that's full of flex appeal.
4. Shonn Greene (ADP 52)
It's hard to get a fix on Shonn Greene. In some mock drafts, he's going in the fourth round. In others, he's going in the eighth. Film guru Greg Cosell described Greene as being a "one-speed runner" and notes that he lacks big play ability (via Rotoworld).
Going into last year, there was a lot of love, with many picking Greene as their breakout running back. Instead, he averaged a meager 65 yards per game and found end zone only six times. Half of those scores came in Week 13 against Washington. Needless to say, the 2011 version of Greene was a lot like the 2010 version: inconsistent, underwhelming and unreliable.
Harry How/Getty Images
The big question is, will we ever see the Shonn Greene that battered Cincinnati and San Diego in the 2009 playoffs? That is, after all, what started this hype machine. Now that LaDainian Tomlinson has retired and Greene is the true, uncontested No. 1, 2012 is shaping up to be a make-or-break season. Greene's flex value will come around the goal line (assuming that the Jets actually make it there). Will Tim Tebow cut into some of those opportunities? I would think so. But the Jets are one of the few teams that don't have a RBBC system (at least not anymore), and that's what makes Greene a good option.
A word of caution: Weeks 2 through 5 are brutal, as the Jets play the Steelers, Dolphins, 49ers and Texans. What do all those teams have in common? Their defenses are some of the best against the run, with three of them ranking in the top four. But down the stretch, the Jets face some softer match-ups. If Greene is hanging around in Round 7 or 8, he's worth a look.
5. Malcom Floyd (ADP 87)
No one is really sure what happened to Phillip Rivers last year. Some hypothesized that he may have been hurt, though he vehemently denies it. Whatever the case may be, it was an uncharacteristically bad season as he set a career record of 20 interceptions. We can only operate under the premise that 2011 was the exception and not the rule, and that 2010 Rivers will be back this year. Vincent Jackson, however, will not be back. That opens the door for Malcom Floyd to step up as the No. 1 receiver for the Chargers.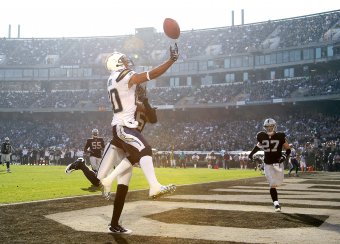 Ezra Shaw/Getty Images
Floyd has spent a lot of time on waiver wires over the years, being picked up to fill a flex role one week and then dumped the next. This year could be the year that he never finds his way to the wire, or the bench for that matter. In the last five games of 2011, Floyd had 24 receptions for 455 yards and four touchdowns. With Jackson out of the picture, Floyd will be Rivers' trusted go-to deep threat. Even with Robert Meachem being signed in the offseason, Floyd's experience and chemistry with Rivers makes him one of the best late-round values on the board.
*Long Shot: James Starks (ADP 72)
I won't blame anyone for rolling their eyes at the thought of owning a running back that plays for the Green Bay Packers. As a team, the Packers scored only 12 rushing touchdowns in all of 2011, with three of them going to the quarterback and another four going to the fullback. The reality of the situation is this: Ryan Grant is a free agent and won't be back; John Kuhn just signed a three-year deal, but isn't likely to get more than five carries per game. That leaves James Starks.
Starks has the power and speed to be the feature back for a powerhouse team. I believe that the Packers will rely on the running game more in 2012, especially as the weather turns towards the end of the season. In my book, a back that's A) No. 1 on the depth chart, B) plays for a team that scored the most points in the NFL last year and C) isn't being drafted until the seventh round or later is definitely worth a roster spot.
I'd Like To Thank The Committee
Starting a back that is second on the depth chart or part of a crowded backfield is less than ideal. But there will be situations that present themselves throughout the season that will force you into starting mediocre players. Unless you draft a few of these guys:
Felix Jones (ADP 120)
There's no question that DeMarco Murray is the main man in the Cowboys backfield. Those that were lucky enough to grab him off of waivers last season probably secured a spot in the playoffs. But those that are assuming that Felix Jones won't cut into Murray's playing time this season are sadly mistaken.
Jones has shown flashes of a brilliant, dual-threat running back with speed and great hands out of the backfield. The problem, of course, is health. Jones played through a shoulder injury that he sustained in Week 2 courtesy of Patrick Willis until a hamstring injury in Week 6 sent him to the waiver wire in just about every league. That gave birth to Murray, who ran for 897 yards in Jones' absence.
Regardless of how well Murray played, don't be surprised to see a timeshare of 60/40, with Jason Garrett having plays in place that feature both backs on the field at the same time. Jones' fantasy value will be largely dependent on screen plays and catching passes. With Murray being an injury risk, Jones also represents a mandatory handcuff. But even if Murray plays the entire season, Jones could still be in line for a large workload.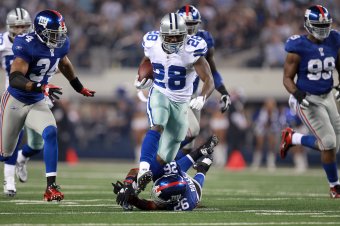 Ronald Martinez/Getty Images
C.J. Spiller (ADP 79)
It was a shame when Fred Jackson went down with an injury last season. Through 10 games, he had the second-most yards from scrimmage of running backs, with a combined 1,376 and four touchdowns. The silver lining was that we finally got to see what C.J. Spiller could to do as featured back. And it was good. Spiller averaged 88 yards per game and notched five touchdowns (three rushing, two receiving) in the last six games of the season. Even with Jackson returning to the starting role in 2012, Spiller is sure to get his fair share of work, especially with Jackson being 31 (we all know what happens to running backs when they reach a certain age). Like Felix Jones, Spiller represents a must-have handcuff and offers big-play ability.
Peyton Hillis (ADP 81)
One year removed from the Madden Curse, Peyton Hillis has taken his talents to Kansas City, where he has secured the backup role to Jamaal Charles. That's assuming that Charles has fully recovered from the torn ACL that ended his 2011 season in Week 2. Hillis may be in line for a large portion of carries and has goal-line vulture potential written all over him. If the Chiefs are going to be successful in an AFC West that's completely up for grabs, they'll need to return to 2010 form, where they led the league in rushing. Hillis will be a big part of that.
He's Going Deep
The best flex value will be represented by wide receivers. So you'll be better off stocking your benches in late rounds with pass catchers rather than running backs. Here are a couple of familiar faces that are falling to the bottom of the ranks.
Reggie Wayne (ADP 77)
What a difference a few years make. Reggie Wayne went from being one the highest drafted receivers to barely making rosters. I love Wayne's value for three simple reasons:
1. He's still the No. 1 receiver on the Colts' depth chart.
2. The Colts will be playing from behind in every game, which means an open playbook.
3. He has a rookie quarterback throwing to him. That may sound absurd, and it is, but this is no ordinary rookie. This is Andrew Luck, the guy that's been labeled as the best QB prospect in 20 years. He'll have a ton of pressure on him, and he'll be looking for a veteran wide receiver to bail him out. Wayne fills that role.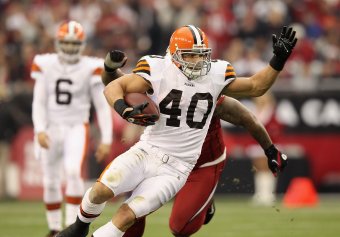 Christian Petersen/Getty Images
Randy Moss (ADP 91)
Stop me if you've heard this one before: Randy Moss has signed with a new team and looks to be in the best shape of his life.
The truth is, we don't know what kind of shape Randy is in. All we know is that he has nowhere near the speed he once had and there's been some speculation that he can't run between the numbers. We also know that the 49ers have a good team but they don't have a featured wide receiver. Sure, Michael Crabtree has breakout potential—at least that's what we've been told; still waiting to see it. Mario Manningham could flourish Greg Roman's West Coast offense. But Alex Smith is looking for some reliability, and if Randy believes he's on a Super Bowl-caliber team, he could be great flex play in 2012.
*Long Shot: Kendall Wright (ADP 159)
What we saw from A.J. Green and Julio Jones as rookie wide receivers last year was certainly special, and it tends to breed the notion that any rookie could have a breakout first season. What Green did was especially impressive, as he had a rookie QB throwing to him and didn't have a veteran receiver threat to draw attention away from him (such as Roddy White).
That being said, Kendall Wright isn't a six-footer that runs a sub 4.4 40-time. To suggest that he's going nab 60-plus receptions for 1,000-plus yards and seven scores (such as Green did) would be absurd. So would suggesting that the Titans used a first-round pick on a wide receiver to use him in limited sets.
Offensive coordinator Chris Palmer was very impressed with Wright in OTAs and has been lining him up all over the field, noting his ability to learn quickly and execute. No one will know how that's going to translate to real game situations, but it's encouraging to see one of the best WR draft prospects of 2012 raising eyebrows. Besides, who else are you going to draft in the 14th round? Leonard Hankerson?
This article is
What is the duplicate article?
Why is this article offensive?
Where is this article plagiarized from?
Why is this article poorly edited?