Fantasy Football: Draft Aaron Rodgers, Tom Brady and Drew Brees over RBs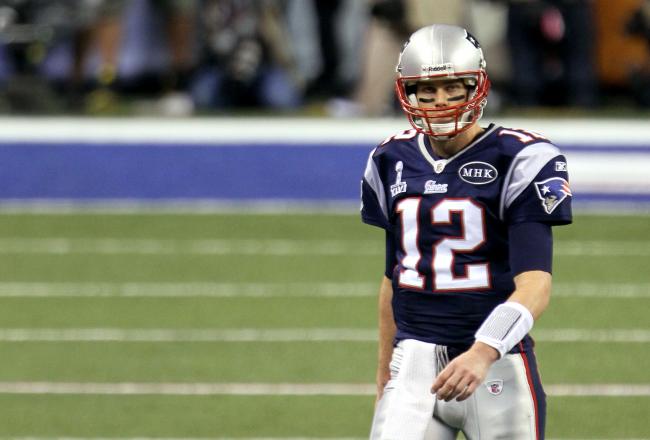 Jeff Gross/Getty Images
Tom Brady, Drew Brees and Aaron Rodgers have taken over the NFL in an air assault featuring more passing yards than ever. The top-tier quarterbacks are throwing for what would have seemed like obscene touchdown numbers just a few years ago.
Because of this shift to a more passing-driven NFL, players like Brady, Brees and Rodgers should be taken instead of the top running backs at the beginning of fantasy drafts—a change from the past few years.
In those years, if you were lucky enough to have the first pick in your fantasy draft, it was certain you would be selecting a top running back. LaDainian Tomlinson, Adrian Peterson and Arian Foster have all been names fantasy owners have dreamed of grabbing first.
According to NFL.com, Arian Foster is ranked as the top player to draft followed by Aaron Rodgers. Ray Rice and LeSean McCoy are ranked third and fourth before the other two top quarterbacks, Drew Brees and Tom Brady.
With one of the first three picks, it would be hard to pass up a top running back. It should be even harder to pass up a good quarterback. With Brees, Rodgers and Brady putting up 46, 45 and 39 touchdowns respectively last season, the top tier of quarterbacks are averaging huge numbers each week.
LeSean McCoy was the only running back with over 15 rushing touchdowns, finishing the year with 17. McCoy added three touchdowns in the receiving game for a total of 20.
In some leagues, quarterbacks get four points per passing touchdown, while other players receive six points for rushing or catching a touchdown.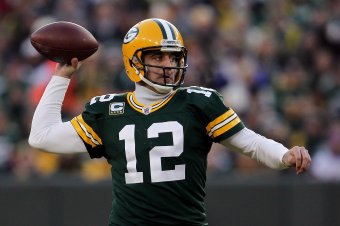 Jonathan Daniel/Getty Images
McCoy's touchdown total would be good for 120 points. Using four points per touchdown, Brees and Rodgers would have more than that, with 184 for Brees and 180 for Rodgers.
The problem with selecting a running back first overall is the high likelihood of injuries at the position. In recent years, Arian Foster and Adrian Peterson have been injured, missing significant time that is crucial in the shortened fantasy season.
With the fairly more stable health of quarterbacks, it would be smart to grab one of the top three and build your team from there.
Running backs also have shorter careers and their numbers have fluctuated throughout the years. In the past few seasons, Marshawn Lynch has a seen a huge resurgence and Chris Johnson has seen a huge decrease in production.
Both players had huge fantasy years in contract seasons, with Johnson struggling the next year. Lynch got his big payday this offseason, so all eyes will be on him this year.
There's also a huge dropoff in talent after the top-tier quarterbacks. Outside of Rodgers, Brees and Brady, there is a clear dropoff in production and increased question marks surrounding Philip Rivers, Eli Manning, Peyton Manning and Matthew Stafford.
Nine running backs finished the year within 500 yards of the league-leading Maurice Jones-Drew. Players two through nine were separated by just over 200 yards. Seven players had more than 10 touchdowns. After McCoy's league-leading 17, the next six were separated by just two touchdowns.
With drafts quickly approaching, the first few owners with selections in the draft should strongly consider taking one of the elite quarterbacks and grabbing a second-tier running back in the second round.
This article is
What is the duplicate article?
Why is this article offensive?
Where is this article plagiarized from?
Why is this article poorly edited?