B/R Writers' Fantasy Football Mock Draft: View from the 10 Spot, Rounds 9-15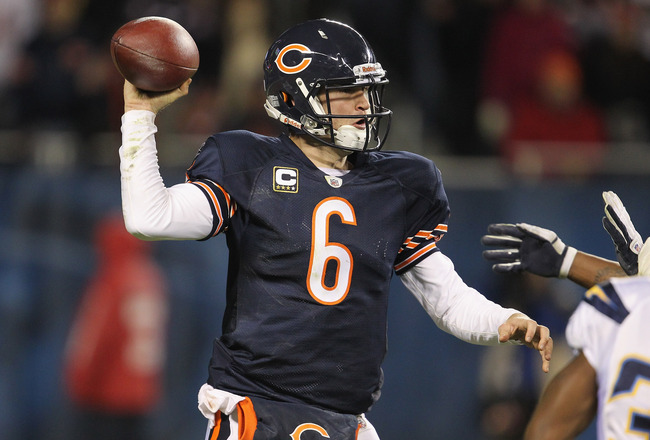 Jonathan Daniel/Getty Images
Ten B/R Featured Columnists recently assembled to provide a realistic mock draft with 10 different owners—each with their own ranking systems and draft strategies. I was randomly allotted the No. 10 spot.
Rounds 1-4 (with every pick listed) were discussed here.
Rounds 5-8 were discussed here.
My Team Through Round 8
QB: Tom Brady
RB1: Marshawn Lynch
RB2: Ahmad Bradshaw
WR1: Hakeem Nicks
WR2: Julio Jones
WR3: Jeremy Maclin
TE: Aaron Hernandez
Bench: Beanie Wells, RB
Here's a look at Rounds 9-16 with my thought process and analysis while making each selection.
*The writers who participated in the draft were:
1. Alexander Onushco
2. Ryan Lester
3. Tim Keeney
4. Ralph Longo
5. Gary Davenport
6. James Reagan
7. Rob Tong
8. Daniel Stack
9. Matt Madsen
10. Marco Patitucci
Round 9: Depth at WR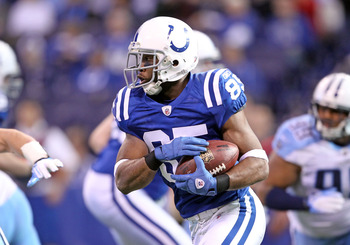 Andy Lyons/Getty Images
Round 9
81. Alex: Jay Cutler, QB
82. Ryan: Brandon Pettigrew, TE
83. Tim: Robert Meachem, WR
84. Ralph: Peyton Manning, QB
85. Gary: Ben Roethlisberger, QB
86. James: Vincent Brown, WR
87. Rob: Mark Ingram, RB
88. Dan: Jermaine Gresham, TE
89. Matt: Darrius Heyward-Bey, WR
90. Marco: Pierre Garcon, WR
With my three starting WRs drafted (Nicks, Jones, Maclin), I was confident there was strength on my squad. However, strength can become a weakness quickly without a quality backup and spot starter. Pierre Garcon fit all the requirements I was looking for in a fourth receiver. He's the No. 1 receiver for the Redskins and has high potential with rookie QB Robert Griffin III. He's not he steadiest receiver, but that's a risk I was willing to take with a non-starter on my fantasy squad.
Peyton Manning was the 10th QB selected and will back up Mike Vick on Ralph's squad. However, I was surprised to see Manning and Ben Roethlisberger come off the board before Philip Rivers.
Round 10: A Chance at the Best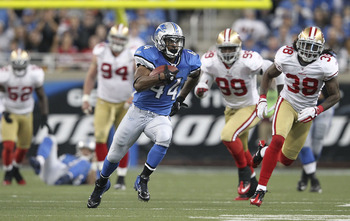 Leon Halip/Getty Images
Round 10
91. Marco: Jahvid Best, RB
92. Matt: Donald Brown, RB
93. Dan: Stevan Ridley, RB
94. Rob: San Francisco, DEF
95. James: Tony Gonzalez, TE
96. Gary: Peyton Hillis, RB
97. Ralph: Justin Blackmon, WR
98. Tim: Philip Rivers, QB
99. Ryan: Toby Gerhart, RB
100. Alex: Jared Cook, TE
At RB, I had Marshawn Lynch, Ahmad Bradshaw and Beanie Wells. While I'm pretty confident two of the three will produce at a high enough level to start, I won't have the best RB group in the league. A high-upside, high-risk pick like Jahvid Best could pay dividends. While there is concern with Best's susceptibility to concussions, his potential for big plays both running and receiving means 10 TDs is a possibility. As the fourth back on my team, the potential rewards outweigh the risk of a shortened season.
The San Francisco 49ers DEF was grabbed by Rob with the 94th selection overall. Production from fantasy defenses is hard to predict but San Francisco certainly has one of the most talented groups on defense. Last year, they were the No. 1 fantasy defense and they have all 11 starters returning. They're pretty close to a consensus No. 1 again this year, so if an owner is confident in all his offensive starters, then the selection in the Top 100 is only a small stretch.
Jared Cook was snagged with pick 100 and has potential for a big year, which is discussed in detail here.
Round 11: Brady's Backup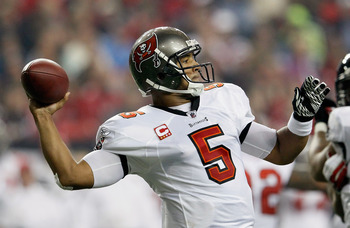 Kevin C. Cox/Getty Images
Round 11
101. Alex: Denarius Moore, WR
102. Ryan: Randy Moss, WR
103. Tim: David Wilson, RB
104. Ralph: Ben Tate, RB
105. Gary: Matt Schaub, QB
106. James: Michael Bush, RB
107. Rob: Titus Young, WR
108. Dan: Michael Floyd, WR
109. Matt: Malcolm Floyd, WR
110. Marco: Josh Freeman, QB
Freeman was a player I was targeting as a QB2, so Round 11 seemed like a good spot to get him. Freeman had a rough 2011 with 22 interceptions, second most in the league. However, Freeman was the No. 7 fantasy QB in 2010 and Tampa Bay has added Vincent Jackson and Dallas Clark. This should give Freeman a better chance to succeed and will take some pressure off of last year's No. 1 receiver Mike Williams. Freeman offers some production in the running game and is just 24. 2011 could have been just a hiccup on the road to a solid NFL career.
Randy Moss came off the board in Round 11 as well, which was surprising. After not playing in 2011, Moss joins a San Francisco offense that was conservatively led by Alex Smith last season, especially in the red zone. Moss will probably be no better than a 3rd option in the passing offense (behind Michael Crabtree and Vernon Davis) so the 49ers offense would have to be a lot more dynamic in 2012 for this pick to pay off.
Round 12: Getting Handcuffed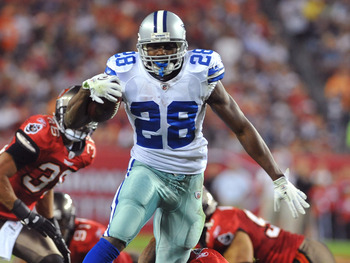 Al Messerschmidt/Getty Images
Round 12
111. Marco: Felix Jones, RB
112. Matt: Nate Washington, WR
113. Dan: Andrew Luck, QB
114. Rob: Laurent Robinson, WR
115. James: Anquan Boldin, WR
116. Gary: Pierre Thomas, RB
117. Ralph: Sidney Rice, WR
118. Tim: Santonio Holmes, WR
119. Ryan: Pittsburgh Steelers, DEF
120. Alex: Bernard Scott, RB
Jones is a reasonable value in Round 12. While some are down on him because of the emergence of DeMarco Murray as the Cowboys main back, Jones will still have opportunities to contribute on third down. A lack of TD production is a concern with Jones, but he did have three 100-yard rushing performances in nine starts.
No.1 NFL draft pick Andrew Luck came off the board at pick 113, 53 picks after the the No. 2 selection in the 2012 draft, Robert Griffin III.
Round 13: Getting Defensive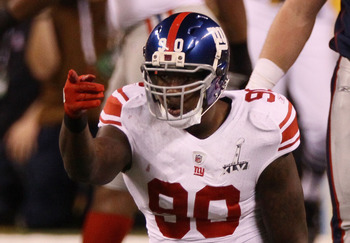 Win McNamee/Getty Images
Round 13
121. Alex: David Akers, K
122. Ryan: Baltimore Ravens, DEF
123. Tim: Seattle Seahawks, DEF
124. Ralph: Houston Texans, DEF
125. Gary: Jacob Tamme, TE
126. James: Lance Moore, WR
127. Rob: Ryan Williams, RB
128. Dan: Chicago Bears, DEF
129. Matt: Philadelphia Eagles, DEF
130. Marco: New York Giants, DEF
In the last three picks of my draft I needed a defense, a kicker and a backup TE. I grabbed the defense here, going with the sack artists of the New York Giants. The Giants were T-3 in sacks in 2011 with 48 and T-6 with 20 INTs, not bad for the eighth defense selected.
David Akers, who gave owners a full one-point advantage over the No. 2 kicker in 2011 and a two-point advantage over the No.10 kicker, was the first kicker off the board. Akers was the No.1 kicker in 2010 and the No. 2 kicker in 2009.
Round 14: Getting a Leg Up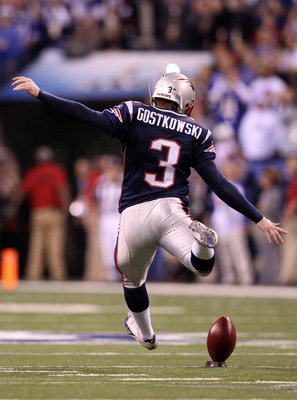 Elsa/Getty Images
Round 14
131. Marco: Stephen Gostkowski, K
132. Matt: Ronnie Hilman, RB
133. Dan: LeGarrette Blount, RB
134. Rob: Coby Fleener, TE
135. James: New York Jets, DEF
136. Gary: Detroit Lions, DEF
137. Ralph: Mike Williams, WR
138. Tim: Chris Polk, RB
139. Ryan: Alex Smith, QB
140. Alex: Brian Quick, WR
I had the opportunity for second-choice on kickers so I took it, grabbing New England's Stephen Gostkowski.
LeGarrette Blount was a solid pickup because he is still a possibility of being the starter for Tampa Bay, even if it's an outside chance.
Should anything happen to LeSean McCoy, Chris Polk could be a valuable handcuff.
Round 15: Mr. Irrelevant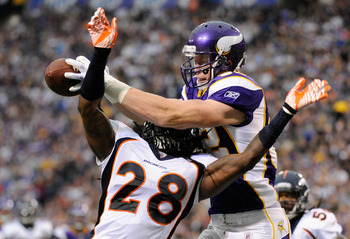 Hannah Foslien/Getty Images
Round 15
141. Alex: Green Bay Packers, DEF
142. Ryan: Mason Crosby, K
143. Tim: Sebastian Janikowski, K
144. Ralph: Jason Hanson, K
145. Gary: Dan Bailey, K
146. James: Matt Prater, K
147. Rob: Robbie Gould, K
148. Dan: Garret Hartley, K
149. Matt: Matt Bryant, K
150. Marco: Kyle Rudolph, TE
With defense and kicker spots filled, I could choose any player to be Mr. Irrelevant. TE's were important to fantasy football success last season, so I took a flyer on Kyle Rudolph, the second-year player out of Notre Dame. The Vikings also have John Carlson at TE, but I would think the Vikings would be pushing a Ponder/Rudolph connection as the 24-year-old QB and 22-year-old TE could be a fixture for many years. Percy Harvin will clearly be the No. 1 option for the Vikings in the air, but either TE could end up as a No. 2 option.
Final Team and Final Thoughts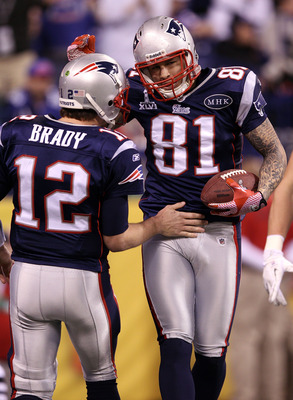 Elsa/Getty Images
Final Team
QB: Tom Brady
RB1: Marshawn Lynch
RB2: Ahmad Bradshaw
WR1: Hakeem Nicks
WR2: Julio Jones
WR3: Jeremy Maclin
TE: Aaron Hernandez
DEF: New York Giants
K: Stephen Gostkowski
Bench
Josh Freeman
Beanie Wells
Jahvid Best
Felix Jones
Pierre Garcon
Kyle Rudolph
Strengths
- QB Tom Brady is an elite fantasy player, giving an advantage at QB over most teams
- My top three WRs stack up against any other teams at least as equals
- No. 3 TE from last year Aaron Hernandez who is just 22
- It's a young team with an average age of 24.6
Weaknesses
- Lacking an elite RB
- Lacking consistent RBs besides Lynch
- Giants defense needs to give up fewer points in 2012 to be a top defense
Draft Oddities
- The oldest receiver on my fantasy squad is Pierre Garcon, who is only 25.
- Michael Floyd and Malcolm Floyd went with back-to-back picks in Round 11.
- Rob Gronkowski/Tom Brady and Dez Bryant/Tony Romo were the only pairs of teammates selected back-to-back.
Keep Reading