7 High Upside Players to Draft as Soon as Possible in Fantasy Football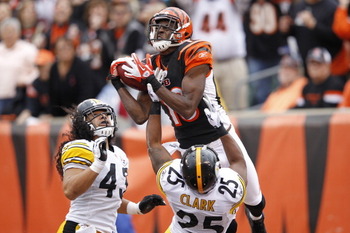 Joe Robbins/Getty Images
Some players, like Jason Witten and Marques Colston, are drafted because they seem to hit the same statistical marks every year. Those players can be an important part of fantasy success, but the best way to get ahead is to draft at least a few players who have yet to reach their full potential—players with upside.
Last year Cam Newton realized his huge fantasy upside immediately as a rookie as the T-3 overall fantasy scorer. Rob Gronkowski more than doubled his reception total from 2010 and went from the No. 11 TE to No. 1 in 2011. So who will be this year's Newton and Gronkowski?
Here are seven players who look like they're on the rise in 2012 and could be ready to crack the top 10 in fantasy scoring at their respective positions.
Julio Jones, WR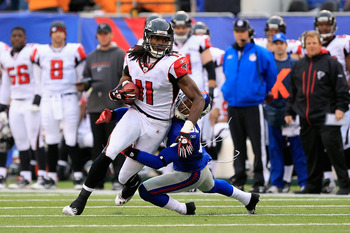 Chris Trotman/Getty Images
Jones was Atlanta's No. 2 receiver as a rookie in 2011 while teammate Roddy White lead the league in targets (White: 181 targets, Jones: 96 targets). But Jones showed that he has the potential to be a superstar receiver. His eight TDs were impressive considering he missed three games and was hampered in others by hamstring issues. White also had eight TDs while starting all 16 team games.
Another area that Jones showed his strength was with yards after the catch. Jones gained 417 yards after the catch on 54 receptions. Roddy White had fewer yards after the catch (364) on 46 more receptions. This translates to an average of 7.44 yards after the catch for Jones and just 3.64 for White.
While White is still a No. 1 caliber WR, Jones has incredible upside and the potential to not only eclipse White, but most every other receiver this season. Jones was the 10th receiver drafted (full disclosure, I selected him) in the recent mock draft that was conducted with nine other B/R writers.
DeMarco Murray, RB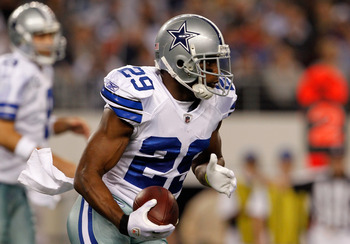 Tom Pennington/Getty Images
DeMarco Murray was an overnight fantasy sensation after a 253-yard rushing performance in his first start in Week 7.
Murray took advantage of the opportunity to start with Felix Jones on the shelf and had three games of over 130 yards rushing in a four-game span. He averaged an impressive 5.5 yards per carry before suffering a season-ending ankle injury in Week 14.
Fellow Cowboys RB Jones is also 24, but Murray is more suited for 25-plus carries a game as the Cowboys' lead back. He's a solid 6'0", 227 lbs and still has 4.4 speed. Murray showed potential to add fantasy points in the receiving game as well last year, catching 26 balls for 183 yards in his limited 2011 action.
There is a fair amount of risk with Murray as he's coming off an injury and has limited experience, but the upside is that Murray could finish in the 5-7 range as a fantasy back this year. He was the 10th back selected in the B/R writers' draft.
A.J. Green, WR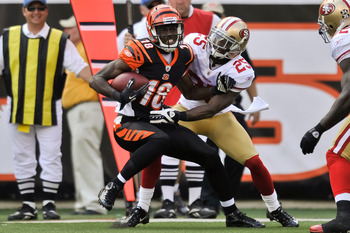 Jamie Sabau/Getty Images
Green is the other 2011 rookie WR that put up impressive numbers and, in fact, finished higher than fellow rookie Julio Jones as the No. 16 fantasy WR.
Learning on the fly with fellow rookie Andy Dalton at QB, Green and Dalton developed chemistry quickly and were a big part in Cincinnati's run to the postseason. Green showed big-play ability against a tough defense in two games against the Pittsburgh Steelers in 2011.
However, not every part of the transition to NFL No. 1 receiver was fluid. Green was targeted 116 times in 2011, resulting in 65 catches for 1,057 yards. Only 56 percent of the time that Green was targeted did the play result in a completion. For comparison, Wes Welker had a reception on 70 percent of targets.
If Green and Dalton can iron out a few of those issues (and they should be able to now with a full offseason/camp), Green should have no problem cracking the top 10 receivers in 2012 and this year he is being drafted accordingly. In the recent B/R writers' mock draft, Green was the fifth WR selected, ahead of such names as Wes Welker, Brandon Marshall and Roddy White.
Robert Griffin III, QB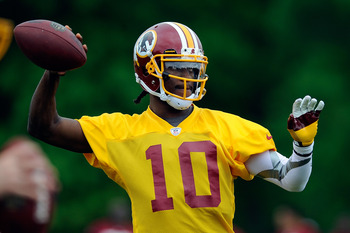 Patrick McDermott/Getty Images
It's dangerous to assume Griffin III will immediately produce as a top-five QB just because Cam Newton did last year as some have drawn comparisons. But there is also no doubt that Griffin II has tremendous upside as a QB who could potentially throw for 3,000-plus and rush for 700-plus at some point in his career. So if you can't get Rodgers, Brady, Brees, Newton or Stafford, why not take a chance on RGIII?
Griffin III joins a Redskins team that added WRs Pierre Garcon and Josh Morgan in free agency to go with Santana Moss and TE Fred Davis. So, he will have good targets to throw to. But the Redskins' offensive line gave up 41 sacks last season and will need to be improved upon for Griffin III to be in an ideal situation for success.
RGIII was the 60th selection overall in the B/R writers' draft, well ahead of his Athlon Sports Consensus Big Board spot of No. 94 overall.
Kenny Britt, WR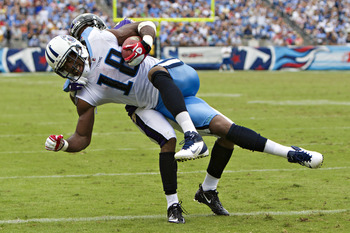 Wesley Hitt/Getty Images
Britt was on the verge of a breakout season with 271 yards receiving and three TDs in the first two weeks of 2011. But just like in 2010, when Britt's season was derailed by a hamstring injury that caused him to miss four games, a Week 3 knee injury ended his 2011 season and could put the start of his 2012 in jeopardy as well.
As a receiver who has been successful because of a rare combination of size and speed, Britt's production could take a hit if he doesn't return with the same life in his legs right away. But the upside is tremendous for the Titans' receiver who started off 2011 so well, and at 23, is just now entering his prime.
With veteran Nate Washington having a great season in 2011 and the addition of rookie Kendall Wright, Britt should enjoy a bit more space on the outside than in past seasons. Britt was the 40th selection overall in the B/R writers' draft and the 14th WR taken.
Trent Richardson, RB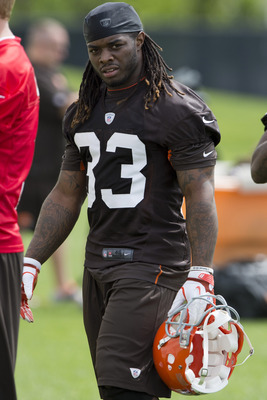 Jason Miller/Getty Images
Selecting a rookie RB as a fantasy starter can be a scary proposition, but the RB position is weak this year and Richardson won't be around long in fantasy drafts. Meanwhile, the potential for a big season is definitely there for Cleveland's feature back.
Richardson, the No. 3 overall pick by the Browns, lacks straight-line speed but has been compared to Emmitt Smith because of his power and ability between the tackles.
Last year, his first as the feature back at Alabama, Richardson rushed for 1,679 yards at a clip of 5.9 per carry. He is a solid 5'11", 224 lbs. Because of the lack of RB depth, you will most likely have a starting RB with some risk this year. But much like a Darren McFadden, who carries risk coming off an injury, Richardson has a lot of upside.
Richardson was the 20th overall selection in the B/R writers' mock draft and was the 10th RB taken.
Jared Cook, TE
Grant Halverson/Getty Images
At just 24 years old, Cook is quickly rising in the ranks of NFL TEs.
And while Cook has already had a drastic statistical improvement from his second to third season in the NFL (all with the Titans), 2012 could be the year he makes a name for himself nationally.
The progression for Cook has been steady. In 2010, Cook caught 29 balls for 361 yards with a TD. Last year, Cook caught 49 balls for 759 yards with three TDs.
But most importantly, Cook played his best football late in the season for the Titans. In Weeks 15-17, Cook averaged seven catches and 112 yards per game. The Titans' QB situation isn't settled but Cook is in a good situation to succeed with talented receivers Kenny Britt and Nate Washington on the outside freeing up the middle for the big guy.
Cook was the 100th player selected in the B/R writers' draft and the 11th TE off the board.
Keep Reading