Ranking the NFC Passing Attacks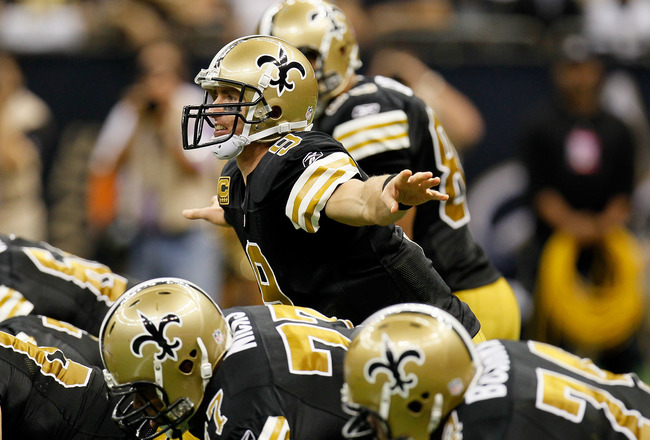 Kevin C. Cox/Getty Images
The prevailing perception in the NFL is that in order to be a legitimate contender for a playoff push, a team needs to have a quarterback with a strong, accurate arm and an arsenal of receivers at his disposal. Of course, there are exceptions to the rule, but these exceptions are becoming few and far between.

With the 2012 season approaching, it seems compelling practice to analyze and rank the passing attacks. In the interest of being concise, this article will focus only on the passing attacks in the NFC, ranking them from least to most potent based on their performance last season, caliber of players and off-season activity. We will begin with a team whose fans are wondering who will be throwing the ball and who will step up in their receiving corps.
*All stats were compiled from NFL.com and ESPN.com.
16) Seattle Seahawks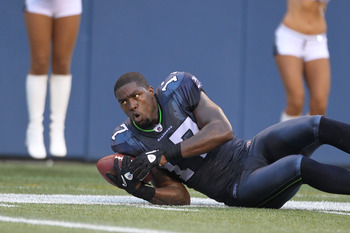 Otto Greule Jr/Getty Images
Ultimately, when your passing attack starts with the question of who will be throwing the ball and ends with who you can rely on to catch the ball, there is little to be excited about in regards to your passing attack.
The current cornerstone of the Seahawk offense is their running back, Marshawn Lynch, who gives the 12th man in Seattle something to be excited about. As mentioned previously, this is a pass-first league and the Hawks will not be able to ride Lynch to the Promised Land, but his ability to draw defenses in could give a young quarterback an effective play-action game and more opportunities to go against man-to-man coverage.
With three quarterbacks vying for the starting job, one of them has to pan out…right? John Gruden would tell you, and did tell Mel Kiper, that Russell Wilson should be given a shot, whereas many saw what Matt Flynn did to the Detroit secondary and would suggest that he should get the job out of the gate. Even then, there are those who would like to see some consistency behind center and have Tavaris Jackson getting one more chance. Optimistic Seattle fans are eager to see competition bring out the best in these guys, hoping the cream rises to the top and that whoever wins the starting job ends up being a franchise quarterback.
Additionally, we have seen flashes from the wide receivers in Seattle, but consistency has not been their strong suit. Sidney Rice has had a hard time staying on the field. Mike Williams did good things, but did not prove to be a solid number one receiver and Seattle fans and fantasy owners are still waiting for Golden Tate's impressive combine showing to manifest in game-time. It is possible that the quarterback play hindered the receivers from reaching their potential, but there is no guarantee that the quarterback situation will improve this year. There is a great deal of uncertainty in the near future for Seattle's passing attack.
15) Minnesota Vikings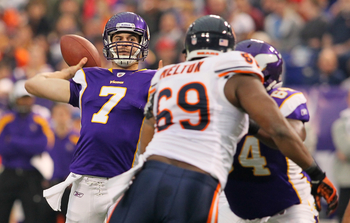 Adam Bettcher/Getty Images
Christian Ponder will have another year under his belt after a decent rookie showing. Cam Newton and Andy Dalton stole the rookie quarterback headlines, but Ponder had a pretty standard rookie showing, throwing for 1,853 yards with a 54.3% completion rate.
Perhaps players like Sam Bradford, Cam Newton and Matthew Stafford, have spoiled NFL fans by being able to come into the league and put up strong numbers immediately. An optimistic Vikings fan can look at Ponder and hope that a year of experience, a new strong rookie offensive tackle in Matt Kalil and a new speedy wide receiver in Jarius Wright will help build on his rookie year.
If Adrian Peterson is healthy, he poses a legitimate threat in the passing game, one season catching 43 passes for 436 yards. While he does not pose the threat of a LeSean McCoy, he could be a viable safety net for a young, developing quarterback.
On the negative side, there really is no strong receiving corps to help Ponder along. Harvin is their best receiver at the moment but has expressed interest in being traded and has shown that he can be inconsistent at times, receiving for 156 yards one week against Denver and then only going for 8 yards two weeks later against New Orleans.
As mentioned previously, a fourth round pick was spent on Jarius Wright, but there is no guarantee that he will be a success, especially in his rookie campaign. Ponder should improve, but with the only reliable players on his offense being Peterson and the receivers being young and questionable at best, it could be a long year for Christian Ponder and the Viking Passing attack.
14) St. Louis Rams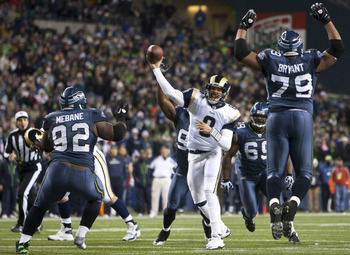 Jay Drowns/Getty Images
With time to recover from injury, fans are looking for Sam Bradford to take a step in the right direction this year. His rookie campaign was relatively impressive, throwing for 3,500 yards and 18 touchdowns at a 60% completion rate. Last season was something of a different story for Bradford.
Bradford only participated in 10 of the team's 16 games, excusing some of the lower statistics that he put up. This does not, however, explain away dropping from his rookie completion percentage of 60 to 53.5 and throwing for as many interceptions as touchdowns. As suggested earlier, injury may have played a role in his diminished numbers as he played 5 of his 10 games after sustaining his initial injury, but he will need to take strides to put last year behind him and build off his rookie campaign.
It seems the team is focusing on building around Bradford, adding Steve Smith from the Giants and spending high draft picks to give him more options through the air. Brian Quick's profile reads like an early analysis of Randy Moss in that he's a big strong receiver, capable of making that home run play despite having a limited repertoire in terms of route-running. This gives Bradford a threat that he has not previously had. They will need time to progress, but there are reasons for fans to be optimistic moving forward.
Hopefully improvements in the wide receiving corps and a full offseason to heal and prepare will offer hope to Rams fans, but Bradford's apparent regression last year and the questions at wide receiver have to worry fans and lands them the 14th position in these rankings.
13) Arizona Cardinals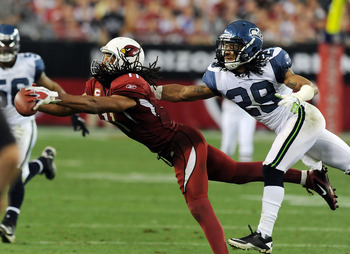 Norm Hall/Getty Images
The prized possession of the Arizona passing attack is Larry Fitzgerald. During his run with Kurt Warner, analysts beamed that a quarterback could simply throw the ball in his vicinity and he would come down with it. While that may have been an exercise in hyperbole, Fitz remains one of, if not the, most dominant WR's in football.
On the other side of the field, the addition of Michael Floyd could cause match up problems for defenses and open Fitz up more than was the case last season. Floyd is described as a big player who will likely be a possession receiver at the NFL level, at least early in his career. This could be good for the Cardinals as the only thing they really need is for a player to take defensive focus away from Larry Fitzgerald, something that has been missed since the departure of Anquan Boldin. The only questions that remain for Arizona's passing attack pertain to how fast Floyd will develop, will other receiving threats emerge and what level of quarterback play can be expected.

Arizona has 2 starting QBs, neither of which warrant a great deal of confidence from the Arizona faithful. Kevin Kolb was brought into the franchise through a trade with the Eagles last year, but dealt with injuries throughout the year and underperformed when he was on the field. He completed 57.7 percent of his passes, throwing for nine touchdowns and eight interceptions.
John Skelton did come in at times for the injured and under-performing Kolb, but had a lower completion percentage and an 11-14 touchdown to interception ratio. This is fortunate for Kolb as it ensures that he will have a legitimate shot at earning the long term Arizona starting QB job. However, it may not be the best thing for Cardinals fans if Kolb cannot improve his productivity.
Arizona has a few weapons, but may not have the right guy behind center to utilize them.
12) Washington Redskins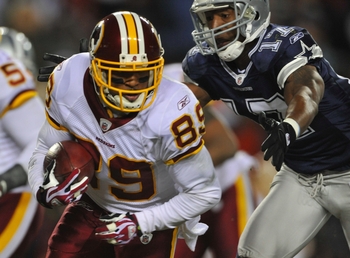 Larry French/Getty Images
Washington's reason for optimism? RG3. It may seem simplistic to put the Redskins at a higher position because of a rookie, especially since there is no proof that Robert Griffin III will be successful in the league. The assertion here is not that RG3 will duplicate what Cam Newton did as that would be a tall order. Putting Washington here assumes that Griffin will be better than last year's QB combination of Rex Grossman and John Beck and that feels like a safe bet.
The addition of Pierre Garcon gives RG3 another receiving option opposite the aging, but still capable, Santana Moss. The TE duo of Fred Davis and Chris Cooley will also provide a security blanket for their rookie QB. There is a question of how well this receiving corps will play but there is a chance for success with a highly touted rookie under center.
It is important to remember that teams trying to add young pieces to cooperate with established veteran pieces will always have to deal with chemistry issues. Pierre Garcon is a promising addition to the receiving corps, but after last season, questions have been raised about if his success in Indy was due to his talent or to the legend they had behind center in Peyton Manning.
Chris Cooley and Santana Moss are established talents on the team, but it is yet to be seen how they will click with RG3 and what they still have left in the tank. Again, RG3 could rejuvenate these players but their age and the fact that they have a rookie quarterback means Washington can be listed at no higher than 12th on this list.
11) San Francisco 49ers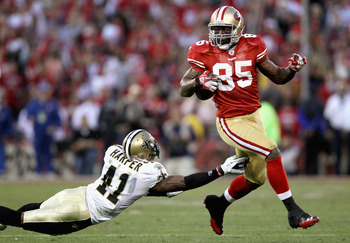 Ezra Shaw/Getty Images
It may be necessary to begin the 49er's analysis by pointing out that last season they were one of the teams that focused more on running the ball and defending than building a passing attack. It is hard to argue with this approach as it netted them a substantial run in last year's playoffs, however, with their off-season acquisitions, it appears they may be aiming to add a stronger passing attack to their offense.
Vernon Davis is one of the best TEs in the league, catching 72 passes for 874 yards and six touchdowns, the most receiving touchdowns on the team last season. Michael Crabtree is starting to come into his own after beginning to show production in 2011, amassing 874 yards on 72 receptions. The addition of Randy Moss and Mario Manningham, at the very least, should draw coverage away from the emerging Crabtree.
With those names, Alex Smith has a potential arsenal at his disposal if they are all able to work together and play at a high level. These pieces give the less pass-oriented 49ers the look of a team that wants to be pass-oriented. If Smith does not take a step forward this season, he will have little excuse.

Granted, Alex Smith had the best season of his career last year, passing for over 3,000 yards, but not everyone believes he is the franchise QB San Francisco has been looking for. There is also reason to wonder what Randy moss will bring to the table. If there is any player who warrants questions about character and drive, it is Randy Moss and there is no guarantee of what he will bring to the 49er passing attack.
The 49ers threw the fewest passes in the NFC last year by 22 and had one of the lower yards per attempt at 7.1. Again, they now have pieces to build a passing game around and time will tell if Alex Smith is able to take advantage.
10) Tampa Bay Buccaneers
Grant Halverson/Getty Images
Mike Williams and Kellen Winslow both caught for over 750 yards, but only had five combined touchdowns. The receiving corps for the Buccaneers left something to be desired, but in the addition of Vincent Jackson, they add a receiver who caught for 1106 yards and nine touchdowns last season. Of course, he accumulated these yards with the elite Philip Rivers delivering him the ball. It is yet to be seen if he can do the same with Josh Freeman.
After a breakout 2010 in all facets of offense, Tampa regressed in all facets in 2011. This includes Josh Freeman who took a giant step back last season. To put some numbers to this assertion, in 2010 Freeman threw for an impressive 25 touchdowns and an even more impressive 6 interceptions (as few as Aaron Rodgers threw last season). In 2011, Freeman crashed hard back down to earth, throwing for 16 touchdowns and 22 interceptions.
It is difficult to determine whether Josh Freeman is a benefit or detriment for the Tampa passing attack as his two most recent seasons have been night and day. Josh Freeman's 2010 performance showed us a quarterback who can be dangerous and accurate. Knowing that he is capable of that kind of production has to be comforting to the Tampa faithful, but the Jekyll and Hyde show over the last two years is worrisome.
In 2012, Freeman will not be able to blame his receivers if he is unable to return to his success in 2010. The play-making ability of Vincent Jackson is big enough on its own but his presence could also open up receivers like Mike Williams who underperformed last season, and their new tight end acquisition Dallas Clark.
With a new coaching staff, and no showing of consistency from the offense, it is hard to judge Tampa for the 2012 season. But with Vincent Jackson on board and other capable receivers, Josh Freeman will have the opportunity to bring this passing attack back to contention.
9) Chicago Bears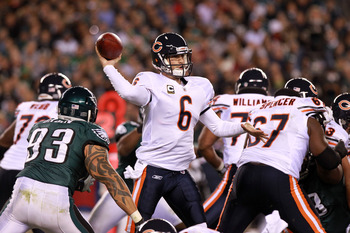 Nick Laham/Getty Images
Jay Cutler has finally been allowed to take control of the offense, and with the addition of Brandon Marshall in the receiving corps, finally has a viable receiving threat. If Cutler and Marshall can come close to the production they had while both with the Broncos, things should open up for Devin Hester, Earl Bennett and their second round draft pick, Alshon Jeffery. Forte also poses a legitimate receiving threat out of the backfield.
It could be argued that Jay Cutler is the most underrated quarterback in the NFC. Cutler did not put up great numbers last season, but the focus of the offense was to run with Forte and have Cutler manage the game. The fact of the matter for Chicago last year was that neither Hester or Knox seized the number one WR position and the loss of Greg Olsen to Carolina took a legitimate weapon away from Cutler. Marshall not only gives Cutler a significant weapon, but a weapon that he is familiar with and has had success with.
The only real hindrance for this passing attack is lack of options at both the wide receiver and tight end positions. The addition of Marshall is huge for Chicago, and will be more significant if any of their other receivers can step up and become strong secondary options. Chicago fans know that Hester has big play ability, but questions linger about his abilities as a receiver. Knox has also shown that he can be an asset as a possession receiver, but he was seriously injured at the end of last season and has no timetable for a return.
With Chicago's entrance into these rankings, we come to the teams with stronger more reliable passing attacks. Bears fans have a lot to be excited about this season with Marshall and Cutler coming back together, especially if Forte's contract issues get resolved.
8) New York Giants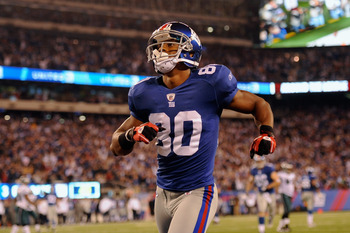 Patrick McDermott/Getty Images
Eli Manning is living up to his namesake in putting up yardage and touchdowns. In 2012, Manning completed 61 percent of his passes, threw for just under 5,000 yards and completed 29 touchdown passes.
While it may seem taboo to critique a Super Bowl MVP, there are still times where Eli needs to make better decisions when it comes to reading progressions and avoiding bad habits like trying to throw off his back foot. Manning is a consistent quarterback, playing every game for the past seven years, keeping his completion average over 60 for the past 5 and throwing for over 4,000 for the last 3. Unfortunately, his consistency also includes interceptions, throwing for 16 last season, one less than his average over the previous six seasons. Despite this, he is one of the best quarterbacks in the NFC and has been a significant part of two Super Bowl runs.
Returning in 2012 are his two main targets of Victor Cruz and Hakeem Nicks. Later in this article, another 1-2 punch will be mentioned as being likely the best in the NFC, but Cruz and Nicks certainly have a case for the title. Last season Cruz caught 82 passes for 1536 yards and nine touchdowns catching one pass for 99 yards and averaging 18.7 yards per reception. Hakeem nicks caught 76 passes for 1192 yards and seven touchdowns, averaging 15.7 yards per reception.
While Cruz and Nicks are a dangerous 1-2 punch, they really are the only two receiving threats after the loss of Mario Manningham and the lack of a reliable tight end. The Giants drafted Rueben Randle who could develop into a formidable option and take focus away from New York's primary targets. Manning's consistency, the two-headed threat of Cruz and Nicks as well as the potential of Randle makes the New York passing attack one of the stronger in the NFC.

7) Carolina Panthers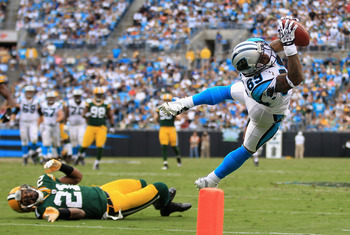 Streeter Lecka/Getty Images
Cam Newton had a breakout rookie season, passing for over 4,000 yards and completing 21 touchdowns. His rookie performance has Panther fans optimistic about their passing attack, a feeling they haven't had since Jake Delhomme threw five interceptions in the Divisional round of the 08 playoffs.
Newton threw 17 interceptions, but a lot of these appeared to be rookie mistakes that he hopes to put behind him moving forward. Breaking down where his interceptions took place, 11 took place in the second halves as opposed to six in the first, and 10 occurred when Carolina was trailing. These stats suggest that Cam's interceptions often came when the game was coming to a close and the result was hanging in the balance. He may have been trying too hard or may have been anxious as a young QB in a big situation. If this is the case, experience and the maturing process should fix some of these issues.
You cannot discuss the passing attack of the Carolina Panthers without mentioning Steve Smith, whose career sprung back to life last season with Newton behind center. After a 2010 season which saw Smith catch 46 passes for 554 yards, he finished 2012 having caught 79 passes for over 1,300 yards. Granted, he is getting into the years where fans have to start wondering how long he can keep up this level of production, but he is a surefire number one receiver with a young competent QB. Cam Newton to Steve Smith could be one of the most terrifying QB-WR combination in the conference. If the chemistry between these two continues to grow, they could do some serious damage in the NFC.
The challenge for Carolina's passing attack is to find a consistent number two. Greg Olsen certainly gives Newton a reliable red zone option and Jonathan Stewart's 47 receptions for 413 yards cannot be overlooked. But these do not remove the need for a reliable secondary receiver. Brandon LaFell and David Gettis have shown flashes but have failed to show consistency after two years in the league. Fans will hope that Newton's sophomore season will bring more success for LaFell and Gettis.
6) Dallas Cowboys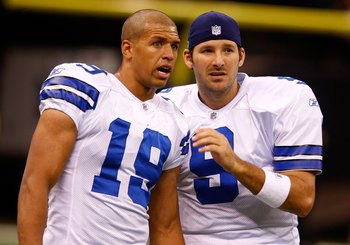 Scott Halleran/Getty Images
Discussing Tony Romo always has the potential to spark controversy, so the stats and claims employed here will be chosen very carefully. Tony Romo threw 10 interceptions in 2011, throwing more than one interception in only two games. Romo threw 31 touchdown passes, ranking fourth in the NFC and completed 66% of his passes, ranking third in the NFC. Dallas fans have legitimate questions about whether or not Romo is a quarterback who can succeed in the playoffs, but his numbers in the regular season are respectable if not impressive.
The challenge for defenses going against the Cowboys is who to focus on in the passing game. Over the past three years, Miles Austin has proven himself to be a strong number one receiver, catching for 1,320 in his breakout 09 campaign and 1,041 the following season. He missed six games last season, but still caught for 579 yards and seven touchdowns. There is no question that he is a formidable weapon for Romo.
Going into his third season, Dez Bryant has yet to break 1,000 receiving yards or 10 touchdowns, but did get close to those numbers last season despite missing a game. The Austin, Bryant combination could do serious damage to opposing defenses moving forward, especially with the reliable Jason Witten at tight end.
Over the last two years, Bryant's first two in the league, health has been an issue for the major components of this offense. Romo has missed 10 games, Austin has missed six and Bryant has missed five. If the three of them can stay healthy and can all play to their full potential, it will be difficult for defenses to get them off the field before scoring. The debate will continue on whether or not Tony Romo is elite and if he has Super Bowl talent, but his numbers seem to show that he should be able to take advantage of his three main targets if they are able to play to their full potential.
5) Philadelphia Eagles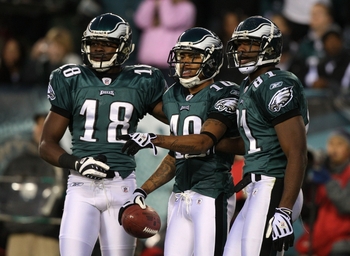 Jim McIsaac/Getty Images
Love 'em or hate 'em, NFL fans cannot help but to notice the Philadelphia Eagles and their passing attack. They are, at least to an objective fan, one of the most exciting offenses to watch and it starts with Michael Vick. Vick passed for 3,303 yards last season, but regressed in touchdowns, throwing three fewer than the year prior and eight more interceptions. Eagle fans will hope this was a fluke, as his 2010 season was very impressive and indicative of his full potential.
What puts Philadelphia this high in these passing attack rankings is their cast of receiving threats. While neither broke 1,000 yards last season, DeSean Jackson and Jeremy Maclin have proven themselves to be a strong combination, each bringing unique talents to the table. In DeSean Jackson, the Eagles have a player with the acceleration and speed to make the big play. He proved this in 2010 when he averaged 22.5 yards per reception. Last season his stats took a hit, but with a full off-season to prepare and new money in his pocket he has the opportunity to return to his 2010 form.
Jeremy Maclin offers Vick a sure-handed option opposite Jackson. Maclin is the personification of consistency averaging 13.6 yards per catch last season after averaging 13.8 the previous two. Beyond Jackson and Maclin, Vick has Jason Avant who caught 52 passes for 679 yards, Brent Celek who caught 62 passes for 811 yards and an explosive LeSean McCoy who caught 48 passes for 315 yards out of the backfield.
What places Philly's passing attack this high on the list is their collection of potentially explosive talent. The prospect of all of these players performing at the top of their game is exciting. What keeps the Eagles from being ranked higher on these rankings is the slight regression that occurred last season from both Vick and his two main targets. If they enter the season clicking on all cylinders, they could work their way up this list.
4) Atlanta Falcons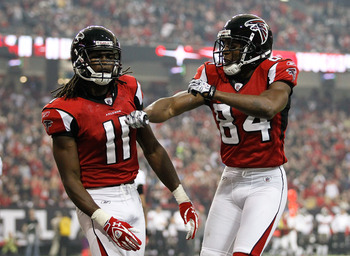 Kevin C. Cox/Getty Images
If they are able to build on last year's production, Roddy White and Julio Jones have the opportunity to become the strongest 1-2 punch in the NFC. Roddy is as consistent a number one receiver as there is in the NFL, accumulating over 1,000 yards each of the past five seasons. Roddy White is a clear-cut number one receiver talent. With this knowledge, the Falcons went into the 2011 draft with the only mindset that made any sense..."let's go for broke on a high caliber wide receiver."
Regardless of if you agree with their decision to trade away high draft picks for Julio, the bottom line is that he performed well in his first season with the Falcons, accumulating 959 yards, eight touchdowns and averaging 17.8 yards per reception. His yardage and touchdowns are even more impressive when you consider that he missed three games in his rookie campaign. If he is able to build on these numbers, the Falcons will have two wide receivers worthy of being number ones on most teams.
Nobody should be more excited about the Roddy-Julio tandem than Atlanta's quarterback, Matt Ryan. The Falcon's quarterback is known for his reliability and competence in clutch situations. Ryan threw for 4,177 yards, 29 touchdowns, and 12 interceptions with a 61% completion rate. To this point, he has done nothing to warrant inclusion into the repetitious "elite" conversation, but there is no doubt that he has the ability to take advantage of two high end receivers and Tony Gonzalez, a tight end that some would consider one of the best at his position.
The question facing the Atlanta passing attack is receiver depth. If Jones, White or Gonzalez go down to injury or regress, there are few options to pick up the slack. However, as currently constituted, Atlanta has a strong, experienced veteran and an explosive young talent at receiver capable of carrying the load for this strong passing attack.
3) Detroit Lions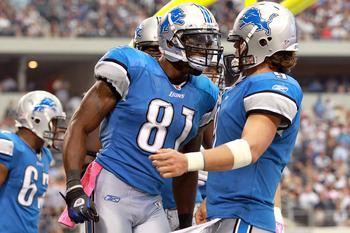 Ronald Martinez/Getty Images
"Matthew Stafford drops back to pass." There are few phrases more exciting to the ears to the ears of Lions fans, which is good because they heard it more than any other team in the NFL last season. When Stafford takes the ball from center, he has a veritable arsenal at his disposal from a tight end in Pettigrew who caught for 777 yards and five touchdowns to two wide receivers in Nate Burleson and Titus Young who combined for 1,364 yards and nine touchdowns. Beyond this, the Lions had four other players (three running backs and a tight end) each catch over 20 passes and catch at least one touchdown. This is all before we discuss the man they call "Megatron", Calvin Johnson, who caught for 1,681 yards and 16 touchdowns, averaging 17.5 yards per catch.
Some would question whether Stafford's success is based on his talent, the abilities of Megatron or a combination of the two. Stafford's numbers are impressive even if you subtract Calvin's receiving yards. Without Tron's numbers, Stafford still threw for 3,357 yards, more yards than many quarterbacks in the NFC. More importantly, and I will knock on some wood while saying this, Stafford showed that he is capable of playing a full season at a high level without injury. Lions fans will hope that the offensive line and first round draft pick Riley Reiff can keep him upright this year, limiting the opportunity for injury.
Calvin is obviously the centerpiece of the Detroit passing attack, but what they lack in their receiving corps is a solid number two receiver. This is a minor issue as the defensive focus on Calvin often opens up other options. In his rookie season, Titus Young showed that he has the potential to be a force in this league and Burleson is still consistently making plays. Apparently the Detroit Lions brass still perceived a need in the WR corps as they spent their second round pick on Ryan Broyles, a receiver the Lions hope will be a strong possession receiver.
To make up an analogy, a pitcher's signature fast ball is most effective if they have a legitimate curve in their repertoire. The only thing holding back this passing attack is that defenses know the pass is coming. If the Lions develop a running game, the sky is the limit for their passing attack.
2) New Orleans Saints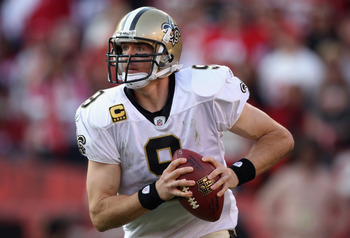 Jed Jacobsohn/Getty Images
Drew Brees is the NFC's answer to Peyton Manning. It seems that no matter what pieces are put around him, they are going to look prolific. If you paid attention to the NFL at all last year, you are aware of what Brees was able to do last season to defenses and to the record books. At the risk of redundancy, his numbers are worth posting here. Brees set a record, passing for 5,476 yards for 46 touchdowns at a 71.2% completion rate, the highest in the NFL last season.
As previously mentioned, Brees seems to get the best out of his supporting cast, but it certainly helps when those cast members have significant talent. The top receiver for the Saints was their monstrous tight end, Jimmy Graham, who caught 99 passes for 1,310 yards and 11 touchdowns. This was followed by Marques Colston, the closest thing they have to a number one wide receiver, who caught 80 passes for 1,143 yards and eight touchdowns. Out of the backfield, Darren Sproles caught 86 passes for 710 yards and seven touchdowns. Their three top receivers occupy three different positions, highlighting the flexibility of this passing attack. After these three top receivers, four others are reliable options with three wide receivers going for over 500 yards and their other running back, Pierre Thomas, catching for 425 yards.
There are few flaws on this team and the fact that they are not the top of these rankings is a testament to how strong the NFC passing attacks are. The only thing that worries New Orleans fans are off-season issues with the potential to become regular season issues. The most pressing issue for the Saints is that Drew Brees' future is not locked in. Brees has stated that he "won't sign the franchise tag tender and has no plans to show up for training camp if a long-term contract isn't reached by Monday's deadline." The article referenced above also states that they are around one million dollars away from reaching a deal, certainly putting the possibility for a quickly approaching deal within the realm of possibility.
If Brees and the Saints get a deal completed soon, there is no reason to doubt that he will be the same elite quarterback that we have come to know for this team. There is no telling what effect the season-long suspension of Sean Payton will have on the passing attack, but the apparent chemistry present in the offense and the leadership of Drew Brees could be enough to compensate for that.
1) Green Bay Packers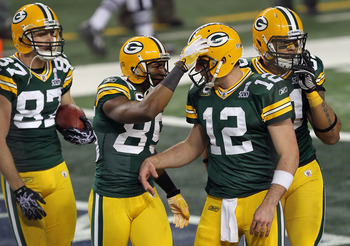 Mike Ehrmann/Getty Images
This is only my second article for B/R and I am aware that one of the best ways to gain readership is to make controversial claims, which is why I wish I could justify not putting the Packers in the pole position in these rankings. However, at this point it is undeniable that there is no passing attack in the NFC stronger than that of the Green Bay Packers. The strength of the Green Bay passing attack starts with their impressive quarterback, Aaron Rodgers.
I will not be the one to engage in Aaron Rodgers hyperbole, but it is difficult to deny that what he did last year was impressive. Rodgers completed 68.3% of his passes for 4,643 yards and 45 touchdowns, despite missing the last game in preparation for the playoffs. In addition to this, Rodgers was the only quarterback averaging over nine yards per attempt at 9.25. However, his most impressive stat may be that through 15 games, he only threw 6 interceptions despite throwing the ball over 500 times. His abilities to throw the short ball, long ball, run and extend plays have been well documented and are a large part of why the Packer passing attack is the best in the NFC.
Another impressive aspect of this team is how many players are able to flourish catching passes from Rodgers. Seven receivers caught 19 or more passes and averaged 12-18.6 yards per reception. Jordy Nelson lead all receivers with 68 receptions for 1,263 yards and 15 touchdowns. After Nelson, Greg Jennings, Jermichael Finley, James Jones and Donald Driver made significant plays and put up good numbers for the Pack last year.
Aaron Rodgers has a great deal of talent and has the ability to carry this team, but the most impressive thing about this passing attack is how easy they make it look. The plethora of receivers that know how to operate within the offense and a system that gets them open with great efficiency contribute to as complete a passing attack as there is in the NFC. It is a scary thought that many of these pieces are still young and may still have some untapped potential.
Conclusion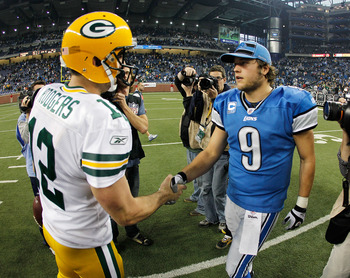 Gregory Shamus/Getty Images
I am completely aware that this would not be the order that all NFL fans would put these teams into and I would certainly welcome differing perspectives and informed discourse.
The most difficult decision in ranking these teams was at the fourth position between the Falcons and the Eagles. In my mind this battle really could go either way with Atlanta having possibly the best 1-2 punch in Roddy White and Julio Jones and Philly having a strong set of receivers and an exceptional receiver out of the backfield in McCoy. In the end, I have more faith in Matt Ryan, Tony Gonzalez and Atlanta's receivers than I do in Philadelphia's attack, though it is a tight call.
Also, I would argue that there is little separating the top three teams in the NFC. All three have minor deficiencies, but are absolutely terrifying to opposing teams when their respective quarterbacks drop back to pass. Indeed it is a pass-oriented league and the teams atop this list show us why that is an exciting prospect for fans of the NFL.
Keep Reading