Summer Super Bowl Odds for the 2012-13 NFL Season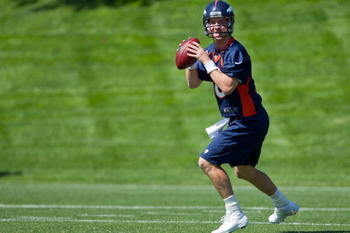 Justin Edmonds/Getty Images
Obviously, Vegas' Super Bowl odds have literally no effect on what happens on the field. However, they are a useful tool to get an idea of how the public perceives each NFL team's chances coming into next year.
These odds are based on the values from betvega.com, which was most recently updated on June 1. Therefore, outside of a few transactions, these picks are based on the most recent roster moves.
Here is a breakdown of this summer's Super Bowl odds, in descending order.
Green Bay Packers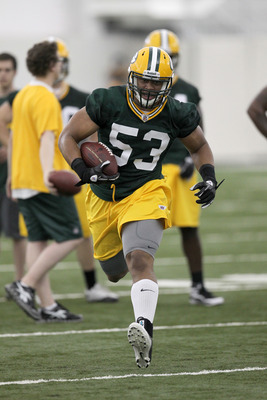 Mike McGinnis/Getty Images
Odds: 13/2
This team only lost two games (including the playoffs) last year, so it is hardly a surprise to see them as the current favorites to win Super Bowl 47.
Still, this team needs to make massive improvements on the defensive side if it wants to get another Lombardi Trophy. Rookies such as Nick Perry and Jerel Worthy will have to make big-time contributions early on.
Losing Scott Wells and Chad Clifton also raises question marks on the offensive side, but as long as Aaron Rodgers is under center, the sky is the limit for the Packers.
New England Patriots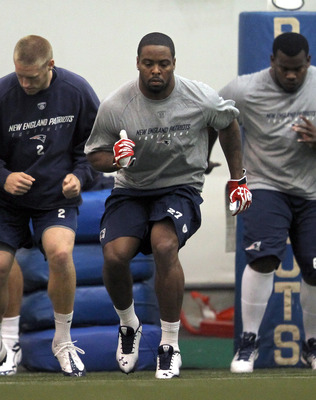 Jim Rogash/Getty Images
Odds: 8/1
As of now, the Patriots are my personal pick to win the Super Bowl. The addition of Brandon Lloyd gives the Patriots the deep threat that they clearly missed in Super Bowl 46.
The Patriots still need to make some significant improvements on the defensive side of the ball, but few teams are going to be able to score at the rate the Patriots will in 2012.
San Francisco 49ers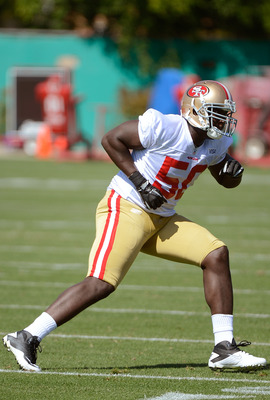 Thearon W. Henderson/Getty Images
Odds: 10/1
After reaching the NFC championship game a year ago, there are plenty of reasons to like the 49ers coming into 2012. They made a ton of upgrades at the skill positions and are returning all 11 defensive starters from last year.
However, it is important to consider that the 49ers had a lot of bounces go their way last year. They led the league in turnover ratio, which is nearly impossible to do year after year. One would figure that they will not get as many extra possessions as they did in 2011.
That said, they are still favorites to win the NFC West and could certainly make a repeat appearance in the NFC championship game.
Denver Broncos
Justin Edmonds/Getty Images
Odds: 12/1
Many of you are probably wondering why the Broncos are higher than teams like the Giants and Saints, but consider that these are Vegas odds, not power rankings.
Many times, bettors will put money on teams that have a lot of momentum. After the Broncos won the Peyton Manning sweepstakes, bettors probably saw a huge boost in odds from people putting money on them.
However, I would be wary of putting a lot of money on the Broncos to go all the way this year. Manning's offenses require a lot of timing and precision, and it may be some time before Peyton and his receivers are all on the same page.
Still, Manning's presence immediately makes the Broncos real Super Bowl contenders.
Houston Texans
Bob Levey/Getty Images
Odds: 12/1
For a team that won a playoff game with its third-string quarterback, one would think that it would get a bit more respect since its starting quarterback will be back and healthy for the 2012 season.
However, the offseason was not kind to the Texans, as they lost key players like Eric Winston and Mario Williams.
If the Texans are healthy, they have to be among the favorites to represent the AFC in the Super Bowl, but health has been elusive for the Texans in recent years.
Philadelphia Eagles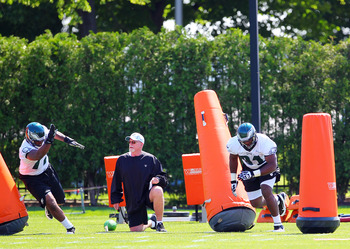 Rich Schultz/Getty Images
Odds: 14/1
Sure, the Eagles proved to be a much more flawed team than we thought, but they made the necessary improvements to be considered favorites to represent the NFC in the big game.
They fixed their issues at linebacker by trading for DeMeco Ryans and drafting Mychal Kendricks. Now that Asante Samuel is in Atlanta, Dominique Rodgers-Cromartie can move into his more natural position as an outside corner.
Also, the addition of Fletcher Cox in the first round could give the Eagles the best third-down pass rush in the NFL.
A tough division does them no favors, but they have all of the talent necessary to get the job done.
Baltimore Ravens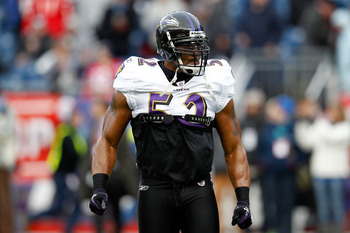 Rob Carr/Getty Images
Odds: 16/1
If these odds were released back in March, they would seem criminally low.
However, now that the Ravens are without a multitude of key starters from last year, including Terrell Suggs, Jarret Johnson and Ben Grubbs, it is difficult to envision them making it back to the AFC title game, never mind winning the whole thing.
They still have enough talent to make a run at the division, but they will only go as far as Joe Flacco takes them. After suffering so many losses on both sides of the ball, the Ravens could easily take a step back this year.
Chicago Bears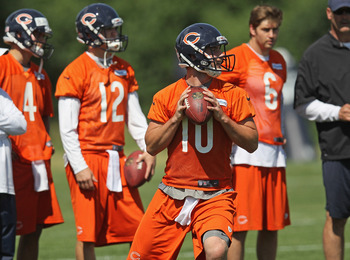 Jonathan Daniel/Getty Images
Odds: 18/1
After adding a pair of new receivers in Brandon Marshall and Alshon Jeffery, it appears as if the Bears are ready to make a run.
However, concerns along the offensive line have the potential to hold this team back from reaching its potential.
If Gabe Carimi can evolve into an upper-tier right tackle, it will go a long way in terms of improving what is the weakest part of the team. If he struggles or continues to battle injuries, the Bears will fall short of reaching a Super Bowl.
New Orleans Saints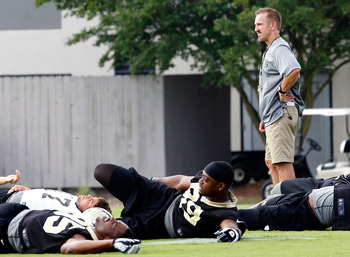 Sean Gardner/Getty Images
Odds: 18/1
The Saints appear to be a victim of bettors who only read the big headlines.
Looking beyond the Bountygate scandal, the Saints have had a very good offseason, personnel-wise, especially when you consider all of the free agents they could have lost. From Ben Grubbs to Brodrick Bunkley, the Saints added a lot of pieces that solved a lot of holes.
Of course, none of it will matter if Drew Brees is not under contract, but the Saints have a better chance of winning another title than most realize.
New York Giants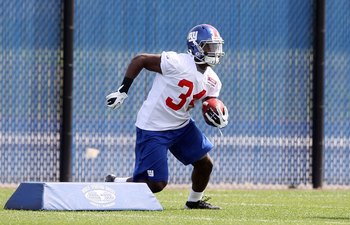 Jim McIsaac/Getty Images
Odds: 18/1
Again, it is important to remember that these are Vegas odds, not power rankings. The fact that the Giants won it all last year actually hurts their odds this year, simply because of how difficult it is to repeat in the NFL.
While they deserve all of the credit in the world for winning a Super Bowl, before the playoffs the Giants were hardly a dominant team. The play of Eli Manning was enough to squeak the Giants into the playoffs and make a run, catching a lot of breaks along the way.
In order to repeat, the Giants must stay healthy on the defensive side, while their offensive line must make strides, but I would never count them out as long as Manning is under center.
Pittsburgh Steelers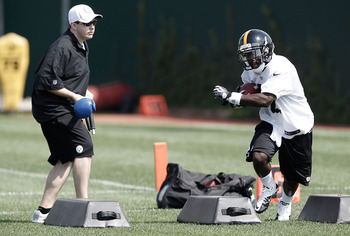 Jared Wickerham/Getty Images
Odds: 18/1
The Steelers are a bit of a wild card this year after making an offensive coaching change, which is a rarity for an organization that prides itself on continuity.
While I don't expect Ben Roethlisberger and Todd Haley to have any kind of drama, there will be a natural period of adjustment between the two. How quickly the Steelers offense can gel together and pick up the new scheme will play a huge part in their success.
Dallas Cowboys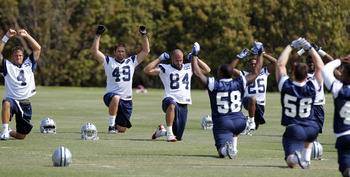 Layne Murdoch/Getty Images
Odds: 20/1
Contrary to popular belief, the biggest issues for the Cowboys do not fall on Tony Romo's shoulders.
Instead, their defense continued to let them down in critical situations, thanks to a patchwork secondary. After adding Brandon Carr in free agency and moving up in the draft to select Morris Claiborne, on paper, the Cowboys could be among the best in the league in 2012.
While we have certainly seen the Cowboys fail to live up to expectations in the recent past, they have as much talent as any team in the NFC and are certainly a threat to make a run.
Detroit Lions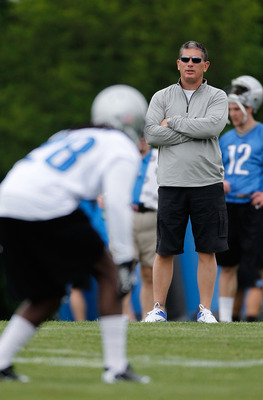 Gregory Shamus/Getty Images
Odds: 22/1
Like the Saints, the Lions' odds have taken a hit because of the bad "vibe" that surrounds the franchise.
As young and talented as this team is, DUI charges have become commonplace in the Lions' locker room. With so many off-field incidents in such a short amount of time, it certainly makes it hard to trust this young, immature team to capitalize on its opportunity.
Maybe all of these arrests will wake up this sleeping giant, but if I was a gambler, I would have a tough time putting my hard-earned money on such an inconsistent and immature team.
Atlanta Falcons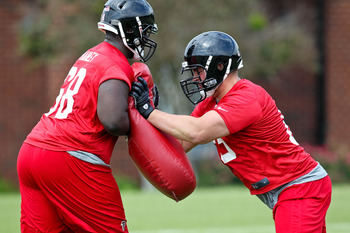 Daniel Shirey/Getty Images
Odds: 25/1
Sure, the Falcons have a top-level quarterback and some elite talent on their team to surround him with, but I get the feeling that they may be peaking too soon.
Players like Tony Gonzalez, Michael Turner and John Abraham are not getting any younger, and issues on the offensive line are starting to show their colors.
Perhaps the Asante Samuel trade will give them an added dimension on defense, but playing in arguably the toughest division in the NFL, it is a long road for the Falcons to win it all this year.
New York Jets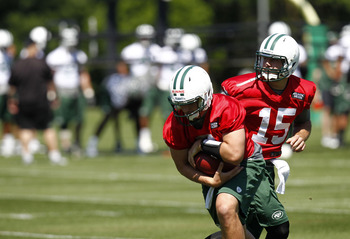 Jeff Zelevansky/Getty Images
Odds: 25/1
While the Jets certainly have done little to repair their image as a media sideshow, pundits talk about them like they were a 2-14 team last year. In reality, this team was 8-8 and in the mix to make the playoffs all season long.
After adding pieces on defense to improve their athleticism and bringing in youth and speed at the offensive skill positions, the Jets could easily get back to their winning ways under Rex Ryan.
How they handle the Tim Tebow situation will be crucial, which makes the Jets a tough team to bet on, but a fast start will make everyone forget about their alleged locker room "issues" from last year.
San Diego Chargers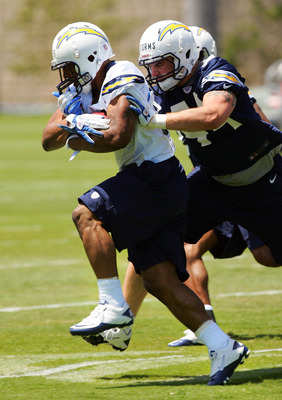 Kent Horner/Getty Images
Odds: 25/1
There is a common misconception that the Chargers are an incredibly talented team that always fails to live up to expectations.
While that statement may have been true back in the LaDainian Tomlinson/Shawne Merriman era, the truth is that the Chargers are not the same immensely talented team anymore. Players like Antonio Gates and Quentin Jammer have fallen victim to age, and losing guys like Vincent Jackson does not help their cause.
The truth is, the Chargers need Philip Rivers to play at a near-MVP level for them to compete for championships. Having so much reliance on one player is hardly a formula for consistency and long-term success.
Carolina Panthers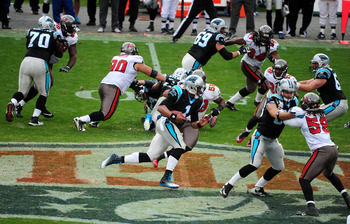 Scott Cunningham/Getty Images
Odds: 35/1
The Panthers are a team that is dripping with potential, which is in large part due to the rookie season their quarterback Cam Newton had.
However, they still have enough issues on the defensive side, particularly at defensive tackle and in the secondary, to hold this team back from contention.
While they may still be a year or so away from truly contending for championships, the Panthers are clearly headed in the right direction.
Cincinnati Bengals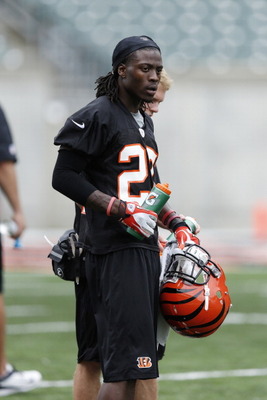 Joe Robbins/Getty Images
Odds: 40/1
While one would imagine that a team that went to the playoffs with a rookie quarterback would be much higher on this list, it seems as if Andy Dalton lacks the outstanding physical traits that would allow him to improve on his rookie season.
While that may be true, Dalton could make a big jump in his second year with a full offseason under his belt. He will also have a full year to work with A.J. Green, who will be considered one of the best receivers in the game by year's end.
With the Ravens losing a lot of key pieces, the door is wide open for the Bengals to win the AFC North in 2012.
Arizona Cardinals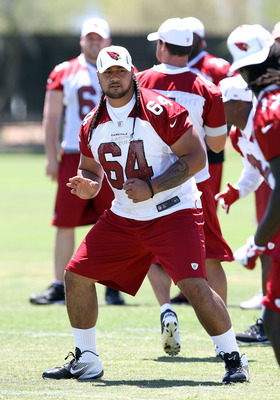 Christian Petersen/Getty Images
Odds: 50/1
The Cardinals may be improving, but a John Skelton vs. Kevin Kolb quarterback battle does not exactly resemble a team that is trying to win a championship.
However, they do have one of the most underrated defenses in the league and will be getting talented runner Ryan Williams back from an injury that sidelined him for the entirety of his rookie year.
Odds of 50/1 may seem a bit low for a team that was .500 last year, but even Cardinals fans would admit that a division title would be a pleasant surprise, never mind a Super Bowl title.
Buffalo Bills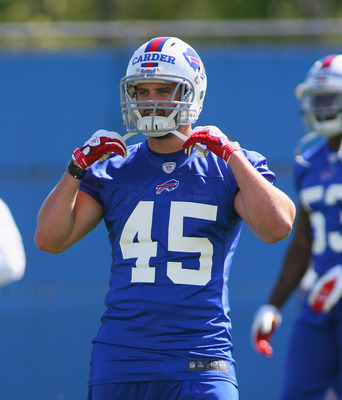 Rick Stewart/Getty Images
Odds: 50/1
If the Bills weren't, well, the Bills, they would be about 10 or higher on this list.
Boasting the division's best defensive line with a deep secondary to back it up, all the Bills need is for Ryan Fitzpatrick to return to early-2011 form to make a run at the AFC East title.
On paper, the Bills are loaded, but they need to get over their franchise's reputation of mediocrity in order to get back in the playoffs for the first time in 12 years, the longest drought in the NFL.
Kansas City Chiefs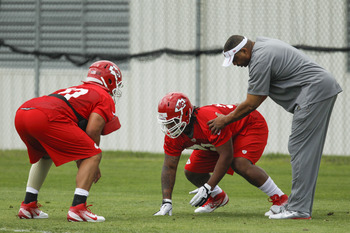 Kyle Rivas/Getty Images
Odds: 50/1
On paper, the Chiefs are perhaps the most complete team in the game. Only the mediocre play of quarterback Matt Cassel can hold them back.
Now that they will be getting players like Jamaal Charles and Eric Berry back from injury, the Chiefs have every reason to believe that they can make a run at a division title in the wide-open AFC West.
Miami Dolphins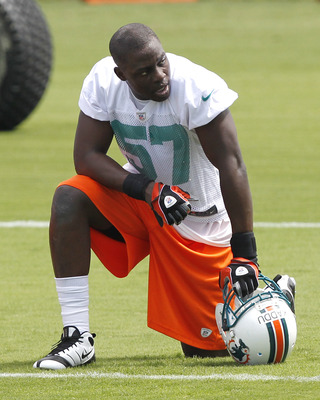 Joel Auerbach/Getty Images
Odds: 50/1
The Dolphins are a much better team than given credit for, evidenced by how well they ended their season.
However, any team with David Garrard as the favorite to win the quarterback battle has little hope to win a championship.
This season will be more about figuring out when to insert Ryan Tannehill into the starting lineup than competing in a division as tough as the AFC East.
Seattle Seahawks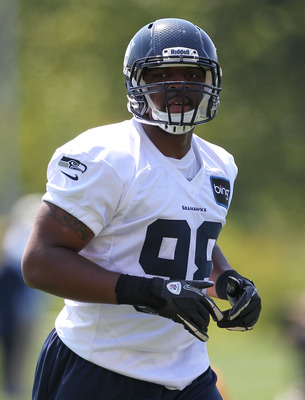 Otto Greule Jr/Getty Images
Odds: 50/1
Like several other teams, the Seahawks are a complete team that is just a quarterback away from being a true Super Bowl contender.
While they made a few improvements to both sides of the ball, such as bringing in Kellen Winslow Jr. and drafting Bruce Irvin in the first round, the key to Seattle's success is for Matt Flynn to avoid becoming the next Kevin Kolb as yet another one-hit wonder who was nothing more than a beneficiary of a terrific offensive system.
It would not be a huge surprise if Seattle made the playoffs, but that pesky quarterback position could hold it back.
Tennessee Titans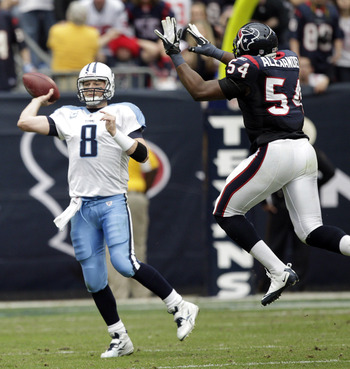 Bob Levey/Getty Images
Odds: 50/1
Despite being inches away from making the playoffs last year, the Titans simply do not have the kind of elite talent necessary to make a run at a Super Bowl.
There is the possibility that Jake Locker will start this year, which would put their immediate success in jeopardy.
Granted, the Titans are a much better team than their 50/1 odds would indicate, especially if Chris Johnson can return to his former self, but they simply lack the kind of elite talent it takes to win a title.
Washington Redskins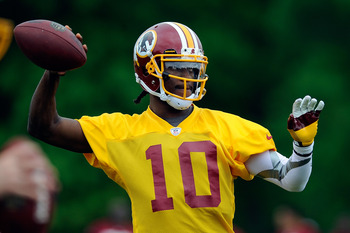 Patrick McDermott/Getty Images
Odds: 50/1
While the Redskins certainly want to win as many games as possible next year, as long as Robert Griffin III shows promise in his rookie season, this season will be considered a success for Redskins fans.
After watching Cam Newton take over the game last year as a rookie, anything is possible for Griffin in his rookie year, but it is unrealistic to expect the Redskins to win a Super Bowl with a rookie quarterback, no matter how exciting he is as a prospect.
Simply put, this season is more about seeing what the Redskins have in RGIII than winning championships.
Oakland Raiders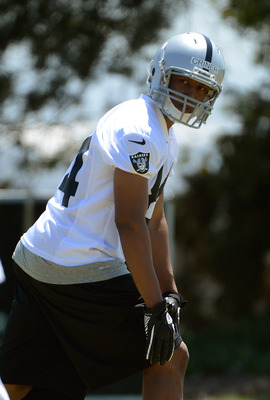 Thearon W. Henderson/Getty Images
Odds: 65/1
In a wide-open AFC West, the Raiders could make a surprising playoff appearance, but it is impossible to consider them realistic contenders for the Super Bowl given their inconsistencies on both sides of the ball.
A brand-new regime would figure to help change the culture in Oakland and increase team discipline, but it will take some time.
For Oakland, this year is more about each player proving that he should be in Reggie McKenzie's long-term plans than competing for championships.
Tampa Bay Buccaneers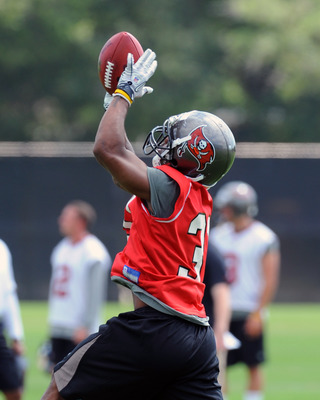 Al Messerschmidt/Getty Images
Odds: 65/1
Just like the Raiders, Greg Schiano and the Bucs are focused on changing the culture of their franchise. Last year, this team's youth began to rear its ugly head and forced the team to fire head coach Raheem Morris.
By drafting players like Mark Barron and Doug Martin, they are clearly focused on playing sound, smart football and becoming more mature as an organization.
However, trading a talented player like tight end Kellen Winslow Jr. shows that they are less focused on winning this year and more focused on creating an environment for long-term success, which certainly does not bode well for their chances of contending in 2012.
St. Louis Rams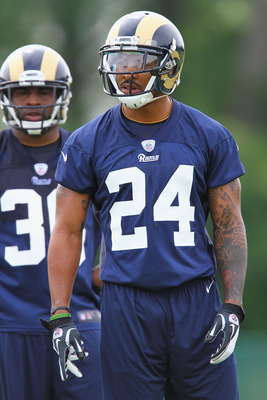 Dilip Vishwanat/Getty Images
Odds: 75/1
There is no question that the Rams had a massively disappointing season in 2012, but with a talented, young quarterback in place, they have the potential to turn things around in a hurry.
They made some upgrades at the defensive tackle and receiver position in the draft with the selection of Michael Brockers and Brian Quick, respectively.
However, none of it will matter if Sam Bradford does not get back on track. After battling injuries last year, one would assume that his sophomore slump was nothing more than an anomaly after a terrific rookie season.
Even if Bradford starts to play like a first-overall pick, the Rams are a few years away from making a run at a championship.
Minnesota Vikings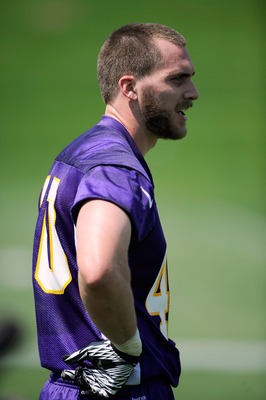 Hannah Foslien/Getty Images
Odds: 100/1
To the oddsmaker's credit, the Vikings did lose a lot of close games last year. But they still lack talent at key positions, such as cornerback, middle linebacker and wide receiver, which will kill any team's chances of competing for a championship, especially with a young quarterback in place.
Christian Ponder flashed some promise, but for the most part he looked like a rookie. One would assume that he will improve with a full offseason under his belt, but that still remains to be seen.
Throw in the fact that the Vikings are at the bottom of what is maybe the toughest division in football, and it seems impossible for the Vikings to win enough games to even be in the playoff hunt, never mind make a run at a championship.
Jacksonville Jaguars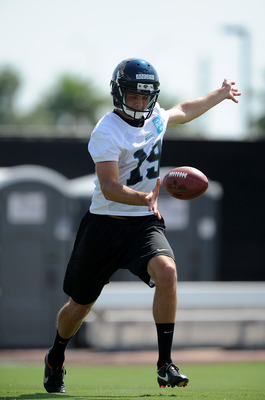 Rick Dole/Getty Images
Odds: 150/1
Outside of Blaine Gabbert, the Jaguars are a solid team, particularly on defense. After making significant upgrades to the receiver position, life will certainly be easier on Blaine Gabbert.
However, Gabbert's tendency to flinch in the pocket is troubling. Such tendencies are very difficult, if not impossible, to coach out of a player.
For the Jaguars, seeing a much-improved Gabbert will be enough to have a successful season. If that occurs, championship runs could be in their near future.
Indianapolis Colts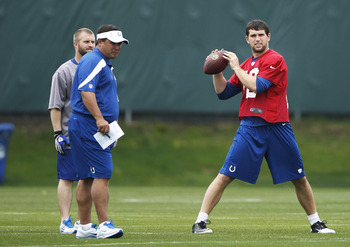 Joe Robbins/Getty Images
Odds: 200/1
Just like the Redskins, fans will want to watch the Colts to get a glimpse of their new quarterback more than to see if they can make a championship run.
If Andrew Luck is as good as he is supposed to be, the Colts could get a few more wins than most anticipate, but they are lacking in too many other areas to contend.
They may have the worst cornerback situation in football, and the offensive line needs a lot of help. For Indy, this year is less about competing for championships and more about developing a new identity within a new regime.
Cleveland Browns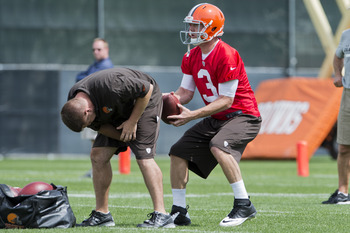 Jason Miller/Getty Images
Odds: 200/1
Personally, I would not put the Browns dead last in terms of odds to win the Super Bowl, but there is still no way the Browns are winning the Super Bowl with their quarterback situation.
Not only is their offense undergoing a major transition, but the defense lost a key component in Phil Taylor to injury.
While they may be more competitive than last year with Trent Richardson carrying the offense, there is no way the Brownies are winning it all in 2012.
Keep Reading