NFL Position Battles 2012: 3 QB Battles That Could Last All Season Long
June 18, 2012

Jeff Zelevansky/Getty Images
Last Tuesday, 24 NFL teams opened their mandatory minicamps, preparing for another exciting and competitive season of football.
For most teams with veteran players and coaching staffs, minicamp is about fine-tuning the playbook, packages and strategies. For other teams with new coaching staffs and players alike, minicamp is the first opportunity for those squads to get off on the right foot.
Tuesday was also a chance for some teams to start up a much-needed competition at the quarterback position.  
As of now, barring any unforeseen injuries, nearly two-thirds of NFL teams have a clear starter who is ready to step up in Week 1 and produce. Some QB battles taking place will be decided before teams break training camp in August. For others, the competition could wage on all season long. 
Here are three interesting teams with QB battles at the moment that could carry on throughout the entire 2012 NFL season.
1. New York Jets 
Incumbent: Mark Sanchez
Challenger: Tim Tebow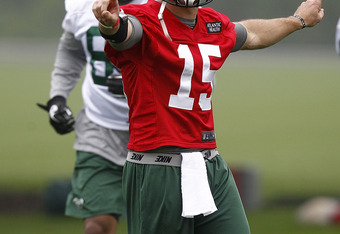 Jeff Zelevansky/Getty Images
Even though he's only entering his fourth NFL season, it can be said that things just aren't what they used to be these days for Mark Sanchez.
After taking the New York Jets to the AFC Championship game his first two seasons, Sanchez—and the rest of the Jets' roster for that matter—failed to live up to the bill in 2011. New York trudged along to an unimpressive 8-8 season and missed the playoffs in the process.
If things weren't amped up enough in the Big Apple, Tim Tebow has managed to bring even more attention to the team with his arrival this offseason. After Peyton Manning signed as a free agent with the Denver Broncos in March, Tebow was traded to the Jets for two draft picks. 
Tebow helped the Broncos reach the playoffs after Kyle Orton was pulled from the starting job during the fifth week of the season against the San Diego Chargers. He catapulted the Broncos to an AFC West title after finishing 8-8 during the regular season and helped Denver win a dramatic 29-23 overtime game against the Pittsburgh Steelers during Wild Card Weekend.
Tebow has been a hot bed of discussion since entering the league three years ago. He was a first-round selection that made brilliant fourth-quarter comebacks last season. Still, Tebow will have to pry the job away from Sanchez if he wants it that badly.
Despite the absence of glamorous numbers and accolades, Sanchez has built something of a pedigree in winning in the NFL. He's been on the big stage and thrived. He's been able to help the Jets come back from deficits and propel them to victory. It's more than just winning with Sanchez; there's familiarity and trust between himself and rest of the franchise's players, coaches and fans.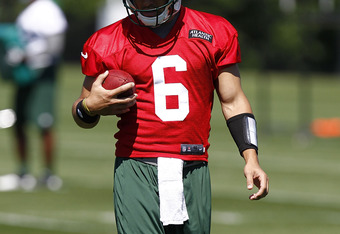 Jeff Zelevansky/Getty Images
If that's not enough, the Jets re-signed him to a three-year extension during the offseason that will keep him in New York for the foreseeable future.
With all that being said, it's not completely out of the realm of possibility that Tebow takes the starting job Week 1. It would take a really poor performance out of Sanchez, combined with a spectacular preseason from Tebow—not just in running the ball and showing athleticism—to grab the gig. He will also have to show great strides in his throwing mechanics and ability to put the ball into tight spaces.
Regardless of the outcome this upcoming preseason, the battle for the job will more than likely take place the entire 2012 season. 
2. Seattle Seahawks
Incumbent: Tavaris Jackson
Challengers: Matt Flynn, Russell Wilson
If you gave Matt Flynn a do-over after signing a long-term deal with the Seattle Seahawks this offseason, right now, he would probably take it.
It's one thing to have to beat out one other QB for a starting position. Beating out two? The pendulum begins to swing further and further away from your favor.
Flynn is in that exact position at the moment. Seattle opened up the starting QB job to a trio of players during minicamp. Incumbent Tavaris Jackson returns to fight for the starting gig after throwing for over 3,000 passing yards and posting a sneaky 60.2 completion percentage in 2011. Third-round selection Russell Wilson comes in listed at 5'11", but packs a lot of punch, despite his stature.
According to Danny O'Neil of the Seattle Times, all three remain in a heated competition for the starting job as minicamp broke at the end of last Friday's practice. Coach Pete Carroll said that there is no timetable for when a starter will be anointed and that, "At this point they're doing everything they can do with the opportunities, and they look good," according to the same source.
With three guys vying for the opportunity to start, there's no telling what direction this storyline could go.
We'll just have to wait and see how it all shakes out. 
3. Tennessee Titans
Incumbent: Matt Hasselbeck
Challenger: Jake Locker
How close exactly is this QB battle, you say?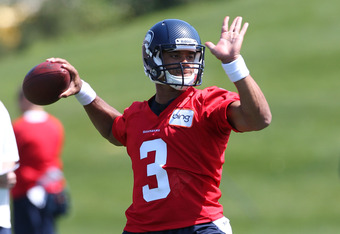 Otto Greule Jr/Getty Images
Let me put it this way: Mike Munchak plans to split the reps 50-50 this summer during minicamp, training camp and preseason between veteran Matt Hasselbeck and second-year player Jake Locker, according to Jim Wyatt of The Tennessean.
The battle between the two for the starting job come Week 1 may be, however, totally out of either of their hands.
Injury-prone wideout Kenny Britt returns after multiple knee surgeries that have cost him valuable playing time these last couple of seasons. With a few other offensive weapons in mind, the Titans may decide who their starter will be based on how well those pieces look and perform during camp.
If Britt and the others look good, Locker and his big arm may win out. If they don't bode well during camp, the Titans may go with a more conservative approach, allowing Chris Johnson to run the ball more frequently and have Hasselback manage the offense.
A lot of what happens this summer could be out of either contender's hands in Tennessee. Still, it will be exciting to see what happens as the storyline moves forward.