NFL 2012: Jacksonville Jaguars Season Outlook
June 15, 2012

Sam Greenwood/Getty Images
Quick Review of 2011
Offense—No. 32 passing, No. 12 rushing, No. 32 total.
Defense—No. 8 passing, No. 9 rushing, No. 6 total.
The Jaguars season was doomed before it ever started. Coach Jack Del Rio cut veteran starting quarterback David Garrard less than a week before the season started.
Before the end of September, first-round draft choice Blaine Gabbert was the starter.
Gabbert was as unprepared as any rookie that started in the NFL last year, especially considering the lock out. Gabbert looked gun-shy most of the time, and was the lowest among 34 qualifiers in passer rating.
The Jaguars were last in total yards and passing yards, and tied for 28th in scoring. Their leading receiver, Mike Thomas, had only 44 receptions.
The only good part of the offense, running back Maurice Jones-Drew, led the NFL in rushing with 1,606 yards.
The Jaguars wasted a great effort by the defense. Among the league's best, it still wasn't enough to overcome the horrible offense.
The 5-11 record might be deceptive. They could have done worse if not for two wins against the Peyton Manning-less Colts. Not surprisingly, Del Rio was fired before the season ended.
New Additions
K Brandon Coutu, QB Chad Henne, QB Jordan Palmer, WR Laurent Robinson, CB Aaron Ross, FB Naufahu Tahi.
Draft Choices
WR Justin Blackmon, DE Andre Branch, P Bryan Anger, LB Brandon Marshall, CB Mike Harris, DT Jeris Pendleton.
Undrafted Free Agents
DE Kendrick Adams, OT Lee Barbiasz, CB Antwon Blake, DB Jeremiah Brown, WR Mike Brown, C Mike Brewster, DE Ryan Davis, CB Antonio Dennard, WR Kevin Elliott, WR Chris Forcier,  WR D.J. Hall, CB Dontrell Johnson, LB Joshua Jones, DT Drew Nowak, DE Odrick Ray, LB Donovan Richard, LB J.K. Schaffer, LB Julian Stanford, TE Mike Veldman.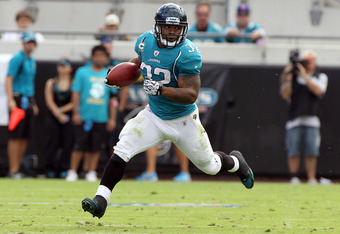 Sam Greenwood/Getty Images
Subtractions
S C.C. Brown, DT Leger Douzable, CB Drew Coleman, CB David Jones, DE Aaron Kampman, QB Luke McCown, S Akwasi Owusu-Ansah, DE Matt Roth,  CB Morgan Trent, WR Mike Sims-Walker.
Outlook for 2012
The Jaguars will enter 2012 with a new owner, Shad Khan, and a new head coach, Mike Mularkey. Mularkey was head coach in Buffalo in 2004 and 2005. Most recently, he has been offensive coordinator in Atlanta. The Jaguars hope he can turn Blaine Gabbert into a productive quarterback as he did with Matt Ryan.
The Jaguars also retained Mel Tucker as defensive coordinator. He served as interim coach after Jack Del Rio was let go last year.
Though the Jaguars need help on offense they used four of six draft picks on defense. In a shocking move, they actually chose a punter in the third round.
Needing a true No. 1 receiver, they picked up Laurent Robinson in free agency, and chose Justin Blackmon with their first-round pick. He has distinguished himself by getting a DUI recently.
Now, running back Maurice Jones-Drew is holding out in mini-camp. That's a problem this team doesn't need right now. If his holdout continues into training camp, or the regular season, it could wreck the entire year.
Their biggest free-agent signing was quarterback Chad Henne. Was he brought in to help Blaine Gabbert, or take his job?
Schedule
Sep.  9 at Minnesota
Sep. 16    Houston
Sep. 23 at Indianapolis
Sep. 30    Cincinnati
Oct.   7    Chicago
Oct. 21 at Oakland
Oct. 28 at Green Bay
Nov.  4     Detroit
Nov.  8     Indianapolis
Nov. 18 at Houston
Nov. 25    Tennessee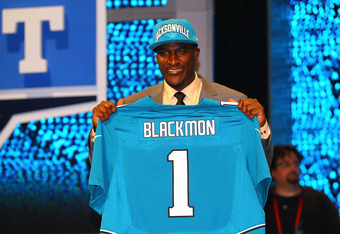 Al Bello/Getty Images
Dec.  2 at Buffalo
Dec.  9    New York Jets
Dec. 16 at Miami
Dec. 23    New England
Dec. 30 at Tennessee
Unless you live in the Jacksonville area, or have a satellite dish, you probably won't see much of the Jaguars this season. Their only prime-time game is Thursday, November 8, against the Colts.
A brutal schedule that includes road games in Green Bay and Buffalo. Also the Patriots, Lions, Bears and two against the Texans.
Prediction
The new owner and head coach have a lot of work to do to rebuild this struggling franchise.
Unless we see drastic improvement from Gabbert, the Jaguars don't have much chance for success this year. Chad Henne could actually win the starting job, but if he does and gets injured, it will be on Gabbert.
If Jones-Drew holds out into the regular season, the Jaguars essentially have no chance.
Despite a unrecognized but good defense, the Jaguars are headed for a 4-12 season.