2012 NFL Season: 10 Controversies Just Waiting to Happen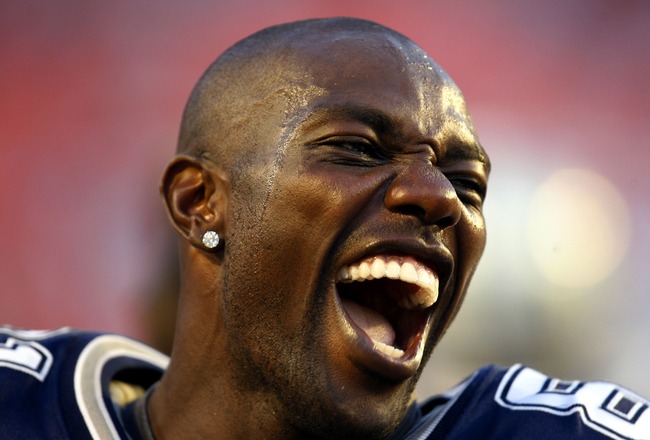 Eliot J. Schechter/Getty Images
No NFL season would be complete without some good old-fashioned, he said-he said drama, and even months before it begins, the 2012 version is already poised to continue that tradition this fall.
To recap, last season, we all witnessed the mighty Philadelphia Eagles "Dream Team" wake up to reality, Tim Tebow divide the nation over whether winning really is the absolute only thing that matters at all or not and the Indianapolis Colts forget how to play football.
Oh yeah, and Jets coach Rex Ryan might have opened his mouth and said something at some point. You know the drill.
If you enjoyed 2011, you won't believe what's in store for 2012, however, as one of the most transformative offseasons in NFL history has already set the stage for six action-packed months of letdowns, blowups and, inevitably, at least one full-grown adult acting like a six-year-old when he doesn't get his way. Who knows, we might even see an inanimate object get completely annihilated for no apparent reason at some point. We'll have to wait and see.
So get your popcorn ready, football fans, as the NFL's official "King of Controversy" Terrell Owens once said (probably closer to a thousand times, actually), because next season will be here before you know it, and from what we've seen so far, chances are it's going to be just as entertaining off the field as on it.
Here's a sneak peek:
1. Mark Sanchez Gets Tebow-Ed
Jeff Zelevansky/Getty Images
Potential Headlines: "The 'Sanch-ize' Meets 'The Bench-ez"; "'Tebow Time' Officially Starts in Times Square
Warning Signs
1. Sanchez knows this year is pretty much his last chance to prove to the world he is a legitimate starting NFL quarterback, and he just so happens to be tackling that challenge in the cruelest city in sports while simultaneously juggling the world's hottest girlfriend and the most popular backup in league history.

2. It hasn't even been a full year since the last time Tim Tebow stole a questionable starting quarterback's job in this league, and we all know how that experiment turned out: The 24-year-old former Heisman Trophy winner ended up winning eight of 13 games as a starter, including a playoff victory over the defending AFC Champions at the time, the Pittsburgh Steelers.
3. This is Tim Tebow we're talking about here. The guy can't brush his teeth these days without sparking widespread mass hysteria. Of course he's going to trigger some form of controversy next season; how could he not? Tebow and controversy just go together. They're like Bush and politics. Buffett and money. MTV and setting a bad example. With one, you get the other, and that's just the way it is.
1. Mark Sanchez Gets Tebow-Ed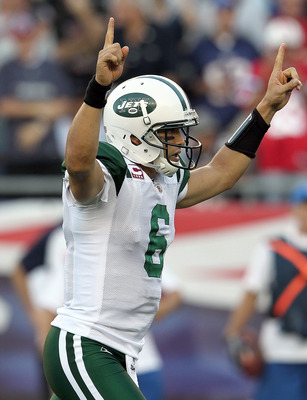 Jim Rogash/Getty Images
How To Avoid It
You have to wonder if the Jets really even want to avoid this fiasco, because otherwise, it seems kind of silly adding an explosive personality like Tebow to their roster in the first place.
Assuming they do, there are two clear strategies to try and soften this blow, one of which they appear to be leaning toward right now: slowly transfer more and more playing time to Tebow until fans wake up one day and suddenly realize, "Hey, Tebow's starting now! When did that happen?"
The other option is to basically just come clean and admit right now that they're excited about Tebow, they're still not sold on Sanchez and, quite frankly, they don't know what to do about it. Then, once the dust finally settles on that little nugget, announce that their preseason will be an open competition between the two and that whoever performs better will be named the starter.
Oh yeah, or they could just win enough football games that the very notion of making a change becomes total nonsense.
That works too.
2. The Detroit Lions Go on a Terror (Off the Field)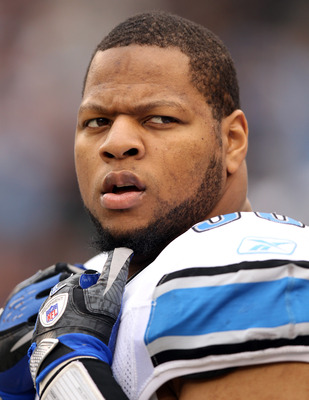 Ezra Shaw/Getty Images
Potential Headlines: Lions' Fairley Just Can't Learn His Lesson; Detroit Fans Fume Over Players' Misconduct
Warning Signs
1. Four Lions have been in trouble for their behavior so far this offseason, including three with drug-related offenses and one—wide receiver Titus Young—who reportedly punched a teammate (DB Louis Dalmas) during a voluntary workout last month.
2. Ndamukong Suh's infamous foot stomp against Green Bay last season was one of the dumbest plays the game has ever seen (the controversial defensive tackle handed the Pack a 1st-and-goal in the third quarter of a 7-0 divisional game on a drive that would have otherwise ended with a field goal attempt), and if the 25-year-old former No. 2 overall pick has matured at all since that foolish incident, his growth definitely hasn't rubbed off on any of his teammates, whose reckless antics continue to this day. Any player capable of making a mistake that blatant in a game that important is definitely a cause for concern moving forward.
3. These are the Detroit Lions we're talking about here, the saddest franchise in NFL history. You really think the same team that went completely winless as recently as 2008 is somehow going to follow its first playoff appearance in over a decade with anything but a total disaster? Something has to go wrong this fall in Motor City, even if the Lions do have one of the most balanced rosters in the league, and even if they do have an indefensible alien robot with Inspector Gadget arms posing as their starting wide receiver. Great rosters don't amount to much when half the players on them get suspended for misbehavior, after all, now do they?
2. The Detroit Lions Go on a Terror (Off the Field)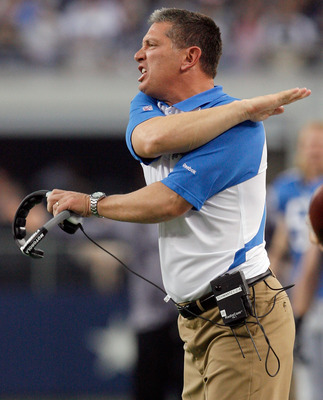 Tom Pennington/Getty Images
How To Avoid It
Unfortunately, history has shown us there's only so much you can do to keep professional athletes from wrecking havoc on society in their free time, but even so, it's pretty safe to assume Jim Schwartz and the rest of the Lions organization will be keeping a very keen watch over their subordinates this season, whether it makes a difference or not.
So how do they succeed?
The only tactic we've seen work consistently is to embrace a culture of winning and to establish a link between being a winner and exhibiting responsible behavior, so as this season approaches, it might be time for Detroit to steal a page from the New England Patriots, a franchise that has embodied the aforementioned philosophy to critical acclaim for nearly a decade straight.
The main reason New England has shown no fear in signing habitual troublemakers like Randy Moss, Albert Haynesworth and Chad Ochocinco in recent years is because it knows when a player comes to Foxboro, the opportunity to play for a championship is palpable as soon as they arrive.
Winning is contagious. It's also contingent, however, on cooperation, dedication and accountability—especially in the NFL—and if the Lions can somehow find a way to communicate that message in a way that resonates with the rebels among their ranks, the Super Bowl title they have a very real chance at competing for this season might just come to fruition.
If they can't, they'll be just as likely to appear in the Super Bowl as they will on America's Most Wanted.
3. The New Orleans Saints Implode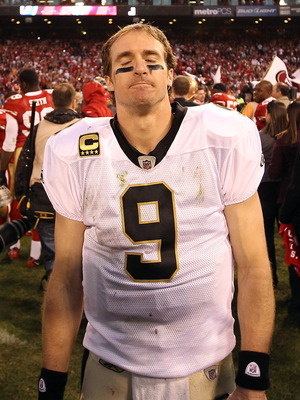 Ezra Shaw/Getty Images
Potential Headlines: Life Gets Hard in the Big Easy; Saints Crumble In Payton's Absence
Warning Signs
1. New Orleans will start next season without its head coach and minus two defensive starters, Jonathan Vilma (LB) and Will Smith (DE). Two of those three assets won't be coming back (Vilma and coach Sean Payton), and the one that is will miss four games first, including matchups against elite offenses like Carolina and Green Bay.
2. Without Sean Payton, the de facto leader in New Orleans this season isn't interim coach Joe Vitt (who went 4-7 with the St. Louis Rams during his only other stint as a head coach, which was also as an interim), it's quarterback Drew Brees, who led the league in passing yards, touchdowns and completion percentage last season and is almost as qualified a leader at this point as Payton himself.
Just one little problem with this solution, however: Brees is so miffed over the Saints' handling of his contract negotiations right now he has no business motivating anyone to do anything. Would you really feel comfortable trusting a guy who, less than a month ago, described himself as "extremely frustrated" with your organization to inspire your team to victory?
3. The Saints will have a target on their backs all season this year. Turns out that's what happens when you put a hit out on your co-workers and they find out about it. Who knew?
3. The New Orleans Saints Implode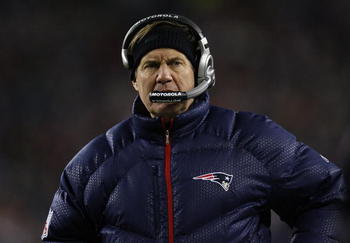 Jim Rogash/Getty Images
How To Avoid It
Once again, the blueprint for surviving this potential disaster was drawn by the New England Patriots.
Not that the Patriots ever had to scramble to find a replacement for Bill Belichick just months before the start of a season, of course—in that regard, New Orleans is treading completely uncharted waters and is pretty much on its own—but when it comes to taking an off-field distraction and not only squashing it but transforming it into a rally cry instead, this era's Pats are certified experts.
The "Spygate" controversy of 2007 is the closest NFL parallel to what the Saints are going through after being caught running a bounty program back in March, and much to the surprise of the Pats' next 17 opponents after that scandal was made public, the after-effects on their team were overwhelmingly positive if anything at all.
New England went on to complete the first 16-0 regular season in NFL history that year, suffering their only loss in the Super Bowl and finishing 18-1. They Patriots didn't just win in 2007, however, they victimized opponents, approaching every game with the mentality that they'd been personally insulted by whoever happened to be lining up against them that week and turning every victory into a statement about the mistreatment they felt they'd received.
That vengeful spirit worked for New England (the Pats ended up outscoring their opponents by 19.7 points per game that year), and if Brees and Jimmy Graham and the rest of the Saints players who are still allowed within 100 feet of a football stadium can find a way to instill it in New Orleans this fall, it could work for them too.
4. Jim Harbaugh vs. Alex Smith: Round 2
Ezra Shaw/Getty Images
Potential Headlines: 49ers' Smith Back to His Old Ways; Jim Harbaugh 'Disappointed' with Offense's Production
Warning Signs
1. Expectations for the 2012 49ers season could not be any higher after coming within a game of the Super Bowl last year and adding several high-profile free agents in the offseason, including Randy Moss (WR), Mario Manningham (WR) and Brandon Jacobs (RB). That's a lot of pressure for a quarterback who's thrown for 3,000 yards just once in his seven-year career, and if former No. 1 overall pick Alex Smith doesn't live up to the hype this season, Harbaugh probably won't be the only Bay Area resident that loses patience with him.
2. Neither of these guys have been very shy about sharing their emotions over the past year—Harbaugh's infamous handshake altercation with the Lions' Jim Schwartz last October represents exhibit A—and if there's any situation that's been proven to stir up childlike emotions in otherwise mature adults, it's enduring the roller coaster ride that is a 16-game NFL season.
3. The fact Harbaugh recently felt the need to clarify his intentions in "evaluating" free-agent quarterback Peyton Manning this offseason only confirms the existence of in-house tensions between himself and Smith over what transpired, and as much as the two try and downplay the perceived slight, the admission that it was Manning who chose not to join the 49ers, and not the other way around, is equally troubling.
4. Jim Harbaugh vs. Alex Smith: Round 2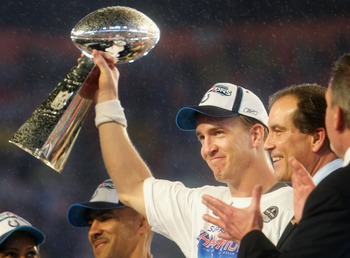 Jed Jacobsohn/Getty Images
How To Avoid It
Well, pretending the situation was never a big deal to begin with—like Harbaugh appears to be doing right now—is definitely not the answer, because even if the coach's interest in signing Manning was overblown, the effect that perception had on Alex Smith was not.
Smith was so disgruntled he turned down the first contract San Francisco offered him and planned visits with the Dolphins and Seahawks. He ended up resigning for three years and $24 million (the same amount he'd originally been offered), but the fact San Francisco can get out of the deal after one year with limited risk is not exactly the vote of confidence Smith apparently hoped to receive.
That being the case, Harbaugh's approach should not be to deny his interest in Manning, but rather to ask his starting quarterback one simple question: So what?
So what if the 49ers considered replacing Alex Smith with Peyton Manning? Is Alex Smith really so deranged he can't understand why his team would consider this?
This is Peyton Manning we're talking about: The future first-ballot Hall-of-Famer who's won more MVP awards than any player in history and who's thrown for more yards and touchdowns every active year of his 14-year career than Smith ever has.
He's Alex Smith: The guy who less than 10 months ago looked like one of the biggest draft busts of all-time and who, even after completing the best season of his career last year, still has but a minute fraction of the accomplishments Manning can claim.
The message Harbaugh sends to Smith needs to be blunt: Get over yourself. There's no shame in not being as good as Peyton Manning, and just because the 49ers entertained this once-in-a-lifetime opportunity during the offseason does not mean the team is any less thrilled about retaining your services as their starter instead.
In fact, if you can simply produce a 2012 season that's anywhere near as efficient as your 2011 was (17 touchdowns to only five interceptions), Alex, 49ers fans may end up looking back on this little Manning mishap and thanking their lucky stars things played out the way they did.
5. John Harbaugh vs. Bill Belichick: The Grudge Match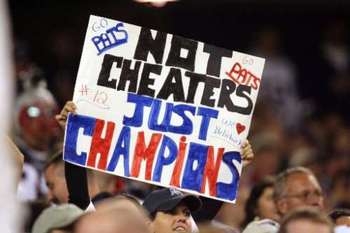 Potential Headlines: ­Harbaugh's 'Spygate' Comments Resurface as New England Heads to Baltimore; Pats Accused of Running Up Score Against Ravens
Warning Signs
1. Ravens coach John Harbaugh inadvertently dissed the Patriots last month by insinuating on a Baltimore morning radio show that the infamous "Spygate" controversy had actually nullified the three championships New England won in the early 2000's. His comments were taken out of context, but that didn't seem to stop Patriots fans, former players and, presumably, Belichick himself from taking offense to them nevertheless.
2. Even though Belichick has refused to discuss the incident, it's pretty safe to assume the 60-year-old veteran coach probably has Harbaugh's picture on a dartboard somewhere considering his track record in similar situations, and if those legendary gridiron grudge matches are any indication, everyone should be bracing themselves for a merciless on-field assault when these teams finally meet to squash this beef in September.
3. The Patriots won't be the only ones bringing added motivation to this Week 3 showdown, as Baltimore was not only bounced from the playoffs by New England back in January, it has actually notched only one victory against the franchise from Foxboro in its entire team history, going 1-7 against them since debuting in 1996.
5. John Harbaugh vs. Bill Belichick: The Grudge Match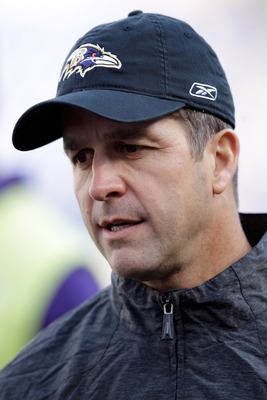 Rob Carr/Getty Images
How To Avoid It
All the evidence suggests Belichick views controversies like this as merely opportunities to inspire his team to play better, so if it were up to him, Harbaugh would probably just keep on cursing the Patriots dynasty every day between now and their matchup this fall.
As for Baltimore, it'd probably be in the team's best interest to instead try and prevent this little war of words from ballooning any further than it already has, so sometime between now and September, just to be safe, Harbaugh should come out and reiterate what he's already said: His comments were simply describing how the perception of the Pats changed forever after the Spygate controversy, and he did not mean to imply that the organization hadn't earned the championships that it won.
Then, maybe when the Patriots eventually arrive in Week 3, they won't be accompanied by a slew of national reporters just there to try and catch a sound bite they can use to milk this non-issue for even more unnecessary air time.
Maybe.
6. The Chicago Bears Offense Throws a Hissy Fit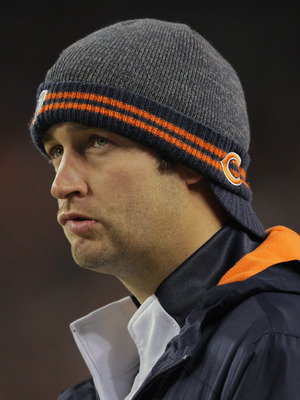 Doug Pensinger/Getty Images
Potential Headlines: Cutler to Marshall Not Quite What it Used to Be; Bears' Forte Has Finally Had Enough
Warning Signs
1. By reuniting quarterback Jay Cutler with wide receiver Brandon Marshall this offseason, the Bears not only improved, they significantly raised expectations for an offense that's used to finishing among the least prolific passing teams in the league (Chicago hasn't had a top-10 quarterback, yardage-wise, since 1995). These two had a heyday together back in Denver four years ago (Marshall had back-to-back seasons with over 100 catches and over 1,200 yards), but they only played together as starters for two years. What happens if their encore performance in Chi-Town isn't quite so productive?
2. As if he didn't have enough reason to resent the Bears already just bickering over a new contract, running back Matt Forte now must deal with another potential threat to his future in Chi-town: former Oakland Raider Michael Bush, who joined the Bears this offseason as one of the most sought after tailbacks in free agency.
3. Despite allowing the fifth-most sacks in the league last season and scarring Jay Cutler for life in the process, the Bears did absolutely nothing to address their offensive line this offseason. One person who already sees a "cause for concern" with the situation as 2012 approaches? You guessed it: Jay Cutler.
6. The Chicago Bears Offense Throws a Hissy Fit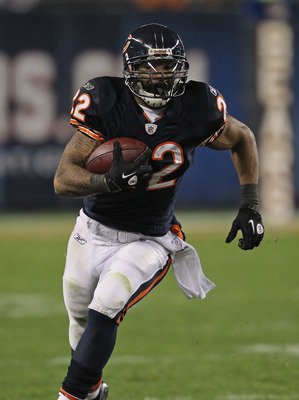 Jonathan Daniel/Getty Images
How To Avoid It
Maybe this crisis isn't supposed to be averted. These are the Chicago Bears we're talking about after all, one of the oldest franchises in NFL history that has existed in one form or another for almost 100 years now. If the Bears were meant to have an elite offense, don't you think it would have happened already?
Assuming they're going to try anyway, the first step for the Bears is to bite the bullet with Forte and give the man the guaranteed money we all know full well he deserves (before he sprained his MCL in Week 13 last year, Forte was single-handedly responsible for over 38 percent of the team's offensive production). Make the rest of the deal incentive-laden and leave plenty of room for yourself to back out of it should things go sour. Problem solved.
Next, the offense not only needs more reliability in its line, it needs to evolve with its newest pieces and adjust however necessary to take full advantage of every asset at its disposal. Luckily for Bears fans, it sounds like this process is already underway.
However they do it, they need to move fast because with so many potential setbacks looming, right now, it's only a matter of time before the name-calling and finger-pointing of yet another tumultuous season in the Windy City commence.
7. Mike Shanahan Gets Canned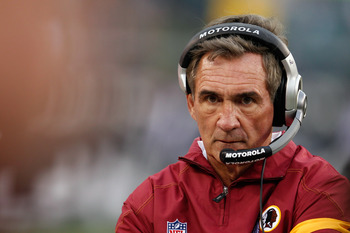 Rob Carr/Getty Images
Potential Headlines: RG3 Era Off to Slow Start in Washington; Shanahan Experiment Ends in Disappointment
Warning Signs
1. In 2010, Mike Shanahan was officially hired to coach the Redskins and, unofficially, to bring the franchise back to its glory days faster than any candidate available at the time. Two years and roughly $14 million later, however, and the Redskins so far have 11 wins, 21 losses and no playoff appearances to speak of. This rebuilding project is still ongoing, granted.
But Jim Zorn—the guy Shanahan replaced —had a better record during his two-year stint with the team before he was ousted, and if the two-time Super Bowl champion Shanahan doesn't start reminding people why he deserves more time soon, it might be too late.
2. Shanahan not only wasted over $40 million of the team's money in his first season by trading for, extending and subsequently re-trading quarterback Donovan McNabb, he's since mortgaged the franchise's entire near-term future to add another quarterback through this year's draft, No. 2 overall pick Robert Griffin III.
To get RG3, the Redskins sent St. Louis three first-round picks and one second-rounder, meaning Washington won't be drafting in Round One again until 2015 at the earliest. If the move pays off, Shanahan becomes as big a hero in D.C. as he was in Mile High. If it doesn't, he'll be replaced like just another crooked politician caught in the act.
3. For a guy best known as a back-to-back Super Bowl champion, it sure has been a long time since Mike Shanahan contended for another title. In fact, in the 12 seasons Shanahan has coached since Denver won the Super Bowl in 1998 and franchise quarterback John Elway retired, his teams have posted just six winning seasons and have won just one of the four playoff games in which they've participated.
7. Mike Shanahan Gets Canned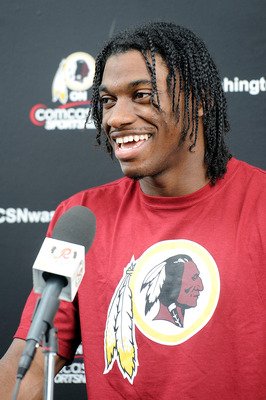 Patrick McDermott/Getty Images
How To Avoid It
This one's all on RG3, and if you're a Redskins fan, that's probably not the answer you were hoping to hear.
Not that Griffin is one to back down from a challenge, of course. There's a reason this guy was drafted so high, and there's a reason virtually all the feedback we've heard about his introduction to the pros so far has been overwhelmingly positive.
RG3 is a rare prospect. He's tough, smart, extremely talented and fully capable of becoming the franchise savior everyone in Washington is praying he'll one day be.
But is Griffin really capable of shouldering this superstar-sized load so insanely early in his career? Not only did the Redskins go all in to obtain this guy—after all, Shanahan pretty much put his entire coaching legacy on the line (not to mention his job) by drafting the Baylor quarterback last April. Add to that pressure the fact RG3 is expected to start on day one, and it's pretty easy to see why the 22-year-old risks being grossly overwhelmed by his role when the season finally gets underway this fall.
No matter what happens to RG3 this season, however, whether he takes the league by storm or struggles to find a place within it, we do at least know this: As he goes, so goes Shanahan, for better or for worse.
8. The AFC South Falls from Grace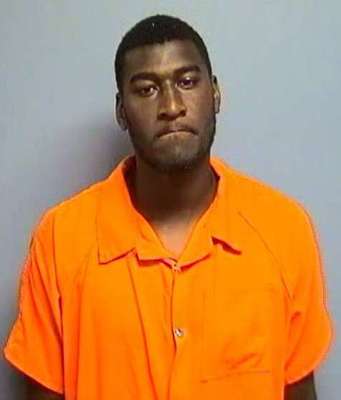 Potential Headlines: AFC South Becomes NFL's Worst; Losing Streak Continues for Once-Powerful AFC South
Warning Signs
1. Three AFC South teams are on track to field starting quarterbacks this season that are either rookies or second-year players. Two of those three have never started a game (the Colts' Andrew Luck and the Titans' Jake Locker), and the one that has (Jacksonville's Blaine Gabbert) just put together what Football Outsiders calls "the fifth worst season we've ever measured."
2. Three AFC South teams suffered significant blows to their roster this offseason (Houston lost defensive end Mario Williams, Tennessee lost cornerback Cortland "Fiesty" Finegan and Indianapolis politely told every player with a name you recognize to get out of town), and the one that didn't made a very questionable additions to theirs: The Jaguars traded up in the draft to get wide receiver Justin Blackmon, who, just this past weekend, was arrested for his second DUI in two years. Turns out there is one quality the freakishly talented prospect lacks after all: timing.
3. For a while there, the AFC South was one of the best divisions in football, peaking in 2007, when it sent two teams to the playoffs and went a combined 26-14 against the league. With Peyton Manning now gone and so much disarray permeating throughout the division, however, there's a good chance this group's gradual decline finally reaches rock bottom this season, and if it does, there's also a good chance the vicious, round-the-clock news cycle is there to document every step of the process. Welcome to the NFL, rookies.
8. The AFC South Falls from Grace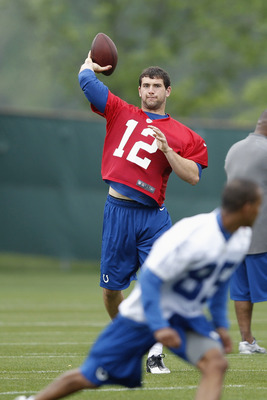 Joe Robbins/Getty Images
How To Avoid It
If the young quarterbacks in this division overachieve this season, none of this will matter anyway, so Indy, Jacksonville and Tennessee all need to make developing their newest prospects the chief focus of their offseasons.
Beyond that, the only other hope for the AFC South to avoid becoming the laughingstock of the league this year is for another division to step up to the plate, take one for the team and suck so bad they steal the shameful spotlight right out of their hands.
Could the NFC West be that fortuitous bandit? It's entirely possible considering the division still has no proven franchise quarterbacks among its ranks at this point, but it does seem unlikely given the progress each team has made over the past year.
Maybe the AFC West will step in now that Oakland lost Michael Bush, San Diego lost receiver Vincent Jackson, and the Broncos and Chiefs both revamped their offenses in dramatic fashion. But is anyone really prepared to count out a group that now includes both Phillip Rivers and Peyton Manning? Not likely.
The sad truth is this challenge might just be a lost cause to begin with, because even though the future is starting to look bright for the AFC South with all the promising young talent flooding its way, the present is as gloomy top-to-bottom as any division league-wide.
Hey, at least they get to play each other, right?
9. Peyton Manning: The Final Chapter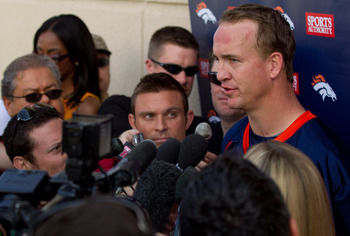 Justin Edmonds/Getty Images
Potential Headlines: Manning Re-Aggravates Neck, Career in Jeopardy; Peyton Playing Better Than Ever in Successful Return Bid
Warning Signs
1. Peyton Manning may plan on playing football until he's 80, but his body is definitely not holding up its end of the bargain. He's 36 years old right now and has undergone at least five confirmed surgeries since 2008. The magical journey that is Peyton Manning's career is clearly coming to an end, and unfortunately for Broncos fans (or anyone else that follows sports, for that matter), the only question left is when.
2. Manning is playing for a new team for the first time in his 13-year career this season, and in doing so, he's transitioning from an Indianapolis Colts offense that was carefully built over several years to match his unique skill set. Whether Denver proves to be as good a fit for Manning as Indy was remains to be seen, but the uncertainty definitely doesn't bode well for a guy so synonymous with chemistry, routine and consistency.
3. Manning is still arguably the biggest name in football right now, and if the last 10 months are any indication, we'll be probably be hearing that name on a daily basis this fall no matter what he happens to be doing at the time. Peyton is simply a magnet for discussion. Love him or hate him, you can't help but talk about him, and you can't help but wonder how the incredible career he's put together is finally going to conclude. Major clues to that riddle will be coming in 2012, and when they appear rest assured, they'll be broadcast in excruciating detail for the whole wide world to see.
9. Peyton Manning: The Final Chapter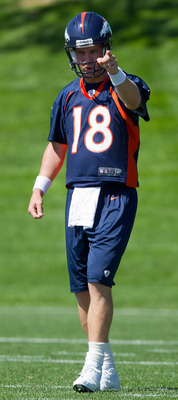 Justin Edmonds/Getty Images
How To Avoid It
Can't be done.
Not that Manning can't thrive with his new team, that is, just that he can't make it through the entire 2012 season without sparking a media firestorm at some point whether he likes it or not. Not a chance.
If Manning stumbles or gets injured again, obviously that becomes the leading NFL talking point immediately. But the crazy thing is even if Peyton does produce like he used to next season, his rebound would spark a controversy in its own right simply by begging the question of whether the Colts released their franchise quarterback prematurely after 14 years of faithful service.
If Peyton plays well this year, after all, how silly does Indy look for just letting the superstar go the way they did? That had to be an incredibly tough call to make deciding to release one of the best players in NFL history and, Andrew Luck or no Andrew Luck, remorse may set in awfully quick if Manning starts dominating like he used to next season while wearing a different uniform.
How much talent could Indy have surrounded Manning with over the next few years if it'd have traded the No. 1 pick in this year's draft instead of taking Luck? RG3 was worth four of them. Who knows what the going rate would have been for the most hyped quarterback prospect since Manning himself? How many Super Bowl titles will we assume that move could have produced if Peyton is still Peyton next season?
Finally and, most importantly, if questions like these are already mounting and the Broncos haven't even played a game yet, what's it going to be like come November?
Can't you see where this headed?
10. Jerry Jones Fires Everyone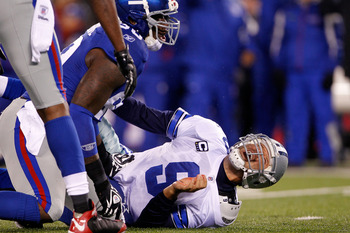 Rich Schultz/Getty Images
Potential Headlines: Jerry Jones Ready to Give Up on Romo; Cowboys Part Ways with Jason Garrett
Warning Signs
1. After Jimmy Johnson left the Dallas Cowboys in 1993, the average tenure of the five men who've since coached the team (not including current coach Jason Garrett) is just 3.4 seasons. 2012 is only the second full season for Garrett, but he did take over midway through 2010. His record stands at 13-11, and if he doesn't at least put together a winning season this year, owner Jerry Jones might have to pull the plug on Garrett's term a little earlier than expected.
2. The Cowboys have been searching for their next franchise quarterback ever since Troy Aikman retired in 2001, and even though we still may find the answer really is current starter Tony Romo, who took over in 2006, an owner like Jones who sees his players solely in terms of their ability to win championships has to be concerned by the 32-year-old's 1-4 record in the playoffs and the fact he continues to struggle against divisional opponents (Romo is 18-19 against the NFC East over his career). If those trends continue this year, at what point will Jones finally conclude Romo simply isn't that guy?
3. Dallas plays in one of the toughest divisions in football (NFC East teams have appeared in eight of the last 12 NFC Championship games), and the worst team in it from last season, the Washington Redskins, made huge improvements to their lineup during the offseason.
10. Jerry Jones Fires Everyone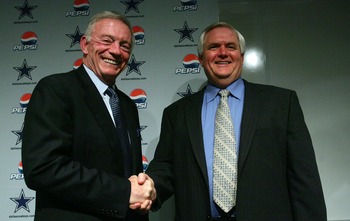 Ronald Martinez/Getty Images
How To Avoid It
Obviously, winning is the magic elixir that stops in-house squabbles like this from ever forming in the first place, but is it possible Jones could still give this group another year to get its act together even if they can't find a way to pull it off this season?
Surely it's possible, but with an owner like Jones running the show, the odds are clearly stacked against them.
Tony Romo has been surrounded by playmakers his entire career, and even though he just completed the best statistical season he's produced thus far, the return on Dallas's $70 million investment in him is at this point practically nothing.
On the surface, Jones is perfectly happy with his Pro Bowl quarterback and has even unofficially committed to extending his contract beyond next season. Then again, this is the same Jerry Jones who also said he wasn't going to fire former coach Wade Phillips after a disastrous 1-6 start to the 2010 season, then, one week later, did exactly that. What good is Jones' ringing endorsement of Romo now, then, when the last two seasons of the quarterback's current deal haven't even been played yet?
If you said "No good at all," pat yourself on the back.
If not, go ahead and brace yourself for a bizarre turn of events in Dallas over the next two years should Jones' 16-year championship drought extend any longer than it already has.
You might be in store for a real shocker.
Keep Reading