What To Expect as Jay Cutler, Peyton Manning and Matt Schaub Return from Injury
June 3, 2012

Nick Laham/Getty Images
For the past six years in Chicago Bears history, six quarterbacks have stood behind center as Lovie Smith's starter. The Denver Broncos come close to matching that record with five. Meanwhile, the Houston Texans have had just four since 2006 in the lead-up to their first playoff win last season.
The list is somewhat amusing but telling. It contains forgotten names such as Brian Griese, Jake Plummer and David Carr. Of course, a handful of guys are still floating around, like Caleb Hanie, Kyle Orton and Rex Grossman.
The Bears, Broncos and Texans are the sort of teams who will struggle to survive if their franchise passer ever hits the injured list for some time.
We saw that last season in Chicago after Jay Cutler broke his thumb, while the Texans coped pretty well under T.J. Yates only to flop to the Ravens in the playoffs.
The Broncos have a whole new chapter to write in a book that never looks to be complete. John Elway passed on Tim Tebow, and instead, the Peyton Manning era begins...whoopdee.
Now, it's time to take a look at three of the league's best quarterbacks who are returning from injury and trying to answer the question marks that surround them.
Jay Cutler

Cutler comes into the 2012 season looking the best out of the trio. He only broke his thumb, remember, and at that point in the season (Week 11), the Bears were still flying high at 7-3.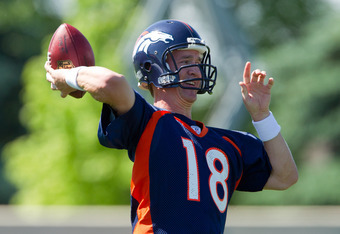 Justin Edmonds/Getty Images
But out of everyone, the Bears have the most to prove by far. Lovie Smith has a red dot on his back, and bringing in Brandon Marshall to fulfill Chicago's longtime lust for a decent wide receiver has only heightened expectations.
Cutler does have a much easier life in Chicago now, though. Jeremy Bates is his new mentor as quarterbacks coach, and Mike Martz's "my way or the highway" system as offensive coordinator has been replaced with Mike Tice's unpredictable style.
In all, we can expect a much more relaxed Jay Cutler. His sack numbers may never improve, but where he has developed is in goal-line situations.
His 2009 season, he threw six interceptions in the red zone, but Cutler managed to remain perfect last season within the 20-yard line prior to hammering his thumb.
You can expect that number to stay the same. Marshall scored four of his six touchdowns in the red zone last season, so combine that with Cutler, and the Bears have some chemistry to look forward to right next to Earl Bennett.
Peyton Manning
A new team, a new playbook. Everything about Peyton Manning right now is a huge question mark.
Most people would like to see the old Manning come out in Bronco orange and accomplish big things. Chances are that will happen soon. But if we see a more humble, more cautious Peyton Manning emerge in Denver, don't be surprised.
After missing every snap of the entire 2011 season, Manning will be rusty. Training camp and practices are cool, but it's hardly the same as a real-life, fast-paced game where the hits are three Mississippis away.
John Fox's playbook can sometimes be tricky too. It took Tim Tebow all year to master it, and there are still no solid go-to wide receivers in Denver to cushion the blow for Manning, unlike in Indy.
The likelihood of the 2012 season for Manning is this: a decent year, but nothing like we're used to seeing. Even before his injury prior to 2011, Manning was always a cautious quarterback. He dived and ducked to avoid hits and would rather take a sack than force a pass...not that there's anything wrong with that.
Following neck surgery and a year on the couch, Manning may be even more hesitant to take a whack. Don't forget he is now in the AFC West, a division that features the Oakland Raiders, the team that recorded 39 sacks last season.
There's no reason for Manning's accuracy to suffer, but if teams rush him hard, the outcome could be ugly with no reliable receiver. It's not a knock on his potential in Denver, but everyone remembers Tom Brady's return from a knee injury, right? Even he was a little off to start out with.
Matt Schaub is almost as lucky as Cutler. A broken foot thanks to Albert Haynesworth is nothing in the long-term, and it's hard to see Schaub having a quiet season in 2012 with the Texans offense ranking second in rush yards last year.
Obviously, the Texans have the wide receivers to do bigger things. They've also got a sturdy running game and defense to go with it—go figure.
What has let Schaub down in the past, though, especially when it comes to the "elite" quarterback discussion, is people's misconception that he isn't as good as QBs like Aaron Rodgers, Drew Brees and Tom Brady.
Twice in his career, Schaub has smashed the 4,000-yard mark, and his interceptions numbers have never exceeded 15. Sure, he's not great on his feet and probably never will be, but Schaub's arm is one of the most unnoticed in the NFL.
On the downer, Schaub isn't always as consistent as he should be. In his healthy year of 2010, he threw only one touchdown in the first quarter of the entire season. And for a quarterback of his experience, he passed for zero touchdowns between the Texans' 21- and 50-yard lines.
Things could change this year, though.
Aside from having a mediocre schedule (three of their toughest games come against the Broncos, Packers and Patriots), Schaub has less work to do. He is no longer the heart and soul of the offense. With Arian Foster likely to rank in the top five in rush yards again, the workload becomes less and less.
People still say Schaub can't win when it counts. True, he did throw two interceptions last year when the Texans were within seven points.
However, the pressure is finally no longer to lead the team to the playoffs, but to break the mold as one of the "greater" quarterbacks in the league.
Follow Ryan Cook on Twitter.