Predicting How 2011 QB Performances Will Translate to 2012 NFL Season
June 4, 2012

Al Bello/Getty Images
There are many ways to evaluate NFL players for the 2012 season, but one of my favorites is to take a look at how they finished last season compared to how they started. I want to know who faded and who sparkled to end the season. So let's take a look, shall we?
Matt Ryan: Of all the quarterbacks with 16 starts Ryan is the only one to improve in every single category in the second half.  The most impressive stat is his fifth place finish in fantasy points (tying Cam Newton) for the last eight weeks of the season. And this was with Julio Jones hurting for a decent chunk of the season.  He currently is going in the seventh round as the 11th QB off the board which is great value for a QB who will have Roddy White and a now more seasoned Julio Jones to throw to all year long.
Tony Romo: It's a close race between Romo and Ryan as to who had the better second half. Ryan edged him out in fantasy points and yards passing but Romo became incredibly efficient. His completion percentage went from a good 62.5 percent to an elite 70.7 percent. That put him just second to Drew Brees and ahead of, well, everyone else. He also upped his TD to INT rate from 1.63 to .88 to 2.25 to .33. His yardage numbers went down, but that's to be expected when you are getting the ball into the end zone more efficiently. I see no reason for him not to pick up where he left off. If you are an NFL quarterback, your last name starts with a "R" and is four letters long, I'll be drafting you this season.
Carson Palmer: Palmer is an interesting case. His first couple of games with the Oakland Raiders were just horrid, but in the second half he averaged 288 yards passing per game which ranked him fifth overall in yards and 10th overall in fantasy points. Palmer is set up well with a young core of wide receivers and a great receiving running back. His current ADP is in the 12th round and he's the 19th overall quarterback pick. That is a great spot to get him as an upside backup.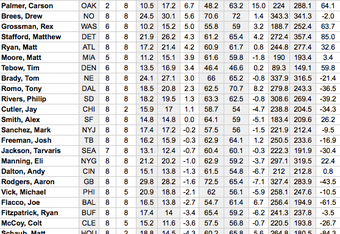 Matthew Stafford: Talk about a gun-slinging finish for Stafford. Ok, I will. Yeah, so he averaged a crazy 357 yards a game in the second half, 85 more than he did in the first half. His touchdowns and completion percentage went up, as well as his interceptions but that is to be expected when you are throwing the ball 40+ times a game. The Detroit Lions will want to run the ball a bit more this season, but it's likely that they will continue to stick with their strengths (Megatron) and give Stafford a ton of attempts once again.
Michael Vick: His numbers on the chart's below don't look great, but if you look just at his last four games after returning from injury there are some positives to take away. For those last four games, he finished fifth in fantasy points to Stafford, Brees, Brady and Ryan. It's good to see that he was over his injuries and will be able to build off a strong finish. He easily has the upside of an elite fantasy QB so his fourth round ADP holds some value.
Philip Rivers: There was a marked improvement in the second half for Mr. Rivers, notably with touchdown to interception ratio. In the first half he averaged 1.38 TDs to 1.75 INTs a game and in the second half he averaged 2 TDs to .75 INTs a game.  His total yardage went down, but that's most likely due to him not giving the ball away and having to make up for it by passing more. If anyone proved he could turn things around midseason it was Rivers, and with his track record as a top-notch fantasy quarterback (even when Vincent Jackson was holding out/injured) his end of the season improvement should quell any fears of him having lost his mojo.
Matt Hasselbeck: He was hurting much of the second half, but still managed to play in every game. I remember this well because each time he was hurt I figured (hoped) it would be a good time to start Jake Locker. Well, we did see Locker some and he flashed a lot of promise even though Hasselbeck was being pushed to grind up his old bones. Hasselbeck's second half decline may have been because of injuries but Hasselbeck will be 37 on September 25th, and Jake Locker will not.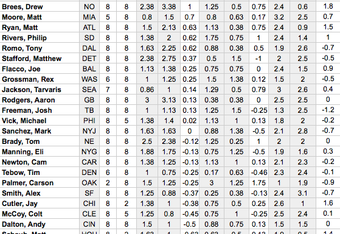 Andy Dalton: His overall numbers didn't dip all that much in the second half, but since they weren't crazy high in the first half, any dip brings him down in the bluh zone.  His completion percentage was very good for a rookie to start the season at 61 percent but then dropped to 54 percent in the second half. He's a steady quarterback and the drop is most likely due to rookie fatigue and a sometime injured AJ Green, but I'm not looking for a breakout campaign from him this season. He may prove to be a QB who can win games, but unfortunately we don't get any fantasy points for wins.
Alex Smith: Smith averaged 14.8 fantasy points in the first half last season and then went all crazy with 14.8 fantasy points a game in the second half. Consistency is usually good in fantasy football, but this isn't Aaron Rodgers who went from 29.8 in the first half all the way down to 28.2 in the second. But when you look a little closer you see that Smith regressed in completion percentage, touchdowns and interceptions. His only improvement was in passing yards, going from 183 to 209 yards a game. He came up big in the playoffs, but he'll have to prove this year that as the season wanes he'll be more on point. I'm not holding my breath.
All stats courtesy of KFFL and ADP courtesy of Fantasy Football Calculator