New England Patriots: Reviewing Their 2012 NFL Draft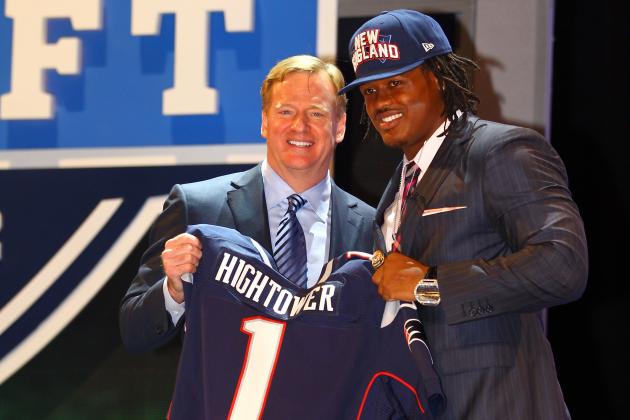 Al Bello/Getty Images

For years, the New England Patriots have been notorious for going into each draft with many draft picks, trading out some of them in order to stockpile picks for the next draft, and repeating the process each year.

This year that process left them with two first-round and two second-round draft picks, but the Patriots decided to do something different. This year, instead of trading down, the Patriots used their early-round assets to move up, seizing the opportunity to draft the two players they really wanted in Round 1, Syracuse pass-rusher Chandler Jones and Alabama linebacker Dont'a Hightower.

Did the Patriots make the right decision by changing their strategy and trading up for the talent they wanted? Read through the following slides for my analysis.
Begin Slideshow

»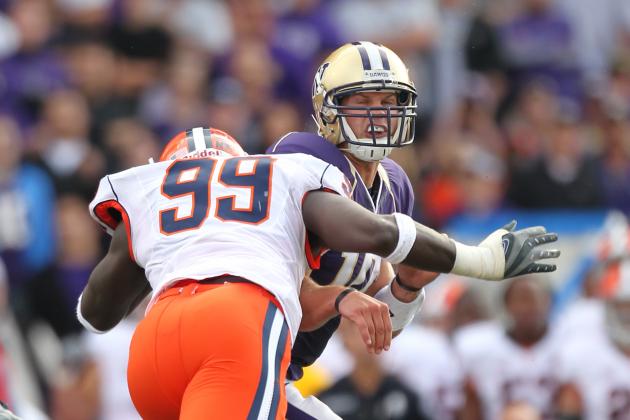 Otto Greule Jr/Getty Images
Chandler Jones
Round 1, Pick 21: Chandler Jones, DE/OLB, Syracuse

Overall Prospect Rank: No. 84

Jones is a long, athletic hybrid pass rusher with big upside. He is a good fit to play defensive end in a four-man front, but has the potential to play as an edge-rushing outside linebacker in a 3-4 scheme, making him a good fit for the Patriots' combination defensive scheme.

Jones is a raw talent who was not consistently productive at Syracuse, but he has displayed the ability to be a difference-maker and could emerge as a dynamic defensive playmaker.
Round 1, Pick 27: Dont'a Hightower, LB, Alabama

Overall Prospect Rank: No. 20

Hightower is big, athletic and a playmaker. Hightower moves very well in space, tackles well and hits hard. He brings versatility to the Patriots' defense, as he is the type of big, athletic playmaker they like to line up at outside linebacker, but can also line up as an inside linebacker when they run a 3-4 scheme. Injuries have been a concern for Hightower over the years at Alabama, but he could be a very productive linebacker if he stays healthy.
Round 2, Pick 48: Tavon Wilson, CB/S, Illinois

Overall Prospect Rank: No. 381

Wilson has very good size for a cornerback and is a good athlete, giving him the potential to play either cornerback or safety. He is a good tackler, but he needs to improve in pass coverage, which should have kept him from being a second-round draft selection.

He was inconsistent at Illinois, has stiff hips and has not displayed that he will be able to play fluid man coverage against top wideouts. He has developmental potential and could be an asset on special teams, but he is raw and may not entirely fit into any role.
Round 3, Pick 90: Jake Bequette, DE/OLB, Arkansas

Overall Prospect Rank: No. 170

Bequette is a well-rounded defensive end, but he is not an impact pass-rusher. He has very good length, but needs to get stronger at the point of attack and does not have an explosive burst. Bequette had some very good moments in the SEC but was an inconsistent performer. He has the ability to move in space that gives him the versatility to play outside linebacker and should be a solid rotational player.
Round 6, Pick 197: Nate Ebner, ST, Ohio State

Overall Prospect Rank: Not in Top 400

The selection of Ebner came from completely off the draft radar, but it is a pick that just may work out very well for the New England Patriots. Patriots head coach Bill Belichick puts a big emphasis on special teams, and Ebner was a special teams standout at Ohio State.

The Patriots made a similar selection in the 2008 NFL Draft, when they selected UCLA's Matthew Slater in Round 5. Slater has emerged as one of the NFL's best special teams players, and was named an All-Pro last season. Ebner could end up being a key player on their kickoff and punt units, which could earn him a roster spot and make him a valuable asset.
Round 7, Pick 224: Alfonzo Dennard, CB, Nebraska

Overall Prospect Rank: No. 61

Dennard's stock dipped sharply after he allegedly assaulted a police officer five days prior to the draft. He also has stiff hips and lacks top-end speed. That said, he is a talented cornerback who plays with very good physicality, is instinctive and tackles well. He tends to give too much cushion in pass coverage, but he is a solid man-to-man cover corner with the potential to contribute in the Patriots' secondary if he keeps his head on straight.
Round 7, Pick 235: Jeremy Ebert, WR, Northwestern

Overall Prospect Rank: No. 400

A smaller receiver, he is athletic, has good hands and runs crisp routes. Ebert was productive at Northwestern, and should bring immediate special teams value. He is unlikely to be a downfield threat as a receiver, but has potential as a quick intermediate receiver and special teams contributor. He showed very good speed at his Pro Day, but that same speed did not quite show up on tape.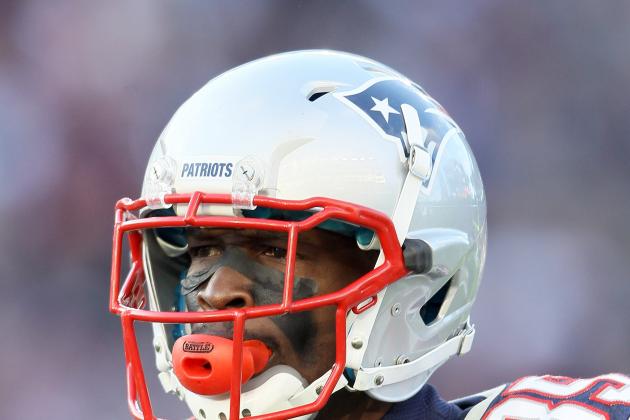 Elsa/Getty Images
Chad Ochocinco
The Patriots received Round 1, Pick 27 and a 2011 second-round selection from the New Orleans Saints in the 2011 NFL Draft for their 2011 first-round selection. The Patriots later traded Round 1, Pick 27 and Round 3, Pick 93 to the Cincinnati Bengals for Round 1, Pick 21.

In 2011, the Patriots were employing the trade-down strategy and made a tremendous move to pick up a first-round selection for this draft, while also picking up a second-round selection for their first-round selection in last year's draft.

This year's decision to trade up, however, was not necessary. While the Patriots seemed to lock in on Jones and did not want to risk losing the chance to select him, they could have stayed put and likely still had a chance to either draft him or USC's Nick Perry—the latter is actually the better prospect among hybrid pass-rushers but was selected with the No. 28 overall pick, one spot after the Patriots' original pick.

Nonetheless, the Patriots did well to pick up their extra selection and moved up for a player who makes sense for them. But they should just have stayed put and kept their third-round draft pick, which would have been useful considering their low number of picks this year.
The Patriots traded Round 1, Pick 31 and Round 4, Pick 126 to the Denver Broncos for Round 1, Pick 25.

The Patriots decided to move up a second time in the first round to secure the opportunity to draft Dont'a Hightower. In terms of value, this trade made sense. Hightower was good value at the No. 25 overall pick, he was unlikely to make it to the No. 31 overall pick and they only had to give up a late fourth-round pick to make the trade up.

However, it did cripple the Patriots' plans for the rest of the draft, as the trade left them, at the time, without any picks after Round 2. The trade still made sense and got the Patriots a player who can really help their defense, but it was a tough move for them to make.
The Patriots received Round 2, Pick 48 along with a 2011 seventh-round selection from the Oakland Raiders in the 2011 NFL Draft for 2011 third- and fourth-round selections.

This was another prime example of the Patriots trading out to stockpile picks and doing a great job of it. By giving up late third- and fourth-round picks in the 2011 draft, the Patriots ended up with a mid-second round selection in this draft. Granted, they did not maximize their asset by reaching for Tavon Wilson with the pick, but the trade itself was still very good.
The Patriots traded Round 2, Pick 60 to the Green Bay Packers for Round 3, Pick 90 and Round 5, Pick 163. The Patriots later traded Round 5, Pick 163 back to the Packers for Round 6, Pick 197 and Round 7, Picks 224 and 235.

At the time, the Patriots had no draft picks after Round 2, so they had to trade down and pick up additional selections. That said, they really blew it in terms of getting value in these trades. The Patriots moved down nearly an entire round from Rounds 2 to 3 while only picking up three late draft selections in the process, which simply does not match up in terms of value.

The Patriots needed draft picks, but these trades were clearly moves of desperation as they allowed the Packers to get the better value out of the deals in order to satisfy their need for additional selections.
The Patriots traded Round 5, Pick 166 and a 2013 sixth-round selection to the Bengals in July 2011 for wide receiver Chad Ochocinco.

The Patriots took a chance by trading for Ochocinco, a chance that did not pay off. The Patriots hoped they could get the downfield vertical threat that they lacked by acquiring Ochocinco but he was a disappointment last season, catching only 15 passes. The Patriots would have been better off just keeping these draft picks, but the trade was a chance worth taking.
The Patriots traded Round 6, Pick 200 to the Philadelphia Eagles in September 2010 for outside linebacker Tracy White and Round 7, Pick 223. The Patriots trade Round 7, Pick 223 and wide receiver Randy Moss to the Minnesota Vikings in October 2010 for a 2011 third-round selection.

Tracy White has been a big special teams contributor for the Patriots, and was worth trading down from the sixth to the seventh round. The subsequent trade for a 2011 third-round selection was the best deal the team could get while removing themselves from the problematic Randy Moss, and giving up that seventh-round pick was a minor part of that deal.
The Patriots traded Round 7, Pick 238 to the Kansas City Chiefs in September 2010 for safety Jarrad Page.

Page only spent one season with the Patriots, but he was a solid special teams contributor and provided depth at safety. Chances are good that the Patriots likely got more out of Page than they would have gotten out of this seventh-round selection.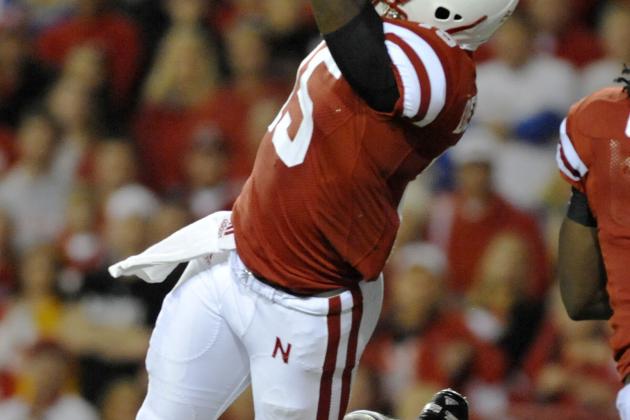 Eric Francis/Getty Images
Alfonzo Dennard
The Patriots usually draft and trade picks for value as well as any team, but they made some very puzzling moves in this year's draft.

Chandler Jones has big upside, but he was a reach as a first-round pick and they should not have traded up to select him, when they could have had a better talent in USC's Nick Perry. The Patriots' worst reach, however, was the second-round selection of Tavon Wilson.

While Wilson has upside given his measurables, he was an inconsistent collegiate player with many areas of his game to work on. Needing to pick up more selections, the Patriots should have traded down (they may have been making an effort to do so and not found a trade partner) and chances are good that they could have drafted Wilson in a later round.

Hightower was solid value as a first-round pick, and the Patriots did not overpay to trade up and select him. One great value the Patriots did take advantage of was Alfonzo Dennard, who was well worth taking a chance on after slipping all the way into Round 7.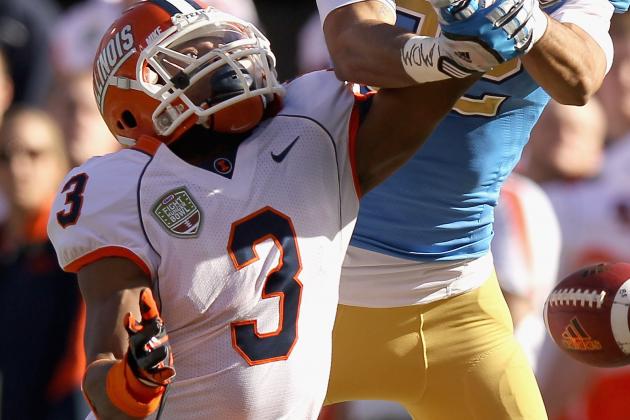 Ezra Shaw/Getty Images
Tavon Wilson
The Patriots really needed to focus on rebuilding their defense through this draft and that is exactly what they did, using each of their first four picks on defensive players.

Following the losses of free agent pass-rushers Andre Carter and Mark Anderson, the Patriots needed to add more hybrid pass-rushers, which they did with Jones and Bequette. The Patriots also really needed to add talent to their secondary, accomplished by selecting Wilson and Dennard.

The Patriots did not necessarily need another linebacker but adding another playmaker to the defensive front seven in Hightower made sense.

The Patriots' most important needs were to upgrade at each level of their defense, and the Patriots made sure to do that with their selections in this draft.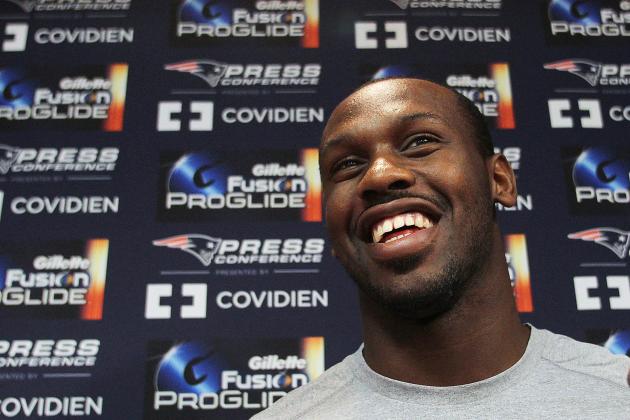 Jim Rogash/Getty Images
Chandler Jones
The Patriots had a very atypical draft this year, trading up more than they traded down while making some questionable value selections. That said, the Patriots recognized the need to add defensive playmakers, and did that by moving up twice in the first round to select Chandler Jones and Dont'a Hightower.

Three of the Patriots' first four selections—Jones, Tavon Wilson and Jake Bequette—were poor value where they were selected but all have the potential to help improve their defense in areas where they needed help the most. The Patriots could also end up with a productive special teams standout in Nate Ebner and a steal in Alfonzo Dennard.

The most puzzling and disappointing part of the Patriots' draft was their desperate trading down with the Packers, which saw them trade out of Round 2 to Round 3 and only end up with three late selections in the process—a clear sign that they simply wanted to add more draft picks.

The Patriots should improve on the defensive side of the ball as a result of this draft, but the Patriots' grade is hurt by poor in-draft trading and failing to maximize value.

Grade: C


Thanks for reading!

Throughout the month of May, I am reviewing one team's draft each day, following the original 2012 NFL draft order.

Follow me on Twitter @Dan_Hope.