San Francisco 49ers: Comparing the 2002 and 2012 Offensive Playmakers
May 18, 2012

The last time the San Francisco 49ers enjoyed consecutive postseason-worthy campaigns occurred in 2001 and 2002.
After posting an astonishing 13 wins last season, this team is all but certain to fulfill another successful back-to-back in 2012.
The 49ers at the advent of the 21st century and the Jim Harbaugh-led squad are vastly different constructions. Prolific top-five to top-10 total offenses predicated the former, while the 2011 version boasted a top-five defense as the fundamental component of its winning identity. Then again, notable offseason acquisitions infused new dimensions and firepower into the offense heading into 2012.
So what makes any of these comparisons relevant?
Well, because it's a Friday in mid-May and months away from the tangible experience of actual football games. And, because we must acquiesce to the insatiable hunger of our inner sports fan for comparisons of our current greats with those of the past—whether it's worn-out activity or not.
Or because I just couldn't escape the idea of pitting the Jeff Garcia-Terrell Owens tandem and potential Alex Smith-Randy Moss duo against each other.
Let's place the offensive playmakers of the 2002 and 2012 49ers side by side and assess whether the old had, or the new will have the better season. (I'm omitting the respective defenses due to their rather incommensurate natures, the D captained by Patrick Willis clearly being superior.)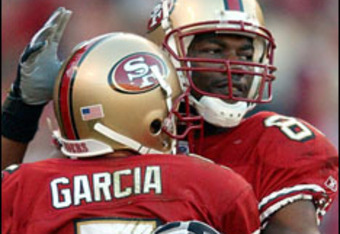 Statistical projections are far from precise, but it is a fun activity nonetheless. More importantly, I want to hear from you, the readers, about your predictions for the members of the 2012 49ers' offense. Please list them in the comments section!
For the sake of argument, I will go ahead and nominate Randy Moss at the top of the wide receiver depth chart, followed by Michael Crabtree, Mario Manningham and A.J. Jenkins. The running-back order places Frank Gore at the No. 1 spot (duh), with Kendall Hunter and the combination of Brandon Jacobs and LaMichael James bringing up the rear. Vernon Davis is the clear go-to target at tight end.
The 2002 Niners' order of offensive firepower is Terrell Owens, Tai Streets, J.J. Stokes and Cedric Wilson for wide receiver; Garrison Hearst, Kevan Barlow and Jeff Garcia (bear with me; merely for his rushing statistics and comparison's sake) for running back; and Eric Johnson as the tight end.
I'll first compile the statistics from players on the 2002 team, then provide reasoning for why or why not the 2012 squad members will produce better stats and/or a greater impact.
Of course, I want to see your opinions and projected numbers for our boys in the Red and Gold this season.
Quarterback
Jeff Garcia: 328-528, 62.1%, 3,344 YDS, 21 TD, 10 INT, 85.6 QB Rating
Alex Smith
Smith will out-perform his predecessor in 2012. With the most talented surrounding group of his career, Smith will eclipse both Garcia's numbers and his own career highs from 2011.
Never has he possessed such a comprehensive set of dynamic weapons for all areas of the field at his disposal (red zone, deep, third-down possession, backfield) with the likes of Moss, Manningham and James (to name a few).
The coaching of Jim Harbaugh, continuity with the rest of the staff and his mechanical adjustments will further serve as catalysts for Smith's most productive season to date.
65%, 3,900 YDS, 30 TD, 11 INT
Wide Receiver
Terrell Owens: 100 REC, 1,300 YDS, 13 TD, 13.0 AVG
Randy Moss
Accurately projecting Moss' output is challenging any way you look at it, due to numerous factors. There's his extended absence from the league, not knowing if he's still a viable NFL receiver, and general unpredictable nature regarding his work ethic, motivation and commitment to the team.
I, for one, lean towards the optimistic side of things. How optimistic? Well, expecting Moss to haul in 100 passes and total 1,300 yards would be downright foolish. Owens was at the top of his game and one of the preeminent receivers in the league.
On the other hand, I do expect Moss to produce in the red zone and open up space for wideouts and running backs underneath. His value won't always show in the box score; it will show in his teammates'.
650 YDS, 7 TD
Tai Streets: 72 REC, 756 YDS, 5 TD, 10.5 AVG
Michael Crabtree
Crabtree will thrive in the slot and away from the opposition's best defensive back. He'll prove his worth as a reliable possession receiver. After recording 874 yards and four touchdowns last year, he'll accumulate relatively improved stats in 2012.
Crabs is a more skilled WR than Streets, with numbers to prove it. I expect him to develop a better rapport with Smith as well.
900 YDS, 5 TD
J.J. Stokes: 32 REC, 332 YDS, 1 TD, 10.4 AVG
Mario Manningham
The former NY Giant is the wild card. If he establishes a healthy connection with Smith—which I believe he will—then his production will far exceed our old "friend" Mr. Stokes.
His versatility will allow OC Greg Roman to line him up out wide, flanker or in the slot. Proven game-changer (see: 2012 NFL playoffs). Manningham's new team is all too familiar—this time in a good way.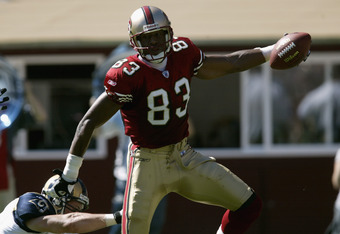 Stephen Dunn/Getty Images
700 YDS, 5 TD
Cedric Wilson: 15 REC, 166 YDS, 1 TD, 11.1 AVG
A.J. Jenkins
There's no denying the difficulty in predicting how well a rookie will perform in the NFL. Jenkins possesses high football IQ and the right attitude and skill set (enormous hands, speed, versatility) to rack up impressive numbers. I guarantee superior stats to those of the former sixth-round pick.
400 YDS, 2 TD
Tight End
Eric Johnson: 36 REC, 321 YDS, 0 TD, 8.9 AVG
Vernon Davis
After a complete offseason mastering Harbaugh's extremely intricate playbook for his tight ends, Davis will break out yardage-wise in a monstrous 2012 campaign. He'll continue to exploit mismatches with linebackers and safeties.
The presence of a skilled wide receiver corps will help free him up for single coverage. Watch out for his patented seam route. Sorry Eric, you're not quite in the same league. Suppose you can take solace in the wife you come home to every night.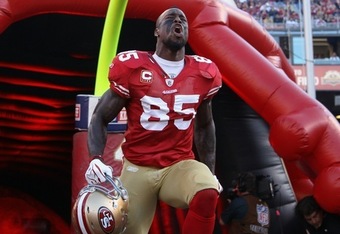 950 YDS, 9 TD
Running Back
Garrison Hearst: 215 ATT, 972 YDS, 8 TD, 4.8 AVG
Frank Gore
I very much expect Gore and Hunter to perform similar roles as Hearst and Barlow did in 2002. Gore will receive fewer touches, with those going to Hunter, James and Jacobs in an exceptionally deep and dynamic backfield.
The man will not have to endure the same beating and subsequent injuries as in years past. He'll still be productive in a reduced capacity.
900 YDS, 6 TD, 4.5 AVG
Kevan Barlow: 145 ATT, 675 YDS, 4 TD, 4.7 AVG
Kendall Hunter
Hunter will showcase his future value to the 49ers as a No. 1 RB in an increased split-back role with Gore. Harbaugh and Roman will utilize him on every down and in multiple formations.
Look for his rookie production to nearly double. The Hunter naysayers out there should take notice. Unlike Barlow, no fading away into obscurity for this man.
700 YDS, 4 TDS, 4.4 AVG
Jeff Garcia: 73 ATT, 353 YDS, 3 TD, 4.8 AVG
Brandon Jacobs/LaMichael James
Operation Red-Zone Smash and Home-Run Splash for these complementary backs in 2012. Corny rhymes aside, both Jacobs and James will help increase the 49ers red-zone efficiency: Jacobs by bulldozing his way over the goal line and James in creative sub-packages and as a receiver out of the backfield (also an underrated inside runner).
The coaching staff will also incorporate the former Oregon Duck into third-down sets and put him into space much like Darren Sproles. Can't wait to witness the breakaway speed, agility and sheer elusiveness at the NFL level—skills not always evident in Garcia's rushing attack.
Jacobs: 5 TD
James: 2 Rushing TD, 2 Receiving TD
Conclusion
I fully believe the 49ers will produce an NFL top-10 statistical output on offense in 2012. Do you?