2012 NFL Free Agency: 10 Undrafted Players Who Could Be the Next Victor Cruz
May 8, 2012

Stephen Dunn/Getty Images
As the NFL draft concludes, all 32 teams begin scouring both the shallow and deep ends of the undrafted pool. They're not just looking for roster-filling bodies, either—they're looking for hidden treasure. 
Otherwise known as, "The next Victor Cruz."
Cruz went undrafted out of UMass despite ranking fourth on the school's all-time receptions list (131). He is now an All-Pro receiver and Super Bowl champ for the New York Giants. 
Here are 10 potential treasures—players overlooked during the draft who have the talent to make a mighty impact in the NFL.
Chris Polk, RB, Philadelphia Eagles
Let's get an obvious one out of the way.
Polk falling out of the first few rounds was already a surprise, but falling entirely out of the draft was a shock—especially to Polk.
You have to imagine that as each name was called (253 total) the chip on his shoulder only grew bigger and bigger. He has an impressive blend of size, strength and on-field production. In 2011, Polk ran for 1,488 yards, scored 16 touchdowns and averaged 5.1 yards per carry.
And he now has extra motivation. 
J.K. Schaffer, LB, Jacksonville Jaguars
Schaffer was a productive, three-year starter in college: 325 total tackles, eight sacks, seven interceptions and five forced fumbles. 
A very instinctual player, he is able to quickly diagnose and disrupt plays. He's not the fastest—clocked a 4.78 40-yard dash at his pro day—but he uses angles well and is a sure tackler. Look for him to contribute on special teams early on and work his way up the depth chart as an inside linebacker. 
McKay Jacobsen, WR, Philadelphia Eagles
A surprise member of the list, Jacobsen will surprise many at the next level. He plays a lot like Cruz, minus the salsa dancing. He's short (5'9"), quicker than fast and has reliable hands. Jacobsen is also a polished route-runner who accelerates in and out of breaks and is fearless going across the middle. 
After attending Jacobsen's pro day, NFL.com analyst Gil Brandt had this to say: "The former highly touted high school player projects as a slot receiver; I think he'll be drafted in the seventh round or so. Jacobson has the chance to be a very good pro player."
He wasn't a seventh-rounder, but the rest could prove true. 
Neiko Thorpe, FS/CB, Kansas City Chiefs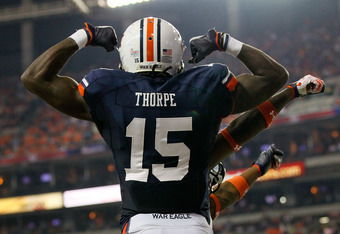 Kevin C. Cox/Getty Images
The Chiefs are quietly building a premiere defense, and this addition certainly helps. Though undrafted, Thorpe is versatile and athletic enough to play multiple positions. He began his career as a corner before moving to safety and is a regular contributor on special teams.
At his pro day—Thorpe was a non-combine invitee—he posted a 4.45 40-yard dash, 38" vertical leap and 11'5" broad jump. His hips are a bit stiff and he must get better at tracking the ball, but Thorpe has all the tools to develop into a solid starter.  
Shawn Asiata, FB, Miami Dolphins
Despite turning heads—and crushing would-be tacklers—at Utah, Asiata went undrafted but was quickly picked up by the Dolphins as a free agent. He's an old-school, prototypical fullback who doesn't shy away from contact. Rather, he invites it. 
Aside from his abilities in run blocking and pass-protection, Asiata is also a reliable receiver out of the backfield and can grind out yards on the ground.
Chase Minnifield, CB, Washington Redskins
Minnifield does more than "chase" receivers, he blankets them and racks up interceptions, totaling 13 in college. While he lacks top-end speed, he is physical at the line of scrimmage and has great length for the position. 
Once considered a fringe first-round pick, Minnifield had knee surgery in January. It was reported as microfracture surgery, which caused teams to shy away. If he can fully recover to his old form, he'll be a real steal for the Redskins.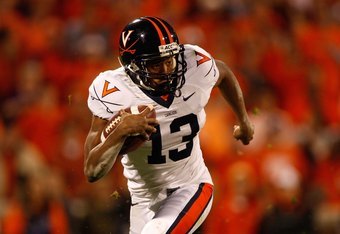 Streeter Lecka/Getty Images
Levy Adcock, OT, Dallas Cowboys
Sometimes it's all about fit, and Adcock fits with the Cowboys' scheme on offense. He can drop in pass-protection, allowed just two sacks spanning his final two seasons at Oklahoma State, and is at his best in the run game.
He played both tackle positions in college and has the versatility to play guard, too. That versatility will get him on the field sooner than later—and the production will keep him on it.
Duke Ihenacho, S, Denver Broncos
With Brian Dawkins now retired and the slow development of recent draft picks, the need for a strong safety is still there.
Ihenacho could be that guy, though he'll have to beat out Quinton Carter and David Bruton—both fourth-round picks. 
Ihenacho is a force when he steps in the box to stop the run. He's a former linebacker—All-Wac in 2008—who hits hard and can drop back in coverage when needed (had seven interceptions and returned two for touchdowns).
Dwight Jones, WR, Houston Texans
Quarterback Matt Schaub would love more weapons around him—and so would Andre Johnson, hoping to get a break from the constant double-teams.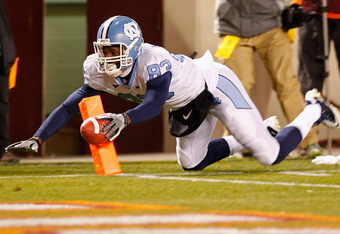 Geoff Burke/Getty Images
Enter Jones—a big red zone target with long arms and good hops. 
Loaded with potential (ah, the dreaded p-word again), Jones went undrafted due to off-the-field issues and a lackluster performance during Senior Bowl week. He's deceptively fast and elusive in the open field, but is easily re-routed and struggles with drops.
Bobby Rainey, RB, Baltimore Ravens
The Ravens already have a feature back in Ray Rice. They don't, however, have a change-of-pace back to ease the burden. That's where Rainey comes in.  
Rainey—a do-it-all back in college—will be limited by his size (5'7", 200 pounds) in the NFL. With his speed and surprising strength (lifted 24 reps of 225 pounds), he can still impact the game as a situational back and return man. Rainey runs crisp routes, has good hands and makes defenders miss. 
The Ravens may have found their own Darren Sproles. That's definitely the treasure they hope to obtain. 
Others considered: DB Cliff Harris (Eagles), CB Conroy Black (Raiders), WR Jeff Fuller (Dolphins), QB Austin Davis (Rams), WR Eric Page (Broncos)